The future of Esports: Video games to be played at Olympics and Glastonbury by 2050, experts predict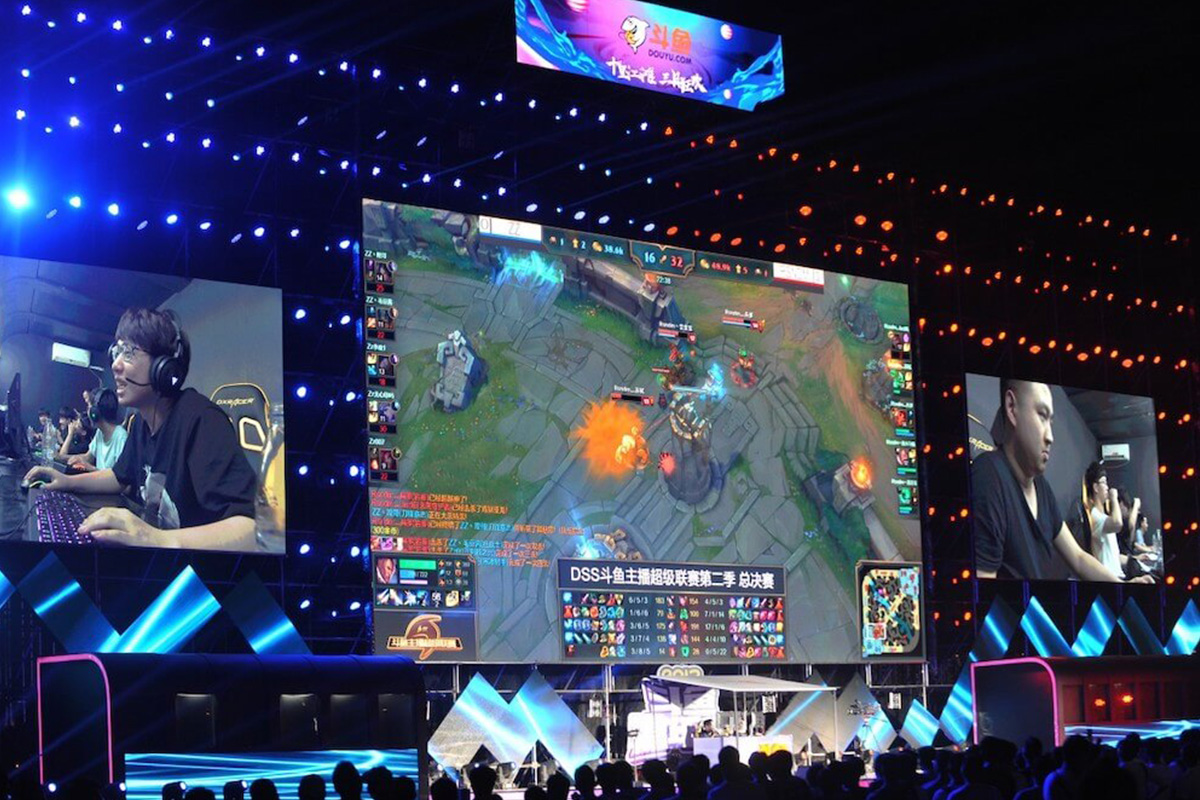 Reading Time:
3
minutes
How big will the industry be in 30 years time?
With esports now a $1billion industry this year and its popularity still rising, we ask the question – what does the future hold for professional gaming?
A gaming stage at Glastonbury, giant sold out 100,000-seater stadiums and even a place in the Olympics?
That's where some academics feel esports could be by 2050.
After exclusively speaking to the experts, we've created some food for thought about how the industry evolves in decades to come.
Gaming at festivals such as Glastonbury or Coachella?
As many event organisers now look to bring in wider audiences and test the waters, gaming could be on the cards to feature at some of the world's biggest festivals.
With comedy stages, poetry and circus acts becoming part of the usual attractions, could competitive gaming be an outlet to bring in new audiences?
Lincoln Geraghty, Professor of Media Cultures at University of Portsmouth in the UK, said: "Absolutely, the crossovers are there. Comicon for example in the last 30 years has gone from comic books to games to big marketing launches.
"So I see a space like Glastonbury, that has a subcultural prestige with people interested in explicit music and the relationship of music and games, people might be drawn to it."
Esports in the Olympics?
Esports games are already broadcasted to millions of people around the world. Last year's League of Legends World Championship semi-finals were watched live by 3.9million.
But what about on an elite, mainstream level? The Intel World Open was set to precede this year's Tokyo 2020 Olympics before it was cancelled, a stepping stone for esports to potentially feature in the competition itself.
Professor Geraghty said: "This is something the Olympic committee is looking at and it would almost certainly provide a much safer space for this competition to take place.
"Whether it be a massive tournament on the scale of the World Cup or be included in the Olympics in 30 years time, it won't be unexpected and won't be a surprise."
All colleges and universities to offer esports majors/degrees?
This is unlikely, but not impossible.
There are already cases around the world of university majors and degrees being offered in game design and for specific games themselves.
As more people in higher education take up these courses, the novelty may wear off and that could lead to more awareness of the power games have on society.
Professor Regan Mandryk, Professor in Computer Science at University of Saskatchewan in Canada, said: "You can now go through college on a League of Legends scholarship, that's going to change the cache of being an esports athlete.
"I would like to see the stigma of it being a "nerdy" activity change. It's going to be hard, but it will happen by more people being exposed to different aspects of playing."
Regularly filling 100,000 seater stadiums?
Whether it's the World Cup or the Super Bowl, thousands of people want to be there to see how sporting events play out.
And this is no different for esports, even now.
The Spodak Arena in Katowice, Poland held 173,000 people to watch the Intel Extreme Masters in 2017.
"People see their heroes in these gamers and esports personalities," Professor Geraghty added.
"It's only replacing the footballer on the pitch with a competitor on your computer screen."
He said: "I wouldn't be surprised to see a football stadium or convention centres sell out to see a huge gaming tournament.
"As content creators increase in popularity, people will pay to come out and see them in person."
To better the understanding of mental and physical health
We all understand games can be stressful and frustrating at times, but the techniques used in a lot of the technology is actually helping health professionals understand humans more.
Despite many negative connotations, studies have found games can actually help our mental health, but also be used to understand the physical effects of stress and recovery.
"Gaming can be very good for you. There are lots of ways that it can help you recover from stress," added Professor Mandryk.
"It can help you disconnect from the pressures around you. It can also help you connect socially with other people.
"We've done research that shows gaming can actually combat loneliness."
But, how do we get the best out games in the future within other areas of society?
Professor Mandryk said: "Part of the answer is to stop being so afraid of games."
"This is a very powerful median that we can leverage. There is a lot of motivational pull and people are devoting a lot of time to playing games so why aren't we harnessing what's great about them to better society."
Selecting esports titles to be played in MSSA Provincial and National Championships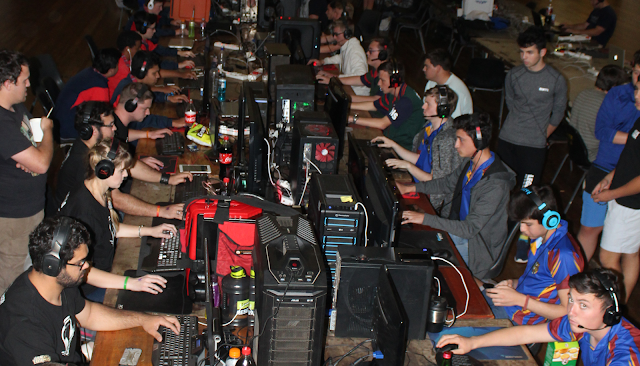 Reading Time:
2
minutes
Selecting esports titles is always an emotive issue.
All esports athletes have strong likes and dislikes, gamers always want their favourite esports titles to be given preferential treatment.
In order to make the process more objective and reduce the influence of any one member club and/or individual, Mind Sports South Africa (MSSA) has a policy in place in order to ensure that there is a due process as well as a fair system in place in order to ensure that the correct titles are selected.
However, it should be noted that MSSA currently only selects 10 titles to be played at Provincial and National Championships.
Priority is given to the esports titles that are played at IESF's World Championships and Global Esports Federation's Global Esports Games (GEG) in order to assist MSSA deliver a national team.
Even though only 10 titles are so selected, that does not mean that the other titles cannot be held at MSSA events.
However, it should be noted that any approved title may be played at an official MSSA Regional Championships. In fact, it is at such Regional Championships that the popularity of various esports titles is tested in order to evaluate whether such titles should, in future, be included in MSSA's Provincial and National Championships.
The full rules on how titles are selected are as follows:
Schedule 3: SELECTION OF TITLES FOR PROVINCIAL AND NATIONAL CHAMPIONSHIPS
The periods (titles) selected shall be decided upon by the Annual General Meeting.

Not more than ten (10) titles shall be selected every year from nominations received.
The titles played at the most recent IESF World Championships shall automatically be selected.
The remaining titles may then be selected.
Should IESF introduce new titles into its World Championships which have not been selected by MSSA, then the least popular game in its genre (excluding titles that are being played at IESF's World Championships) shall immediately fall away in favour of the new title.
The popularity of a period (title) shall be based on attendance at MSSA events.
Should IESF introduce new titles into its World Championships which have not been selected by MSSA, and no MSSA event have been held in such period (title) then the Board of Control shall decide which period (title) falls away in such genre (excluding titles that are being played at IESF's World Championships).
Should IESF introduce new titles into its World Championships which have not been selected by MSSA, and there are no other periods (titles) within its genre, then the least popular game (excluding titles that are being played at IESF's World Championships) shall immediately fall away in favour of the new title.
For any period to be nominated, such period (title) shall have been played at any two Regional Events at which there were at least three teams per event.
All proposals for titles must be submitted to MSSA by 1 November 2022 for inclusion in the Agenda for the 2022 Annual General Meeting (AGM).
TenZ and Prodigy Agency Celebrate Six Figure Turnover After "Project T" Merch Launch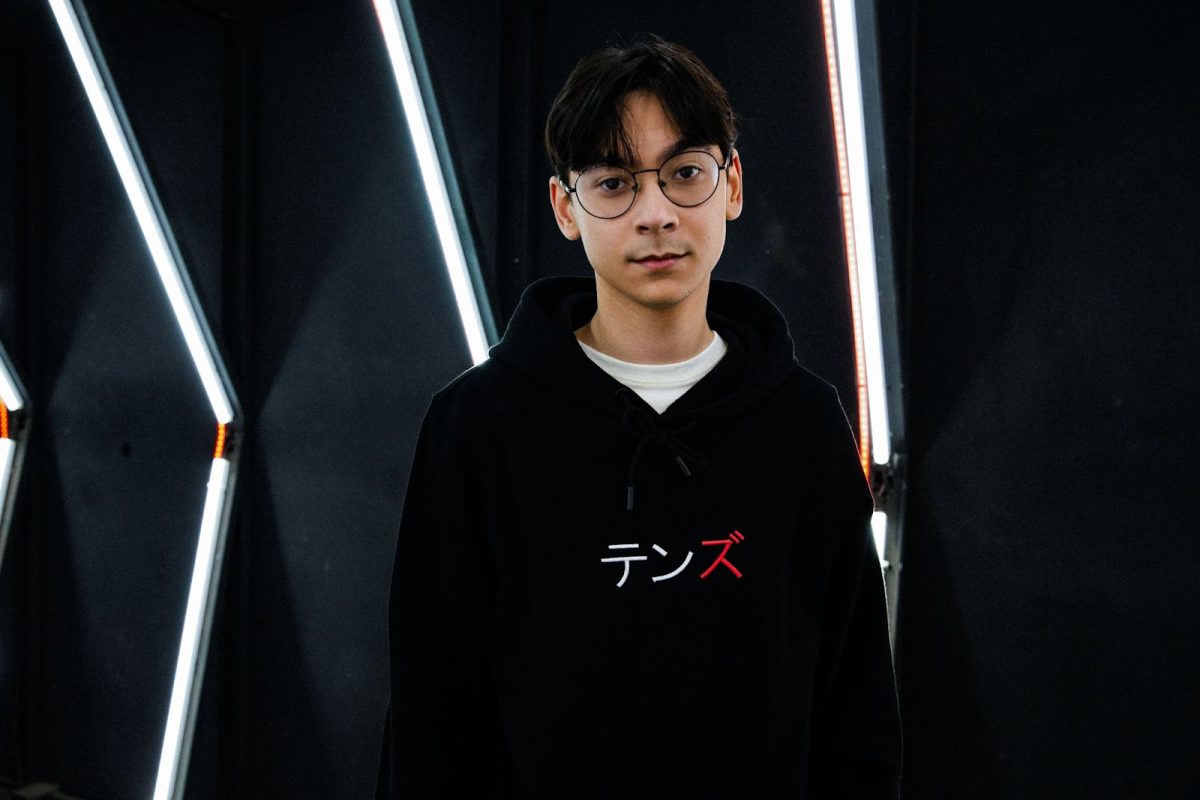 Reading Time:
2
minutes
"Project T", a limited merch launch between professional VALORANT player Tyson "TenZ" Ngo, managed by esports leaders Prodigy Agency, and Warren James, has now concluded its initial drop, which can be considered a massive triumph. The drop garnered 20 million total impressions online and a six figure turnover, making it one of the most successful merch launches for an esports athlete ever. With the promise of future drops, "Project T" will undoubtedly go from strength to strength and smash the high expectations already set!
The "Project T" drop was a success internationally, with sales and web traffic from all corners of the globe, highlighting the worldwide appeal of Tyson "TenZ" Ngo to esports fans in every continent!
First launching at the end of August, "Project T" featured 13 unique products including shorts, hoodies, hats, and crewnecks, launching alongside a web-accessible manga, available on tenz.gg.
Discussing what the future has in store, Tyson "TenZ" Ngo said 'definitely for other [drops] we're going to be doing a lot more graphics stuff', as he initially opted for 'a simple drop' to allow the clean and distinctive logo of "Project T" to take center stage.
Hosting a series of watch parties during VALORANT's most important event of the year, Champions 2022, Tyson "TenZ" Ngo told his viewers, which peaked at over forty-five thousand viewers, that "I wanted embroidery as I wanted it to feel [higher] quality and last longer". Providing value for money was key to the successful launch of "Project T", combining both affordability and quality across the range.
"I'm very proud of the quality of the merch and this first drop with Warren James.
It really fits the personality and universe of TenZ, and the amazing sales prove that the fans loved it. It's also proof that TenZ and esports players can sell products if done properly and it's paving the way for others, showing brands the true potential of players. I can't wait for the next drops!" said Jérôme Coupez, Founder and CEO of Prodigy Agency.
India thrashes Pakistan and Bangladesh to qualify for 14th World Esports Championships in CS:GO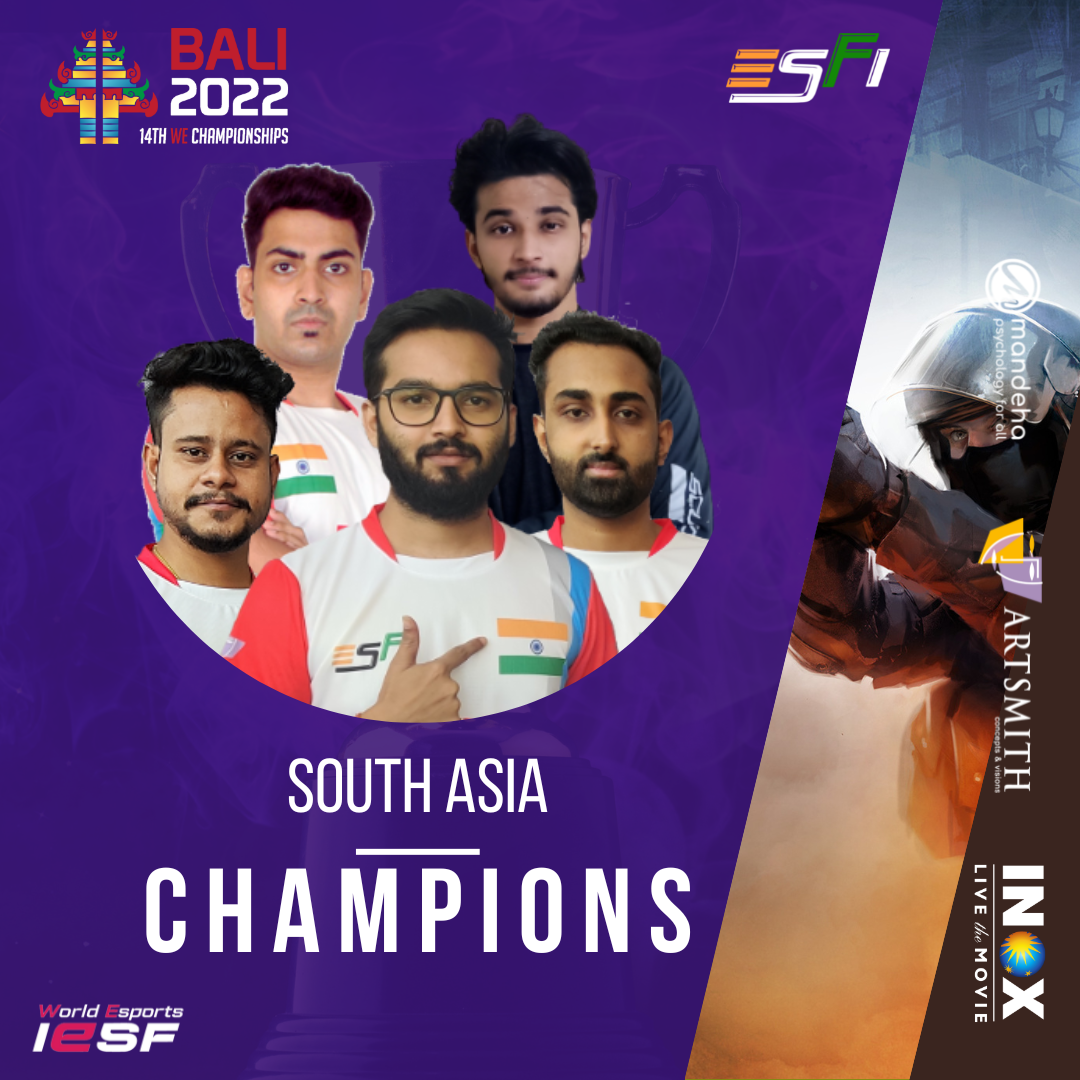 Reading Time:
2
minutes
India's CS:GO team produced vigorous performances in the South Asian Regional Qualifiers of the 14th World Esports Championships after hammering Pakistan and Bangladesh in the South Asian regional qualifiers.
The team, comprising of skipper Ritesh Sarda (Defaulter), Shuvajyoti Chakraborty (Mcg1LLzZz), Anshul Adardkar (KiiLSwitCh), Hrishikesh Shenoy (Crazy_Gamer) and Harsh Jain (lynX), recorded identical 2-0 victories over Pakistan and Bangladesh in the semi-finals and final respectively.
Besides CS:GO team, prominent Tekken 7 athlete Hitesh Khorwal (rcool) and well renowned eFootball professional Hemanth Kommu (peshemak7) will also represent India at the World Esports Championships, scheduled to take place in Bali from Nov 29 – December 12, 2022. Hitesh and Hemanth secured their berths by winning the National Esports Championships (NESC) 2022, conducted by Esports Federation of India (ESFI) earlier this year.
Organised by International Esports Federation, the prestigious event will witness participation of top athletes from over 120 countries, competing in six different Esports titles—CS:GO, Dota 2, Tekken 7, eFootball, as well as PUBG mobile and Mobile Legends: Bang Bang which will be making its debut at the championships. The 14th WEC has a prize pool of USD 500K (~INR 4 Crores).
"The team was simply too good for the opposition in terms of their skills, strategies and coordination. They won comfortably against Pakistan and Bangladesh shows the confidence they have in their gameplay. We are extremely proud of their performances and are now looking forward to seeing them compete with the best teams from all over the world in Bali. Everyone at ESFI wishes them the best of luck for the grand tournament," said Lokesh Suji, Director of Esports Federation of India and Vice President of the Asian Esports Federation.
Led by Sarda, the dominant Indian team hardly had to break a sweat in their matches as they comprehensively defeated Pakistan in two different maps by 16-6 and 16-4 and then displayed a similar aggressive performance to outperform Bangladesh in both maps of the final by 16-7 and 16-5.
"It feels amazing to represent India again at the World Esports Championships in back-to-back years. We definitely want to improve on our performances from last year and have been working very hard to do so. The team has done very well in showcasing its qualities in game while prevailing in all these qualifiers but the WEC final will be a stern test on a much higher level and we want to match that. I have high hopes from the tournament and we want to bring some glory from it back home," said Sarda, captain of the Indian CS:GO team.
The same CS:GO team had participated in the last edition of World Esports Championships, held in Eilat, and finished eighth in the final.