BGC Welcomes UK Govt's Decision to Let Betting Shops Re-open in Tier 3 Areas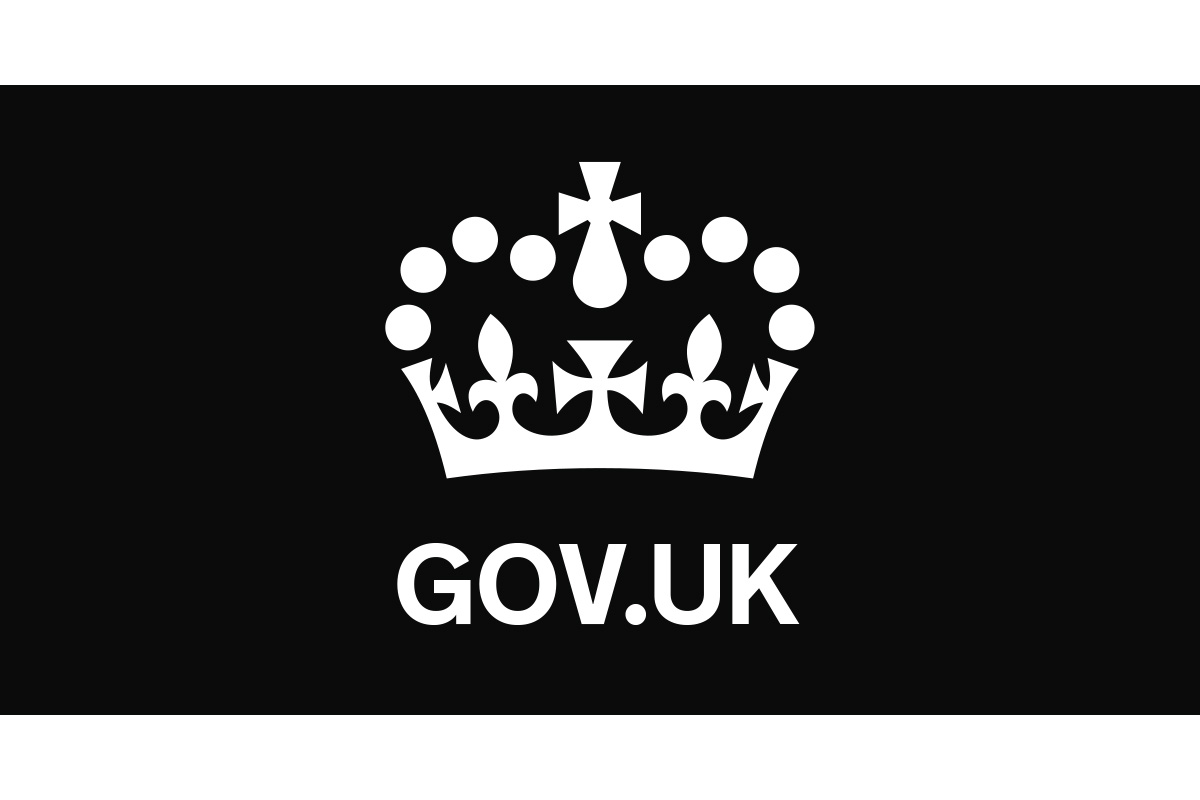 Reading Time:
2
minutes
The Betting and Gaming Council (BGC) has welcomed the UK Government's decision to let betting shops re-open in Tier 3 areas with severe restrictions in place.
BGC chief executive Michael Dugher said: "This is great news for our customers in communities across large parts of England and for the thousands of people employed in high street betting shops. I know how hard in particular the DCMS battled for their sectors and ministers deserve our sincere thanks.
"On top of the stringent anti-Covid measures betting shops already adhere to, our members have agreed to further restrictions to limit any chance of Covid being transmitted in their premises.
"We now look forward to England coming out of lockdown next week, with betting shops back contributing to the Exchequer and playing their part in helping power the country's economic recovery."
He added: "It's also great that limited numbers of spectators will be allowed back to watch live sport in Tiers 1 and 2. The ban on crowds has been devastating for sports like horse racing and football, so this sensible step comes at just the right time."
However, Mr. Dugher expressed disappointment that casinos will have to remain closed in Tier 3 areas.
He said: "Casinos are best-in-class amongst the hospitality sector when it comes to anti-Covid measures. There is no evidence that they contribute to the spread of the virus.
"So it remains extremely disappointing that they are still being ordered to close in Tier 3 areas.
"We do welcome the decision to extend the hospitality curfew by an hour to 11 pm, but we will continue to make the case that casinos are uniquely exposed to any curfew and we will press for their full and safe reopening in all parts of the country."
The BGC boss also backed the Government's move to let limited numbers of spectators watch live sport in Tier 1 and Tier 2 areas.
He said: "It's great that some crowds will be allowed back to watch live sport in Tiers 1 and 2. The ban has been devastating for sports like horse racing and football, so this sensible step comes at just the right time."

Summary from the annual general meeting 2022 of Raketech Group Holding Plc.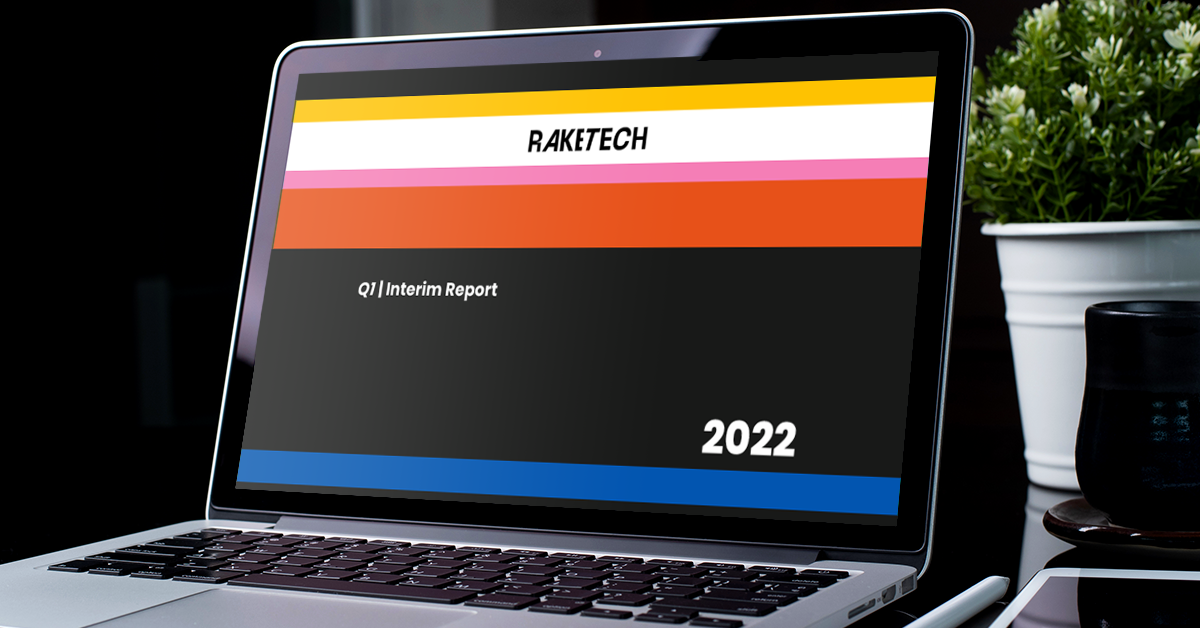 Reading Time:
3
minutes
The shareholders of Raketech Group Holding Plc gathered in Stockholm, Sweden, on 17 May 2022 to hold an annual general meeting. The following resolutions were made.
It was resolved to approve the Consolidated Financial Statements of the company, the Director's Report and the Auditor's Report for the financial year ending 31 December 2021. The meeting resolved to not pay any dividends for the financial year 2021 in accordance with the directors' recommendation.
Ulrik Bengtsson was elected as board member and Chairman of the Board of Directors, Erik Skarp, Johan Svensson and Magnus Gottås were re-elected as members of the Board of Directors and Pierre Cadena and Clare Boynton were elected as new members of the Board of Directors, all directors being elected for the period until the end of the next annual general meeting in accordance with the Nomination Committee's proposal.
Annika Billberg and Fredrik Svederman did not stand for re-election.
The meeting resolved that the fees to be paid to the members of the Board of Directors shall be allocated as follows: EUR 50,000 to the Chairman of the Board of Directors and EUR 30,000 to each of the other members of the Board of Directors. No Director having an operational role in the Company or its subsidiaries under which the Director receives a salary, or a consultancy fee shall receive any compensation for the work conducted in the Board of Directors and any committees. The meeting further resolved that the Chairmans of the Audit Committee, of the Remuneration Committee and of the USA Committee shall respectively be entitled to a remuneration of EUR 10,000 each.
PricewaterhouseCoopers Malta was re-elected as the company's auditor for the time until the end of the next annual general meeting in accordance with the Nomination Committee's proposal and Audit Committee's recommendation. The meeting resolved that the auditor's fees shall be payable in accordance with any invoice approved by the Remuneration Committee.
The meeting resolved to approve the Nomination Committee's proposal on the principles for appointing the Nomination Committee of the company until the annual general meeting of 2023.
The meeting resolved to adopt the Board of Director's proposal for guidelines for remuneration to senior management.
The meeting further resolved to adopt an incentive program in accordance with the proposal from the Board of Directors. The program comprises of share options which the participants are entitled to exercise to subscribe for shares in Raketech. The program included a maximum of 28 participants and not more than 1,080,000 share options, which may entitle to the same number of new shares. The share options will vest for three years from the allocation to each participant, whereby 1/3 will vest after the first year, an additional 1/3 after the second year and the remaining 1/3 will vest after the third year. After the vesting, the participant can receive shares in the company.
In accordance with the proposal of the Board of Directors, the meeting resolved to amend the Memorandum of Association and Articles of Association of the company to form a fiscal unit pursuant to Maltese law.
In accordance with the proposal of the Board of Directors, the meeting also resolved to amend the Memorandum of Association and Articles of Association of the Company, to alter the maximum number of shares which may be issued by the Directors as payment for an acquisition of assets by the company or by any of its subsidiaries after the date of the meeting and/or as payment to a creditor in settlement of debts owed by the company or its subsidiaries after the date of the Meeting, up to an aggregate maximum of 20% of the issued shares on a rolling 12-month basis, and to extend the validity of the authorisation period set out therein until the end of the company's annual general meeting for 2023, subject to the company's ability in general meeting to renew this permission by ordinary resolution for further maximum periods of 5 years each thereafter.
Finally, in accordance with the proposal of the Board of Directors, the meeting resolved to amend the Memorandum of Association and Articles of Association of the Company, for the purpose of authorising the Directors to issue shares up to the maximum value of the authorised share capital of the company for any other reasons, for a maximum period of 5 years renewable for further maximum periods of 5 years each.
Kinguin Launches NFT Marketplace in Partnership with Immutable X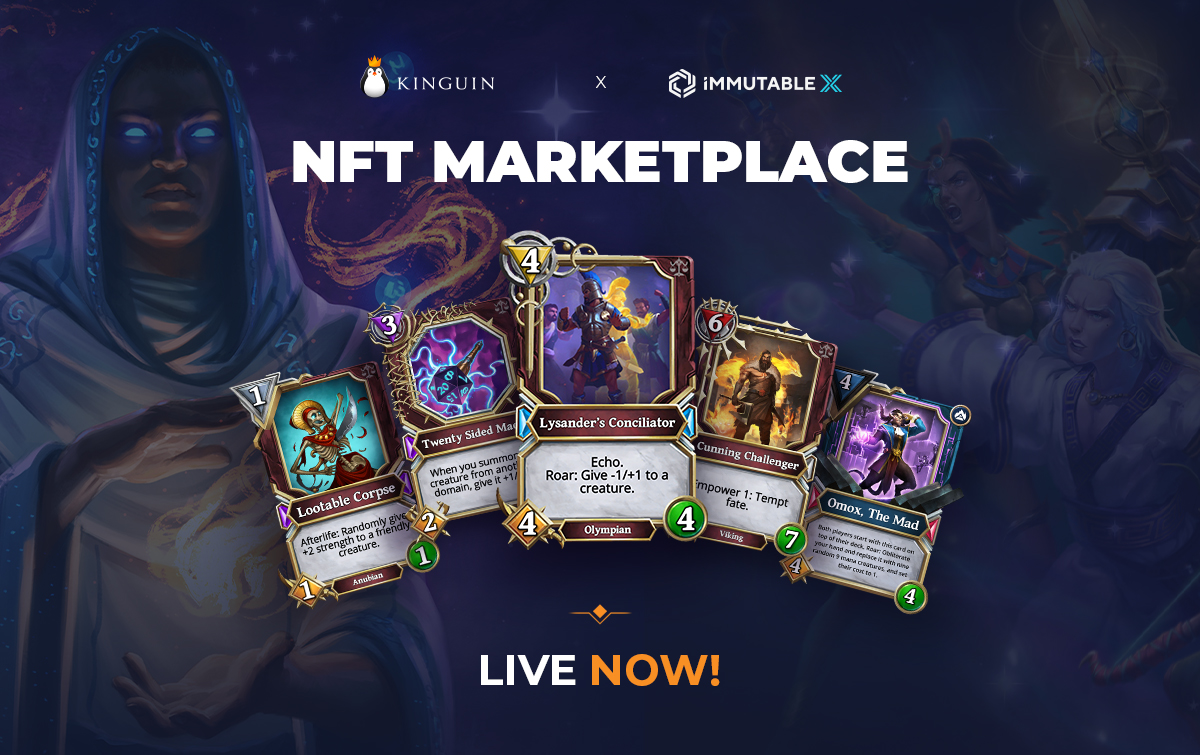 Reading Time:
2
minutes
Kinguin is launching its NFT marketplace, in partnership with Immutable X. Featuring 40+ collections and over 200,000 unique NFTs, it will give gaming and esports customers access to a vast array of exclusive NFT offerings.
The marketplace, built on top of the Immutable X protocol, is mixing the familiarity and practicality of web2 with the freedom and potential of web3. Kinguin offers its users the stability and security of an established digital goods marketplace. Some top NFT games like Gods Unchained, Guild of Guardians, PlanetQuest and Habbo Hotel will all offer NFTs on the marketplace, with more to be announced in the coming months.
But there's more than just the high-quality content that will appeal to Kinguin's vast community. Immutable X, created by Immutable and Starkware, is the technologically leading layer 2 scaling solution for NFTs on Ethereum. The combination of Immutable's deep knowledge of blockchain technology with Starkware's cutting-edge ZK-rollup technology, means the Kinguin NFT Marketplace will be lightning fast (at 9,000 TPS) and carbon-neutral, without compromising on security.
The partnership presents mass adoption opportunities for both developers and end-users. By combining Kinguin's 13 million registered users with Immutable X's scaling solution, you don't have to compromise your assets' security, transaction speed, gas fees and negative impact when diving deeper into NFT, making it easier to scale the game and NFT industries together.
Other features include a dedicated search option, making it easy for everyone to buy and sell NFTs. Users can also connect their MetaMask crypto wallet with the Kinguin NFT marketplace, a free hot wallet service available as a smartphone app or web browser extension. With that, every user can buy NFTs or deposit Ethereum for purchase purposes and also check their NFT balance.
Robert Kalbarczyk, Chief Operating Officer & Acting CEO at Kinguin said "We remain focused on our community's interests and passions. With Play and Earn on the rise, this felt like the natural next step for us. We're thankful to have partners that share our vision and we're looking forward to working with Immutable X to offer our customers a range of exclusive NFT gaming assets."
"We're thrilled to welcome Kinguin's 13 million users to Immutable's open order book, and help power the next generation of mainstream gamers to truly own their in-game items," said Robbie Ferguson, Co-Founder at Immutable. "This is an incredibly significant move — one of the powerhouses of digital goods trading from web2 is expanding their offering to NFTs, and they've chosen layer-2 Ethereum as the way to do it. We look forward to helping Kinguin scale this marketplace across hundreds of games and millions of players."
The NFT marketplace may still be in early stages but long term plans are being considered to ensure its continuous evolution. As well as collaborations with big marketplaces, Kinguin also hopes, in time, to develop its own NFT games.
Online Casino Games Tournaments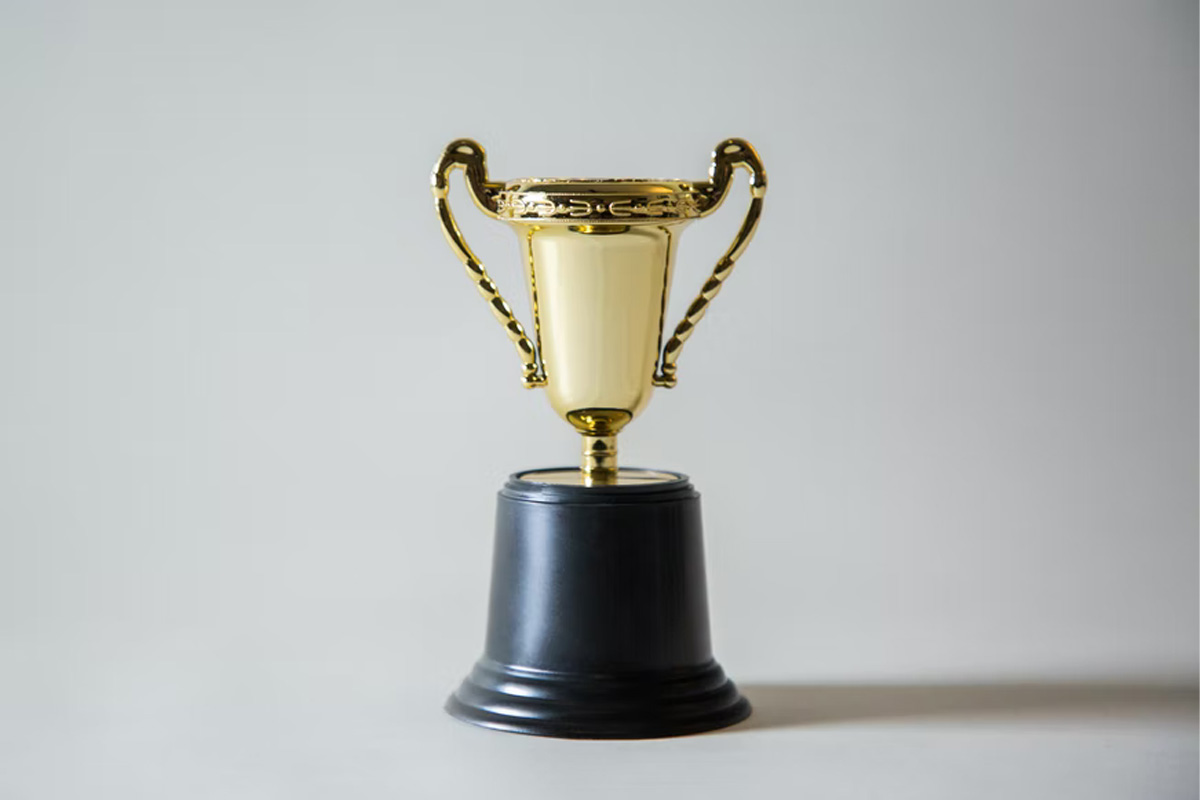 Reading Time:
3
minutes
Casino games are always fun and full of excitement, and online tournaments are designed to add a dose of adrenaline with the element of competition between participants. In this guide we will try to summarise the features of the main online casino game tournaments.
One thing all tournaments have in common is the payment of an entry fee to obtain a number of credits to use. Participants are then given a time frame, or alternatively a number of games, to compete directly against their opponents.
At the end of the allotted time or matches, the players with the most credits accumulated will win a share of the prize pool and shares of the winnings will be awarded according to the order in which they are ranked.
Although these are the most common mechanisms of online tournaments, you should always be sure to read the rules, as sometimes there can be important variations.
How to choose an online gaming tournament site
Most internet tournaments, such as online poker tournaments and slots tournaments, are characterised by large prize pools and strong competition. The motivation for gaming rooms to organise online tournaments is very often to attract new users through the emulative element and thus offer the games in a sporting way.
For players, the advantage is that they can enjoy themselves by paying small entry fees, with the ambition of being able to access rich prize pools in conditions where the element of luck is limited thanks to the large number of rounds that are played against other participants.
As a result of these considerations, when signing up for a site that offers online gaming tournaments at the most popular slots sites, it would be necessary to make a choice based on parameters that mediate personal preferences with the necessary features that every online casino should possess.
While there is little question about personal taste, we can advise users to consider certain essential aspects before registering. Let's take a look at the points to consider.
Frequency of online gaming tournaments
Type of tournaments offered (esports tournaments, online poker tournaments, online slots tournaments)
Average amount of prize money
Loyalty programme of online games tournaments
Promotions and bonuses
Available payment methods
Brand reputation
AAMS ADM licence
Types of online tournaments
When it comes to online gaming tournaments https://777pokies.casino/tournaments you are exploring a territory full of options and variations. Generally online tournaments are organised for the most popular games but also for some newer ones such as blackjack tournaments, mixed casino games tournaments and live casino tournaments.
Generally, tournaments of popular games are offered several times a day, and special tournaments with guaranteed prize pools are organised weekly or monthly. For popular disciplines such as online poker, competitions are organised on a cyclical basis, starting at the same time and forming part of a series of events that compete for weekly, monthly or even yearly rankings; the winners of these rankings receive attractive prizes.
At certain times of the year, special tournaments are added to the casino schedule for major holidays such as Christmas, Easter or the summer holidays. Of course, during these times there are also tournaments for less popular games such as Sic Bo online, Baccarat and Roulette.
It also happens that there are tournaments organised for the launch of a new game added to the casino, or tournaments reserved exclusively for players who have reached particular goals proposed by the operators and for which entry is free, as well as being by invitation only.
Games available in online casino tournaments
As mentioned above, there are many games for which you can find online tournaments, so let's try to list some of them with a brief description:
Slot machine tournaments
They can be for a specific slot machine or they can cover several titles at once; sometimes they are organised by certain software providers (e.g. NetEnt, Playtech or Microgaming). Even if they are slot machines, jackpots are deactivated during a tournament.
Online poker tournaments
The largest number of online poker tournaments are poker tournaments, where thousands of players compete for the ultimate prizes in Texas Hold'em, Omaha, HORSE and many other variations. Another type of online poker tournament is that of video poker tournaments, which is less common to encounter and is a distinct category.
Blackjack tournaments
Blackjack, which is one of the most popular games in online casinos, is also played in tournaments where players sitting at the table compete against the dealer to win individual hands and against other participants to accumulate more credits in order to eliminate their opponents from the competition.
Roulette tournaments
These games are very similar to blackjack tournaments, but there are many variations: French roulette, American roulette, European roulette and alternative roulette.
Live Casino Tournaments
The same considerations made for blackjack and roulette apply to live casino tournaments as well, the only difference being that tournaments are streamed live and can be structured for any of the titles present in the live casino rooms, i.e. blackjack, roulette, baccarat, casino hold'em etc.
Mixed games tournaments
Involve a number of different games in the same structure in which you participate in a pre-established manner and at pre-established times. For these special tournaments, it is always best to read the rules carefully in order to understand how to participate and how to win.