ALDI France becomes an official partner of Team Vitality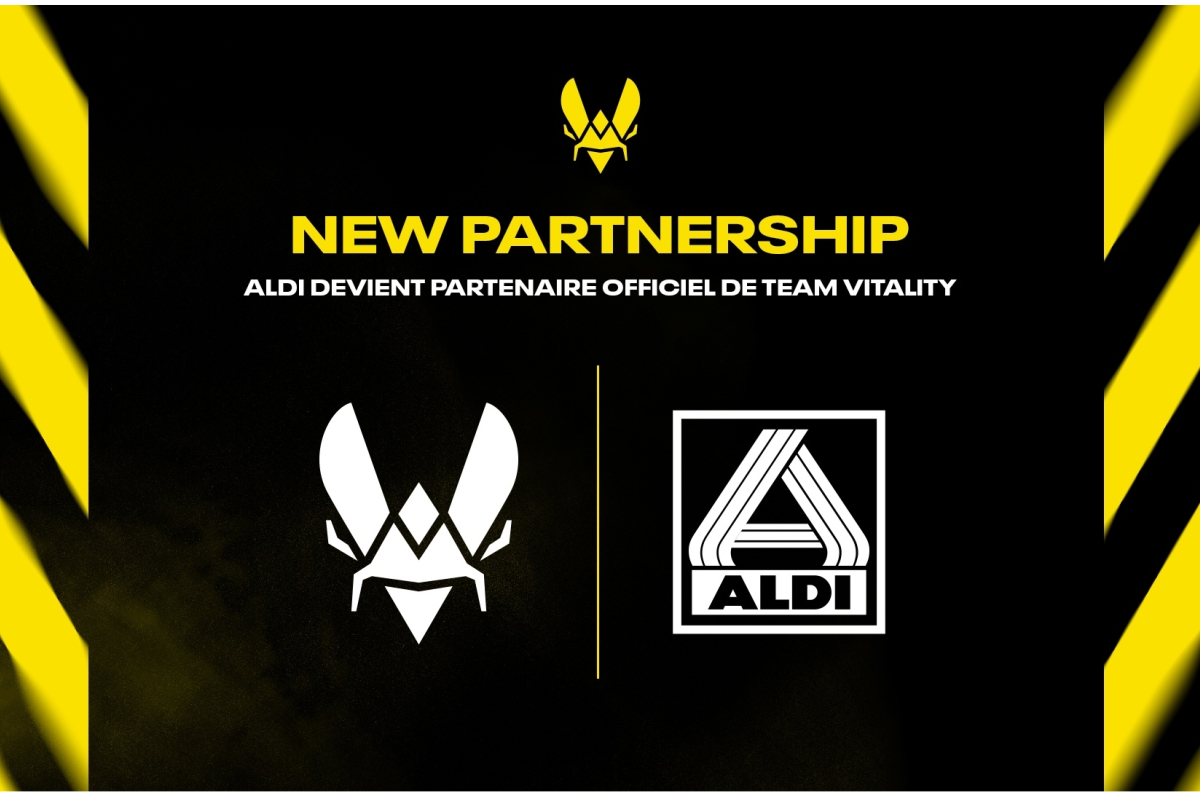 Reading Time:
2
minutes
Team Vitality and ALDI France are simultaneously opening a new chapter in their history by signing an unprecedented three-year partnership. The French leader in esports and one of the leading players in mass-market discount retailing are thus joining forces by way of an innovative collaboration for the two brands, which are taking their first steps together in a hitherto unexplored sector.
The partnership, signed through the agency Seven by You First Sports, is Team Vitality's first ever partnership in the mass distribution sector. In line with all the prestigious brands with which it is forging links, the European professional club has decided to take the plunge with a prominent player, faithful to its values, including the quest for performance.
Indeed, ALDI France works to promote a healthy and varied diet. This is a particularly important aspect to consider in the daily life of a Team Vitality professional athlete, in the hopes of reaching the highest level of play. ALDI France also aspires to make this approach simple and accessible to all, which will eventually allow to extend this good practice to all players, whatever their level.
The improvement of the everyday life of Team Vitality athletes and the deployment of these benefits to all esports practitioners in France and Europe are the two main benefits of this collaboration, which will allow this partnership to extend far beyond its initial framework. This is a great way for ALDI France and Team Vitality to show their determination to share their expertise with as many people as possible.
The partnership will also enable ALDI France to benefit from high visibility on Team Vitality's various communication channels as well as on the jersey sleeve of the teams playing Fortnite, Fifa and in the LFL, the French League of Legends championship.
"Team Vitality is delighted to partner with ALDI. The group's impressive growth in its sector is reminiscent of Team Vitality's trajectory in esports, and ALDI's desire to promote healthy and varied nutrition for all echoes the constant search for performance within our teams. Some great stories and activations will inevitably arise from this collaboration." comments Nicolas Maurer, Managing Director of Team Vitality.
"It was clear to us that Team Vitality was to be part of our esports partnership platform. We are very proud to be associated with this essential team composed of over 40 top athletes! At ALDI France we really want to work towards a common goal. To assist these players in their healthy lifestyle, through programmes and actions designed to support them in competition. This is an opportunity for all of us to make a long-term commitment and to promote the link between nutrition and the practice of esports." explains Aurélie TAUDE, Marketing and Communication Director at ALDI France.
For Quentin Bravet and François Gandolfi, co-founders and Associate Directors of the Seven by You First Sports Agency: "We are very pleased to have partnered ALDI with Team Vitality for the next three years and look forward to launching the 'eat healthy' activation programme for players and fans".

Ubisoft and PayPal Renew Partnership for Rainbow Six Esports Tournament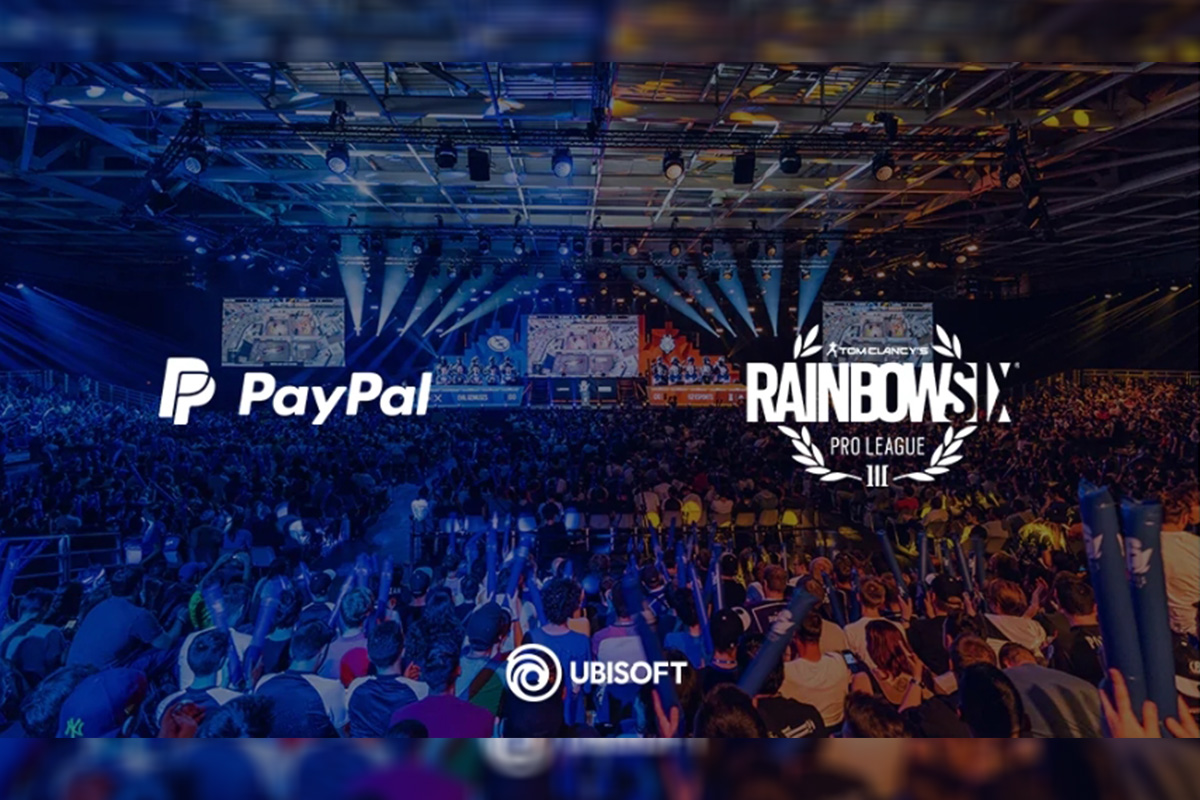 Reading Time:
< 1
minute
Rainbow Six Siege developer Ubisoft has extended its partnership with major payment platform PayPal until September 2022.
The collaboration is centred on Rainbow Six Siege esports competitions, including both European and North American leagues, their regional Finals, the Six Majors, and the Six Invitationals, along with the Rainbow Six World Cup.
Geoffroy Sardin, Senior Vice President Sales and Marketing at Ubisoft, said:
"We are happy to welcome back PayPal as a key partner to accompany us as we keep on growing our Rainbow Six Esports scene. PayPal highly contributed to the success of our previous esports leagues and events, and we're confident they will continue offering the great experiences and content we envision for our community.
"We are excited to kick off our collaboration with the European League Finals and North American League Finals this January and to unveil the full extent of the partnership over the months to come."
Jill Cress, Vice President of Consumer Marketing at PayPal, said:
"Video games are at the heart of the digital industry and are expected to grow continuously to $200 bln in the coming years.
"On its own, esports already accounts for an audience of more than 92 million enthusiasts in Europe and is expanding at a fantastic pace with unprecedented community engagement. We are happy to collaborate with Ubisoft once again to offer to their community new and exclusive experiences."
Fnatic Announces Multi-Year Partnership with Jack Link's To Power Gamers Through Their Grind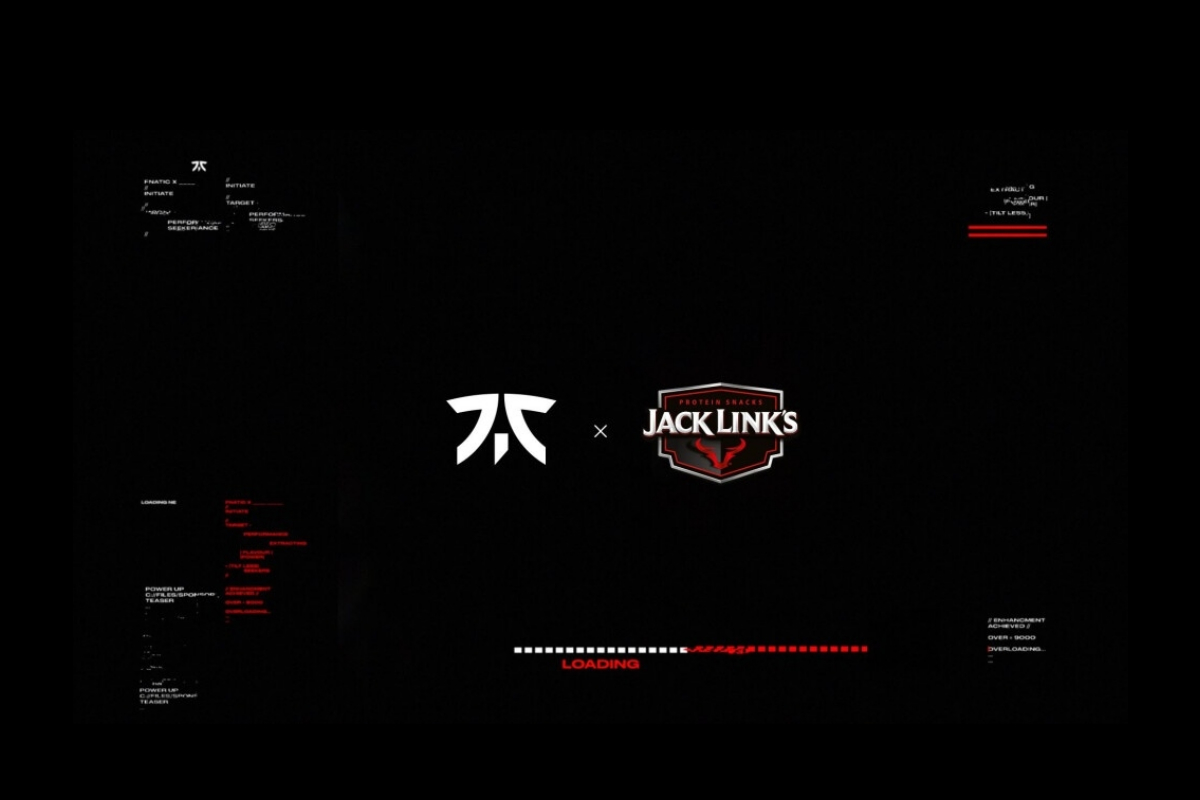 Reading Time:
2
minutes
Leading esports organisation Fnatic, today announced a multi-year partnership with Jack Link's, a global leader in branded protein snacking and the world's largest meat snacks manufacturer.
After a successful activation in 2019, Fnatic and Jack Link's EMEA have teamed up again to enable gamers across Europe to power through their grind without compromising taste or nutrition. By having access to Fnatic's massive network of fans and players, this partnership will allow Jack Link's to expand its reach across EMEA and establish the brand as the primary protein snack for gamers.
Fnatic and Jack Link's will work together to give gamers, whether beginners or competing on the world stage, the tools they need to achieve their personal goals. From providing plenty of the high protein Jack Link's products, through to the development of content, in-game activations, online and physical tools as well as story-telling from the pros, every aspect of this partnership will be centred around enabling gamers to power through their grind.
Selecting Jack Link's as Fnatic's first global snack partner represents the company's continued commitment to maximising and enhancing esports performance, while prioritising the health and wellbeing of its players. The Jack Link's logo will be featured across the right sleeve of all Fnatic team jerseys immediately, and across the right sleeve of the retail jersey from May.
"In fast-paced online competition, gamers need a consumable respite that gives them the energy to get through their grind," said Neil Walker, Partnerships Manager at Fnatic. "At Fnatic, we have a performance-first philosophy to ensure gamers are always playing at their best. All of Jack Link's snacks are made with 100% beef, are high in protein and have less than 80 kcal per serving."
Gamers have a reputation for snacking on sugary, greasy food that lacked nutrition which often results in an adverse impact on their performance. This collaboration unlocks gamers' full potential by providing them with the quality, protein-rich fuel needed to power through intense gaming sessions, and play to their maximum potential.
"When it comes to nutrition, we are actively encouraging our players to eat in a way that will improve their performance in competitive games," said Jens Hofer, Performance Director at Fnatic. "Providing them with snacks is extremely important, especially considering how long and intense gaming can be. A high protein, no-nonsense type of snack like Jack Link's is the best option for us."
Jan Pieter Schretlen, Managing Director Jack Link's EMEA, said that snacking while gaming is an exciting area for the brand. "Our products are the perfect snack, no matter if at home or on the go, at work or during leisure time activities such as gaming. Beef Jerky is a natural source of protein, giving lasting energy and hence supports endurance." He continued in saying, "we want to be a true partner, supporting gamers on all levels and building relationships both in competitive as well as amateur gaming."
Former HelloFresh Founding Member and VP of Operations & Product appointed as Skrmiish CEO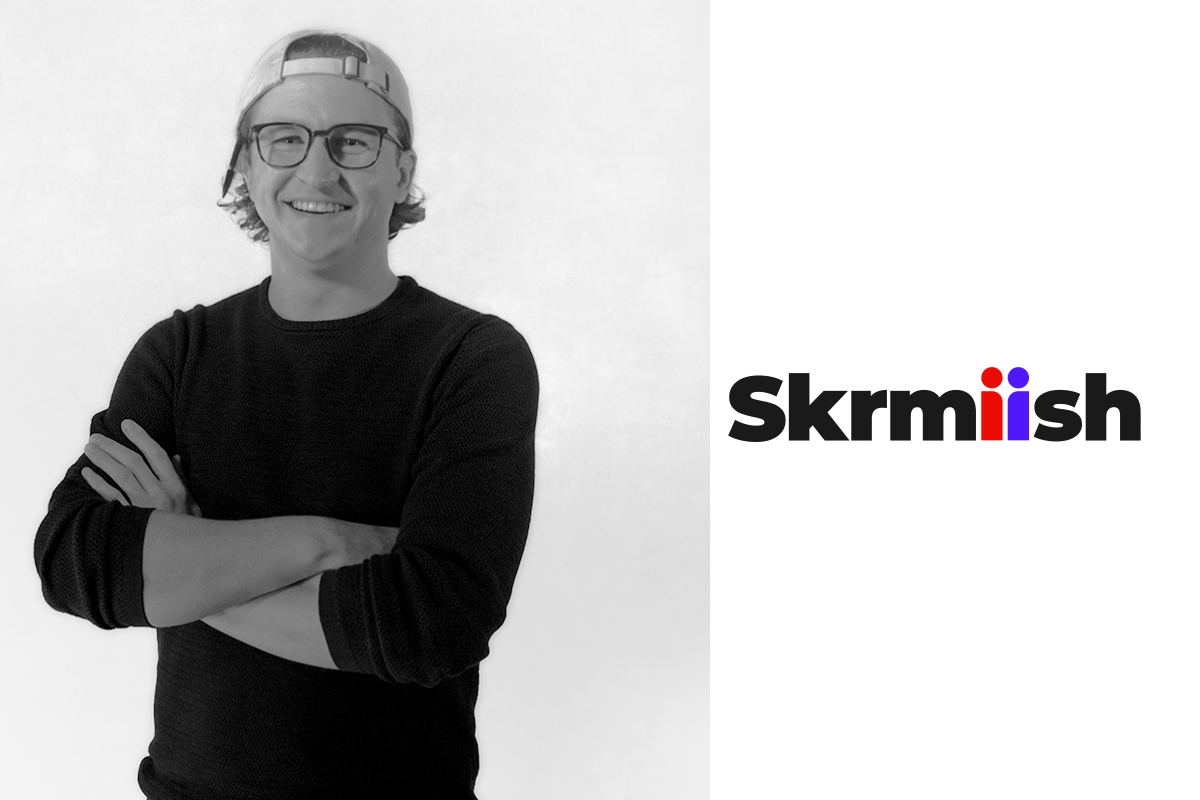 Reading Time:
2
minutes
Luke Grob, the former HelloFresh founding member and VP of Operations & Product, has been appointed as Skrmiish's Chief Executive Officer.
As a business strategy and operations expert who specialises in early-stage business growth, Grob has been appointed to lead the company's ambitious growth targets, starting with global launch of the Skrmiish app in January 2021.
Speaking about his new role, Grob said: "I've spent much of my career working with high growth companies with large addressable markets and the potential of Skrmiish is enormous. The explosion in gaming is well documented and Skrmiish is perfectly positioned to be a genuine disruptor in the space. I am looking forward to working with the team to make Skrmiish a powerhouse in the global competitive gaming space."
Grob's commitment to scaling companies with big ambitions stems from an innate passion about understanding the numbers that drive ventures.
Grob joined Rocket Internet in 2012 and took a leading position in the HelloFresh UK founding team, holding multiple roles including the Director of Global Operations and VP of Growth & Innovation, supporting its growth from infancy to Europe's fastest growing business (FT 2017), expanding the team exponentially and seeing turnover move from single digits to +£300M in less than three years, before a successful IPO (ETR:HFG) in year six. HelloFresh is now valued at over $11B.
He went onto become Head of Growth at REEF Technology (Backed by Softbank Vision Fund) which pioneered the transformation of underutilized urban spaces and Dark Kitchen Industry, scaling their early operations across the UK and US and helping securing a +$950M investment to fuel growth in the US. Over the past three years Grob has been a mentor at Techstars, is an advisory board member to multiple early-stage businesses as well as EMEA Expansion and Growth Consultant at TemperPack.
Grob is a champion at driving big business growth in prospering industries and believes that Skrmiish is one such venture.
Chris Heaton, co-founder of Skrmiish had this to say about Grob's appointment: "I am thrilled and proud to be able to welcome Luke to the company. He is someone with a proven track record of helping companies in early-stage growth go on to become phenomenal success stories. Having Luke at the helm with his exceptional experience and expertise will ensure we set out and deliver on our ambitious growth plan through 2021 and beyond. His arrival is quite the coup for Skrmiish and signals our intention to become a global name in gaming."