Ahead to giveaway multiple PS5 + XBOX Series X on Madden Stream & Host Panels with top gamers and athletes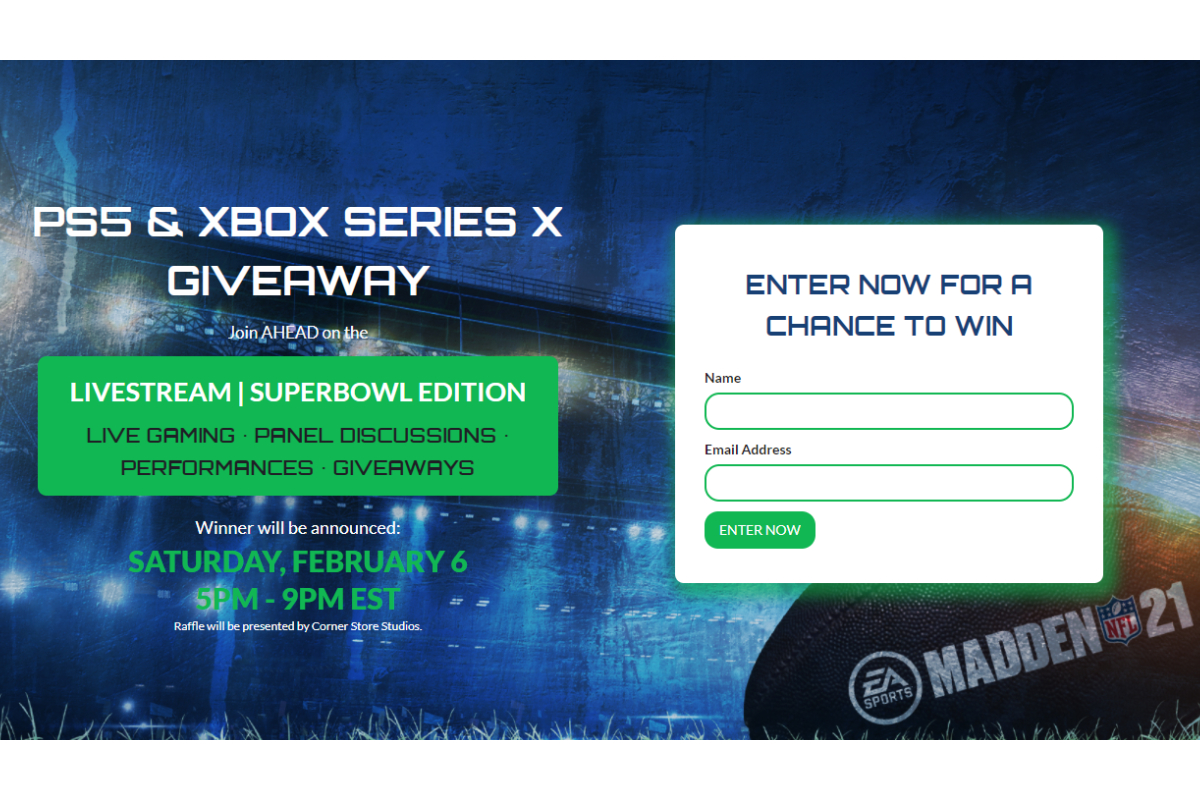 Reading Time:
3
minutes
Ahead To Kick off Their New Streaming Series Super Bowl Weekend to Connect and Educate
with Potential New Customers
Ahead Streaming Series: Super Bowl Edition Will Host A Gaming Stream along with Groundbreaking and Informative Panels to Educate Viewers on how to be more Financially Savvy
WHO: Anu Shultes; Ahead CEO, Kimberly Morgan; Ahead COO and Head of People, Keisha Howard; Sugar Gamers, Brandon Pitts; CEO & Founder x Play One Up, Just Blaze; Super Producer, DJ, Gamer, Edgerrin James; Hall of Fame Former RB x Indianapolis Colts, Corey Mays; Former LB x Kansas City Chiefs, Deon Grant; Former Safety Super Bowl New York Giants, Ngum Suh; Founder & CEO NLS Consultants, Anthony Brown; Founder of Breakr, Monica McNutt; Host MSG AM x Madison Square Garden Networks, Analyst ESPN, Santia Deck; Athlete x Los Angeles Fames, Jisset Pena; Athlete Management x Roc Nation Sports, Shea Dawson; Head of Athlete Relations at Overtime, Kimberly Miale; Roc Nation NFL Player Agent Rico Williams, Dubby, Skimbo, TDavis, IBeStrafing, OneGreatUser, BunnyMightGameU
WHAT: Ahead, a digital banking and financial health platform, will intersect with the world of gaming in an effort to speak directly to their audience as a pre-game to the Super Bowl through their new streaming series: Ahead Streaming Series. Ahead focuses on inclusivity and innovation, with a goal to help their customers more financially fit and secure. This stream will provide opportunity to educate our younger viewers on financial responsibility while integrating the competitive gaming aspect to the show.   Ahead understands the importance of connecting with their customers culturally and personally.
During the stream, two sets of teams will compete to receive a scholarship of $2500 provided by PlayOneUp. Each team will be composed of celebrity gamers and students. Ahead will also raffle every hour a total of 8 PS5 + XBOX Series X during the tournament. In addition to gaming, the stream will include informative and interesting panels with topics that cover how gaming and banking intersect, and a half time show featuring top artists. The panels will include:
Panel 1: The Business & Cultural Impact of Gaming and Esports
Gaming is now a billion-dollar industry, and has transformed into a global phenomenon that has influenced culture and economies across the world. Incorporating the professional competitive aspects of esports, the value of gaming is increasing exponentially as it enters the mainstream a new and evolving form of entertainment media. Over the last 30 years, gaming has significantly influenced the way people engage themselves and each other from a cultural, social and economic perspective. Moderator: Erin Simon Panelists: Keisha Howard; Sugar Gamers, BunnyMightGameU; Gaming-Recording Artist x Podcaster, Brandon Pitts; CEO & Founder x Play One Up, Just Blaze; Super Producer, DJ, Gamer, Malik Forte; Host, Writer
Panel 2: Show me the money: Even with Football being the main method of earning a living—how athletes are investing in different ventures to secure financial success off the field. Recent trends show that athletes are more interested in taking an active interest in their business dealings beyond their field of sport. According to a recent study, the number of U.S.-based athletes and coaches who have invested in startups has more than doubled during the past four years. With the average NFL career lasting only 3.5 years, how effective is entrepreneurship and investing in ensuring long-term success of athletes? Moderator: Rashaun Williams Panelists: Edgerrin James; Hall of Fame Former RB x Indianapolis Colts, Corey Mays; Former LB x Kansas City Chiefs, Deon Grant; Former Safety Super Bowl New York Giants, Ngum Suh; Founder & CEO NLS Consultants, Kimberly Morgan; COO Ahead Financials
Panel 3: Breaking the Glass Ceiling: Addressing Gender Equality in Sports
The glass ceiling doesn't just exist in the corporate world. New Stanford research reveals that in general female athletes are paid less than their male counterparts, even in sports where they far outshine their male peers. Whether in the locker room or the boardroom equality between men and women in sports is a controversial issue that has its importance in the spotlight and needs to be addressed. Moderator: Karen Civil Panelists: Dr. Monica McNutt; Host MSG AM x Madison Square Garden Networks, Analyst ESPN, Santia Deck; Athlete x Los Angeles Fames, Jisset Pena; Athlete Management x Roc Nation Sports, Anu Shultes; x CEO Ahead Financials
"As we launch Ahead, we are honing in on the ways culture impacts our digitally plugged in customer," explains Kimberly Morgan, COO and Head of People at Ahead. "We are actively engaging with our potential clients and the goal is not only to connect digitally, but on a personal level as well. Ahead is not just any financial institution, we want to engage with our clients, learn more about their interests, as well as share our wealth of knowledge and network we have built to ultimately set them up to be more financially successful."
GAME: Madden 21 : The Yard Experience
WHEN: February 6, 2021
TIME: 5pm ET – 9pm ET

Lottery.com Enters Into an Agreement with Ritzio International, as it Seeks to Enter Various European Markets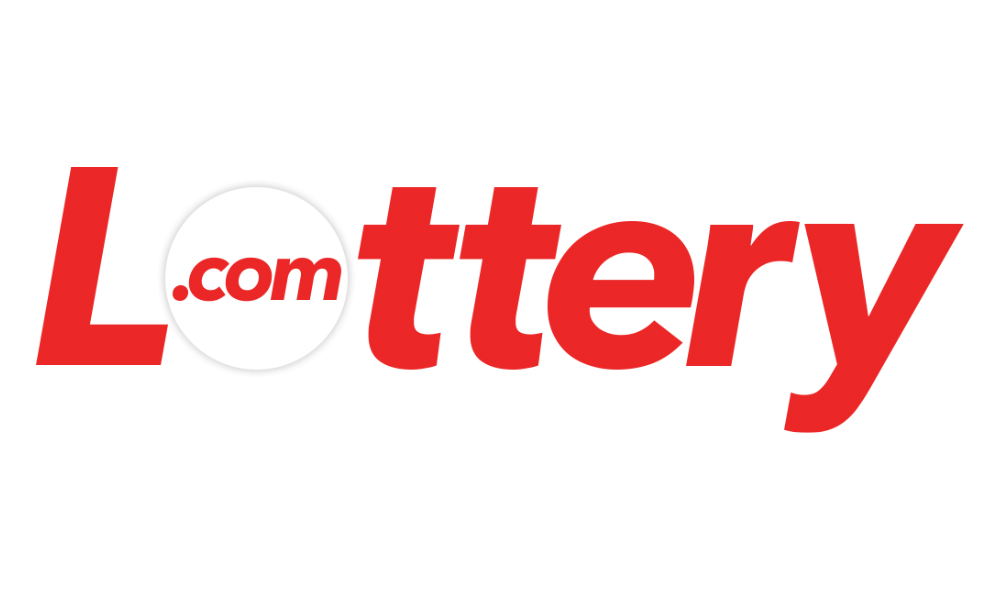 Reading Time:
< 1
minute
Lottery. com, a leading platform that allows users to play the lottery online, has signed an engagement letter with Ritzio International ("Ritzio") in relation to an expansion of Lottery. com's business into European markets.
Ritzio is a leading gaming brand for outstanding customer service, profitable strategy, and leadership. Its gaming venues are primarily small and medium-sized properties located in urban areas throughout Europe. Their stable gaming network provides visitors with flexible access to a growing portfolio of gaming venues, entertainment services and strict standards of quality and safety.
Europe's gambling market is estimated to be approximately €23 billion ($27.4 billion). The addressable market in the countries that Ritzio covers includes 96 million people.
"This partnership is an important inroad as we expand our overseas operations and offer our products to new markets," said Lottery. com CEO Tony DiMatteo. "Ritzio's established presence and experience in the gaming industry is phenomenal and aligns well with our growth strategy."
The deal demonstrates Lottery.com's recent efforts to increase its international expansion and presence, with Ritzio operating more than 150 gaming halls across its Germany, Romania, and Belarus divisions, exceeding 3,800 gaming terminals and €90 million ($107 million) of annual revenue. Ritzio brings more than 15 years experience in this market. More information about Ritzio can be found on their website https://ritzio.eu/
On February 22, 2021, the Company entered into a definitive agreement with Trident Acquisitions Corp. (Nasdaq: TDACU, TDAC, TDACW) to become a publicly traded company on The Nasdaq Stock Market.
Voodoo Ranger Becomes Official Beer Partner of Dignitas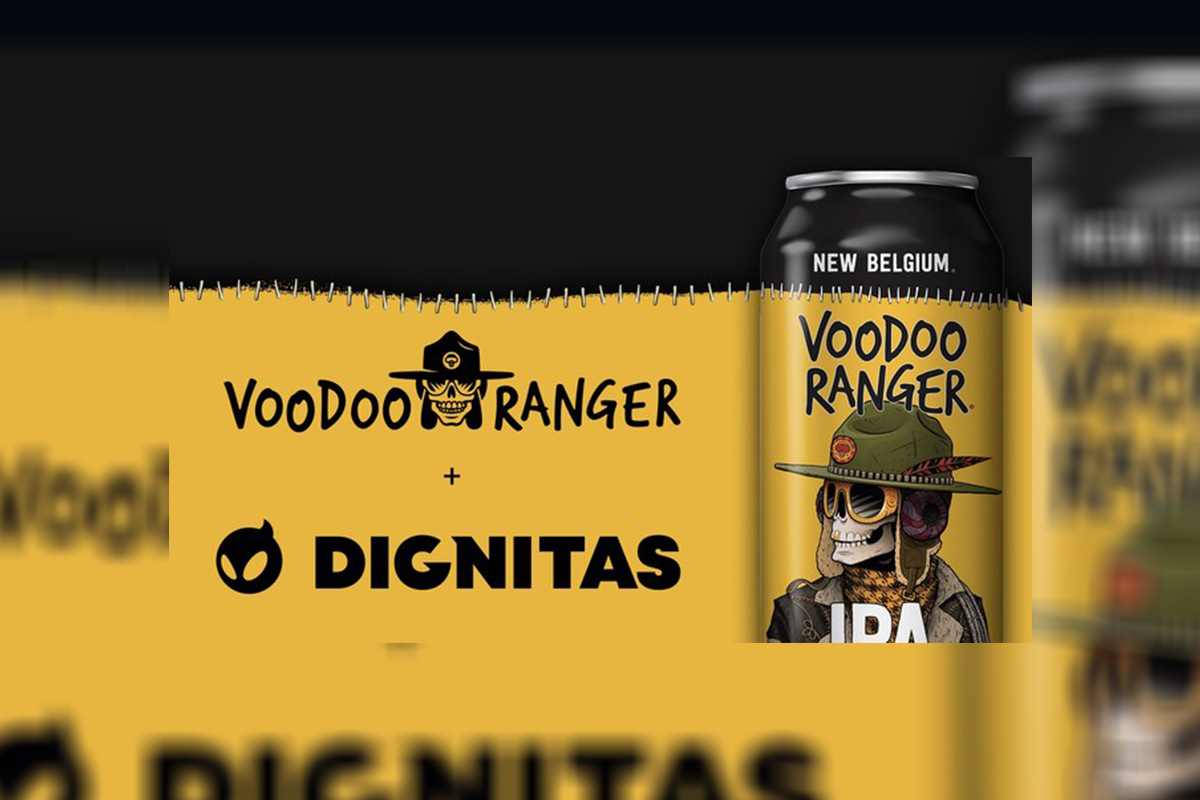 Reading Time:
< 1
minute
Voodoo Ranger has become the Official Beer Partner of the esports organisation Dignitas.
The partnership marks the first in esports for Voodoo Ranger and features community-centric social, digital, and future on-location activations with the goal of connecting Dignitas' vibrant fanbase through the organisation's content creators and athletes.
Through the partnership, Voodoo Ranger and Dignitas will collaborate on exciting new content to celebrate Dignitas' passionate esports fans and community. In Voodoo Ranger Community Game Nights, streamed live on Twitch, Dignitas athletes and content creators will square-off in battles of bragging rights and brews. Dignitas will also hold a series of fan-focused Happy Hours and release original content, celebrating the special connection between gaming fans across the world and the future of the global esports community. Dignitas and Voodoo Ranger will continue to connect gaming fans and athletes at live, in-person events in the future; offering opportunities for tasting, sampling and celebrating.
"Our partnership with Dignitas is an amazing chance to support a team and community that loves beer and all things gaming and esports but includes the community support and initiatives that we as a brewery also hold extremely close to our hearts. Cheers!" Patrick Morgan, Voodoo Ranger Community Manager, said.
"Aligning with a brand that values bringing people together as highly as we do makes Voodoo Ranger a natural fit. Community is the lifeblood of esports and gaming, and we're proud to partner with a brand dedicated to uplifting and celebrating the lives and moments we all share together," John Spiher, Vice President of Partnerships at Dignitas, said.
BLAST Premier extends broadcast reach for 2021 season with eight new media deals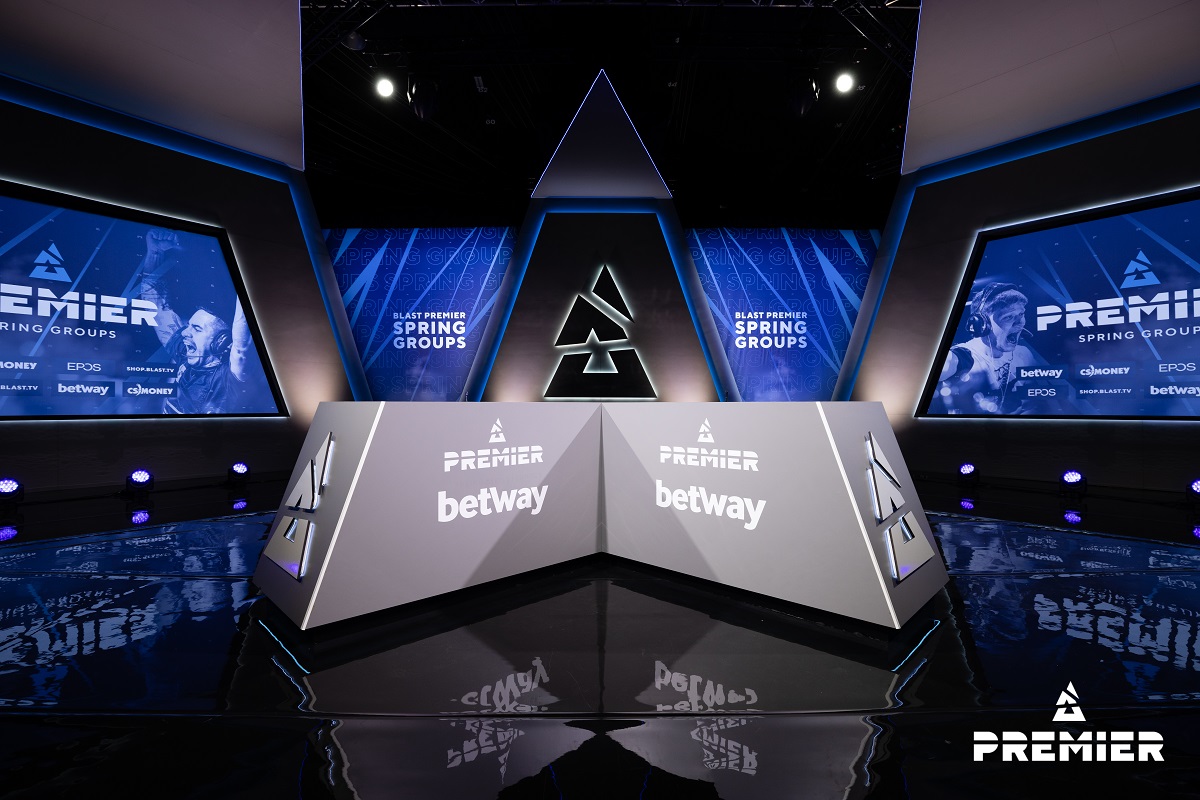 Reading Time:
2
minutes
Media deals include linear TV channels SportsMax, Nordic Entertainment Group and BOLT+ after increased viewership in 2020
Esports tournament BLAST Premier has extended its international broadcast reach with eight new media rights deals for the rest of the 2021 season.
TV channels SportsMax, Nordic Entertainment Group and BOLT+, among other new deals, will take the world's leading Counter-Strike tournament series to a number of new regions around the world, including: Latvia, Estonia, Lithuania, Iceland, Canada, Kosovo, Pakistan, Sri Lanka, India and the Caribbean.
The new rights partnerships will extend the esports media network's portfolio of media rights to over 35 partners, meaning BLAST Premier will be shown in 18 different languages and across 157 territories.
The announcement highlights a period of growth for BLAST's TV and online distribution footprint after a year of increased viewership for esports. Newszoo's 2020 report estimated a year-on-year increase in the total esports audience by 11.7% to just short of 500 million people, while revenue from media rights and sponsorships ($822.4m) was expected to account for three-quarters of the total market.
Last season, BLAST Premier enjoyed increased viewership and more than 83 million hours of content watched across all seven of its Counter-Strike tournaments while posting the most watched CS:GO online match of all time during the Global Final.
Alexander Lewin, VP of Distribution and Programming for BLAST, said: "We are thrilled to see so many new partners join the BLAST network of leading TV and online channels. These deals will offer even more fans the opportunity to tune in to watch BLAST Premier from around the world, which is now accessible in over 150 territories and 18 languages. We expect to continue our path of expansion during an exciting period of viewership growth at BLAST Premier and in esports."
BLAST Premier is a global Counter-Strike tournament series that unites all major events, offers opportunities to all regions across the globe and crowns the world champions of CS:GO. Up to 32 teams will take part in the seven BLAST Premier events this year with a combined prize pool of $2,475,000 on the line.