Polish sports betting market sums up 2020: STS named the market leader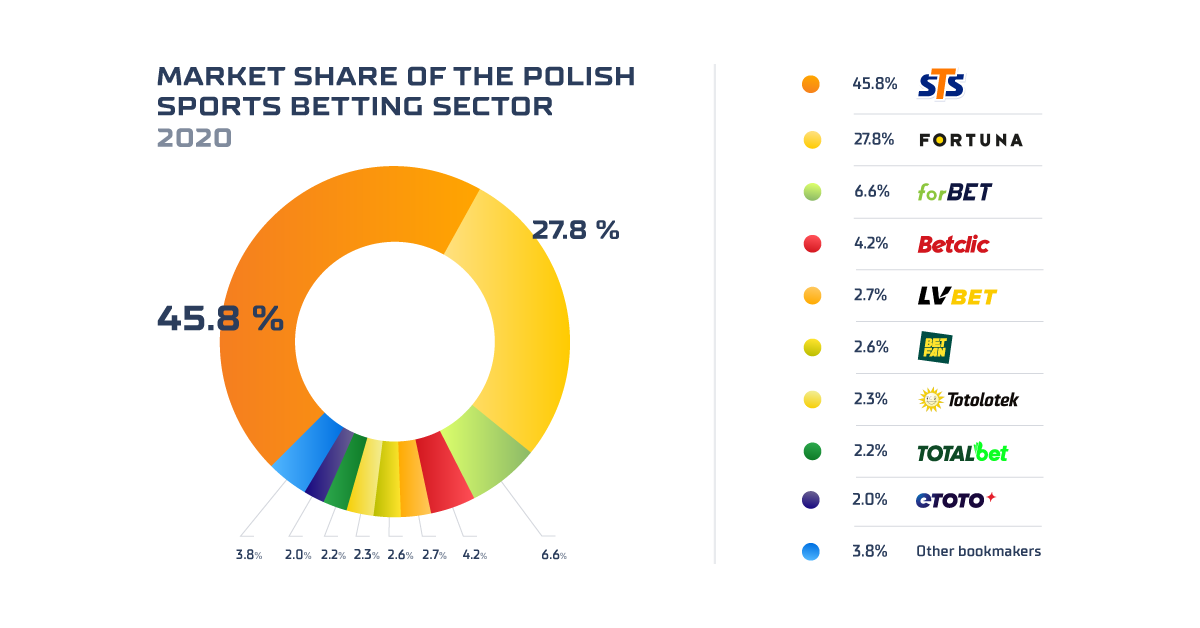 Reading Time:
3
minutes
For another year in a row, STS was the largest bookmaking company with a year-over-year increase in shares. Fortuna, the runner-up, was in the decline. The third-best, forBet, is on the rise, as reported by "Stowarzyszenie Graj Legalnie" (Association for the Elimination of Black Economy Betting in Poland 'Bet legally'). Revenues of licensed operators, as well as the amount of taxes contributed by the sector, would be higher if it were not for companies operating in the grey zone which are estimated by the "Graj Legalnie" association to account for several dozen per cent of the market.
STS is the largest sports betting company in Poland. The company managed by Mateusz Juroszek already controls 45.8 per cent of the licensed part of the sector, compared to its 45.1 per cent at the end of 2019. The sports betting company has also recorded an increase in revenues, from PLN 3.081 bn to PLN 3.319 bn.
According to the estimates of the "Graj Legalnie" association, the second-best, Fortuna, has recorded a decrease in revenues from over PLN 2.1 bn to ca. PLN 2 bn. The company has also lost its market share, from 30.9 per cent to 27.8 per cent. The third one on the podium is forBET (6.6 per cent of the market vs 6 per cent in 2019).
Other legal sports betting businesses in the ranking are Betclic (4.2 per cent of the market vs 1.7 per cent YoY), LV Bet (2.7 per cent vs 3.5 per cent YoY), Betfan (2.6 per cent vs 1.6 per cent YoY), Totolotek (2.3 per cent vs 4.5 per cent YoY), Totallbet (2.2. per cent vs 1.6 per cent YoY) and eToto (2 per cent vs 2.2 per cent YoY). Other players control the remaining 3.7 per cent of the market.
The full list:
| | | |
| --- | --- | --- |
| | Market share in 2020 | Market share in 2019 |
| STS | 45.8 % | 45,1% |
| Fortuna | 27.8 % | 30.9 % |
| forBet | 6.6 % | 6% |
| Betclic* | 4.2 % | 1.7 % |
| LV Bet | 2.7 % | 3.5 % |
| Betfan* | 2.6 % | 1.6 % |
| Totolotek | 2.3 % | 4.6 % |
| Totalbet | 2.2 % | 1.6 % |
| eToto | 2 % | 2.2 % |
| Other | 3.7 % | 2.9 % |
*It should, however, be noted that Betfan and Betclic were not operating from the beginning of 2019, therefore their results are not fully reliable.
COMMENTARY: Katarzyna Mikołajczyk, President of the "Graj Legalnie" association
The year 2020 was very subversive for the sports betting industry. After a promising beginning, the second quarter brought the lockdown of global sport. The most flexible companies with a diversified portfolio and well-developed produce and technology were able to make up for the losses incurred during those months. The best example of this is the market leader – STS. The company, despite a decline in revenues in the second quarter, achieved at the end of 2020 a result better than in the previous 12 months.
The pandemic has also affected its local betting shops, most of which have been closed during the lockdown. After reopening, traffic at many of these locations did not return to pre-pandemic levels, and some customers moved to the online channel. Totolotek did not manage to cope in this difficult situation – it has recently announced the closing of all of its local betting shops. It was the leaders who made it.
Graj Legalnie
The mission of the Graj Legalnie association is to improve the situation of legal sports betting businesses in Poland. Its goal is to protect the sector from illegal and unfair competition. The organisation was founded in 2016 to support operators licensed by the Minister of Finance in their functioning in a complex legal and competitive environment. Challenges facing both the association and the Polish authorities include the grey economy accounting for several dozen per cent of the market and losses incurred by the state budget for unpaid taxes worth several billion zloty.
Moreover, the task of the association is to create a positive image of the sports betting industry, to shape and to disseminate the principles of ethics in business operations and share best practices, as well as information between its membrs. Since its foundation, the association has been focussed on providing reliable information and data concerning the Polish sports betting industry.

EGT Interactive Enters Czech Market with Fortuna Entertainment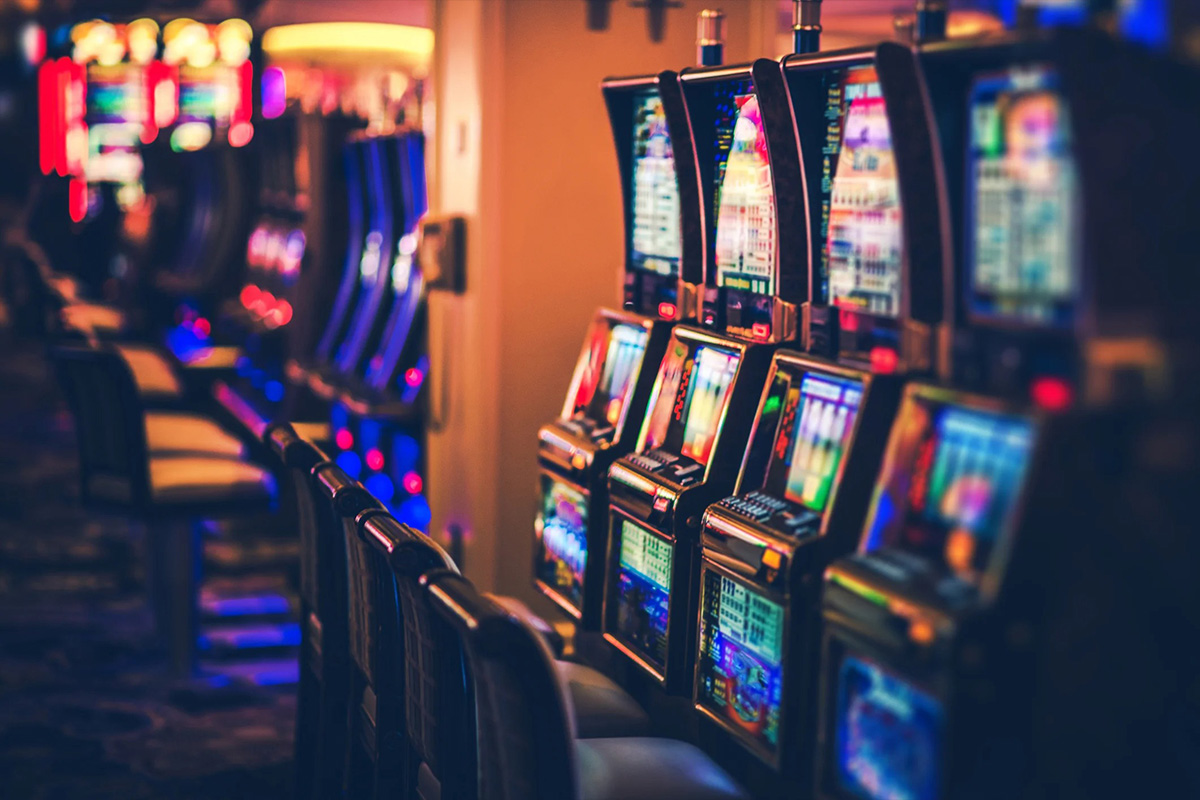 Reading Time:
< 1
minute
EGT Interactive has entered the Czech Market with one of the leading iGaming operators in the country, Fortuna Entertainment Group (FEG).
The strategic deal with Fortuna Entertainment will enable EGT to broaden the reach of its products while further diversifying the content of the slots available on ifortuna.cz. The players base can also enjoy 40 attractive EGT Interactive games, including Amazon's Battle, 40 Mega Clover, Great 27, Supreme Hot, 100 Super Hot and the trendy bonus game, the Jackpot Cards. The games are launched in partnership with RWC Energy which will ensure a stable and reliable integration process.
Fortuna Entertainment Group is a trustworthy partner of EGT Interactive, and both companies have been partnering in other markets as well. This strategic partnership exists in Romania, where the Group owns casaparilurilor.ro and efortuna.ro brands, and in Croatia through the psk.hr iGaming offering.
"We are proud to build upon this partnership with Fortuna Entertainment Group. We have already achieved great results partnering with FEG in other markets. We are rapidly growing, and such a partnership will, for sure, have a positive outcome for both parties," Ivo Georgiev, Managing Director of EGT Interactive, said.
German mobile games market grows by 22 per cent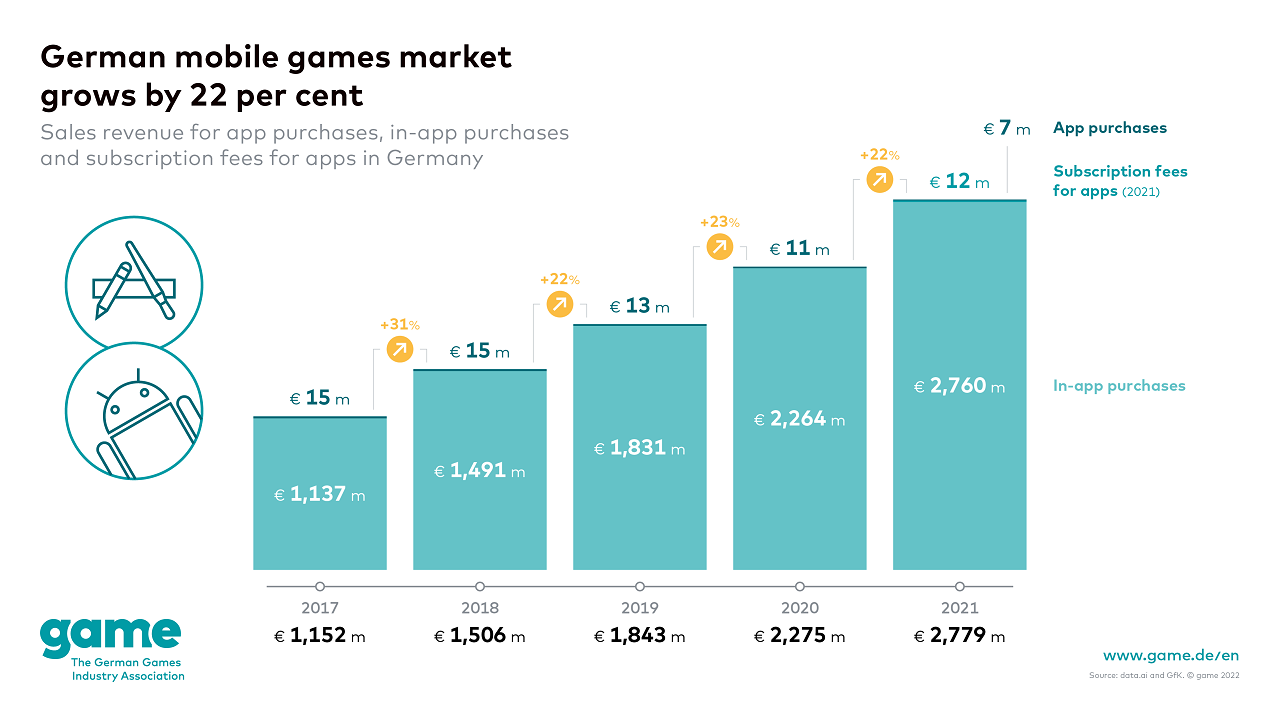 Reading Time:
3
minutes
The huge variety of mobile games and their easy availability on smartphones and tablets have made them especially popular choices. Be it casual puzzle games, familiar PC and console games adapted for mobile use, or location-based games like "Pokémon Go" or "Jurassic World Live", the popularity of games apps is undiminished. Sales revenue continues to increase, and the German mobile games market once again experienced strong growth in 2021, with a 22 per cent increase in sales revenue from games apps to about 2.8 billion euros. This growth is a continuation of the impressive trend in recent years, as sales revenue in 2020 had already risen by 23 per cent. These are the figures released today by game – the German Games Industry Association, based on data collected by the market research companies data.ai and GfK.
In-app purchases continue to drive growth in the mobile games market, accounting for approximately 99 per cent of total sales revenue in this segment in 2021. Sales revenue from in-app purchases enjoyed yet another year of significant growth, increasing by 22 per cent from about 2.3 billion euros in 2020 to nearly 2.8 billion euros in 2021. This is primarily due to the tremendous popularity of free-to-play games that allow players to enhance their game experiences with in-app purchases. Players can buy additional content such as additional levels and new skins for their own avatars. Sales revenue generated by games offered for purchase, on the other hand, continues to decline, amounting to just 7 million euros in 2021. Subscription fees for apps like the Apple Arcade and Google Play Pass services generated 12 million euros in sales revenue, an increase of 200 per cent over the previous year.
The average age of mobile games players remained almost unchanged in 2021 at 38.3; the previous year the average player was 38.8 years old. In 2019, mobile games players were 37.4 years old on average. As in the previous year, there were roughly the same number of male and female players of mobile games. Even so, at 51 per cent there were slightly more women than men playing games on their smartphones or tablets in 2021.
According to Felix Falk, Managing Director of game: 'The mobile games sector is getting bigger year after year. Games apps are an integral part of the daily lives of millions of people in Germany thanks in no small part to their tremendous variety and accessibility. Mobile games also make it easy to network with other players – anytime and anywhere. This includes location-based games, multiplayer games and even mobile esports. Playing mobile games has turned into a popular social gaming experience.'
Another year of strong growth for the German games market
Following a historic 2020 performance with 32 per cent growth, sales revenues in the German games market continued to rise significantly in 2021 with a total of approximately 9.8 billion euros in sales revenue generated by games, games hardware and fees for online gaming services – an increase of 17 per cent compared to the previous year. Sales revenue from computer and video games grew by 19 per cent to about 5.4 billion euros, due among other things to increases in in-game and in-app purchases. Sales revenue from games hardware has also grown, by 18 per cent overall to about 3.6 billion euros. Demand for games consoles and gaming PC accessories was particularly strong.
About the market data
The market data is based on statistics compiled by the GfK Consumer Panel and data.ai. The methods used by GfK to collect data on Germany's video games market are unique in terms of both their quality and their global use. They include an ongoing survey of 25,000 consumers who are representative of the German population as a whole regarding their video game purchasing and usage habits, as well as a retail panel. The data collection methods provide a unique insight into the German market for computer and video games.
game – the German Games Industry Association
We are the association of the German games industry. Our members include developers, publishers and many other games industry actors such as esports event organisers, educational establishments and service providers. As a joint organiser of gamescom, we are responsible for the world's biggest event for computer and video games. We are an expert partner for media and for political and social institutions, and answer questions relating to market development, games culture and media literacy. Our mission is to make Germany the best games location.
Parimatch Tech Opens an Office in Prague Focusing on R&D and Product Teams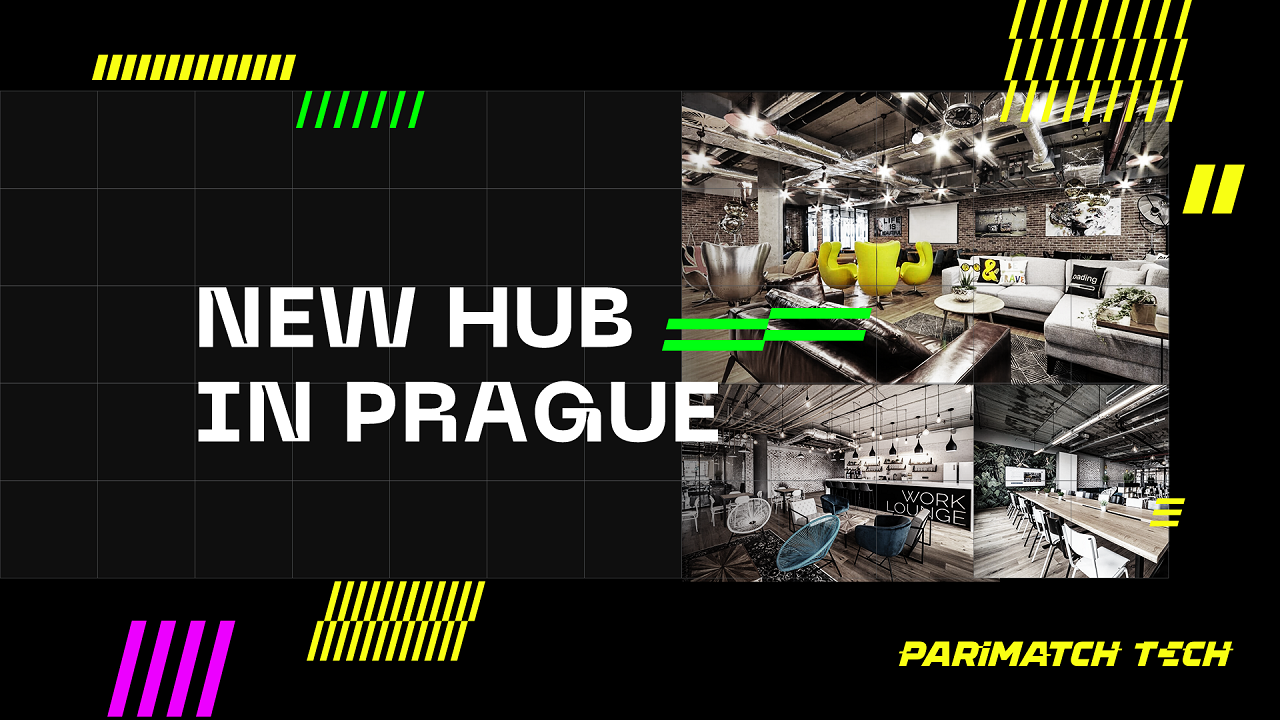 Reading Time:
2
minutes
Parimatch Tech, an international IT holding company, opened a European hub in Prague, Czech Republic, on May 1st, 2022. The decision was made amidst Russian aggression in Ukraine. By opening an office in Prague, the company continues its global business expansion, as well as provides the employees who were forced to leave the country with a stable and familiar work environment. Eventually, Czech hub will be refocused and transformed into an R&D centre.
'The opening of the Prague office continues our European expansion. Opening that hub and starting operations in the EU are part of Parimatch Tech's long-term strategy of developing a global IT cluster. The war made us act swiftly and strengthened our dedication to business globalisation. We are currently focusing on creating the best working conditions possible for our teams located in the Czech Republic. Our goal is to create a thriving business environment and ensure the safety and well-being of every employee and their family. Still, I would like to stress that Ukraine remains our key R&D hub.' — commented Maksym Liashko, Parimatch Tech CEO.
The company's Chief Talent Officer, Tatiana Davydova, points out that the Prague office will allow Parimatch Tech to create and organise comfortable working conditions for the teams and become a unifying hub for all employees across Europe. The company plans to expand the Czech R&D centre to 200 developers in the future.
'Czech Republic is one of the prominent European IT clusters, has a reputation of a safe and comfortable country, and offers a high potential for business development. According to Techloop, over 316,000 people are currently working in the IT sector here. Our employment priority will be hiring Ukrainian developers, but we also intend to work with the European talent market. We are certain tin our ability to bring useful tactics that we already implemented in Ukraine, and can offer the candidates the best working and growing conditions possible. One of the key projects that we intend to re-launch soon will be Parimatch Tech Academy.' — said Tatiana Davydova, Chief Talent Officer at Parimatch Tech.
The company's HQ is located in Limassol, Cyprus. Before the war in Ukraine, Parimatch Tech's largest R&D centre was located in Kyiv, but was re-formatted into several coworking areas in the western Ukraine after the shelling of the capital started. There are now three coworking offices in Ukraine — in Kyiv, Lviv, and Uzhhorod.