Casino Betting Coin launches pioneering no-loss lottery via PoolTogether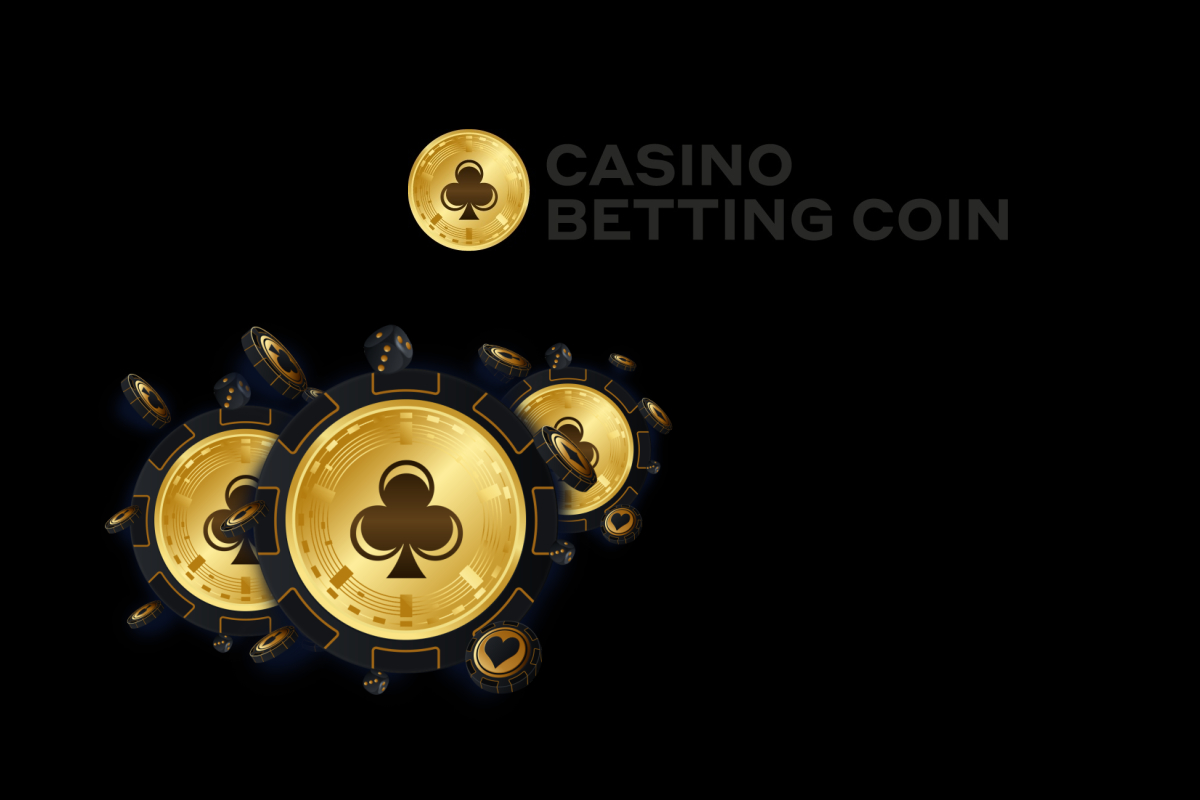 Reading Time:
2
minutes
Casino Betting Coin (CBC), the cryptocurrency for the global gaming market, has launched its own no-loss lottery via disruptive blockchain-based platform PoolTogether.
PoolTogether is a fast-growing disruptor within the decentralized finance (defi) space. Its open-source protocol for no-loss prize games currently has more than $160 million worth of cryptocurrency locked, with holders competing for almost $200,000 in weekly no-loss prizes.
The CBC no-loss lottery challenges users to stake their CBC holdings on the platform for a chance to win a weekly jackpot. The first week's jackpot stands at 14,250 CBC (around $1,000 at current market price) and will be split between two winners on Monday, April 5. The weekly jackpot will scale as more CBC is locked in the pool.
Players receive their entry to the lottery with no risk; they can withdraw the CBC they staked at any time. The protocol offers users the chance to build their CBC holdings without having to risk their initial capital, and the launch marks the first opportunity to stake CBC.
The pool can be accessed at: https://community.pooltogether.com/pools/mainnet/0x7A0eebB278fA0A9dd804Ca8387Eecbce6d423693/home
Ed Brennan, President of Casino Betting Coin, said: "The Casino Betting Coin team is always looking for innovative ways to create genuine utility for our fast-growing user base, and PoolTogether offers precisely that.
"We have been watching the protocol closely as its no-loss lottery concept has captured the imagination of cryptocurrency hodlers. PoolTogether allows us to offer CBC holders the chance to win addition tokens at n
"CBC is a natural fit for a community pool, and we are certain that our users will be thrilled for the opportunity to win additional CBC without having to risk their initial holdings."
The launch of a CBC pool is Casino Betting Coin's first move into defi and staking, as the brand continues to build utility for its token.
Casino Betting Coin was recently integrated into leading social casino GameTwist. Last year, the interactive division of casino giant Novomatic, Greentube, acquired a majority of the CBC cryptocurrency in a landmark deal at the intersection of blockchain and gaming.

Alanyaspor to Launch Fan Token on Socios.com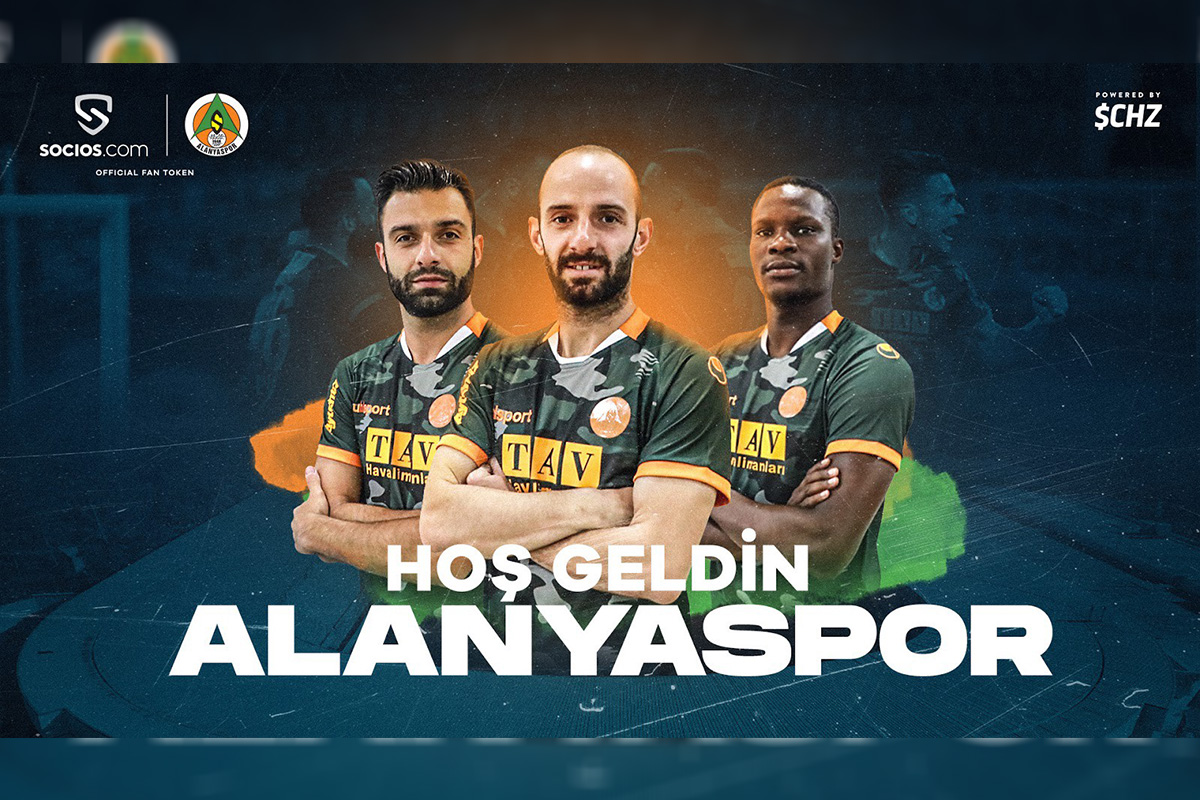 Reading Time:
2
minutes
Turkish Süper Lig side Alanyaspor, in partnership with blockchain providers for the sports and entertainment industry Chiliz, have announced plans to launch $ALA Fan Token on fan engagement and rewards platform Socios.com in the coming months.
Alanyaspor finished fifth in last season's Süper Lig and were also runners-up in the Turkish Cup. The club is currently in the fifth position in this season's table. $ALA Fan Tokens are collectible digital assets, minted on the Chiliz blockchain, that provide owners with access to voting rights in polls, VIP rewards, exclusive club and sponsor promotions, AR-enabled features, chat forums, games and competitions on Chiliz' fan engagement and rewards mobile app Socios.com.
The Alanya-based side will become the fifth Turkish club to launch a Fan Token, joining Galatasaray, Trabzonspor, İstanbul Başakşehir and Göztepe on the Socios.com roster. The announcement takes the total number of partners in the Socios.com network up to 28.
Hasan Çavuşoğlu, President of Alanyaspor, said: "We are pleased with this agreement that will bring our club, which we want to move forward day by day, into the digital world with the active participation of our fans.
"With the $ALA Fan Token, our fans will have a significant impact on club decisions and benefit from the multiple interaction and reward opportunities available on Socios.com.
"We are extremely excited for our Fan Token launch and are looking forward to great interest from our fans. We are proud to have Aytemiz Alanyaspor join the Socios.com family, which includes the world's leading clubs, and make our club stronger in the global digital arena."
Alexandre Dreyfus, Founder and CEO of Chiliz and Socios.com, said: "This latest announcement means that almost a quarter of all Süper Lig clubs have now partnered with Socios.com to launch Fan Tokens.
"The biggest clubs in Turkey – and throughout the world – are using Fan Tokens and Socios.com to increase engagement with their global fanbases.
"Our vision is to evolve passive fans into active fans and it's very fitting that this evolution is currently happening faster in Turkey, where the passion of supporters is so high, than anywhere else."
A Golden Opportunity: How to Win a Lamborghini in 2021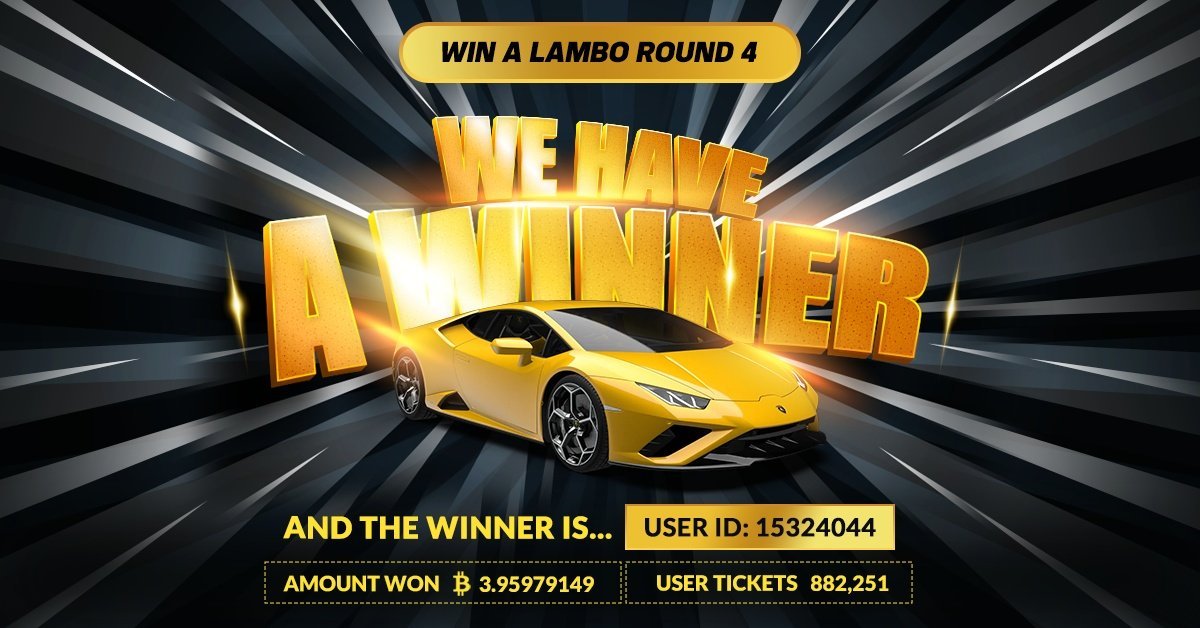 Reading Time:
2
minutes
Dreams do come true.
On April 24th, a FreeBitco.in user, out of over 42 million registered users, won a brand new Lamborghini, crypto's favorite car.
And that wasn't the first time. Since May 2019, FreeBitco.in, one of the world's biggest Bitcoin gaming websites, has given away Lamborghinis to four lucky winners.
And they don't intend to stop…
It's Time for Round 5!
The Lamborghini Giveaway at FreeBitco.in is a Golden Ticket Contest where users have to collect Golden Tickets which are entered into a provably fair draw to pick the winner.
User 15324044 is the latest winner and they held over 882,251 Golden Tickets over the course of the contest. The lucky winner gets to choose between a Lamborghini or $200,000 in BTC credited directly to their FreeBitco.in account.
Over the last 2 years, FreeBitco.in has given away a total of $800,000 in BTC through four popular editions, and now they're making it $1 million with Round 5.
And the best part? You can win a Lambo too!
How to Participate?
Win a Lambo Round 5 began as soon as Round 4 ended. Everyone can participate in Crypto's Biggest Giveaway and stand a chance to win.
Follow these steps to join the contest:
Create an account on FreeBitco.in.
Collect Free BTC or deposit BTC into FreeBitco.in wallet.
Play the HI-LO dice game, or bet on events.
For every 0.005 BTC wagered in total on both the dice game or the event betting page, the user gets 1 Golden Ticket.
Golden Tickets can also be bought for 0.00025 BTC each.
Collect as many Golden Tickets as possible to increase the chances of winning a Lamborghini.
After the contest ends, a provably fair lottery draw will be conducted to pick the lucky winner.
It's that simple!
The contest ends on 23rd October, 2021. You have six months to collect as many tickets as you can. Who knows, you could be driving home a shiny Lamborghini come October!
The Sandbox Attracts Strategic Gaming & Silicon Valley Partners to build Virtual Lands in its NFT Metaverse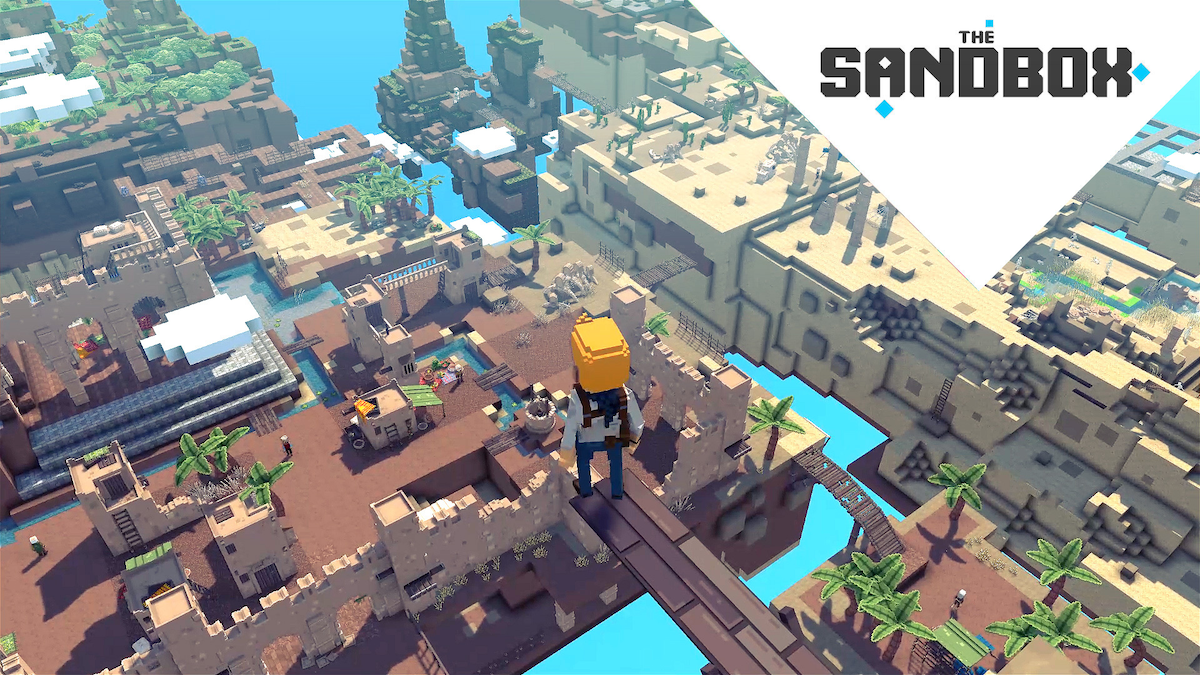 Reading Time:
4
minutes
Uken Games, Bill Lee, Ken Howery, Galaxy Interactive, Tyler Winklevoss, Gemini Frontier Fund, Nifty Gateway, Avenged Sevenfold, and others entered into strategic partnerships to acquire LAND and build experiences in The Sandbox's NFT-based metaverse
The Sandbox, a subsidiary of Animoca Brands and the leading decentralized social metaverse platform, announced that it has added multiple partners from the NFT, investment, and music industries to its growing list of partners. As with previous partners, the new entrants have joined in The Sandbox's virtual real estate by acquiring LAND NFTs in the open metaverse and committed to building experiences across the metaverse. To celebrate the new partners, The Sandbox will launch a new LAND sale on April 14 that allows players to purchase choice spots near partner LANDS.
The partners who acquired LAND in The Sandbox's metaverse include crypto projects such as Nifty Gateway, 21x, and Gemini, as well as renowned Silicon Valley based VCs and investment partners including Galaxy Interactive (Global gaming VC and investors in over 50 companies across the interactive landscape, including RTFKT, Bitski, Mythical Games, Immutable, and WHALE), Bill Lee (Co-Founder of Craft Ventures, former Board Director of Big Fish Games, and early investor in Cloud9, Coinbase, Opensea, and Tesla), Ken Howery (Co-Founder and former managing partner at Founders Fund, Co-Founder of PayPal), Sundeep Madra (Serial entrepreneur and investor), Gemini Frontier Fund (Founded by Tyler & Cameron Winklevoss), Chris Ye (CEO of Uken Games and creator of top-grossing mobile games Bingo Pop, Ava's Manor, Who Wants To Be A Millionaire), Alex Reece (Early investor in Unity, Draft Kings and Lyft), Michael Witz (Founder of Redemption Games and creator of top-grossing mobile games Cookie Jam and Sweet Escapes), Edward Saatchi (Founder of Virtual Beings company Fable) and Patricio Fuks (Serial Entrepreneur & Investor), and heavy metal band, Avenged Sevenfold.
"As a vibrant, growing NFT-based gaming metaverse, The Sandbox is attracting strong and diverse new partners each day, from gaming studios to IP brands to artists to celebrities to visionary entrepreneurs to technology companies," said Sebastien BORGET, COO & Co-Founder of The Sandbox. "We're shaping our virtual world to be an experience rich place where partners can plant a flag with virtual destination experiences on their LANDS in a powerful new entertainment community where creators, players and brands can build and grow alongside each other."
The involvement of the partners announced follows the beta launch of The Sandbox's NFT marketplace, which gives anyone the opportunity to earn SAND, The Sandbox's utility token, by monetizing voxel-based NFT creations created with the dedicated software VoxEdit. Each NFT can be used inside the game platform in the future or used to build custom game experiences. LAND NFTs are the main gateway to publishing games in The Sandbox, as the platform prepares for opening its first public beta for players later this year. The Sandbox was recently featured by the Wall Street Journal and CNBC as a pioneer in the space.
The Sandbox is becoming a prime entertainment destination where brands, IPs, and celebrities can engage with their fans and offer virtual experiences including games, live performances, and social experiences. Brands will coexist through neighboring lands, able to function as digital concert arenas, theme parks, or malls that users of The Sandbox can visit and experience by themselves or with friends. Reflecting on this potential, partner VCs, investors, and celebrity brands share their thoughts below on what attracted them to The Sandbox:
"We have been tracking the progress of The Sandbox ecosystem from its earliest days, and have been impressed by the founding team's consistent execution towards their mission of developing a community-owned sandbox of creativity and fun. We are delighted to do our part to develop the community through the land we've acquired, directly and through our portfolio companies, and cannot wait to witness how the broader ecosystem evolves," said Richard Kim, GP at Galaxy Interactive.
"Gaming is a killer use case for the metaverse, and The Sandbox is the only metaverse tuned for high-quality games with a decentralized monetization ecosystem for developers, asset makers, and passionate gamers," said Bill Lee, Co-Founder of Craft Ventures. "21x will be developing all of our parcels into THE premiere gaming destinations across any metaverse — stay tuned!"
"The Sandbox is revolutionizing gaming by empowering users to build, own, and monetize their gaming experiences in a virtual world that is decentralized," said Tyler Winklevoss, Co-Founder of Gemini Exchange. "We plan to extend our existing platforms into The Sandbox and develop unique experiences on our properties that advance our mission of empowering the individual through crypto."
"We have officially purchased LAND in The Sandbox and are excited to build out a virtual space for our friends to explore," said heavy metal band, Avenged Sevenfold. "Digital ownership and the metaverse have become increasingly interesting to us and The Sandbox felt like the right fit to enter this new world."
Upcoming LAND Sale
The Sandbox's upcoming LAND sale event on April 14th, 2021 will offer additional premium LAND located near the partners announced today. Each purchasable LAND will include exclusive premium NFTs and have the possibility to host events, gaming experiences, or social hubs when the game is released later in 2021. The Sandbox has already sold 45% of its 166,464 LAND NFTs, releasing them in successive waves that usually sell out in seconds. Existing LAND owners include Binance, CoinCheck, Metakovan, Pranksy, Socios, and CoinMarketCap among others.
The Sandbox has secured over 60 partnerships, including The Smurfs, Care Bears, Atari, CryptoKitties, and Shaun the Sheep, to build a fun, creative "play-to-earn" platform that offers virtual worlds and game experiences owned and created by players. The play-to-earn model gives players true ownership of anything they collect in the game, allowing them to trade it to other players (including outside the game on other websites), transfer it to other players, or even resell it.
The Sandbox is scheduled to launch its full Alpha for players in Q2 2021, enabling anyone to experience a social hub and gain the power to build a fantastic collection of fantasy and role-playing adventures that can be traded as NFTs with other players, creators, and artists on the platform.