German market for mobile games grows by 23 per cent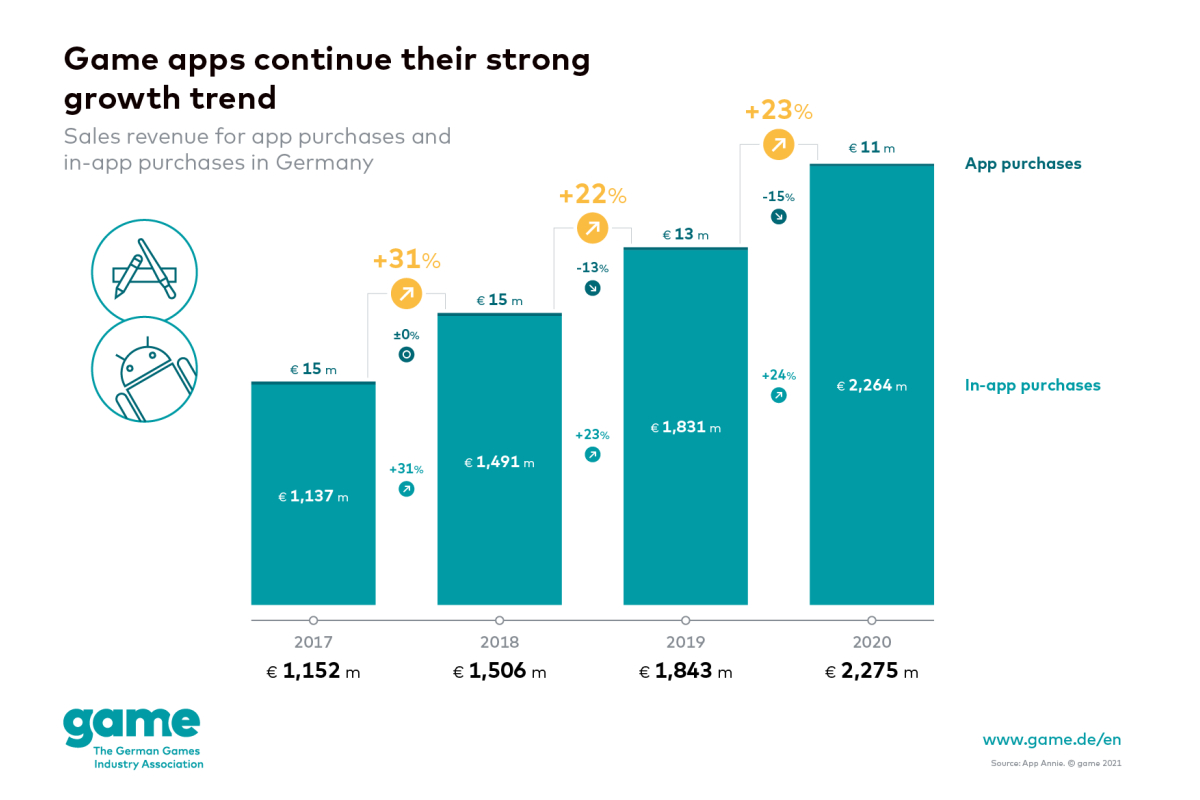 Reading Time:
3
minutes
Whether a quick round of a puzzle game, an interactive quiz against players around the world or even strategic team games in a league structure: game apps are appealing to more and more people. The easy accessibility and growing variety of titles is resulting in a steady increase in the number of players, and sales revenue is showing considerable growth every year. The market for game apps posted strong growth again in 2020. In Germany, within a single year, the sales revenue for games designed for smartphones and tablets increased by 23 per cent to roughly 2.3 billion euros. This represented a continuation of the impressive growth exhibited in the market for game apps in the previous years: sales revenue grew by 22 per cent in 2019, and by a remarkable 31 per cent the year before. These are the figures released today by game – the German Games Industry Association, based on data collected by the market research company App Annie. The year 2020 saw the continuation of another positive trend from the previous years: the market growth is directly attributable to in-app purchases. Sales revenue from such purchases grew by 24 per cent to about 2.3 billion euros. Free-to-play games, especially, relied on in-game purchases. These are titles that can be downloaded and played free of charge. Players can opt to spend money for additional content, such as personalising their own avatar in a game. Free-to-play games are particularly successful on smartphones and tablets. The market segment for game apps available for purchase, in contrast, declined again. In 2020, sales revenue for such titles dropped by 15 per cent down to roughly 11 million euros. Another trend also continued in 2020: the average age of smartphone game players increased by 1.4 years within a single year, from 37.4 to 38.8 – representing a clear increase in average age. At 52 per cent, just over half of these mobile games players are women.
'Mobile games are becoming increasingly popular in Germany. Not only did the rising number of players contribute to this renewed strong market growth, but also the growing variety of titles. While app stores, in their early years, primarily featured casual games for playing from time to time, they have since exhibited an increase in the number of more complex games available. If we take a look at Asia, we see the direction one of the developments is taking: mobile games are increasingly being played competitively – in leagues and in tournaments – thus becoming a category of esports,' says Felix Falk, Managing Director of game.
German games market: major surge in sales revenue in 2020
The German games market recorded a considerable surge in sales revenue in the Covid-19 year 2020. Computer and video games and the related hardware generated a combined sales revenue of about 8.5 billion euros, as already reported by game. This is an increase of 32 per cent compared to the previous year. Games consoles, gaming PCs and peripherals accounted for roughly 3.2 billion euros in sales revenue. This is an increase of 26 per cent compared to 2019. The submarket for computer and video games saw even stronger growth, with revenues of 5.2 billion euros achieved through game purchases, in-game and in-app purchases, subscriptions and charges for online services. As a result, this part of the market managed to grow by 36 per cent compared to the previous year.
About the market data
The market data is based on statistics compiled by the GfK Consumer Panel and App Annie. The methods used by GfK to collect data on Germany's video games market are unique in terms of both their quality and their global use. They include an ongoing survey of 25,000 consumers who are representative of the German population as a whole regarding their video game purchasing and usage habits, as well as a retail panel. The data collection methods provide a unique insight into the German market for computer and video games.
game – the German Games Industry Association
We are the association of the German games industry. Our members include developers, publishers and many other games industry actors such as esports event organisers, educational establishments and service providers. As a joint organiser of gamescom, we are responsible for the world's biggest event for computer and video games. We are an expert partner for media and for political and social institutions, and answer questions relating to market development, games culture and media literacy. Our mission is to make Germany the best games location.

STS Group Extends BetGames Content Partnership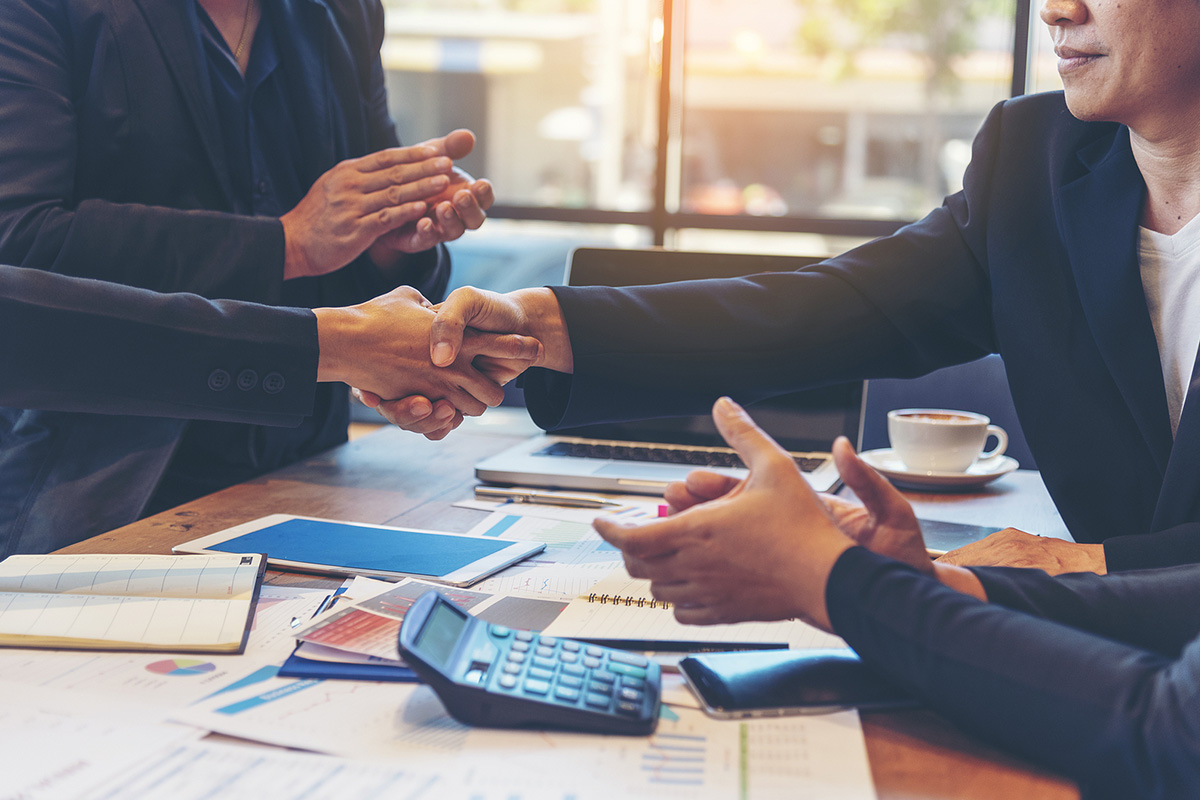 Reading Time:
< 1
minute
The STS Group has reached an agreement to continue its collaboration with TV Zaidimai for supplier BetGames' content.
Under their renewed partnership, STS will remain Poland's only operator offering BetGames' live dealer products. This new deal also includes an agreement to expand their current game portfolio.
More significantly, BetGames' offer, alongside virtual sports, accounts for more than 10% of the STS Group's net gaming revenue (NGR), giving their extended collaboration more weight.
The prolonged licence agreement includes access to various betting products as well as live dealer content, such as poker and baccarat.
Furthermore, TV Zaidimai and STS will expand their non-English language offering after they embarked on a "Polish table" project for poker in 2020.
"We are not only the largest, but also the most innovative bookmaker in Poland. We are prolonging a partnership that is very important for us and grants us exclusivity to offer BetGames products in Poland," Mateusz Juroszek, CEO of STS Holding, said.
"Player interest in products similar to BetGames products keeps growing, which is why, together with TV Zaidimai, we are investing in and personalising the offer for Polish players," he added.
"We are delighted to strengthen and deepen our fruitful partnership for the long term. STS is not only the market leader in Poland, but also the innovation leader in the region and beyond. An ideal match for us to develop a challenging market together – with great success for both parties," Andreas Koeberl, CEO of TV Zaidimai, said.
Pariplay signs new partnership deal with Switzerland's Grand Casino Bern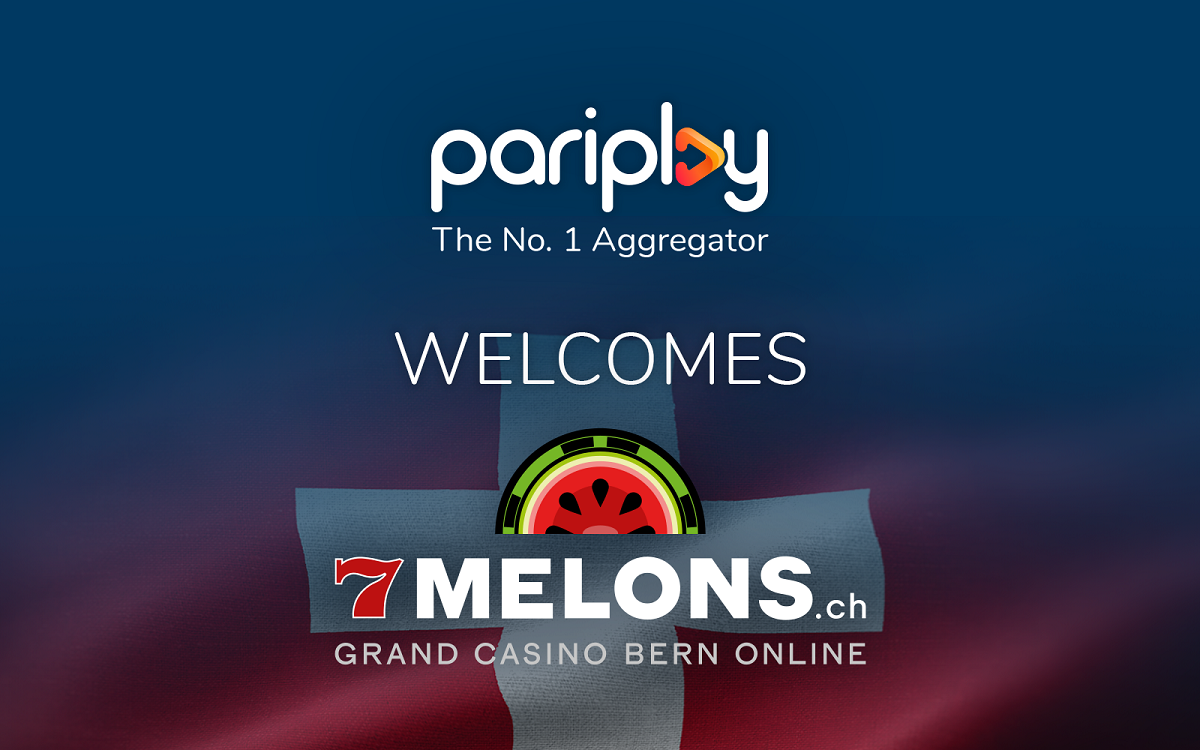 Reading Time:
< 1
minute
Aspire Global's Pariplay, the leading aggregator and content provider, has bolstered its presence in the regulated market of Switzerland by partnering with Grand Casino Bern's online brand 7 Melons.
This agreement will enable Pariplay to offer its innovative and feature-packed Wizard Games title and content from its Ignite partner programme to Swiss players at 7melons.ch, the online entity of the prominent land-based operator in the country.
The new content partnership represents the latest forward step within Pariplay's strategic growth plan across regulated markets worldwide, with a host of significant deals struck to offer leading operators content from its Fusion™ platform.
Fusion™ features thousands of games from the industry's leading games developers, in addition to a suite of back-office conversion and retention tools that enhance player value.
Andrew Maclean, VP of Sales, Pariplay, said: "This is the latest in a string of content agreements we have reached in this very exciting regulated market. Grand Casino Bern is a household name in the country and we look forward to adding to its 7 Melons brand with content we have already seen is popular with the Swiss audience. We are very excited about working together."
Ludwig Nehls, CEO at Grand Casino Bern, said: "Through its proprietary content and global game distribution programme Ignite, Pariplay offers the best of all worlds to players and we are delighted to be able to boost the selection of titles we can put before our audience in the name of world-class entertainment."
EGT Interactive Enters Czech Market with Fortuna Entertainment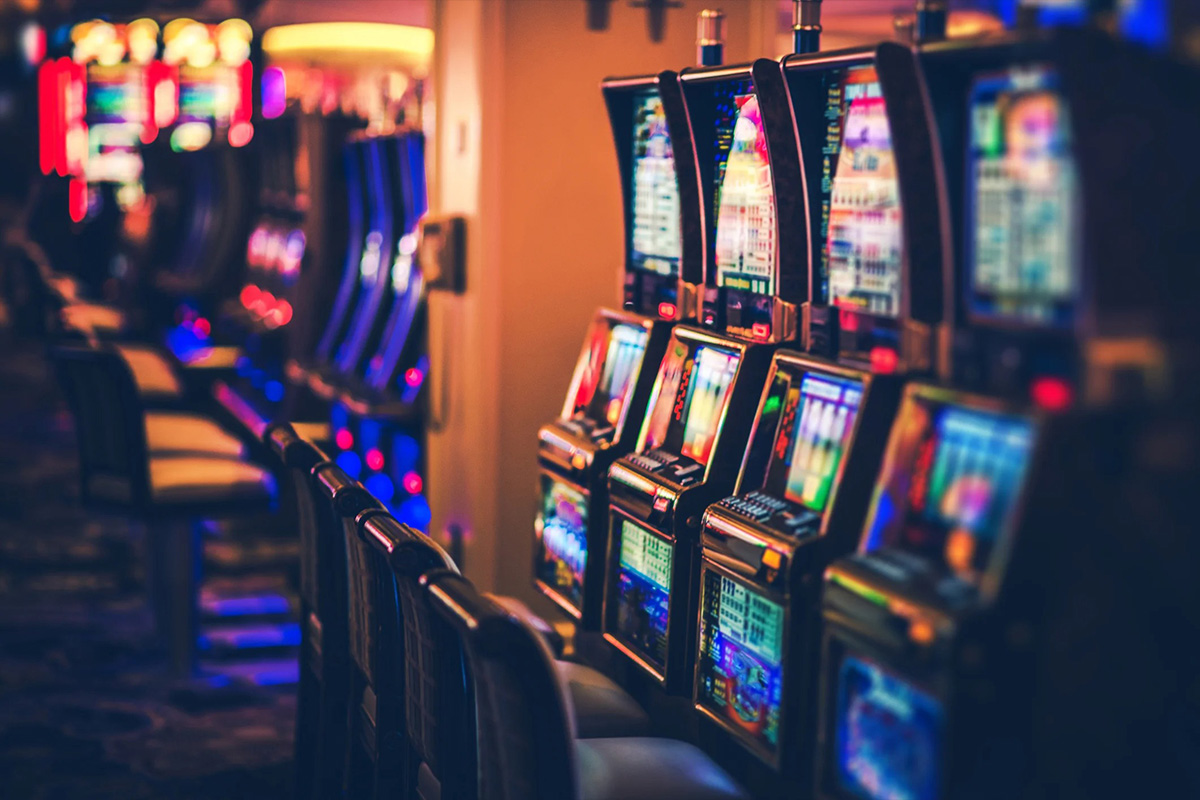 Reading Time:
< 1
minute
EGT Interactive has entered the Czech Market with one of the leading iGaming operators in the country, Fortuna Entertainment Group (FEG).
The strategic deal with Fortuna Entertainment will enable EGT to broaden the reach of its products while further diversifying the content of the slots available on ifortuna.cz. The players base can also enjoy 40 attractive EGT Interactive games, including Amazon's Battle, 40 Mega Clover, Great 27, Supreme Hot, 100 Super Hot and the trendy bonus game, the Jackpot Cards. The games are launched in partnership with RWC Energy which will ensure a stable and reliable integration process.
Fortuna Entertainment Group is a trustworthy partner of EGT Interactive, and both companies have been partnering in other markets as well. This strategic partnership exists in Romania, where the Group owns casaparilurilor.ro and efortuna.ro brands, and in Croatia through the psk.hr iGaming offering.
"We are proud to build upon this partnership with Fortuna Entertainment Group. We have already achieved great results partnering with FEG in other markets. We are rapidly growing, and such a partnership will, for sure, have a positive outcome for both parties," Ivo Georgiev, Managing Director of EGT Interactive, said.