Microgravity Gaming League announces winners of India's biggest FIFA 21 tournament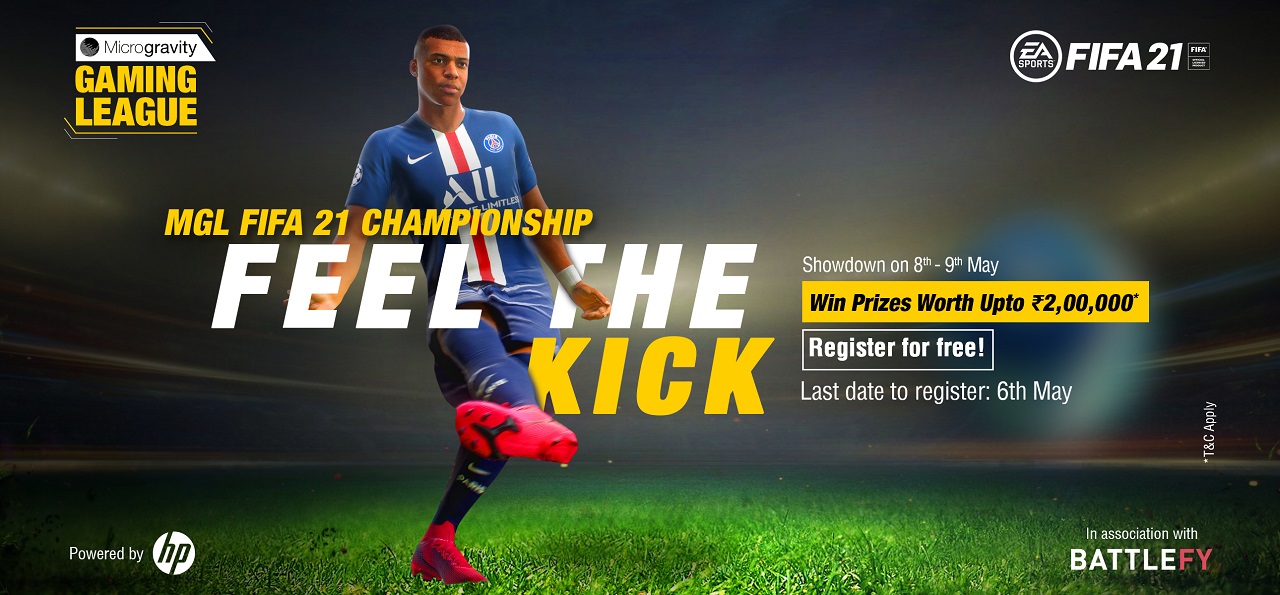 Reading Time:
2
minutes
Microgravity Ventures Private Limited, a world-class gaming hub and e-sports host in India, organized the Microgravity Gaming League FIFA Championship (MGL FIFA 21) this weekend. The tournament was in partnership with Battlefy and HP for gamers above 16 years of age. The tournament drew significant engagement from FIFA wizards with 3,000 registrations and 4 million impressions from across the country. These participants were professionals, enthusiasts and casual gamers who competed against each other.
The tournament took place in three phases across 2 days – the Qualifier Phase, the Battle Phase and the Zero Hour Phase. In the Qualifier Phase, candidates got shortlisted through the registration process on Microgravity's website. The top participants then competed against each other and entered the Battle phase. The Battle Phase had 6 rounds where qualified participants played in a single-elimination format. On day 2, the top 16 participants then battled against each other to be crowned the Microgravity Gaming League – FIFA 21 Champion. These matches also witnessed some exceptional women gamers that were named #GamerGoddesses.
Speaking on the occasion, Mr. Rahul Bhattacharya, Co-Founder and MD, Microgravity said, "It gives us immense pleasure to announce the winner of MGL FIFA 21 Championship – Saransh Jain (saranshjain7).  When a gamer sets up a goal and pushes through all challenges, that is when they become real winners. It was astounding to see people compete with great zeal and at an extremely high level of skill. The tournament saw cut-throat competition and some superb gameplay, which was a treat to watch. India has some extraordinary talent and we are looking to continue hosting many more such tournaments."
The final rounds on the 9th of May to decide the winners of the championship, saw many closely fought humdingers. After 15 intense matches, the top players took home exciting prizes. The second runner up – Vignesh B (Vicky_1227) won Microgravity vouchers worth INR 10,000. The first runner up Navin (Navinh29) received an HP 24F IPS Monitor. The winner of the tournament Saransh Jain (saranshjain7) secured an HP Zbook 14U G6 Laptop with his scintillating performance. The Top Scorer and the Best Goal winners also got Microgravity Vouchers worth INR 5,000 each. Moksha Sharma who won the title of top woman gamer, was declared the MGL Gamer Goddess based on her tactical and gaming skills, was rewarded with a HP Reverb VR headset.
On winning the MGL FIFA 21 Championship, Saransh Jain added- "It feels insane. I was really excited when I heard about this tournament. To go on and be able to win it is a great feeling. It's my first major tournament win this season. Thank you again to Microgravity for organising this and I hope to see more such tournaments in the future."
In 2020, Microgravity organized two online gaming tournaments that gained significant traction among digital gamers. These tournaments were the MGL Free Fire tournament and the MGL Call of Duty: Mobile tournament. The former was held during the month of August and September 2020 with over 2.2 million impressions and over 20 thousand participants. Similarly, the latter happened in December 2020 and reported over 8 lakh impressions.

Casino Secret Becomes AS Monaco's Official Online Gaming Partner in Japan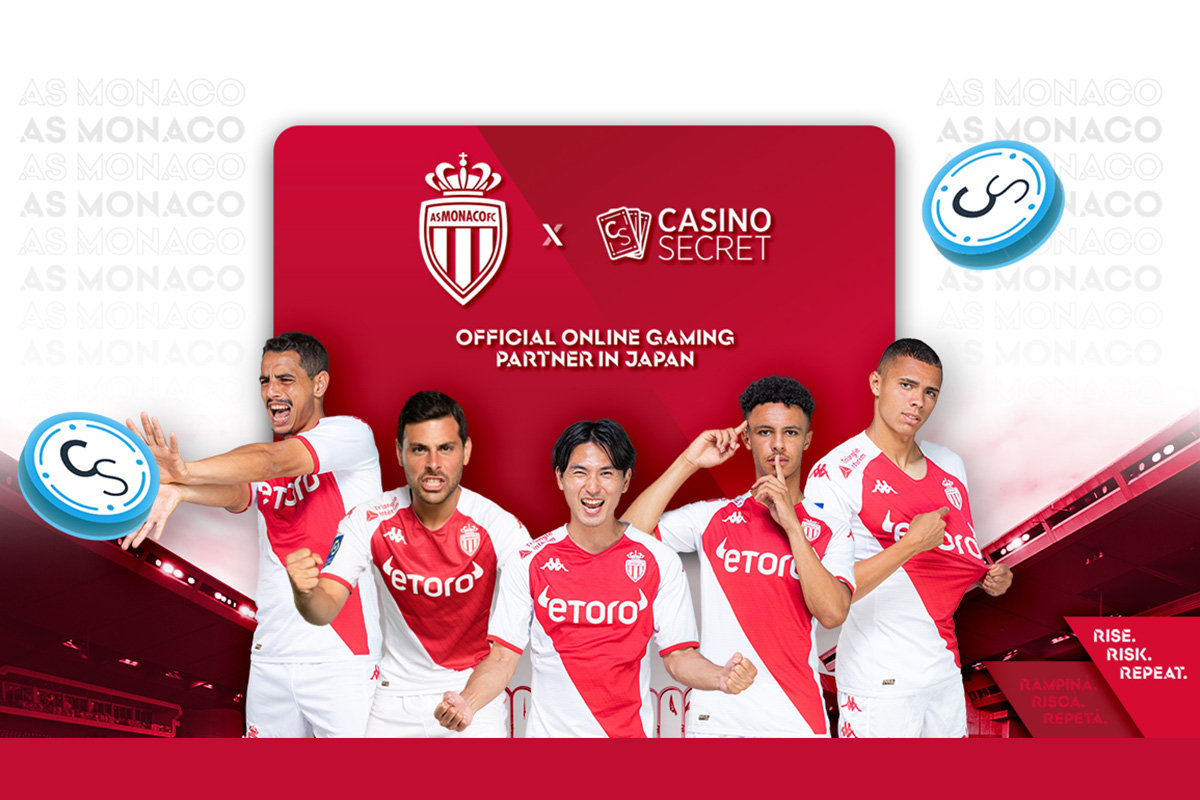 Reading Time:
2
minutes
Casino Secret, one of the fastest growing and innovative online casinos in Japan, has become the Official Online Gaming Partner of AS Monaco in Japan for the next two seasons.
By entering into a partnership with a company primarily focused on the Japanese market, AS Monaco is taking another step forward which will enable the Club to get closer to the football fans in the region.
Casino Secret and AS Monaco will jointly launch an exclusive digital campaign, featuring a series of high-impact content targeting the Japanese audience to celebrate the new partnership.
Jean-Emmanuel de Witt, CEO of AS Monaco, said: "We are delighted to welcome Casino Secret as our online gaming partner in Japan. AS Monaco is an iconic Ligue 1 club with a strong international dimension, and is enjoying growing interest in Japan notably due to the arrival of Takumi. We look forward to starting this new partnership with Casino Secret to grow our presence in Japan and to provide Japanese football fans with some unique jointly created content."
Nadir Ounissi, Founder and CEO of Casino Secret, said: "Since our launch in 2018, Casino Secret brand has been growing exponentially in Japan and that has led us to win several awards voted by the community of players. In the past we worked with other partners in the football industry, now as one of the leading online gaming companies in Japan, it is logical to take a next step to associate with AS Monaco, a world-renowned club, with a strong digital audience of over 22 million supporters and a constant growth of this resonance. With Takumi Minamino's presence in the AS Monaco team, we have a great opportunity to grow our respective Japanese communities in the next two seasons. We look forward to this collaboration."
Gary Aurivel, COO of Casino Secret, said: "We're excited to partner with AS Monaco. Emotion, surprise, and fun are the main keywords defining this partnership. This collaboration between the club where one of Japan's top football players' plays, and online casino will bring endless fun and excitement to our audience in Japan. We look forward to work with them to create exclusive content to our Japanese audience."
The bronze at the CEC 2022 opens up new horizons for Indian esports internationally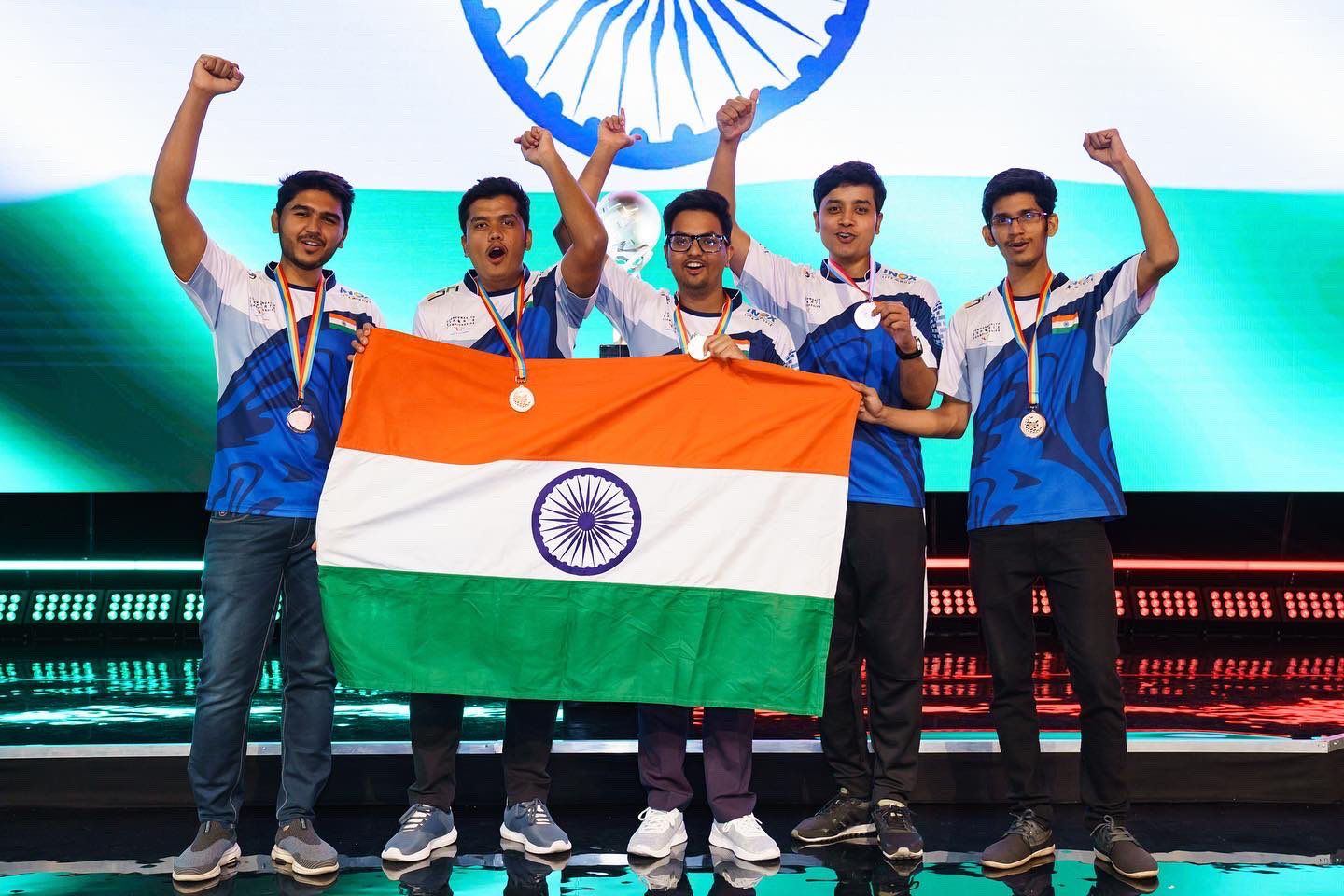 Reading Time:
3
minutes
India's DOTA 2 esports team's victory at the CEC 2022 is a significant milestone in the history of the Indian esports and gaming ecosystem. It will open up new horizons for aspiring athletes who dream to compete in international tournaments in the future, thereby encouraging young gamers to pursue full-time careers as athletes. The win will open floodgates for subsequent industries to rise, birthing new-gen pro-gamers, careers, tournaments, brand associations and sponsorship opportunities among others. As the country celebrates 75 years of Independence, this victory marks a historical achievement for India in the international gaming arena.
The Indian DOTA 2 esports team displayed a smacking performance and won the bronze at the inaugural Commonwealth Esports Championships 2022 (CEC) held recently in Birmingham, England. The winners of the Indian DOTA 2 team, consisting of Moin Ejaz (captain), Ketan Goyal, Abhishek Yadav, Shubhnam Goli, and Vishal Vernekar, defeated New Zealand by 2-0 in an unsurpassed format.
Up until 2010, esports as a concept was relatively obscure in India and rather non-existent, with low public awareness, lack of infrastructure, and little involvement in the development of this sector. However, 2010 saw an enormous surge in the user base due to the popularity of smartphones, affordable high-speed internet, and notable investments in the space.
According to a report by the Federation of Indian Chambers of Commerce and Industry (FICCI) and EY India, the Indian esports industry rose to INR 3 billion in FY2021 and is expected to reach INR 11 billion by FY2025. This only confirms that the growth opportunity for esports in India is exponential and expansive.
Bharat Patel, Co-Founder, and Director, of Yudiz Solutions Limited, said, "A big congratulations to team India for claiming the bronze medal at the Commonwealth Esports Championship for DOTA 2. A remarkable achievement, considering the countless scrims, lengthy LAN games, and complex strategies involved." With reference to esports athletes, he further shares, "the intelligence, mettle, and enthusiasm DOTA players display is utterly amazing. This win will boost the morale of the younger generation to become more active participants, encouraging the industry and the gaming community going forward."
Anurag Khurana who is the CEO & Founder of Penta Esports said, "Congratulations to team India on winning the bronze medal at CEC for DOTA 2. This win will surely bring esports more recognition in India and inspire more aspiring esports athletes at the grassroots level in the country."
Talking about the win Abhishek Aggarwal, Co-Founder, and CEO, of Trinity Gaming India, said, "These are exciting times for the esports industry and a very proud moment for the country and the gaming community. This win by the DOTA 2 team at the Commonwealth Esports Championship has earned a spot for India on the global gaming map and the future of esports looks very bright. This will encourage a new breed of gamers to build their careers leading to a larger pool of talent in the country. This is also an opportunity for brands to step forward in supporting the industry and encouraging the new athletes who aspire to have a career in this arena. We, as industry players, are confident that the government will support this form of the sport by providing adequate support to the esports athletes."
The Indian esports ecosystem witnessed its first international representation (demonstration) at the Asian Games in 2018. Tirth Mehta, who won a bronze at the time, drew the attention of many developers and investors and their interest in Indian esports grew. Coverage and promotional campaigns on various online social media platforms like YouTube, Facebook, and Instagram increased public awareness and further stimulated the popularity of esports in India.
As esports is declared as a medal event at the next Asian Games and Commonwealth Games, India's performance and win at  CEC 2022 have upped the ante for Indian esports in the international arena.
Revenant Esports to represent India at Pokemon UNITE World Championship 2022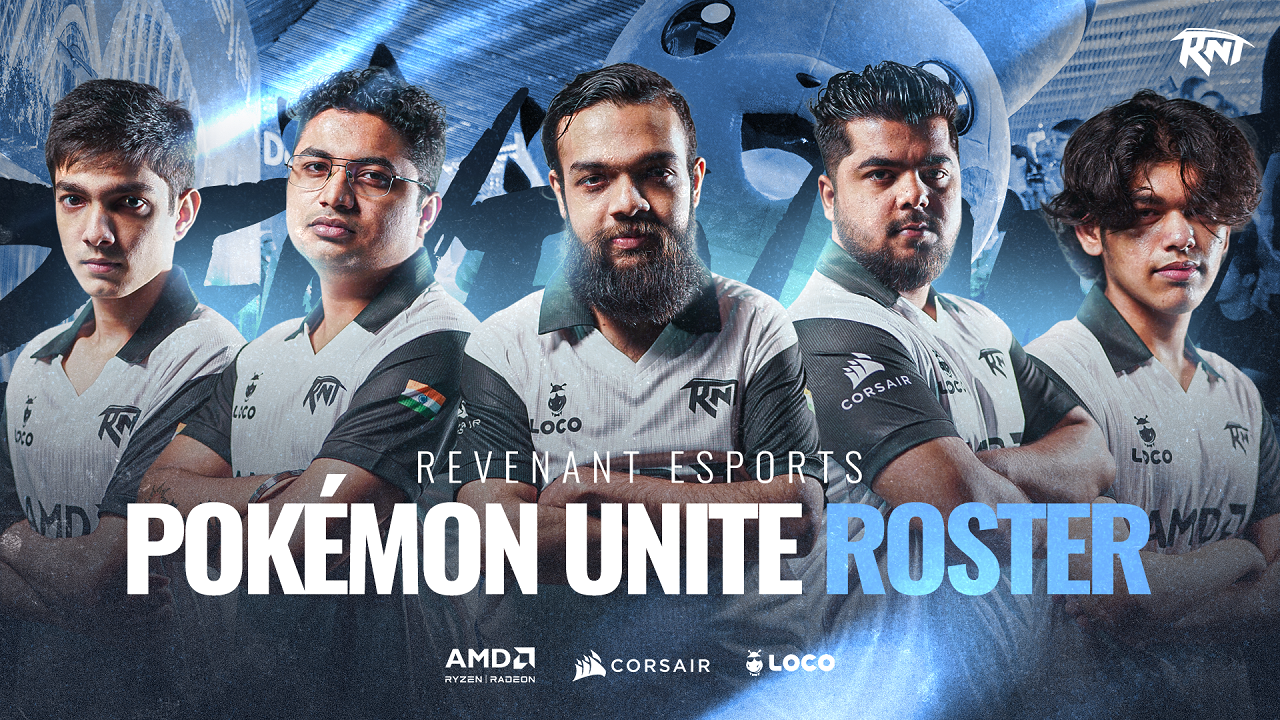 Reading Time:
2
minutes
Hustling their way amongst the top Esports teams in the country, Revenant Esports booked their spot in the Pokemon UNITE World Championships 2022 by clinching the Indian regional qualifier with a dominating performance.
They thrashed Ascension by 3-1 in the final and also took home the prize money of $20,000.
A total of 24 teams, including popular Esports teams like True Rippers Esports, Enigma Gaming, Entity Gaming and S8ul, featured in the regional qualifiers.
Revenant Esports were impressive throughout the tournament, winning all of their nine games in the group stages and playoffs.
The team will now represent India at the Pokemon UNITE World Championship, scheduled to take place in London from August 19-20. The tournament will feature a massive prize pool of USD 500,000.
"I am extremely delighted that the team has qualified for the World Championship, considering the fact that these qualifiers were the current roster's first competitive appearance. The way they sailed through the group stage and playoffs was impressive. Being the first Esports team to represent India in this particular tournament is a commendable achievement for us and we are confident that the team will make everyone proud. We are looking forward to the tournament and competing with the best teams from all over the world," said Rohit Jagasia, Founder & CEO of Revenant Esports.
The team, comprising captain Raunak Sen (Crowley), Omkar Sawardekar (Omen), Adnan Badshah (Badshah), Jeet Kundra (Swifty), Anklesh Satelkar (Novaa) and Vishnu Khatri (Xesol), were assembled recently on June 13.
"Having earned a lot of recognition through DOTA 2, it feels like a great accomplishment to represent your country on the international stage for multiple games. Everyone in the team put in a lot of effort and was confident about our chances right from the beginning. This was visible in the qualifiers as we went unbeaten in the regional championships in spite of the high level of competition. I hope that we transition that form to the World Championship as well and bag the trophy," an elated skipper Raunak "Crowley" Sen expressed.
The event will feature 16 teams, qualified from 26 countries across the globe, battling to win the inaugural edition of the tournament.
The teams will be divided into four groups with the top two teams advancing to the playoffs. All games will be played in a double elimination best-of-three format while the final will be played in a best-of-five format with a bracket reset.