EXCEL ESPORTS recruits FC Schalke 04 Esports' Tim Reichert as new Esports Director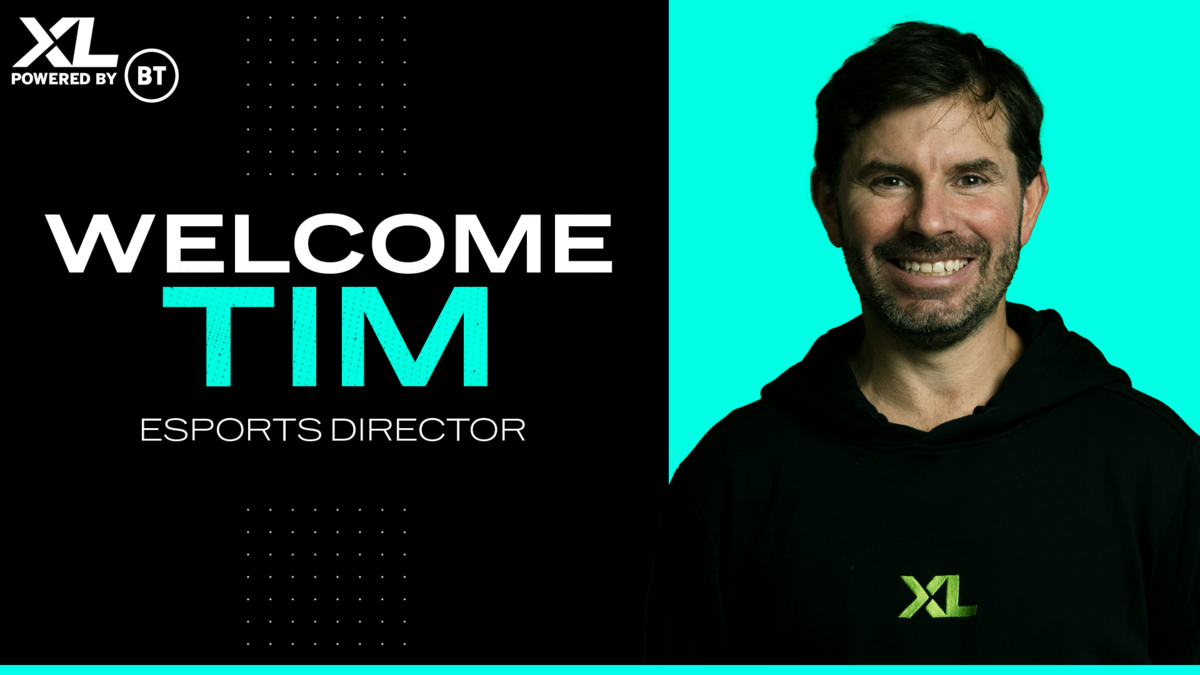 Reading Time:
2
minutes
Reichert brings over 20+ years of extensive experience across esports and sports performance management marking EXCEL ESPORTS' commitment to the competitive success of all of its rosters.
British competitive gaming culture brand EXCEL ESPORTS is pleased to announce Tim Reichert has been appointed as its new Esports Director as the brand looks to elevate its competitive ambitions. A true industry heavyweight Tim joins EXCEL following over five years at German-based esports organisation, FC Schalke 04 Esports, where he oversaw the successful growth and development of its esports rosters.
Tim burst onto the esports scene in 1997 after co-founding esports organisation SK Gaming alongside his brothers, Ralf and Benjamin Reichert. SK Gaming has gone on to become a European powerhouse creating lasting legacies in multiple gaming titles. Tim then turned to his second passion in life, sports, where he became a professional footballer playing for the likes of Rot-Weiss Oberhausen. After nine successful years in football, Tim completed a five-year stint as a client consultant at the biggest media company in Germany, Mediacom & GroupM.
In his most recent role, Tim utilised his knowledge and experience from esports and traditional sports to become Head of Esports at FC Schalke 04 Esports. During his time at the organisation, Tim oversaw the success of its League of Legends team's which included five appearances in the prestigious League of Legends European Championship playoffs and top place final finishes in 2018 and 2019.
As Esports Director Tim will focus on driving the overall success strategy across all of EXCEL's competitive rosters and talent. This includes ensuring the players mental and physical health, education, data, personal development, living conditions and access to top tier training facilities are at the forefront of importance.
The appointment of Tim follows the recent growth of EXCEL's competitive rosters, the expansion of its talent and leadership team as well as a successful €20M investment round. EXCEL recently completed the biggest FIFA transfer ever, signing FIFA professional Tom 'Tom' Leese. The growth signifies EXCEL's commitment and ambitions to field players in the biggest and best esports in the world.
Tim Reichert, Esports Director at EXCEL ESPORTS comments: "I am excited to be joining the EXCEL team as the new Esports Director bringing extensive experience from two top tier esports organisations. EXCEL's unique positioning as one of the strongest economies in Europe with its strong management team and support network makes it very well prepared for the future and the opportunities to recruit top tier talent are endless. I believe EXCEL's leadership team and I share a similar competitive vision and I look forward to ensuring EXCEL continues to strive forward and develop its players to compete on the biggest stages in the world."
Wouter Sleijffers, CEO of EXCEL ESPORTS comments: "We are absolutely thrilled to have Tim joining EXCEL's senior management team. Whilst EXCEL ESPORTS is rapidly expanding to become a global force out of Britain, clearly, we need to level up to compete with the world's best. Tim brings a wealth of experience across both esports and sports industries, and we believe Tim is the perfect person to take us to the global top and support our competitive talent in their careers. With all that Tim has to bring, I look forward to working with him to build on our continued success."

Young entrepreneurs booming business moves into gaming and esports
Reading Time:
2
minutes
A young entrepreneur in the UK who set up his business at the age of just 17 with £300, has moved into the gaming and esports industry due to huge consumer demand pressures.
George Greenhill, Founder of Protein Package, established the healthy snack brand business in 2017 from his parents' home in Wolverhampton whilst he was still at secondary school.
The business provides a 'pick and mix' style approach to ordering a variety of nutritional supplements and snacks online which are sourced from all over the world. The company really took off in 2020 owing to an increase in online consumer habits during the pandemic.
This recent growth has resulted in gamers and esports fans requesting that Protein Package expands into the gaming supplementation space to accompany their wide range of sports supplements and 'better for you' snacking options.
In November 2021, Protein Package decided to answer consumer calls and make the move, commenting on the expansion into the gaming sector, George said: "We're very excited to be entering this ever-expanding market, especially one with innovative brands popping up all of the time. We made the progression from selling only high protein products to general healthy snacks back in 2019 and felt now was the right time to dive into the gaming and esports supplement market.
We've been getting requests daily to help improve the range of gaming supplements in the country and it's a community I have always had close ties with. After looking into the UK market, we felt it has been neglected and left behind due to the lack of top brand availability such as GFUEL, CTRL and Razorwire when compared to America and Canada. At Protein Package, we want to change that so gamers don't have to wait for weeks to receive international shipments which can face lengthy delivery and expensive unexpected customs charges."
Sophie Edwards, Brand Manager at Protein Package said: "We've been working closely with various companies around the world to import all the best gaming supplements into the UK and offer the largest range. Many of the products have energy-boosting properties like the sport-focused supplements we currently stock so believe many of our existing customers will benefit from being able to try these brands out as a pre-workout."
As of last week, Protein Package already has GFUEL Energy listed on their website that includes all the bestselling flavours and the popular collaboration flavours with industry heavyweights KSI and PewDiePie. GFUEL's other products such as Energy Crystals, Ready-To-Drink Cans and Hydration Formulas will be imported and introduced online in the coming days.
George and Protein Package are aiming to have several other brands added to the store before the start of the New Year and prioritise offering the most competitive prices with fast UK delivery.
Luno Join Forces with Monstax Guild to Launch Blockchain Gaming Tournament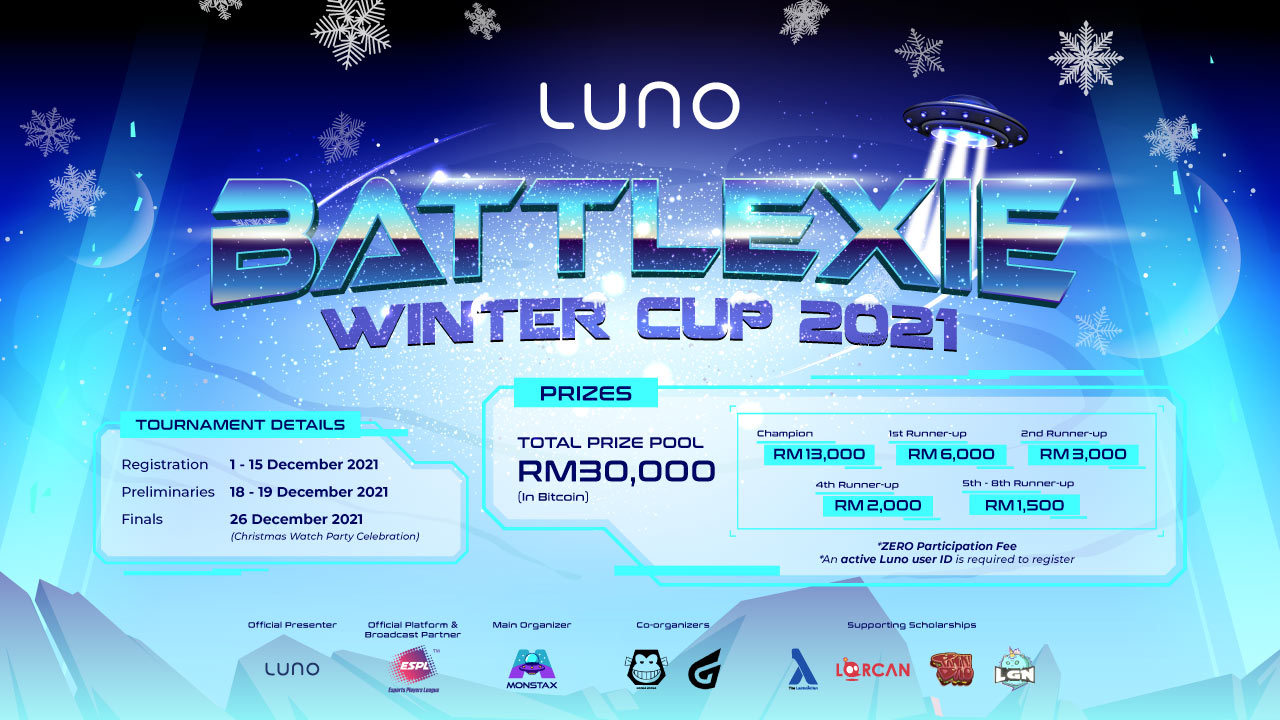 Reading Time:
3
minutes
Luno, the leading regulated digital asset exchange in Malaysia, announced its partnership with Monstax Guild as the main sponsor for the Luno Battlexie: Winter Cup 2021, a blockchain gaming tournament featuring the popular non-fungible token (NFT) game, Axie Infinity.
Luno Battlexie: Winter Cup 2021 is part of Luno's commitment in supporting Malaysia's growing blockchain gaming community. The rise of NFT games has revolutionized the gaming industry by highlighting the potential of play-to-earn (P2E) games in building a new digital economy and creating a new competitive esports ecosystem. Most notably, Axie Infinity has garnered two million daily active players globally where they collect, battle, and breed NFT creatures to earn Ethereum-based digital assets, which players can choose to convert to regular currency.
Aaron Tang, Country Manager of Luno Malaysia shared, "Investing and trading are no longer the only ways to profit from digital assets as consumer trends continue to evolve. In particular, NFT games have become increasingly popular among consumers interested in earning cryptocurrency through gaming. As such, it is no surprise that NFT games like Axie Infinity saw major growth over the past year and bridged the gap between the gaming and cryptocurrency worlds."
"Thus, we are proud to partner with Monstax Guild to support the local gaming community and help grow the blockchain gaming scene in Malaysia. Luno provides a safe and convenient platform for users to buy, store and learn about cryptocurrencies. Through our platform, we hope it will give curious Malaysian gamers the necessary tools to start their cryptocurrency journey", added Aaron.
With the rise of blockchain gaming, Monstax Guild has established a fair community platform that empowers players with the opportunity to experience P2E games. In addition, the platform aims to build a competitive, ever-learning, growth-driven, equal and lucrative ecosystem for the blockchain gaming community.
Shas Fung, Co-founder of Monstax Guild said, "We are delighted to partner with Luno for a tournament that provides a competitive stage for a new generation of gamers in Malaysia. Our goal is to support P2E gamers by creating a conducive environment for players to thrive through scholarships and training within a strong community. As the local blockchain gaming community grows in Malaysia, we will continue to organize future tournaments and strengthen the local NFT e-sports scene."
Build your dream team
From 1 to 15 December, players can register their participation on the tournament's Discord channel and stand a chance to win a share of the prize pool worth up to RM30,000 in Bitcoin. Preliminary rounds will commence from 18 to 19 December, where top 8 players will be selected for the semi-finals, and top 5 players will be shortlisted for the grand finals that will be held on 26 December.
The Luno Battlexie: Winter Cup 2021 tournament is free to enter and open to all verified and active Luno users in Malaysia aged 18 years and above. The grand finals will also be streamed live on Esports Players League (ESPL) tournament platform, the official broadcast partner for the tournament.
Jeffrey Patrick, Head of Tournaments at ESPL commented, "As a leading esports tournament platform that provides immersive mobile experiences to amateur gaming communities globally, this collaboration with Luno and Monstax Guild allows ESPL to bring an exciting new generation of P2E games to our regional gamers, starting with Malaysia. Through our ESPL.GG platform and proprietary technology, we aim to bridge the gap between esports and cryptocurrency arenas. By working with the best NFT games globally, this partnership marks our entry into the GameFi metaverse, alongside up-and-coming local studios and the largest game publishers globally. We look forward to and welcome future collaboration with brands, publishers and partners who aspire to be part of this mega-growth."
THE FUTURE FORECAST 2022: ESPORT IS THE NEW FAMILY SPORT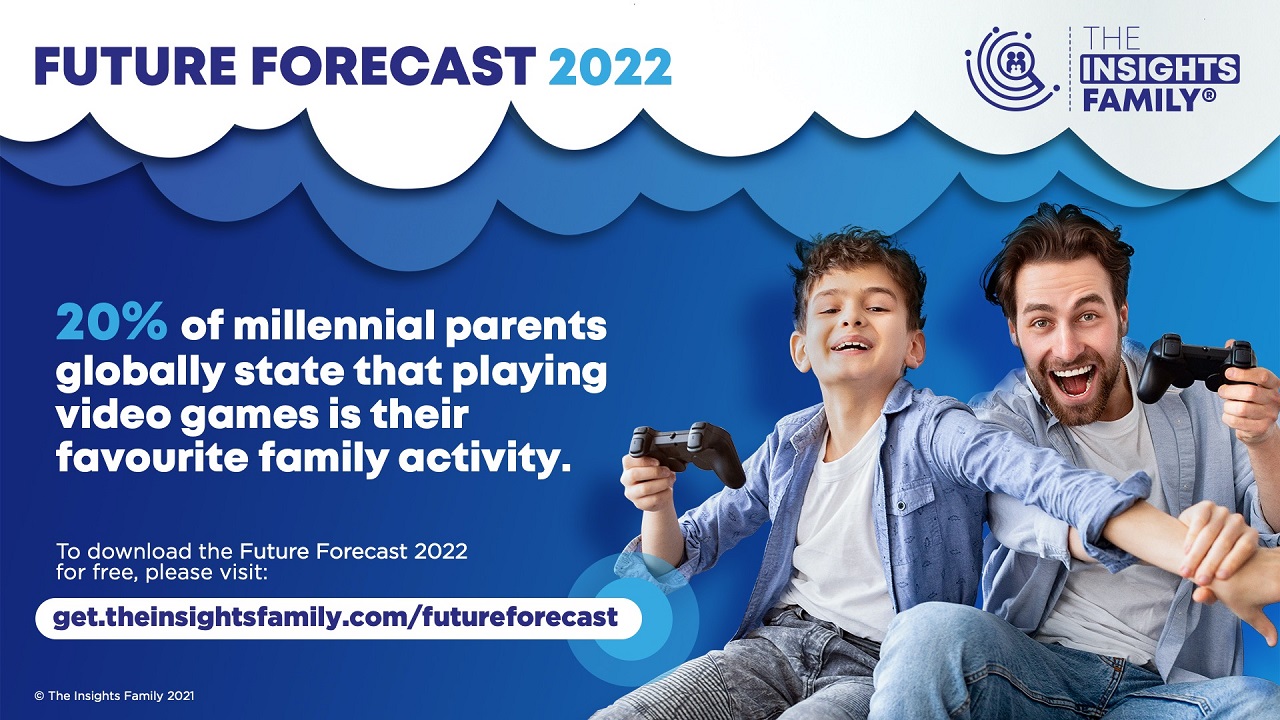 Reading Time:
2
minutes
The Insights Family, the global leader in kids, parents, and family market intelligence, launches their annual Future Forecast 2022 report, which predicts some of the key trends in the kids, parents and family universe to watch out for next year.
Predictions include:
The impact of the "flexible family" will see new opportunities in terms of the times of the week families can share experiences which is likely to further fuel the experience economy as the influence of kids is expected to grow across all family purchasing decisions.
Education to be reinvented and for the creation of school for the family, based on the growth of family-focused edutainment and education experiences.
Esport becomes the new family sport with more and more parents exploring this activity with kids.
According to the report, 20% of millennial parents globally state that playing video games is one of their favourite family activities – ranking as the number one hobby amongst families in the US. As parents are interacting more with the gaming industry, the study suggests that it is only a matter of time before esports becomes a family viewing experience also. In the same way that Traditional sports viewership unites the family unit, so too will esports in time.
When it comes to playing sports, parents are 70% more likely than kids to have influence over this activity. The same is true of attending live sporting events, although in this case the asymmetry in influence is even more pronounced towards parents, who are 93% more likely to influence this family activity. In the sporting world, parents are the key decision makers in the family unit.
But esport trend will be accelerated through kids' influence in the household. We are even likely to see esports be handed up the generations, in contrast to traditional sports. The Insights Family's previous data has shown that parents have significant influence over sports events, but recently we have seen that 74% of kids globally hold a lot of influence over video games in the household, according to parents. More parents are being exposed to the world of esports than ever before, and as such the industry must be prepared for an influx of new audiences to cater for.
More parents are being exposed to the world of esports than ever before, and as such the industry must be prepared for an influx of new audiences to cater for. As a result, we are likely to see the esports industry pivot in order to make their branding, marketing and partnerships reflect more of a family focus in the coming years.
Sarah Riding, Senior Research & Trend Director at The Insights Family comments,
"Increasingly, parents will recognise the appeal and legitimacy of esports as an activity worth spending time on, particularly as it moves increasingly into the family space. Whether this is passively through watching competitions or encouraging kids to spend more time pursuing their esports related talents"
Future Forecast 2022 is the fourth iteration of the coveted report, which has previously predicted the rise of Direct to Consumer (2017), Generation Speak (2018) and Co-Creation (2020).
The report which is inspired by the company's extensive knowledge and insight of surveying more than 500,000 family members across 18 countries every year, has continued to track and monitor the impact of a number of key factors such as Covid, technology and the environment and how they are transforming the attitudes, behaviour and consumption of kids, parents and families around the world.
The complimentary 26 page Future Forecast report is available to download by visiting: get.theinsightsfamily.com/futureforecast