Jarno Opmeer and Mercedes lead F1 Esports Series Pro Championship presented by Aramco after dramatic Event 1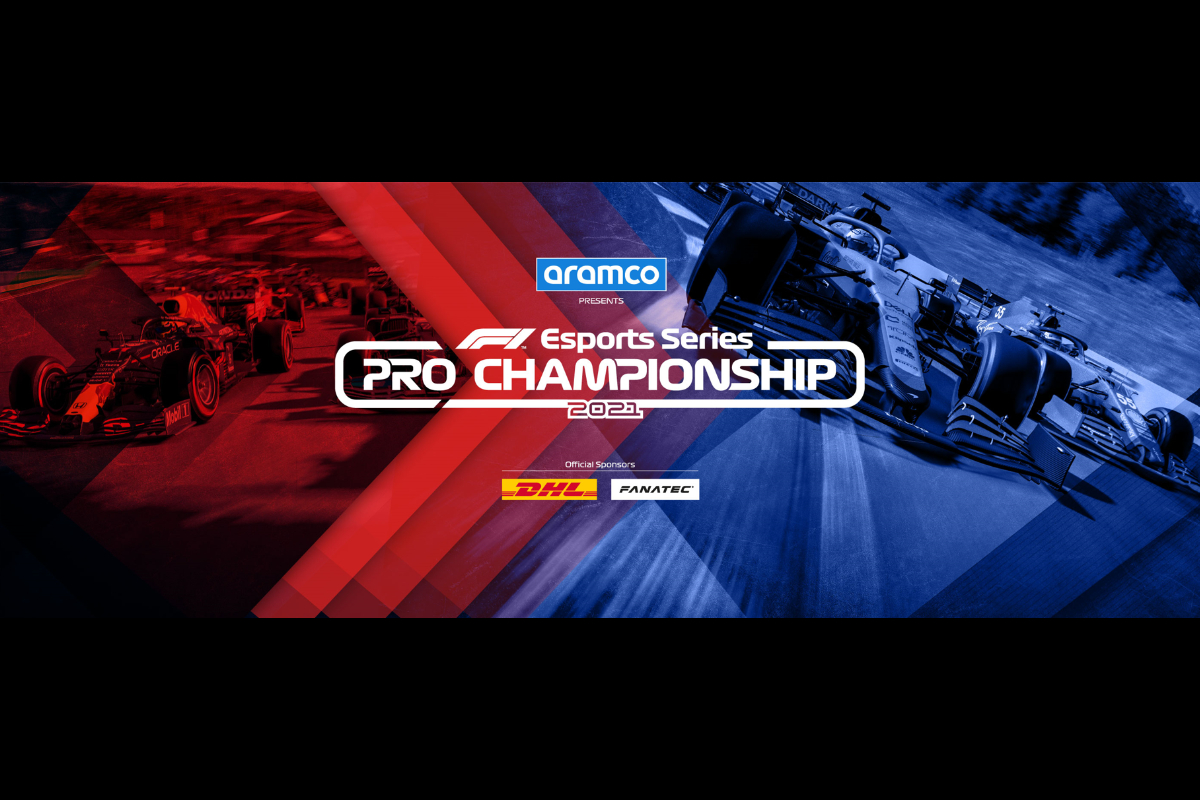 Reading Time:
5
minutes
The 2021 F1 Esports Series Pro Championship presented by Aramco got underway with an thrilling Event 1 this week, where Jarno Opmeer and Mercedes took an early lead in the Drivers' and Teams' Championships respectively, but with eight different podium finishers in the first three races, the huge $750,000 prize pot is all to play for.
The return of the Pro Championship was more anticipated than ever before following record-breaking viewership last year, the highest ever participation numbers of fans attempting to qualify, as well as several huge moves around the grid with a number of F1 Esports' biggest names switching allegiances in the off-season.
Much like the 2020 season, drivers are continuing to race remotely from their homes or team facilities, but the hugely popular competition continues to broadcast from the Gfinity Esports Arena in London, with live shows fronted by familiar faces: Natalie Pinkham, Tom Deacon and Nic Hamilton. Following the same Event format as recent campaigns, teams battle it out on the official F1 2021 video game, developed by Codemasters, in two races on a Wednesday, and one on a Thursday, across four broadcasts, which also features qualifiying.
In the first of Wednesday's two races, the virtual world mirrored reality as the season opener took place at the Sakhir International Circuit, Bahrain, and it was Britain's Lucas Blakeley who took his maiden win in a historic moment, becoming the first winner for the Aston Martin Cognizant Esports team. Blakeley started in P2 behind Nicolas Longuet but passed him going into the first corner and didn't relinquish top spot until the final few laps when the lead changed hands several times between the pair, thanks to brave racing and the use of DRS, before the Aston Martin man timed his last attack to perfection. Alvaro Carretón was with the front two the whole way, ready to pounce on any mistakes, but in the end had to settle for a well-deserved P3 for Williams.
Wednesday's action continued with a trip to China, and whilst the real-world drivers haven't raced at the Shanghai International Circuit since the pandemic struck, the popularity of F1, and Esports, continues to flourish, as seen by the success of the F1 Esports Series China Championship. Reigning champion Jarno Opmeer showed his title-winning pedigree with an unbelievable victory, taking a huge risk as the only driver to start the race on intermediates tyres, despite there being torrential rain, after a poor qualifying performance that left him in P14. He fell as far as P18, before the rest of the grid began to pit and switch to the same tyres, allowing him to make his way up the grid. He was soon leading, and despite a brief change of leadership between himself and Fabrizio Donoso, as the Alpine driver became the first switch to softs, Opmeer was able to secure his first win for Mercedes in stunning fashion. Red Bull's Marcel Kiefer put in an accomplished performance in tricky conditions to get his first podium of the season.
The first Event of the new season was rounded off with a second win for Opmeer at the Red Bull Ring with an emphatic victory as he sent out a message to the rest of the field that he is intent on defending his crown. Frederik Rasmussen, one of last year's front runners picked up his first podium of the year, ahead of McLaren's new boy Bardia Boroumand who secured third, and is already living up to the hype around him in the pre-season. 
Event 2 will see the drivers battle it out on a trio of iconic 'old-school' circuits as the Pro Championship heads to Silverstone, Monza and Spa, in what is set to be an action-packed two days across 27-28 October.
Following Event 1, the official standings are as follows:
Driver standings
Team standings
The live shows are streamed online via official channels of Formula 1 on Facebook, YouTube, Twitch and Huya, as well as broadcast on television via select international broadcast partners.
In the last 18 months, F1 Esports events have achieved over 40 million views across TV and digital, and this popularity led to a record number of people attempting to be a part of this year's Pro Exhibition, with almost half a million taking part in qualification. This year's qualification is now open through a challenge in the official F1 2021 video game, with the first event live until 31st October. If you would like to find out more information on how to take part in the F1 Esports Series and for more information on the Pro Championship presented by Aramco, visit www.f1esports.com.
Full race results:
Race 1 – Bahrain
Race 2 – China
Race 3 – Austria
Ben Pincus, Director of Commercial Partnerships at Formula 1®, said:
"It's great to see the F1 Esports Series Pro Championship presented by Aramco back underway. We've been spoilt with excitement in the real-life racing this year and if these first races are anything to go by, we're in for a treat this season in the virtual world too."
John Clarke, CEO at Gfinity, said:
"Last year's record-breaking participation is a testament to Formula 1's continuous innovation and expansion, bringing more fans than ever into the world of F1 Esports. Off the back of last year's success, the F1 Esports Series has returned bigger and better than ever, giving Gfinity the opportunity to utilise its tech IP and world-class production to help F1 fans feel ever closer to the series.
Paul Jeal, F1 Senior Franchise Director at Codemasters, said:
"We're into the fifth year of F1 Esports, and the standard continues to get higher and higher, with some blistering lap times and exciting wheel to wheel racing to open the series. A great display from Jarno Opmeer as he tops the drivers' championship, and it looks like we could have an incredible battle between a handful of teams for the team championship. Roll on the second show."

Allied Esports and Cyberathlete Championship Series teams up with Challengermode to host SI2022 Open Qualifiers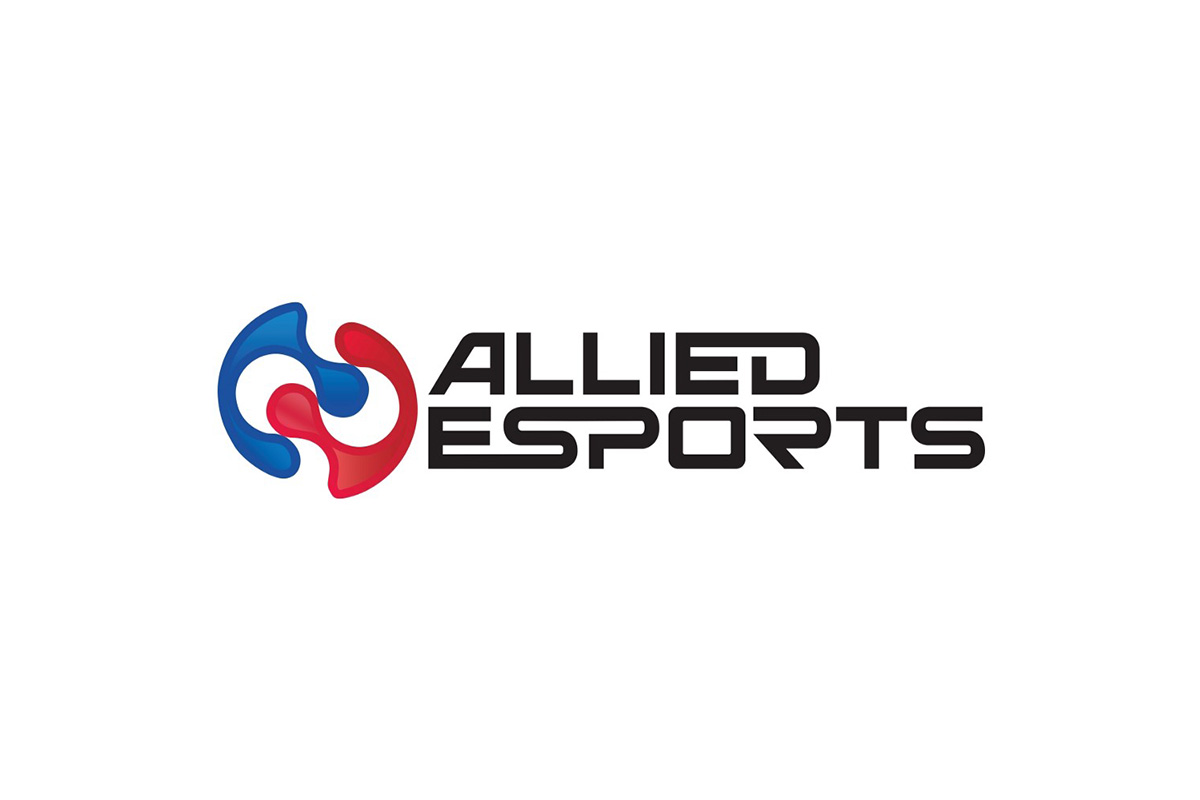 Reading Time:
2
minutes
Leading global esports platform Challengermode has teamed up with Allied Esports and Cyberathlete Championship Series to host the European and North American open qualifiers for the 2022 Six Invitational – the last chance for competitors to make it to the Rainbow 6 World Championships in Montreal.
The winner of the open qualifiers for each region will win a spot at the SI2022 finals being held in Montreal, Canada next February. There they will have a chance to compete against the best professional teams in the world for a prize pool of $3million. The Group Stage will take place from February 8th-12th, playoffs from February 14th-20th, with the Grand Final happening on February 20th 2022.
Organised by Allied Esports and the Cyberathlete Championship Series (CCS), the first Qualifier starts 4th December, with tournament sign-up now available for any hopeful teams across Europe or North America. Only one slot is up for grabs from each regional qualifier of North America, Europe, Latin America and Asia Pacific, so expect competition to be fierce.
Philip Hubner, CBDO at Challengermode said: "Having Allied Esports and the Cyberathlete Championship Series choose Challengermode as the platform to host open qualifiers for the SI2022 competition is a wonderful endorsement of our ability to make the highest levels of esport competition open to anyone. CCS is a pillar of the community tournament scene for Rainbow 6 in North America, and Allied has been instrumental in elevating the level of competition across Europe. We couldn't be more excited to be working with such impressive organisers, and hope that players will enjoy competing using the Challengermode platform to play on the biggest stage in the Siege year, and even potentially become World Champions."
Rob Walker, founder of the Cyberathlete Championship Series said: "The support Challengermode has been able to offer through its automated tournament platform has made scaling the open qualifiers to any size we may need exceptionally easy. We've been extremely happy with the usability and versatility of the tools they've been able to provide, and we look forward to working closely with Challengermode to offer as many teams as possible the chance to compete at the highest level of competition for Rainbow 6 Siege."
Leon Groenewoud, CEO Europe and VP Gaming & Esports at Allied Esports added: "We're incredibly excited to be producing the European qualifiers for the SI2022 in our Hamburg studio. Being able to rely on Challengermode to once again provide the best platform to administrate the tournaments frees us up to focus on providing the best possible production services to elevate creators, competitions and content across the esports industry."
Interested teams can sign-up for the chance to qualify for the World Championship in R6 with SI2021 through the Challengermode website here. Open qualifiers will run from 4th-18th December, with North American Qualifiers viewable via the official CCS Twitch channel and European Qualifiers via the official Rainbow 6 Twitch Channel.
'Penta Amateur League' December to feature BGMI, November results announced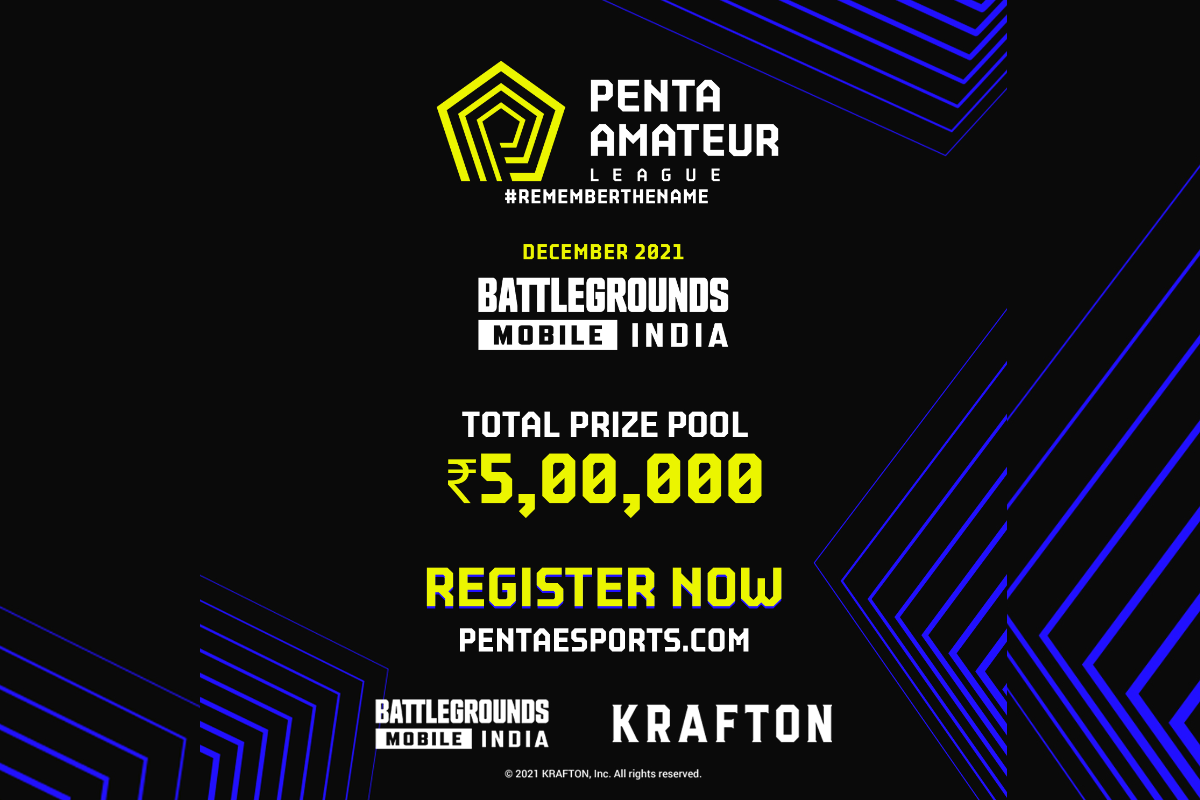 Reading Time:
2
minutes
Gaming and esports company, Penta Esports, has announced that 'Battlegrounds Mobile India' (BGMI) will be the esports title of 'Penta Amateur League' December 2021 edition with a prize pool of ₹5,00,000. Registrations have started and squads can enter the tournament on Penta Esports' platform.
The qualifiers of the tournament will run from 13th to 21st December. The finals will be broadcast live on Penta's Facebook page and YouTube channel from 28th to 30th December. The broadcast will be preluded by the 'Penta Talk Show' on 25th December.
The 'Penta Amateur League' is exclusively for amateurs and semi-professional esports athletes and teams. The games chosen for the tournament throughout the league will be platform agnostic and will include PC, console and mobile titles. Season 1 of the league will run for six months, October 2021 to March 2022, with a monthly prize pool of ₹5,00,000, adding up to a total prize pool of ₹30,00,000.
The November 2021 edition of the league featured Valorant. The playoffs took place from from 26th to 28th November with team God Particles winning the tournament 3 – 1 in a best of 5 match finals against Nogas Esports.
The broadcast of the playoffs were preluded by the Penta Talk Show, with the caster and host discussing the qualifiers, team journeys and discussing possibilities for the playoffs. The final day of the playoffs also saw an opening music performance by singer and songwriter, Sushant Satija prior to the matches.
Said Penta Esports co-founder and head of esports Kiran Noojibail "Our aim is to provide aspiring esports athletes of the country with a platform to showcase their skills and earn recognition. BGMI is a popular title in India and this tournament will be a stepping stone for budding esports athletes of this game to come to the limelight ."
The complete details of the league are available on Penta Esports' platform, pentaesports. com. The platform is a one stop destination for all things Penta, including match schedules, match results, VODs of tournaments and leagues, content, news, announcements and much more.
Founded by industry veterans Anurag Khurana, Kiran Noojibail and Akshay Paul, Penta Esports aims to disrupt the ecosystem in India with a holistic approach towards the sector, including leagues, tournaments, content and much more.
Riva Technology and Entertainment and Galaxy Racer acquires VY Esports in play to own MENA/SEA fan engagement, Raine Ventures senior executive to join their advisory boards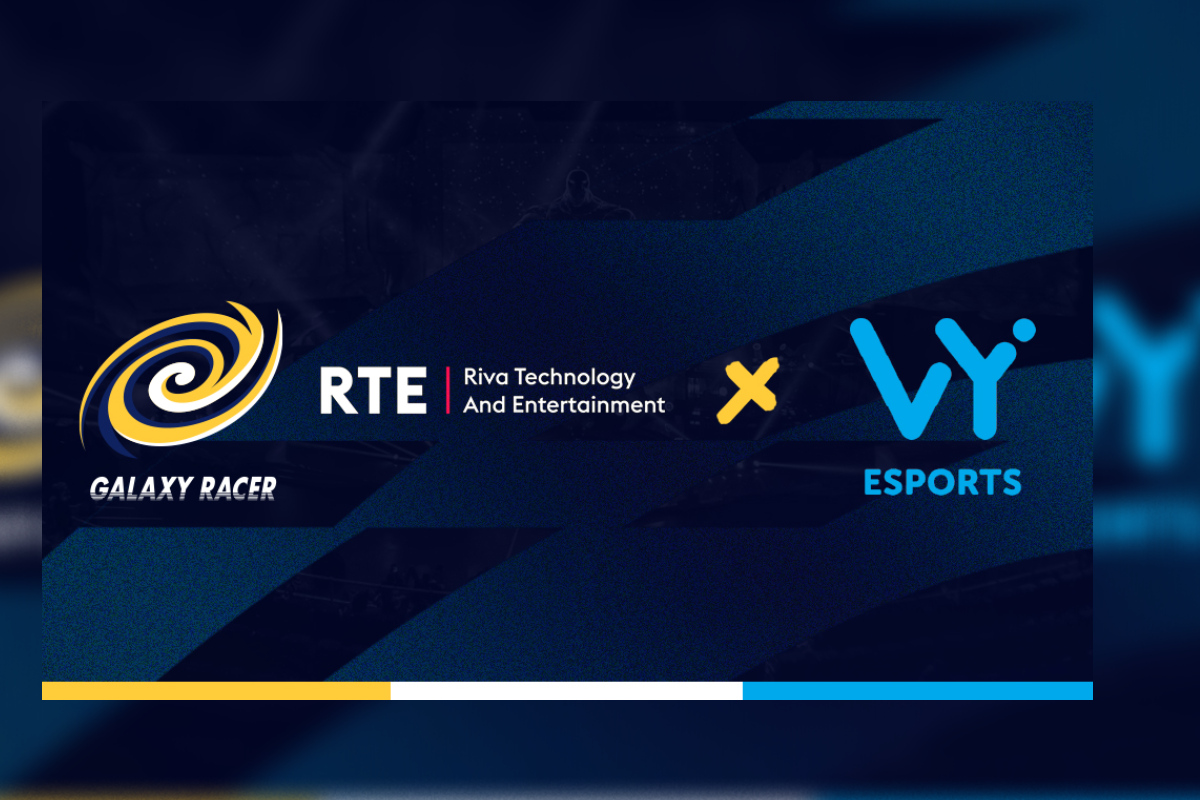 Reading Time:
2
minutes
Riva Technology and Entertainment (RTE), the leading gaming and technology investment group, together with its sister company, Galaxy Racer (GXR), the largest esports, gaming and lifestyle organisation in the world, has announced its acquisition of VY Esports.
The VY Esports platform POPC Lounge enables creators to connect with their superfans through monetized digital experiences involving livestreams, 1:1 live video chats, merchandise sales, and other unique online engagements. The company also services the live events industry by creating a hybrid model, adding a new revenue stream so viewers from around the world can access selected live content and interact with talents through digital activations. The POPC Lounge platform will serve as the virtual arm for the upcoming 'POPC Live!' mega event in Dubai that is beginning in March 2022.
Founder and CEO of Riva Technology and Entertainment, Founder and CEO of Galaxy Racer, Paul Roy, said: "We are excited to announce Riva Technology and Entertainment and Galaxy Racer's acquisition of VY Esports, which we absolutely believe will bring amazing synergy to our group of companies. We are delighted to work with our new board member from VY Esports and advisory board member from Raine Ventures, as we leverage on their expertise to grow the business. They will play an important role as we continue in our endeavour to develop compelling experiences for our audiences as we head towards global domination in the esports, gaming, lifestyle and entertainment ecosystem. I am delighted to welcome Oleg Butenko to the board of Riva Technology and Entertainment. His extensive experience across technology, esports and entertainment will give us an exceptional cutting-edge advantage and will be an asset to the board."
Founder and CEO of VY Esports, Oleg Butenko, said: "We are thrilled to be part of Riva Technology and Entertainment and Galaxy Racer, as we strongly believe in Paul Roy's vision. With the POPC Lounge platform we will push hyper growth across the vast RTE and Galaxy Racer influencer network. As we scale globally, we will bring direct, monetizable, fan engagement to major regions like South East Asia, Africa, the Middle East, and the United States by offering a new strategy for monetizing virtual engagements between creators and fans."
Managing Partner of Raine Ventures, Gordon Rubenstein, added: "We are confident with Paul Roy and Oleg Butenko's strategic vision, their deep industry knowledge and excellent foresight, they will be able to elevate the group to the next level and we believe they have the opportunity to aggressively grow the platform."
VY Esports was founded by CEO and founder Oleg Butenko, a digital entrepreneur who has founded businesses focused on music, telecom, and esports. As part of the acquisition, Oleg Butenko, Founder and CEO of VY Esports will be joining the board of Riva Technology and Entertainment. Additionally, Gordon Rubenstein, Managing Partner of Raine Ventures will be joining the advisory boards of both Riva Technology and Entertainment and Galaxy Racer.
Riva Technology and Entertainment (RTE) was founded in 2002 with a global presence stretching from the USA to East Asia. RTE has successfully been delivering the "vision of
tomorrow". RTE's group of companies hold an industry advantage in their ability to successfully take every project from concept to execution; all housed under one roof. The complementary companies cover location-based entertainment, brand and Intellectual Property licensing, content development, consumer products, gaming, and esports.
RTE has a 20-year history of dealing with partners in multiple sectors of the gaming industry, evidenced by their highly experienced core team.