MGA Games presents their book The Future Is Now: presente y futuro del juego online en España, an essential guide for the evolution of the sector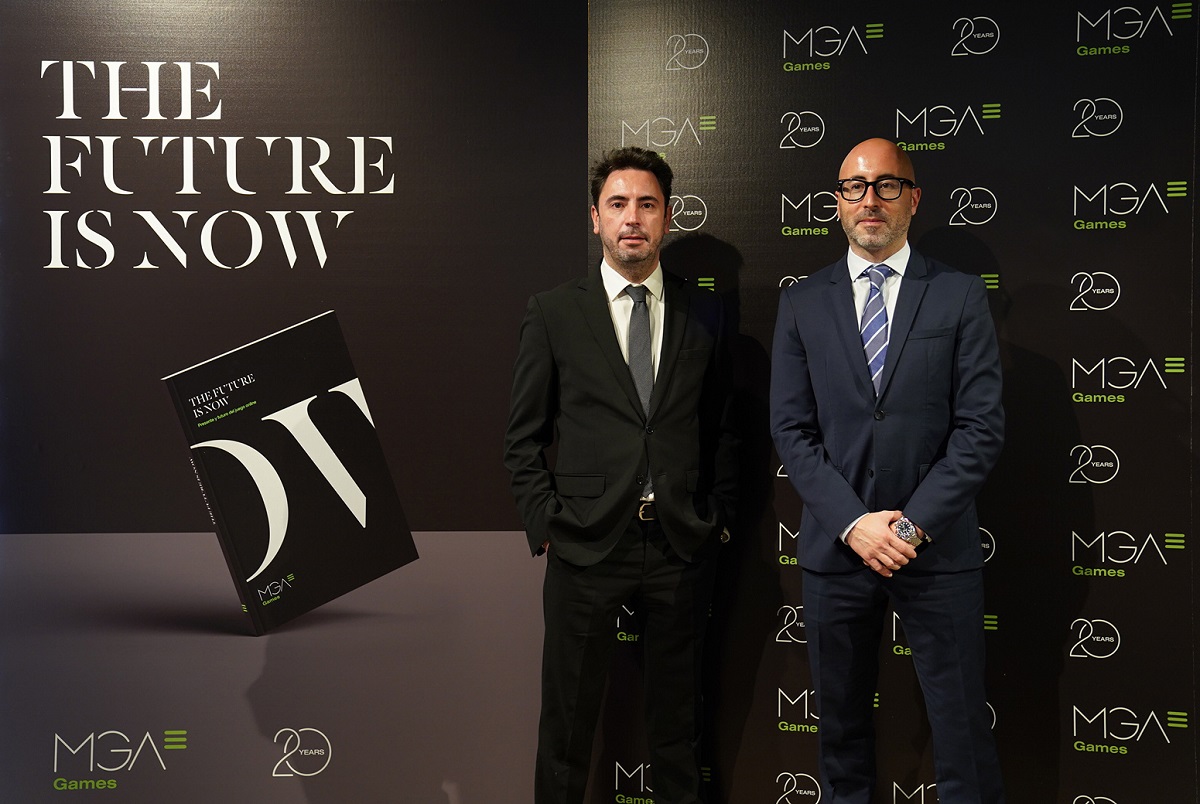 Reading Time:
3
minutes
MGA Games presented in its new facilities at Parc Tecnològic del Vallès (Barcelona) their book The Future Is Now: presente y futuro del juego online en España (The Future is Now: the present and future of online gambling in Spain), compiled and edited by the company, as the grand finale to their 20th-anniversary celebrations.
MGA Games clients, collaborators and friends gathered to attend the event held in the newly inaugurated offices, presented by the company. A new open space, which encourages creativity and allows collaboration and meetings between all company employees. "It is a space that reflects our way of working. That breaks with the traditional vertical management structures allowing for collaboration, the creation of synergies and teamwork", explained the CEO and founder of MGA Games, Joan Sanahuja, in his welcoming remarks.
The objective of the meeting was to encourage the sector to participate in this important publication that collates "two decades of a journey through the history of online gambling, its regulation and the role of technology which, undoubtedly continues to lead the way for our sector" as explained in the introduction of the book. In this sense, the work is a sample of MGA Games' commitment to the sector. An innovative company, MGA Games, chooses to invest and allocate its own resources to achieve informative work that generates knowledge and helps the online gambling sector grow and evolve.
For the CEO of MGA Games, it was essential to create a work like The Future Is Now: presente y futuro del juego online en España to analyse where the sector is going and what the future holds. "For us, it is the way to move forward to what is to come," explained Joan Sanahuja. The gambling industry can evolve even further. It can be more attractive, more active … And this is precisely our goal: to move forward into the future with a more innovative and interactive product."
After Joan Sanahuja's introduction, a round table began on the strategic issues regarding the present and future of online gambling in Spain addressed in the book. The debate was moderated by the journalist and writer Óscar Delgado and the speakers were José Antonio Giacomelli, Managing Director of MGA Games; Víctor Sánchez, Manager of GoldenPark.es; Jorge Hinojosa Bolívar, CEO of Jdigital; Juan Heredero Fiel, Marketing Manager of Codere; Aurora Merino Salas, CEO of Asensi Technologies; Juan Espinosa García, DGOJ General Director from 2014 to 2020; Miguel de la Fuente, from Tecnalis, and Patricia Lalanda Ordóñez, partner at Loyra Abogados.
During the round table, issues discussed included the regulatory framework in Spain, a result of the proposed new royal decree for safer environments, and the proposal for a new amendment to the state gambling law. And how these projects will determine the short-term future of the sector within the regulated framework.
Another topic addressed was marketing and, specifically, how to convey the sector's situation regarding the new regulation on advertising. In addition, how operators are adapting to the new legal conditions and, in parallel, how to combat the perception of public opinion.
The customisation of the offer based on habits and demands of users and the exploration of alternatives to current payment systems was another of the points discussed. Together with the analysis of content towards that which it is necessary to evolve in the content proposal. Slot games, new techniques, and the immersive and mobile factors.
And finally, the introduction of 5G in the Spanish online gambling sector and its role in the development of gamification were also discussed.
The presentation ceremony was attended by many of the book's collaborators. Great leaders in the sector whose testimonies and professional visions have made this publication an essential guide for understanding the present and future of the sector in Spain. Joan Sanahuja thanked all of them for their participation and for making this ambitious project possible: Albert Daudé, Andrea Vota, Camilla Wright, Gonzalo De Osma, Javier Sacristán Franco, José Antonio Giacomelli, Juan Espinosa García, Kevin Harrington, Marta De Pablos, Marteen Haijer, Miguel de la Fuente, Mikel López de Torre, Patricia Lalanda Ordóñez, Sergio Rupérez, Víctor Sánchez and, especially, Oscar Delgado Chesa, responsible for coordinating the book.
Gamers Spend Twice As Long Viewing Intrinsic In-Game Ads Compared To Other Digital Channels, Reveals New Research From Lumen and Anzu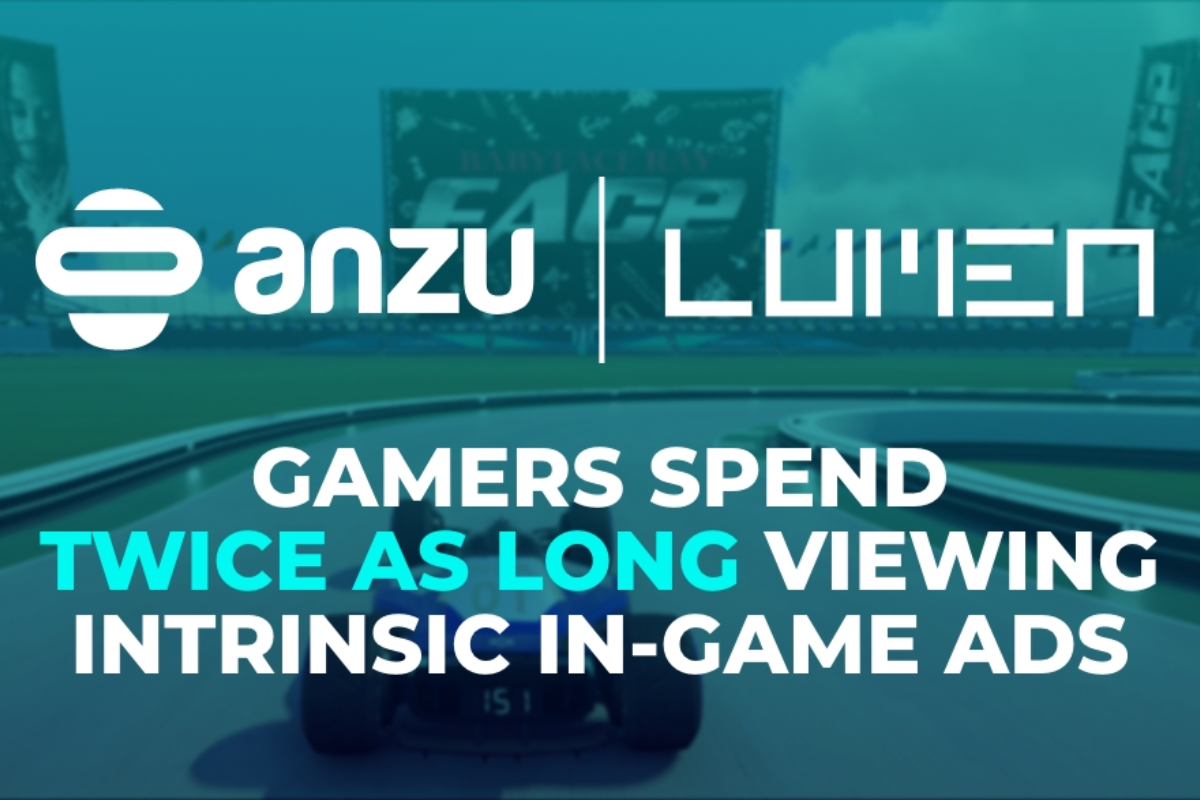 Reading Time:
2
minutes
The world's most advanced in-game advertising platform Anzu .io, and Lumen Research, an attention technology company, have today revealed collective results from research carried out together across a series of mobile and PC campaigns over the past 12 months, examining the power of attention within intrinsic in-game advertising.
The study used Lumen's cutting-edge eye-tracking technology to monitor player attention levels within in-game ad campaigns across multiple ad categories, including automotive, education, energy, entertainment, fashion, CPG, QSR, retail, and tech. Some of the brands that took part include Amazon, Dell, Vodafone, Coca-Cola, Levi's, Subway, and EMPIRE.
Mike Follett, Managing Director of Lumen Research said: "Anzu has conducted attention tests amongst 5,000 respondents globally, giving them the richest and most robust attention dataset for gaming advertising in the world. This means that we can speak with some confidence when we say that Anzu's inventory delivers high attention, high recall and significant shifts in brand perception and purchase intent for advertisers."
With 83% of in-game ads viewed compared to Lumen's benchmark of 62%, the findings show that gamers are 34% more likely to view an in-game ad than those placed on other digital channels like social media and websites.
Across the studies average spontaneous advertising recall was 36%, with the best performing campaigns achieving over 70%. Regarding purchase intent, 61% said they would definitely or probably buy the brand in the future representing a significant uplift of 9%. Looking at prompted brand awareness, the studies saw an average of 71% across the test audiences, and 68% of the test audiences also agreed that the advertising was suited to the brand. Overall the research clearly demonstrates the power intrinsic in-game advertising has in helping advertisers to effectively communicate with massive gaming audiences and achieve their campaign goals.
On the findings, Itamar Benedy, Co-Founder and CEO of Anzu, said, "These results clearly demonstrate the power in-game advertising has to drive attention which then converts to brand recall, favorability, and purchase intent, demonstrating how brands can use in-game to reach consumers at every stage of the marketing funnel. By adding in-game to the marketing mix advertisers can supercharge their campaigns, and with the new MRC and IAB guidelines having just been released, the medium has never been a more attractive proposition for advertisers. As we deliver more studies with Lumen, we look forward to sharing more research highlights, including benchmarks by advertiser category."
Peter Kadin, SVP of Marketing at EMPIRE said: "In-game advertising has played a key role in
helping us drive attention and ramp up excitement for our artists, with campaigns far exceeding what we are used to from other digital channels. Our latest in-game ad campaign delivered an outstanding composite attention score that was 3.9x our desktop display benchmark, along with 93% viewability on PC and 94% on mobile. The high attention levels and huge reach have allowed our artist to stand out in an extremely saturated market." 
Bidstack secures $11m to become best-funded in-game advertising company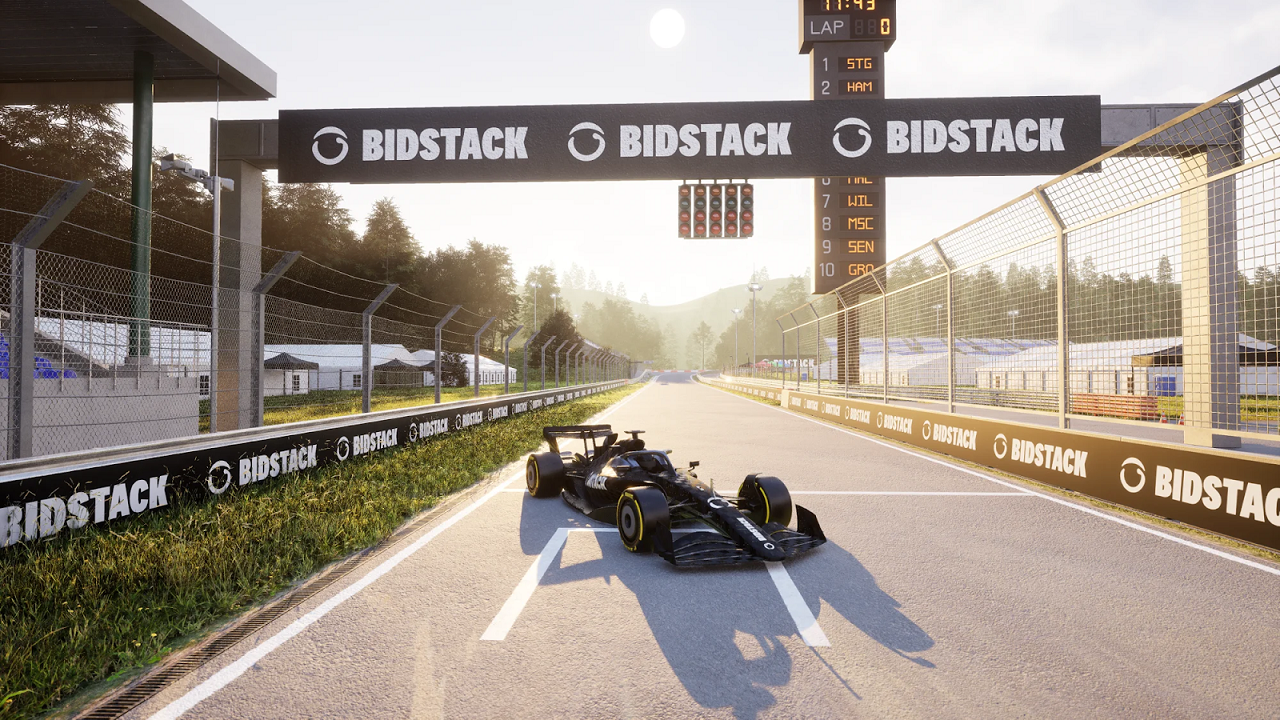 Reading Time:
2
minutes
Bidstack, the in-game advertising and video game monetisation platform, today announces it has raised a total of USD $11 million in a new round of funding. This includes a $6 million strategic investment from digital platform cybersecurity world leader, Irdeto, and brings Bidstack's total funding to $42 million – the most raised for any company in the in-game advertising industry to-date.
This is the first strategic investment in Bidstack's seven-year history and will fuel the pioneering company's US growth strategy following the recent hire of Jude O'Connor as Chief Revenue Officer. With more than 80 staff across five international locations, Bidstack now has the infrastructure and talent in place to take on the huge, untapped opportunity for in-game advertising in the US market. Bidstack has already run award-winning in-game campaigns for brands such as Marriott Bonvoy, Paco Rabanne, and Doritos, and works with world-leading game publishers such as Codemasters, and Take-Two Interactive.
Irdeto entered the video games industry with the acquisition of anti-cheat software company Denuvo. The company's suite of software products are used by a majority of leading console, PC, and mobile titles, creating extensive synergies with Bidstack's ever-growing developer and publisher network, and breadth of ad formats which now includes rewarded video in addition to in-game and in-menu.
James Draper, Founder and Chief Executive Officer at Bidstack, commented
"I am pleased to share that we have secured our first strategic investment, from Irdeto B.V. Irdeto, part of the Multichoice Group, is established as one of the world's leading cybersecurity businesses, with their gaming division Denuvo being trusted as a leading anti-cheat middleware across the world's most celebrated gaming platforms and franchises. Irdeto's positioning across the gaming and entertainment space will lead to many opportunities for our two companies to collaborate going forward, as strategic partners."
Globally, the in-game advertising market is projected to grow at a CAGR of 11% to 2030, from its current estimated valuation of $7.6 billion. This figure represents just under 1% of the $850 billion global advertising market, despite more than three billion people playing games on a daily basis.
Week 40/2022 slot games releases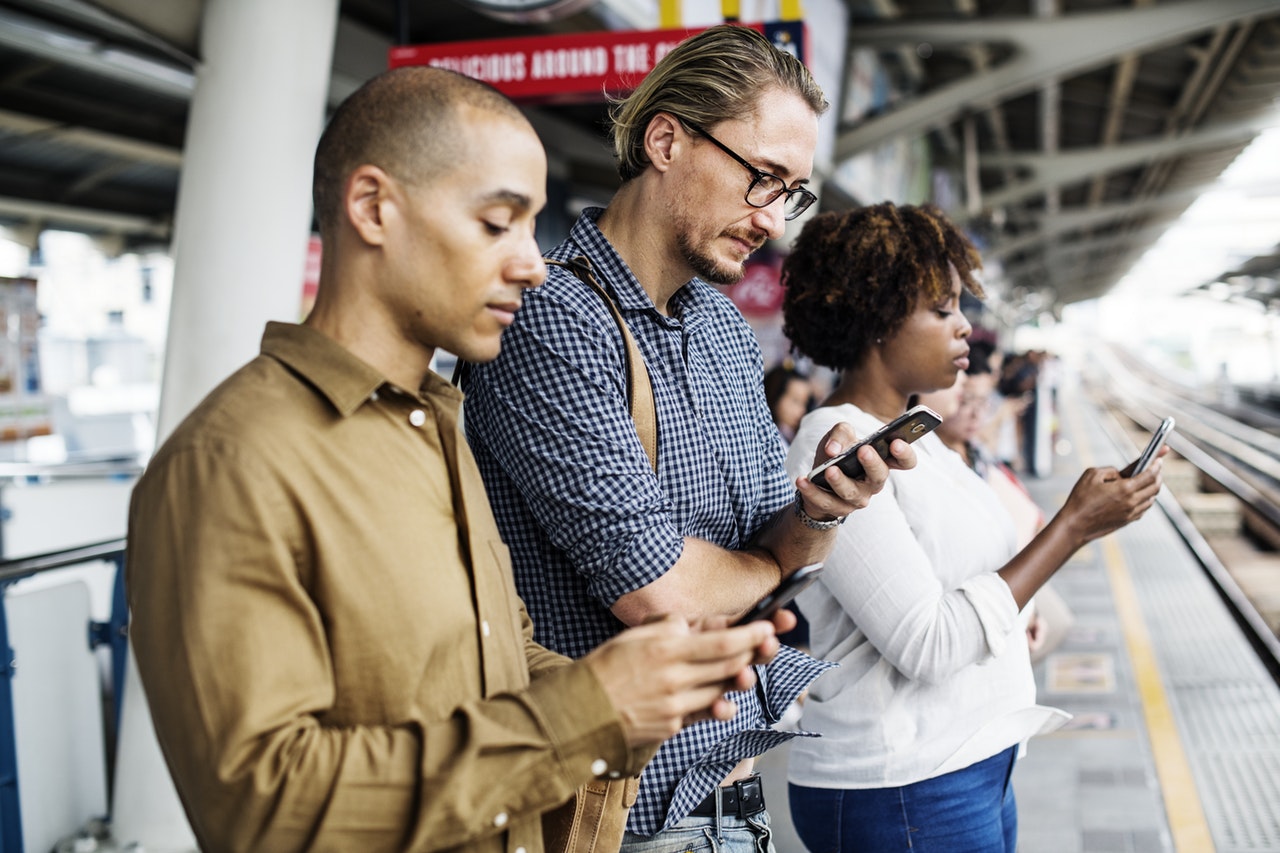 Reading Time:
5
minutes
Here are this weeks latest slots releases compiled by European Gaming!
Imperial Esports teamed up with Sportsbet.io and Gamdom, among others, to take a big step that brought about the most iconic Brazilian CS:GO players. Imperial: Operation Rio is a high-volatility slots game inspired by CS:GO and customised with arts and designs made especially for the team, with a maximum pay of 15000 times the total bet.
Yggdrasil and ReelPlay have partnered to release Bad Dingo's icy new adventure Arctic Sorcerer, a title featuring frosty big wins and the popular GigaBlox™ mechanic. The latest YG Masters creation sees the title's main protagonist, the Arctic Sorcerer, attempting to release his mystical animal companions and treasures from the ice for big wins.
Endorphina has released its newest slot, The Emirate 2. This new slot grants players with a magnificent lifestyle full of choices, custom yachts, cars and all the riches of anyone's dreams. Players will find the Dubai skyline and Arab highlights among the symbols on the reels, such as the Burj Khalifa and the Emirates towers.
New from Blue Guru Games, and hitting the Oryx platform tomorrow, comes Reel Big Fish. Nobody tells tall tales like a fisherman, and Blue Guru Games' inventive new slot pays tribute to those mendacious men of the sea. This is a game that challenges players to go in search of big wins and to spin fishy yarns to anyone who'll listen about the even bigger ones that got away.
New from 1X2gaming comes Blood Rage, a dark and spooky vampire-themed slot that drops just in time for Halloween. This is a medium-high volatility, 5×3 slot with 243 ways to win. It's also packed with tricks and treats. Vampires, witches, werewolves and bats populate the reels, along with Vampire Heart Wild symbols, and Dark Portal Scatters.
Relax Gaming, is offering players a taste of the high life in what is undoubtedly the most luxurious jackpot slot of the year, Dream Drop Diamonds. This grandiose 5×5 slot can see players win a maximum of 10,640x their stake by collecting hordes of priceless diamonds and a lucrative free spins bonus as well as the legendary Dream Drop Jackpot.
Lightning Box, has added Crystal Vault to its portfolio, a slot that unlocks additional reel screens through play. This 5×3 reel game has symbols depicting intrepid adventurers, biplanes and ferocious beasts that must form matching combinations across the title's 25 paylines to award a win.
R. Franco Digital is taking players on an aquatic adventure with Treasure Keeper, a new online slot that sees players explore the ocean floor for big wins. Treasure Keeper's five reels, three rows and 243 lines see players follow the mermaid Wild symbol as she moves through all the reels to obtain a multitude of prizes in a single spin.
Take a 'holy dive' into the latest edition of Play'n GO's iconic music series with historic American rock band Dio. Players will join Dio's legendary lead vocalist Ronnie James Dio and use the magic of his music to conquer deadly fire-breathing dragons, prowling wild wolves and more. While there is no question about Dio's musical influence, one question now begs to be answered: Will Dio defeat the dragon?
Pragmatic Play, has expanded its popular John Hunter franchise of games with the release of John Hunter and the Book of Tut Respin™. Played across 5×3 reels, John Hunter and the Book of Tut Respin™ sees the return of synonymous symbols like King Tut, scarabs and John Hunter himself, which must form matching combinations across the game's 10 paylines to award a win.
Blueprint Gaming's Limerick Lightning harnesses the power of its Lightning Spins mechanic to enhance its latest slot release. Utilising the ever-popular Irish theme, complete with charming animation and vivid colours, Limerick Lightning promises an engaging free-spins experience that offers one of four Cashpot prizes for enhanced win potential.
Evoplay premium online slots provider has entered the realm of the deities to deliver a gripping experience in Blessed Flame, a mythical release that follows the never-ending conflict between fearless immortals and their powerful enemies. Stacked with Greek tradition and symbology, Blessed Flame depicts the battle between the habitants of Mount Olympus and their fabled foes, including the gigantic monsters Cthulhu, Hastur, and Nyarlathotep.
Yggdrasil is sending brave and fearless warriors into battle beneath the depths of Earth in the second instalment of the Underworld series, Champion of the Underworld GigaBlox™ feat. Wild Fight™. The 6-reel, 4,096 ways to win slot is driven by Yggdrasil's signature GEM mechanic, GigaBlox™, that sees symbols connect to create supersized icons 2×2, 3×3 and 4×4 large
Stakelogic is inviting all players to join the Cash Express in the latest slot to depart its production line. The game of the same name promises a thrilling ride to the heart of a Wild West town where big win bounty awaits. Cash Express is a 5×3 reel, 25 win-line video slot that is all about chugging along the tracks of progression, and each time a Train Symbol lands in the base game the player takes a step towards unlocking the next Bonus Enhancer.