Niko Partners 2022 Asia Video Game Industry Predictions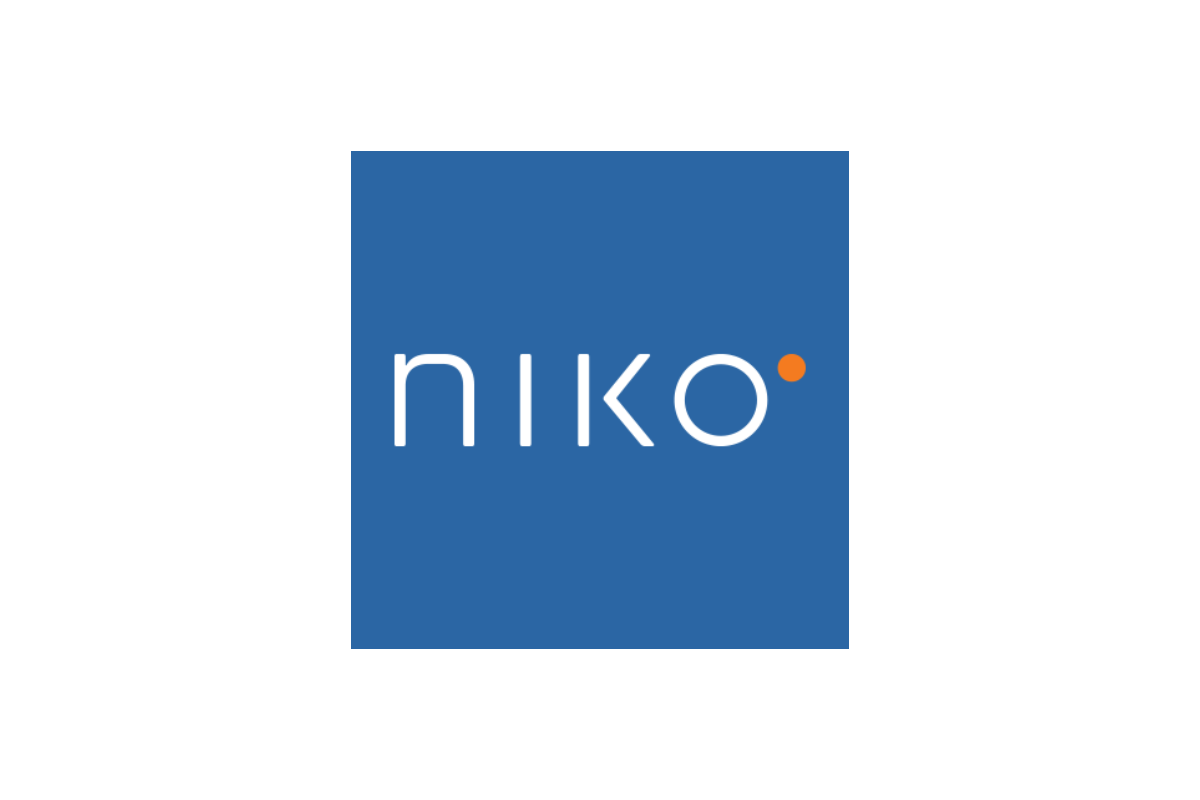 Reading Time:
5
minutes
1. MENA-3 games market revenue will surpass $2 billion in 2022
Niko Partners initiated coverage on Saudi Arabia, the United Arab Emirates and Egypt for the first time in 2022. We call this region MENA-3 in our reports and expect combined games revenue across all platforms to surpass $2 billion this year. Growth will be driven by higher spending per user, additional government support across games and esports, and more gamers entering the market.
2. India will have over 400 million gamers in 2022 
We predict India will surpass 400 million gamers this year, accounting for over ¼ of total gamers in Asia. We also believe that India, the fastest growing market in Asia, will be the next market to reach $1 billion. Niko Partners has often talked about how the ITV markets, referring to Indonesia, Thailand, and Vietnam, would be the next billion-dollar games markets. These three markets have surpassed $1 billion individually over the past two years.
3. Game approvals in China will restart in early 2022 
China's video game regulator has not approved any new titles since July 22, 2021. There were only 755 titles approved in 2021, compared to 1,411 in 2020. With the roll out of the national anti-addiction and real name identification system now complete, we expect approvals to restart in early 2022.
4. China's regulatory approach will shift from reform to enforcement
China's video game regulator introduced new policies in 2021, primarily aimed at curbing gaming addiction among minors. We expect the regulator to shift away from policy reform in 2022, as it looks to ensure compliance with current regulations. We are already starting to see a crackdown on companies that are curbing regulations and we have upgraded the risk of a Steam International ban in China to high.
5. Game companies in China will increase focus on exports 
Chinese game companies have dominated their home market and found success overseas with mobile games. With increased investment in AAA game development, local indie studios and the ongoing regulatory risk at home, we expect Chinese game companies to start finding success on all platforms overseas in 2022 and beyond.
6. Esports will become more legitimate in 2022
In 2017 the International Olympic Committee recognized esports as a sport, in 2018 esports was a demonstration event at the Asian Games in Jakarta, Indonesia and in 2022 Esports will be a medal event at the Asian Games in Hangzhou, China. This will lead to more investment in esports player pipelines and player development. 2022 will enjoy an increase in esports training, education, subsidies aimed at esports management, player development.
7. Cross Platform and Cross Play will be a staple of new titles in 2022
The success of multi-platform titles such as Genshin Impact, the widespread adoption of scalable game engines such as Unreal Engine and Unity as well as the demand for interoperability between devices has led to players valuing cross platform experiences with cross play. We expect some of the largest game studios in China, South Korea, and Japan to introduce titles that run across PC, Console, Mobile and Cloud with cross play enabled.
8. 5G will be available across all 14 markets we cover in 2022 
5G has been rolling out across numerous markets in Asia since South Korea launched 5G services in April 2019. This has led to increased download speeds, lower latency and helped enable cloud gaming on the go. Malaysia, Vietnam, India and Egypt are the four markets we cover that have yet to roll out 5G. We expect them to start their roll out by the end of the year.
9. M&A / Investments / IPOs will continue to play an important role  
2021 was a record year for game related investments, especially in China where the number of transactions doubled compared to the prior year. Tencent alone invested in or acquired more than 100 game related companies last year. We expect M&A / Investments to continue playing a notable role in 2022 and beyond as the value of IP, development talent and new technologies become more important. While there may be a lower number of deals closed in 2022, we believe the overall value will continue to remain high.
10. Gaming companies will capitalize on the metaverse trend better than tech companies, but it's still too early for the concept
Metaverse became a hot word in 2021 with numerous tech and gaming companies embracing the concept. Niko Partners believes that live service video games have been building towards the metaverse concept for several years and that companies with experience in both video game development and social media platform operation will have an advantage when entering this space. We expect game focused companies to see the initial benefits of the metaverse trend while tech first companies will struggle to offer value to users. However, we don't expect to see a true metaverse experience in 2022 based on the currently accepted definitions.
11. The convergence of video games and the entertainment industry further engages gamers 
The video game industry is building on the concepts of metaverse, pan-entertainment and transmedia which is leading to a convergence between games and entertainment. We expect to see more traditional brands, entertainment properties and artists take advantage of live service games in 2022. On the flip side, we expect to see more collaboration between video game IP holders and traditional entertainment such as movies, TV, and comics. This bi-directional approach will further engage gamers in the future.
12. Blockchain game adoption increases, but the space remains experimental 
Blockchain based games made headlines in 2021 and VCs have invested billions in them. The past year has seen the rise of blockchain based non-fungible tokens (NFTs) in games and the exploration of the Play to Earn (P2E) model. We expect to see new innovative game projects in 2022 and increased adoption of blockchain games. However, the numerous barriers to entry, lack of regulation and questions around sustainability will keep the space experimental in 2022.
13. The local game development scene will grow in developing markets 
Of the 14 markets we cover, Japan, South Korea, and China are considered game development powerhouses due to the hit titles released by domestic developers. The success of Vietnamese studio Sky Mavis (publisher of Axie Infinity) and a 2x increase in local game development studios in India since 2019 shows there is growing talent in these emerging markets. We expect to see the release of a hit game ($100m+ revenue) released by a studio from Southeast Asia or India in 2022.
14. The conversation regarding app store take rates will extend into 2022
The Epic v Apple case made headlines in 2021 and it indirectly led to Apple and Google reducing take rates for developers that earn less than $1m per year. In South Korea, a new bill required Apple and Google to offer alternative in app payment options. In China, TapTap made headlines for offering a 0% take rate and numerous developers have invested in direct distribution to avoid app store fees. As pressure continues to build, we expect platform holders to make further concessions in 2022.
15. Increasing government support towards local game development across SEA
In 2021, governments became increasingly supportive of the video game sector. Vietnam's government took an active role in the creation of Vietnam Online Game Developers and Publishers Alliance (which will be formally established in 2022), Indonesia's government showed support towards local game developers through fundings and infrastructure support, and Malaysia's government continue to allocate specific national budget for gaming and esports. We anticipate more of this in 2022.
16. Korea and Japan to continue deregulation of the gaming and esports industry
Following Korea's abolishment of the 10-year-old Shutdown Law and looking at Japan's increasing interest in esports, we expect that both countries will continue to ease regulations or even move towards deregulation of certain laws or ordinances that hamper the growth of the gaming and esports industry. While an overhaul of the regulatory environment might not be feasible, small changes will be possible to occur in 2022.
Check our 2021 predictions accuracy here. All our predictions came true, except for #7 as a freeze on game approvals in China led to a lower number of import games being approved in 2021 vs 2020.
Dubai Racing Club Opts for TPD's Horse Tracking Solution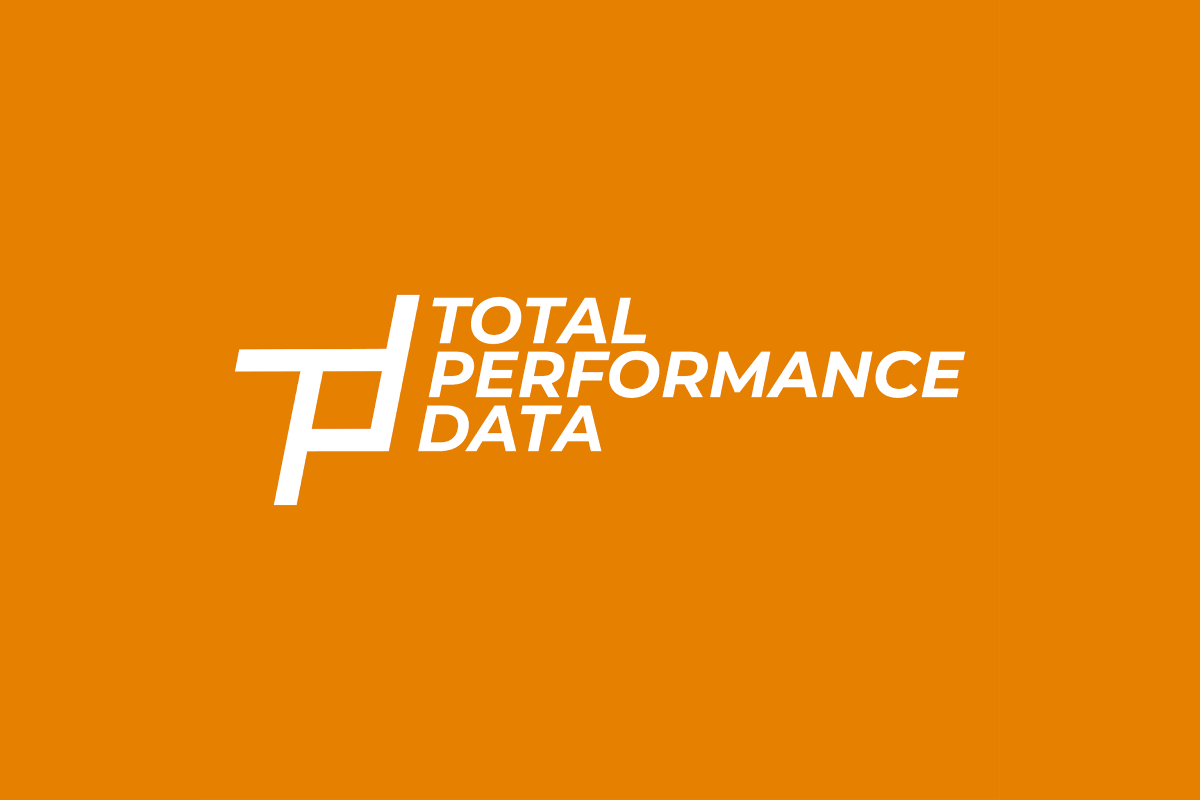 Reading Time:
< 1
minutes
Total Performance Data, the world's leading horse racing live data provider, has announced today that Dubai Racing Club is a new client.
Following successful live trials at last Spring's Super Saturday and Dubai World Cup meetings, Dubai Racing Club has signed a multi-year deal to use TPD's services beginning with the new season at Meydan Racecourse on Friday 10 November. This extends TPD's content footprint in the fast-growing Middle Eastern horseracing scene where both of Saudi Arabia's racecourses are already live.
TPD will produce live and post-race timing stats for every horse as well as live running order graphics for the world's biggest set of on course screens, including the new 4k big screen.
Will Duff Gordon, CEO of TPD, commented: "We are very excited to be further enriching the wonderful racing that takes place at Meydan and look forward to a successful partnership. I'd like to thank our engineering partners at Gmax for so rapidly delivering the live service back in March."
Mohammed Riaz, Head of IT for Dubai Racing Club, said: "When Trakus ceased trading we were impressed with the speed of set up and quality of output when Gmax and TPD met our needs for the climax of last season. We are excited to use this content on our new 4k big screen as well as for our international audience."
The new season at Meydan Racecourse begins on Friday, November 10th and concludes with the $30.5million Dubai World Cup meeting on Saturday, March 30th.
Niko Partners 'India Games Market' Report – India retains title as Asia's fastest-growing video games market in 2023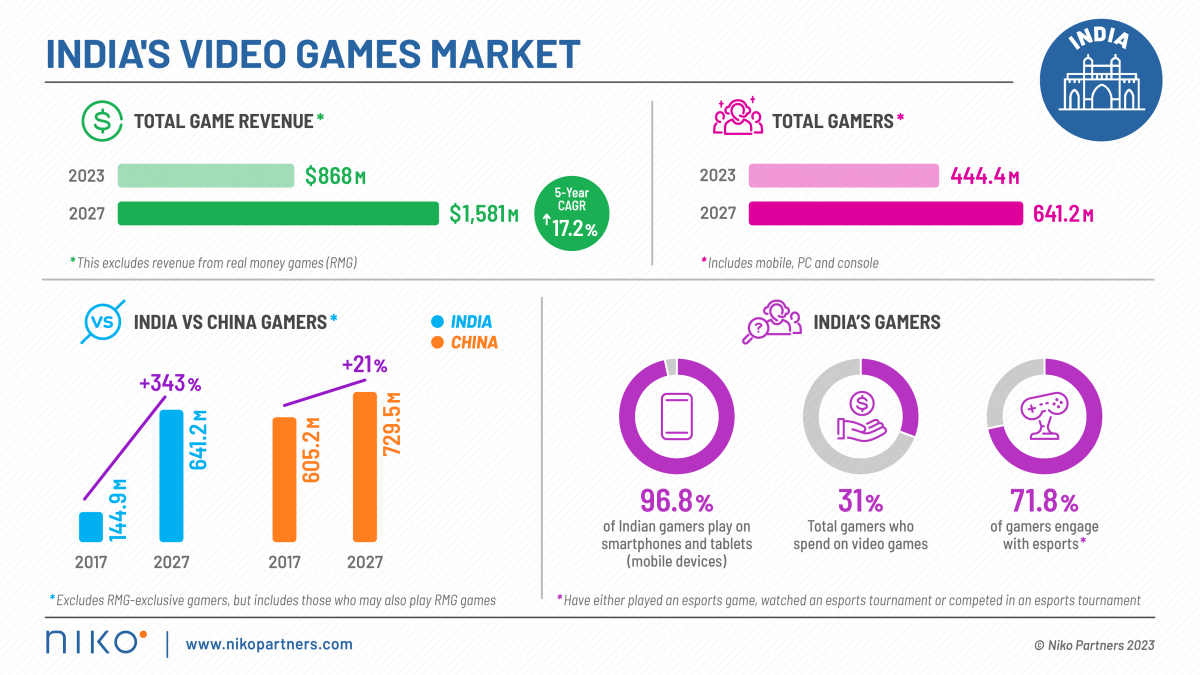 Reading Time:
< 1
minutes
The recently published
 "India Games Market Report 2023" report by Niko Partners
, states that India retained its title as the fastest-growing video games market in Asia. The total gamers in India are forecasted to have
 surged a remarkable 343% in the 10 years between 2017 and 2027, climbing to 641.2 million in 2027.
Video games revenue is also on the rise, forecast to increase 21% YoY in 2023 to $868 million. Factors such as higher disposable income, the growth of internet connectivity, and low-cost smartphones are propelling India's video games market forward.
Below are the key findings of the report:
 Meteoric rise in revenue: Niko Partners projects India video games revenue across all platforms to reach $868 million in 2023, up 21.2% YoY. India's video game market is the fastest growing by gamers and revenue, which is forecast to reach $1.6 billion by 2027, growing at a 5-year CAGR of 17.2%. The report excludes revenue generated from Real Money Games.
 Player base keeps on expanding: The number of gamers in India across all platforms is forecast to reach 444 million in 2023, up 12.1% YoY, and reach 641.2 million in 2027, growing at a 5-year CAGR of 10.1%.
Dominance of mobile gaming: India is a mobile-first market with 96.8% of total gamers playing on a smartphone or tablet.
Game-spending is on an upward trajectory: 31% of the 444.4 million gamers will spend on video games in 2023, with annual ARPPU reaching $6.38.
Esports continues to gain momentum: 71.8% of the total gamers have engaged with Esports by either playing an Esports game, watching or participating in an Esports tournament.
Encouraging factors in terms of revenue growth and brand investment: The return of BGMI and Free Fire are positive signs for the industry and foreign game companies looking to enter the market.
PAGCOR Taps Development Academy of the Philippines for Reorganization Push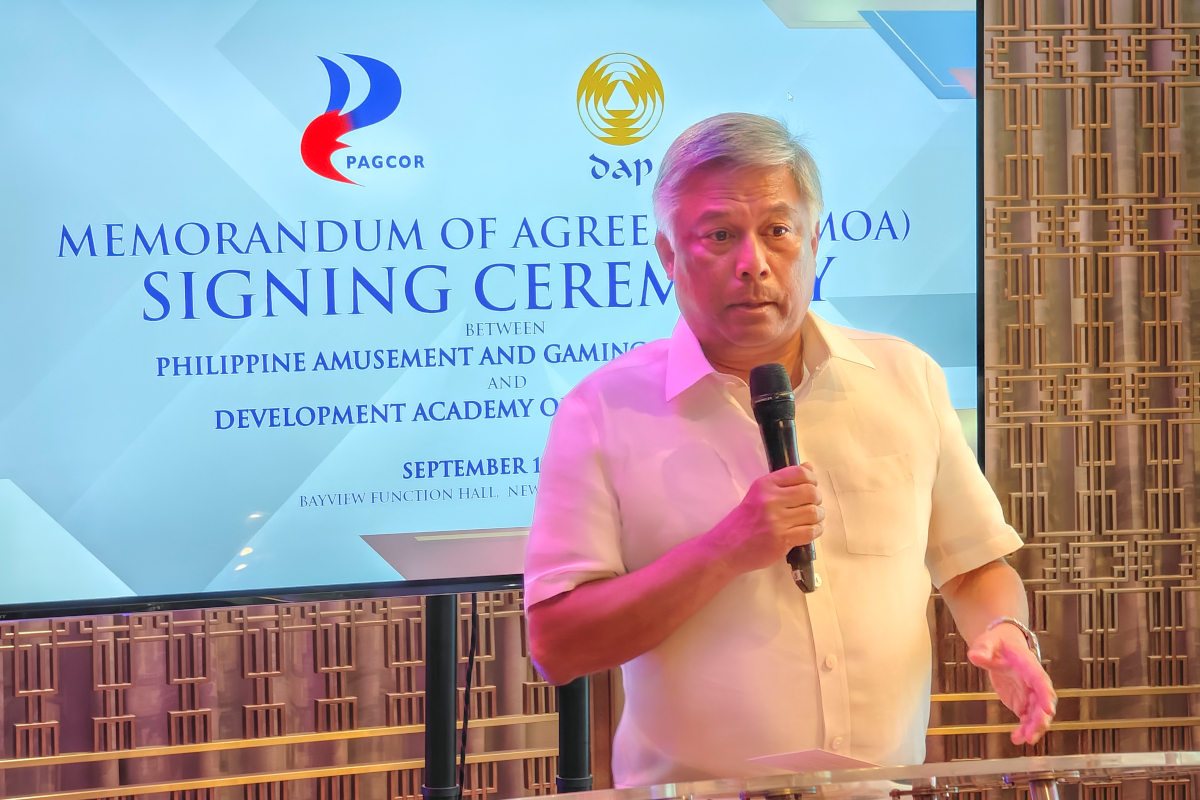 Reading Time:
2
minutes
The Philippine Amusement and Gaming Corporation (PAGCOR) today announced another major move towards the privatization of its casinos by partnering with the Development Academy of the Philippines (DAP) in facilitating its reorganization process.
The Chairman and Chief Executive Officer for PAGCOR, Alejandro Tengco (pictured), said it tapped DAP's technical assistance to comply with the requirements of the Governance Commission for GOCCs (GCG) in the implementation of its Compensation and Position Classification System or CPCS needed prior to privatization.
"We thank the Development Academy of the Philippines for being a prime mover of competency building in government," Tengco said. "We need its help to comply with the (documentary) requirements of the GCG and in our efforts to eventually implement the CPCS that our employees have been eagerly waiting for."
Tengco made the remarks after he and DAP President and Chief Executive Officer Atty Engelbert Caronan Jr signed the memorandum of agreement for PAGCOR's reorganization at the New Coast Hotel in Manila last September 12.
PAGCOR Human Resource and Development Group Vice-President Angelito Domingo and DAP Mindanao Vice-President Dr Mark Lemuel Garcia also signed the agreement.
Tengco said he also wants to engage DAP in the facilitation and conduct of trainings for PAGCOR officers and employees to enhance their skills and competencies.
For his part, Caronan expressed gratitude to PAGCOR for believing in DAP's capability to help implement organizational changes that would be beneficial to the state gaming firm's workforce.
"We would like to thank PAGCOR for its trust and confidence in this partnership," Caronan said. "We are ready to provide the necessary technical services to make the agency GCG-compliant and help it carry out its reorganization efforts."
The DAP is a government-owned and controlled corporation mandated to assist agencies and local government units in their development efforts by acting as a change catalyst and as capacity builder. It helps facilitate the shaping of new government policies, crafting development programs and modernizing the management structure of government agencies and private enterprises alike.