German games market grows by 17 per cent in 2021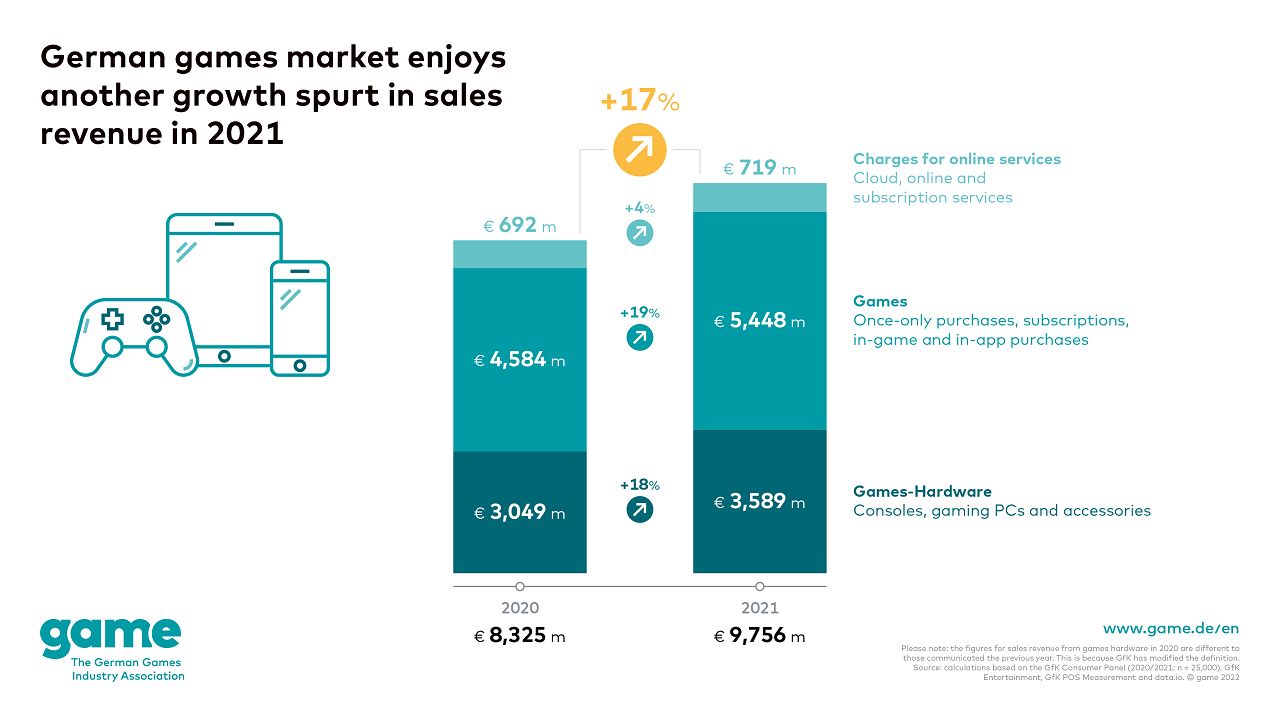 Reading Time:
3
minutes
The German games market has followed up its historic growth spurt in 2020 with yet another year of significant growth: in 2021, approx-imately 9.8 billion euros in revenues were generated from games, charges for online services and games hardware. This is an increase of 17 per cent com-pared to the previous year. Already in 2020, the German games market was able to grow by 32 per cent, which was due in part to the growth in new video game players that resulted from the Covid-19 pandemic. These are the numbers released today by game – the German Games Industry Association, based on data collected by the market research companies GfK and data.ai. The demand for games hardware, particularly for games consoles (+23 per cent) and acces-sories for gaming PCs (+22 per cent), as well as in-game and in-app purchases (+30 per cent), was the biggest driver of growth.
According to Felix Falk, Managing Director of game: 'Following the historic growth spurt in 2020, the German games market continued its strong perfor-mance with significant growth in 2021. This also demonstrates that the people who first took up playing during the lockdowns are still enjoying it. We are partic-ularly delighted by the strong growth in games hardware. No matter whether they are using games consoles or gaming PCs, Germany's video game players once again invested considerable sums in their equipment to ensure that they would be able to continue enjoying their games in the best possible quality in future. In fact, demand in some cases exceeded supply, meaning that it would have been possible to increase sales revenue by even more.'
Games, games hardware and charges for online services: all three market segments posted growth once again
Sales revenue from purchases of computer and video games grew by 19 per cent to about 5.4 billion euros. So-called in-game and in-app purchases were once again the biggest driver of growth here, with sales revenue increasing by 30 per cent overall to about 4.2 billion euros. This is happening in response to a sustained trend towards free-to-play games, as well as a general increase in the length of time that individual titles are being supported with the frequent addition of new free and charged content. Sales revenue from the once-only purchase of games, on the other hand, fell significantly, by 9 per cent to about 1.1 billion eu-ros. Sales revenue through monthly subscription charges for individual games – a model that is common among online role-playing games – also fell, by 11 per cent to 145 million euros.
Sales revenue from games hardware grew by 18 per cent overall to about 3.6 billion euros. Games consoles are in particular demand: although retailers were often sold out of some models, sales revenue still managed to increase by 23 per cent to 808 million euros. Approximately 1 billion euros were generated from sales of gaming PCs – both desktops and laptops. This is an increase of 10 per cent compared to the previous year. More and more video game players are also investing in accessories to make their experience even better. Demand for graphic cards, keyboards, mice, monitors and VR headsets for gaming is espe-cially strong. Sales revenue from purchases of gaming PC accessories grew by 22 per cent to about 1.5 billion euros. Sales revenue from games console ac-cessories increased by 11 per cent to 306 million euros.
Following a huge 50 per cent leap in growth in 2020, sales revenue generated by online gaming services rose by an additional 4 per cent to 720 million euros in 2021. Gaming subscription services such as the Xbox Game Pass, EA Play and Ubisoft+ made a key contribution to this growth, with their sales revenue increas-ing by 22 per cent to 220 million euros. Cloud gaming services, on the other hand, experienced a decline of 13 per cent to 63 million euros. One of the rea-sons for this is the fact that some cloud gaming functions have been integrated into other services free of charge, meaning that no independent sales revenues are generated for these functions. Sales revenue from online gaming services also fell, by 2 million euros to 437 million euros. These are frequently offered for various games consoles and include – depending on the specific offer – free monthly games, games discounts, the ability to play online, or even cloud stor-age for saved games.
CT Interactive's 10 New Games and Hot Luck Jackpot Certified for the Czech Republic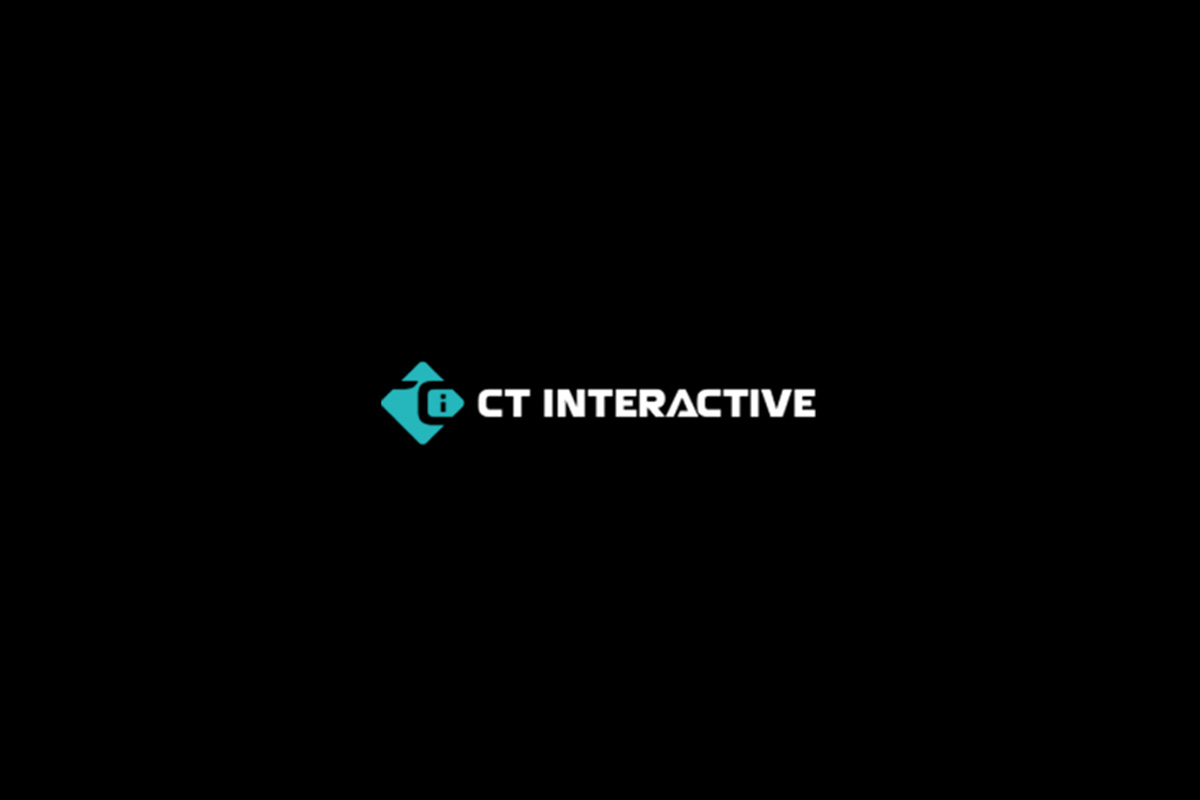 Reading Time:
< 1
minute
CT Interactive continues to increase its market share in the Czech Republic. The company was granted with a certificate for a package of 10 more games and the Hot Luck Jackpot.
"We are very excited about our next step in the Czech market which we value very much. We see a lot of potential in this market and this is why we are going to provide to all of the local operators we work with more of our exciting content," Milena Tsankarska, Business Development EMEA at CT Interactive, said.
The list of certified games consists of the most popular names such as Bavarian Forest, Big Joker, Brilliants on Fire, Dark Woods, Fortune Pig, Fruity Hot, Hot 7 's X2, Mystic Moon, Pick the Pig and The Power of Ankh. The portfolio for the Czech market contains also Hot Luck Jackpot.
"The certified content contains some of our best-selling games and it is ready for launch with the operators," Ivan Zoumpalov, Business Development Manager at CT Interactive for the Czech Republic market, said.
Endorphina Enters into Partnership with ForbesCasino.cz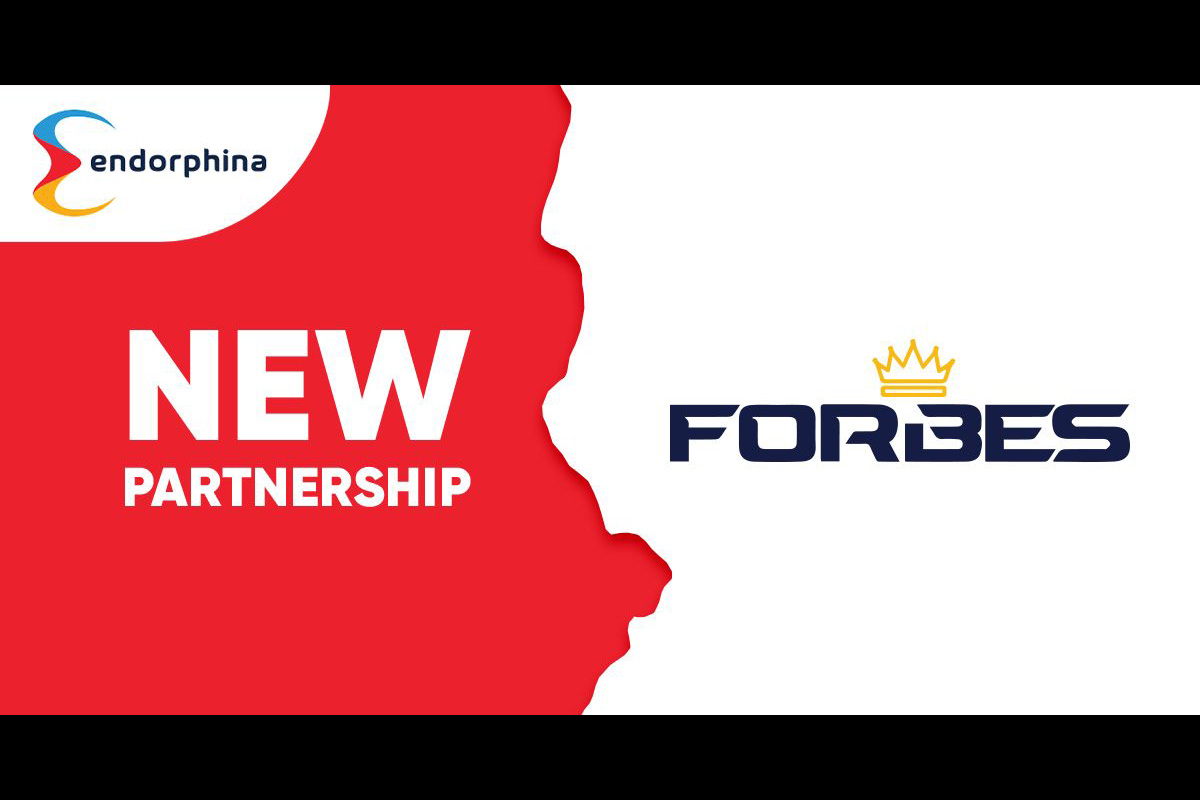 Reading Time:
< 1
minute
Endorphina has partnered with ForbesCasino.cz to bring its portfolio of certified games to Czech players.
Zdenek Llosa, partnership manager at Endorphina, stated that kicking off the year by entering new markets is always a treat and its games have just landed in the Czech Republic.
"We are delighted to have agreed on a promising partnership with the well-established forbescasino.cz. Our full portfolio of certified games for the Czech Republic includes top performers like Lucky Streak 3 and 2022 Hit Slot, which will be available for Czech players to enjoy and experience a new wave of quality and entertaining games. We are looking forward to seeing how our games will be received in the market," he said.
"The entry of the brand (global game manufacturer Endorphina through our online casino is a great event for all online gaming lovers. Every visitor to our platform will greatly benefit from the cooperation between the two companies," Petr Zemba, VIP manager of ForbesCasino.cz, said.
"We want to present all the games one by one in an online stream with commentary. We will also bring reviews, and there will be a competition or tournament. We have high expectations, and we believe that the whole market will like the games," he added.
Edict Egaming Partners with 888casino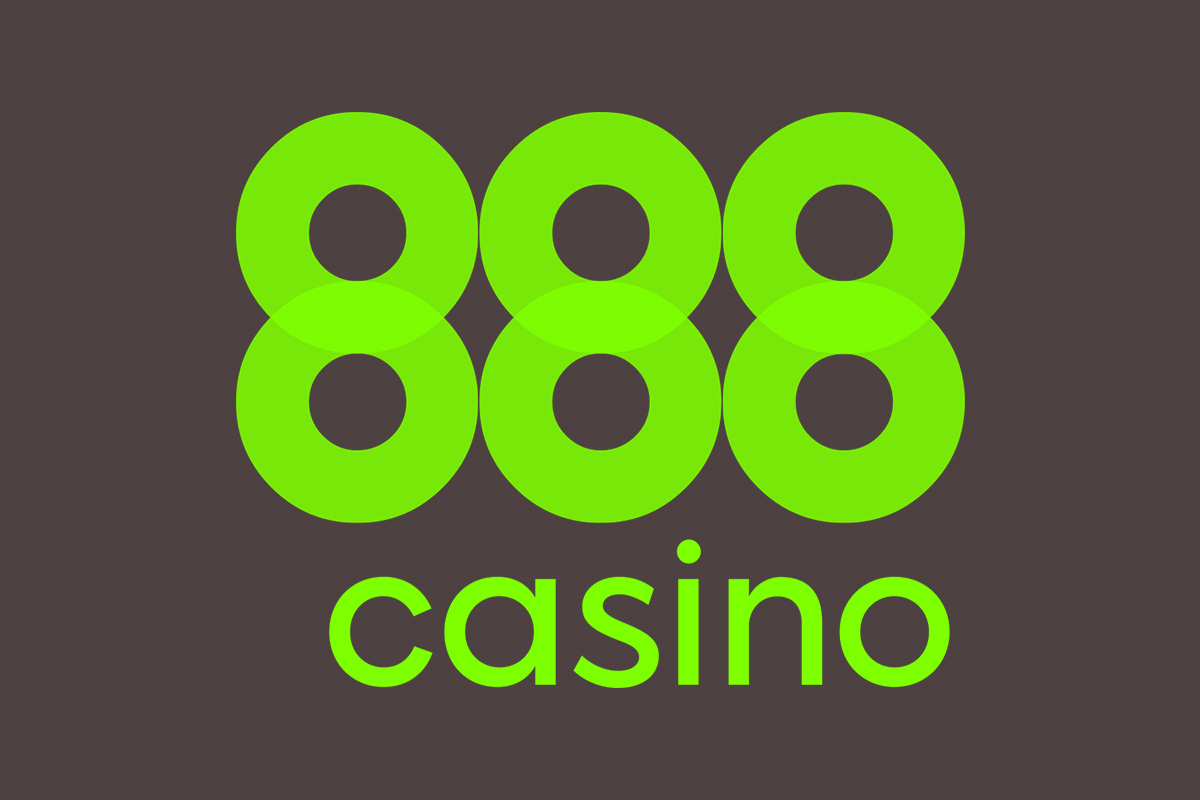 Reading Time:
< 1
minute
Edict egaming GmbH has officially signed an agreement with 888casino, one of the world's leading online casino brands and part of 888 Holdings. Within the scope of the collaboration, the Merkur games, which are a game provider of edict and produced by the Gauselmann Group subsidiary that specialises in sales and distribution of games for the online casino market, have been made available for players on 888casino's platform.
Currently, more than 10 Merkur slots are available on 888casino's website, including popular classic games such as Eye of Horus, El Torero and Blazing Star. The selection will be successively expanded to include more Merkur games in the coming weeks.
"888casino is one of the world's leading online casino brands and, through this collaboration, we have gained a globally established partner. We are proud to be able to offer 888casino users our diverse portfolio of Merkur games and are confident that our offering will be met with great enthusiasm by customers," Dominic-Daniel Liénard, CEO of edict egaming GmbH, said.
"We are delighted to be collaborating with edict to add its Merkur slots to our entertaining and content-rich portfolio of games on 888casino. Partnering with quality organisations like edict is a critical part of our product and content leadership strategy and ensures we continue to offer the very best gaming experience for players around the globe. We look forward to working with Dominic-Daniel and the team in the months ahead," Nir Hakarmeli, International Managing Director of 888 Group, said.