Spielworks Integrates its Wombat Wallet with MineCrypto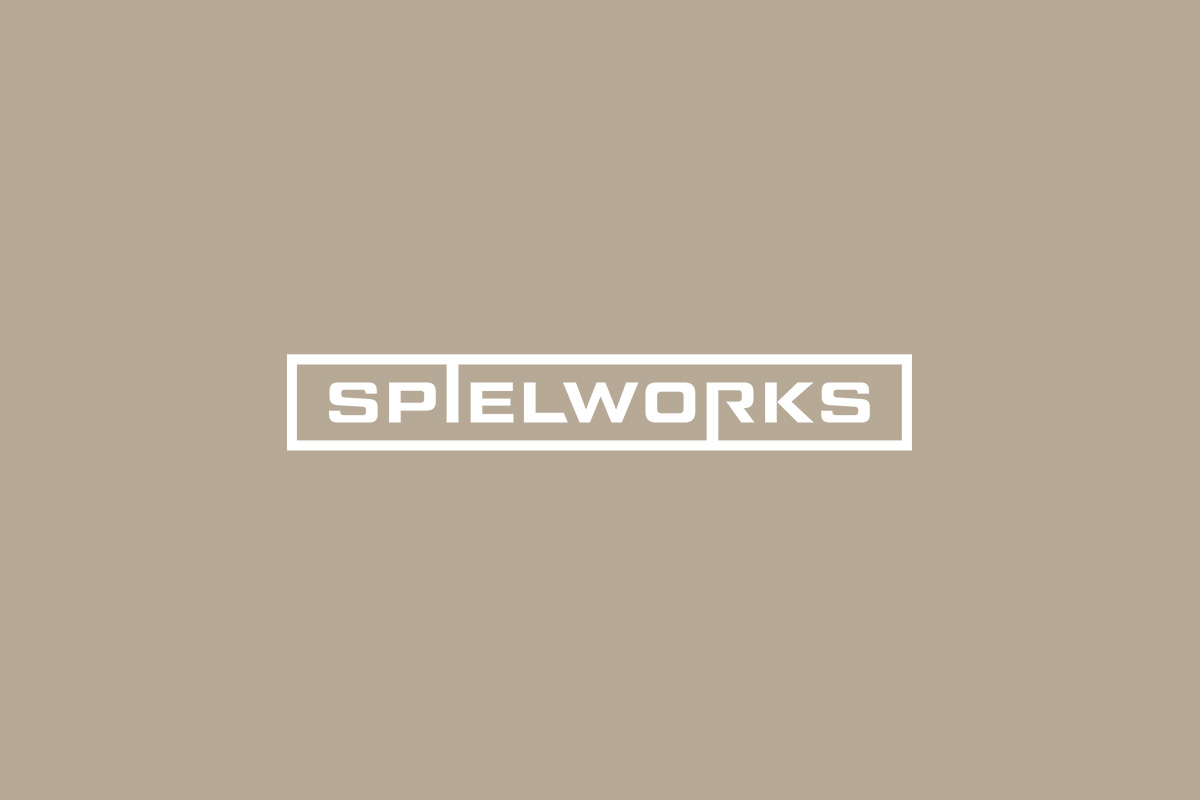 Reading Time:
< 1
minute
Spielworks, a leading blockchain startup specialising in gaming and decentralised finance (DeFi) solutions, has announced its first partnership in the BNB Chain ecosystem. The company has integrated its multi-chain gaming-oriented Wombat Wallet with MineCrypto, a leading play-to-earn (P2E) Minecraft server.
With the integration, gamers using the Wombat Wallet can now use it to log in at the MineCrypto server and join its bustling P2E economy. MineCrypto's $MCR token and native NFTs join the ranks of digital assets that Wombat Wallet natively supports. MineCrypto will, for its part, promote Spielworks as a featured partner in its materials.
Spielworks announced integrating the Wombat Wallet with the BNB Chain, a leading public layer-1 blockchain developed by Binance, one of the world's largest centralised digital asset exchanges, earlier this year. The integration opened the network with an estimated total value locked of almost $9 billion for gamers looking to explore the titles built on one of the most popular platforms for decentralised applications.
"With its high scalability and low fees, the BNB Chain is a go-to network for smart contract builders. We are thrilled to be pushing into this ecosystem by partnering with a project that leverages one of the biggest videogames ever to spearhead P2E gaming. Minecraft's creator-focused design is perfect for integrating the blockchain and digital ownership, setting the stage for a player-led and player-driven economy," Adrian Krion, CEO of Spielworks, said.
"Minecrypto is excited to partner with Wombat and onboard new crypto users to our server and show them the limitless possibilities of crypto. Partnering with Wombat makes sense because our projects share similar goals of wanting to bring new users into the space of GameFi," Nic Krystynak, Head of Growth and Marketing, said.
Haste Arcade launches new Monster Bombs game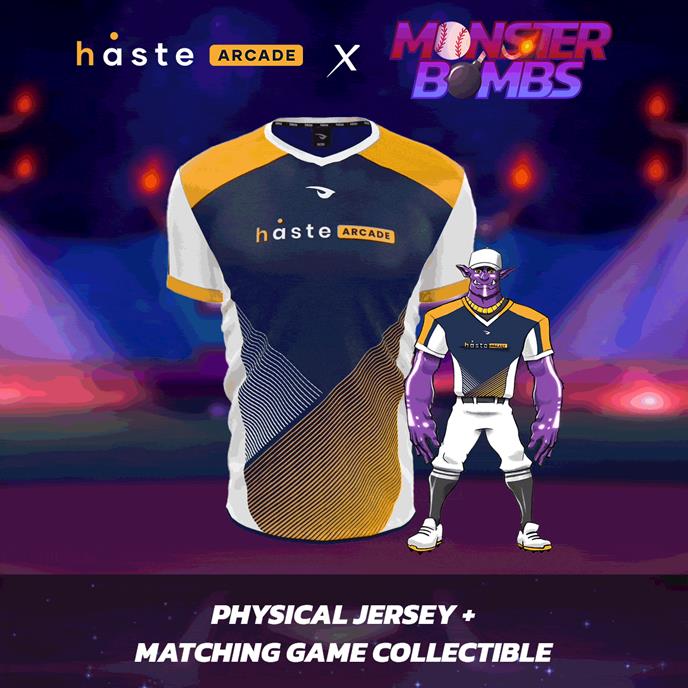 Reading Time:
2
minutes
The Haste Arcade has released its newest game – Monster Bombs, a space-themed baseball game built on the BSV Blockchain.
It features the world's first physical and digital copy NFT items that can be equipped within the game, along with Haste's patent-pending Instant Leaderboard Payout™ technology.
The game's main character, Tank, is trapped on the planet Avachrome, and must compete in the planet's home run derby to get off the dreaded planet. Players must hit a variety of pitches, while avoiding the bombs that occasionally get thrown at Tank. Points are accumulated by not swinging at the bombs, hitting singles, doubles, triples, home runs, and "Monster Bombs" (supercharged home runs). The more points a player gets, the higher up the leaderboard their score is.
One of the most exciting aspects of the release is the game collectibles. Prior to the release, Haste sold 20 Limited Edition Haste Jerseys, 10 Limited Edition "Tank" shoes, and 125 Limited Edition Haste hats. Each item came with a digital copy NFT, that allowed the owner to equip the NFT onto Tank within the game. The items were sold on the Take It NFT auction platform.
Along with the collectibles, the game also features Instant Leaderboard Payouts™, which give gamers a new way to play and earn from casual games. For example, players can play Monster Bombs for free, but if they want the chance to earn, they can also play at different paid levels ranging from $0.01 all the way up to $100 per game. If the player makes a level's leaderboard, they earn a percentage of each subsequent gameplay. The payouts are instantly deposited to their Bitcoin SV wallet in the form of a micropayment, and the player will continue earning until their score is no longer on the leaderboard.
Joe De Pinto, co-founder of Haste, said: "We are extremely excited with the release of Monster Bombs. The gameplay is impressive for a casual home run derby, and the ILPs add an extra level of excitement for the players. We really think it is the most unique home run derby game on the internet."
De Pinto continued: "The game also serves as a demonstration of what blockchain technology and Haste can do for professional sports franchises. To our knowledge, there has never been a physical item a fan could purchase, receive a digital copy NFT of that item, and then actually use the NFT within a video game.
"Imagine every shirt, jersey, and hat at the New York Yankees team store coming with an NFT that a fan can go home and equip on their player in MLB The Show. You will be wearing your real jersey that you just bought and playing with it in the video game at the same time! This concept is going to be a massive way to drive fan engagement outside of the ballpark."
AC MILAN AND MONKEYLEAGUE PARTNER TO BRING WEB3 ESPORTS FOOTBALL INTO THE BIG TIME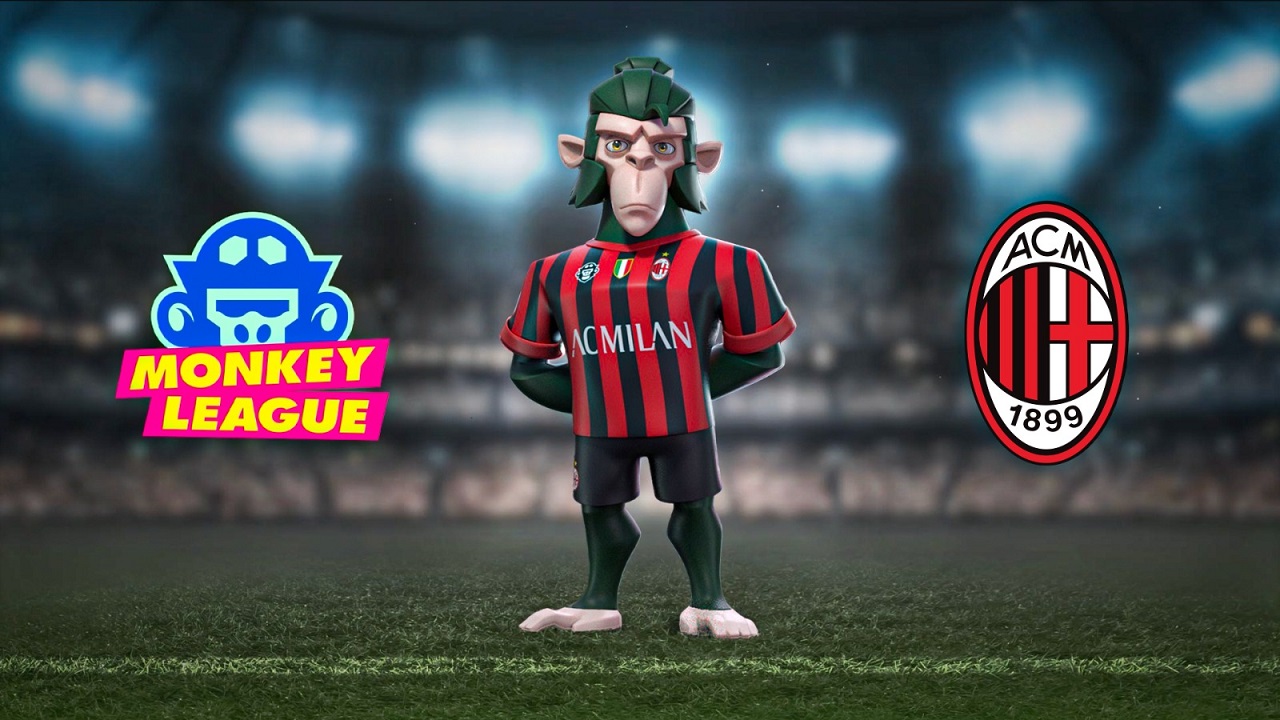 Reading Time:
2
minutes
AC Milan is delighted to announce a new partnership with MonkeyLeague, a AAA-quality, web3 football game built atop of the Solana blockchain, becoming the Rossoneri's new NFT Gaming Partner.
MonkeyLeague is a strategy-based football game, in which users build and manage their own dream team of at least six MonkeyPlayer NFTs (striker, midfielder, defender and goalkeeper), compete against real players, and climb the league ranks. The game economy is centered around an in-game currency, MonkeyBucks ($MBS), and in-game assets that hold value in and out of the game.
The new wide-ranging, strategic, and design partnership between MonkeyLeague and AC Milan includes the creation of exclusive, Rossoneri-branded NFT game assets, wearables, special game tournaments, co-marketing events, and a host of other exciting initiatives, such as club players playtesting the game.
As part of the deal, MonkeyLeague will work closely with the Italian Champions to launch a new collection of branded AC Milan NFT game assets, including new MonkeyPlayers, skins and Stadiums. The first and more exclusive batch will be auctioned on 6 October on MagicEden, with the NFTs going to the highest bidders. Some of the highly-sought after AC Milan MonkeyPlayers to be auctioned will come with physical AC Milan jerseys signed by the entire Club.
In addition, MonkeyLeague will launch its initial MonkeyPlayer NFT breeding season in partnership with AC Milan where AC Milan branded assets can randomly come out through the breeding process. There will also be additional NFTs available, including in-game Stadiums and land.
The partnership marks a significant new growth phase for the entire MonkeyLeague community and fits perfectly in MonkeyLeague's mission to bridge web2 and web3. For AC Milan, the new partnership with MonkeyLeague is part of a wider Web 3.0 strategy that sees the Club working with experts to create unique digital experiences for its fans, which aim to give them more access, more ownership and bring them even closer to their beloved Club.
Casper Stylsvig, Chief Revenue Officer of AC Milan commented: "We are thrilled to kick off this partnership with MonkeyLeague, a collaboration that allows us to strengthen our positioning in the field of digital innovation. We are particularly proud to be the first football club to partner with MonkeyLeague, bringing this game to our supporters around the world and offering them a new innovative way to engage with their favourite team."
Oren Langberg, Head of Marketing & Partnerships at MonkeyLeague said: "Partnering with champions like AC Milan, an absolute iconic Club throughout football's history, is another testament to what we are building and where we are headed as a game and game studio. It also represents a key step in our plans to bridge the Web2 and Web3 worlds."
The partnership will also see AC Milan sponsoring a number of high-profile future MonkeyLeague esports tournaments that will bring together the game's best players from around the world to play in hotly-contested matches, with the winners taking home exclusive rewards. At the same time, there will be promotions galore, with prizes including VIP match tickets to some of the biggest games at Milan's legendary San Siro stadium, and signed AC Milan shirts and other gear.
The game itself will benefit from the input of some of AC Milan's biggest stars, as a number of squad players take part in playtesting the game and providing feedback and guidance to ensure the gameplay is as realistic and engaging as possible.
Betopia announces new partnership with MIRACL to further enhance betting user experiences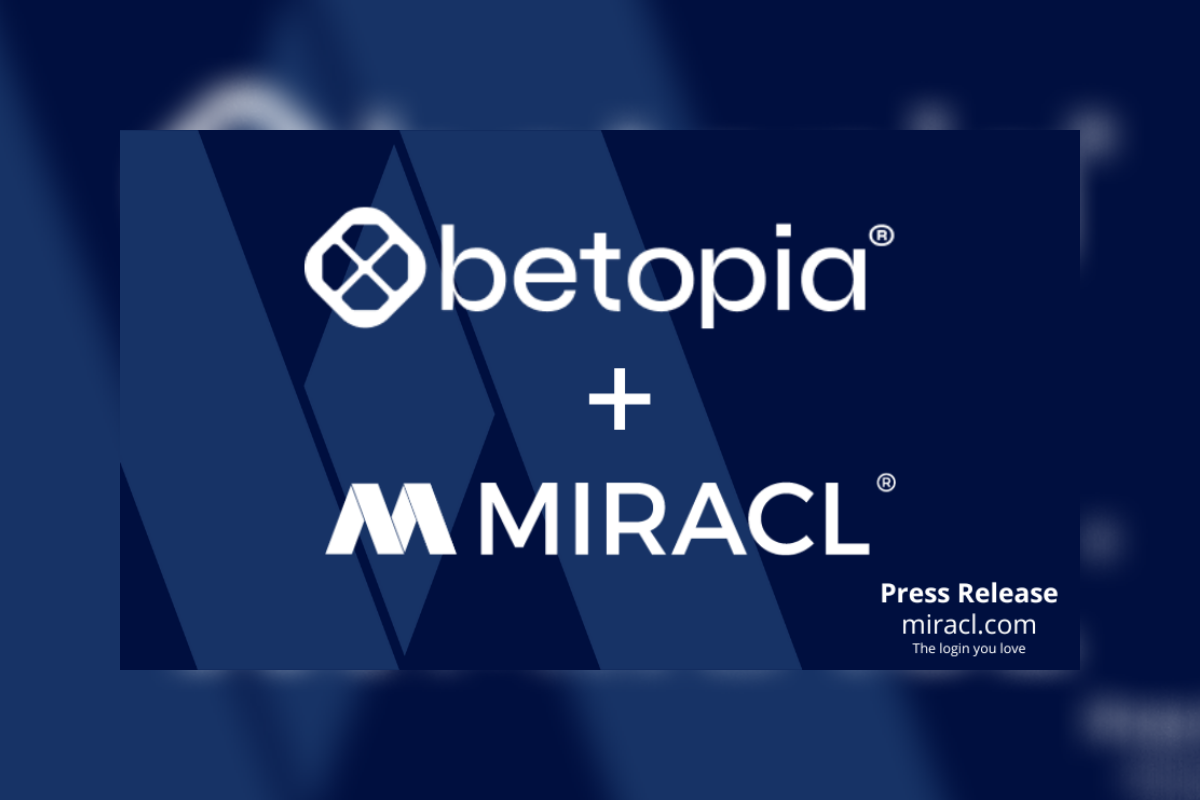 Reading Time:
2
minutes
Ahead of the SBC Summit in Barcelona this week, Betopia today announces details of a new partnership with single-step multi-factor authentication (MFA) provider, MIRACL in a bid to provide even smoother login experiences for their online customers.
Betopia is the first blockchain betting platform for E-Sports Live Steaming and Micro-Betting, International Sports Book Betting and Integrated Metaverse Casino Operations. With a primary focus on creating the optimum experience for its customers through a fair and entertaining user experience, it helps mass markets to adopt to crypto within the ever evolving gaming sector. With user experience top of mind, partnering with MIRACL is a no-brainer.
MIRACL is the world's only single-step multi-factor authentication. A two-second PIN login is all that is needed to authenticate. No passwords. No data and no second device. With unprecedented statistics for login's – 99.9% are successful. This guarantees a seamless login experience for individuals betting – enabling a friction-free experience from entering a platform and placing the bet. Combined with Betopia's leading drive to be established as the ultimate blockchain betting platform, their formidable partnership will create a near perfect environment and the very best gaming experience for the user.
As legislation from New Jersey in the US commits gaming companies to use MFA on their platforms, it is a directive that is anticipated to spread throughout the gaming sector. So this new partnership by Betopia will ensure it is well placed as this trend spreads globally.
Graham Martin, Director at Betopia comments, "It was clear that the combined talents of Betopia and MIRACL to collaborate in developing the Betopia Metaverse is a powerful partnership. By using the unique products and services available from Betopia and, using the quickest and most secure passwordless authentication service that MIRACL provides, we are convinced we will experience solid and innovative progress in developing mutual benefits for both businesses."
Rob Griffin, CEO at MIRACL adds, "Our single-step multi-factor authentication is the ideal solution for gaming and gambling platforms – customers aren't lost at the critical entry point meaning as many bets are placed as possible, and not lost to competitors. In this competitive market, every bet counts so ensuring you are using the smoothest login is critical for maximising your business' potential.
Our partnership with Betopia makes perfect sense and we look forward to working closely with the team to ensure MIRACL can be integrated into as many gaming and betting platforms as possible."
Additionally, MIRACL is software-based and API-enabled to work from any device or browser. This means a quick and seamless integration with any device or platform you're using. The software doesn't store personal data, passwords or PINs, so it's fully resistant to remote attacks – with zero security vulnerabilities. The old notion that your account login must be either fast and easy or secure is no longer true, MIRACL offers both at the same time! For further information on MIRACL please visit: www.miracl.com
Betopia will continue to partner with projects and solutions that add value to their users. Putting users first allows for the best product and ecosystem possible – an ongoing priority.