Underdog Teams GOG Esports and Dragon Esports Set for a big leap as they seal a berth for ESPL 2 LAN Finals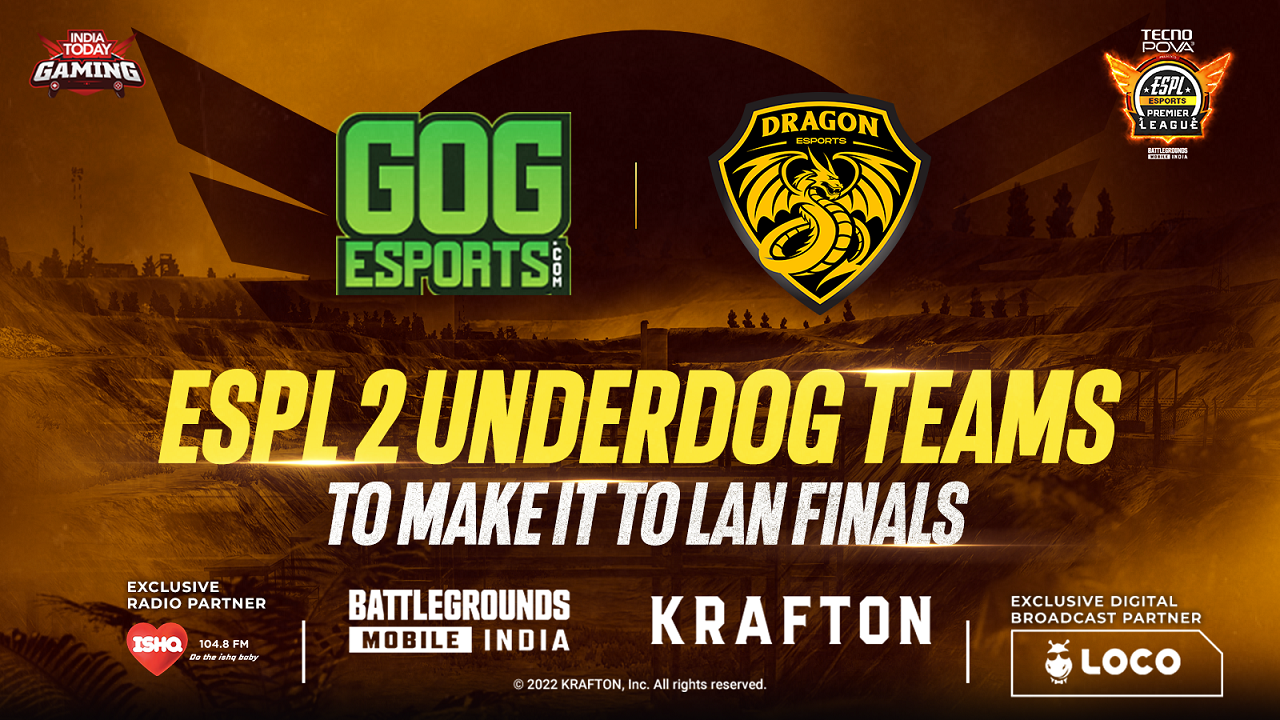 Reading Time:
3
minutes
In its bid to give promising gamers a chance to showcase their skills on a national platform, the second edition of the Esports Premier League organized the Underdog Phase, where Team GOG Esports and Dragon Esports put up a stellar display of talent to conquer the open qualifiers. Both teams finished in the top two positions with their dominant performances in the open qualifiers.
ESports Premier League envisioned this "Underdog Phase" to ensure that non-established BGMI Esports players and teams from across the country get an opportunity to show their talent and ability. This will be for the first time such an initiative was taken to give opportunity for the Underdogs only via open qualifiers.
Led by Manish Jangid, team GOG Esports topped the chart with a total tally of 142 points (Finish Points – 52 + Position Points – 90) while Team Dragon Esports led by Ritik Rawat finished second with 130 points (Finish Points – 70 + Position Points – 60). Both teams registered one WWCD (Winner Winner Chicken Dinner) each to their name too.
GOG Esports played their first major tournament during BMPS (Battleground Mobile Pro Series) and finished that mega event with the 21st rank. Buoyed by other talented members in Nick, Bullet, and Trex, the team is currently prepping for the mega final in a Boot Camp in Bhopal. The whole team is practicing for about 13 to 14 hours daily to give a tough competition to the best teams during the grand finals of the ESPL Season 2.
The team is excited to play in their first ever major LAN event as Manish Jangid, the team leader for GOG Esports added, "This moment gives me a sense of accomplishment and honor that our team's diligence and commitment finally paid off. We are grinding really hard together at our bootcamp and are really excited as this will be our first LAN event. The open qualifier was an eye-opener as multiple underdog teams were playing like pros and I am sure all other teams learned a lot and will continue their grid in the upcoming events."
Team Dragon Esports leader Ritik, son of a retired army officer opted out of education after 12th to pursue a career in gaming. His journey began in 2018 with PUBG. With Sanket Salam, Krishna Sharma, and Ashish Singh, Rawat formed the team Dragon Esports which is his third esports team. The 22-year-old also participated in the PMCO Open qualifiers 2019. He also joined NADE gaming in 2020 and now the Dehradun-based gamer is focused on the upcoming LAN event in Delhi.
Speaking on the success and response of the Open Qualifiers, ESPL director Vishwalok Nath noted, "We have seen multiple tournaments only catering to top teams on an invitational basis, and opportunities for underdog teams are very less in regards to bigger platforms. So, to give equal opportunity to all the teams, we conducted open qualifiers for underdog teams across the country to give them a bigger platform to perform. The Underdog phase was one of its kind, as it provided budding gamers with a promise to get a chance to showcase their skills on a national platform. Both the teams that won thoroughly deserve their success. Now, these teams will get a chance to put their skills and strategies to test against the top names in BGMI Esports. Who knows, we may get our new BGMI heroes out of these two underdog teams."
This year's league which carries a massive prize pool of Rs. 1 crore is set to engage esports athletes across the country in a high-voltage action of the most popular battle royale game, BATTLEGROUNDS MOBILE INDIA.
The league is being played in two separate stages in the initial phase — online qualifiers and invitational qualifiers — to shortlist the top 16 teams. ESPL has already got their 2 top Underdog teams from online qualifiers. The invitational qualifiers are being played in two phases; the first phase will select top 5 teams whereas in the second phase, 8 top teams will be chosen from the leaderboard. The finals will also witness one direct invited team competing and vying for the title.
Recently, ESports Premier League (ESPL) extended its association with youth icon and renowned Bollywood actor Tiger Shroff as the face of India's first-ever franchise-based Esports league for the second consecutive year. India Today Gaming has also roped the Global smartphone brand, TECNO Mobile as Presenting Sponsor for the tournament. The smartphone maker is committed to supporting and helping aspiring underdog esports players with its gaming-focused smartphones like the latest, Tecno Pova 3. Esports fans can also watch the BGMI action live on India's leading streaming platform, LOCO, the exclusive digital broadcast partner for ESPL Season 2. The tournament organizer has also signed Ishq FM as the exclusive radio partner for the ongoing tournament.
BetMakers Partners with Selangor Turf Club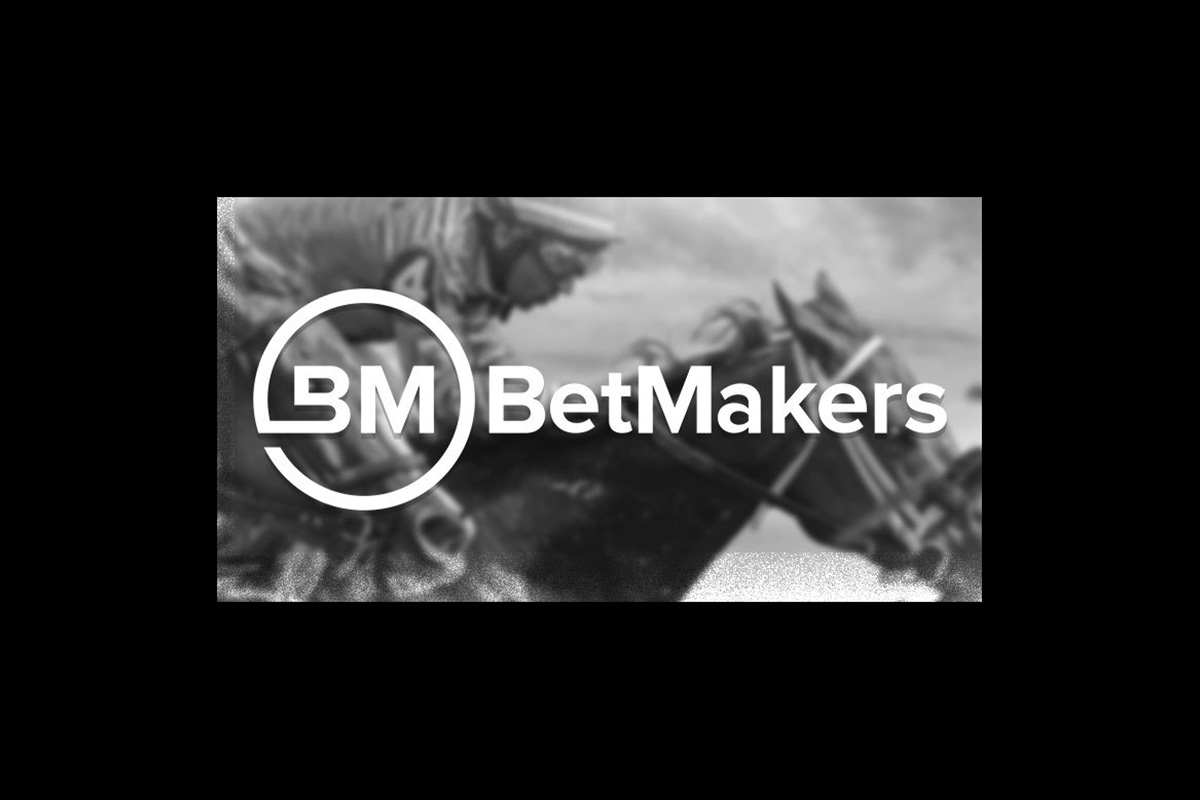 Reading Time:
2
minutes
BetMakers Technology Group has announced that its Global Racing Network (GRN) has been awarded the rights to offer the thoroughbred racing content from Selangor Turf Club, the premier racing club on the Peninsula of Malaysia, for fixed odds, booked bets and exchange wagering in the UK and Ireland.
GRN offers technology and service solutions for racing's rights holders and authorities worldwide, delivering international racing content from more than 30 countries and helping rights holders access new markets for their racing.
"At Global Racing Network we believe that Selangor Turf Club should have as much visibility into the performance of their signal as possible to achieve their growth targets in new markets. To deliver this, we are not only building the network between Selangor Turf Club and the wagering operators, but we are also supplying the data and tools they can use to stimulate wagering and drive revenue. We are very excited about their prospects in these markets and happy to be working with them," Kerry Gatten, VP of Global Racing Network, said.
"It has been exciting to work closely with Selangor Turf Club and to further expand BetMakers' global footprint in Asia, building on our relationships with existing pari-mutuel betting and global pool commingling clients in Macau, Hong Kong, Vietnam, and Malaysia. As BetMakers provides a full suite of technology and service solutions for racing bodies and operators, we hope to have a long and productive partnership through which we can help Selangor Turf Club reach its goals," Lance Ku, International Operations Manager and Director of Sales & Business Development, Asia for BetMakers' Global Tote, said.
"Selangor Turf Club is pleased to partner with BetMakers' Global Racing Network to expand our racing into the United Kingdom and Ireland, helping us showcase the quality of the thoroughbred racing we conduct in Kuala Lumpur. We look forward to working with BetMakers to help ensure the growth and sustainability of racing in Malaysia," Mike Fong, CEO of Selangor Turf Club, said.
Fan Engagement Startup STAN Enters Digital Collectibles Partnerships with Esports Superstars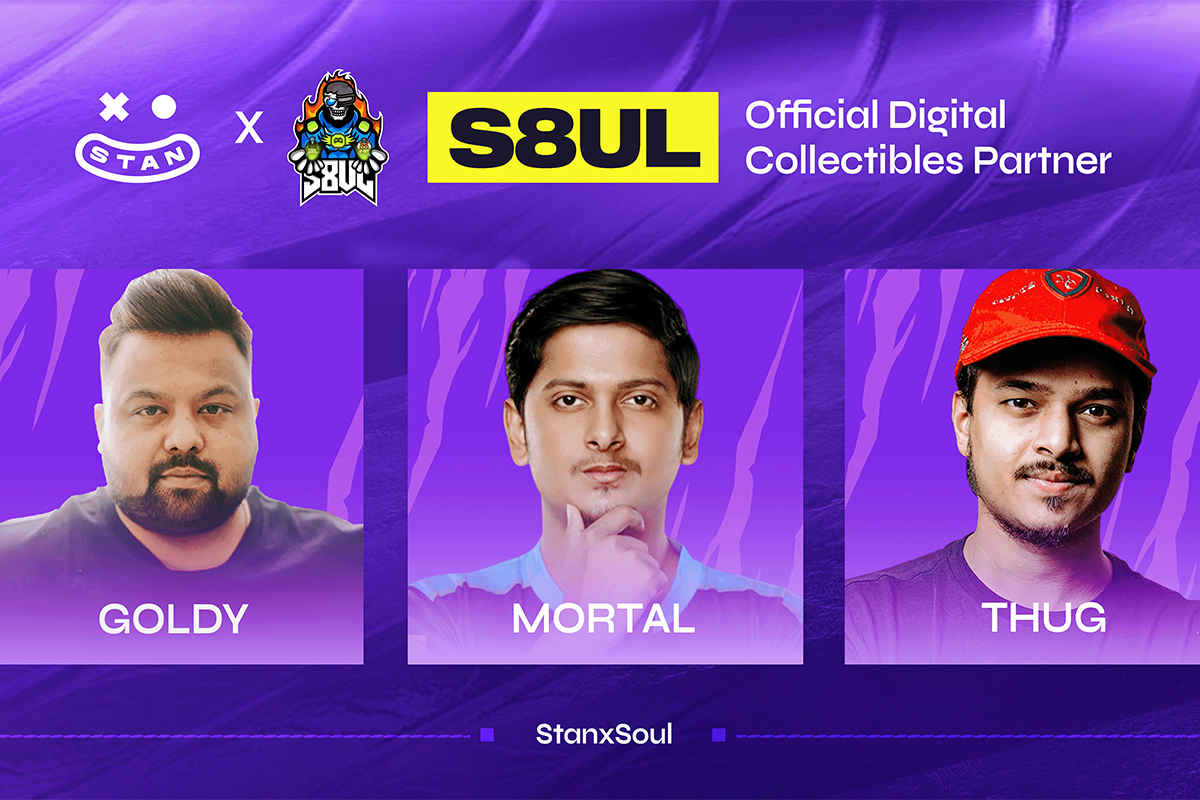 Reading Time:
3
minutes
Fan Engagement Startup STAN Enters Digital Collectibles Partnerships with Esports Superstars and S8UL Co-Founders Mortal, Thug and Goldy
STAN has now become India's first platform to partner with elite gaming creators, S8UL Mortal and Godlike Jonathan.
Bengaluru-headquartered blockchain-based esports fan engagement startup STAN has announced that it has entered into strategic partnerships with three of the leading esports creators in India – Naman Mathur aka Mortal, Animesh Agarwal aka Thug, and Lokesh Jain aka Goldy. These 3 creators, who collectively have a follower base of more than 15 million on social platforms like Instagram and Youtube, are extremely well-known and popular amongst the gaming and esports enthusiasts' community in India. Also, Thug, Goldy and Mortal are the co-founders of S8UL, one of the largest esports orgs in India. With this development, STAN has now become India's first platform to partner with elite gaming creators, S8UL Mortal and Godlike Jonathan.
The key objective of the partnership between STAN and these creators is to build an ecosystem for Motal's, Goldy's and Thug's fans in order to connect with them as well as to unlock new-age exciting and engaging experiences for the burgeoning fan base. It enables STAN to have the exclusive rights to create non-NFT digital collectibles of these legendary creators.
Furthermore, this is a step forward by STAN in offering other types of services and rewards with and for these creators and their fans, including but not limited to Instagram Shoutouts, Play-A-Match, and Talkshow with the Creator. Besides, vis-à-vis the collaborations with Thug and Goldy, STAN users would have access to these two creators' respective Voice Rooms (a newly-launched feature on the STAN app where a creator joins a space where he/she can interact with their fans via voice messages).
Speaking on the recent partnerships, Nauman Mulla, Co-Founder & COO, STAN says, "We are delighted and proud to announce the collaborations with reputable creators like Mortal, Thug and Goldy, for creating their official digital collectibles and ushering in innovative fan engagement strategies and outcomes for their fans. As a web3 fan engagement startup that is deeply focused on bolstering the gaming and esports ecosystem of the nation, it was a no-brainer to partner with these leading creators, each of whose fan base runs in millions. With this, STAN has now joined hands with almost all the leading esports creators in India; it allows us to cover the entire ecosystem of the Indian gaming community and helps us move closer to realize our vision of empowering each fan to achieve all of their fan dreams."
Speaking about the partnerships, Naman Mathur Aka S8ul Mortal said, "Partnering up with STAN has given me an opportunity to feel my fan's love for me in a more innovative way! I have always wanted to connect with my fans on a personal level and STAN has made this possible. This sublime partnership with STAN is the first step towards making sure my fans get the best experience out there."
Animesh Agarwal Aka Thug said, "I'm really happy to be a part of this invigorating experience that STAN is providing to their fans, as this gives me a chance for my fans to interact with them directly. I am very excited to see this partnership open new avenues of growth in fan engagement."
Besides being a part of S8UL, both Thug and Goldy individually are massive creators as well. Whereas, Mortal is one of the most-celebrated BGMI content creators in India currently who has represented India on many international platforms and tournaments and won many awards, titles and accolades throughout his professional esports career. On the other hand, STAN has built a uniquely-crafted one-stop platform for the constantly growing pool of esports fans in India and the world to optimally engage, play and grow closer to their idols. The startup has already inked both NFT and non-NFT digital collectible partnerships with several leading FreeFire and BGMI athletes and creators in our country.
Wynn Marjan Confirmed As First Casino Resort In UAE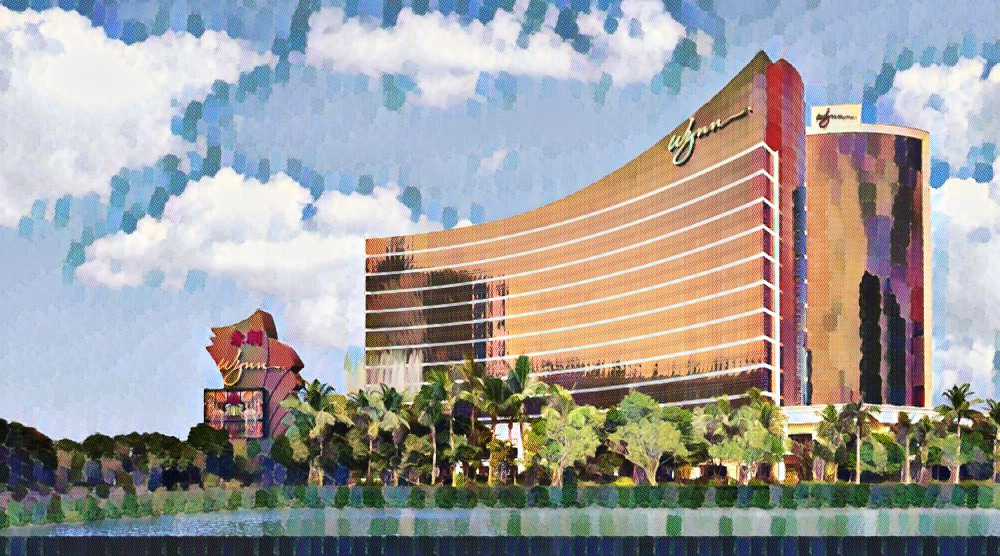 Reading Time:
3
minutes
Wynn Resorts, one of the world's largest high-end hotel developers and operators, has issued an official statement confirming that their upcoming resort in Ras Al Khaimah, located in the United Arab Emirates, will contain a gambling establishment.
Wynn Resorts' CEO Spoke About The Project
The Chief Executive Officer of Wynn Resorts, Craig Billings, stated that the casino at the new integrated resort that will be called Wynn Marjan would have a much larger scope than that of Wynn Las Vegas, the operator's crown jewel in the United States.
Details about the Wynn Marjan resort were made public for the first time in 2022, and all 1000 rooms are expected to be ready to accommodate guests in Ras Al Khaimah in 2026. Only now, however, do we have unequivocal proof that the resort will be the first in the United Arab Emirates Gulf Cooperation Council region to offer gambling establishments like casinos.
The CEO even stated that the Marjan and the United Emirates Project are the main focus of Wynn Resorts' complete design and development power, working tirelessly to ensure they get this highly lucrative opportunity right from the get-go. However, while acknowledging that the region is a significant luxury and leisure market, Billings also admitted that the casino aspect of the resort is one of many focus points.
The Wynn is currently in the final stages of construction planning and will release more details in 2023. Supposedly the location should be flexible for whatever Wynn is planning since the site will be on an artificial island without any pre-existing structures.
The Nation's Laws Make This A Success For Wynn
The resort's planning has piqued the interest of many investors and people in the gambling industry because it will be built in the UAE and operated under strict Islamic laws. 
These laws give gambling and any activities related to it adverse treatment, and the GCC has been hesitant to allow any loopholes up to this point. Because of this, there was some uncertainty regarding whether or not Wynn Marjan would have a gambling area. However, the CEO of Wynn has stated that the group appreciates the importance and opportunity of the Marjan being the only resort of its kind in the region to offer casino services and confirmed they intend to build the resort large enough for the activities and attractions not to become stale.
Gambling In The UAE Today
Due to the strict anti-gambling laws, many people living in the Arab Gulf countries gamble online at offshore operators. However, this is a legal grey area, and there are frequent attempts by government authorities to block local citizens from accessing these overseas sites. 
With the help of VPNs and anonymous banking options, many UAE citizens register at operators licensed in Malta or the UK. Moreover, websites catering to Arab gambling, such as 7alalcasino.com, list the operators with customer support, payment options, and promotions in Arabic. There is no shortage of bookmakers or online casinos in Arabic on the internet, but it still needs to be determined whether local citizens can gamble at the new Wynn resort. 
An Opportunity For The Country And Other Investors
It will also be interesting to see if Caesar's Palace, which has a resort in the region without a casino, will try to build a gambling venue adjacent to the resort. MGM is also building a nearby resort, reportedly without a casino. One thing for sure is that there will be many eyes on these two giants to see what their next step will be once Wynn opens their casino venue. More than this, it's inevitable that other investors and developers will be looking to get the necessary green light to open other casino venues.
Ras Al Khaimah's Tourism Authority representative Raki Phillips has also presented positive feelings towards Wynn Resorts' plans and believes that it will significantly boost the tourism and hospitality sectors and create new jobs for locals. The fact that Wynn is even planning the casino featured at the Marjan to be even bigger than their flagship venue in Las Vegas shows just how high the hopes are from both sides that this may be a door-opening event for many future other developments in the region, and perhaps it will result in a shift in attitude towards gambling in the area.