Global Esports wins India's first-ever televised BGMI Master Series Tournament 2022!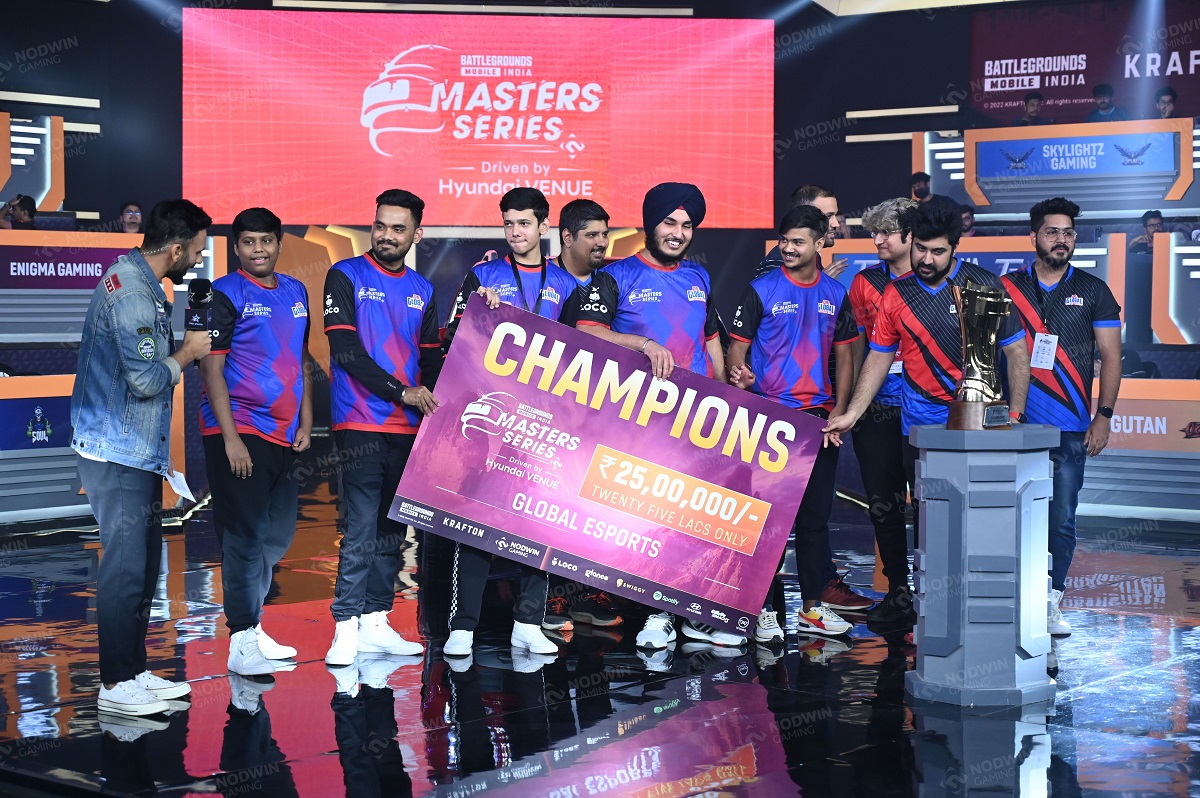 Reading Time:
5
minutes
NODWIN Gaming's three-week-long premier television tournament — the BATTLEGROUNDS MOBILE INDIA (BGMI) Masters Series that was broadcast on Star Sports 2 on primetime starting June 24, has concluded in a grand final event on July 17, 2022. Global Esports was crowned the champion of this series following an edge-of-the-seat match between the top teams like Team GodLike & Orangutan. The winner was awarded the BGMI Master Series trophy, INR 25 lakh as prize money, and took home the new Hyundai VENUE. The tournament had an overall prize pool of INR 1.5 Cr.
The winner was announced after the three-week-long tournament's exciting and long-drawn five-day grand finale. The tournament finals saw teams give a tough fight and pull all stops to dominate the leader board with an eye on the trophy. The season also saw lesser-known teams like team Insane Esports and Chemin Esports excel and make an impression.
"What a series this has been for NODWIN Gaming, for the community and for our partners on the whole! We've been able to place esports right in the upper echelons along the likes of several big league traditional sports like cricket, football and tennis. This tournament is a game-changer for every aspiring gamer out there. My heartiest congratulations to Global Esports who've raised the bar of professional gaming with their skillset and focus. Each team played like true champions till the very end. I'd also like to thank all our partners Star Sports, Spotify, Swiggy, Loco, Glance Live, Wings, Gillette and Hyundai who instilled their faith in our vision and drove this event to mass success. Onwards and upwards from here," said Akshat Rathee, Co-Founder and Managing Director, NODWIN Gaming.
KING, an Indian singer, and songwriter performed his latest releases Baazi and Sinner on the sets of BGMI, courtesy of Glance and Warner Music India to get players grooving to his music and pumped up for their next battle. Television host, Jatin Sapru, presented the last two days of the competition.
"Gaming has become an entire culture in itself which is representative of participation in a cultural phenomenon that has reached a scale that you simply cannot ignore. It is no longer super-niche but very much a part of the mass culture. This is one sport where we have looked to partner with NODWIN to build something from the ground up. Here, we have not just acquired the rights. We invested in both resources and efforts.  When we do this, we do it with the ambition of building something that will reach a certain scale. We are delighted that our hypothesis is being proven right that a popular game when converted into a marquee sporting property will attract millions of viewers," said Sanjog Gupta, Head of Sports, Star & Disney India.
"As a progressive brand, Hyundai shares strong synergies with various Sports across the globe and it gives us immense pleasure to be an integral part of the e-sports bandwagon. We are delighted to be associated with BGMI Masters Series organized by NODWIN Gaming. The new Hyundai VENUE personifies the aspirations of Gen MZ customers, elevating their experience through everyday dynamism, exciting performance and hi-tech features. Being one of the largest automobile manufacturers in India, a large part of our customers belong to the Millennial and Gen Z age group, who draw strong associations with esports and spend significant time engaging in such activities. Realizing their interests and to fuel the passion for E-Sports, we are bringing a Lit extravaganza to this series by presenting the new Hyundai Venue to the winner," said Virat Khullar, AVP & Group Head, Marketing, Hyundai Motor India.
"Spotify aims to bring the best in audio to gamers, creating experiences wherever they play and however they choose to listen. Our partnership with NODWIN for BGMI Masters Series 2022, is an exciting opportunity to advance that goal in India. Specifically, for the tournament, we have curated the Top Gaming Tracks India playlist for those who wish to get in the zone before a match, and have featured top BGMI gamers in The Mythpat Podcast (a Spotify Original), talking about match strategies and tactics. This is just the start of our partnership with BGMI, stay tuned for more to come!" said Neha Ahuja -Head of Marketing at Spotify.
"We have seen the power of the esports community come alive on Loco yet again, with the BGMI Masters Series alone garnering nearly 100 million views and the finals achieving a new platform record of 2.5 lakh concurrent live viewers. As the pioneer and largest investor in the Indian esports and live game streaming ecosystem, Loco has empowered all stakeholders involved and has provided a strong financial backing for the community to grow. Esports is set out to become the sport of the masses in India and we are proud to provide opportunities for viewers and creators on our platform as we continue to democratize gaming entertainment and turbocharge fan experiences!", said Ashwin Suresh, Founder, Loco.
"Over the last year, Glance has made significant endeavors to bring premium eSports to users right on the lock screen of their smartphones.  We are delighted to share that over 25 million consumers in India have discovered and watched BGMI masters on Glance. We hope that the combined reach BGMI Masters has achieved through TV and lock screens makes this a watershed moment for esports in India as she aims to become an esports powerhouse, especially ahead of the launch of esports at the next Asian Games," said Yashashvi Takallapalli, Vice President – Gaming, Glance.
"Swiggy has been looking at interesting ways to engage with the gaming TG. The opportunity with BGMI Masters Series gave us a chance to do that at scale. We have done some interesting integrations during the series such as owning the "Winner Winner Chicken Dinner" segment in addition to having live delivery activations in the studio. We also ran a contest wherein we gave away 100 free Swiggy dinners on a daily basis, through QR code ads that we ran during the course of the series." said Saurabh Nath, AVP Brand.
Commenting on the finale, Vijay Venkateswaran, Head of Sales and Marketing, Wings said, "The BGMI Masters has drawn to a close and what a journey it has been. Intense seems an understatement. Congratulations to Global Esports. A roller coaster ride if there ever was one. Props to all the teams who have participated and gave their best. It was an entertaining spectacle from the start to finish. Wings is proud to have partnered with NODWIN Gaming to produce such a huge show of talent and skill. We are immensely overjoyed that we are part of a project that celebrates gamers in all its glory. Here's to more such ventures that push the horizons of gaming."
The first-ever televised BGMI tournament was a collaboration between NODWIN Gaming and Star Sports. Glance Live and Loco enabled the digital distribution of the tournament. The series was broadcast in Hindi, Tamil and English.
The total prize pool for the tournament was INR 1.5 crore to be distributed among the winning team, the weekly winners and the top performers.
Performance awards for the finals:
The Eliminator Award – Most finishes – Goblin from Team Soul
The Cruiser Award– Most walked distance – Robinū from team Chemin Esports
The Damager Award – Most Damage – Jonathan from GodLike
The Dost Award – Most Assists – Nakul from Global Esports
The Saviour Award – Most Revives – Hector from Team Soul
The Doctor Award – Most Heals – Destro from Chemin Esports
The Tapatap Award – Most Headshots – Goblin from Team Soul
The Survivor Award – Most Survival Time – Driger from Orangutan
The Motorhead Award – Most Vehicle Distance – Ash from Orangutan
The MPV Award – Most Finishes – Jonathan from GodLike
The Hunger Cure Awards – Most WWCD – Orangutan
The BGMI Master Series has broken all viewership since it went live, clocking over 1.2 million impressions surpassing the impressions of Australian Open Day 1, French Open Day 1 and UEFA CL Semi-Finals! The series clocked 12.3 million views through the first eight days of broadcast on TV.
12BET Integrates Betradar as a New Sportsbook Provider to Mark 15 Years in the Online Gaming Industry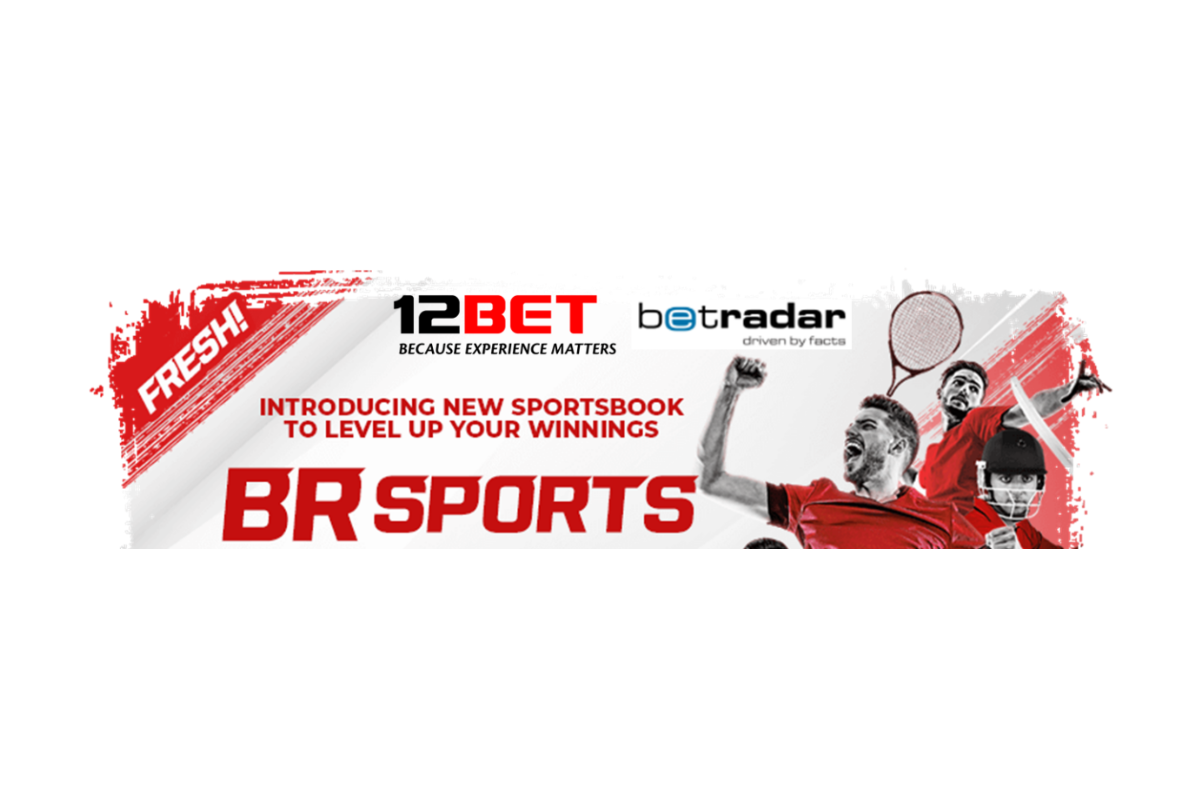 Reading Time:
2
minutes
12BET, an online gaming and sports betting platform, announced the integration of Betradar as its new sportsbook provider in celebration of its 15th anniversary. This move aims to enhance the user experience for sports betting enthusiasts by providing a more comprehensive range of options and exciting features.
As the sports betting data division of Sportradar, Betradar offers a broad range of services, including live odds, virtual sports, live streaming, and statistics. This partnership allows 12BET members to access Betradar's extensive range of sportsbook services, enabling an immersive sports betting experience that is supported by real-time decision-making data.
In addition to the integration, 12BET also announced exciting IPL offers for cricket enthusiasts, including a range of prizes such as a Mahindra XUV 700, Royal Enfield Meteor 650, Samsung galaxy fold4, and more. These promotions are available throughout the duration of the event and customer support is provided in multiple languages such as English, Hindi, Telugu, Tamil, Kannada, and Malayalam for their Indian audience.
"We are thrilled to announce our partnership with Betradar as our new sportsbook provider. Our aim has always been to provide the best possible experience to our beloved members. With Betradar's expertise, we have enhanced our offerings and are positive to provide an unparalleled experience to end-users. We are excited to celebrate our 15th anniversary and have loads of offers ongoing, especially for the IPL." said a spokesperson from 12BET.
12BET, a prominent iGaming brand that offers multiple gaming products, including Sportsbook, online casino, Keno, Lottery, and other games, all under one roof. Licensed and regulated by the Philippine Amusement and Gaming Corporation (PAGCOR) and is currently ranked as 17th EGaming operator in the industry.
12BET's partnership with Betradar marks a significant milestone in the company's history as it celebrates its 15th anniversary. The integration of Betradar as a sportsbook provider enables 12BET to expand its offerings and provide its members with an enhanced sports betting experience. With additional promotions such as the IPL offer and customer support in multiple languages, 12BET demonstrates its commitment to providing its members with the best possible gaming experience.
MOGO Recruiting Brands with Physical Sites in India for AI-Driven Collaborative Research into Gaming, Youth and University Student Markets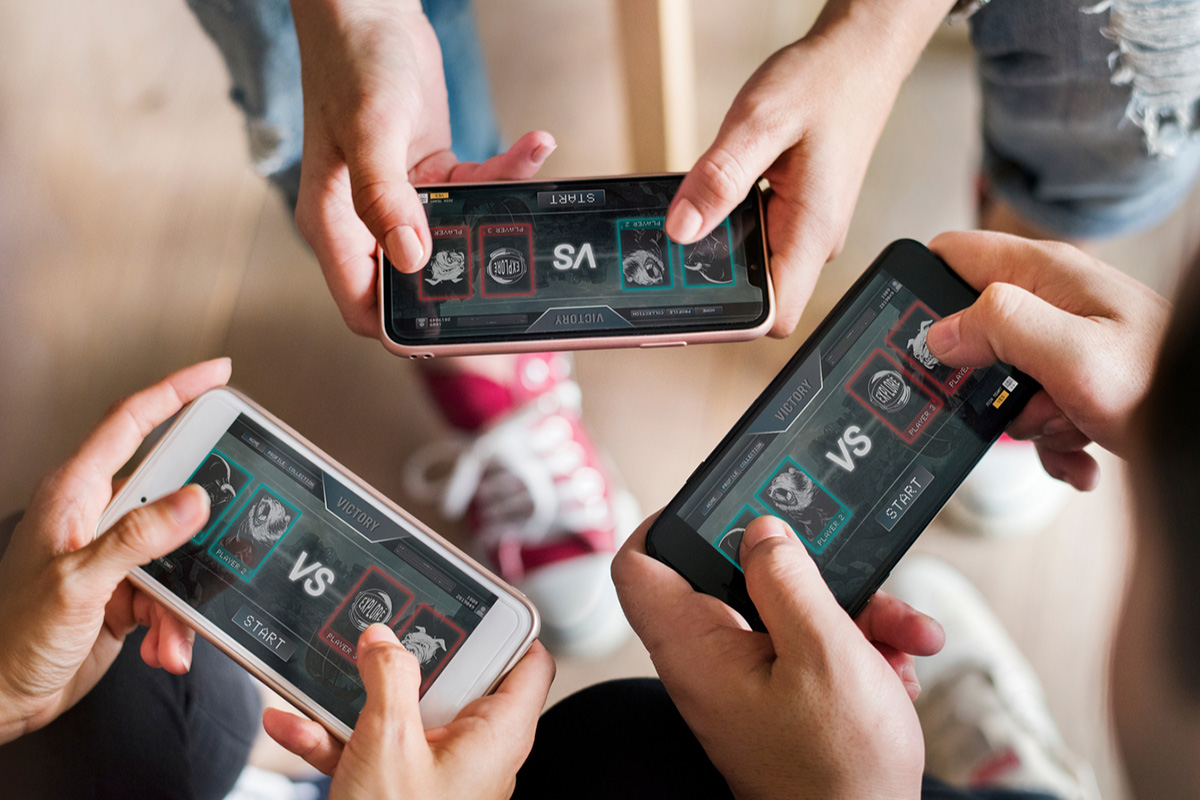 Reading Time:
4
minutes
Mobile Global Esports (MOGO) announced that the company is actively recruiting brand partners to engage in collaborative alpha market research programmes based upon MOGO's unique user data-driven insights into the Indian collegiate esports and youth mobile gaming market. Mobile gaming is no longer just an expensive hobby for urban youth who can afford it – participation in esports has expanded beyond initial metropolitan areas into Tier 2 and Tier 3 cities in India, and new research shows that the Indian mobile gaming market is expected to exhibit a compound annual growth rate of 19.75% through 2027.
"We already know what these gamers are playing, and are building anonymized yet addressable user profiles. Now we are enhancing those profiles with the top twenty physical locations they spend time at, be it at their or a friends home, a university cafeteria, internet cafe, movie theater, fast food restaurant, retail establishment, gym, and such. We execute our aggregation of data on a 100 percent precision basis, and we are using AI to guide this precision. No misfires or misplaced clusters, we hit the same target every time, allowing partners to craft singularly appealing offerings that speak to the unique needs of the individual," said MOGO CDO Nick Venezia.
MOGO's modelling analyses geo-verified location data to assign interest to that user identity, allowing us to create clusters with similar preferences and buying behaviours in different regions of the country. The Company's Point of Interest (POI) geodata ties into actual physical visits to locations, such as restaurants, retailers and entertainment venues with high levels of consumer activity.
Application of this intelligence allows MOGO to also look historically into the past to see what games users were playing and then tying that to a current job title and industry they've gone into post-graduation. One preliminary hypothesis is that first-person shooter fans have a proclivity to become sales professionals. MOGO's precision data and technologies have the ability to help foster the knowledge, innovation and thought leadership that will help power India's ascent as a market leader now and for the next 100 years.
"We're at a very exciting inflection point in the build-out of our signal-aggregate data platform. India is an evolving consumer market, well-educated and socially connected with a growing middle class, 37+ million college students with 8+ million coming up every year and 18-24 year olds affluent enough to afford smartphones and data plans. Most companies have little visibility into their true market dynamics in India, and those that do hold it very close to the vest. We're recruiting partners with which to provide actionable insights and paths to engagement and customized user experiences in India that benefit both our target demographic and the organizations and brands engaged – from game publishers to retailers to cell phone and consumer services providers," said MOGO CEO Dave Pross.
"For example, when you compare India cell phone penetration at 46.5% of the country's total 1.42 billion population, with US cell phone penetration at 81.6% of US total 338 million population, there is room for significant provisioner growth in India, especially into the expanding youth and student demographic as better phones and faster data plans become more affordable. Given our visibility into the mobile gaming market in universities and beyond, and that 91% of Indians participating in competitive video gaming do so on their mobile devices, we see significant opportunity for provisioners seeking actionable insights and paths to engagement in the mobile device and data market, as well as for enabling offerings such as financial and credit services," Pross added.
"Our initial research into the dynamics of the university student, Gen-Z and Gen-Alpha provides demographics in India through deterministic modeling, POI (Point of Interest) geodata indexing and dwell time linked to site visit data is showing actionable paths to engaging this market through tailoring products and services to meet their true needs. Given the high level of mobile gaming in India, cross-correlating actual physical location data with game-play behavior is important to our partners in focusing their marketing efforts. For example, in areas where gamer groups are congregating to compete that also show that vegetarianism is prevalent, a restaurant food chain could offer a laser-targeted vegetarian loyalty program and we can measure its effectiveness in almost real-time," said Venezia.
For a video game developer/publisher seeking entry or greater presence in the Indian market, insights into the preferences, behaviours, and demographics of their target audience will help identify which game attributes are most important to different age/gender/affluence levels and geographic regions and tailor their games accordingly, as well as allowing for personalization of game attributes for individual players based on their preferences and behavior patterns – like game and character content, rewards and challenges that are more likely to appeal to them. In addition, MOGO partners will be able to create predictive models to anticipate future trends, demands and preferences using user data from previous version and/or game launches, player reviews and social media conversations to optimise game attributes and improve overall player experience.
"We're able to say to a brand with 100 percent accuracy, while promulgating world-class user privacy and data security standards – that this person showed up at this point at this time, spent 'X' minutes playing 'X' game, and then went to a movie theater afterwards. From the very first 'Intergalactic Spacewar Olympics' Space Invaders' Championship at Stanford University in 1972, esports has held the interest and focus of the college audience. They're competing for a lot more than a subscription to Rolling Stone magazine now, and spending a lot more time and money. For this audience, authenticity matters – from human, creator and brand standpoints – and we aim to help our partners deliver that," Venezia concluded.
ParlayBay content portfolio now live with M88 Mansion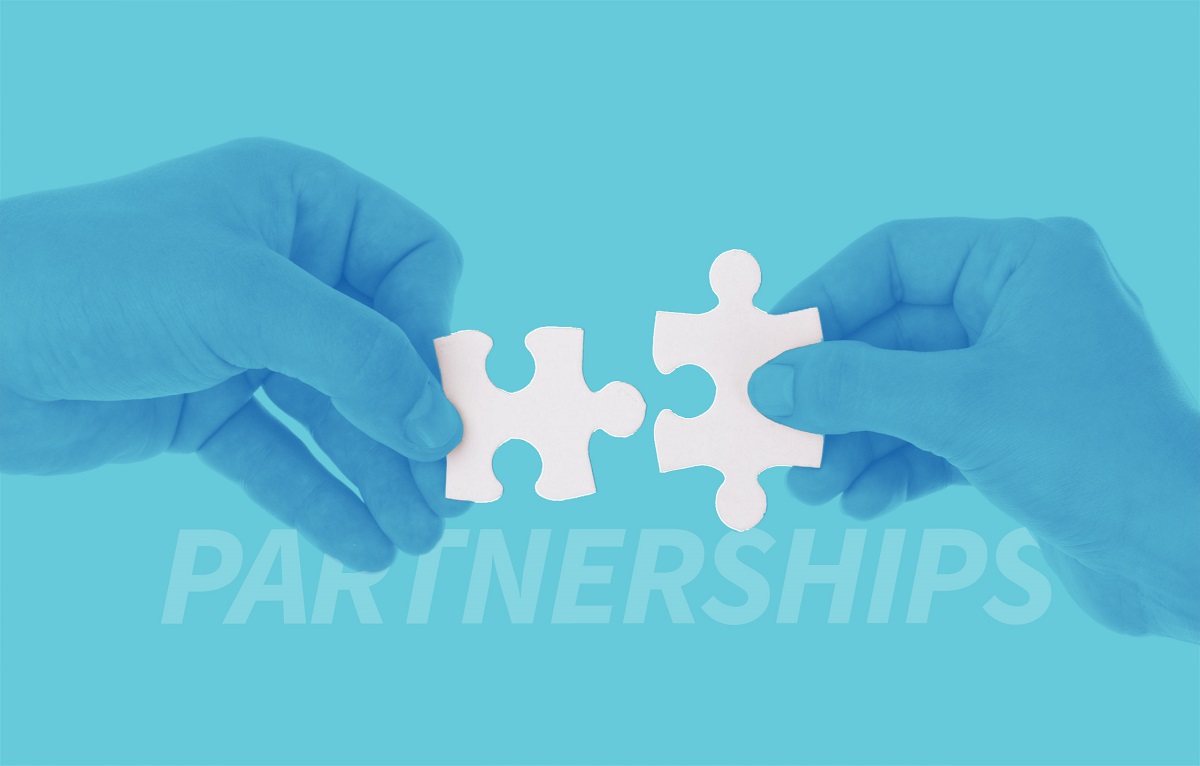 Reading Time:
< 1
minute
ParlayBay, the provider of innovative sports betting titles, has significantly enhanced its footprint in Asia with content now live with leading operator M88 Mansion.
The latest deal sees the provider elevate its presence across Asian markets, with its captivating titles including new releases Stack 'Em and popular esports title CS:GO, now live on M88 Mansion.
M88 Mansion is one of the leading online betting and gaming sites in Asia, and the operator will significantly benefit from the innovative content provided by ParlayBay and its partners.
With an aim to revolutionise the sports betting market, ParlayBay's pioneering titles offer a fantastic player-centric experience, which includes fast gameplay and engaging features such as re-buy, cash-out, leader boards, and other social tools.
Focusing primarily on unique micro-betting markets and tailored to attract a broad and modern customer base, ParlayBay games wrap up accumulators, bet builders, and single market betting in sticky metagaming frameworks.
The use of real-time data feeds offers new and intuitive permutations of in-play betting opportunities, while cutting edge AI/ML algorithms price up markets in-house to ensure accuracy for customers.
ParlayBay's intuitive and engaging content welcomes all level of sports bettors, removing the requirement for players to hold expert betting knowledge, opening up the fun and entertainment to everyone.
Patrick Nordwall, CEO at ParlayBay, said: "We're delighted that our content is now live with M88 Mansion. ParlayBay is making significant moves across Asia and this partnership allows us to reach a wide and engaged audience of bettors across the continent."
Joy Lao at M88 Mansion, added: "We at M88 Mansion are extremely excited to partner with ParlayBay and for our customers to enjoy content like Stack 'Em, where players can enjoy innovative live Bet Builder Games across multiple matches at once."