Roundtable – Continent 8's Leaders and Legends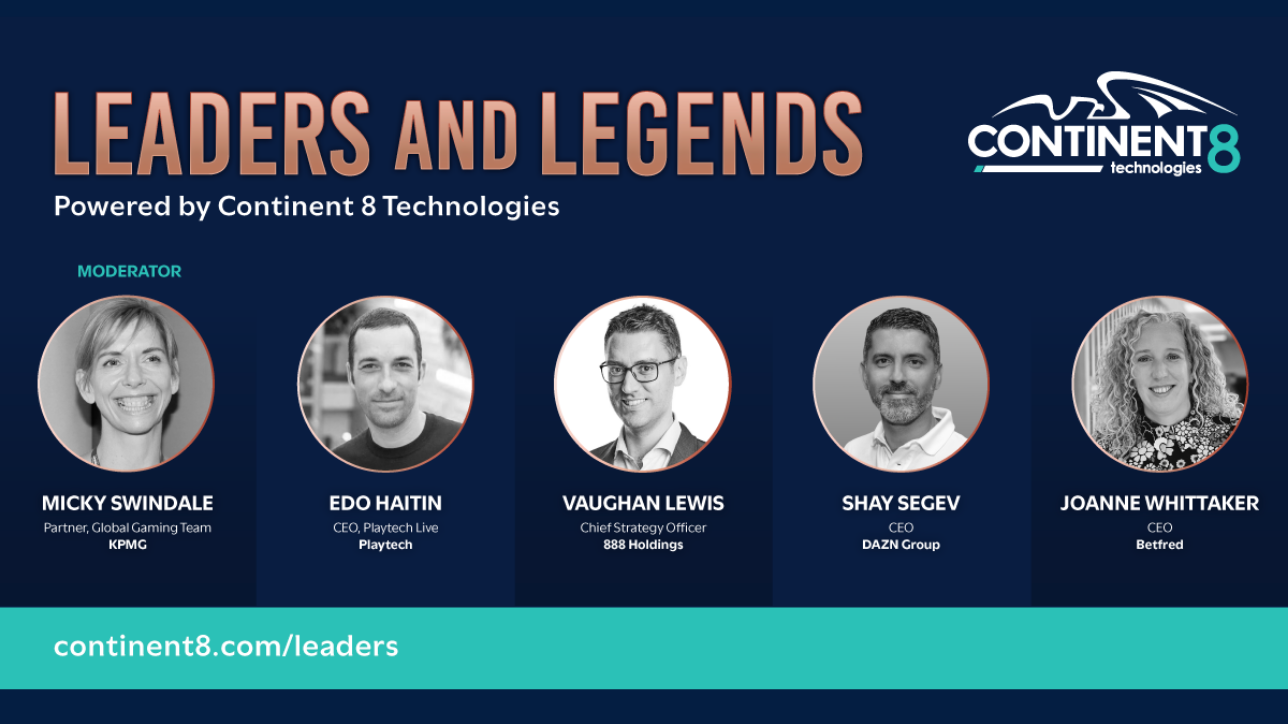 Reading Time:
8
minutes
The Continent 8 Leaders and Legends series has been running for several years now, bringing together some of the industry's biggest names to share their thoughts, insights and experiences on the hottest trends of the moment. The latest Leaders and Legends took place at the KPMG Gibraltar eSummit and saw heavyweights Shay Segev (Chief Executive Officer at DAZN), Joanne Whittaker (Chief Executive Officer at Betfred), Edo Haitin (Chief Executive Officer at Playtech Live) and Vaughan Lewis (Chief Strategy Officer at 888 Holdings) take to the stage to discuss a wide range of topics from the review of the UK Gambling Act to the future of retail in an increasingly digital world.
Moderator:
Micky Swindale – Partner, Global Gaming Team – KPMG
Panellists:
Edo Haitin – Chief Executive Officer – Playtech Live
Vaughan Lewis – Chief Strategy Officer – 888 Holdings
Shay Segev – Chief Executive Officer – DAZN
Joanne Whittaker – Chief Executive Officer – Betfred
MS: What changes do you expect to see as a result of the UK government's review of the Gambling Act? What impact might tighter restrictions have on the market and how are you preparing for them?
JW: We just need to know what is coming. The review is hanging over us and we just need to be able to move on as an industry. We are agile, we evolve. We have heard some of the expected changes around slot stake limits, enhanced affordability checks, the levy and so on but until we know exactly what changes are coming, it is hard to properly prepare. Of course, as a business, we are trying to get ready for what is to come. I think initially there was a bit of panic, but we have got passed that now. We had a significant hit on retail when the FOBT legislation came in a few years ago, but we survived that and when I talk to Fred, he always says these legislative changes come in cycles. So, we are watching, we will respond, and I hope that we are given time to implement the technology changes that will be required. But right now, it's just a case of wait and see.
VL: I think getting the line right as to where gambling tips over from personalisation, enjoyment and the promotion of great products and offers into something that becomes exploitative is the really challenging area that the review of the Gambling Act is trying to address. For us, we just want clarity about what are the standards that we need to meet. Once operators have that clarity, we then back ourselves to be able to provide a great player experience but with high levels of safety and within the standards set. At the moment, we are not clear on what standards we are trying to meet so our hope is that through the review process we get that clarity. Once any changes from the review have been implemented, we can then refocus on delivering the best player experience.
EH: Coming from the provider side, my perspective is perhaps a bit different. I believe that it is in the product to solve issues around responsible gambling and affordability and to deliver the right player experience. This also needs to be done in a way that the regulator can see that the player is doing so within their affordability. So, it is our responsibility as a provider to give our operators the products to do this. On the flip side, and especially as a big provider, I do feel for smaller businesses as the bar for entry into the market is being set even higher. So, regulators should bear in mind that there are companies making their first move that do need clarity and guidance as to what is expected of them.
ML: All jurisdictions, including Gibraltar, are having to quickly adapt to market changes. But what makes Gibraltar such an appealing jurisdiction to companies such as DAZN?
SS: We recently announced that DAZN would be going into betting with the launch of DAZN Bet and that we would be using Gibraltar as the hub for that. Having personally been based in Gibraltar for the last ten years I have found the jurisdiction to be amazing both in terms of the government's support for the industry and the infrastructure it has provided, as well as the ability to establish a business here. It is also highly respected in terms of its regulatory framework and standards, and the talent that can be accessed here is second to none. This made it a very easy decision for us to set up DAZN Bet in Gibraltar.
MS: As the industry continues to grow, we have seen a real wave of M&A activity crash over the sector. With no sign of these mega deals slowing down, is now the right time for smaller businesses to position themselves for a takeover? And what makes for an attractive acquisition target?
VL: We are not seeing any slowdown in the trend of mega transactions. We have been through multiple waves of M&A and deals just keep getting bigger and bigger. We just closed a £2bn transaction but that now seems relatively small. Just before Christmas, Flutter undertook a £2bn acquisition and didn't even have an investor call to explain it, it's kind of like a bolt-on for them now. And then a few weeks ago you have the MGM takeover of LeoVegas, which it called "bite-size". We are definitely in a new phase of the industry where these huge businesses have been created and significant value has been generated, and that is starting to really drive the M&A cycle.
At the medium and smaller end, we are still seeing a lot of activity. These transactions often have one or more characteristics that they share including unique products and content that you just can't get elsewhere or that you can't create quickly enough, market access, media convergence and other attributes that drive outsized value. This is where the future focus of M&A will be.
MS: The big four operators now account for more than 50% of the UK market share, so these companies can leverage the advantages of scale. But what impact does this have on consumer choice?
EH: We are an entertainment business, and the future of entertainment cannot be controlled by big companies. We see today that the biggest entertainers in the world are individuals that pick up their smartphones and cameras and stream videos on YouTube to tens of millions of followers. That makes them the big force in entertainment. I understand why companies undertake M&A and want to drive scale, but will this stop other businesses from entering the industry, I don't think so. The nature of entertainment is so fluid that what is popular now will be different in five years' time and we will most likely consume it differently. Once you work with video and content, you really pay attention to this and when we look at the market and what is in front of us, we see our immediate rivals but also those on the sidelines of the industry. Consolidation might block the immediate entry for some companies, but I do not believe that it will block the variety and versatility of the products that are offered to players.
SS: I think we might also see consolidation between industries with new experiences coming in. Where betting and gaming were perhaps seen as unethical just a few years ago, big businesses from outside of the sector are undoubtedly now looking at it. I think the US opening up has changed perceptions, too. For example, ESPN and Disney have indicated they are considering betting as a potential market for them to explore.
MS: The industry is expanding internationally with new jurisdictions embracing licensing and regulation all of the time. But with most taking a state-by-state or province-by-province approach, just how tough is it for operators to be truly global?
VL: If you were to ask all operators and suppliers if you could wave a magic wand and have harmonised rules across the world, I think the vast majority would say that is the dream scenario. It would enable us to really focus on product innovation and development, player protection and ultimately creating a much better consumer experience rather than having to spend time tailoring the platform for each market. We are one of the few operators that have a global, scalable platform that can run in multiple jurisdictions, but we have to tailor that to each market. If you look at the US, the investment we have to put into each state to meet the local tax and disclosure regulations sucks up a lot of time and diverts resources away from other areas that could be much more productive in terms of making great products and really looking after players. The more we can move towards standardised approaches, especially in the area of player protection, the better it will be for all stakeholders.
EH: Any company that wants to enter regulated markets such as the UK really needs to have a strong compliance team in place. This team is not there to scare you but to give you direction when it comes to developing products within the guidelines set. For us, one of the biggest challenges in the US is that we have to create a dedicated studio in each of the states that we enter based on the Wire Act of 1961. At the time I couldn't understand why we could not just build one studio, but now we are up and running I see it as a good barrier to the competition. Really, you need to embrace regulation and understand the meaning behind it, even if you do not agree with it. For us as a live casino provider business, having to create a studio in each of the states we target is not optimal. But if you can understand the playground you are in and cater to that culture, it is possible to succeed.
MS: In all of our talk about online, are we losing sight of the land-based punter? Is it true that once they have gone online, they will never come back to retail betting?
JW: During Covid, it was a real fear for our business. Our retail shops were forced to close which saw our online business grow significantly but now restrictions have been lifted we have seen retail fully bounce back. We are really pleased with how the high street is performing and we can see that our customers are enjoying the betting shop experience and especially the social element. Long may that continue.
SS: You can't ignore that betting shops are more part of the past than the future of the industry. I do think there is an opportunity to reinvent the betting shop experience, which some operators are doing with things like self-service betting terminals. There is something there but, clearly, it is not on the rise and consumers are transitioning to digital. That said, there is room to create something synergistic between retail and online.
JW: I agree there will not be new betting shops coming but at the turnover level customers are returning and they want to come to the shop. Our digital business has normalised, but we are in a much stronger position than we were pre-Covid. There is a place for the high street; I believe in SSBT and omnichannel but customers still want to come into the retail environment. We are also seeing this in other territories. In our US business, the retail performance is strong in the casinos where we have partnerships and in South Africa, we have a significant retail presence, too, although it is a very different retail offering with a much bigger footprint with 30-40 tills. I understand the importance of digital, but retail will survive.
VL: As an industry, we do not do a great job of standing up and talking about the value of the products we are selling. Retail is back to where it was post-pandemic because people love it, and they go to the shops because it is a fun thing to do. It is similar to the convergence of media and online, so long as we are providing something of value to consumers then that's great. I think we should be proud of the service and entertainment we provide and for me, retail betting still provides a huge amount of enjoyment for customers. Betting shops never really went away, they just had to close due to the pandemic and they remain a core part of the industry.
EH: I'm going to take the middle ground here. Retail is back and I think part of the reason why players are enjoying going to betting shops is that it was taken away from them for a long time. But I do agree with Shay that reinventing betting shops is an important thing. This includes self-service and other experiences that will drive people to retail as well as online. As a live provider, we are often asked if we are cannibalising land-based by my answer is always no. We are an extension of the business, and I don't believe we can really replace the experience of going to a casino.
Q&A/Twitch bans gambling streamers w/ Michael Pedersen CCO at Livespins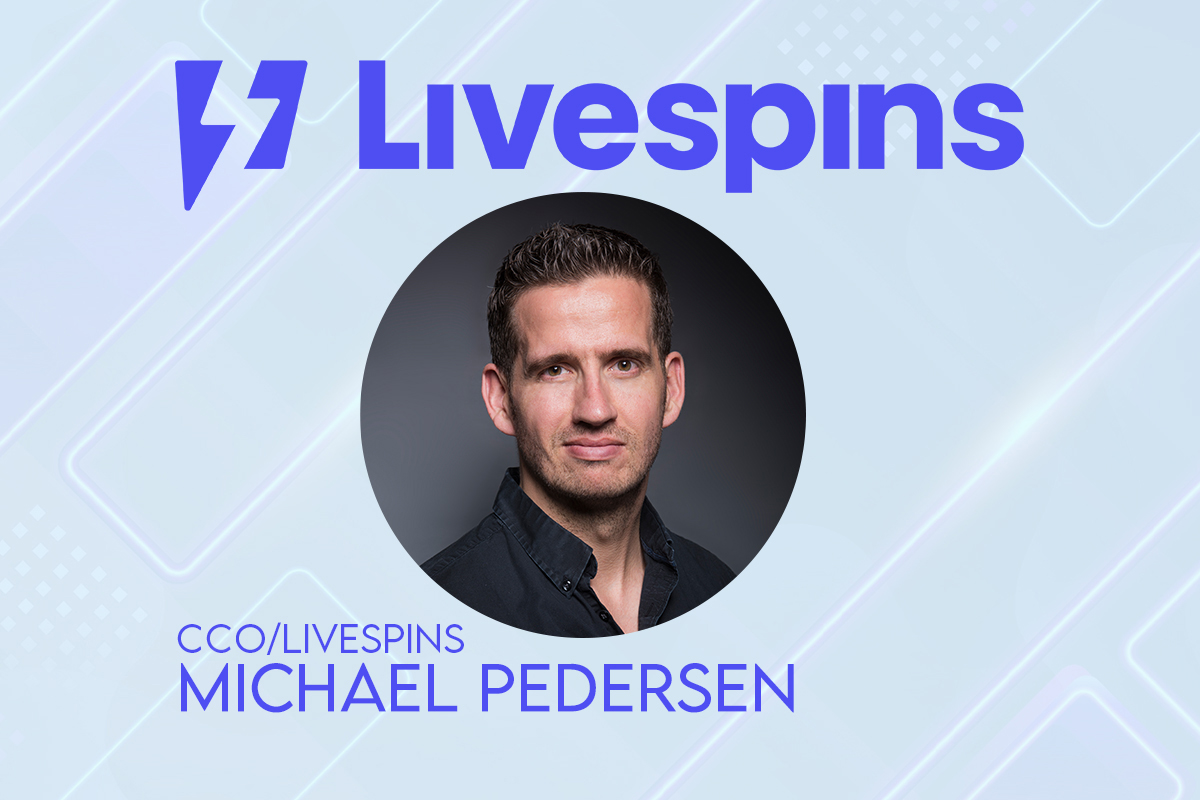 Reading Time:
4
minutes
What do you think of Twitch's decision to ban casino sites from being streamed on its platform? 
Twitch's decision to ban remote licensed online casino sites from being streamed from its platform has made waves right across the industry. But at Livespins, we have long expected this moment to come, and what is now certain is that gambling on mainstream media platforms is, and likely always will be, volatile. That is why it is important for the industry to control the space and provide a healthy, highly engaging and, most importantly, sustainable solution. The opportunity that sits at the intersection of gambling and streaming is far too big for us not to.
How has this situation come about? Has the writing been on the wall for a while?
The ban comes in the wake of a campaign to oust gambling from the platform after top-tier streamer ItsSlicker admitted to having a gambling problem. It's fair to say some sort of ban was already in the works with recent events likely to have forced Twitch to act sooner rather than later. For us, the writing has been on the wall for some time now.
You just have to look at the surging popularity of slot streaming, the increased competition among streamers and the lengthens they have been going to grow and retain their following to see things would have to change. Many streamers were opting to play with increasingly large and unsustainable bet amounts as well as partaking in sometimes offensive studio behaviour to generate clips and moments that would gather attention online – behaviour that was also starting to gather the attention of industry insiders, watchdogs, and regulators.
More worryingly, to afford these large bet sizes and increased hours spent gambling, many streamers were becoming sponsored in one way or another and not disclosing this arrangement to their audiences. This meant they were essentially misleading their viewers to think that their gambling was being done with their own funds when the reality was very different. Add into the mix the recent ban on the use of gambling links and ads within Twitch streams and it was clear to us that the house of cards was about to come tumbling down.
What impact will the ban have on online casino brands, slot studios and of course slot streamers? 
It is going to take a little time for the true impact of the ban to be understood. Twitch has been a touch ambiguous when it comes to exactly who the ban applies to – online casino brands that hold a licence in the US, or from another reputable jurisdiction, can continue to use the platform while the ban appears to only apply to online casinos and not sportsbook, etc. Streamers that have built their brands on slot streaming will also be heavily impacted for obvious reasons. I think it's fair to say Twitch will be off limits for most operators, slot studios and streamers for quite some time, if indefinitely.
Does this spell the end of the relationship between streaming and online gambling? 
Not at all. Livespins was founded on the insight that a significant player segment clearly loves the slots streaming concept and the opportunity to engage with a community of like-minded individuals, the authenticity of streamers over more rigid live dealers and the overall organic nature of the streaming entertainment experience. We wanted to retain all of those features but leave behind the unsustainable behaviour that we have seen on Twitch. Our platform does just that – it integrates directly into the online casino game lobby with our team of superstar streamers playing slots from our roster of approved studio partners.
How does Livespins allow casinos, studios, and streamers to leverage the tremendous popularity of slot streaming? 
We bring all three parties together in one powerful, responsible, compliant solution. For licenced operators, the Livespins stream takes place directly within their casino and allows them to generate revenues from the bet behinds that players can make via our unique system. For studios, they gain high levels of exposure among players but in an environment where said players can wager directly on the action happening in the game. We also pay studios to be on the platform, opening up an additional line of revenue. For streamers, we provide a platform for them to be able to do what they love while earning a living and the security that comes with being an employee and part of a big team.
But let's not also forget viewers and players. Livespins allows them to not only watch the explosive action taking place across the reels, but also get involved in a direct way by betting behind each spin. This creates a group bet and a shared experience, but with each player able to select their own bet amount and number of spins. They can also interact with the streamer and each other throughout, as well as add reactions and emojis. This takes the foundation of what they could experience on Twitch and supercharges it.
How does it do this in a responsible way? 
Livespins brings the streaming entertainment we know to be so popular and puts it in the hands of the operator – those that are working diligently to create safe and sustainable play for their customers and who have the tools to do so. From the very beginning, we at Livespins have also worked relentlessly to deliver pure sustainable entertainment to players all over the globe. Our streamers are recruited by us, vetted and trained for months on content and responsible gambling. And, we ensure moderators 24/7 making sure we are building a healthy community.
What does the future have in store for slot streaming? 
Some might consider Twitch banning online casino from its platform as the end of slot streaming, but we see it as just the beginning. Livespins is the platform and product to allow operators, studios and streamers to unlock the massively untapped potential on the table here and to do it responsibly and compliantly. The appetite for slot streaming content is only going to increase, and we are here to help all stakeholders leverage this and provide socially-charged, highly entertaining experiences to their players.
European Gaming / Q&A – Queen's Award for Innovation Danny Edwards, Chief Revenue Officer at Synalogik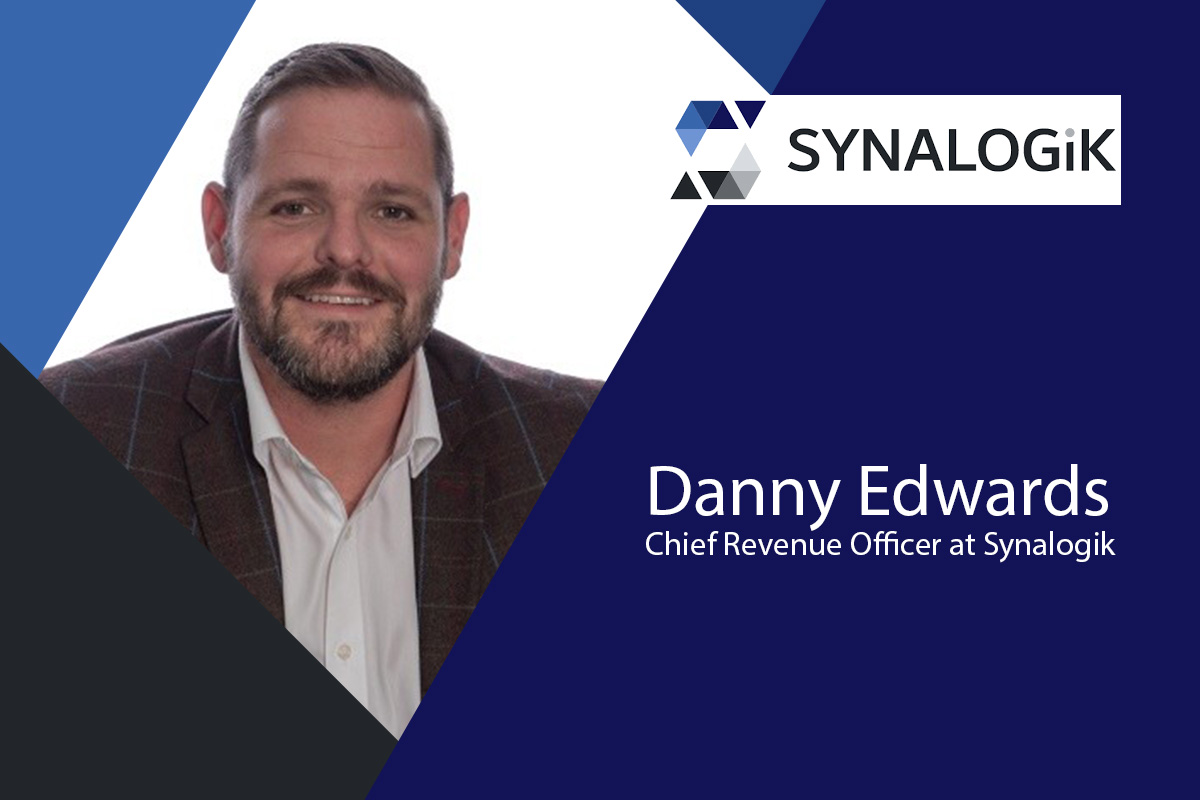 Reading Time:
4
minutes
Congratulations on receiving the Queen's Award for Innovation. Can you tell us more about the award and why you received it?
The Queen's Awards for Enterprise are probably the top, and most prestigious, awards programme in the UK. There are several categories, in our case we won the Queen's Award for Innovation.
We won the award due to our data aggregation platform, Scout®, and its contribution to fighting financial crime and helping organisations with regulatory compliance across both the public and private sector. Scout® has proven to deliver significant ROI for businesses across the gambling, insurance, banking, legal and public sector. In the gambling sector our clients include Entain Plc, Betway and Buzz Bingo.
What does receiving such an award mean to Synalogik and the team behind the business?
Along our journey we have been extremely lucky to get the support of some large multinationals and high-profile investors; however, receiving the Queen's Award for Innovation has galvanised and given confidence to our team in different, in some ways more important, ways. We have always been driven by the desire to help and serve the wider public interest; therefore, to receive an independent award of this high calibre gives us an unmatched sense of pride that we are delivering on our mission.
With the sad news of Her Majesty Queen Elizabeth II's passing, it is with deep regret, but great pride that we realise we are now going to be the last company to ever receive HRH Queen Elizabeth's Award for Innovation.
What makes your Scout data aggregation platform so effective?
Scout® is unique in its capability to aggregate data from open, closed, third party and proprietary sources, allowing investigators and analysts to query data efficiently and at scale. Scout® performs data collection in a fraction of the time it takes for users to manually log in and out of multiple data sources and investigation tools, even when looking at thousands of investigation points. Countless testing indicates Scout® saves up to 85% of their time compared to manual investigations.
This ability to aggregate all these data sources means that it is capable of automating complex enhanced due diligence checks and fraud investigations something that had not been possible before. Scout®, through saving time, enables your team to investigate more cases, in greater detail, at a lower cost; however, it's benefits go beyond just time-consumption. It also improves the effectiveness of investigations by eliminating the human error and inconsistency that occurs when trying to compile reports and find links across information available in different browser windows and formats.
Synalogik was created in 2018 by experts from law enforcement, intelligence, and legal backgrounds, who were frustrated by the amount of time it was taking to pull together information when performing investigations manually. We therefore designed Scout® to include tools that would fundamentally address each of the pain points we had with the investigation process.  Besides wanting to create a single intelligence environment with a unified interface, we added automated report generation in numerous formats, the ability to visualise links between entities, the ability to clash data and do bulk uploads, an open source intelligence tool, risk and search workflows as well as the ability to break down data sharing barriers between branches and sub-brands with the Synalogik Knowledgebase.
It is now used by 25% of the gambling industry – how does it benefit operators and what upsides does it enable them to unlock?
Scout helps operators to enhance their EDD, AML, and RG processes by combining their third-party data with open-source information (including adverse media). This means that their analysts only need to log into one platform to perform all the required checks, which is then displayed in a downloadable report and in the workbench within Scout.
We have seen from existing customers that the time taken to perform an investigation has reduced by as much as 85%, which is then allowing their analysts to focus on other business-critical tasks.
Just how important is it for operators to meet the highest possible standards when it comes to affordability, AML, etc?
It's incredibly important. As we've seen recently the UKGC are handing more fines out than ever to operators for failures, particularly around AML and social responsibility. I think operators understand that they are part of an ecosystem where it benefits everyone to ensure that laundered money is kept out of their businesses and that players can play in a fun way that is sustainable for their future and the future of organisations.
How can operators prepare for any tightening of regulations in markets such as the UK? How can your platform help with this?
Tightening regulations inevitably mean that operators need to get better at spotting possible signs of criminals trying to launder money and players hiding their true financial situation. It is crucial therefore to learn more about the possible sources of data available and the insights they can give into the challenges mentioned above.
Open-source intelligence is now a mandated and key source of information for operators. Synalogik has carried out extensive research around identifying and risk assessing vulnerable individuals. In one such case found on the surface an individual who appeared to have no apparent vulnerabilities, however, through investigating more OSINT data sources, we were able to find mentions of his gambling addiction on several forums. If we had only used a limited number of data sources, this would have been missed, creating the potential for harm to the player and the operator.
Our platform is the only one that takes a data agnostic approach to aggregation of data, meaning we work with our operator clients to integrate the data sources they need to complete their risk assessments and checks to the optimal thoroughness. Being able to automate search and risk assessments over all their data sources gives them the time and tools to investigate more cases, in more detail.
In addition, it helps to improve analyst decisions – manually cross referencing and collating data from multiple datasets in different browser windows can easily lead to human error. Scout® creates standardised, in-depth, and clear reports, leaving operators and their teams free to focus on decision making.
Scout® open-source intelligence tool enables operators to create highly targeted automated searches around keywords, proximity, timeframe, and document type, eliminating false positives, and getting them to the right information in seconds.
Interview with nanocosmos' CEO Oliver Lietz: How 2022's launches of B2B interactive live streaming accelerate the iGaming and betting market to serve increased demands for better user experience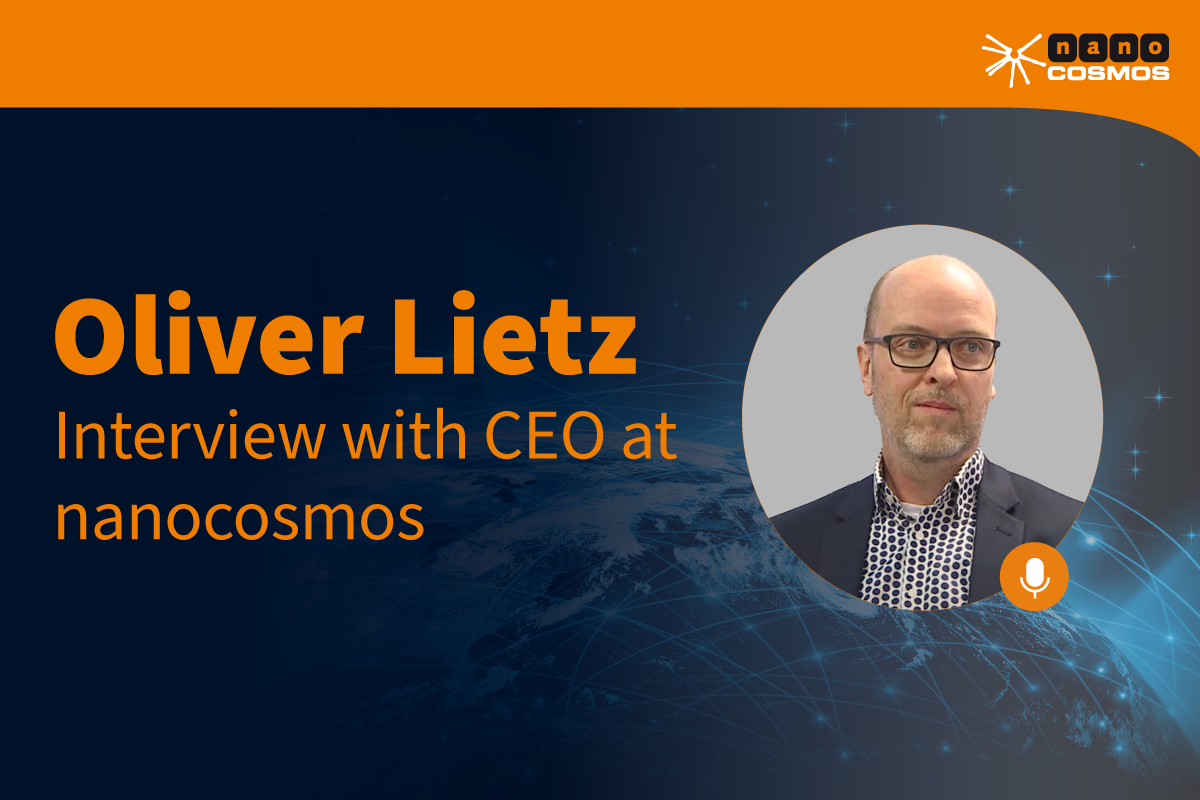 Reading Time:
3
minutes
Nanocosmos, well experienced provider of the interactive live streaming solution nanoStream Cloud for iGaming and betting platform operators, was awarded once again by the Streaming Media European Innovation Awards 2022. What is the secret?
It is a great honor to be awarded two yours in a row. Since we entered the market of interactive live streaming, we have helped to shape it. Yet our biggest secret still lies in our customer approach. We work closely with our clients to deliver a service they can rely on. Our 100% stability and 24/7 operations are key differentiators for the gaming industry.
With the a new upgrade of nanoStream Cloud that we launched this year we built on the integrated approach, but added new features for successful interactive live streaming. Our live streaming platform and API spans over a wide range of areas such as Adaptive and secure streaming, ultra-low latency to enable real-time interaction, advanced analytics, live metadata support, stream protection, 100% stability and reliability at a global scale.
What makes your streaming solution work particularly well for iGaming and betting platforms?
When it comes to live casinos and sports betting it is all about a seamless user experience. One of the major advantages that we are very proud of is that our platform is very robust and stable with 100% uptime, for all networks on a global scale. In addition you have adaptive streaming and the integrated approach – it is not about just doing one thing well, but about bringing all components under one roof. This is to make sure everything from ingest to playout, from support to player and analytics works well and supports the profitability of iGaming and betting platforms. It serves end-to-end observability and helps companies to make decisions that will shape profitability, experience and efficiency. nanoStream Cloud is all about 24/7/365 quality of service and quality of experience for the entertainment services of our clients.
With the return of in-person shows – what were the major milestones of this year's launches that were shared and what are they aiming at?
At ICE 2022 we launched the new version of our nanoStream Player to achieve and maintain sub-second latency, yet stability for even bad networks on all devices, anywhere in the world. This fall at SBC Barcelona we show enhanced adaptive streaming service not only by making it much easier for customers to manage their live transcoded streams. In combination with the new player, nanoStream Cloud is now positioned to cover both as part of the standard package: Interactive live streaming with the possibility to achieve sub-second latency, including live transcoding and adaptive playback.
In addition  nanoStream Cloud users can now ingest using the RTMP, SRT and WHIP protocols for WebRTC ingest for improving connectivity, especially for remote ingest locations and higher bitrates and customers can benefit from added misuse protection to secure their streamed content.
What innovation do you see ahead for the iGaming and betting industry? 
There is a lot of room for innovation to be picked up by live gaming and betting operators, based on live video to share with their player audiences. Trends like "fast betting" on sports create new ideas by operators for new types of games. 
What core challenges do you help to solve for platform operators?
We have seen continuous growth in terms of the importance and the market of interactive live streaming. It is a great opportunity to engage anyone worldwide based on live video content. We at nanocosmos aim to empower our clients to deliver video-based games and bets to their viewers with a 360 degree angle, end-to-end.