SiGMA Europe to be global platform where ProgressPlay reach key casino brands milestone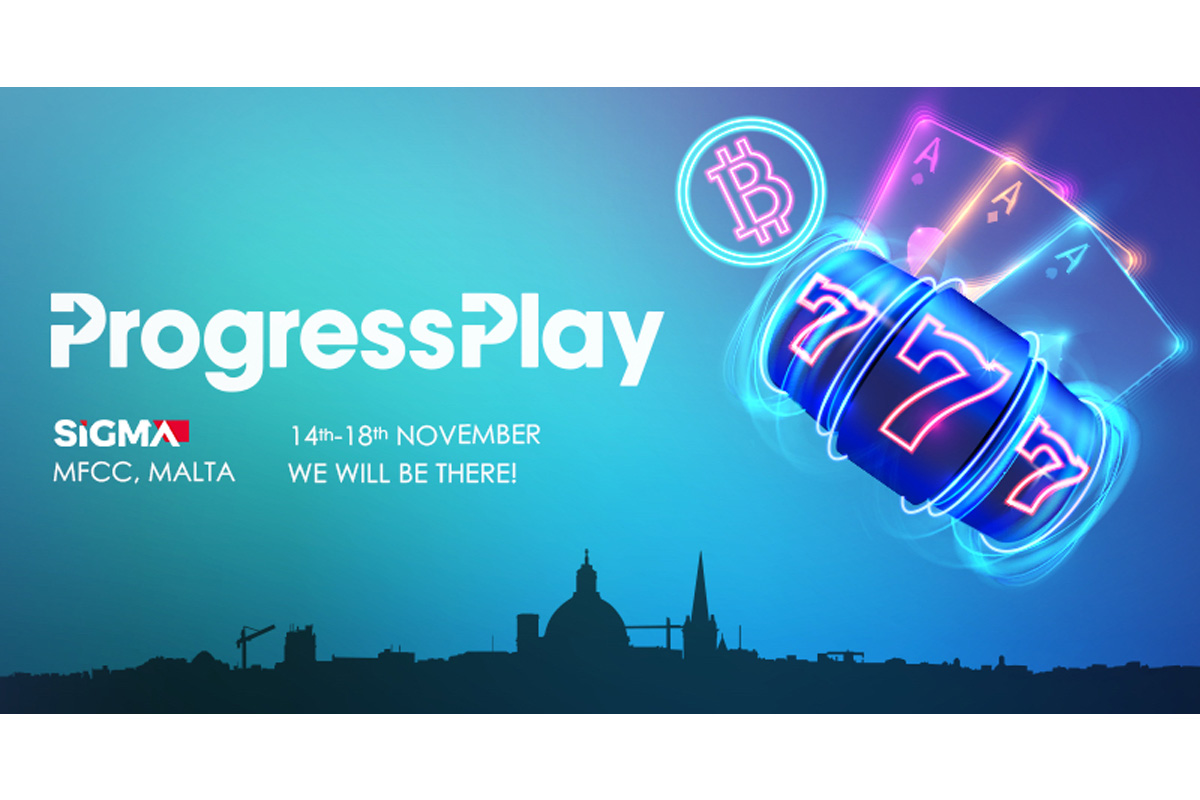 Reading Time:
2
minutes
White-label and turnkey provider ProgressPlay, rising stars in the igaming industry, who were recently shortlisted by the prestigious EGR B2B Awards for white-label partner excellence, will be at SiGMA Europe in Malta, to meet partners, source new technology and round off another great year at the Malta Fairs and Convention Centre between 14 and 18 November.
Malta, being amongst one of the first European states to regulate the gambling sector, is a nexus of the global industry and one of its main pillars. This makes it a natural choice for SiGMA's presence in Europe and a solid foundation for the future of the field.
ProgressPlay is set to make a big impression at SiGMA Europe as they are expected to announce during the show that the company now powers over 150 casino brands, a significant milestone in the evolution of the shortlisted white-label provider.
SiGMA Europe will be the venue for ProgressPlay CEO Itai Loewenstein and Head of Sales Marina Nahhas to mingle with attendees to talk about how the company has embraced change over the past few months after bringing additional functionality and gamification to the platform, added a dedicated Responsible Gambling Team, and onboarded a number of new brands as well as upgrading existing brands with sports betting capability.
Some of the brands joining ProgressPlay this year or upgrading with the sports betting package include thebettercasino.com, casinoelevate.com, 777tigers.com, jeffbet.com, acedbet.com, sohocasino.com, tlaqnacasino.com, spinzwin.com, jesterbet.com, vegasmobilecasino.co.uk, and casinoelevate.com, amongst others.
Over 150 online casino brands have successfully teamed up with ProgressPlay to bring their casino and sports betting platforms to life, having carefully assembled a differentiated portfolio of entertaining, innovative and unique games that sit at the heart of this compelling white label offering.
ProgressPlay is a full turnkey solution for white label gaming operators, providing UKGC, MGA and Irish licenses, more than a few thousand casino games and over 140+ different sports, payment processing, VIP management, customer support, CRM, localization, multicurrency, gamification, flexible bonus system, compliance, risk, affiliate program, player management and more.
ProgressPlay Head of Sales Marina Nahhas said: "We are excited to maintain our popular Global Shows Offer 2022 of 25% discount for all those who book a meeting with us at SiGMA Europe and purchase a brand. Bookings can be made from now using the [email protected] email address."
ProgressPlay CEO Itai Loewenstein commented: "SiGMA Europe has long established itself as a 'must-attend' fixture on the global iGaming calendar and we are delighted to be able to attend once again and take the pulse of the industry at a critical time in its development. Marina and I look forward to doing a lot of networking with suppliers, aggregators, and operators in the industry and closing a round of deals that will cement what has been an outstanding 2022."
Betswap.gg Ranked as the Best Web3 Sports Betting Site | by dAPP Radar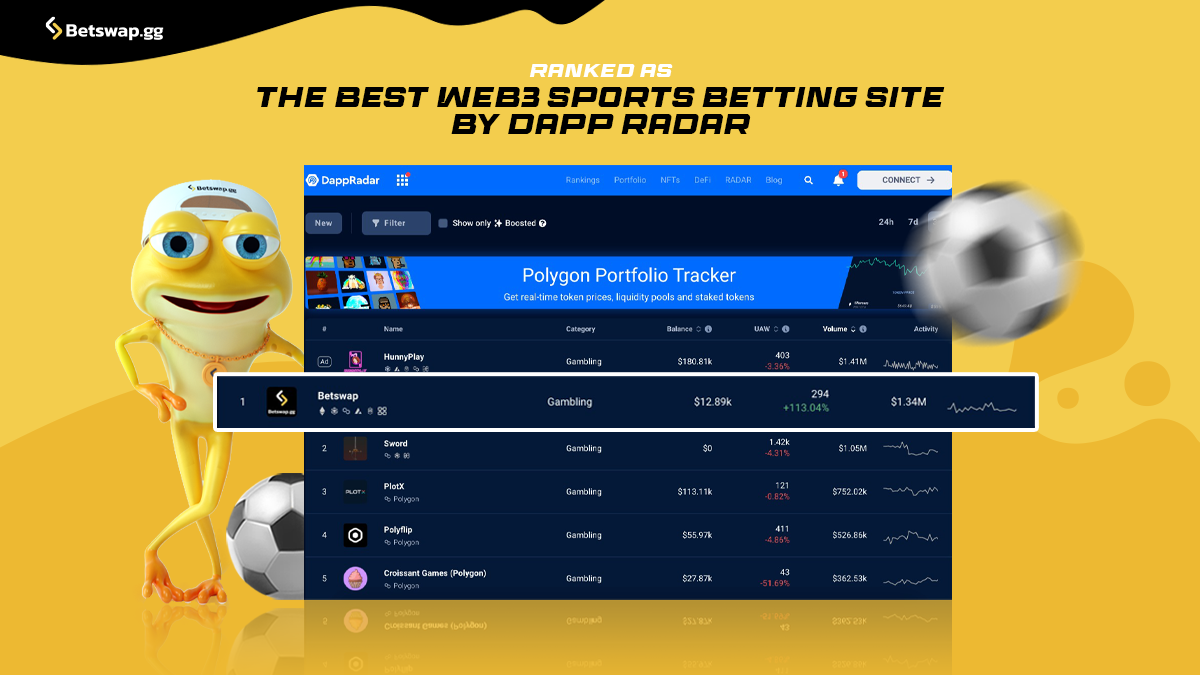 Reading Time:
2
minutes
Betswap.gg, the revolutionary peer-to-peer sports betting exchange, has made the number one spot as the "Top Polygon Gambling App" in crypto betting on dApp Radar's ranking page relative to other blockchain companies based on their trading volume in the past 24 hours, 7 and 30 days.
Betswap.gg launched the beta version of their sports betting site only two and a half months ago. They have since brought in $2.2 million in trading volume across more than 18,000 bets, taking them to the top spot on the leaderboard in an impressively short period of time. According to dApp Rader, in the last 30 days, Betswap.gg has brought in $1.34 million dollars in trading volume and a huge $885.39k in the past seven days on the Polygon chain.
In addition to this, dApp Radar has put Betswap.gg in position number 2 across chains in the category "Top Gambling dApps" in the past seven days, with their trading volume currently standing at $886.88k.
In a short period of time, Betswap has proven to be a leader in the decentralised sports betting scene, posing a real threat to competitors and other protocols planning to join the space, some of whom have recently come under pressure by their community and labeled as a "centralised betting exchange" after requiring users to give personal information to use the app. Betswap is a fully trustless and permissionless platform with no KYC needed, which is preferred by native crypto users. Betswap.gg also does not take custody of users' funds at any point, allowing players to place individual bets directly from their wallets and withdraw their winnings seamlessly, safely, and instantly.
Betswap Chief Marketing Officer, Thawfeek Ameen said, "there are many reasons that Betswap is the most suitable crypto sports betting app in the industry, including the fact we are EVM-Compatible and do not rely on one single chain to be functional, unlike other platforms. We also do not require personal details of our users; we are fully trustless and permissionless as well as being fast, reliable, and easy to use". He continues, "We have also decided to give away up to $25,000 during the FIFA tournament, it is our first World Cup on the platform, and we want to show appreciation to the users who have allowed us to do so well in such a short period of time."
The rating from dApp Radar comes during the FIFA World Cup 2022, reinforcing that Betswap is the best choice for dedicated Web3 sports betting customers in this tournament. Signing up is simple, with users just having to connect their Metamask Web3 wallet to the site, and with a few clicks, they are ready to start placing bets or acting as a bookmaker. During the games, Betswap has created a live betting feature, that allows users to easily follow what's happening in each game in real time, making the betting experience even more unique and immersive.
You can join in all the sports betting fun during the FIFA here and learn more about the cash giveaway.
IESF Held Presidential Elections During World Esports Championships Finals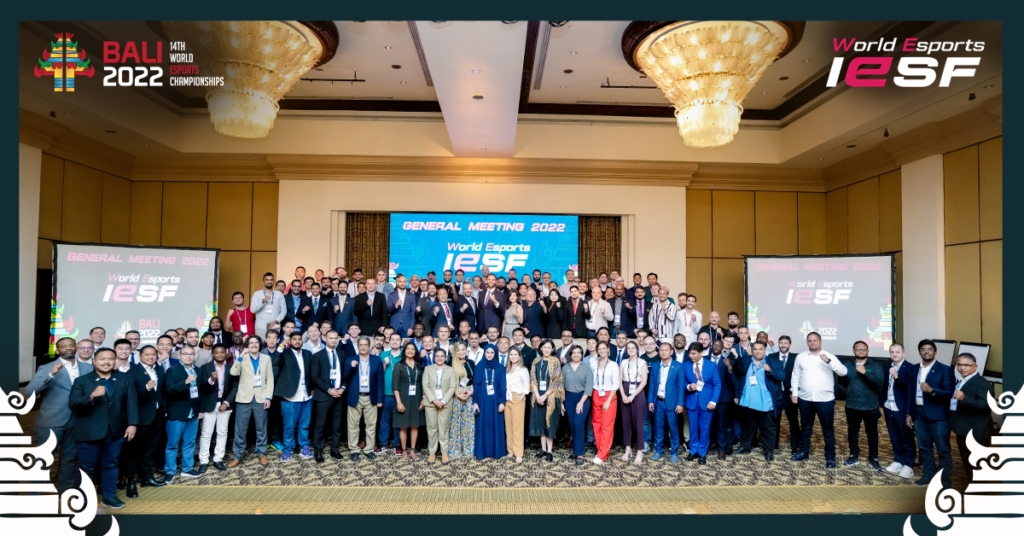 Reading Time:
< 1
minute
The International Esports Federation (IESF) held its 15th General Assembly (OGM) during the World Esports Championships Finals in Bali, Indonesia, on December 6, 2022. 126 delegates from 112 countries took part in the largest-ever IESF General Assembly.
At the OGM, the presidential and board member elections for the next three-year term were conducted today in Bali, Indonesia. Vlad Marinescu was re-elected as president with 65 votes, 0 against in a secret ballot vote and 4 abstentions,  in his favor. United Arab Emirates' candidate and board member Sheikh Sultan Bin Kalifah Al-Nahyan withdrew from his candidacy before the vote. Marinescu first stepped into the role of President in 2019 and was re-elected in December 2020.
IESF is the only international esports federation that holds democratic elections every three years. At the OGM, IESF elected and welcomed three new board members; Flip de Bruyn from Namibia, Lance Mudd from the United States, and Lukasz Klimcyzk from Poland, and re-elected for second term Tiago Fernandes from Portugal and Constantine Surkont from Russia.
President Vlad Marinescu said: "I am thrilled to be re-elected as president of IESF. My goal is to unite the whole esports family and push esports even further. I thank you for your trust, and I promise you that we can and we will create even bigger and better things in esports. I couldn't have done this without all of you, so let's continue to be united and change the world."
PressEnter group launches CasinoFest brand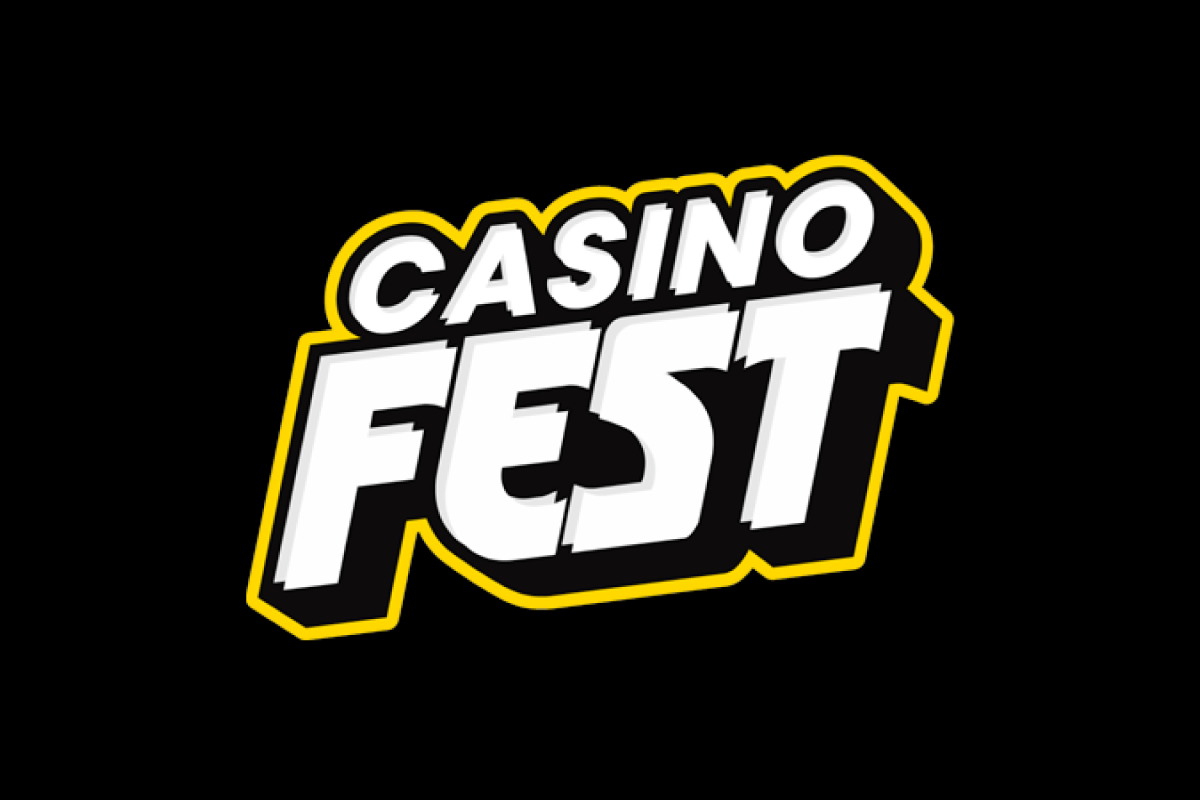 Reading Time:
< 1
minute
Operator's latest online casino brand delivers a modern, engaging player experience thanks to its bold and striking design
PressEnter Group is looking to disrupt the online casino space with its latest brand launch, CasinoFest.
The sleek and stylish design has been inspired by the fun, passion and excitement that typically surrounds music festivals. This, together with a functional and easy to use UX/UI design, provides a next-generation casino experience across desktop and mobile.
This makes CasinoFest a challenger brand that promises to deliver a great encounter to players in numerous markets across the world.  It will also stand out against rival brands on the affiliate sites that PressEnter Group works with thanks to its bold branding.
CasinoFest is the latest addition to PressEnter Group's growing roster of player-favourite online casino brands that includes 21 .com, JustSpin, NeonVegas Casino, NitroCasino, UltraCasino, RapidCasino.
Axel Munkeby, Commercial Director at PressEnter Group, said: "CasinoFest is a new online casino that delivers a next-gen player involvement thanks to its impactful design, meticulously planned player journey and the huge selection of slots and games available to players".