WePlay Academy League Season 6 starts on October 12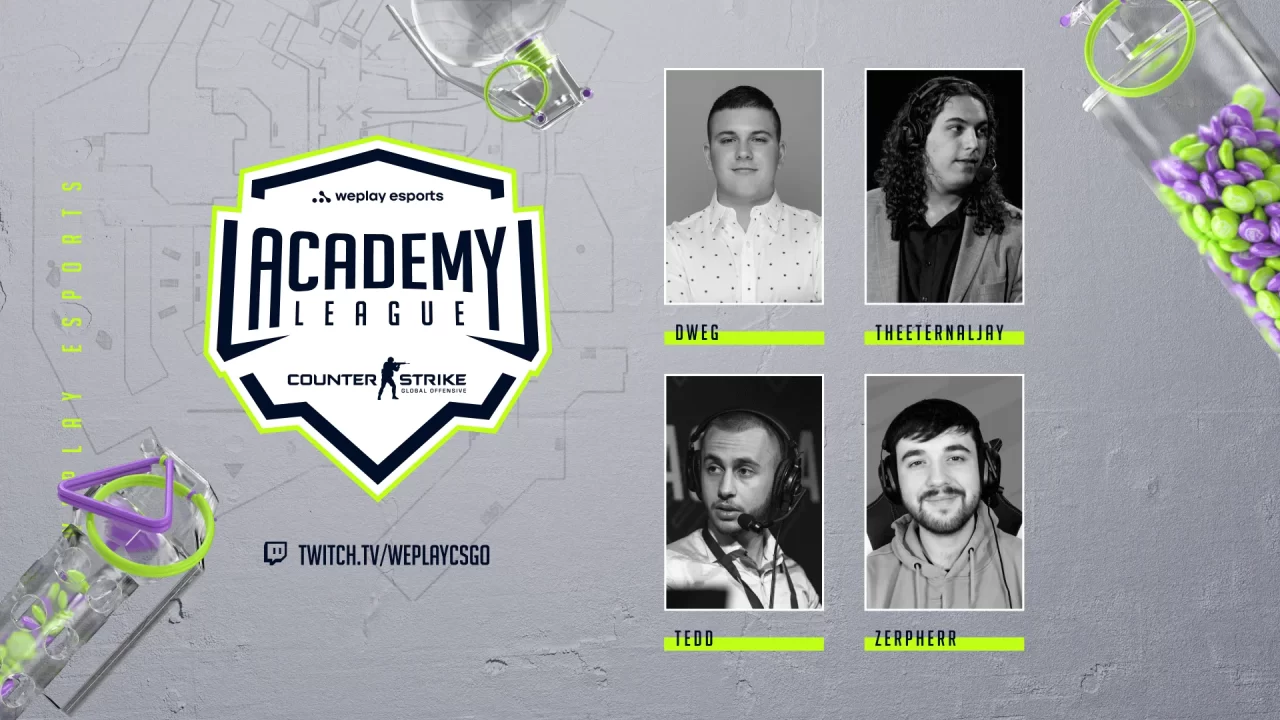 Reading Time:
< 1
minutes
Today will be the first gaming day of the Counter-Strike: Global Offensive tournament for up-and-coming esports players, WePlay Academy League Season 6. You can watch matches in English and Ukrainian on the official WePlay Esports channels.
Even though the organizers were forced to postpone the first gaming day, the WePlay Academy League Season 6 will still take place — the tournament will start today, October 12, at 1:50 p.m. CEST. The competition will start with the Group Stage, in which the participating teams were divided into two groups of seven teams each:
Group A: OG Academy, FURIA Academy, NAVI Junior, MOUZ NXT, Apeks Rebels, Flames Ascent, fnatic Rising
Group B: Astralis Talent, MIBR Academy, ENCE Academy, Spirit Academy, 00prospects, YN.GamerPay, BIG. OMEN Academy
The teams will play a series of matches in the Bo1 format in a double round-robin system. The matches on the first game day will run as follows:
1:50 p.m. — Apeks Rebels VS Flames Ascent
3:00 p.m. — fnatic Rising VS OG Academy
4:10 p.m. — BIG. OMEN Academy VS MIBR Academy
5:20 p.m. — NAVI Junior VS Flames Ascent
6:30 p.m. — YN.GamerPay VS ENCE Academy
7:40 p.m. — Flames Ascent VS MOUZ NXT
8:50 p.m. — 00prospects VS Astralis Talent
The talent team that will be covering the Group Stage in English:
Jack "Zerpherr" Kelly
Teodor "Tedd" Borisov
Jamie "TheEternalJay" Martin
Joshua "Dweg" Nathan
Ukrainian broadcast talent team:
Oleksii "yXo" Maletskyi
Aleksandr "Enkanis" Polishchuk
Yuriy "Strike" Tereshchenko
GGTech Entertaiment Appoints Cristina Carranza as Head of Global Sales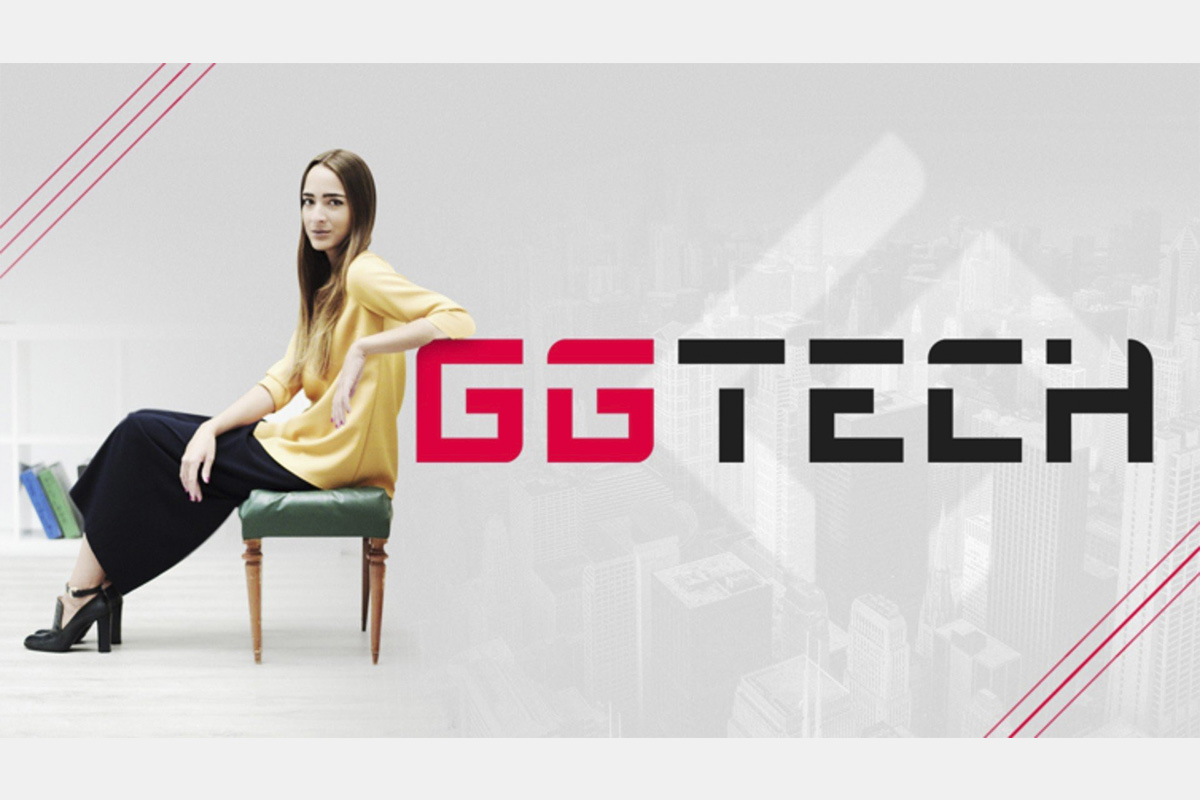 Reading Time:
< 1
minutes
GGTech Entertainment has appointed Cristina Carranza as the new Head of Global Sales.
After almost ten years at Amazon and Twitch, Cristina Carranza arrives to reinforce the international team led by Eduardo García, who recently joined the company as Chief Product Officer.
Her professional achievements include the launch of Twitch Ads in Spain and the pilot development of global gaming programmes such as Amazon GAMERGY and Amazon UNIVERSITY Esports. With her international experience, Cristina Carranza arrives with the aim of boosting the company's global growth and developing cross-border sales relationships.
"I have been working with GGTech for more than four years and I have fallen in love with their company culture, the great human quality of their team and their vision of what they want GGTech to become, making it the world leading company for entertainment, gaming, and esports. I am proud to be part of this project, developing the global sales and business strategy," Cristina Carranza said.
"The digital entertainment industry, the streaming world and the 'gaming boom' are some of the drivers that generate this great business opportunity for which GGTech is ideally positioned, the challenge now lies in transferring this vision to other regions and sharing the brand's products and services to the most passionate fans of the video gaming world," Carranza added.
The addition of Cristina Carranza will provide GGTech Entertainment with the vision and skills of a professional with an enviable track record, backed by her 10 years of experience in the digital, e-commerce, entertainment and gaming sectors, developing international business for both retail and advertisers.
eFIBA Season 2 Announced with Record 61 Participating Nations and First-Ever In-Person World Finals at DreamHack Winter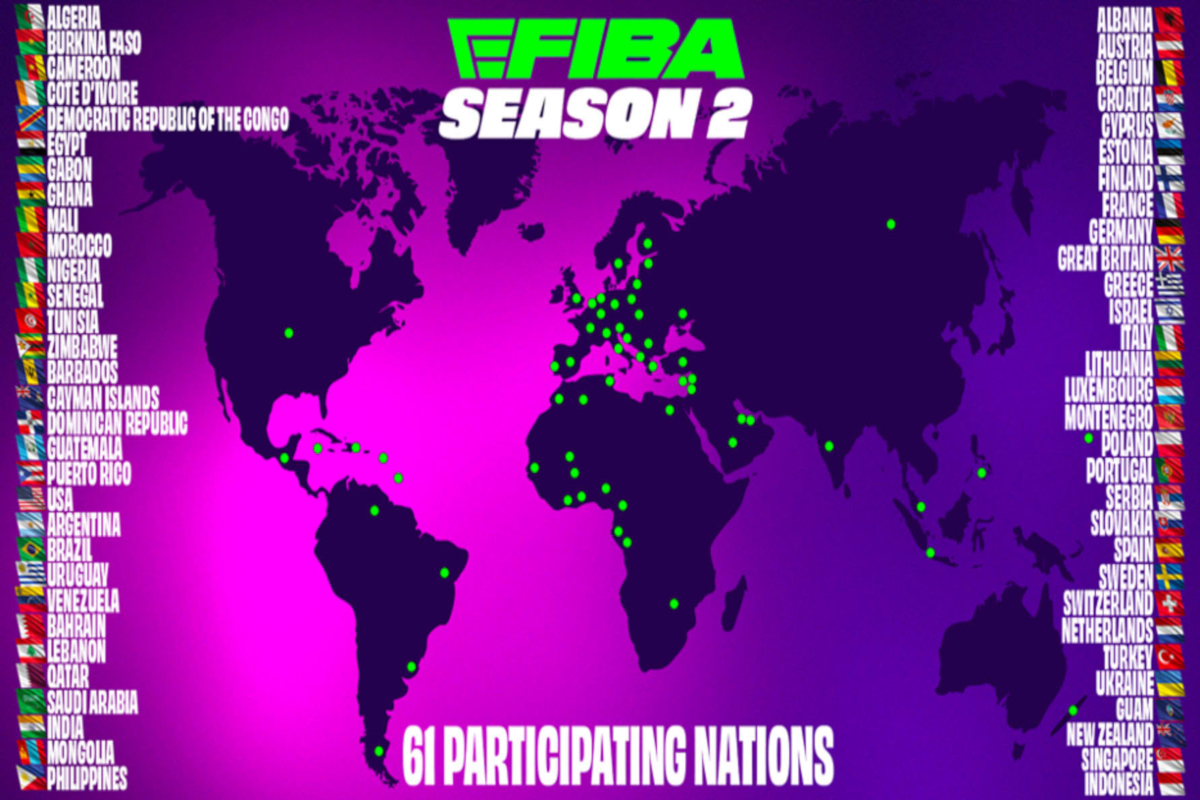 Reading Time:
3
minutes
ESL FACEIT Group (EFG), the leading eSports and video game entertainment company, and the International Basketball Federation (FIBA) today announced the 61 nations participating in the second season of eFIBA, FIBA's official NBA 2K24 tournament. Beginning October 3, national federations across seven regional areas will battle it out in the pro-am game mode to secure a spot in the first-ever in-person eFIBA World Finals at DreamHack Winter and a share of the €50,000 prize pool.
"After a successful inaugural season and eFIBA's successful participation in The Olympic Esports Series, we are prepared to make the upcoming eFIBA Season 2 a landmark international event," the Media and Marketing Services Director General for FIBA, Frank Leenders, said. "eFIBA allows us to reach new basketball enthusiasts and build a global community of players and fans who share a passion for the game."
eFIBA Season 2 is more than doubling its participating federations and expanding its competition schedule. The event includes online regional qualifiers from October 3 to November 2 and regional finals from November 7 to 9 across South East Asia, Oceania, Middle East, Africa, North America, South America and Europe. The winning nation from each regional final and the top two from Europe will secure a spot in the eFIBA Season 2 World Finals 2023, taking place live at the immersive gaming lifestyle festival, DreamHack Winter, from November 25 to 26 in Elmia, Jonkoping, Sweden.
"The significant growth of participating national federations and the incredible feedback we have received from players and the community shows that eFIBA is on the right track to become a great offering to the NBA2K community," the Sports Games President for EFG, Roger Lodewick, said. "Together with FIBA, we have crafted a bold and innovative sporting concept that serves the eSports community and connects with basketball fans. We are thrilled to tip off the second season."
EFG and FIBA announce the 61 national federations participating in Season 2 of eFIBA, the international NBA 2K24 competition.
Tipping off on October 3, Season 2 of eFIBA includes six weeks of online regional qualifiers and regional finals for a spot in the first-ever, in-person eFIBA World Finals, taking place at DreamHack Winter in Elmia, Jonkoping, Sweden.
Nations across South East Asia, Oceania, Middle East, Africa, North America, South America and Europe will battle it out for a share of the €50,000 prize pool and Regional Champion title.
New to Season 2, eFIBA's co-streaming program, will feature content creators, streamers and casters collaborating to grow the eFIBA community.
Tuesday, Oct. 3
Europe Qualifiers
Stage 1
Thursday, Oct. 5
South America Qualifiers

North America Qualifiers

Stage 1

Stage 1

Tuesday, Oct 10
Middle East Qualifiers

Africa Qualifiers

Stage 1

Stage 1

Thursday, Oct 12
Oceania Qualifiers

South East Asia Qualifiers

Stage 1

Stage 1

Tuesday, Oct. 17
Europe Qualifiers
Stage 2
Thursday, Oct. 19
South America Qualifiers

North America Qualifiers

Stage 2

Stage 2

Tuesday, Oct 24
Oceania Finals

Europe Qualifiers

Finals

Stage 3

Thursday, Oct 26
Africa Qualifiers
Stage 2
Tuesday, Oct. 31
Europe Qualifiers
Stage 4
Thursday, Nov. 2
South East Asia Qualifiers

Middle East Qualifiers

Stage 2

Stage 2

Tuesday, Nov. 7
South East Asia Finals

Middle East Finals

Africa Finals

Finals

Finals

Finals

Thursday, Nov. 8
Europe Finals

South America Finals

North America Finals

Finals

Finals

Finals
Below is a breakdown of the national representatives in each regional area.
Europe (26): Albania, Austria, Belgium, Croatia, Cyprus, Estonia, Finland, France, Germany, Great Britain, Greece, Israel, Italy, Lithuania, Luxembourg, Montenegro, Poland, Portugal, Serbia, Slovakia, Spain, Sweden, Switzerland, The Netherlands, Turkey and Ukraine
Africa (14): Algeria, Burkina Faso, Cameroon, Ivory Coast, DR Congo, Egypt, Gabon, Ghana, Mali, Morocco, Senegal, Tunisia, Zimbabwe and Nigeria
North America (6): Barbados, Cayman Islands, Dominican Republic, Guatemala, Puerto Rico and the United States of America
Southeast Asia (5): India, Indonesia, Mongolia, Philippines and Singapore
South America (4): Argentina, Brazil, Uruguay and Venezuela
Oceania (2): Guam and New Zealand
Middle East (4): Bahrain, Saudi Arabia, Qatar and Lebanon
eFIBA Co-Streaming
This season, eFIBA actively works with the NBA2K community through collaborations with creators around the globe as well as co-streamers of eFIBA events with a suite of customizable resources including unprecedented access to gameplay feeds, overlays, opportunities to interview players and more. The suite of streaming tools is open to community streamers, who can apply for exclusive access.
Commencing October 3, the regional qualifiers and regional finals of eFIBA Season 2 as well as the eFIBA World Finals will be streamed on Tuesdays and Thursdays on eFIBA's Twitch and YouTube channels and on FIBA's Twitch and YouTube channels. Those looking to experience the action live can look forward to attending DreamHack Winter as tickets to the festival also grant access to the international NBA 2K24 competition. More information about the ticket types and prices can be found on the official DreamHack Winter website.
For more information around eFIBA, visit the official channels on X (Twitter), Instagram and TikTok. For more general information, visit eslfaceitgroup .com or follow ESL FACEIT Group on LinkedIn.
The Power Play: GamingTech CEE Panel Explores Esports and Gambling's Thriving Synergy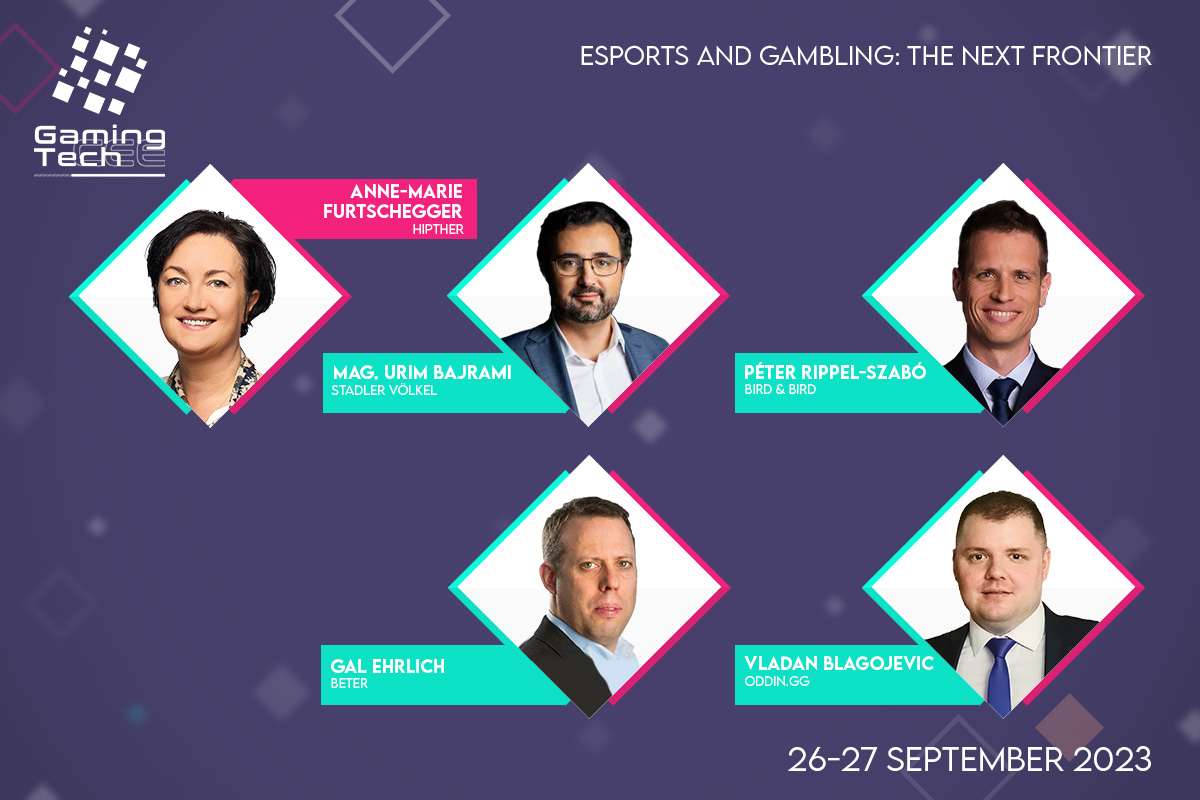 Reading Time:
2
minutes
GamingTech CEE is around the corner, taking place on September 26-27, 2023, at the prestigious Ritz Carlton Budapest. The leading event for exploring the latest tech innovations in the gaming industry within the Central and Eastern European (CEE) region promises to be a game-changer, featuring panel discussions on a wide range of topics.
The ultimate destination for industry professionals, innovators and enthusiasts, GamingTech CEE – brought to you by the #hipthers – offers a unique opportunity to gain a deeper insight into how the gaming industry is evolving within the region. With a focus on compliance, innovation, and networking, this event offers a platform for industry professionals and enthusiasts to stay ahead in the dynamic world of gaming technology.
The "Esports and Gambling: The Next Frontier" panel discussion will be moderated by Anne-Marie Furtschegger, Public Affairs Consultant & Advisor at Hipther. It will bring together industry experts, esports professionals, gambling operators, and regulatory specialists to explore the exhilarating realm of esports and gambling.
Esports has witnessed a meteoric rise in popularity, accompanied by a surge in interest in esports betting. Understanding the opportunities and challenges in this dynamic landscape is essential for all stakeholders. The panelists will examine the current state of esports betting, emerging trends, and the regulatory landscape surrounding this rapidly evolving industry.
A central theme of the discussion will be the symbiotic relationship between esports and gambling, with a focus on how the two industries can mutually benefit from collaboration while ensuring responsible gambling practices. The panel will delve into topics such as the integration of esports betting platforms, the popularity of in-play betting during esports events, and the potential for innovative wagering options tailored to esports enthusiasts.
Regulatory considerations will also be in the spotlight, including age verification, player protection, and integrity measures to maintain fair competition in esports gambling. The panelists will discuss the challenges and opportunities in establishing responsible gambling frameworks specific to the esports ecosystem.
The discussion will extend to the broader implications of the esports and gambling convergence, such as the potential for increased viewership, engagement, and monetization opportunities within the esports industry. The panelists will explore the impact on sponsorships, advertising, and the overall growth of the esports ecosystem.
Panelists
Vladan Blagojevic – Oddin.gg's Marketing Project Manager
Gal Ehrlich – CEO at BETER
Péter Rippel-Szabó – Commercial and Sports Lawyer at Bird & Bird
Urim Bajrami – Attorney at Law & Partner at STADLER VÖLKEL Attorneys at Law
Register to the event
GamingTech CEE is more than just a conference; it's a platform for networking, knowledge sharing, and fostering collaborations in the gaming technology sector. Attendees will have the chance to connect with industry leaders, explore cutting-edge innovations, and gain a competitive edge in this rapidly evolving industry.
Registration is still open for those interested in joining this and other enlightening discussions and being part of the GamingTech CEE experience. Register for the conference now or find out more about GamingTech CEE on the official website.