Aspire Global partners with TrueLayer to deliver player payment innovation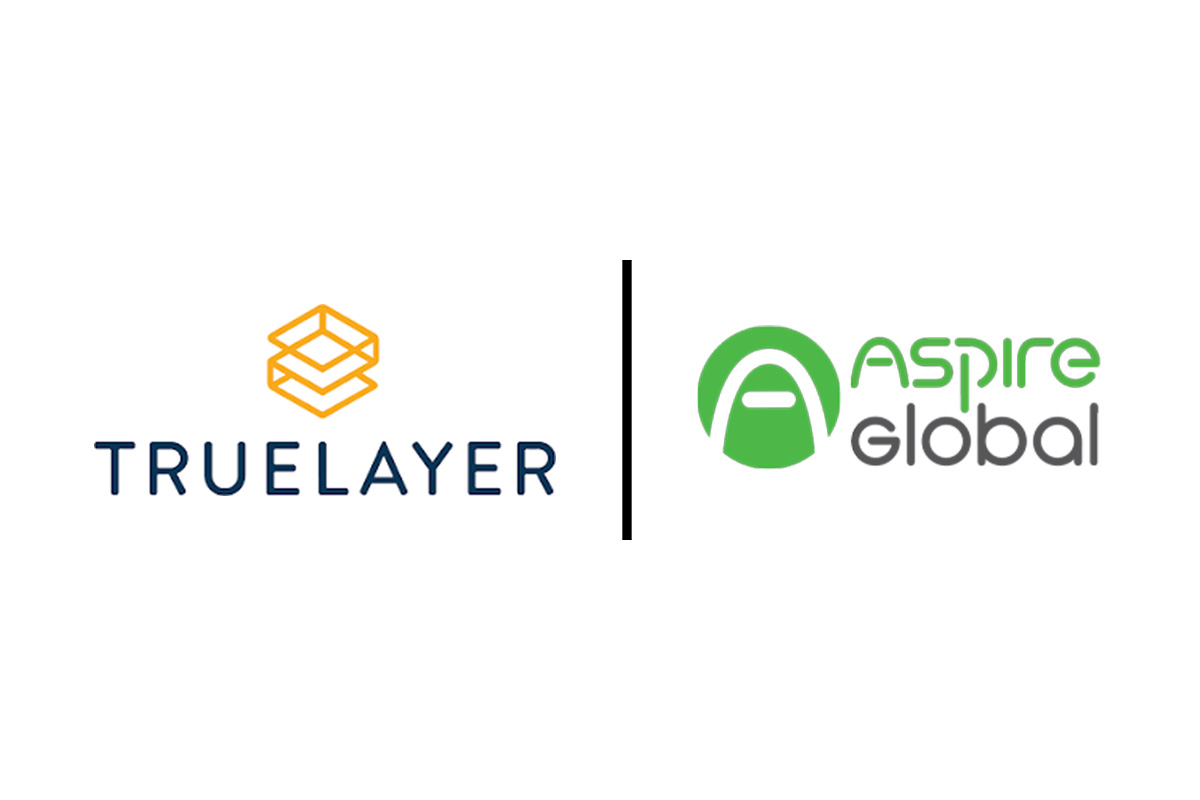 Reading Time:
2
minutes
TrueLayer, Europe's leading open banking platform, announced its collaboration with Aspire Global, a B2B provider of iGaming solutions. Aspire Global has now implemented TrueLayer Payments, initially focused on its 50 UK brands. The partnership will also extend to cover Aspire Global's key European markets over time.
For more than 15 years, Aspire Global has been delivering comprehensive and robust solutions for iGaming operators. With a reputation for embracing innovation and technological excellence, and recognising the opportunity to further enhance the players experience, it wanted to evolve its offering to include instant payments powered by open banking. Beyond secure, instant deposits, Aspire was also determined to offer its customers faster withdrawals.
TrueLayer is addressing these points delivering a more cost-effective, frictionless and secure Payments platform for Aspire, built on open banking and the fastest available bank payment rails. With payments powered by TrueLayer players can top up their accounts in seconds, removing the need to manually enter card details or share their bank credentials.
Verified account details are associated with each player, enabling Aspire to provide instant withdrawals back into the same account used for the deposit with a simple API call. As a result, Aspire Global will spend less time managing failed payment queries that can lead to player churn.
Unlike other providers, TrueLayer's integration is white labelled using the operator brand and the player's chosen bank, rather than a third party brand, increasing player trust in the method as the operator owns the end-to-end payment process.
"Open banking is creating an opportunity for the industry to embrace innovation and we have recognised the role it can play in increasing brand trust and player retention. The partnership with TrueLayer is another step in Aspire Global's strategy to deliver the best payment experiences to our players" commented Gil Tal,  Head of Ecommerce & Payments at Aspire Global.
Roberto Villani, Head of iGaming at TrueLayer, added: "iGaming operators are looking to reduce friction and high fees,  as well as failure rates and chargebacks. TrueLayer offers a more efficient and cost-effective option through account to account payments delivered by open banking. We have gone further to offer operators instant account funding and instant payouts for players. We're delighted to be working with the Aspire Global team to create a better player experience for its customers."
ComeOn Group launches new bespoke live casino studio under the name Nordic Ruby Lounge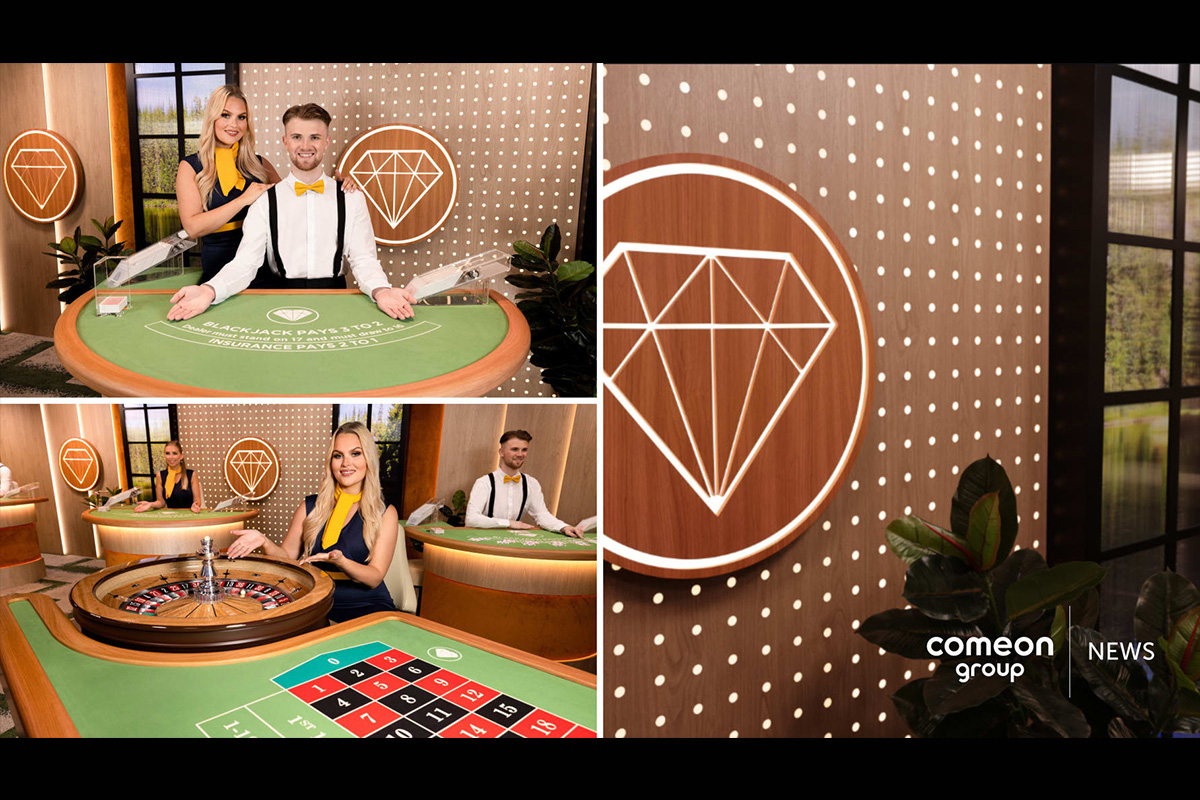 Reading Time:
< 1
minute
Leading iGaming operator ComeOn Group announced the launch of Nordic Ruby Lounge, a new bespoke Live Casino environment from their Ruby Lounge portfolio. The live casino studio offers a local touch for a native customer entertainment experience and will be available to the Group's core markets. Nordic Ruby Lounge taps into customisation and personalisation by offering a Scandinavian style live casino environment with native live dealers for a top of the line local customer experience.
Cristiano Blanco, Chief Product Officer at ComeOn Group, said: "We are extremely happy to see Nordic Ruby Lounge take things to the next level with our live casino offer. Our Nordic players can now enjoy a bespoke environment locally tailored around their preferences, with native dealers for that extra cherry on top. It's been about great teamwork throughout all involved departments, which has landed us in a great quality product with a truly impressive design and functionality. For us, the launch of Nordic Ruby Lounge is a great milestone and with that said we are looking forward to seeing Nordic Ruby Lounge succeed and take things up a notch."
Nordic Ruby Lounge is a part of the Group's Ruby Lounge portfolio, which was launched early 2022 with a strong premium brand identity statement for an exclusive and safe entertainment experience. Ruby Lounge is a live casino studio with a "brands within brands" approach that offers live Blackjack and Roulette tables served by ComeOn's team of dedicated live dealers.
The customised and personalised touch makes Nordic Ruby Lounge a one of a kind live casino product, setting the standards high against main competitors in the industry. Live casino is a strategic focus for ComeOn Group, making the launch of Nordic Ruby Lounge a great milestone in their growth track.
Sky Bet fuels football fever with first-ever 3D creative at Wembley Boxpark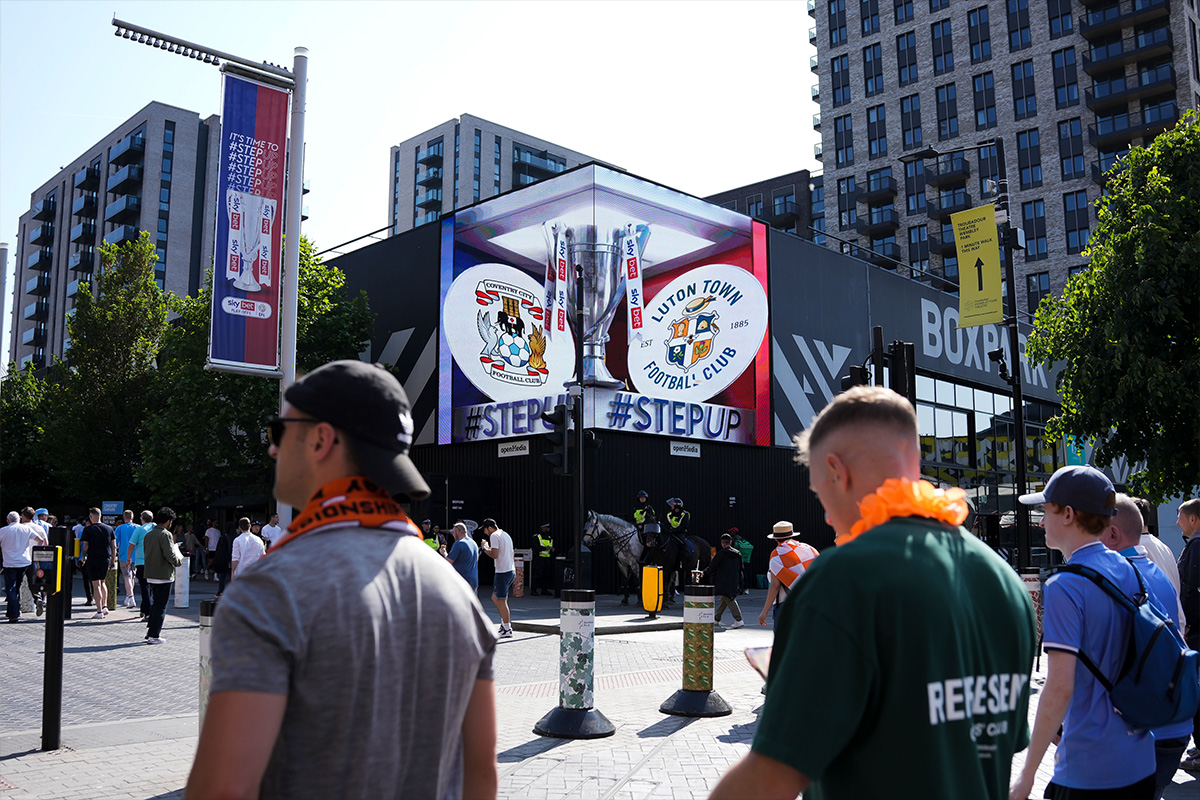 Reading Time:
2
minutes
Sky Bet welcomed fans arriving to the English Football League (EFL) Play-Off finals at Wembley Stadium with a reactive, dynamic 3D creative spread across Wembley Boxpark – becoming the first brand to bring 3D advertising to the site.
The creative reflected the match day result in real time, changing to depict the winning teams' logo and colours as soon as the final whistle blew to provide a bespoke backdrop to the celebrations of the fans pouring out of the stadium.
Culminating at Wembley Stadium, the Sky Bet Out of Home campaign followed fans throughout their journey to the final, creating an extensive and impactful matchday experience.
Starting from the teams' hometowns, the creatives saw the fans off and welcomed them as they arrived at key train and underground stations in London. Fans driving to Wembley could also spot roadside adverts along their routes and at service stations, where club coach trips were likely to stop.
Also, the winning team's supporters enjoyed celebratory creatives that appeared in their hometown post-match.
The hero site at Wembley Boxpark, which thousands of fans pass before and after games, is at the heart of the activity, living and breathing the match day experience.
The creative reflected pre-game excitement, enabling supporters of both teams to tap into the matchday spirit once the match finished, to enhance the euphoria and give fans a great send-off.
The campaign celebrates ten years of Sky Bet's EFL sponsorship and is its first 3D activation. The high-impact media plan was booked by EssenceMediacom, Sky Bet's new media agency. EssenceMediacom played a key role in bringing the campaign to the fans, using its expertise to identify and secure the best sites to target along the fan journey, and working closely with the production team to help ensure testing of the creatives and organising content capture.
Leigh Peacock-Goodwin, Head of Brand and Sponsorship at Sky Bet, said about the campaign: "This high-impact creative is an exciting milestone in our ten-year sponsorship of the EFL. We're proud to be the first to bring a 3D OOH experience to Boxpark and add a finishing touch to, what is already, an incredible matchday experience for football fans. By offering this reactive real-time creative, we're able to share those moments that really matter to our audiences, and position ourselves as a brand that understands what football is all about."
Hannah Cooper, OOH Director, EssenceMediacom, commented: "Getting Sky Bet to the heart of the action was integral to the media plan, and Boxpark is the perfect spot to unveil the eye-catching 3D creative which brings the whole OOH campaign together. As the first brand to leverage the possibilities of 3D at this site, Sky Bet is re-inventing what the visual match day experience looks like, and we are excited to help drive these breakthroughs for our clients."
Mike Smith, CEO at OPEN Media, said: "In what's been a campaign of firsts, we are delighted to have worked in partnership with Sky Bet to celebrate the milestone 10 year partnership between Sky Bet and the EFL. As OPEN Media's first ever 3D Perspective campaign to be activated on our Wembley Boxpark site, the campaign further exemplifies our shared commitment to delivering media innovation, while strengthening our association with prominent sporting events and cultural moments"
Divine treasures await in OneTouch's God Hand Feature Buy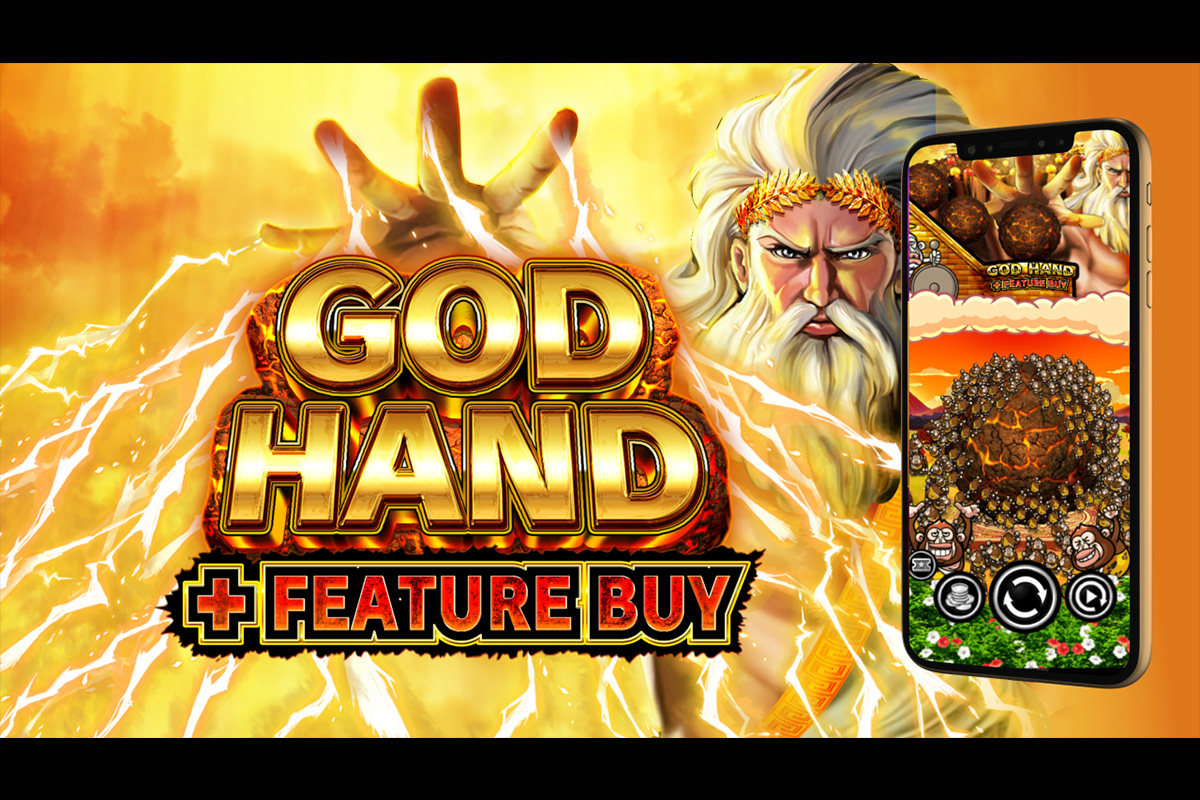 Reading Time:
< 1
minute
Leading mobile games studio invites players on a mythological mayhem adventure offering massive wins
Mobile-first games developer OneTouch has released God Hand Feature Buy, a reboot of one of its hottest titles, offering players a chance to pay tribute to the Athenian deities.
In the feature-filled game with no reels or paylines, various coloured orbs are revealed from the rubble of smashed boulders hurled from above by the gods which can award wins up to 100x. With a strike of Zeus' lightning, the chances of revealing the high paying symbols becomes even greater.
Inspired by Greek mythology, this one-of-a-kind slot game also offers players the chance to be awarded 10 free spins and the opportunity to win up to 15,000x the bet by revealing a golden orb. Massive wins can be achieved in the Bonus Game when the Last Judge Feature is summoned in the players final spin.
The Primitive Men's Action feature sees mortals on the ground flocking to unbroken boulders, and the longer they swarm, the higher the win potential.
The strike of further fortune is on the horizon when players return to Mount Olympus in the Feature Buy for 262x the bet, instantly triggering the Gold Rush game, whilst a titanic 901x the bet will launch the feature game with an 80% chance of a retrigger.
Loaded with mythological mayhem elements, God Hand Feature Buy offers an exciting journey with massive win potential for all player demographics.
Madis Raus, Head of OneTouch, said: "With God Hand Feature Buy we introduce an enhanced version of one of our all-time favourite titles, offering players the gameplay they know and love but with even more exciting features, a buy option, and higher win potential as they join the Greek gods in this thrilling adventure."