Plaza Hotel & Casino to host July 4th party at rooftop pool with hot dog eating contest and downtown Las Vegas' only live fireworks show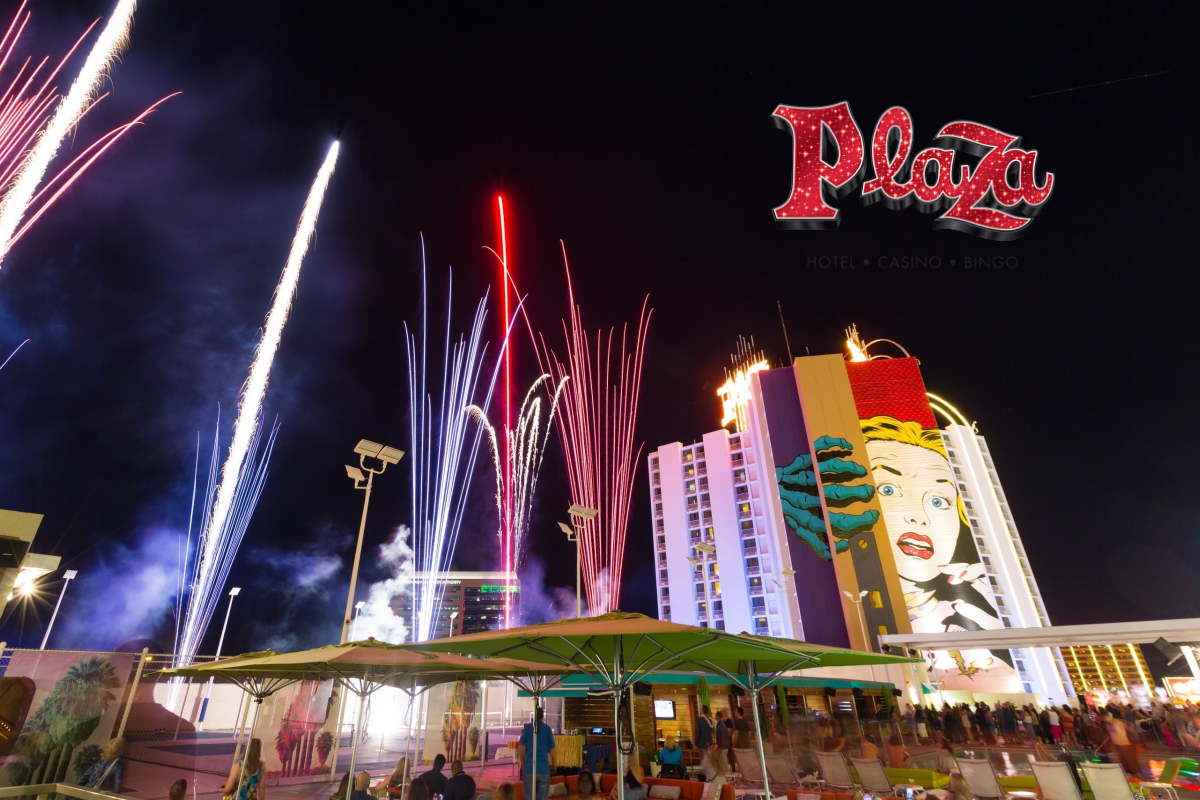 Reading Time:
2
minutes
Festivities continue all weekend with Beer Olympics, drink specials and giveaways
The Plaza Hotel & Casino will host its annual Independence Day party on Thursday, July 4 at its rooftop pool. Free to attend, the party will again culminate with downtown Las Vegas' only live fireworks show lighting up the sky at 9 p.m. Bigger and better this year, the fireworks will be staged from multiple locations on the Plaza's roofs and towers, ensuring an amazing show for party attendees and one that will be visible for miles.
At the party, guests can swim or relax poolside while a DJ plays crowd favorites. Doors open at 5 p.m. and festivities start at 6 p.m. with downtown Las Vegas' only hot dog eating contest in the style of the famous event held annually at Coney Island. The contest winner will receive a grand prize, which includes $200, a free two night stay at the Plaza, $150 to Oscar's Steakhouse, a free pool cabana plus $50 towards food and beverage at the Pool at the Plaza. The contest, sponsored in part by Hoffy Hot Dogs, is limited to 10 participants, 21 years of age or older. Registration is open online until June 21.
All weekend long, the pool's cocktail bar will offer drink specials, including Jell-O shots (one for $3 or three for $5) and a selection of frozen and specialty cocktails, such as the festive Firework cocktail, a red, white & blue mix of Strawberry Daiquiri, Pina Colada Rum and Blueberry Lemonade Vodka ($12).
Guests will also enjoy made-to-order poolside fare from the Pool at the Plaza Food Truck, including its popular burgers (double cheeseburger and the "Impossible Burger"), crispy chicken sandwich, BLT wrap, street tacos, chicken tenders and wings, nachos, and fresh salads.
On Friday, July 5, guests can enjoy a relaxing day at the pool with a free inflatable flamingo drink holder. On Saturday, July 6, the fun continues with the Plaza's Beer Olympics. Teams of 5 will compete to win prizes, and individual entrants are welcome as teams can be created onsite. For more details and to enter, visit: https://www.plazahotelcasino.com/entertainment/independence-day/.
About the Plaza Hotel & Casino:
Located in the heart of downtown Las Vegas, the Plaza Hotel & Casino combines a vintage Rat Pack attitude with modern styling and personal customer service for the ultimate Vegas experience. First opened in 1971 and built on the site of the original Las Vegas railroad depot, the Plaza has 1,000 renovated rooms and suites, a classic Vegas showroom, downtown's only bingo hall and 30,000 square feet of refurbished ballroom and meeting space. Guests enjoy a variety of dining options led by the renowned Oscar's Steakhouse in the hotel's iconic glass dome overlooking the Fremont Street Experience. Hundreds of slot machines, from the latest games to traditional coin machines, and nearly two dozen table games comprise an 80,000-square-foot casino floor, which is also home to downtown's largest race and sports book. A fully renovated rooftop pool and recreation deck, complete with private cabanas, hot tub, food truck, tennis court and dedicated Pickleball courts, provide a variety of outdoor amenities.
Bragg Gaming Group Reports Third Quarter 2019 Results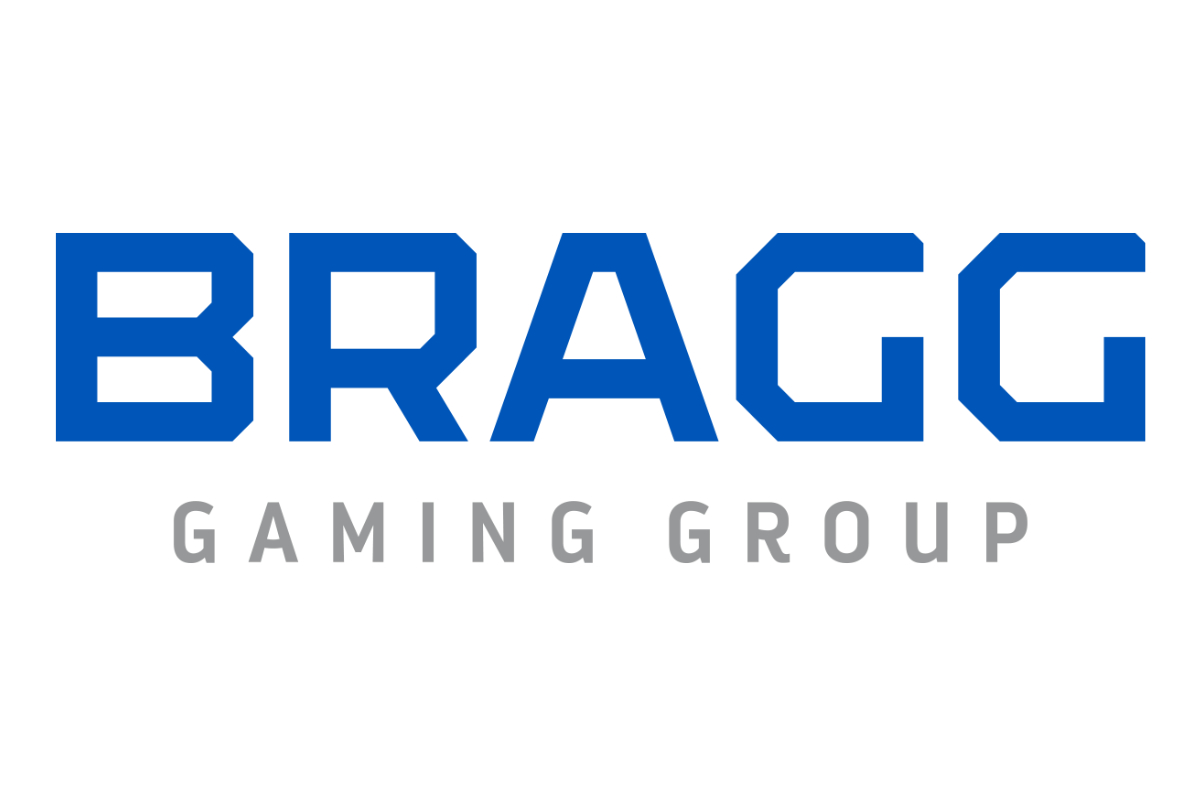 Reading Time:
3
minutes
Enters the lucrative U.S. gaming market through recently announced partnership with Kambi Group and Seneca Gaming Corporation
Bragg Gaming Group has released its results for the third quarter ended September 30, 2019, achieving strong sequential revenue growth of 13 per cent over Q2 2019.
Third Quarter 2019 Results
In the third quarter, the Company delivered continued growth with revenue of CDN $10.0M, gross profit of CDN $4.3M, EBITDA of CDN $0.2M, and net loss from continuing operations of CDN $0.2M. These results culminated in strong performance for the first nine months of 2019 with revenue of CDN $28.0M, gross profit of CDN $12.6M, EBITDA of CDN $0.6M and net loss from continuing operations of CDN $7.6M.
Dominic Mansour, Bragg's CEO, said: "We've made significant progress this quarter, with our focus on B2B with ORYX driving 30 per cent revenue growth compared to Q3 2018. This resulted in a significant improvement in ORYX's gross profit and in-turn drove ORYX EBITDA to grow by over 300 per cent to CDN $1.2M.
"I am extremely pleased with the Company's progression over the past quarter. We've proven that, with our modern technology and seamless integration process, we are able to expand our operator base at a significantly faster rate than the competition. I am particularly pleased that the strong momentum of operator launches experienced in the first half of the year continued into Q3 with the successful launch of 10 new operators. We expect this momentum to further accelerate throughout Q4 with more than 14 launches in the pipeline."
US Market Entry
Bragg recently entered into a partnership with Kambi Group, a well-established provider of premium sports betting services with an extensive client base. Bragg will provide their casino services and unique player account management (PAM) along with Kambi's sports betting services to operators worldwide, with an initial focus on the burgeoning US market.
This newly created partnership recently signed a deal with New York's Seneca Gaming Corporation (SGC), which operates all of the Seneca Nation's Class III gaming operations in western New York. The Bragg and Kambi teams will collaborate to provide SGC with a combination of their services and products across SGC's three New York casinos.
"Our partnership with Kambi and the initial deal with Seneca are both huge stepping stones for Bragg as we commence operations in the U.S. and continue to expand our global reach," noted Mansour.  "Our strategic focus in the U.S. is to partner with tier-1 casinos and operators. I believe that this Seneca deal will be the first of many in the coming years, particularly as the legal landscape continues to mature."
Strategic Review of Online Media Division
The strategic review of the online media divisions consisting of the GiveMeSport asset has continued through the second half of 2019, and the Board expects this to be completed in Q1 2020.
In the interim, Bragg continues to enhance the GMS platform in order to drive more volume. The relaunch of the GMS website was completed in July, and the site is now quicker, slicker, more intuitive, and has a lighter ad load. These improvements culminated in peak site traffic in October 2019, which were 46 per cent greater than October 2018, growing from 15.9M visitors to 23.3M organic visitors.
Directorate Changes
Bragg's CFO, Akshay Kumar, has announced his intent to step down as Chief Financial Officer of the Company for personal reasons. Effective November 13, 2019, Steven Prowse will assume the role of Chief Financial Officer. Mr. Kumar will assist Mr. Prowse, ensuring a seamless transition.
Prowse is an industry veteran with over 10 years' experience in the betting and gaming sector. He served as Group Finance Director for PartyGaming plc (later bwin.party), a gaming business listed on the London Stock Exchange, and was instrumental in M&A, including the acquisition of Foxy Bingo and the €2.1bn merger with bwin in 2011 where he continued as Group Finance Director.
Dominic Mansour said: "I would like to thank Akshay for his hard work and contributions to Bragg. Our team wishes him all the best for the future. We also look forward to welcoming Steven to the Bragg team and believe his expertise with M&A in the sector will be extremely valuable during this pivotal time for the Company."
Steven Prowse said: "I am delighted to join Bragg at such an early and exciting point in its growth trajectory.  Bragg has market-leading technology, products and people.  As such, I see enormous potential for this business and am very much looking forward to being a part of that growth."
Illinois Gaming Board Grants First Land-Based Casino License to Rivers Casino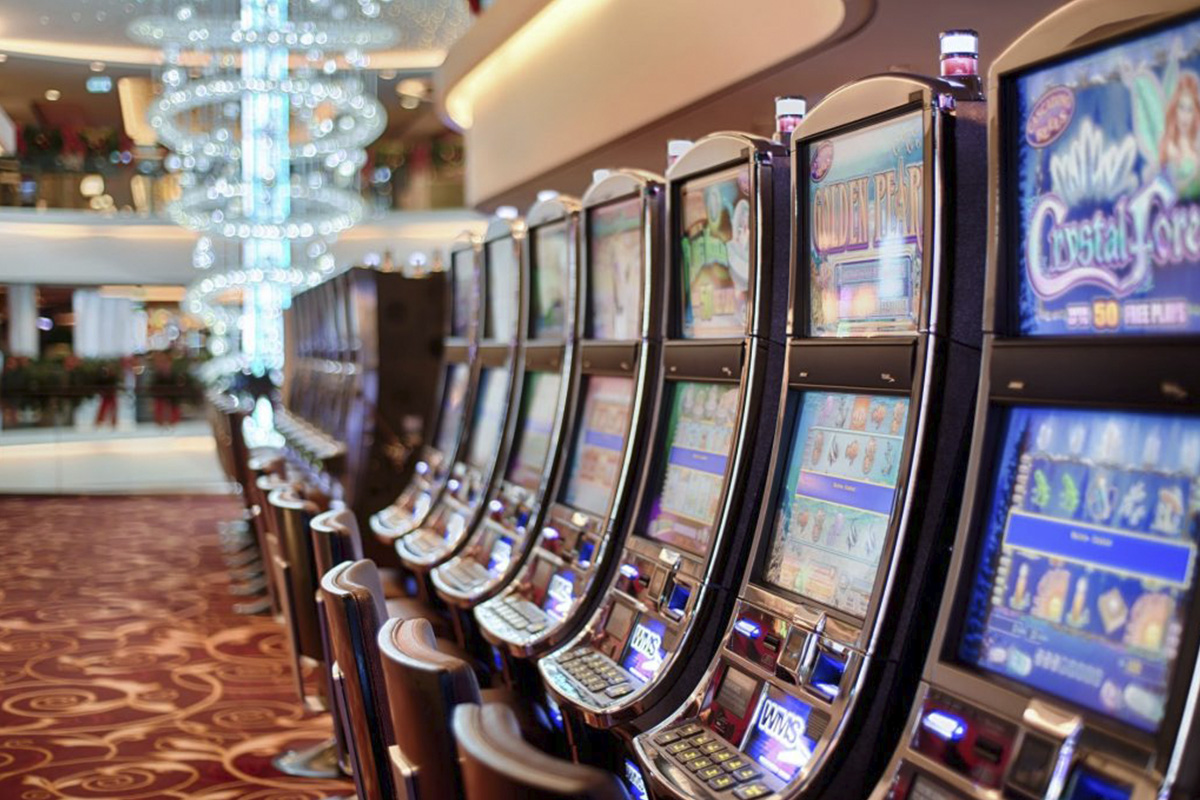 Reading Time:
< 1
minute
The Illinois Gaming Board has granted the state's first land-based casino license to Rivers Casino.
Granted under the sweeping expansion of the state's gaming sector that was signed into law in June, the new license enables operator Rush Street Gaming to move its gambling operation beyond the shallow pool of water it built to qualify as a riverboat. Rivers Casino opened in 2011 under the provisions of the Riverboat Gambling Act of 1990.
Rush Street plans to invest $150 million to expand the casino and increase the number of gaming positions to 2000.
New Report Finds California Cardroom Industry Generates Over 32,000 Jobs and Nearly $5.6 Billion in Annual Impact on State's Economy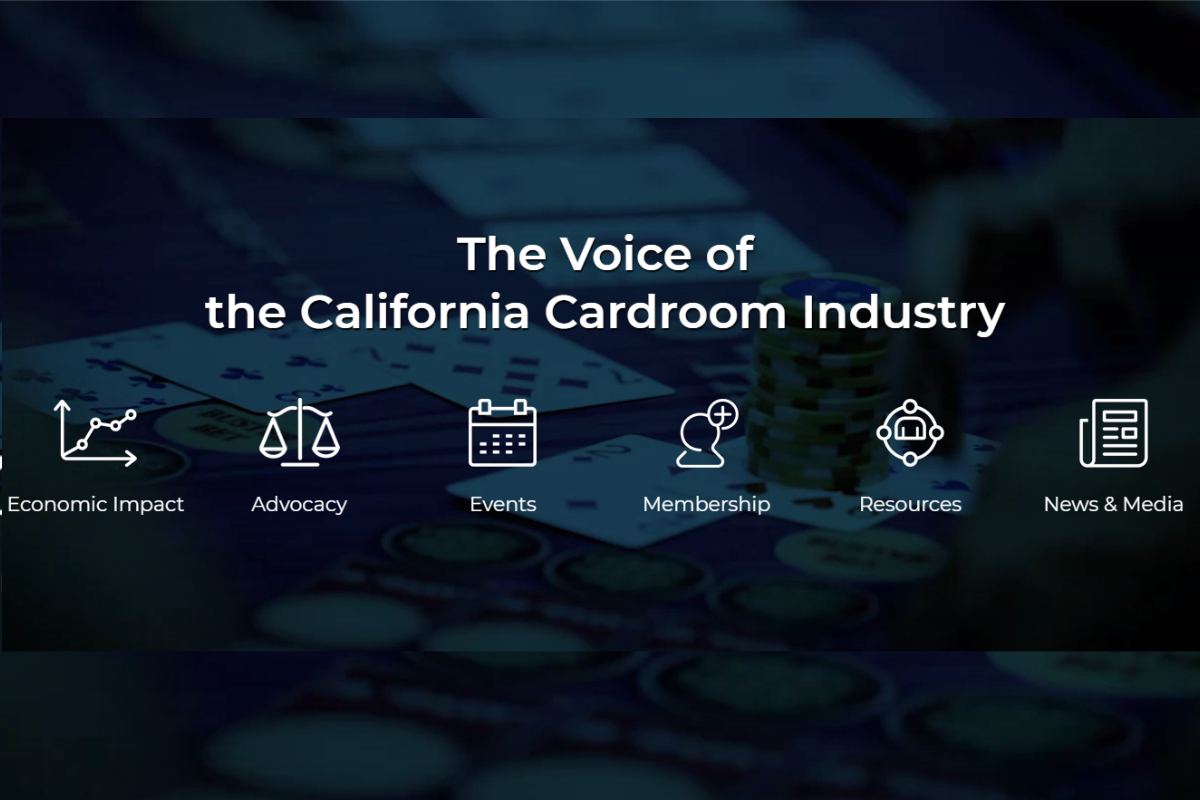 Reading Time:
2
minutes
Cardroom industry supports $1.64 billion in total wages and $500 million in state and local taxes that play a vital role in underserved communities throughout California
A new economic impact analysis report released today found the total annual economic impact of California's cardroom industry to be $5.6 billion dollars, providing over 32,000 in total local jobs. Commissioned by the California Gaming Association, John Dunham & Associates conducted an in-depth review of the direct, indirect and induced economic impact cardrooms have on California communities. The analysis reviewed jobs, wages, linked industries, state and local tax dollars, and total economic output.
In total, the California cardroom industry directly and indirectly creates about 32,425 living wage jobs with wages and benefits estimated at $1.64 billion. Tax revenue generated by California cardrooms totals roughly $500 million, with $398.8 in state taxes and $100.9 million in local jurisdiction gaming taxes.
"The data is clear – the cardroom industry is a vital part of local economies, creating irreplaceable jobs, needed state and local taxes to support local services, and, all totaled, a significant economic impact on California's economy," said John Dunham, President of John Dunham and Associates.
The jobs, wages, and tax dollars provided by cardrooms serve as a vital economic stimulant in communities across California. The local cardrooms support communities, and in some cases, entire cities where over 50% of the local general fund budget is derived from city gaming taxes.
"The economic impact report illustrates what we know and experience every day – local cardrooms are essential to California communities across the state," said Kyle Kirkland, President of the California Gaming Association. "California cardrooms provide tens of thousands of steady, living wage jobs, providing an opportunity for working Californians to support themselves and their families.  Furthermore, cardrooms across California spark additional economic activity, revenue and jobs by their presence and provide valuable tax revenue to host communities.  In fact, some cardrooms generate over 50% of a city's general fund revenue, providing the majority of funds for emergency services, fire departments, parks and other critical city programs and services."
The economic impact analysis defines the cardroom industry as cardrooms and related third parties, associated restaurants, security services, gift shops, bars and hotels. Its findings show that the cardroom industry touches all corners of California, directly employing almost 18,000 people, providing $728.8 million in wages and benefits and generating $3.0 billion in economic activity in the state.
KEY REGIONS IN CALIFORNIA

Region

Total Jobs*

Total Economic Impact*

L.A. County

13,463

$2.3 billion

San Diego County

1,936

$318.6 million

Bay Area

6,196

$1.1 billion

Sacramento Region

1,831

$313.3 million

Fresno County

764

$128.5 million

* includes direct, indirect and induced
Methodology
"This economic impact analysis was developed by JDA based on data collected from the California Gaming Association, Infogroup, the California Gambling Control Commission, and survey information provided by cardrooms and related third parties. The analysis utilizes the IMPLAN model in order to quantify the economic impact of the cardroom industry on the economy of California, as well as in state legislative districts, counties and cities. The model adopts an accounting framework through which the relationships between different inputs and outputs across industries and sectors are computed. This model can show the impact of a given economic decision – such as a factory opening or operating a sports facility – on a predefined, geographic region. It is based on the national income accounts generated by the US Department of Commerce, Bureau of Economic Analysis (BEA)."
To view regional data from the report, please visit: https://californiagamingassociation.org/cardroomimpact/.
To learn more about the California cardroom industry, please visit Calgaming.org.
SOURCE California Gaming Association