Betinvest set to tap into 'huge potential' at ICE Africa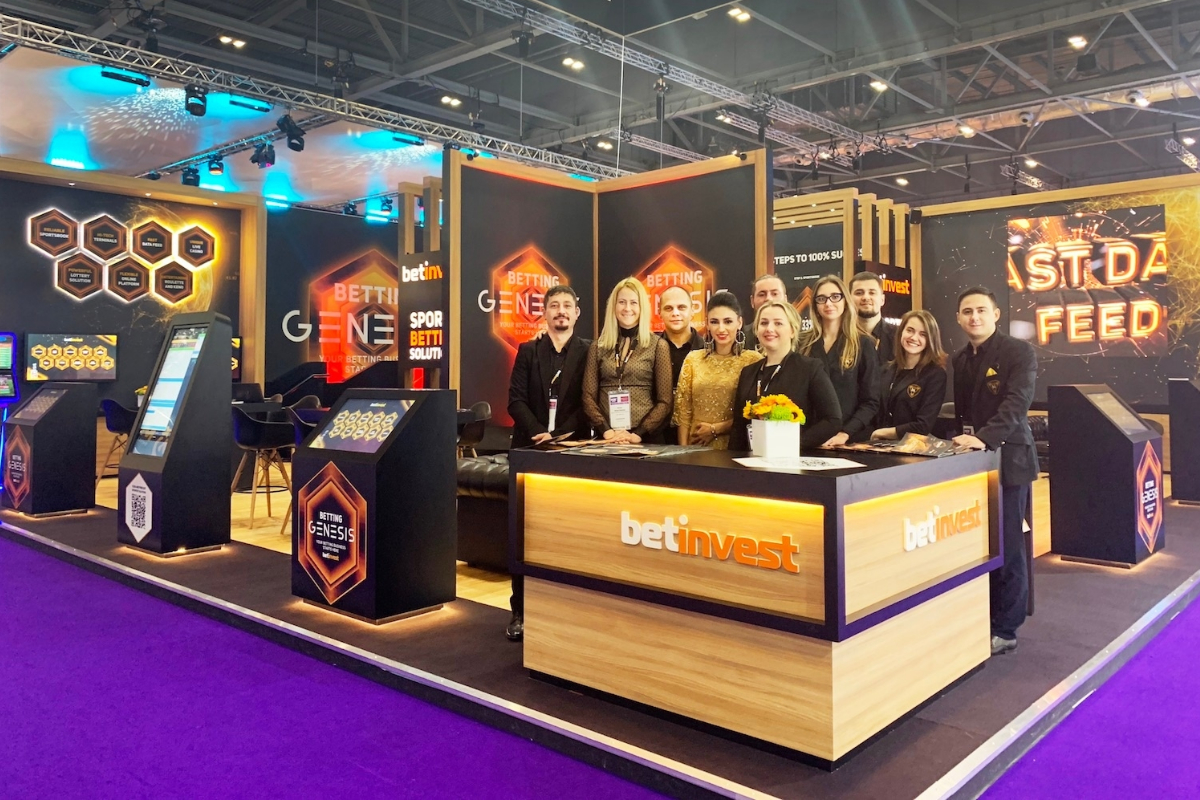 Reading Time:
2
minutes
Betinvest, the leading provider of technology solutions to the sports-betting and gaming industry, will be using its presence at this week's ICE Africa (2nd – 3rd October, Sandton Convention Centre) to showcase its Online Platform which Valentyn Kyrylenko, VP of Business Development, described as having 'huge and unparalleled potential'.
"Of course we are aware of the huge potential that this region has" he stated. "The African market is one of the most attractive emerging markets and is set to have an impressive future in gambling. It's fantastic that Clarion Gaming is bringing together all the top gambling and gaming providers in Johannesburg as this will help to develop the industry in the region at a much faster rate."
Betinvest's Pan-African focus will see the team meet with current partners and use the extensive market research it has conducted to best integrate with operators where its offering is best situated, such as Kenya, Nigeria and South Africa. "Nigeria is one of the most developed countries in terms of dynamic economic growth," continued Kyrylenko.  "Betting is becoming more and more popular among the younger, digital generation and the middle class there. Kenya is also an appealing country to sports betting operators. While 50 percent of the Nigerian population has access to the internet, in Kenya it's 80%. Most Kenyans place bets on football once a week, which according to recent data, is more often than people in other African countries."
Betinvest is set to debut its new betting solutions such as Online Platform and Sportsbook as a Service to the African market where Kyrylenko believes their customisable UI/UX website design, risk management and anti-fraud tools, 24/7/365 customer service and customisable geolocation will strike a chord across the continent. "It goes without saying that our market penetration strategy relies heavily on high-profile events like ICE Africa," he added. "Here, our entire audience – potential clients and partners – is gathered together under one roof. Big events like this give us a chance to meet face-to-face with operators who are looking to start their own local businesses. As for our own contribution, we're going to be driving the region forward with our advanced products. We will be waiting for you at our stand 1303. Book a meeting with via: betinvest.com/events/ice-africa-2019/."

Rugby Africa mulligrubbers #AfricaAsOne with launch of Men's Sevens Solidarity Camp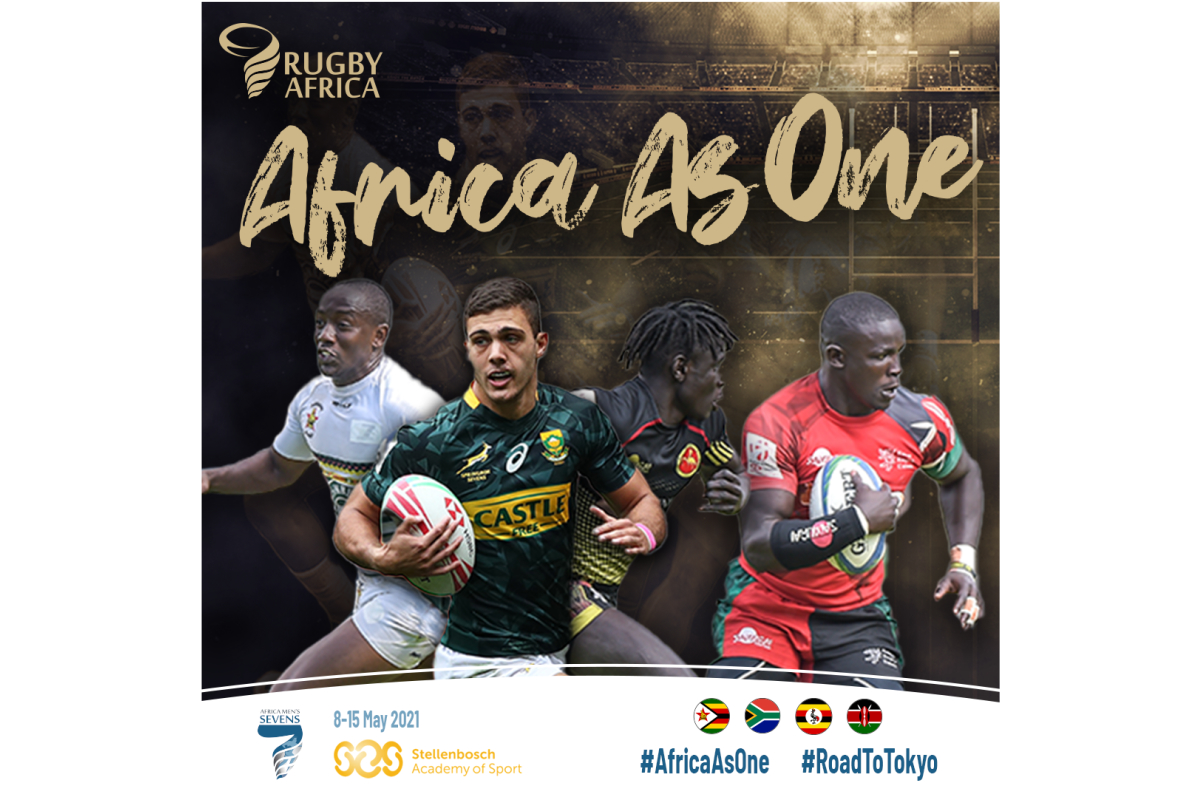 Reading Time:
3
minutes
In the spirit of uniting Africa through sport, Khaled Babbou The President of Rugby Africa (www.RugbyAfrique.com) officially launched the #AfricaAsOne campaign, which has set off to echo support for all of Africa's representatives taking African Rugby to the international field of play. Speaking on the freshly cut green, he emphasised Rugby Africa's commitment to delivering teams from their preparation games, all the way to international fixtures such as the Olympic Games and others.
Currently only South Africa and Kenya have qualified for the Olympic Games in the men's category. But Uganda and Zimbabwe still stand a chance through the Olympic Repechage. The Olympic Repechage is due to take place in Monaco on the 19th and 20th of June with the Olympic Games Tokyo starting on the 26th to the 28th of July for Men.
Through the leadership of Rugby Africa, African teams will be coming together to prepare the qualified teams for the Olympic Games and Olympic Repechage with friendly tournaments and shared preparation camps.
With Covid-19, opportunities to play have been limited and it has proven difficult for some teams to travel outside Africa. This will be a first of its kind initiative, where the term Solidarity really takes on its full meaning. Teams will share their experiences and learn from each other in the process. Even though these games are only friendly encounters, teams will gauge themselves against some of the best teams on the continent, to prove that they can compete at the highest level.
According to Andrew Owor, President Rugby Committee and Vice-President Rugby Africa the Men's Sevens Solidarity Camp inauguration will take place on  6th May, and end on the16th of May and as usual, much action, speed and intensity is expected for the fans of the sport.
Steph Nel, Rugby Services Manager for Africa at World Rugby announced that the venue for this season's fixtures will be at the leafy Stellenbosch Academy of Sports and Markotter Sports Field in South Africa.
Neil Powell, Coach Sevens Blitzboks spoke broadly on the readiness of his squad. According to Coach Powell, The Springbok Sevens team returned to full training at their Stellenbosch Academy of Sport base this week, with their eyes firmly fixed on their main goal for the season- success at the Olympic Games in Tokyo in July.
'We are extremely grateful for these tournaments, organised by Rugby Africa, to give ourselves and Kenya another opportunity to prepare for the games and hand Uganda and Zimbabwe playing time as they prepare for the repechage tournament to the Olympics, that will take place in Monaco in June," said Coach Powell.
Michael Wandera Team Manager Uganda, which will be participating this season, also chorused Powell's sentiments by thanking Rugby Africa for yet again dedicating time, resources and leadership in building the sport continentally and most importantly providing a platform for teams to be globally competitive.
Erick Ogweno Team Manager of Kenya looks forward to a stellar performance from his athletes, believing that they have invested much in discipline and endurance, which will guarantee the speed and agility of his squad for the field of play. He exclaimed that the appetite for the sport has seen tremendous growth in Kenya over the years and it is now more than ever important for the coaching staff and players to deliver wins for the fans in Kenya.
John Ewing, Team Manager Zimbabwe, anticipates an explosive encounter for his team, which he has calibrated for a clinical performance in the games scheduled. He spoke much of how teams have been through many challenges around training due to Covid-19 related restrictions. However, he strongly believes that much of what will decide the result of this year's Camp, will be based on the team that was most resourceful in the grey areas of preparation.
Streaming live from Rugby Africa platforms, this year's Men's Sevens Solidarity Camp will bring together champions of African Sevens Rugby under one camp. Fans will also be able to watch highlights on the action-packed fixtures on Supersport, where they will be able to see interviews and snapshots as well. The Men's Sevens Solidarity Camp promises to change the face of Rugby in Africa, open new ways, and opportunities for collaboration amongst coaching staff, players and more importantly fans.
Overall, this initiative will grow the influence of Rugby in Africa, drawing more inquisitive eyes to the oval-ball. Such Solidarity will inspire both young and old, to follow a sport that has already taught Africa that it is possible to be a dominating world champion. It is in this spirit that Andrew Owor, Vice President of Rugby Africa, and President of the Rugby Committee, wished all the participating teams the best of luck in the forthcoming Men's Solidarity Camp.
Quick Facts: Men's Sevens Solidarity Camp:
Dates: 6 – 16 May
Venue: Stellenbosch Academy of Sports and Markotter Sports Field
Teams arrive: 6 May
Tournament: 8 & 9 May – 14 & 15 May
Teams: South Africa, Kenya, Uganda, Zimbabwe
Liberian President George Weah announced as Ambassador for Pan-African Inter-School Championship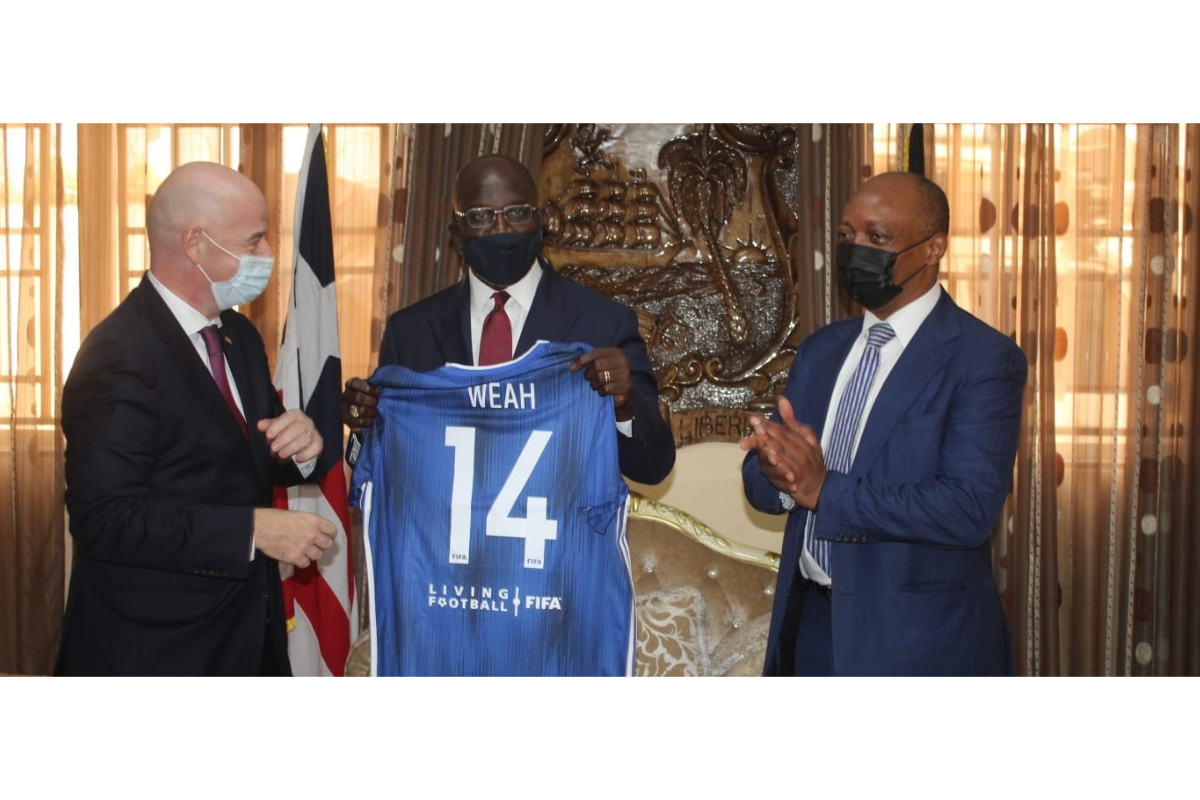 Reading Time:
3
minutes
President Weah is the only African to have won the FIFA World Player of the Year award
A joint CAF and FIFA delegation travelled to Liberia to hold meetings today with the Liberian Football Association and government officials in Monrovia. Partnerships with the public and private sectors, increased opportunities for youth through football and the appointment of Liberian President George Weah as the first Ambassador of the Pan-African Inter-School Championship were among the topics discussed.
Upon arrival last night at Monrovia Roberts Airport, the delegation were greeted by Liberia Football Association (LFA) President Mustapha Raji, members of the LFA Executive Committee (EXCO) and Minister of Youth and Sports, the Honorable D. Zeogar Wilson. In Monrovia city, Mayor Jefferson T. Koijee welcomed the delegations to the capital and presented the FIFA President with a key to the city in a gesture of friendship.
This morning, the delegation attended a meeting with the LFA EXCO, listening to the challenges it is facing with football infrastructure. CAF President Dr Patrice Motsepe underlined to members present that Liberia had huge potential, which could be harnessed by providing more opportunities for youth through football. He also stressed that working together for the good of African football is the best way to ensure progress for the game and the continent. FIFA President Gianni Infantino reinforced this message, referencing the iconic George Weah – now President of Liberia – as a great example of the positive impact football can have on a country.
An official meeting with the Minister of Youth and Sports followed. CAF President Dr Motsepe said: "We hear your concerns and would like to assure you of CAF's commitment to work with Liberian football and government authorities to improve football infrastructure here."
The delegation, together with the Minister of Youth and Sports, then visited the Samuel K Doe Football Complex, which has been fitted with a new turf pitch through funding from the FIFA Forward (https://fifa.fans/2R1hqAN) programme. Speaking at the complex, FIFA President Gianni Infantino said: "FIFA believes that every country should have access to the best quality pitches and football facilities, and we will work with CAF to bring about more improvements to Liberia."
An audience with Liberian President, His Excellency George Weah, followed. Strengthening African and Liberian football was central to discussions, with Gianni Infantino stating: "We are happy to be in a country so passionate about football. We are here to give you CAF and FIFA's full support to take football into a new era and we will work with you to do this."
Talks also covered the power of football on economies. "Football and economic development go hand in hand, so let's try through football to invest in job creation," said CAF President Dr Motsepe. "It's also our duty to make sure stadia meet the required standards, and CAF will work with the Liberian authorities to do so."
The conclusion of the meeting saw the CAF and FIFA Presidents present President Weah – the only African to have won the FIFA World Player of the Year award – with a certificate announcing him as the first Ambassador of the Pan-African Inter-School Football Championship.
Gianni Infantino said: "President Weah is an icon of football and now a respected statesman. FIFA and CAF are delighted to have his support. His stellar football career is an inspiration to young Africans and we welcome him on board this initiative, supported by the African Union, which will see football competitions at national level in schools throughout Africa. Football offers us a unique opportunity to connect with young people and empower them through this programme."
The joint delegation then visited the construction site at the headquarters of the LFA to discuss the developments that have taken place in expanding women's football in the country, before attending a women's youth football match at Antoinette Tubman Stadium.
Before kick-off, LFA President Mustapha Raji thanked both the CAF and FIFA Presidents for visiting his country and for believing in the power of football to give hope, education and joy to children in Liberia. This was followed by addresses from the Minister of Education and Youth and Sports respectively.
CAF President Dr Motsepe's took to the stage for a short address, concluding: "We must be proud of and thankful to the LFA President for his excellent work. Football has a bright future here. The girl who is going to be the African winner of The Best FIFA Women's Player Award (https://fifa.fans/3nZyxze) could be here today!"
Youth football and unity take centre stage in Côte d'Ivoire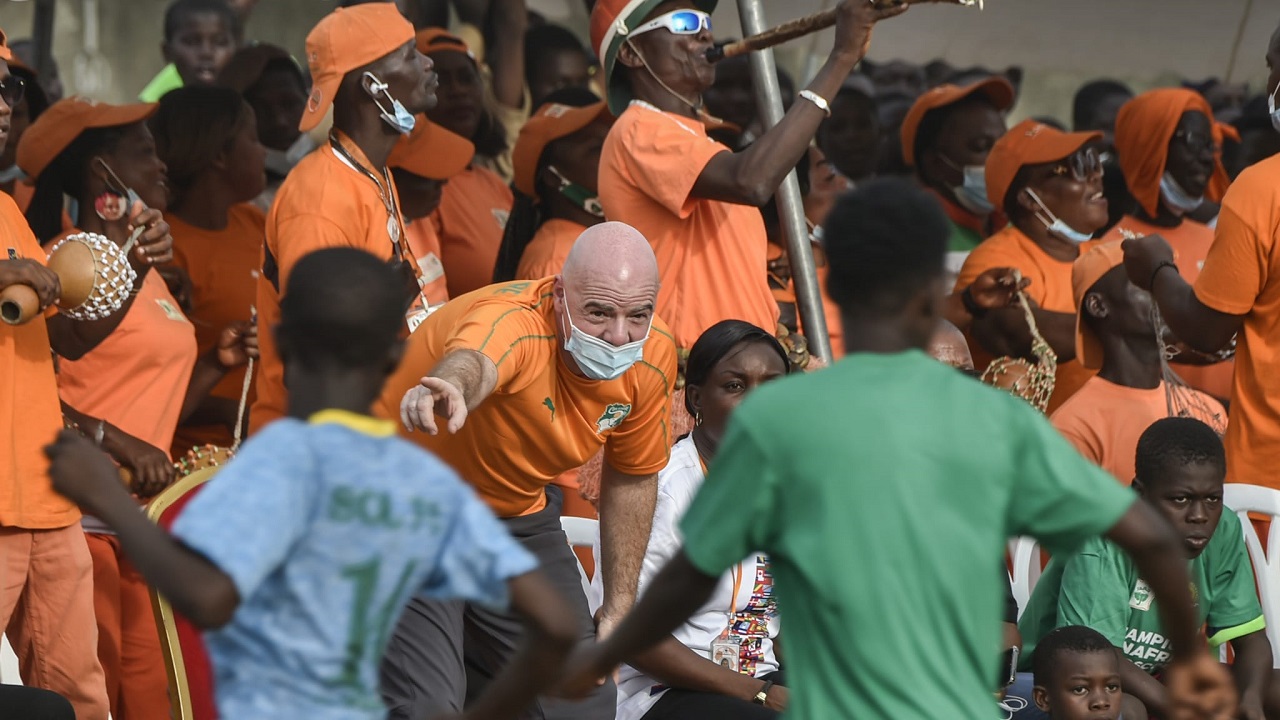 Reading Time:
4
minutes
Focus on promoting unity, developing and strengthening football governance
FIFA and CAF presidents visited Côte d'Ivoire to begin two-day itinerary; Focus on promoting unity, developing and strengthening football governance; Continent's inaugural pan-African inter-school football championship also launched.
The presidents of CAF and FIFA travelled to Côte d'Ivoire on Monday as part of their first joint mission in Africa since the election of Dr Patrice Motsepe as the confederation's new president in March. Central to their two-day itinerary were meetings with government and football officials, with the focus on promoting unity and serenity, developing and strengthening the country's football governance and launching the continent's inaugural pan-African inter-school football championship in Abobo, a municipality just outside the country's capital Abidjan.
Arriving in Abidjan they were greeted by members of the normalisation committee of the Ivorian Football Federation (FIF), including President Mariam Dao Gabala, who along with her colleagues has been responsible for bringing football back into play in Côte d'Ivoire.
An official dinner was hosted for the delegation by Ivorian Minister for the Promotion of Youth, Professional Integration and Civic Service, Mamadou Touré, in the presence of Minister for National Education and Literacy, Marietou Koné. Addressing the gathering CAF President Dr Motsepe underlined the unifying power of football being more important than differences between diverse groups of people. He was also keen to highlight CAF's robust support for the West African nation stating: "Côte d'Ivoire has CAF's total commitment and 2023's AFCON here will be the best ever."
FIFA President Gianni Infantino bolstered this message further saying: "We need to work together to make football great and make the millions of passionate fans in Côte d'Ivoire, a country that has won the AFCON twice and will soon host it, happy."
Present at the event to provide their support for the joint CAF/FIFA mission were CAF's four vice presidents, presidents of the five CAF zonal unions and presidents from CAF Member Associations in West Africa Football Zone Union B.
This morning, the CAF and FIFA delegation's focus was on viewing the work of the FIF normalisation ccommittee first hand, in order to understand what had been completed and the challenges it has faced. Addressing the assembled media outside the FIF building Dr Motsepe congratulated President Gabala and her team on their outstanding work and strong commitment to bringing peace and unity back to Ivorian football.
This sentiment was echoed by FIFA President Infantino who underlined the progress the FIF had made, particularly with the organisation of an elective congress, which it hopes to hold by the end of the year. "Côte d'Ivoire has the unwavering support of FIFA," he said.
The joint delegation then travelled to the Ministry of Sports for a meeting with Minister Claude Paulin Danho. Discussions covered the country's hosting of next year's AFCON competition, and improving football governance. Speaking to the minister, Infantino expressed FIFA's commitment and willingness to work hand in hand with the Ivorian authorities to "reinvigorate Ivorian football, especially given the outstanding talent it has produced. The football legends from Côte d'Ivoire have greatly contributed to building football history in Africa and across the world," he said.
Ivorian Legends were very much pivotal to talks amongst the three men, with the CAF president reminiscing with Minister Danho about Siaka Tiéné, a young Ivorian player who had been one of his favourites due to his talent and passion, when Dr Motsepe ran South African football club Mamelodi Sundowns, prior to his election as CAF president.
The delegation were then received by the President of Côte d'Ivoire, His Excellency Alassane Ouattara, at the Presidential Palace. During the meeting the joint delegation stressed the outstanding talent in the country and the need to harness this through the development of youth football and CAF's first ever pan-African inter-school football championship.
Following the discussions with the Ivorian Head of State, Infantino said: "President Ouattara is a great fan of football, so it is an honour to be here today to talk about how we can work together to support the youth of this country through the beautiful game. Côte d'Ivoire is a county with a legacy of talented footballers and many future ones yet to be discovered, so it is important for Africa and the rest of the footballing world that FIFA, CAF and the Ivorian authorities work together to develop the game and elevate it to the highest of heights."
The final engagement of the day for the CAF/FIFA joint delegation was the launch of the pan-African inter-school football championship in Abobo. Fittingly, a football match featuring mixed teams of schoolchildren kicked off the initiative, with both presidents putting their technical and tactical football skills to the test as team coaches.
Following the match Dr Motsepe announced that the Motsepe Foundation, founded by himself and his wife Precious Moloi-Motsepe, would make a donation of USD $10 million to the ground-breaking new pan-African inter-school football championship, which will take place across the six zonal regions of CAF. After the match, the FIFA President said: "The gesture from the Motsepe Foundation, Patrice and his wife Precious, is exceptional. It's a step forward for this competition that will give hope and joy to thousands of children in Côte d'Ivoire and throughout Africa who love football. Thank you to the Motsepe family for showing us Ubuntu in action."
The joint delegation ended their visit to Côte d'Ivoire with a press conference focused on the African league, the development of women's football, strengthening football governance, this November's FIFA Arab Cup in Qatar and how to bridge divisions in Ivorian football. Both the CAF and FIFA presidents also outlined the plans to roll out the inaugural pan-African inter-school championship in Côte d'Ivoire to the assembled Ivorian and African media.