GVC Holdings: Q1 Trading and COVID-19 Planning Update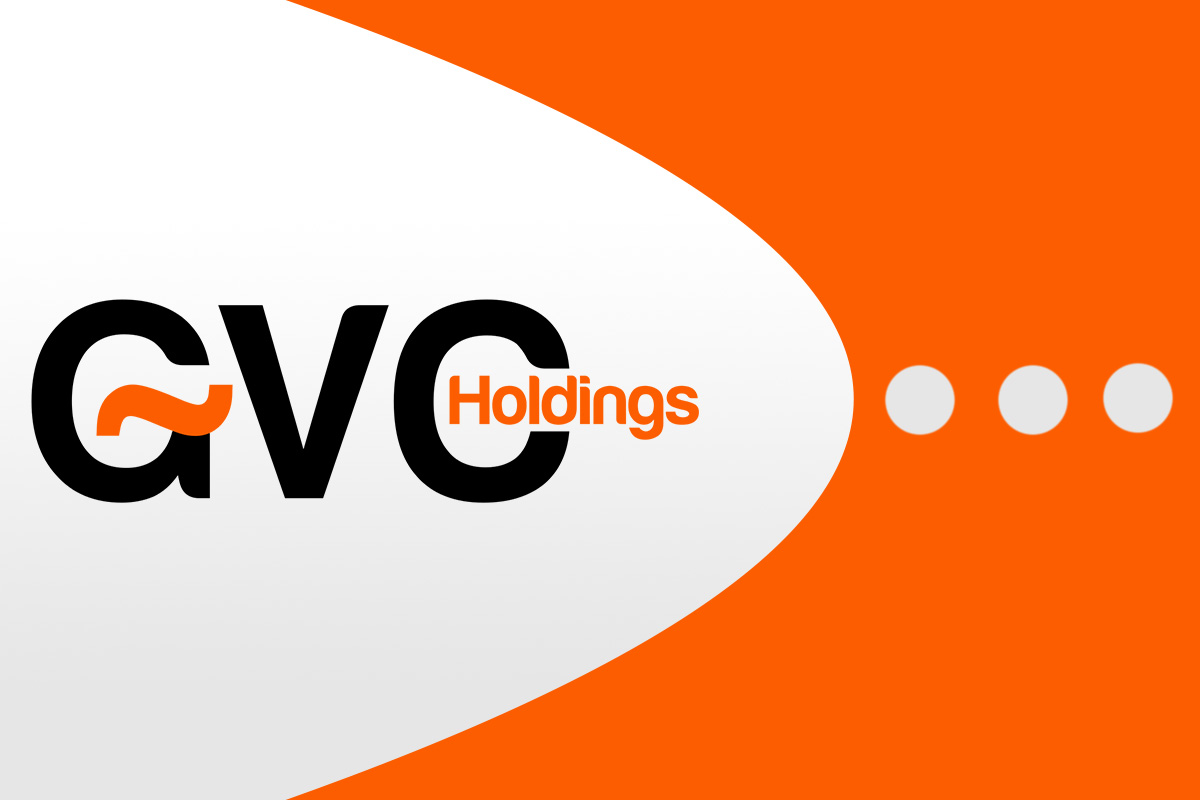 Reading Time:
7
minutes
GVC Holdings PLC, the global sports betting and gaming group, today reports trading for the period from 1 January to 31 March 2020 ("Q1") and provides a further update on the impact of COVID-19 and the mitigating actions being taken.  This follows the Group's previous announcements of 16 and 17 March 2020.
Summary
GVC started the year well, with Group net gaming revenue ("NGR") +1% and Online NGR up +19%cc1 in the first quarter
However, the closure of retail outlets and the cancellation of sports events significantly reduced revenue from mid-March
In previous announcements the Group estimated the impact of COVID-19 before any mitigating actions equates to a reduction in EBITDA2 of approximately £100m3 per month
However, following the initiation of a number of mitigating actions the Group now expects to reduce this EBITDA impact to approximately £50m per month

As a result, the average monthly cash outflow would be limited to approximately £15m per month, and the Group is confident that further cost actions will enable it to achieve its target of reducing the cashflow to breakeven

The Group's financial position remains robust, however given the ongoing uncertainty regarding timings of the easing of shutdown measures around the world, the Board has taken the prudent decision to withdraw the second interim dividend that is due for payment on 23 April 2020
Kenneth Alexander, GVC's CEO, commented:
"As our Q1 trading numbers once again demonstrate, GVC is a business that, in normal times, delivers an outstanding performance.  However, while our global and product diversification is standing us in good stead during the current uncertainty, the COVID-19 pandemic is posing an unprecedented challenge to our business and our industry.  We are responding decisively, and have put in place a range of measures to keep our people safe, strengthen our financial position, limit cash outflow, preserve jobs and maintain a compelling customer offer.  I am confident that we will emerge from this period in a position of strength, and we will be well placed to take advantage of a range of attractive growth opportunities which we believe will be available to us.
"We are also sensitive to the fact that at this time of economic stress and isolation, it is vital that we ensure a safe, responsible and enjoyable gaming environment for our customers and do everything that we can to minimise the potential for harm.  Accordingly, not only have we supported the Betting and Gaming Council's 10 pledge action plan on safer gambling, but we have gone further and introduced a range of additional safeguarding measures to ensure that we are able to rigorously monitor and protect anyone who may be vulnerable at this time.
"Finally, I would like to thank our outstanding teams around the world for the manner in which they have rapidly adapted to the challenge, and for their continuing hard work and commitment to ensuring GVC's long-term success."
Current trading
In its 2019 full year results on 5 March 2020, GVC reported that the current year up to 23 February 2020 had started strongly.  That momentum continued until the Group started to see the impact of COVID-19 on sporting events and store closures in mid-March.
The performance of the Group for the year to 31 March 2020 is set out in the table below, with key highlights as follows:
Total Group NGR +1% (+2% cc1)
Online NGR +16% (+19% cc1), with continued strong growth in all major territories
UK Retail like-for-like ("LFL")4 NGR -19%
European Retail NGR -3% (flat cc1) supported by continued market share gains in Italy
For the period 1 January to 15 March 2020 all divisions performed strongly, supported by favourable sports margins:

Group NGR +9% (+11% cc1)
Online performed strongly across both gaming and sports, with NGR +20% (+23% cc1). Since then there has been an encouraging performance in gaming in the absence of sporting events, in line with the Group's expectations
UK Retail like-for-like ("LFL")4 NGR -5% despite the annualisation of the triennial review impacts
European Retail delivered strong NGR growth at +20% (+24% cc1)
Period 1 January to 31 March 2020
Total NGR
Total NGR cc1
Sport Wagers
Sports Margin
Online
   Sports
17%
21%
(12%)
2.5pp
   Gaming
17%
18%
Total Online
16%
19%
UK Retail (LFL3)
(19%)
(19%)
(8%)
3.3pp
European Retail
(3%)
flat
(21%)
3.7pp
Total Group
1%
2%
 
 
For the avoidance of doubt, the guidance provided on 5 March 2020 is withdrawn.
Impact of COVID-19
On 16 and 17 March 2020 GVC provided assessments of the impact of cancellations of sporting events and store closures on Group EBITDA3 for the year to 31 December 2020.  These announcements were based on the Group's modelling which assumed that: a) football is suspended across Europe; b) major sporting events are cancelled or postponed (Aintree, Royal Ascot, Euro 2020 etc); c) horse racing in the UK and Ireland is suspended; d) all retail outlets in the UK, Republic of Ireland and mainland Europe are closed; and e) there would be a modest increase in GVC's gaming business which accounts for 57% of Online NGR.  Taken together, GVC estimated that these events would result in a reduction in EBITDA of approximately £100m3 per month before any mitigating actions.  This would break down by the Group's key reporting divisions as approximately 20% for Online, 63% for UK Retail and 17% for European Retail.
Mitigating actions
GVC's teams around the world are working hard to reduce costs and re-prioritise activity in order to preserve free cash, whilst continuing to offer its customers great gaming experiences and to position the Group to emerge from the current restrictions in a position of strength.  A number of opportunities have been identified so far which reduce costs by approximately £50m per month.
For example, in the UK GVC is eligible to receive the government grant towards employment costs as we furlough retail colleagues and retain them on full pay, as well as the business rates relief, which together the Group estimates will reduce costs by nearly £20m per month.
In Italy and Belgium GVC operates a franchising model where the store operating costs (rent, employment, utility and other costs) primarily reside with the franchisee.
Other measures taken include reductions in online sports marketing, sports content and trading costs.
Resultant estimated cash outflow
After adjusting for the impact on EBITDA, adding additional cash costs incurred (such as interest, capex, tax and other costs) and allowing for retail capex reduction, the average monthly cash outflow would be approximately £15m per month.  The Group continues to work through cost mitigation opportunities and is targeting a break-even cashflow per month objective, thereby preserving cash at broadly current levels during this period of retail closures and reduced sporting events.
The following table sets out, for illustrative purposes only, the effect of our modelling and mitigating actions on EBITDA and average cashflow over a month of severe COVID-19 impacts:
| | |
| --- | --- |
| Impacts of COVID-19 and mitigations | Estimated average monthly amounts |
| Consensus EBITDA2 for FY2020 as at 31/1/20 | £65m |
| Total EBITDA impact before mitigating actions | £(100)m |
| Mitigating actions | £50m |
| Net EBITDA | £15m |
| Other cash costs incurred (including capex, interest, tax and other items) after retail capex mitigation | £(30)m |
| Net cash utilisation | £(15)m |
Financial position
GVC is in a robust financial position, with net debt/EBITDA as at 31 December 2019 of 2.69x.  The Group had accessible cash of over £350m at 31 March 2020, of which over £250m is cash at hand after excluding cash held on behalf of customers, cash in shops, ringfenced PSP funds and other items which may not be immediately available.
In addition, GVC has a £550m Revolving Credit Facility (RCF) which is currently undrawn.  This facility has a financial covenant which is only tested if the facility is drawn by more than 35% at a quarter-end.  The covenant measure is calculated on a trailing 12-month pre IFRS 16 basis with a net debt/EBITDA limit of 4X.  Unrealised synergies can be added to EBITDA.
GVC currently has two bonds in issue, totalling £500m.  One of £100m is due 2022 and one of £400m is due 2023.  In addition, the Group has Term Loans of €1,125m and $786m, both due 2024.
Dividend
Due to the ongoing uncertainty as to how long restrictions as a result of COVID-19 will be in place around the world, the Board has taken the prudent decision to withdraw the payment of the second interim dividend of 17.6p per share announced on 5 March 2020.  This was due to be paid on 23 April 2020 with a total cash cost of £103m.  However, the Board recognises the importance of dividends as a part of shareholder returns and will consider dividends with future results announcements.
2019 Annual Report and Annual General Meeting ("AGM") and Directors Remuneration
The Group's annual report for 2019 is today published on the Group's website at gvc-plc.com.  Copies will be posted to those shareholders requesting a hard copy as soon as it is practical to do so.  The 2020 AGM was scheduled to be held on 30 April and in normal circumstances an AGM Notice would be circulated with the annual report.  Owing to the public health guidance on social distancing, the Board has decided to postpone the AGM.  The Group will issue an AGM Notice once the Board is confident it can safely hold a meeting on a specified date.
The 2019 Annual report sets out details of the directors' 2019 incentive outcomes and 2020 implementation.  However, the payment of directors' 2019 bonuses and the grant of the 2020 LTIP awards have been postponed.  The Remuneration committee will consider the impact of COVID-19 on GVC's performance and remuneration in due course and review the implementation of the policy for 2020 as appropriate.
Notes
Growth on a constant currency basis is calculated by translating both 2020 and 2019 performance at the 2020 exchange rates.
As at 31 January 2020, company compiled EBITDA consensus for the financial year to 31 December 2020 was £776.3m on a pre-IFRS 16 basis.
The £100m approximate impact on monthly EBITDA is derived from the two announcements of 16 & 17 March as follows: The EBITDA impact over 3.5 months of sports and major events cancelations and European Retail closures of approximately £130m – £150m equating to approximately £37m – £43m per month; the EBITDA impact of UK Retail store closures of approximately £45m – £50m per month; and the EBITDA impact of the cancellation of horse racing in the UK & Ireland of approximately £20m- £25m per month. Taking each of these at the mid-point and allowing for overlap derives an approximate monthly impact on EBITDA of £100m.
UK Retail numbers are quoted on a LFL basis. During the period, there were an average of 3,131 shops in the estate, compared to an average of 3,464 in the same period last year.
About GVC Holdings PLC:
GVC Holdings PLC is one of the world's largest sports-betting and gaming groups, operating both online and in the retail sector.  The Group owns a comprehensive portfolio of established brands; Sports Brands include bwin, Coral, Crystalbet, Eurobet, Ladbrokes, Neds and Sportingbet; Gaming Brands include CasinoClub, Foxy Bingo, Gala, Gioco Digitale, partypoker and PartyCasino. The Group owns proprietary technology across all of its core product verticals and in addition to its B2C operations provides services to a number of third-party customers on a B2B basis. The Group has also entered into a joint-venture with MGM Resorts to capitalise on the sports-betting and gaming opportunity in the US.  The Group, incorporated in the Isle of Man, is a constituent of the FTSE 250 index and has licences in more than 20 countries, across five continents.
For more information see the Group's website: www.gvc-plc.com
Digitain scores a winner with its industry-first Live Table Football Odds Feed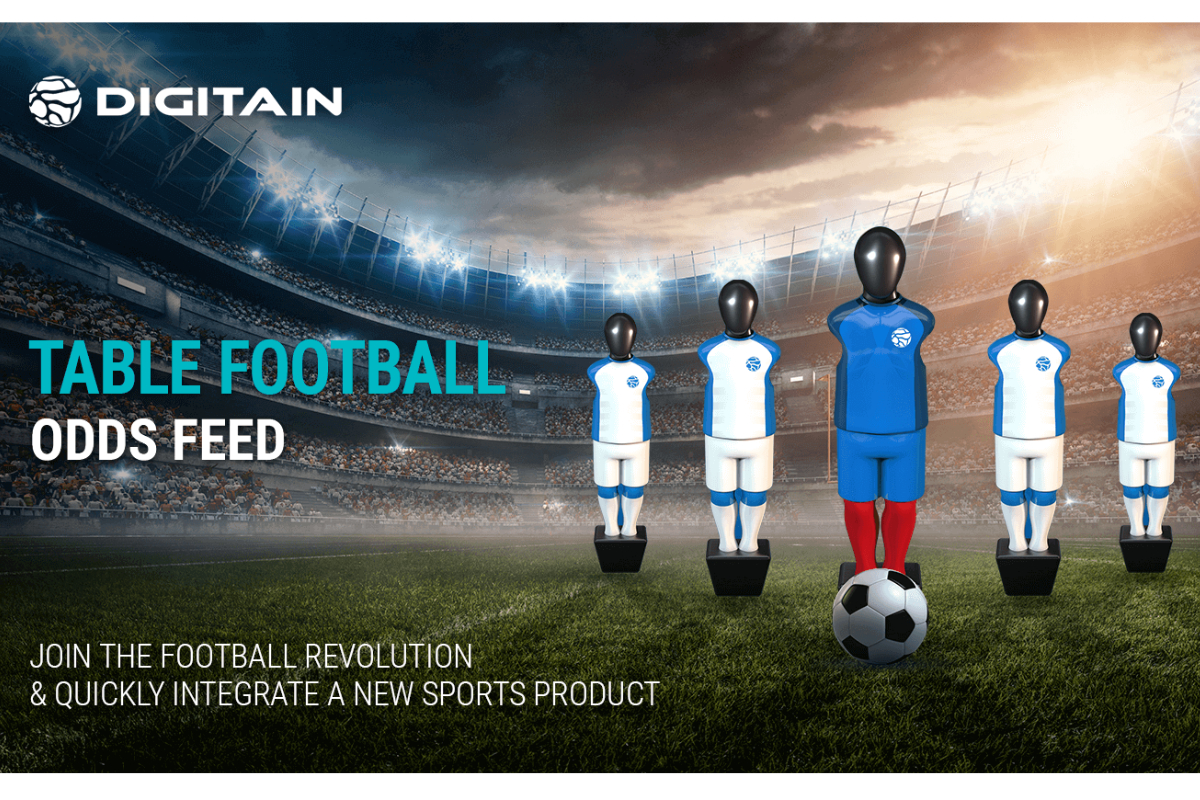 Reading Time:
2
minutes
Available now to any operator, live streamed table football from Digitain with over 1500 games per month and over 50 markets per game.
Leading global sportsbook and casino platform provider Digitain has announced the launch of its latest in-house development, and a first for the industry – a live streamed table football feed, featuring professional players, supported by pre-play and in-play odds and player statistics.
This live table football feed is now being made available to any operator who wants to gain competitive advantage by offering this exciting package to their customers.
Operators' customers everywhere can experience this exciting and entertaining initiative, designed to drive acquisition and retention of their customers, grow revenues and enhance competitiveness.
With over 400 matches played every week and with over 50 markets available to bet on in each match – this is product is a great boost for customers searching for entertaining action.
An AI generated odds feed and real-time statistical player data add to the excitement – combine that with the skills and strategy being streamed live from our exclusive studio – and you really have the complete package.
Definitely no spinning!
Amid widespread disruption to sporting events, Digitain continues to equip their 70+ international partners with a fantastic range of alternate revenue streams including premium quality betting options for esports, virtuals and alternative sporting markets and are now ready to release this great new product to the wider industry.
Martin Clarke, Director of Product Management at Digitain said: "Sports fans everywhere around are missing competitive sports and this new live odds feed will enable operators to differentiate their offering and to be more competitive at this challenging time.. We have exciting plans to further develop this innovation – and look forward to delivering further value to our partners" 
"Following in the footsteps of our recent new product launches; RocketOn, Crash and Penalty– our Live Table Football service marks the latest addition to our acclaimed in-house catalogue, as Digitain continues to help operators – old and new – to respond to fixture schedule disruption with action-packed alternatives." 
Fully customised for the varied challenges of diverse legislative environments, Digitain's comprehensive package of sports betting solutions received multiple awards for excellence in 2019, including the EGR, RGW, CEEGC and BEGE Awards.
Record month for GrooveGaming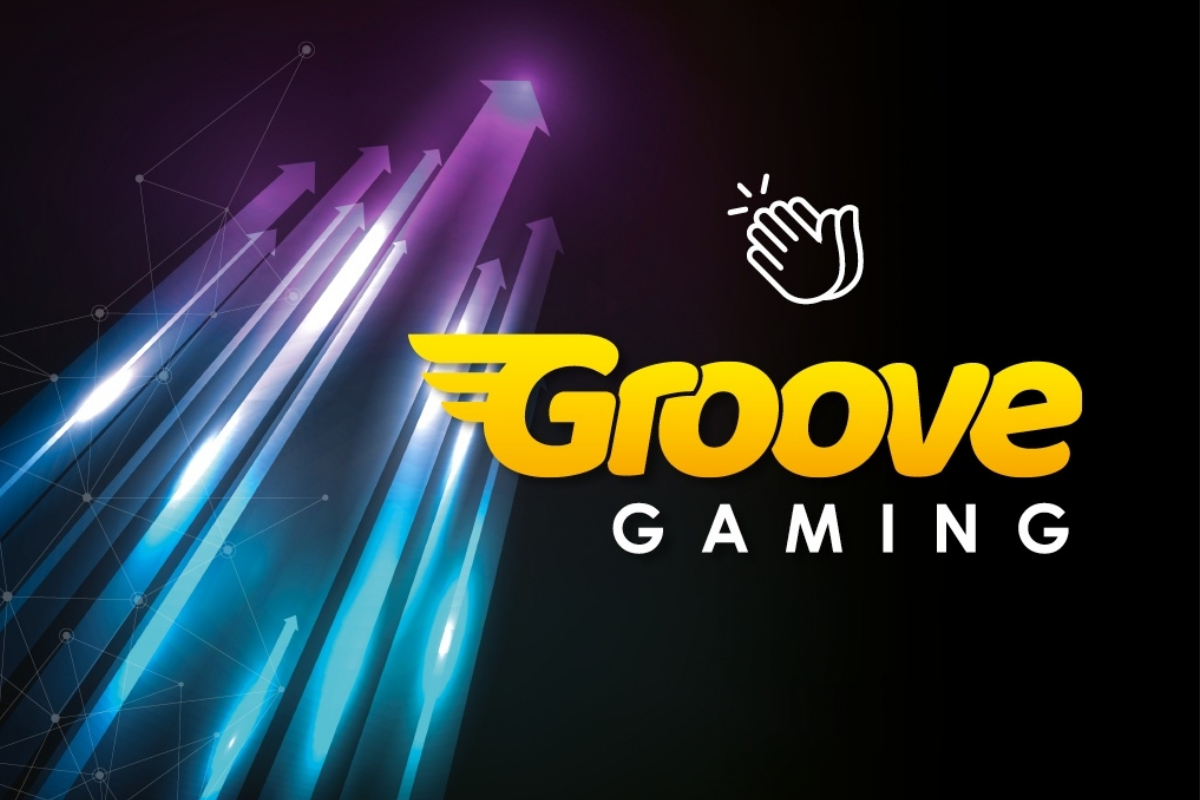 Reading Time:
2
minutes
Aggregator GrooveGaming has integrated 36 casinos and sportsbooks in one month, demonstrating that the technology platform and the software teams supporting it are consistently delivering a high level of service.
With this record-breaking month, GrooveGaming has reinforced its plug-and-play credentials as the aggregator of choice to some of the industry's biggest names.
Casinos and sportsbooks who integrated on the GrooveGaming platform this past month included 222online.com, betcasino168.com, perubet.pe, camanbetus.com, betswing.com, jazzgs.com, betsan.bet, betfran.com and juegueygane.com, amongst the 36 who have started to enjoy the high-power technology that is available to operators on the platform.
Created with the aim of easy and fast content delivery for the igaming industry, GrooveGaming has frequently hit the headlines over the past couple of years, with a global growth trajectory that has impressively seen the brand reach all 6 continents, based on delivering rapid integrations and high-quality customer service, together with unrivalled technology tools.
GrooveGaming is the aggregator of choice for a host of big industry names including EveryMatrix, iGP, Digitain, Microgaming, Alea and Quickfire, amongst others.
GrooveGaming has numerous live dealer titles and live content as well as virtual sports. GrooveGaming's powerful platform includes over 4000 casino games as well as a wealth of aggregated content ranging from slots, online casino and live casino, to poker and table games, that operators can access via easy integration to drive player engagement and revenue.
GrooveGaming has significantly grown its presence throughout the last two years across key global markets and important regulated jurisdictions through partnerships with major online gambling operators. These latest record-breaking integrations highlight the attractiveness of GrooveGaming's portfolio with operators and players alike.
GrooveGaming has numerous live dealer titles amongst its on-demand live content and classy games including live roulette, baccarat, blackjack and live dedicated tables, all of which have been generating significant interest in the last couple of months due to the coronavirus pandemic. In addition, its virtual sports offering includes virtual football, tennis, horse-racing, cycling and greyhound racing, with virtual Euro basketball and cricket coming to the rapidly-expanding aggregator soon.
The surge in demand for live content has followed the curtailing of live sports worldwide due to COVID-19 and the closing of land-based casinos in numerous jurisdictions across the world. As a result, entertainment is now being offered in the form of live content and virtual sports to operators striving to meet player demand.
Rebecca Sotomora, Head of Sales at GrooveGaming said: "We're very pleased at how quickly we were able to on-board all these casino and sportsbook brands, to achieve such a high-number is a testament to the professional dedication of the entire GrooveGaming team. We are constantly investing in our technology and expect all these new casino brands to enjoy great results with us from the get-go. This is what getting into the Groove is all about, and there's a lot more to come!"
Metal Casino Deepens Links with Heavy Metal Scene Following Spiffbet Merger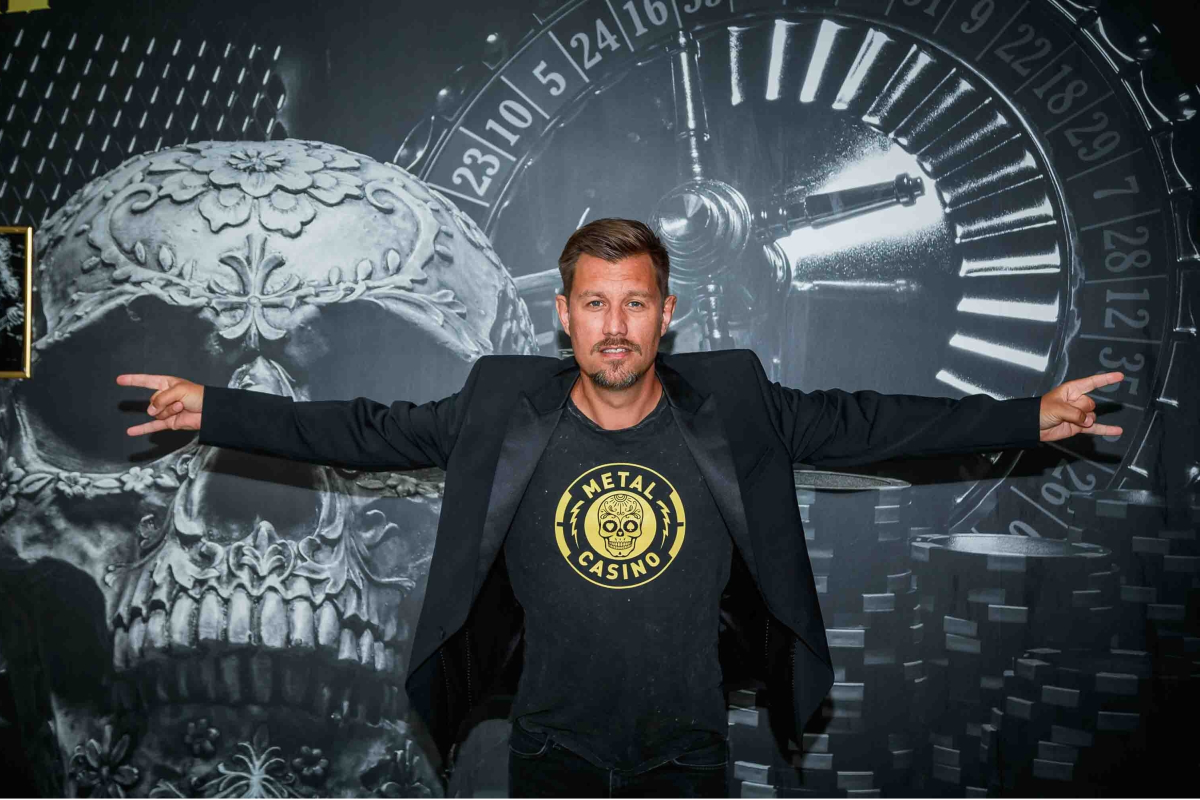 Reading Time:
2
minutes
Metal Casino, the gaming site for metal music fans, has announced plans to further engage with its rock 'n' roll audience following its merger with Spiffbet, the Nasdaq First North Growth Market listed online casino and betting games developer.
Metal Casino, which completed the deal with Spiffbet in March, has introduced a new dedicated area for rock-themed slots on its unique website, and will reach out to the grassroots music scene through a talent search across its major markets.
The Metal Experience segment includes a range of top-ranked slots from major studios featuring classic acts like Ozzy Osbourne, Testament, Sabaton and Demon, with Play'n GO's eagerly anticipated Twisted Sister to be added on its release.
Pelle Wiman, Metal Casino CEO, said the dedicated segment and the work of Metal Casino and Play'n GO emphasises the authentic, long-standing connection between rock 'n' roll and gambling which was previously absent in the digital domain.
"The future of online gambling is all about unique game inventory in order to be able to compete and differentiate, and our plans with Spiffbet will allow us to take that to the next level."
Metal Casino has established a strong bond with its rock audience since it was founded in 2017, with players enjoying its games, attitude and a stunning range of merch and special offers.
That connection will develop further after Metal Casino announced plans to deepen its ties with the grassroots music scenes in its main markets, such as Germany, Sweden, the UK and Finland, through a 'Help the Band' concept which will seek to assist up-and-coming talents.
Wiman said: "We want to work with the next generation of rock stars and build a micro influencer programme and support these struggling bands and artists with some funding. This is us giving back to the metal community that we were born out of."