Torque Esports teams with Blake Broadcasting to extend reach in North America, Europe, and Asia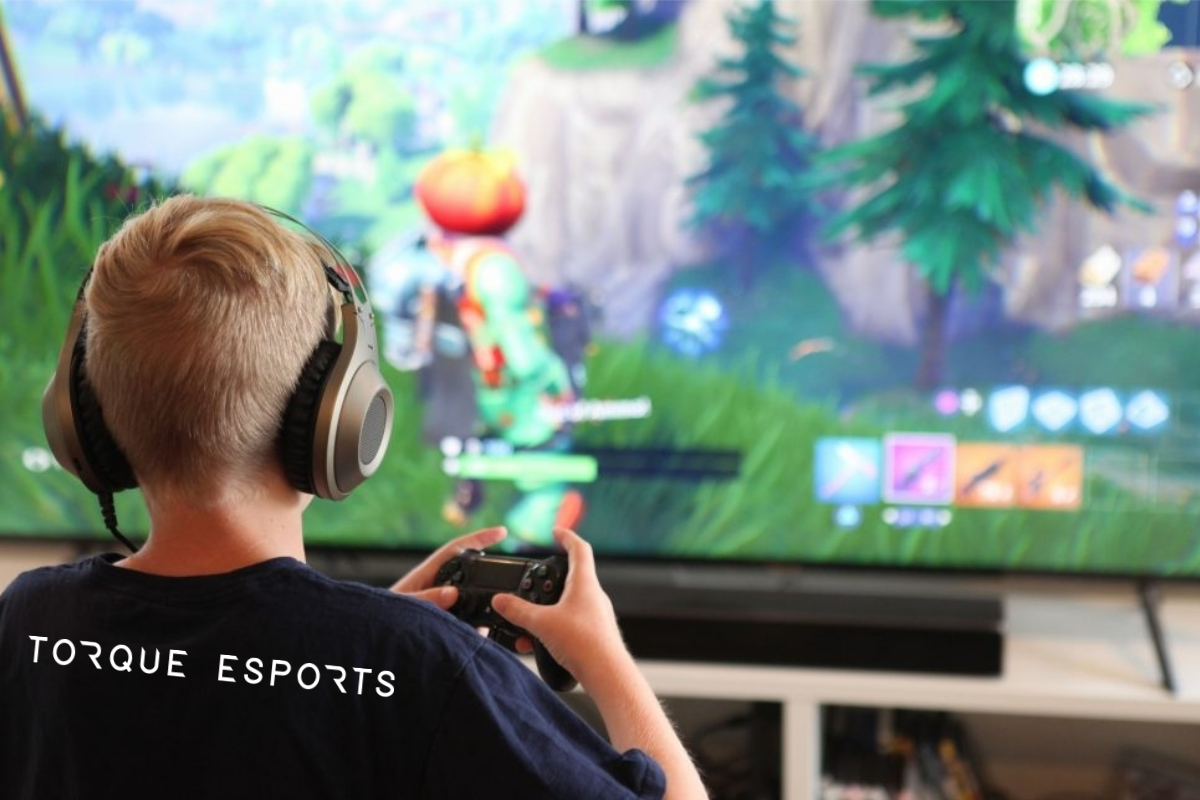 Reading Time:
2
minutes
Torque Esports Corp. ("Torque" or the "Company") and UMG Gaming's esports gaming content is positioned to reach millions of homes worldwide thanks to a programming syndication agreement with Blake Broadcasting.
Blake Broadcasting is a leader in broadcast innovation, consolidating global reach around the world in satellite, OTA (over the air) and OTT (over the top online) distribution – reaching a worldwide audience.
UMG's range of live-streamed esports competitions and series will now be shown globally on Blake networks across North America, Europe, and the Asia-Pacific region.
The leading platform for online tournament play, esports events, and programming, UMG has generated more than 1.2 billion page views, 25 million video views, and has paid out more than US$3 million in prize money.
"We had been planning our syndication efforts towards the Esports Upfronts event, which was to be held in April in New York," said Torque Esports President and CEO, Darren Cox.
"The rapid shift of interest in our existing simulator racing and competitive gaming content has been overwhelming. We had already been talking with Blake Broadcasting, so it seemed fitting to expand that deal to all of Torque & UMG Content."
The recent launches of major sim racing events such as The Race All-Star Esports Battle and Legends Trophy plus the UMG's Collegiate Clash events, were key drivers to sparking this relationship between Blake Broadcasting and Torque Esports.
This joint effort will bring exceptional reach for Torque Esports' advertisers and sponsors in addition to our existing presence and reach to the competitive gaming audience.
"The live content pipeline, especially in sports, all but dried up overnight," said Bob Blake, CEO of Blake Broadcasting.
"Torque & UMG Gaming already had a strong portfolio of competitive gaming content, from virtual motorsports to traditional series and remote competitions. The quality of Torque's programming and deep experience and history made the decision easy.
"Adding Overwatch Collegiate Clash and The Race All-Stars Esports Battle motorsport events to their catalog just strengthens our joint effort further."
The Torque Esports group also includes the Barcelona, Spain-based data analytics experts Stream Hatchet; Lyon, France-based game studio, Eden Games; Maranello, Italy-based motorsport simulator company, Allinsports; Silverstone, UK-based content and esports tournament creators, IDEAS+CARS; plus London-UK-based motorsport and esports racing media platform, The Race.
About Torque Esports:
Torque focuses on three areas – esports data provision, esport tournament hosting and esports racing. Torque aims to revolutionize esports racing and the racing gaming genre via its industry-leading gaming studio Eden Games which focuses on mobile racing games and its unique motorsport IP, including World's Fastest Gamer (created and managed by wholly-owned subsidiary IDEAS+CARS, Silverstone UK). With the proposed acquisition of simulator company Allinsports – Torque offers gamers everything from Free to Play mobile games to the highest end simulators. Building on the leading position of Stream Hatchet, a wholly-owned subsidiary, Torque also provides robust esports data and management information to brands, sponsors, and industry leaders. Its tournament organizing arm, UMG, has recently added a digital tournament platform to its portfolio of assets in its ever-growing ecosystem.
SOURCE Torque Esports Corp.
DreamHack Announces Massive Return of "DreamHack Open Feat. Fortnite" With $750,000 Zero Build Circuit Stretching Three DreamHack Festivals– Qualifying Duos To Gamers8 Feat. Fortnite With A $2,000,000 Prize Pool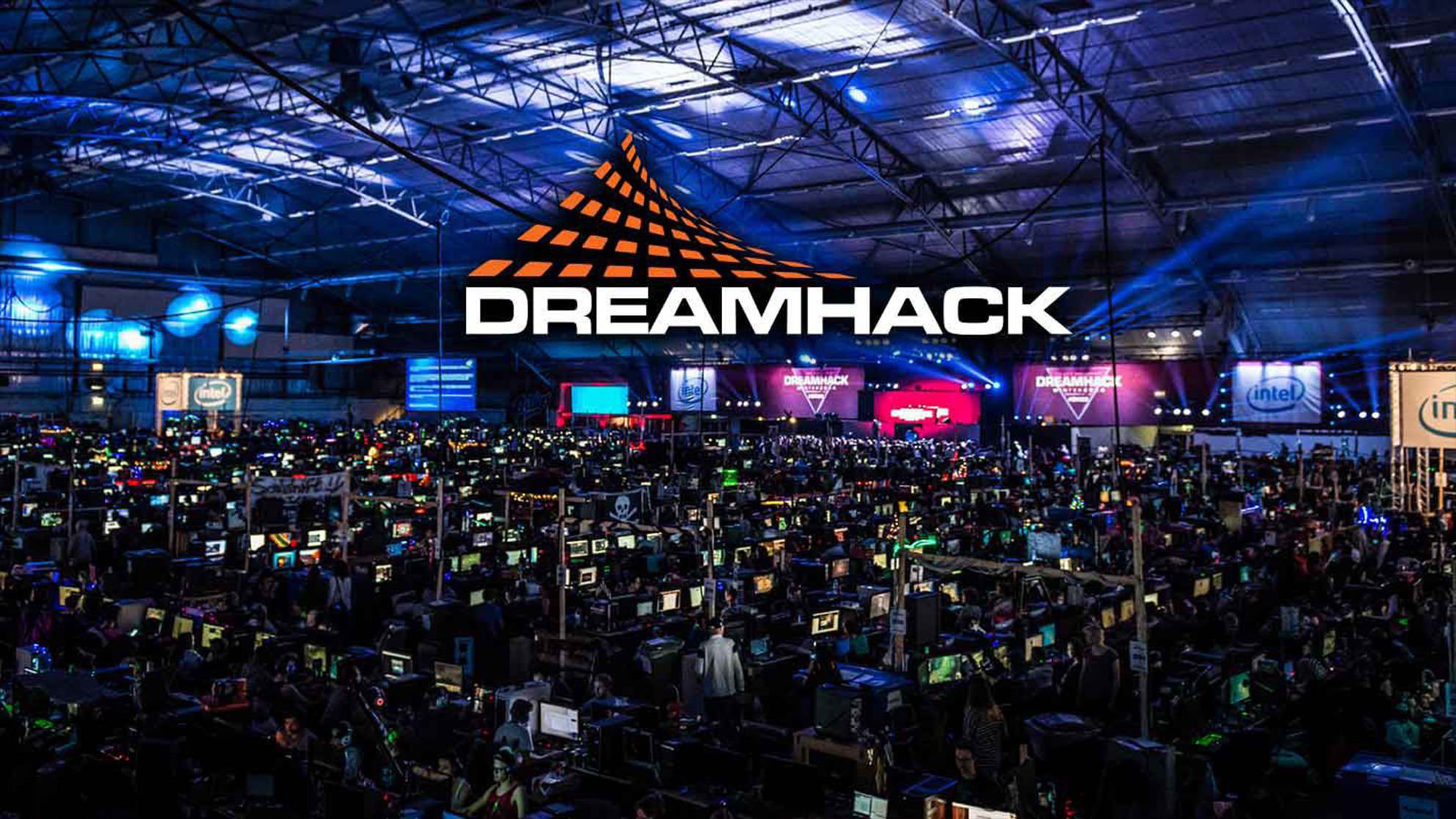 Reading Time:
< 1
minute
DreamHack, an international gaming and entertainment festival put on by ESL FACEIT Group, today announced the return of the popular DreamHack Open Featuring Fortnite tournament series. DreamHack San Diego (April 7-9), DreamHack Dallas (June 2-4) and DreamHack Summer (June 16-19) will all feature a $250,000 DreamHack Open Featuring Fortnite Zero Build Duos competition, with the winner of each stop bringing home $30,000 of the pot. The competitions are open to BYOC (LAN) ticket holders and will qualify the top ten Duos from each DreamHack Open tournament to this year's Gamers8 Featuring Fortnite event.
With the return of Gamers8 Featuring Fortnite, held in Riyadh, Saudi Arabia on July 6-9, 50 Duos compete for the $2,000,000 prize pool for the final Zero Build tournament in Riyadh this summer. Next to the 30 teams coming from DreamHack Open events we will see the best Duos from the MENA region and some of the world's largest Fortnite influencers participating. More details will be announced at a later point.
"We had an incredible experience hosting the DreamHack Open Featuring Fortnite both online and  in-person events in the past. Thus, we are very excited to announce another year of Fortnite events for our community, especially now that the focus is on Zero Build and teams have a chance to qualify for a massive Gamers8 event" said Brian Krämer, Sr. Director Game Ecosystems – Growth Titles. "To strengthen our connection and involvement in the Fortnite competitive ecosystem is a tremendous opportunity and one that fits perfectly with DreamHack's focus on bringing the gaming community to life." 
Find out more about DreamHack Open Featuring Fortnite at its official website and on the festival website for DreamHack San Diego, and follow DreamHack on Twitter to get the latest updates. The latest updates on Gamers8 can be found on the official website, on Twitter, and Facebook.
IndiGG Web 3 Championship kicksoff with a prize pool of 200k USD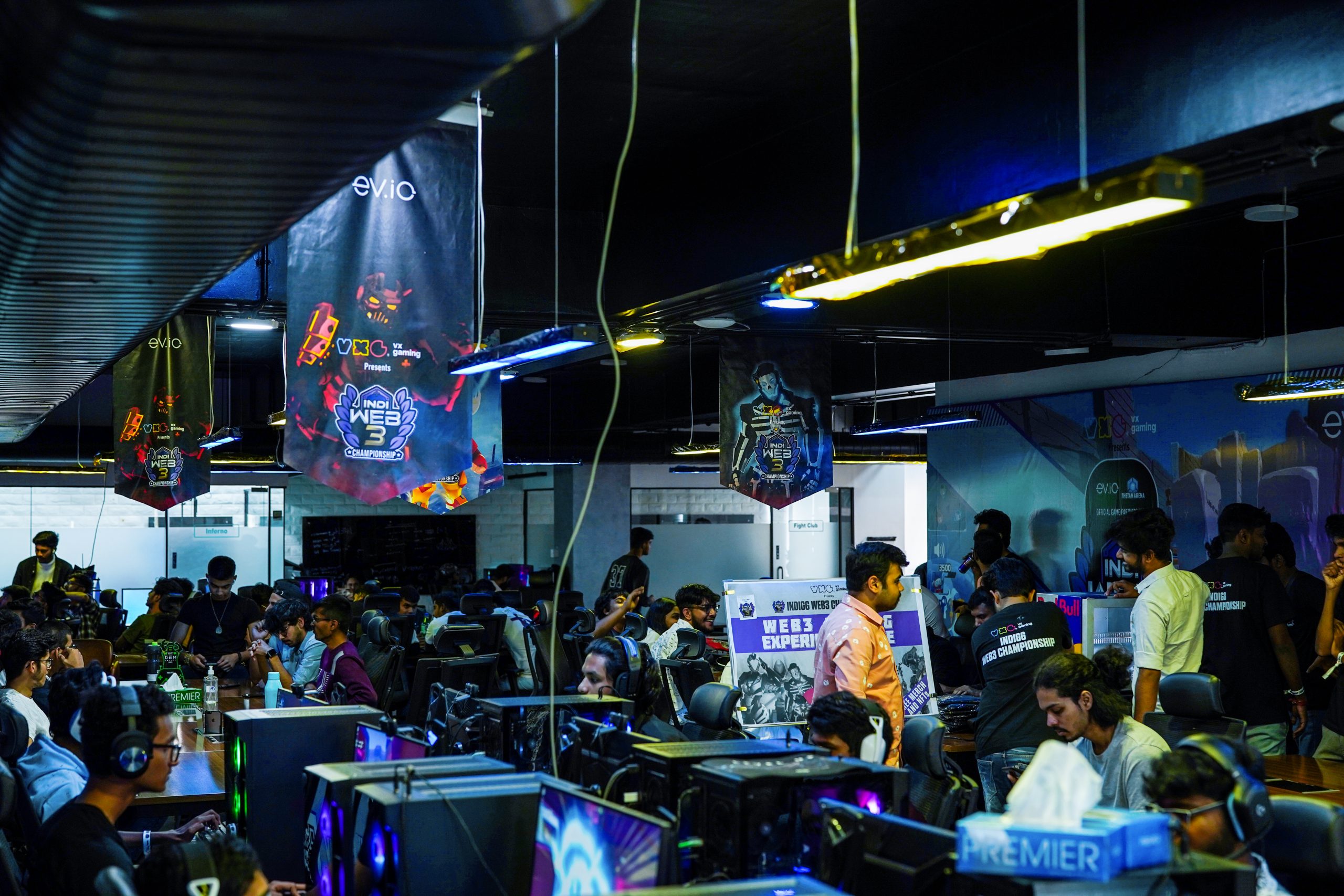 Reading Time:
2
minutes
IndiGG, a leading Web3 Gaming DAO today announced the 'IndiGG Web3 Championship' and launched the world's first eSports athlete reputation program alongside. The championship commenced in Bengaluru and will cover cities including Kolkata, Pune, Chennai, NCR, Dhaka, with the finals to be held at Hyderabad in November 2023. The total prize pool will be of USD 200k across all legs.
The championship was hosted and managed by the community itself with the IndiGG clan chiefs managing the entire execution end to end. Games 'EV.io' and 'Thetan Arena' were the games chosen by the community for the championship with 'Venture X Gaming' as the title sponsor for the event.
The first leg of the championship saw intra-college tournaments in 64 colleges for each of the games. The top 64 teams for each game then engaged in a journey to top 8, followed by quarterfinals, semifinals and the grand finals. The championship was capped off with an exhibition match amongst the top gaming influencers in the country.
All the main matches were broadcasted live on Youtube. With over 10,000+ gamers watching the best of the teams slugging it out in person, the championship garnered over 1 million plus views. The championship was capped off with an exhibition match amongst the top gaming influencers in the country.Apart from the tournament, IndiGG also commenced the reputation program which will help build a public record of an athlete's performance. The data will help the evaluation of an athlete's reliability and sportsmanship in the esports space. The records will also establish credibility and trustworthiness around esports athletes that can be leveraged by teams, coaches and sponsors while onboarding an athlete.
During the championship, the members had an opportunity to build their on-chain reputation as they were awarded badges. The badges are  digital tokens that recognize and reward an individual's involvement and contribution towards an online community. The participating gamers were rewarded with 'Proof-of-Participation' badges, similarly, the winners received 'Proof-of-Victory' badges and the first time viewers were able to mint a 'Proof-of-Watch' badge during the livestream of the event.
Penta Esports announces second edition of "Penta Challenge" featuring New State Mobile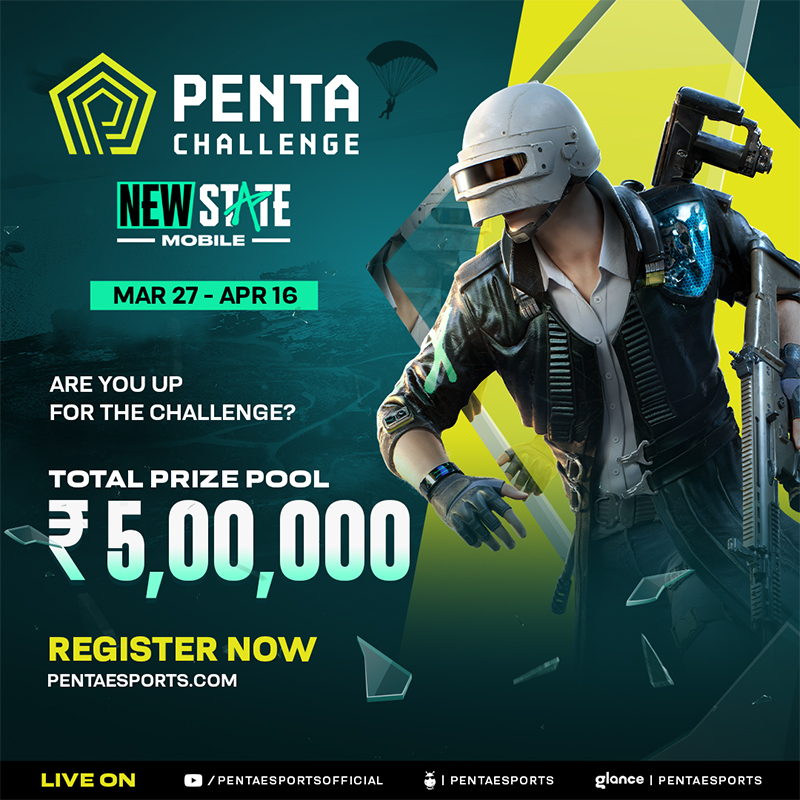 Reading Time:
< 1
minute
Gaming and esports company, Penta Esports has announced the second edition of its IP, Penta Challenge, featuring New State Mobile. Taking place from 27th March to 16th April, the tournament has a prize pool of INR 5,00,000 and will have 2 open qualifiers from 27th March to 2nd April and 7th to 9th April, followed by a grand finale where 8 qualified teams, 4 from each qualifier, will play alongside 8 invited teams from 14th to 16th April.
The registrations for the tournament started on 18th March and will go on till 24th March on Penta Esports' platform. Qualifier matches will be broadcast semi finals onward, while all matches from the Finale will be broadcast. The matches will be broadcast live on Penta Esports channels on YouTube, Glance and Loco.
Said Penta Esports Head of Esports, Kiran Noojibail, "We're very excited to bring about the second edition of the Penta Challenge with New State Mobile. With this, we want to provide players an opportunity to prove their mettle in the qualifiers and challenge professional teams for the title."
The first edition of Penta Challenge took place in October, 2021 and featured Valorant.
Penta Esports is the esports brand of Newgen Gaming which recently received a strategic investment of $1 million from nCore Games.