Diffusion 6.6 – Enhanced Data Wrangling for Real-Time Data Streams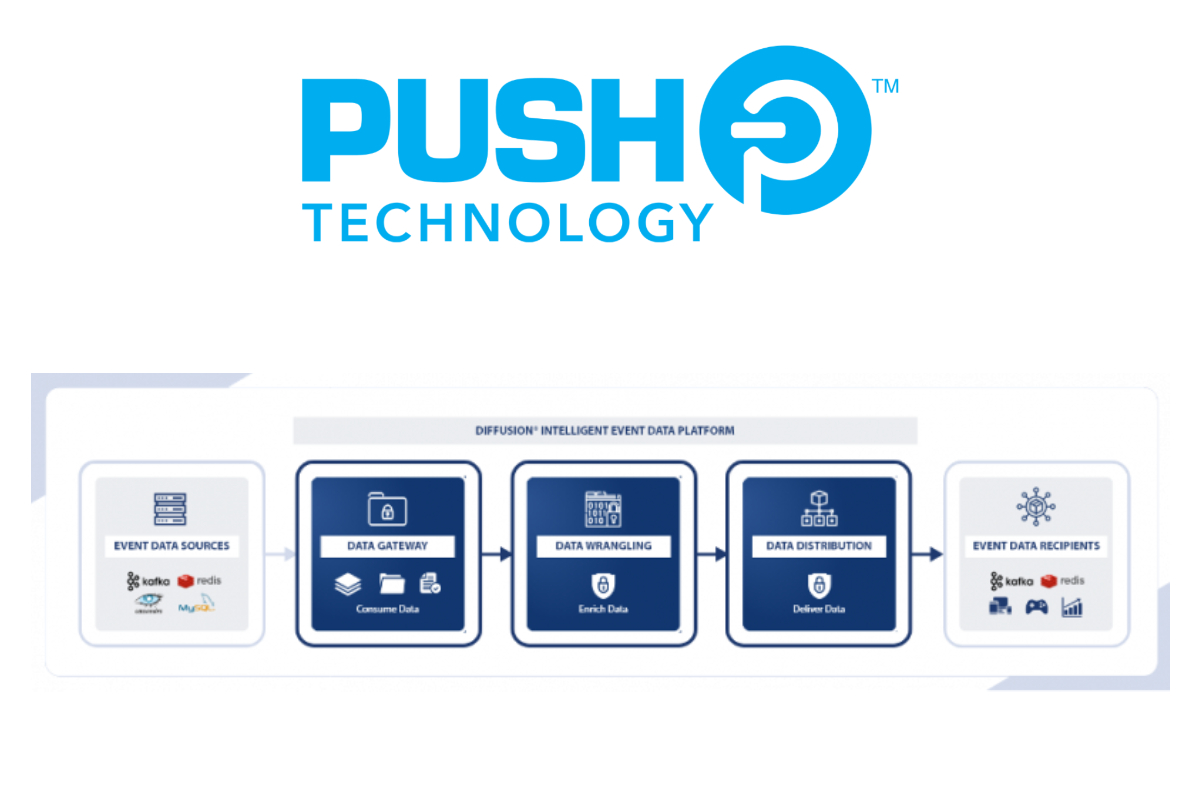 Reading Time:
3
minutes
Plus new Python SDK, Support for MQTT Protocol and Apache Kafka Adapter
Push Technology, the pioneer and leader in real-time data streaming and messaging solutions, today announced powerful new functionality for the company's Diffusion Intelligent Event-Data Platform, that consumes, enriches and delivers data among applications, systems and devices. The new release expands the range of Diffusion's unique Data Wrangling capabilities which provide developers with the tools to manipulate and transform event-data – in-flight – via topic trees, topic views and time series with actual or custom time stamps.
Data Wrangling
Data wrangling is the process of transforming and enriching raw data streams for optimized data delivery to a receiving application or device. This process is particularly relevant to event-driven architectures, which sit at the heart of modernization and digital transformation initiatives worldwide. The platform's new functionality enables users to consume and mix disparate raw data sources and extract pertinent pieces of data to form new data streams for delivery of exactly and only the data required by recipients.
For development teams, Data Wrangling can be the most challenging and time-intensive aspect of application development because in-depth knowledge in this area is not often part of the in-house team's expertise.  The Diffusion platform unburdens development and helps speed applications to market.
Diffusion 6.6 introduces capabilities to augment event-data associated with a topic via topic view inserts. With topic view insert, you can now merge data from topics other than the selected source topic into JSON reference topics. You can insert whole values, or partial data specified with JSON pointers. Advanced features include the ability to derive paths from values and chaining multiple inserts.
Diffusion 6.6 also introduces two major enhancements to time series topics. You can now update a time series topic via the standard topic update API, treating a time series topic as if it were a single topic with the same event type as the time series. This means that when you update time series topics, you can now use features like update constraints, update streams and the AddAndSet operation.   6.6 enables loading persisted or historical data into a time series topic and also allows setting a custom timestamp on historical data, instead of one based on the current time.
New Python SDK
Diffusion 6.6 includes a new Python SDK to accommodate the growing adoption of Python by the developer community and market feedback. Python is popular for general web development, scientific computing/data science, machine learning, and FinTech applications.  The Python SDK supports subscribing to topics, and request-response messaging.
Apache Kafka Adapter
Diffusion's Data Gateway makes it easy to consume both static and streaming data from a wide array of sources and provides capabilities to prepare the data for wrangling before an event-data is created and made ready for distribution.
Using the new Kafka Adapter, organizations can now efficiently and securely extend Kafka solutions over the Internet, streaming real-time data to millions of end-user applications. In addition, customers can easily manage the high-volume of data across geographically dispersed regions.
Push's earlier standalone Kafka adapter used the Kafka Connect framework and was available via GitHub. The new adapter does not use Kafka Connect, and is instead based on Kafka Producers and Consumers. The adapter translates data between Diffusion topics and Apache Kafka events. It is designed for quick and easy Kafka integration with Diffusion.
Support for MQTT Open Source Protocol
By supporting MQTT with Diffusion, software development teams can now bring state-of-the-art event-driven architecture to their IoT and Mobile solutions. The low code features of the Diffusion platform significantly reduces software development effort and the overall cost of deployed solutions.
Diffusion implements MQTT 5.0, the latest version of the specification. Both the TCP and WebSocket transports are supported, and connections can be secured using Transport Layer Security (TLS). Diffusion treats MQTT as a first-class protocol and acts as a session broker for MQTT clients in the same way as it does for Diffusion SDK clients. Each Diffusion server can host tens-of-thousands of MQTT sessions; and servers can be configured in clusters to scale to an arbitrarily large number of connections. MQTT clients can be monitored and managed by Diffusion SDK clients, the management console, and external tools connected via the Prometheus or JMX gateways.
Sean Bowen, CEO of Push Technology, said: "Diffusion's new Intelligent Data Wrangling functionality sets the platform light years ahead of the alternatives and assures organizations' event data is optimized and actionable. Development teams can take advantage of the powerful data wrangling features of the Diffusion platform and assure efficient and reliable real-time data delivery, with secure access control to applications, devices and systems."

Spearhead Studios becomes new Fusion™ partner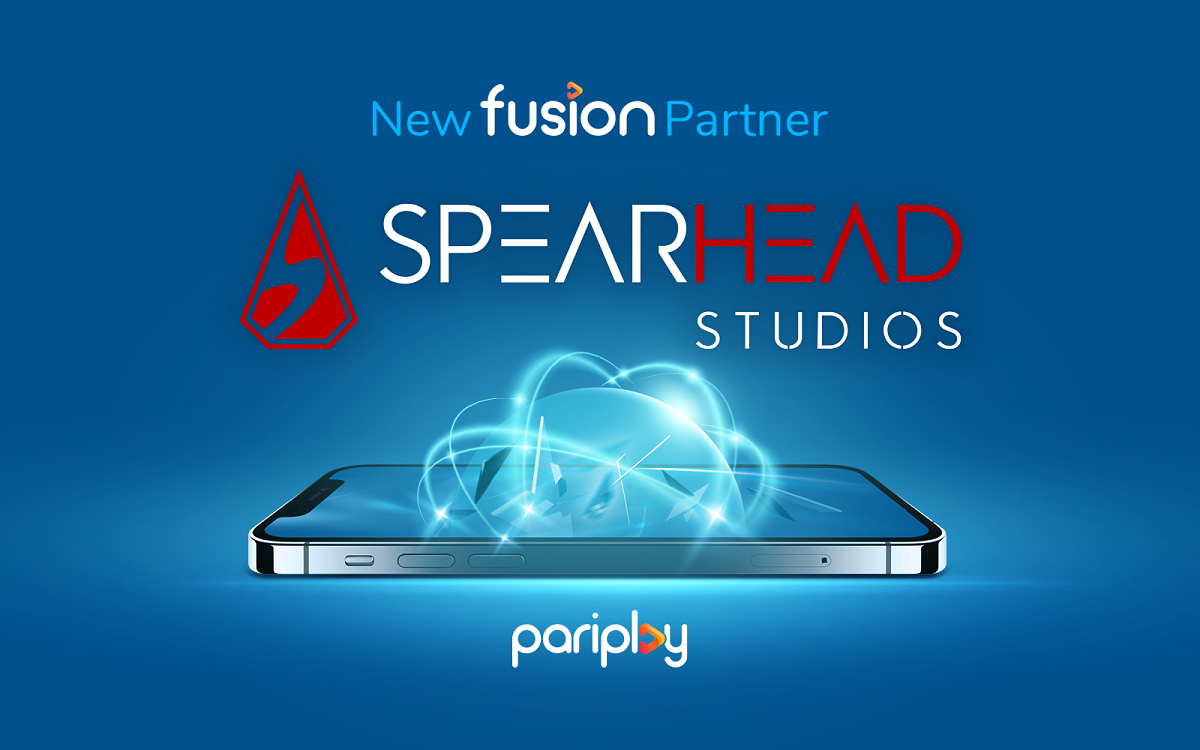 Reading Time:
< 1
minute
Aspire Global's Pariplay Ltd, the leading aggregator and content provider, has taken content from Spearhead Studios live on its Fusion™ platform.
Games produced by Spearhead Studios, the gaming development company of EveryMatrix, are currently being rolled out in regulated markets worldwide through Fusion™, Pariplay's innovative solution.
Spearhead Studios develops high-quality video slots, table games and other online real-money games, with a strong focus on localised and data-driven production. Its content is currently live with over 100 online casino operators in 14 markets across Europe, Latin America, and soon the U.S.
Pariplay's Fusion™ aggregation platform incorporates a suite of back-office conversion and retention tools that enhance player value, while featuring thousands of titles from the industry's leading games developers.
The Spearhead Studios content deal is the latest in a string of new partnerships as Pariplay furthers its growth in regulated markets globally.
Callum Harris, Director of Partnerships at Pariplay, said: "Spearhead Studios has carved out a deserved reputation for delivering slick content that is very carefully designed to appeal to local audiences.
"The addition of this innovative studio's product portfolio on Fusion™ is the latest step within our mission to offer players a wide variety of content that appeals to a range of demographics in markets around the world."
Mathias Larsson, Managing Director of Spearhead Studios, said: "By integrating with Pariplay's aggregation platform, we are able to reach a significantly larger range of operators in regulated markets globally.
"We believe our content hits the sweet spot in terms of giving players in local markets experiences that resonate with them. We look forward to a long and successful partnership, characterised by mutual growth."
WBSC Enters into Partnership with Sportradar Integrity Services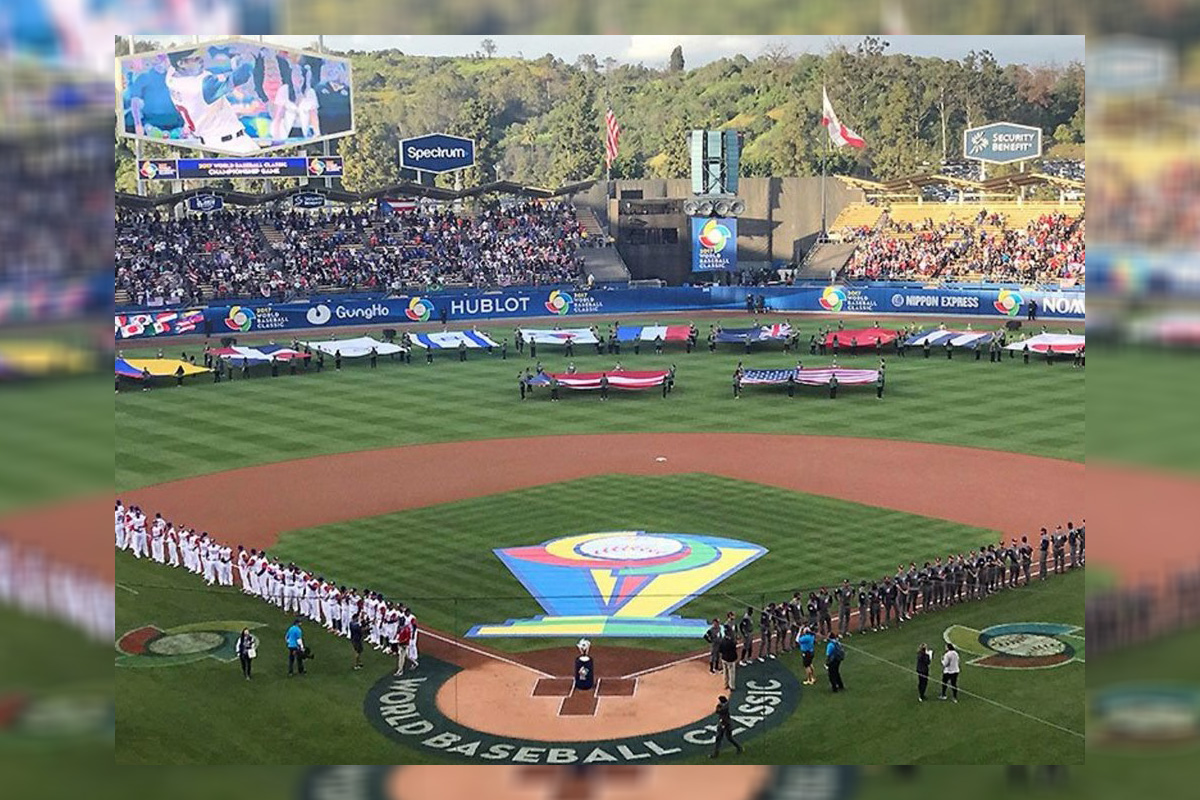 Reading Time:
< 1
minute
The World Baseball Softball Confederation (WBSC) has entered into a two-year partnership with Sportradar Integrity Services, a global supplier of sport integrity solutions and partner to over 100 sports federations and leagues.
Sportradar will provide the baseball-softball world governing body with its Universal Fraud Detection System (UFDS) for each WBSC international competition for the duration of the agreement.
The UFDS is an advanced and proven bet monitoring system that has been independently assessed and verified by recognised experts in the field of sports betting and integrity. Betting patterns are analysed for abnormalities by a global team of qualified integrity experts, and any suspicious games are subsequently reported to partners, allowing critical visibility into worldwide match-fixing. Sportradar Integrity Services have detected over 6900 suspicious games across different sports during the past 17 years with 900 of these taking place in 2021 alone.
"We're looking forward to benefiting from Sportradar's expertise in providing bet monitoring and intelligence solutions for appropriate detection and investigation of threats to sport integrity, maintaining baseball and softball's game unpredictability and safeguarding the international game from manipulation. Following the IOC's and specifically the OM Unit PMC's (Olympic Movement Unit on the Prevention of the Manipulation of Competition) leadership in the prevention of competition manipulation, we are working towards enhancing the protection of clean baseball and softball athletes with this new agreement," Riccardo Fraccari, President of WBSC, said.
EPIC Appoints Martin Bland as Director of Business Development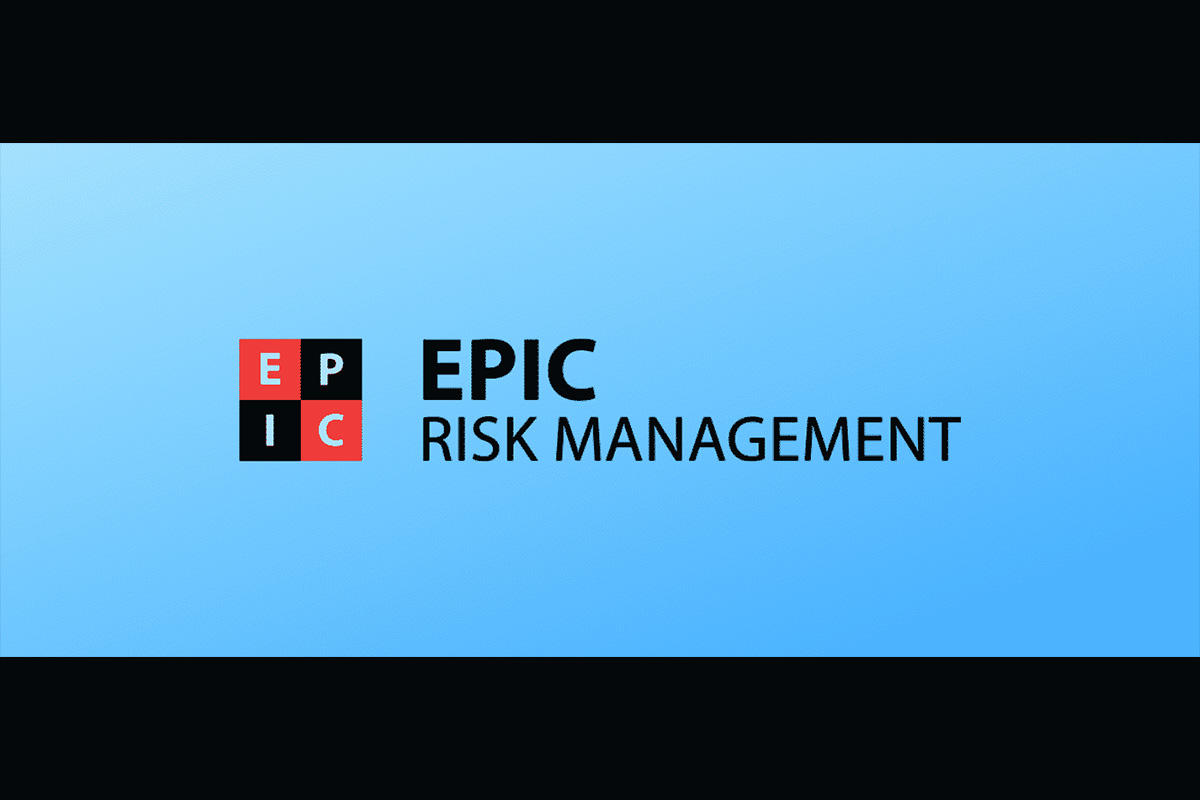 Reading Time:
2
minutes
EPIC Risk Management, the leading independent gambling harm minimisation consultancy, has appointed Martin Bland as Director of Business Development.
Martin joins EPIC having amassed vast experience in the commercial and partnerships sector, working eighteen years in the sports data and technology market. His role will be to help EPIC expand their work to prevent gambling from harming people and organisations by working closely with EPIC's existing clients to ensure service excellence and will proactively develop its client base as part of the organisation's growth strategy.
With his sales expertise, extensive regional and international business network and a true collaborative mindset, Martin is well positioned to support EPIC Risk Management's growth and longer-term business strategy here in the UK, US and globally. In his role, Martin will be pro-actively developing relationships with key industry stakeholders, as well as maintaining EPIC's exceptional track record of customer experience success.
"I'm thrilled to be joining such a progressive company who are trying to pioneer this space of gambling harm minimisation. What's been clear to me throughout the recruitment process and my short time here, is that EPIC is hugely passionate about its purpose. Ultimately, this organisation is about helping people and the more organisations we can work with provides the opportunity to help more people the better," Martin Bland said.
"My role here is about growth. Yes, organically the business will commercially grow but ultimately, the more companies we work with, the more people we interact with, the more people we help. So, that's a massive goal of mine here at EPIC and I'm excited to get started," he added.
"Such a senior appointment reflects our ongoing commitment to delivering service excellence to our existing clients and in continuing the significant growth we have seen at EPIC Risk Management. We are extremely pleased to welcome Martin to the EPIC team," Les Murray, Managing Director at EPIC Risk Management, said.