Practicing my free speech: Feminism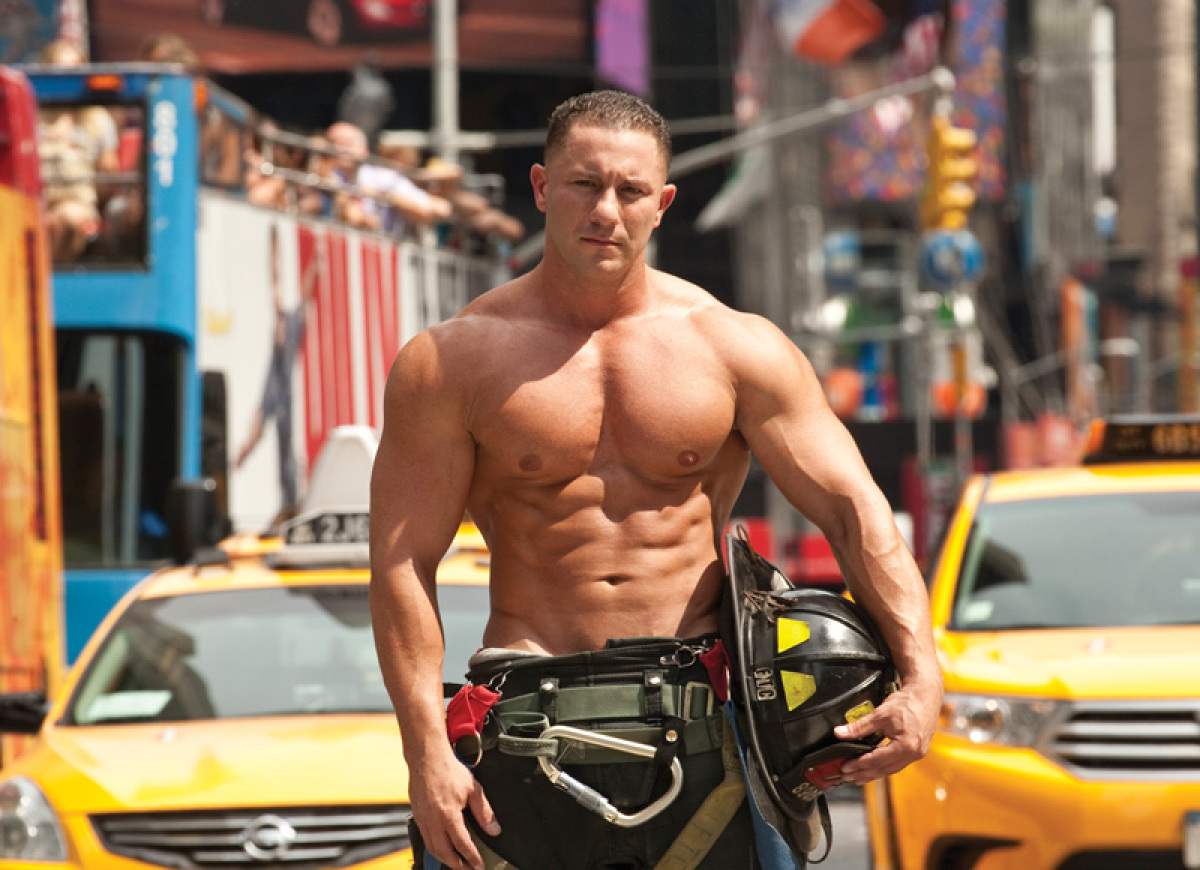 Reading Time:
7
minutes
Even though this article might not hit the headlines (because the truth is always kept off the record or some might not share it due to their politically correct worldview), I am going to share my thoughts on the current wave that is sweeping the world and the gambling industry.
I have been thinking a lot before engaging into the topic. However, if one keeps silent and just shares Press Releases and Latest News, one question pops up immediately: what's the role of journalism in all this?
Growing up in a former communist region (about which some of you have only a theoretical knowledge) makes me raise awareness about the dismaying times towards which we are heading.
"The dual-systems theory of patriarchy and capitalism which was a common form of socialist feminism in the 1970s and '80s was viewed as a failed project by many in the 1990s and beyond. In any event, the fall of Communism in the Soviet Union and Eastern Europe probably had a negative effect on the popularity of socialist feminism." (Source: monthlyreview.org)
It is clear that if you switch on the TV, listen to the radio, read printed newspapers and browse through the online media, you will find the words "sexism" and "feminism" everywhere. There is no denying that with these public allegations and mainstream media helping the movement, we are heading towards the theory Marx developed in 1844.
Probably the majority of you would contest these facts, stating that Western society is a free one and will never apply Marxism to its social realities. However, the statements of the UK Gambling Commission Chief Executive, Sarah Harrison, and the statements of the representatives of Clarion Gaming Events are exactly related to Marxist theory.
Marxism has always been at the forefront of the cause of women's emancipation and the Bolsheviks always took the question of revolutionary work among women workers very seriously. Lenin, in particular, attached an enormous importance to this question, especially in the period of the revolutionary upsurge from 1912-14, and during the First World War. It was at this time that International Women's Day (8th March) began to be celebrated with mass workers' demonstrations. It is not an accident that the February (March, according to the new calendar) revolution arose from disturbances around Women's Day, when women demonstrated against the War and the high cost of living.
Now, don't get me wrong here: I'm a billion miles away from being sexist and was just pointing out the fact that the ideology of these "Wonder Women" is clearly a sign that the spirit of Marx is living today and has now made its way into all industries.
Just by reading that the British Gambling Commission (GC) issued a demand to halt the promotion of sexism in the Gambling industry, referencing to this week's ICE Totally Gaming event and that the regulator emphasized that it could boycott the trade show unless there is some change in this attitude makes you raise an eyebrow and ask: What exactly is the real role of Ms. Harrison?
It's utterly funny how she tries to de-eroticise the adult entertainment industry while the modern society is full of women drinking themselves into stupor, parading their naked derrière and flashing of their breasts in public after the booze starts kicking in. Why? Because this is seen as THE attention-grabbing behavior. The cool one.
I guess the women in this picture are all part of some promoter's group which was contracted by a company active in the gambling industry. Now that's class for you! Why not starting an education program about women's self-esteem in today's society if you want to trigger off a movement? Commenting on marketing techniques and promoters just looks like silly tactics towards a straw dummy.
This sounds clearly like some grand plan that will make the world better. Probem is that it's hooking a large audience and snaking its way into many industries out there. Basically it's happening in all industries. Just read through the article about Sexism in eSports or just consider what is happening in the auto industry, where the subjects of the new rule have made a statement saying that their activity should not be scrapped because they don't see it as a sexist or exploitative job.
How are the "ladies" in the picture above "classier" than the ones pictured below, who are used for brand or sport promotion? Guess promo girls are being mistreated and forced to strut their bodies. It's farcical how feminists from all corners of the world like to dress sexy on dates and go out partying in seminude clothes. Or maybe they're going out in their jammies and slippers?
Do you really think that men are going to races or watching live broadcast because they want to see the promo girls? I bet that if there were male models promoting this or that brand, the female audience would be chatting incessantly about them during their girl talk.
Most of the female sports fans are following athletes or racers for their good looks (e.g. Beckham, Ronaldo, Hamilton…). Now, following the slippery logic of feminist vigilance, shouldn't FIFA ban famous players from doing underwear commercials because it's scandalously sexist?
If you're smart enough to get this correctly or if you're an 'out of the box' type of person, you will easily see that scrapping stereotype behavior should not be combated by rules. It should be encouraged by the genuine role models via proper education.
Back to the gambling industry and the clear statements meant to abolish sexism in the industry….
Bringing to notice some previous editions of the event, the Chief of the UK Gambling Commission spoke about the "scantily clad" women who were featured on stands to promote certain gambling products and services. Referring to her own visit to the show last year, the authority figure said this is a "significant stain on the industry's reputation" and that it led her to speak with the senior figures from across the gambling sector about implementing a big change to this.
Taking a look at the situation of the UK's gambling industry, which is currently being bombarded with irrational changes, we can already declare that the Gambling Commission has started this boycott based on skirt length of mannequins and just goes with the flow to somehow keep the industry on a tight feminist leash.
The photo and some of the promoters were subject to outrage by BBC and, of course, Chief Sarah Harrison, who earlier this week told BBC's Radio 4 about her dismay at seeing a gender disparity at the show, with some women on exhibition stalls doing promotional work in revealing clothing.
"The men were wearing smart suits and women were being asked to wear not much more than swimsuits. That's totally unacceptable; it's not reflective of the modern economy," she said.
"This isn't about political correctness. It's about good regulation and good governance, because businesses that have a more diverse workforce are more likely to make better decisions. And that's critical from a regulator's point of view."
Now I ask you: how is this different than seeing the minds that shape the youth in society doing promotional skits for different brands? See the picture below with Katy Perry showing that she is a fangirl of West Ham United.
Another statement that got under my business owner skin was the statement issued by the organizer of the event. Given the fact that all these companies attending and exhibiting at the event are already obeying thousands of rules and paying heavy money for their participation, they have to commit to promoting their brand names via personalized agendas or pens (freebies that are usually thrown away by delegates anyway) without having any instant presence of their brands in the eyes of attending delegates.
The European Casino Association (ECA) and Clarion Gaming, which are the event's organisers, have backed the UKGC, issuing an open letter urging exhibitors to take note of the warning before the event opens tomorrow.
According to The Guardian, the letter said: "In the spirit of the 21st century, when both women and men play strategic and decision-making roles in businesses, we encourage all exhibitors to mindfully represent support staff promoting their products at the show in a non-offensive and non-stereotyping way."
The question here is: Are women not allowed to take part in decision-making bodies in the gambling industry? Having the experience in organizing events and discussing marketing plans, 90% of the decision makers which I've discussed with and which gave the green light for everything promotional; were women. There is nothing wrong with and the statement makers should closely consider the fact that all the promoters and their outfits are mostly picked by female event planners and event managers working for the exhibiting companies.
Do you really think that "male" business owners are attending these events to ogle at the promo girls? I think that we have passed this point a couple of years ago and the ones that do attend especially for such entertainment are just plain old horny anyway. I mean, let's not squeeze the male mindset evolution into the stereotype thinking you are claiming to oppose.
It's really funny how just 8 – 9 names have evolved to the statuses of leaders of a movement which is backed by their egos and is just shared by fellow industry colleagues (from both genders) just to be associated with the leading company.
As I put it in the article's introduction, I don't expect many to share my view on the situation, but just think about how such a rewrite of social codes is taking back open mindedness to a dangerous level where you are inhibited to wear clothing that has been the subject of harsh regulation.
The subject will be a main discuss on "The Morning Show" with Hawkie which is streamed Monday morning on iGamingRadio.com
Make sure you add your comments on our social media channels and look forward to receiving your backlash!
PS: The featured image was picked to lure in the female readers of the article. How stereotypical of me…..
#PragueGamingSummit3 – Speaker / Moderator Profile – Dr. Matthias Spitz (Senior Partner, MELCHERS LAW)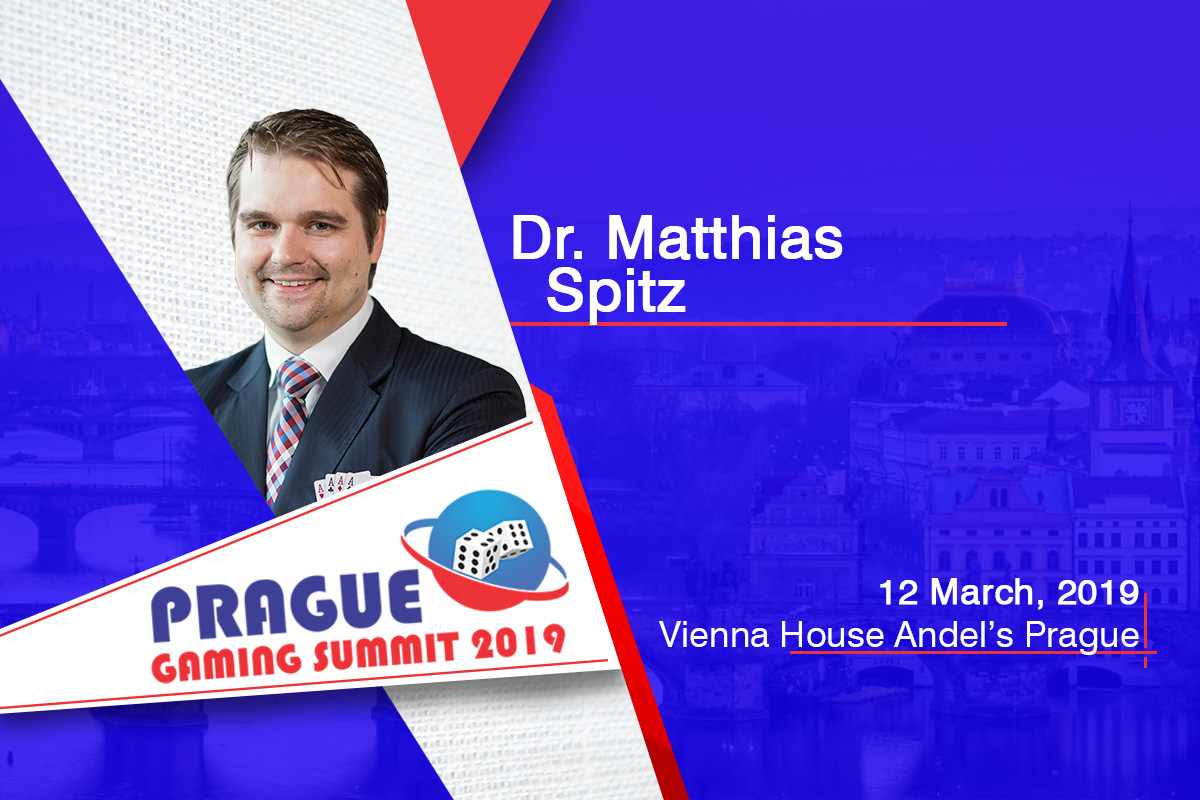 Reading Time:
2
minutes
We are delighted and honored to announce that Dr. Matthias Spitz (Senior Partner, MELCHERS LAW) will join the third edition of Prague Gaming Summit as a speaker in the "DACH market industry trends" compliance panel discussion and as a moderator in the IMGL MASTERCLASS™ which focuses on Advertisement banning trends in the European Union and the Balkans.
Dr. Matthias Spitz is a senior partner with the German law firm MELCHERS and specialises in gaming law, with a focus on administrative matters and European law. Since 2013, he is a member of the International Masters of Gaming Law (IMGL).
His areas of practice cover regulation of sports betting, land-based and online casino gaming as well as social gaming. He was involved in all relevant licensing processes in Germany on behalf of major gambling companies over the past years, including the Schleswig-Holstein licensure and the sports betting licensing process under the Interstate Treaty on Gambling. Further, he advises clients on the implementation of new gambling products on the German market, gambling-related tax issues, AML and developing advertising strategies. Coordinating litigation against Interstate Treaty enforcement in a number of German states, he is well acquainted with the enforcement risks arising from German gambling regulation.
Being a frequent contributor to leading journals of the gambling industry, recent publications include the European Gaming Lawyer, the Online Gambling Lawyer, the European Lawyer Reference Gaming Law and the International Comparative Legal Guide (ICLG) to Gambling.
Do not miss this opportunity to attend the leading conference in the region offers the opportunity for both new companies and veterans, to learn about industry insights and compliance updates, while also take part in several industry related discussions with the leading groups that are at the forefront of the gambling industry in the Czech Republic, Slovakia, Poland, Austria, Switzerland, and Germany.
You can Register here or View the Agenda
Advertisement banning trends in the European Union and the Balkans, subject of the IMGL MasterClass in Prague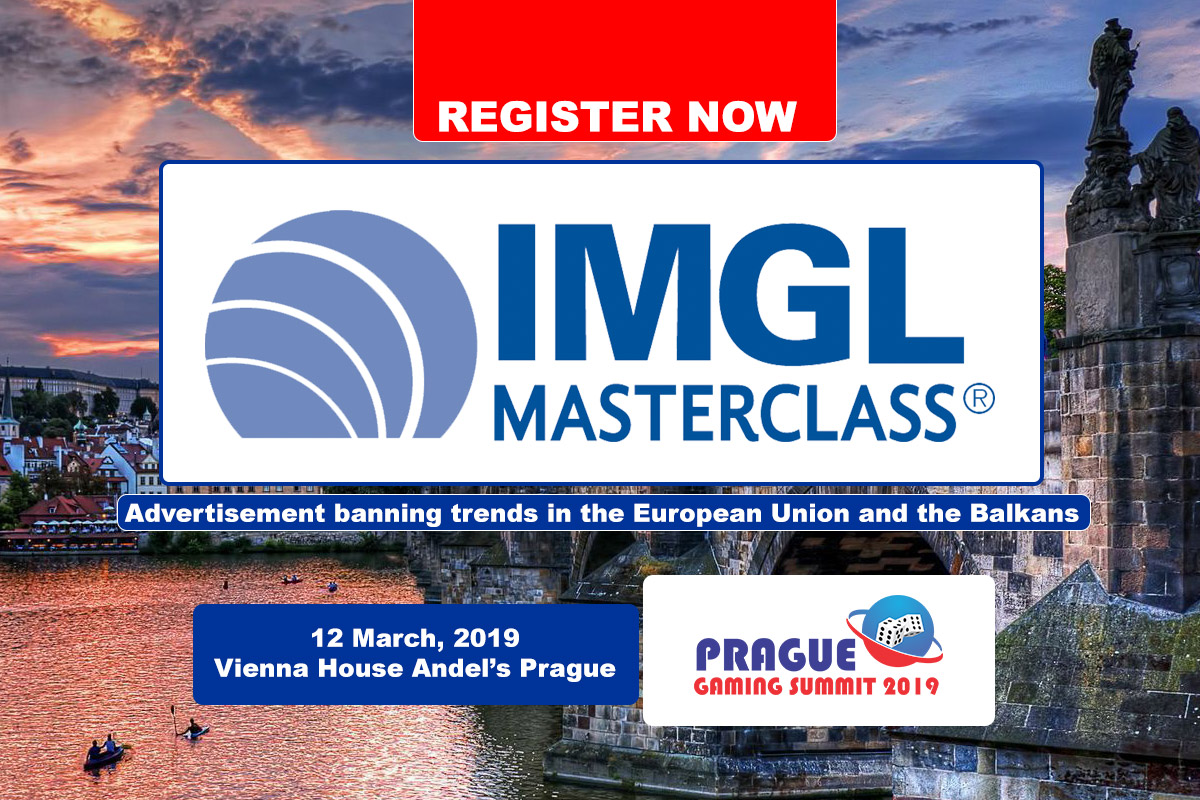 Reading Time:
5
minutes
There has been a recent wave that has swept across the gambling industry and had the form of banning gambling related advertisement. This is the case in many European jurisdictions, but we are not excluding that this is a global wave. Media outlets have reported that such bans are scheduled to be included in Asia as well.
In Sweden, new online gambling operators may lose their ability to market their products entirely if the government takes note of new survey results which shows more than half (53%) of Swedes believe gambling advertising should be banned.
The latest survey results are not a surprise and come to complement the Minister of Civil Affairs Ardalan Shekarabi beliefs, who has summoned all 69 Swedish online gambling licensees to a meeting on the 14th of February to discuss their marketing activities. Just earlier, Shekarabi publicly contemplated following the UK's lead and banning all gambling promos during live sports broadcasts.
About two weeks ago, Niels Folmann, director of the state-run former gambling monopoly Danske Spil, told local media that the Danish government should follow the UK's lead and enact a blanket prohibition on gambling advertising during televised live sports events.
These subject are among the reasons why we have asked the experts of the industry from IMGL to present a MasterClass during the event which will focus on these aspects and treat the industry is currently facing in several European jurisdictions and also in the Balkans.
You can Register here or View the Agenda
Italy in the focus – Good news and bad news
The Italian gambling authority, Agenzia delle dogane e dei monopoli (ADM), released the list of the approved candidates that will be allowed to operate in the local market. Their licenses will be valid through December 31, 2022. The regulator has awarded 66 concessions and has also issued licenses to four other companies which will treat with reserves for reasons it said it would communicate to the licensees themselves.
Even if the Seria A gambling sponsor ban has been delayed until July, there are still lots of tensions in the "lo Stivale".  The Italian soccer clubs have been permitted to keep existing betting deals until the end of the season. The extension follows the enforcement of a government-led blanket ban on gambling advertising throughout Italy.
The ban applies to all gambling-related products and services across all media platforms – including television, websites, and radio – and sports clubs are also to be prohibited from carrying sponsors from the industry.
While the delay to the implementation of the ban is a positive for soccer clubs in the country, the move merely marks a delay to a law that could have severe consequences for Italy's soccer industry.
Operators within the gambling industry have criticized the new measures, warning that prices may rise and the illegal gambling sector could benefit as a result.
In an open letter written in July to Luigi Di Maio, the government's Deputy Prime Minister who authored the decrees, Italian-licensed gambling operator LeoVegas added that the ban wouldn't achieve a significant reduction in gambling activity. Rather, he wrote, it would lead to a surge in advertising by gambling operators not holding Italian licenses. (source sportspromedia.com)
Quirino Mancini, the Global Head of the Gaming and Gambling Practice at Tonucci & Partners will take the role to give an in-depth review of the Italian market.
The company he represents, Tonucci & Partners, is a top-ten Italian general practice firm with offices in Rome, Milan, Brescia, Padua, Florence, Tirana, Bucharest, and Belgrade.
Quirino is one of the leading Italian gaming and gambling lawyers with a specialist practice of almost 20 years. He acts for Italian and foreign-based online and land-based companies operating in the Italian gaming market, advising them on legal, licensing, regulatory, day-to-day compliance and any other operational aspects connected to their activities. He also runs a bespoke matchmaking and business strategy service to provide clients with a customized type of assistance that includes also introduction and facilitation of dealings with the local regulatory authorities, banks as well as scouting and suitability checks on potential business partners.
Quirino is a regular speaker at most international gaming conferences and sits in the editorial board of various sector reviews and magazines. Co-founder and editor of www.gaminglaw.eu, a pan-European information and commentary portal focusing on legal and regulatory issues under European and national gaming laws.
Secretary and fellow member of the Leadership Committee of the International Masters of Gaming Law (IMGL), a worldwide organization gathering regulators, lawyers and advisors, in-house counsels and educators engaged in the gaming business. A fellow member of the International Association of Gaming Advisors (IAGA)
You can Register here or View the Agenda
Britain to blame for the situation?
If you have read the intro part of this article, you will find one common fact. In each situation, the UK gambling ban is cited. It seems everyone is following the idea of the advertisement ban which has been sparked last year.
UK press has just announced that it has been decided that gambling adverts will no longer be allowed to appear on websites or in computer games that are popular with children, under new rules designed to stop irresponsible gambling.
Bookmakers will be required to use every targeting tool possible to ensure online gambling promotions are not seen by under-18s. They will also have to avoid placing gambling adverts on parts of websites that are popular with children and stop using celebrities or other people who appear to be under 25 in their promotions. (source: theguardian.com)
Coming into force on 1 April, the guidelines devised by the Committees of Advertising Practice (CAP), which is responsible for writing and maintaining the UK advertising codes, will prohibit online ads for gambling products being targeted at individuals likely to be aged under 18. These standards cover all digital media including social networks and other online platforms.
This complements many other banning procedures, as you may know, from July 2018, the British betting industry has implemented a "whistle-to-whistle" ban on all TV betting adverts during pre-watershed live sports programming, with the exception of horse and greyhound racing.
William Hill has become the first UK-listed operator to call for a media strategy review in 2019, with competitors likely to follow suit as betting leadership adjusts to new advertising realities.
Russell Mifsud (Gaming industry specialist – Associate Director at KPMG Malta) will take on the role to discussing these aspects and how will report how operators are taking steps in order to comply while also keeping an eye on the brand strategy and business run.
Russell is an Economist and Associate Director at KPMG, who leads the firm's gaming department. Russell provides insight on the industry externalities and commercial strategy for KPMG and our clientele across the board. He also helps drive a core group of professionals who specialize in gaming within the KPMG network globally. Russell also sits on the board of the Malta Remote Gaming Council and Silicon Valletta. He works closely with the KPMG Audit, Tax & Advisory teams locally and internationally in order to assist network with identifying risks and opportunities, with a view to adding strategic insight and guidance to clientele across the board.
Russell Mifsud and Quirino Mancini will be joined by leading experts from Central Europe, the Balkans and Germany to complement advertisement banning procedures which are being implemented or discussed in their jurisdiction.
Jaka Repanšek (Media and Gaming Expert), Zlatan Omerspahić (Data Protection and Compliance Lawyer at NSoft) and Martin Arendts (Founder of ARENDTS ANWAELTE) be the experts taking on this role while the MasterClass will be moderated by Dr. Matthias Spitz (Senior Partner, MELCHERS LAW)
Do not miss this opportunity to attend the IMGL MasterClass presented by members and non-members of the International Masters of Gaming Law at Prague Gaming Summit 3!
You can Register here or View the Agenda
Dr. Raffaela Zillner, LL.M to speak at Prague Gaming Summit 3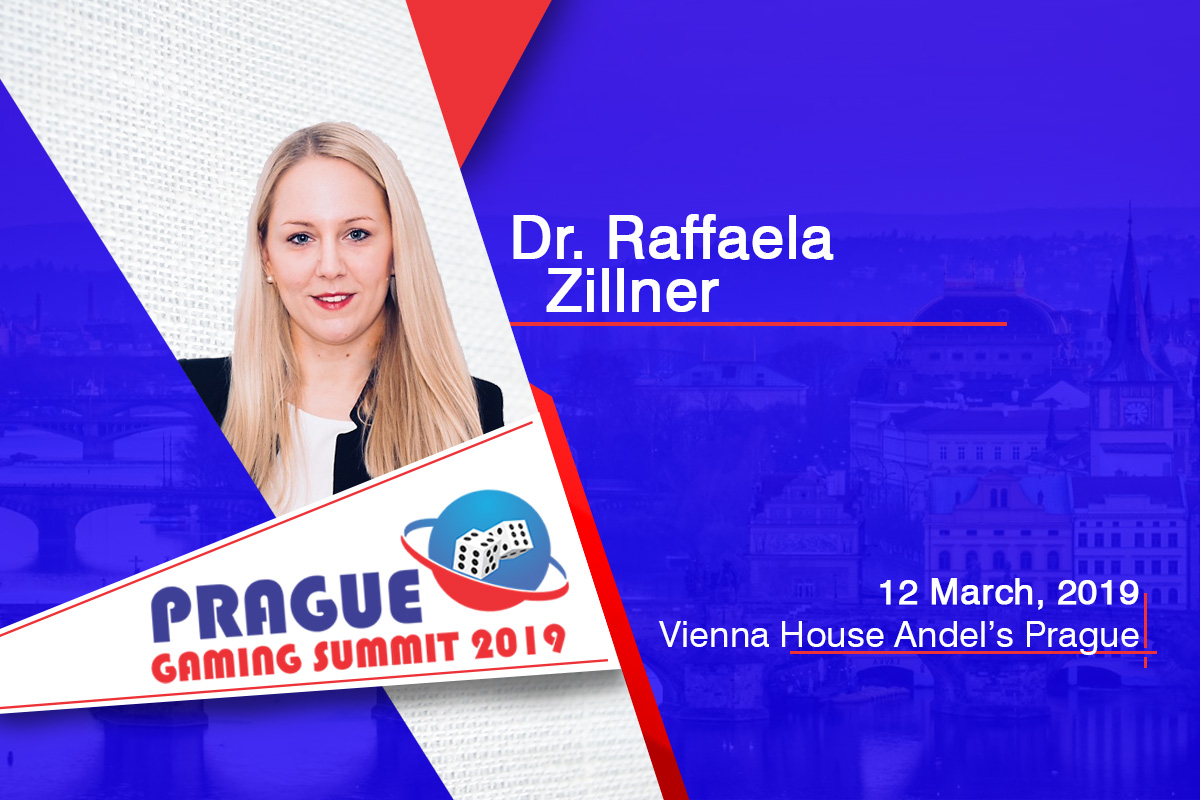 Reading Time:
2
minutes
As announced earlier, the 3rd edition of Prague Gaming Summit will feature a special DACH region oriented panel in which the experts will discuss and debate the likely options of regulation updates that will allow operators to fully engage in gambling activities.
We are honored to present one of the leading experts who will join the "DACH market industry trends" compliance panel discussion.
Dr. Raffaela Zillner, LL.M. runs the General Secretariat of the Austrian Association for Betting and Gambling (OVWG). She has been in this leading position for well over 2 years and she's the first point of contact for all association matters. Raffaela holds a law degree as well as a Master's degree in Information and Media Law and a doctoral degree in law. Furthermore, Raffaela successfully passed the Vienna (Lawyers) Bar exam. In her professional career, she has worked as an Associate at a Vienna-based law firm with a special focus on gambling and sports betting law.
The Austrian Association for Betting and Gambling (OVWG) is an Austrian special interest group aiming to create awareness of the industry in the minds of opinion-formers and political decision-makers. Through lobbying, the association would like to contribute to achieving greater fairness between the providers in the Austrian market and to illustrating the diversity of the industry. The association concentrates on the online gambling and sports betting sector.
The association was founded in August 2016 and comprises full members and associate members. The members are subject to stringent acceptance criteria, see also values in this respect. Most members are active as sponsors of sports clubs or sports associations. The list of members includes bet-at-home.com, Mr. Green, CashPoint, Lopoca, Interwetten, LeoVegas and Kindred Group.
The Executive Committee is headed by Claus Retschitzegger (bet-at-home.com), the President of the Association. The other members of the Executive Committee are Jan Tjernell as deputy (Mr Green), Michael Wondra (Cashpoint) and Simos Mantzouranos (Lopoca).
Do not miss this exciting opportunity to hear the latest information first hand at Prague Gaming Summit 3 and discuss collaboration possibilities with attending delegates!