Legislators discuss bill to legalise sports betting in Montana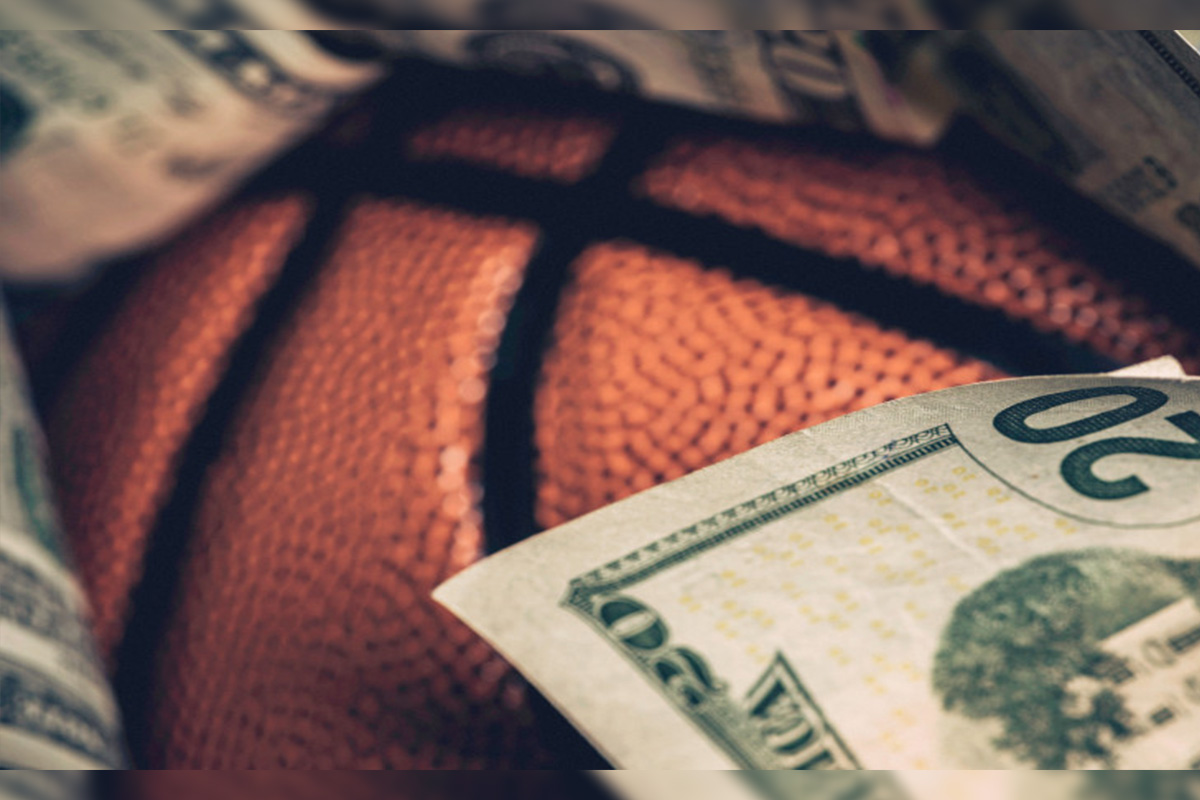 Reading Time:
1
minute
Members of a legislative committee discussed a bill to legalise betting on college and professional sporting events in Montana. The bill proposes to allow betting in bars with full liquor licenses.
The bill is proposed by Republican Sen. Mark Blasdel of Kalispell after the 2018 U.S. Supreme Court ruling that allows states to legalise sports gambling.
Supporters told the Montana Senate Business, Labour and Economic Affairs committee that passing the bill would allow the state to legalise, regulate, and tax activity that is already happening.
The computerised wagering would be run by sportsbook companies that install equipment in bars. The bill calls for bars to receive 5 per cent of the net sportsbook income derived from the premises while operators would pay an 8.5 per cent state tax on adjusted gross betting receipts.
The committee did not vote on the bill which was drafted in consultation with the state Department of Justice, companies that provide gambling machines to casinos, and the Montana Tavern Association.
If passed, it would not take effect until June 2020, giving the state time to write rules and taverns time to install and test machines, Blaisdel said.
If problems arise, Blaisdel said, the Legislature would be back in session in six months and could address them.
AGS Demonstrates Commitment To Tribal Gaming At The Oklahoma Indian Gaming Trade Show July 22-24; Orion Upright Makes Its OIGA Premier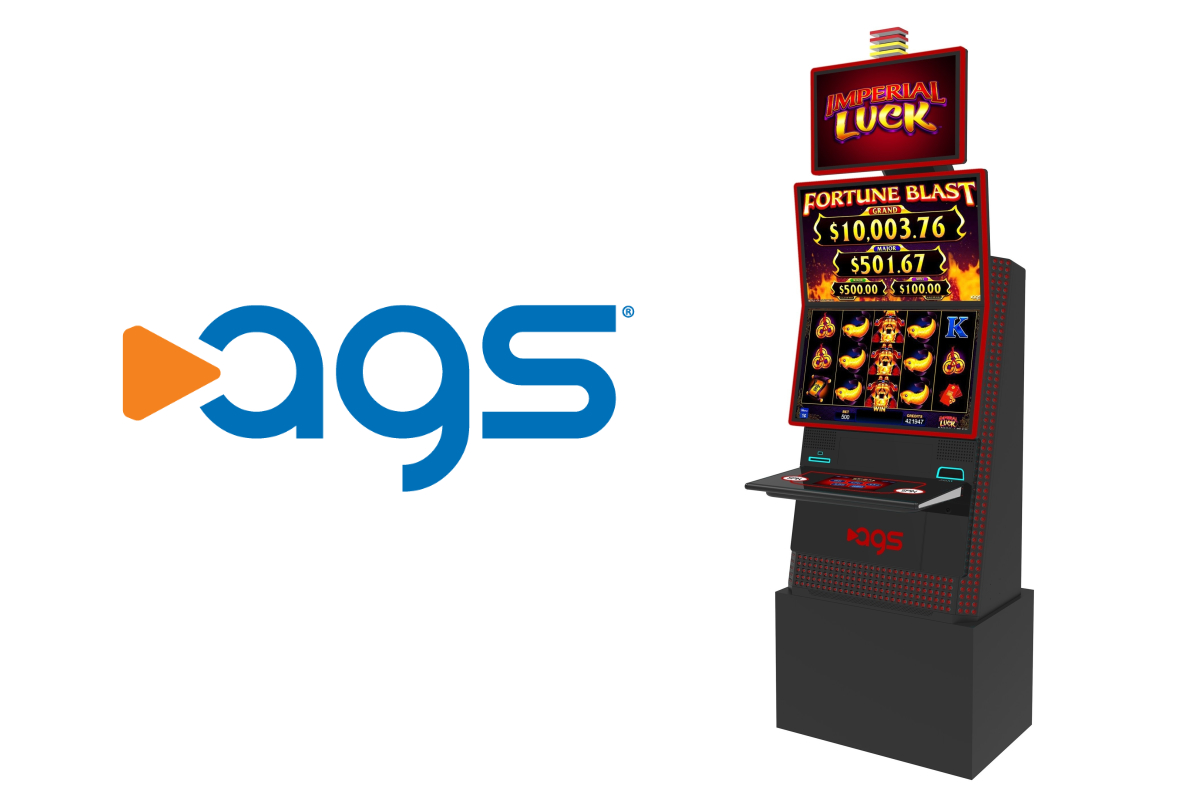 Reading Time:
3
minutes
Company's passion for the game takes center stage as AGS displays new slot and table games, and online social and real-money games
AGS announced that it will exhibit at the Oklahoma Indian Gaming Conference and Trade Show July 22-24 at the Cox Business Center in downtown Tulsa. AGS will spotlight the Company's newest core slot cabinet – the Orion Upright – along with a host of new slot titles, table products, and online social and real-money gaming solutions.
AGS President and Chief Executive Officer David Lopez said, "OIGA is one of the most important trade shows we attend and an event we look forward to every year. It's a great opportunity to spend time with our loyal Oklahoma customers, showcase our newest innovations, and reinforce our commitment to helping the Oklahoma tribal gaming market continue to thrive. AGS has deep roots in Oklahoma, and just this year, we acquired Oklahoma-based Integrity Gaming Corp. and held our GameON Customer Summit in Oklahoma. We are grateful to be one of the state's largest game suppliers and appreciate the important role Oklahoma plays in AGS' future."
Taking center stage in AGS' Booth No. 1208 will be the new Orion Upright, a core cabinet with many of the same features as the Company's award-winning Orion Portrait℠ and Orion Slant℠ platforms, including the distinctive starwall design featuring 420 game-synchronized full-color LED lights to celebrate gameplay. The Orion Upright also offers dual 27-inch HD displays, an ergonomic LCD button deck, dual high-bright SPIN buttons, an integrated charging port, and an LCD HD topper designed to attract. The Orion Upright is launching with a library of exclusive new and proven dual-screen titles and a library of greatest hits from AGS' ICON™ cabinet. OIGA attendees will be able to experience the Orion Upright with Imperial Luck® and Blazing Luck™ game content.
For its award-winning Orion Portrait premium cabinet, AGS will showcase two top-performing games – Crystal Magic® and Rakin' Bacon!®  The Rakin' Bacon! game was the top-ranked core theme in the June 2019 Eilers-Fantini game performance report at 2.28x house average.
And AGS' Orion Slant will be showcased at OIGA with several player-engaging Asian-themed games, including, Golden Wins® and Jade Wins®.
AGS continues to propel its table products business with a host of new proprietary table games and table solutions. OIGA attendees will get to experience Blackjack Match Progressive™ with Buster Blackjack®, Jackpot Hold'em™, and Vega$ 3 Poker™, all with AGS' award-winning STAX Progressive™. STAX features a must-hit-by progressive jackpot option and up to five progressive meter levels for larger and more frequently hitting rewards. From its table equipment lineup, AGS will showcase its Dex S™ single-deck poker shuffler, highlighting a streamlined design that is economical, durable, reliable, and exceptionally functional. The Dex S shuffles a single deck in less than 36 seconds.
In the Company's Interactive display, AGS will showcase its ConnexSys Social White-Label Casino℠, which is a custom turnkey, free-to-play mobile casino app that integrates a casino brand with AGS' proven and player-favorite land-based games to keep players engaged at home, work, and on-the-go. With live ops features and connection to casino-management systems, this turnkey solution strengthens player relationships and the casino brand, with optional in-app chip purchases to boost revenue.
And with real-money gaming at the forefront of many tribal gaming operators' agendas, AGS will also be on hand to provide live demonstrations of its AxSys Games Marketplace℠ aggregator and content provider for real money gaming and sports betting partners.  The AxSys Games Marketplace has a large library of titles featuring AGS top-performing games as well as a host of entertaining games from third-party developers.
About AGS

AGS is a global company focused on creating a diverse mix of entertaining gaming experiences for every kind of player. Our roots are firmly planted in the Class II Native American gaming market, but our customer-centric culture and growth have helped us branch out to become a leading all-inclusive commercial gaming supplier. Powered by high-performing Class II and Class III slot products, an expansive table products portfolio, real-money gaming platforms and content, highly rated social casino solutions for operators and players, and best-in-class service, we offer an unmatched value proposition for our casino partners. Learn more at www.playags.com.
©2019 AGS LLCAll® notices signify marks registered in the United States.  All ™ and ℠ notices signify unregistered trademarks. Products referenced herein are sold by AGS LLC or other subsidiaries of PlayAGS, Inc.
Source: AGS
Legal Sports Betting Begins in New York Casinos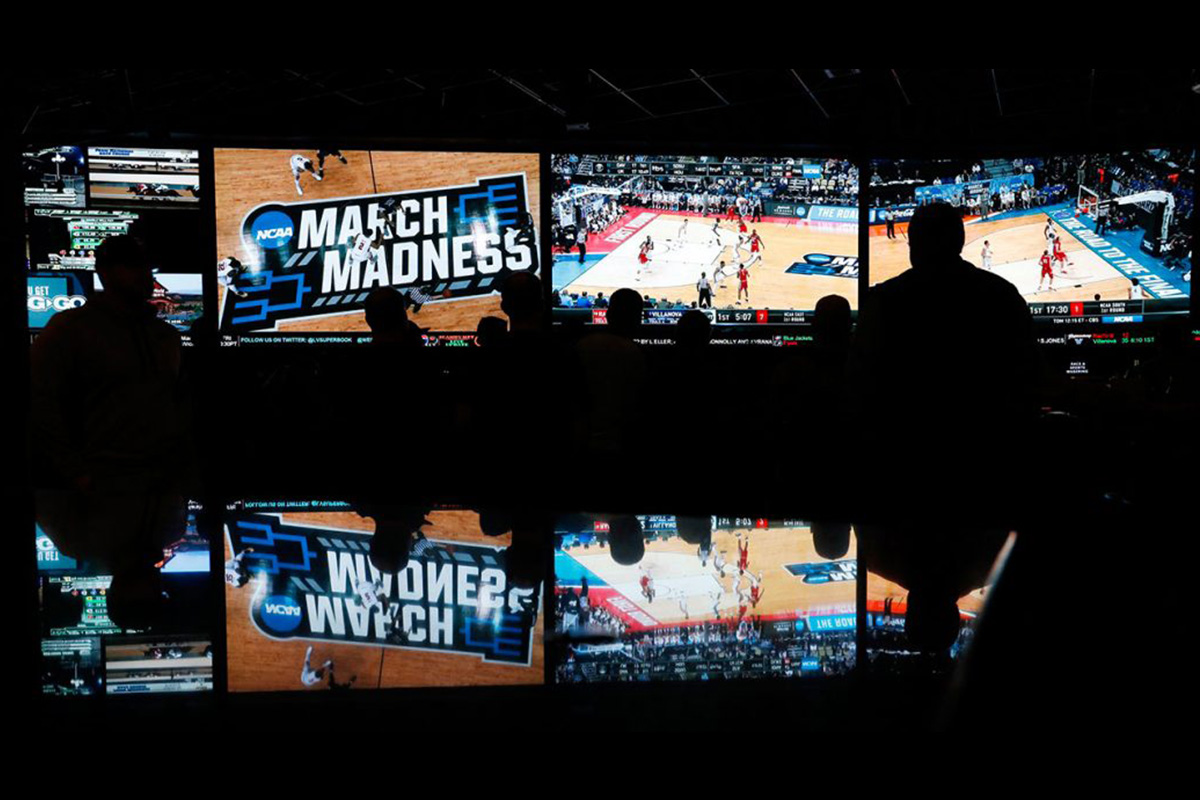 Reading Time:
1
minute
New York Casinos have started legal sports betting. Bettors placed their first wagers on pro sports games following the Supreme Court's decision to strike down a ban on the practice last May. Gamblers at the Rivers Casino near Schenectady plunked down bets on the New York Yankees, Seattle Mariners and tennis phenom Varvara Lepchenko.
"We're going to get mobile sports betting before the middle of next year, it just has to be, because right now New Jersey is cleaning our clock when it comes to sports betting. I think New York should always be at the forefront of everything and right now we're a little bit behind them," Assemblyman Gary Pretlow said.
Sports betting is expected to raise millions of dollars as tax revenue. But proponents say the state is losing out on millions more because bets can only be placed at four upstate casinos rather than online and via mobile phone as is allowed in New Jersey.
Rivers Casino & Resort Schenectady Makes History with Opening of New Sportsbook Lounge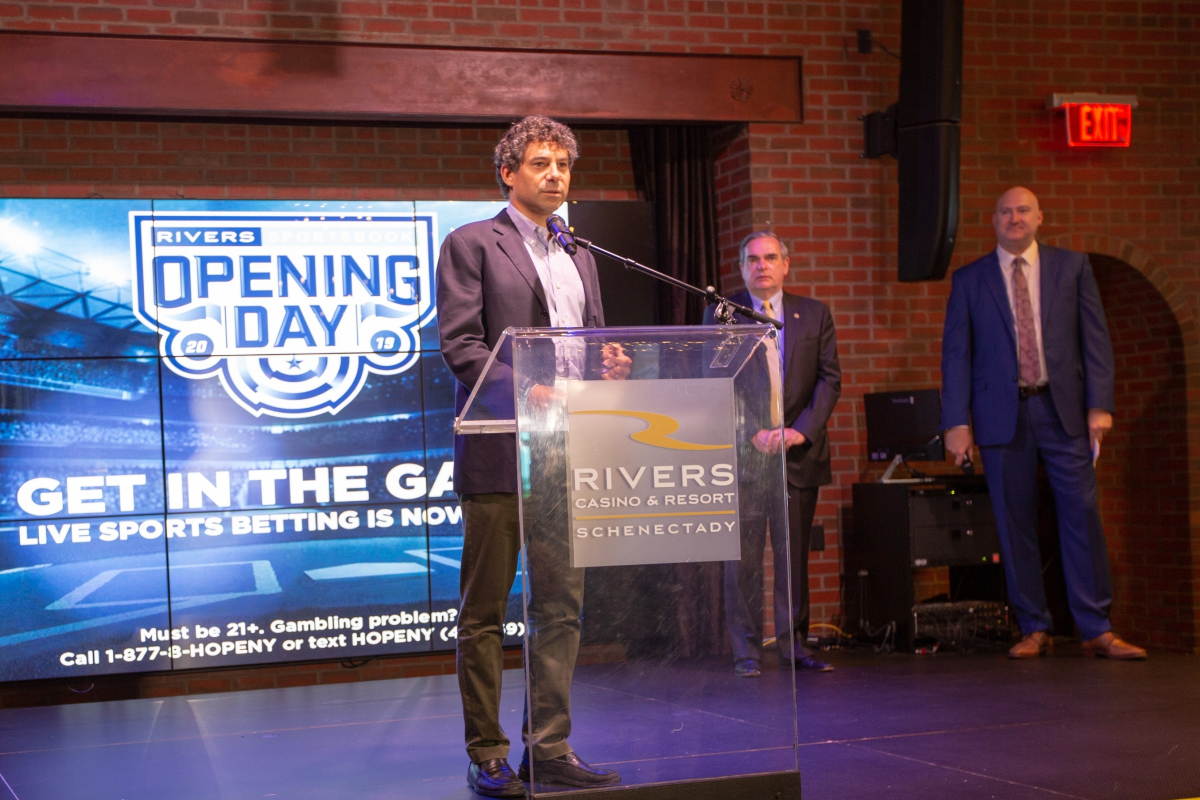 Reading Time:
4
minutes
 Rivers Casino & Resort Schenectady officially launched legal sports betting in New York State with the opening of its new Rivers Sportsbook lounge.
"We're so proud to be the first gaming operator in New York to take legal sports bets," said Rivers Casino & Resort Acting General Manager Justin Moore. "Many people worked very hard to make legal sports wagering a reality in New York State, and we thank all of them for their tireless efforts and dedication. Sports fans and bettors from across the Capital Region and beyond will be thrilled with our new state-of-the-art Rivers Sportsbook lounge. We look forward to having them as guests at Rivers Casino & Resort and the City of Schenectady."
Casino representatives, guests, and area dignitaries gathered at Rivers Casino today to cut the ribbon on the state's first legal sports betting location. Opening Day of the sportsbook also included appearances by Super Bowl Champion and former New York Giants punter, Sean Landeta; Pro-Bowl safety and former New York Jet, Erik Coleman; and World Series MVP, New York Yankee great, Bucky Dent.
"We couldn't be happier for our great community partner Rivers Casino & Resort," said Schenectady Mayor Gary McCarthy. "It is indeed an historic day not just for the state of New York, but for the City of Schenectady. As Rivers Casino grows, so does its positive impact on our community. The opening of Rivers Sportsbook will surely attract even more guests to the property and to our great city. Looking ahead, we are also hopeful that our leaders in Albany will see how hard Rivers Casino is working to keep up with growing regional competition and recognize how important it is for them to address structural tax disadvantages in the market."
The new Rivers Sportsbook, which was designed by DMAC Architecture of Chicago, is a luxury sports lounge and occupies just over 5,000 square feet.  Club chairs and table seating accommodate approximately 80 guests and include five private booths with TV monitors – each accommodating up to 6 people. The lounge also includes18 individual VIP seats and 32 tabletop seats.
Rivers Sportsbook has an impressive state-of-the-art 53′ x 9′ LED video wall that anchors the sportsbook viewing area, along with 22 additional TV monitors. The sportsbook also includes 14 betting kiosks and 6 staffed betting windows to accommodate guests. Rivers Sportsbook is located directly off the casino's main gaming floor – adjacent to Van Slyck'slounge.
Rivers Sportsbook will offer betting on a wide array of sporting events including professional football, basketball, baseball, hockey, soccer, college sports and more. Bets are expected to include, but not be limited to, straight bets, parlays, totals, and in-game betting. Wagers can be placed at the betting counter with a live sportsbook writer during Rivers Sportsbook hours of operation or at a sports betting kiosk 24 hours a day.
Rivers Casino's sports wagering supplier is Rush Street Interactive LLC (RSI), an award-winning gaming company that develops and operates real-money in-casino and online sportsbooks. Rush Street Interactive will bring the same high quality in-casino sportsbook solution to Rivers Casino & Resort Schenectady as players in the state of Pennsylvania have been enjoying since 2018. RSI provides its in-casino sportsbook service to the top two performing retail sportsbooks in the state of Pennsylvania; Rivers Casino Pittsburgh and SugarHouse Casino in Philadelphia collectively account for over fifty-percent of all retail sportsbetting handle in the state since the market opened.
Recently recognized as the number one tourist destination in the Capital Region, the sportsbook lounge will complement the wonderful amenities already offered by Rivers Casino & Resort Schenectady. Sports betters and fans alike will not only enjoy a world-class sports book, but they will also be able to experience top entertainment, premium dining, and  The Landing Hotel – Rivers' luxurious riverfront hotel.
The Rivers Sportsbook hours of operation will be Monday – Thursday, 10:00 a.m. to 12:00 a.m.; Friday, 10:00 a.m. to 1:00 a.m.; Saturday, 9:00 a.m. to 1:00 a.m.; and Sunday 9:00 a.m. to 12:00 a.m., but are subject to change to accommodate athletic seasons.
There is a $5 minimum wager amount and all bets are cash only. Betting sheets with odds will be printed and available at Rivers Sportsbook. Must be 21 years of age or older to access the gaming floor and wager at Rivers Sportsbook.
ABOUT RIVERS CASINO & RESORT SCHENECTADY:
Located at the picturesque Mohawk Harbor near the heart of downtown Schenectady, Rivers Casino & Resort Schenectady features 1,150 slots, 67 live table games and a 16-table poker room and a live, in-casino luxury sportsbook lounge.
The casino offers five distinctive restaurants—among them are Dukes Chophouse, Flipt, Johnny's To-Go and Mian. Rivers features a multipurpose Event Center space, a lively entertainment lounge—Van Slyck's, live music performances, free parking and daily promotions and giveaways.
The Landing Hotel is a 165-room, six-story boutique hotel with riverfront views located adjacent to the Event Center. Rivers, which opened in 2017, employs approximately 1,200 team members and has been voted a great place to work in Schenectady.
Rivers Casino & Resort Schenectady is owned and operated by Rush Street Gaming and its affiliates. For more information, visit riverscasinoandresort.com
ABOUT RUSH STREET INTERACTIVE:
Rush Street Interactive (RSI) was founded by pioneers in the internet gaming industry with decades of collective experience in developing, supplying and operating online gaming sites. The Chicago-based business launched its first casino site, PlaySugarHouse.com in NJ, in September 2016 and made history in August 2018 as the first online operator in the United States to offer an integrated online sportsbook and casino.  Rush Street Interactive is also the service provider of the sportsbooks at Rivers Casino Pittsburgh and SugarHouse Casino in Philadelphia. RSI made history once again by next launching Pennsylvania's first online sportsbook, PlaySugarHouse.com, and on its heels followed that with a second online sportsbook site, BetRivers.com.   
Additionally, RSI is the only U.S. gaming company to launch a regulated online sportsbook in Latin America. Rush Street Interactive is also the developer and operator of a leading social gaming platform that is currently deployed at Rush Street-affiliated casinos (Rivers Casino in Pittsburgh, SugarHouse Casino in Philadelphia, Rivers Casino in Des Plaines, Illinois and Rivers Casino and Resort in Schenectady, New York), as well as selected third party partners.
Rush Street Interactive was named "Mobile Operator of the Year" in North America at the EGR North America Awards 2019 and "American Operator of the Year" & "Casino Operator of the Year" by Gambling.com for their inaugural American Gambling Awards in 2019.
Source: Rivers Casino & Resort Schenectady