New report finds +21% increase in time spent gaming on Samsung TVs, and weekday time of gameplays shifts across Europe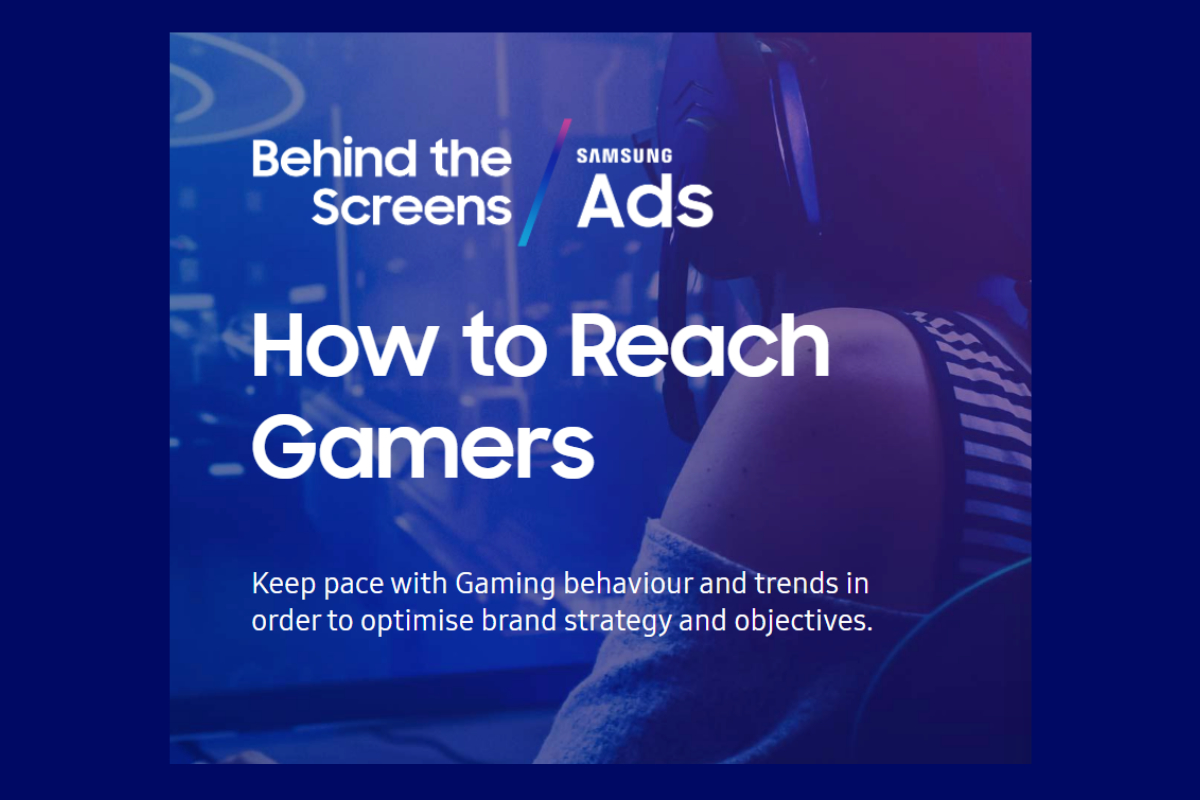 Reading Time:
2
minutes
A new report from Samsung Ads Europe 'Behind The Screens: Gaming in 2020', reveals Gamers* are spending more time gaming per day across Samsung TVs in EU5 territories with significant double-digit growth (+21%) since January.
Samsung Ads Europe refer to Gamers as game consoles connected to a Samsung TV that played one or more games for a minimum of three-minute session. Samsung Ads Europe, the media and advertising division of Samsung Electronics, releases its 'Behind The Screens: How to Reach Gamers'' report on gaming habits across EU5, looking at both localised viewership habits and behaviours across all five countries.
When exploring how the average Samsung TV Gamer spends their time, Samsung Ads Europe identified that they are heavy streamers. On average they spend 45% of their total daily TV time streaming, a further 37% spent gaming, and only 18% spent watching linear TV. The implication for advertisers trying to reach this audience is that 82% of their time spent on Samsung TVs (gaming + streaming) they are not exposed to traditional TV advertising.
The Samsung Ads report further explores how daily gaming habits have changed over the course of 2020. In the UK gamers are active throughout the day, with the most interesting change being the shift in time spent gaming on weekday mornings nearly doubling (+48%) since January 2020. Time spent gaming on weekend mornings has also increased by over a third (+34%).
Significant increase in gaming time across all EU5 territories
Total time spent on game consoles connected to a Samsung TV has seen a significant increase across EU5, with Italy seeing the highest increase since January of over 35%. Spain saw the second highest level of growth at a rate of 31%, whilst the rates of gaming increased across the UK (+22%), France (+17%) and Germany (+10%) showing that all across Europe the appetite for gaming continues to grow. In terms of time spent per day gaming on consoles connected to a Samsung TV, the UK spends the most time on average across the EU5 territories with gamers engaged for 2 hours 14 minutes per day.
Alex Hole, Vice President of Samsung Ads Europe, commented: "We are seeing a significant appetite for gaming across Europe on millions of games consoles that are connected to Samsung TVs, which is in line with the growing popularity – and commercial opportunity – of online gaming. According to Ofcom, overall total consumer expenditure on games software, gaming hardware and culture was £5.3bn in 2019. With gamers spending an increasing amount of time on their Samsung TVs either gaming or streaming, there is a sizable opportunity for advertisers to reach this hard to reach audience on the big screen, alongside linear."
Samsung has held the global number one TV manufacturer position for 14 consecutive years, and using proprietary data gathered by Samsung ACR technology and additional proprietary data in Europe, leverages insights from over 34 million Smart TVs.

TEAM VITALITY REVEALS PARTNERSHIP WITH SCUF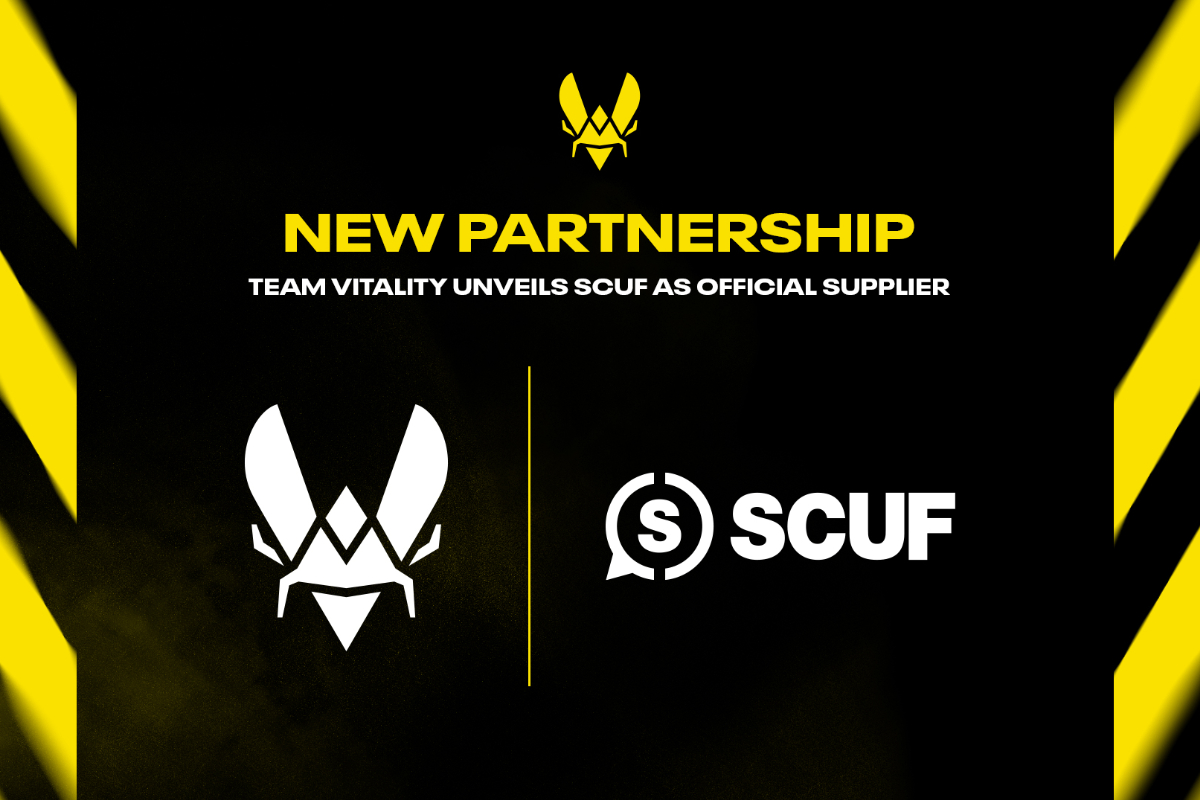 Reading Time:
2
minutes
Leading global esports organisation Team Vitality is excited to announce a partnership with global innovator and creator of high-performance gaming controllers SCUF. The partnership will see Team Vitality's FIFA, Fortnite and Rocket League players, as well as a selection of its high profile ambassadors such as Brawks and LittleBigWhale, compete and play using SCUF gaming controllers. Team Vitality and SCUF will also work closely together on collaborative efforts which are set to be announced later this year.
"We are really excited to work with such an industry-leading brand in SCUF gaming who really understands the demands of playing in different competitive environments. It's great to be able to have our players across FIFA, Fortnite and Rocket League compete with the highest level of peripherals. It's great to kick off 2021 with another great partner by our side who truly shares our goals and values," said Nicolas Maurer, CEO, Team Vitality .
Founded in 2013, Team Vitality has grown into a globally recognised esports brand with over 40 players competing in eight of the biggest and best esports titles. Across both Fortnite and FIFA the organisation fields some of the best talent that the scenes have to offer. Team Vitality's Rocket League team is celebrated as one of the best in the world with 2020 seeing the team pick up three A-tier titles; Rocket League Spring Series – Europe, Rocket Baguette: Summer Grand Prix and RLCS Season X – Fall: EU Regional Event 3 and MVP titles for both Fairy Peak! and Alpha54.
"Since inception, SCUF has been dedicated to supporting the French esports community by bringing innovation to the competitive gaming controller category. Team Vitality is a giant in French esports and in just a few years, Vitality has been able to become one of the best esports organizations in the World. With initiatives like Vitality's Hive in Paris, high-quality content, influencer support and unique brand collaborations, this partnership is a natural fit for SCUF and we're excited to continue our journey sharing our values and passion." said Duncan Ironmonger, CEO and Founder, SCUF Gaming.
Horse Club™ characters from Schleich® get first video game of their own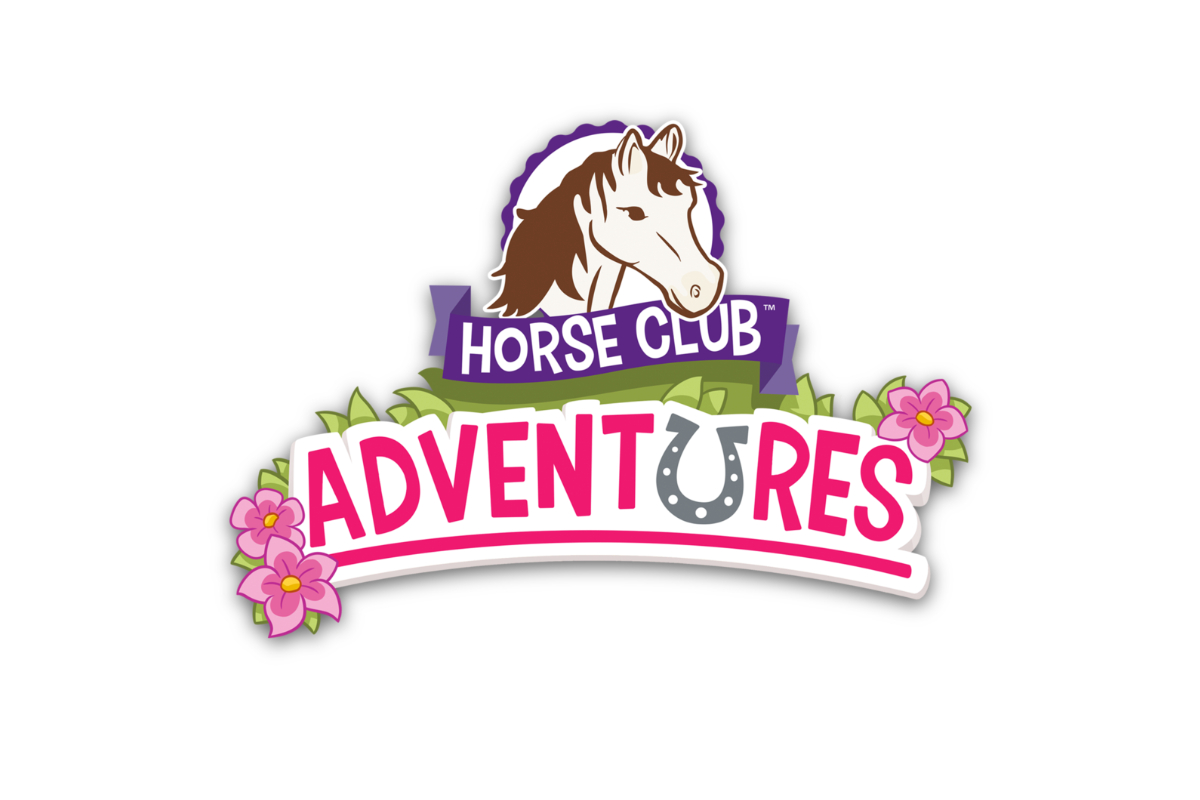 Reading Time:
2
minutes
Exciting adventure game packed with suspense for Horse Club™ fans to be released on May 27, 2021
A gripping adventure at the Lakeside Riding Stable full of challenging mystery-solving fun, spirited gallop racing and lots of other thrilling quests for horse and rider awaits horse fans both big and small. The popular horses from Schleich® and the environment they live in come alive in the video game "Horse Club™ Adventures". Children from the ages of 6 to 12 can romp and roam freely and creatively in this open-world game. In turn, the electrifying story inspires imaginative playing with the characters.
With release for "Horse Club™ Adventures" scheduled for May 2021, video game publisher Wild River Games from Munich is bringing out the first video game based on the popular theme world created by Schleich, the world-renowned toy manufacturer. The lovingly designed open-world game provides a multifaceted blend of adventure, role-playing and racing elements coupled with all sorts of mystery-solving fun.
Eventful vacation at the Lakeside Riding Stable
In the video game the children spend their vacation at Lakeside and become part of the Horse Club™ clique revolving around Hannah, Sarah, Sofia and Lisa. Together they reveal long-guarded secrets, complete exciting quests, and collect objects such as photos and stickers. It goes without saying that the appearance of the player avatars and their horses can be individually customized. While doing so, even the clothing for brand-new game characters is provided that won't become available at toy retailers until July 2021.
Carrying out quests in a targeted fashion or exploring the open-world game
The single-player game can be played optionally in the storyline or the freestyle mode. The storyline mode is split up into 16 days and has over 40 quests ready and waiting to be completed. They range from getting acquainted with Lakeside to being accepted into the Horse Club™ clique, all the way to participating in the big Lakeside Tournament.
In the freestyle game mode the player explores the extensive terrain on their own. Optional sidequests enable kids to immerse themselves even deeper in the story and, among other activities, attend to daily chores such as grooming horses and scraping hooves, or galloping on one of the numerous race courses while competing with others for high scores and medals. The developers have placed a special focus on the collecting of stickers, photos and new items with which players can individually change their game character and horse.
Long-lasting gaming fun, virtually and physically
Figures from Schleich have stood for quality and educationally worthwhile playing for more than 85 years. The video game from Wild River Games equally orients itself in alignment with these values. The highly diversified virtual world including numerous different quests still has surprises in store, even after playing repeated games. This ensures long-lasting gaming fun for children in a variety of age groups and with different levels of experience. What arises due to the symbiosis of video game and the original Schleich figures is a balance comprised of a digital and tactile game.
"Horse Club™ Adventures" is available as of May 27, 2021 for Nintendo Switch and Playstation 4, and is additionally available as digital download for Xbox One and PC.
Horse Club™ Adventures
for one player
PEGI : 6 years old and older
At retailers & as download: Nintendo Switch, Playstation 4, Download: Xbox One, PC
Available starting May 27, 2021
EXPLORE SEA OF SOLITUDE: THE DIRECTOR'S CUT, AVAILABLE NOW ON NINTENDO SWITCH™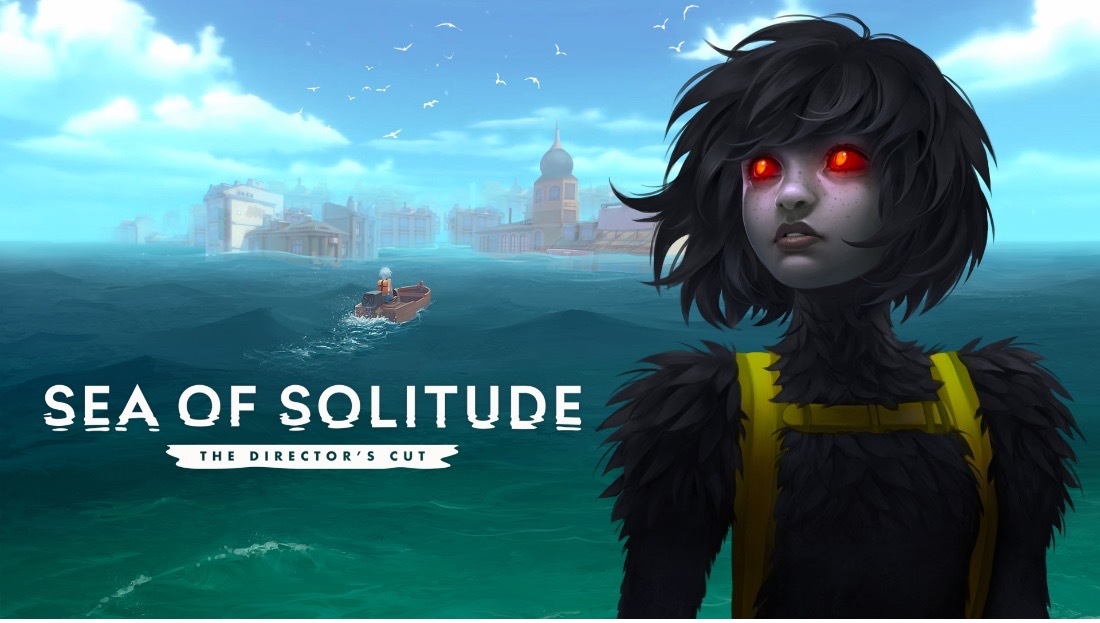 Reading Time:
2
minutes
Winner of the "Most Significant Impact" at the Games for Change Awards 2020 is now available in an enhanced version with extra features, exclusively on the Nintendo Switch.
Quantic Dream and the Berlin-based studio Jo-Mei are proud to launch the definitive edition of Sea of Solitude: The Director's Cut only on Nintendo Switch. The Director's Cut brings exclusive features and additional content not offered in the original release.
Sea of Solitude: The Director's Cut follows the journey of Kay, a woman turned into a monster by her own loneliness and despair, traveling a beautiful flooded world on a quest for inner serenity and peace. On this journey, she will confront metaphorical beings evoked by her own personal emotions, which she will have to overcome in order to learn more about herself and the world around her.
"I couldn't be happier to launch our game for the first time on Nintendo Switch with the support from our partners at Quantic Dream," said Cornelia Geppert, Founder and Creative Director of Jo-Mei. "This partnership and release of the Director's Cut will allow more people to experience Kay's journey the way we intended, whether that's on-the-go or in the comfort of their own home."
This reworked version of the indie title, developed by Jo-Mei Studios and published by Quantic Dream, offers a lot of new features to players, in order to maximize the immersion proposed by the original title. Through dialogues rewritten in collaboration with the multi-award winning author Stephen Bell, a new cast of actors and reworked cinematics, the game benefits from a more advanced narrative experience, taking the player on a singular and moving adventure.
Sea of Solitude: The Director's Cut also takes advantage of the Nintendo Switch's unique features; players can now control the flair with the gyroscope and use a brand new photo mode, which allows them to change the set up and weather. The game is also fully dubbed in English, French, Spanish, German and Japanese.*
"Quantic Dream is proud to release a game that corresponds with our signature brand of storytelling and narrative experiences, bringing difficult subjects to light ," said co-CEO and Head of Publishing Guillaume de Fondaumière. "We have been thrilled to work with Connie Geppert and her talented team at Jo-Mei and are excited to share their enhanced version of Sea of Solitude, exclusively on Nintendo Switch."
Nintendo Switch streamers will also have access to The Director's Cut-dedicated Twitch extension called "Bottle Of Hope" that allows viewers and streamers to share positive messages together during a live stream. Written in partnership with Take This, a mental health nonprofit decreasing stigma and increasing support for mental health in games, the extension encourages players to talk about self-acceptance, mindfulness, resilience, motivation and compassion on Twitch.
Sea of Solitude: Director's Cut is available for Nintendo Switch for $19.99/€19,99 digitally via the Nintendo eShop LINK TBA. A free demo is also available for download, immersing the player in the first chapter of the game. A limited and exclusive physical edition of the game is available on the Quantic Dream official eshop for $29.99/€29,99, which contains the game cartridge and an exclusive sticker.
*The game is also available with subtitles in the following languages: Russian, Korean, Traditional Chinese, Simplified Chinese, Portuguese, Spanish of America, Dutch and Italian.