Emotions test reveals: The online purchases making us 67% happier!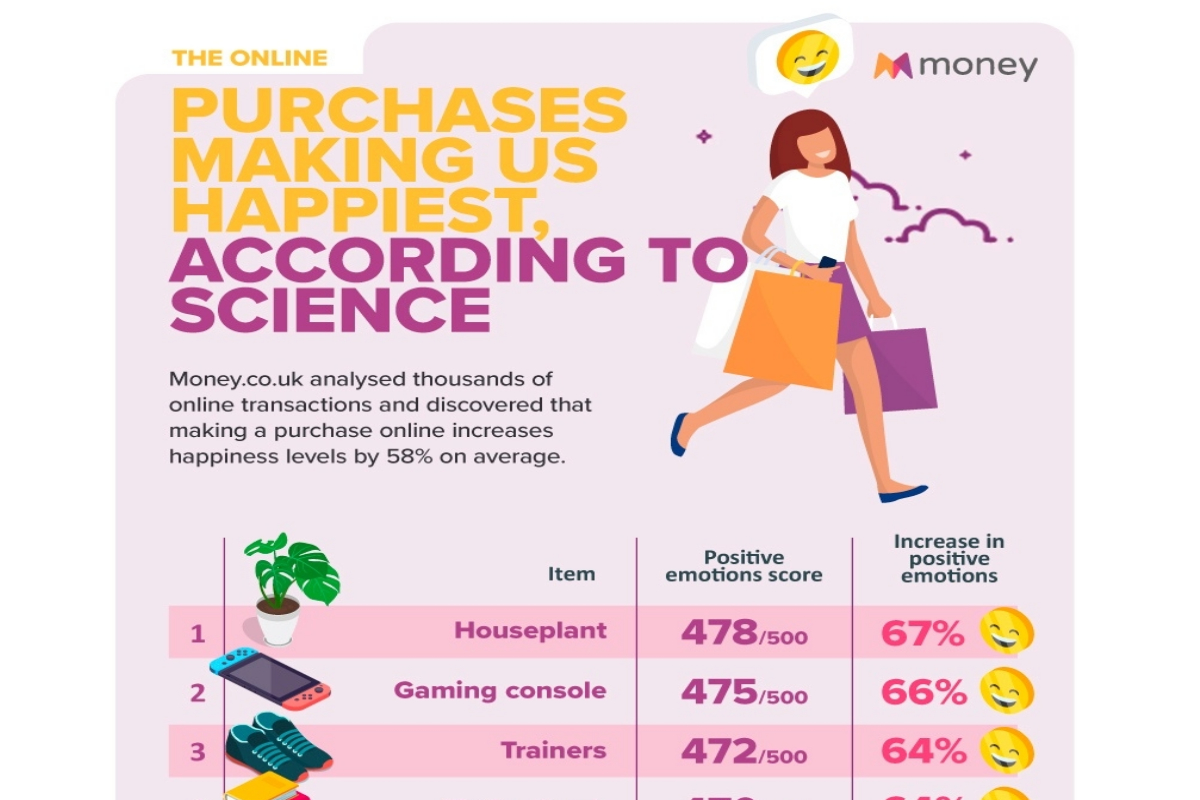 Reading Time:
4
minutes
On average, online purchases are found to raise our positive feelings by 56%
Participants reported the biggest increase in happiness when purchasing houseplants – positive emotions soared by 67%
Gaming console purchases saw the second highest increase in positive feelings (+66%)
Trainers and fiction books are also among the purchases raising positive emotions most
Holidays abroad came in last; participants noted high levels of excitement but also reported an increase in concern due to its uncertainty
Thanks to 'doom shopping', it was revealed that the UK spends three times more when online shopping compared to the global average, costing the average person a whooping £1,382 per year! Clearly these purchases keep us coming back for more, but how do we enjoy splashing our cash the most?
Interested in online shopping, money.co.uk conducted an emotions test among 2,560 participants to discover which online purchases bring us the most joy!
Participants were asked to complete a variation* of the BMIS test (Brief Mood Intensity Scale) and record the intensity of 10 different emotions after making an online purchase. The intensity of each emotion was allocated a score based on its positivity, with a maximum score of 500 points per item – the higher the score, the better. Participants were also asked to complete the same test before making any purchases to uncover the percentage increase in positive emotions when shopping.
Which online purchases make us happiest?
Money.co.uk can reveal that a houseplant purchase increases our intensity of positive emotions more than any other transaction!
Collecting 478 points out of a potential 500, moods improved by 67% after making a plant purchase. Plants are proven to invoke feelings of vitality by improving the state of mind and lifting spirits – no wonder it scores highly!
With the PS5 still proving hard to get, purchasing a gaming console is the second online transaction that makes us happiest.
As many gamers are left on the edge of their seats waiting to snatch the latest console, it accumulated 475 points out of 500, and purchasing a console was found to raise positive feelings by 66% on average.
In third position are trainer purchases. With the demand for sneakers like Jordan 1s only increasing, those who purchased new trainers reported a 64% increase in happiness, and purchases racked up 472 points.
With bookworms reported to be happier than those who don't read, the transaction that makes us fourth happiest is a fiction book, improving positive emotions by 64% and collecting 470 points.
Due to the huge surge in personal fitness and wellbeing during lockdown, home gym equipment purchases are found to make us fifth happiest! This transaction led to a 63% increase in positive emotions and scored a healthy 468 points.
To complete the top 10 purchases that increase our intensity of positive emotions:
6. Video game: 466 points, +62%
7. Eyeshadow palette: 465 points, +62%
8. Scented candle: 463 points, +61%
9. Exercise clothing: 461 points, +61%
10. Fashion jewellery: 459, +60%
Coming in last is a holiday abroad with 393 points out of 500 (+37%). Those who plan on jet-setting this year reported high levels of excitement and happiness but were pushed down the table as feelings of worry and nerves due to its current uncertainty.
Interested in the reasons behind our vast improvement in positive feelings, money.co.uk spoke exclusively to Lee Chambers, psychologist and wellbeing consultant, to uncover why shopping makes us happy.
"Online shopping has the ability to make us happy through several different mechanisms. Firstly, even in a world of plenty, we are still evolutionarily designed to consider scarcity. Because of this, acquiring new items, especially when discounted or limited, tends to make us happy, the feeling we have satisfied a need and potentially averted a future threat.
Shopping is also an exercise in control. We select from millions of items precisely what we want, and especially in the uncertain times we live in, we know we will get exactly what we have purchased, and it will be delivered straight to us. This control of selection and guarantee of receipt is powerful, as it becomes a defined event. We also build a level of expectation and anticipation from the moment we press the purchase button, as we believe we now have ownership over the item but have a delay until it is with us physically.
From a cultural perspective, we have been conditioned to see shopping as a reward, either an investment in ourselves or for the satisfaction of others. Shopping is likely to activate the nucleus accumbens in our brain, releasing dopamine and motivating us to repeat the behaviour. Buying printed media taps into our desire to better ourselves, gain knowledge, understand the world around us and provide stories and entertainment that can take us on a journey. And let's not forget how lovely they look on your bookshelf on a video call, as books have become a decorative symbol over the past year.
And why do we keep buying? Our brain is adaptive, and shopping can relieve stress, provide entertainment when bored and give us a hit of dopamine. The rewarding feeling will keep us finding new things to purchase, especially since our excitement and anticipation fade once we've received the item."
Catherine Hilley, mobiles expert at money.co.uk, said: "Our research reveals how small purchases can increase customers' emotions in a positive way, something we all need after the past 12 months. With an average 63% increase in positive emotions noted across all top 10 purchases, it seems that shopping online for items such as houseplants, trainers and candles are sparking a lot more joy at the moment, than booking a holiday, which comes with a lot of added uncertainty."
For more information, please see the blog post for the full rankings and a breakdown by sex, and age: https://www.money.co.uk/mobiles/online-shopping-joy

Notice of Kambi Group Plc Extraordinary General Meeting 2022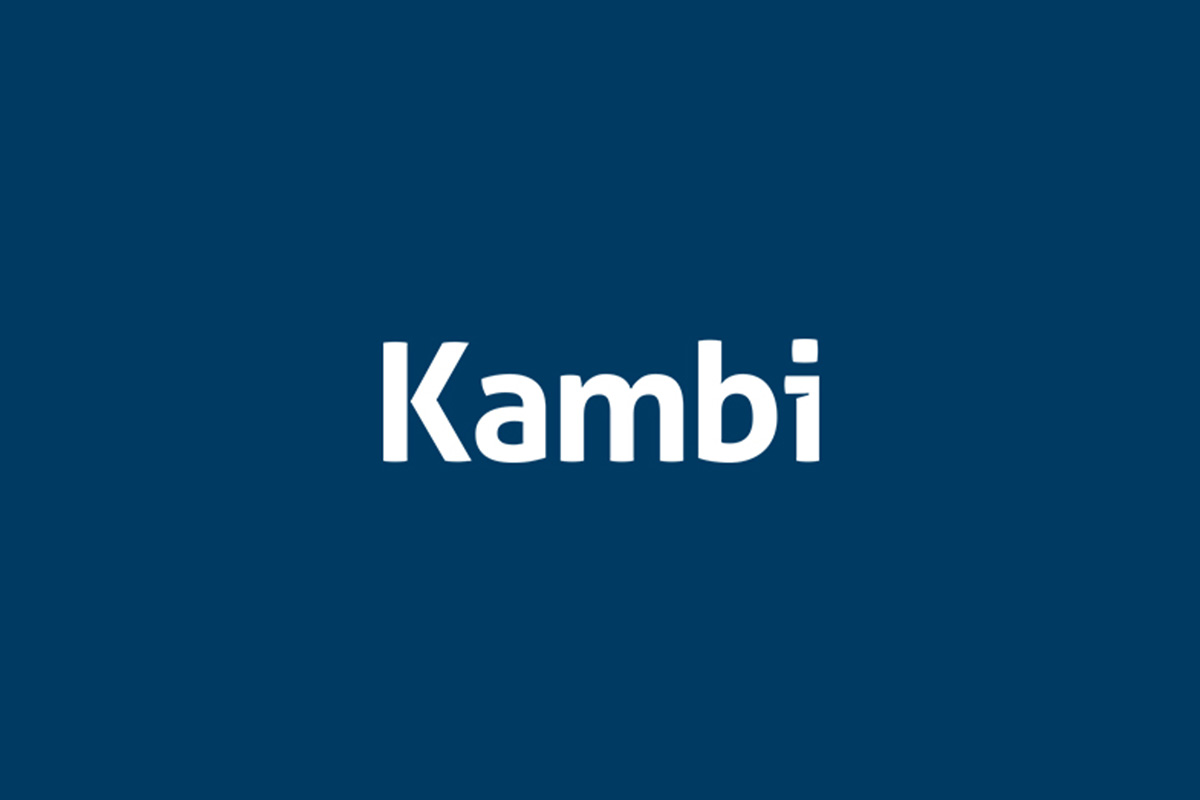 Reading Time:
6
minutes
In terms of Articles 41 and 42 of the Articles of Association of the Company
NOTICE IS HEREBY GIVEN that that AN EXTRAORDINARY GENERAL MEETING (the "Meeting") of Kambi Group plc, company number C 49768 (the "Company") will be held on Thursday 30 June 2022 at 11.00 CEST at Kambi, Hälsingegatan 38, 113 43 Stockholm, Sweden, to consider the following Agenda. The registration of shareholders starts at 10.30 CEST.
Right to attendance and voting
To be entitled to attend and vote at the Meeting (and for the purpose of the determination by the Company of the number of votes they may cast), shareholders must be entered on the Company's register of members maintained by Euroclear Sweden AB by Thursday 9 June 2022.
Shareholders whose shares are registered in the name of a nominee should note that they may be required by their respective nominee/s to temporarily re-register their shares in their own name in the register of members maintained by Euroclear Sweden AB in order to be entitled to attend and vote (in person or by proxy) at the Meeting. Any such re-registration would need to be effected by Thursday 9 June 2022. Shareholders should therefore liaise with and instruct their nominees well in advance thereof.
To be entitled to attend and vote in person at the Meeting, shareholders must notify Euroclear Sweden AB of their intention to attend the Meeting by Thursday 9 June 2022 and can do so by (i) e-mail to [email protected] com or (ii) mail to: Kambi Group plc, c/o Euroclear Sweden AB, Box 191, SE-101 23 Stockholm, Sweden or (iii) by phone on +46 8 402 9092 during the office hours of Euroclear Sweden AB. Notification should include the shareholder's name, address, email address, daytime telephone number, personal or corporate identification number, number of shares held in the Company, as well as details of any proxies (if applicable, in the case that the shareholder has appointed a third party representative to attend the Meeting in their stead). Information submitted in connection with the notification will be computerised and used exclusively for the Meeting. See below for additional information on the processing of personal data.
Shareholders' right to appoint a proxy
A shareholder who is entitled to attend and vote at the Meeting, is entitled to appoint one or more proxies to attend and vote on his or her behalf. A proxy need not also be a shareholder. If the shareholder is an individual, the proxy form must be signed by the appointer (or his authorised attorney) or comply with Article 126 of the Articles. If the shareholder is a corporation, the proxy form must be signed on its behalf by an authorised attorney or a duly authorised officer of the corporation or comply with Article 126 of the Articles.
Proxy forms must clearly indicate whether the proxy is to vote in their discretion or in accordance with the voting instructions sheet attached to the proxy form. Your proxy shall vote as you have directed in respect of the resolutions set out in this notice or on any other resolution that is properly put to the meeting. If the proxy form is returned to the Company without any indication as to how the proxy shall vote, generally or in respect of a particular resolution, the proxy shall exercise their discretion as to how to vote or whether to abstain from voting, generally or in respect of that particular resolution (as applicable).
Where the shareholder is a corporation, a document evidencing the signatory right of the officer signing the proxy form, must be submitted with the proxy form. Where the proxy form is signed on behalf of the shareholder by an attorney (rather than by an authorised representative, in the case of a corporation), the original power of attorney or a copy thereof certified or notarised in a manner acceptable to the Board of Directors must be submitted to the Company, failing which the appointment of the proxy may be treated as invalid.
The original signed proxy form and, if applicable, other supporting documents (required pursuant to the above instructions), must be received by Euroclear Sweden AB no later than Thursday 9 June 2022 by (i) e-mail to [email protected] .com or (ii) mail to: Kambi Group plc, c/o Euroclear Sweden AB, Box 191, SE-101 23 Stockholm, Sweden. Shareholders are therefore encouraged to submit their proxy forms (and other supporting documents, if any) as soon as possible.
Proxy forms are available on the Company website  under the General Meetings section.
Aggregated attendance notifications and proxy data processed by Euroclear Sweden AB must be transmitted to and received by the Company by email at [email protected] .com not less than 48 hours before the time appointed for the Meeting and in default shall not be treated as valid.
Agenda
1. Opening of the Meeting
2. Election of Chairman of the Meeting
3. Drawing up and approval of the voting list
4. Approval of the Agenda
5. Determination that the Meeting has been duly convened
6. Election of two persons to approve the minutes
Special Business (Extraordinary Resolutions)
7. THAT the Directors be and are hereby duly authorised and empowered in accordance with Articles 85(1) and 88(7) of the Companies Act and Article 3 of the Articles, on one or several occasions prior to the date of the next Annual General Meeting of the Company, to issue and allot up to a maximum of 3,106,480 Ordinary 'B' shares in the Company of a nominal value of €0.003 each (corresponding to a dilution of 10% of total shares as at the date of the notice to the 2022 Annual General Meeting) for payment in kind or through a direct set-off in connection with an acquisition, and to authorise and empower the Directors to restrict or withdraw the right of pre-emption associated to the issue of the said shares. This resolution is being taken in terms and for the purposes of the approvals necessary in terms of the Companies Act and the Articles of Association of the Company. (Resolution a)
8. WHEREAS (i) at a meeting of the Board of Directors of the Company held on 30 March 2022, the Directors resolved to obtain authority to buy back Ordinary 'B' shares in the Company having a nominal value of €0.003 each; and
(ii) pursuant to Article 5 of the Articles and Article 106(1) (b) of the Companies Act a company may acquire any of its own shares otherwise than by subscription, provided inter alia authorisation is given by an extraordinary resolution, which resolution will need to determine the terms and conditions of such acquisitions and in particular the maximum number of shares to be acquired, the duration of the period for which the authorisation is given and the maximum and minimum consideration.
NOW THEREFORE the members of the Company resolve that the Company be generally authorised to make purchases of Ordinary 'B' shares in the Company of a nominal value of €0.003 each in its capital, subject to the following:
(a) the maximum number of shares that may be so acquired is 3,106,480 which is equivalent to 10% of total shares as at the date of the notice to the 2022 Annual General Meeting;
(b) the minimum price that may be paid for the shares is SEK1 per share;
(c) the maximum price that may be paid for the shares is SEK1,000 per share;
(d) the maximum aggregate number of shares that can either be i) issued and allotted under Resolution a and, ii) bought back under this Resolution b, shall not exceed 3,106,480; and
(e) the authority conferred by this resolution shall expire on the date of the 2023 Annual General Meeting, but in any case shall not exceed the period of 18 months, but not so as to prejudice the completion of a purchase contracted before that date. (Resolution b)
9. Closing of the Extraordinary General Meeting

Information about proposals related to Agenda items
Both extraordinary Resolutions, Resolutions a and b, were presented in their entirety to the Annual General Meeting held on 17 May, 2022 (which resolutions were referred to therein as resolutions m and n respectively), and obtained one majority of two required in terms of article 135 of the Companies Act (Cap 386), and in terms of Articles 48B.2(b) of the Articles of Association of the Company. To this end, this Extraordinary General Meeting is being convened within 30 days of the Annual General Meeting, in accordance with the aforementioned provisions of the Companies Act and the Articles, in order to take a fresh vote on the proposed extraordinary resolutions.
Agenda item 7 (Resolution a)
The objectives of the authorisation are to increase the financial flexibility of the Company and to enable the Company to use its own financial instruments for payment in kind or through a directed set-off to a selling partner in connection with any business acquisitions the Company may undertake or to settle any deferred payments in connection with business acquisitions. The market value of the shares on each issue date will be used in determining the price at which shares will be issued. For the purposes of Article 88(7) of the Companies Act, through this resolution the members of the Company are also authorising the Board of Directors to restrict or withdraw the members' right of pre-emption that would normally entitle members to be offered the newly issued shares in the Company in proportion to their shareholding before such new shares are offered to third parties.
Agenda item 8 (Resolution b)
The Board of Directors proposes that the acquisition by the Company of its own shares shall take place on First North Growth Market at Nasdaq Stockholm or via an offer to acquire the shares to all members of the Company. Such acquisitions of own shares may take place on multiple occasions and will be based on market terms, prevailing regulations and the capital situation at any given time. Notification of any purchase will be made to First North Growth Market at Nasdaq Stockholm and details will appear in the Company's annual report and accounts. Any resolution to repurchase own shares will be publicly disclosed. The objective of the buyback and transfer right is to ensure added value for the Company's shareholders and to give the Board increased flexibility with the Company's capital structure.
Following such buybacks, the intention of the Board would be to either cancel, use as consideration for an acquisition or transfer to employees under a company share incentive plan. Once repurchased, further shareholder and Bondholder approval would be required before those shares could be cancelled.
If used as consideration for an acquisition the intention would be that they would be issued as shares and not sold first.
Leap Gaming Licensed in the UK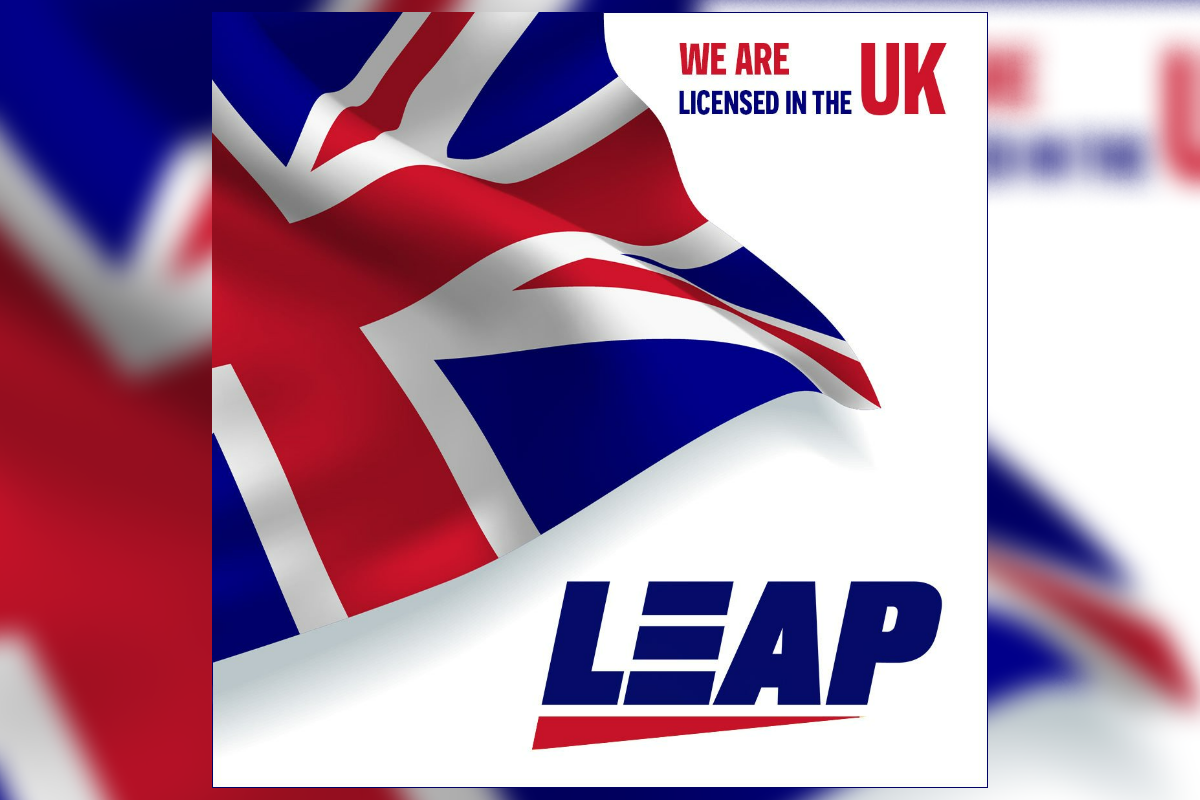 Reading Time:
< 1
minute
Leap has just received a Supply License by the UKGC.
"We are pleased to announce that Leap received a content supply license by the UKGC.
The long-awaited UK license is a meaningful milestone for Leap, allowing it to access the UK gaming market.
The UKGC license is added to the other recent licenses obtained by Leap in Sweden, Netherlands, Romania , South Africa and Greece.
Yariv Lissauer, CEO of Leap commented: "We are delighted and honored to have been granted the UKGC Supply license. The UK is a very important territory for Leap as it is one of the prime gaming markets in the world.
The UK is a key benchmark and a trendsetter for most of the gaming jurisdiction globally and serves as a hotbed of innovation. Moreover, the UK is also within the footprint of many of our live and contracting partners, and we look forward to rolling out our content there shortly".
Prague Gaming Summit '22 Speaker Profile: Dan Iliovici – Vice President at Rombet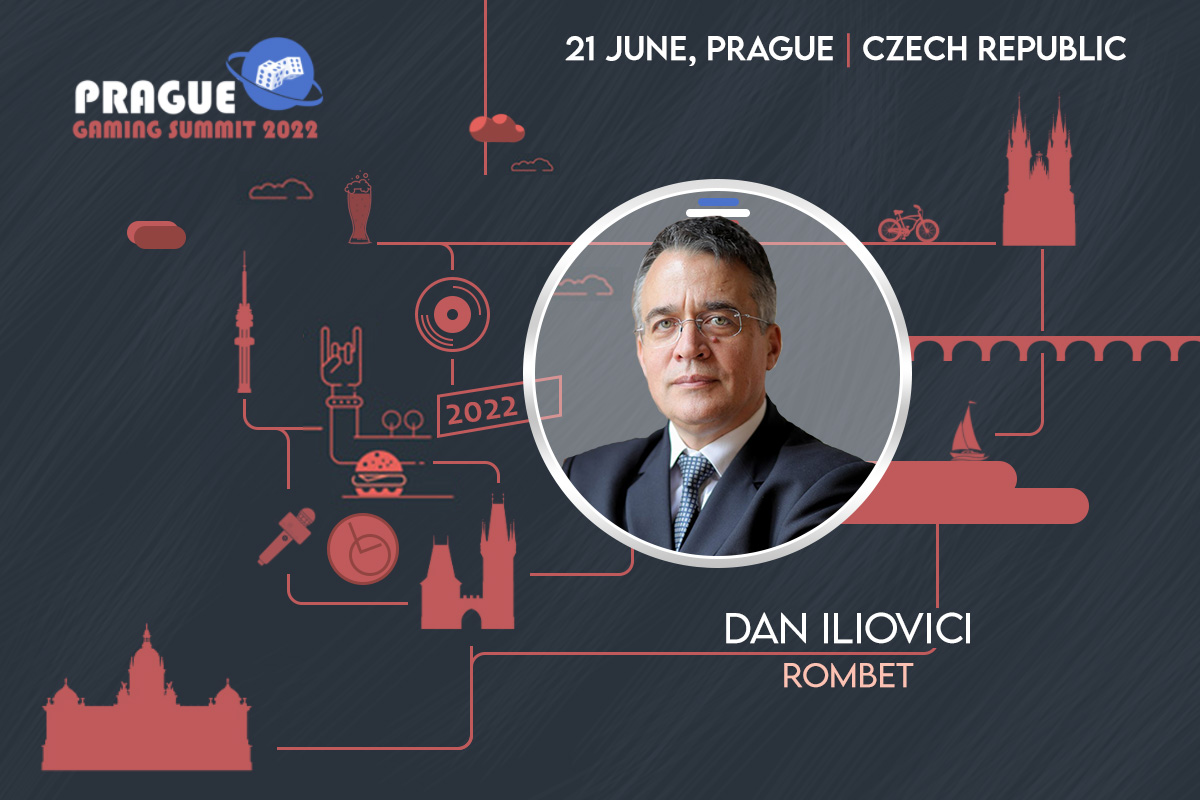 Reading Time:
2
minutes
The 6th edition of the Prague Gaming Summit will take place on 21 June 2022 and welcomes leading operators, service providers, and gambling industry experts from all across the Central and Eastern European region.
Find more details here | Register / Get tickets here 
#praguegamingsummit – You are invited to join the Central and Eastern European region's most important in-person gathering. The conference series was launched in 2017 and has enjoyed yearly growth while continuously bringing innovation to the boutique-style events landscape. As mentioned above the conference will take place on the 21st of June in Prague, Czechia at Vienna House Andel's Prague and is bringing a new format that will allow more interaction among the attending delegates.
The event gathers +30 experts who share their knowledge around compliance-related matters and updates from the CEE and Nordic regions to the participants! Make sure you are one of them!
Each week we are introducing some of the great minds that are going to share the stage in Prague and bring you the latest and most vital information.
Today, we are introducing: Dan Iliovici – Vice President at ROMBET
Dan Iliovici is Vice President of ROMBET – Romanian Gambling Organizers' Association, one of the most important associations in the industry. With a rich experience in the gambling industry, former President of the Romanian gambling regulator – The National Gambling Office, Dan Iliovici is one of the personalities who contributed the most to the industry's professionalization. Over the years, he was involved in the Romanian market transformation into a consolidated and transparent industry, with a strong focus on responsible gambling. Dan Iliovici is also the Vice President of Asociatia Joc Responsabil (Responsible Gaming Association in Romania – www.jocresponsabil.ro)
Order your Delegate Pass or VIP (Combo) Package (Delegate Pass +Accommodation) now!
The summit has the support of Tom Horn Gaming and Nordic Gambling as sponsors.
Here is what the participants of the Prague Gaming Summit series are saying:
"Prague Gaming Summit is a great place to discuss the current hot topics in the gaming industry and exchange opinions and ideas with the most relevant people from the operator, affiliate and provider sides. It was a pleasure joining the panel about the relationship between operators, affiliates, and regulators and sharing my views from the Trustly perspective." Vasilije Lekovic – Director of Gaming Accounts at Trustly