Gamestream strengthens global publisher partnerships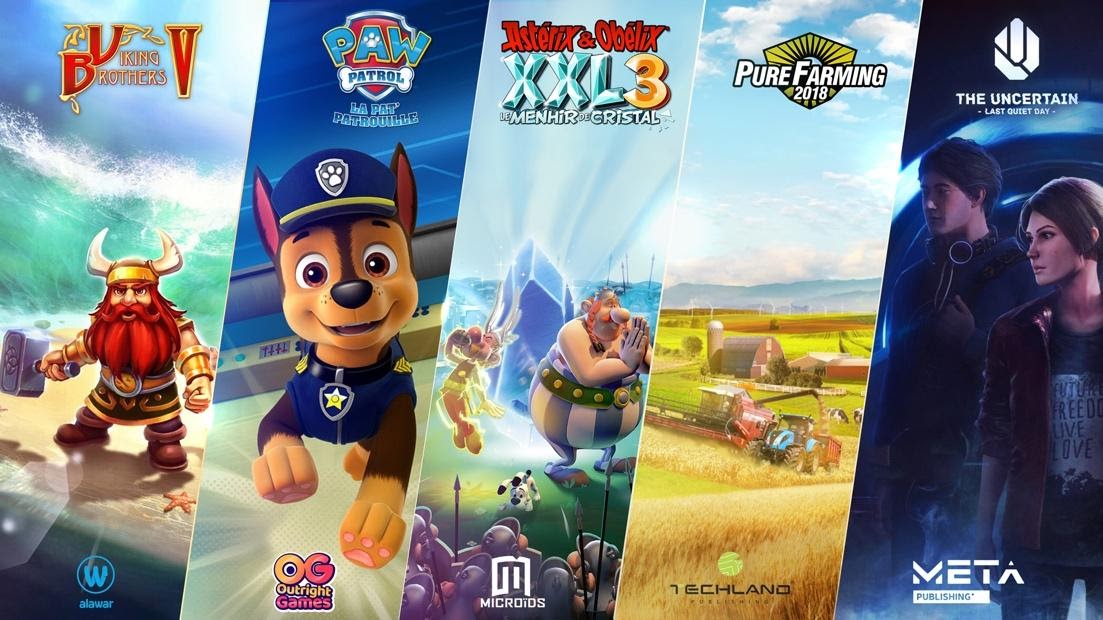 Reading Time:
2
minutes
Gamestream, the world leading provider of cloud video game streaming solutions for B2B industries – is thrilled to announce it has emboldened its publisher partnership network, having secured the licensing rights for over fifty console quality video games for its rapidly expanding family focused cloud gaming catalogue. Gamestream is welcoming onboard globally recognised IPs including the smash hit children's franchise PAW Patrol: On A Roll!, Asterix & Obelix XXL 3 – The Crystal Menhir, Call of Juarez: Gunslinger, Who Wants To Be A Millionaire?, and Garfield Kart Furious Racing.
In addition to the strengthening of its iconic video games catalogue, Gamestream is launching a solution to empower global video games publishers to launch their own-branded cloud gaming solution. This solution harnesses the full might of Gamestream's market leading technology, delivering ultra high performance cloud gaming with low bandwidths, across all platforms including PC, tablet, console, mobile, IPTV and Smart TV, delivering gaming anywhere at any time. The solution includes critical operational services such as auditing, game data analysis, and the optimisation of video game content so they translate well into high quality cloud gaming experiences.
Gaëlle de Jong, Director of Content and Licensing at Gamestream, commented:
"We're incredibly proud to be expanding our family of global publishing partners to deliver over thirty new titles to our burgeoning global catalogue of iconic video games. Our goal is to focus on providing our diverse industry clients across sectors such as telecoms and hospitality with best in class gaming franchises which are loved by families all around the world."
Ivan Lebeau, CEO of Gamestream, commented:
"Over the last year or so, an increasing number of our video game publishing partners have asked Gamestream to develop bespoke cloud gaming strategies and solutions for their core brands. They are doing this to create a direct communication and community channel with their passionate user bases, and also with the objective of reaching new audiences. Publishers are now realising that cloud gaming allows them to easily reach casual gamers which don't normally invest in hardware such as a console or PC, or gamers with limited computational resources at the user side. The games industry is facing an inflection point, as cloud gaming is powering a transformation for video gaming accessibility and usage. Publishers can now engage with their carefully nurtured communities with cloud gaming, due to Gamestream's leading global technical infrastructure and expertise."

Galaxy Racer content creator and YouTube sensation AboFlah smashes two GUINNESS WORLD RECORDS™ titles while raising over US$11M for charity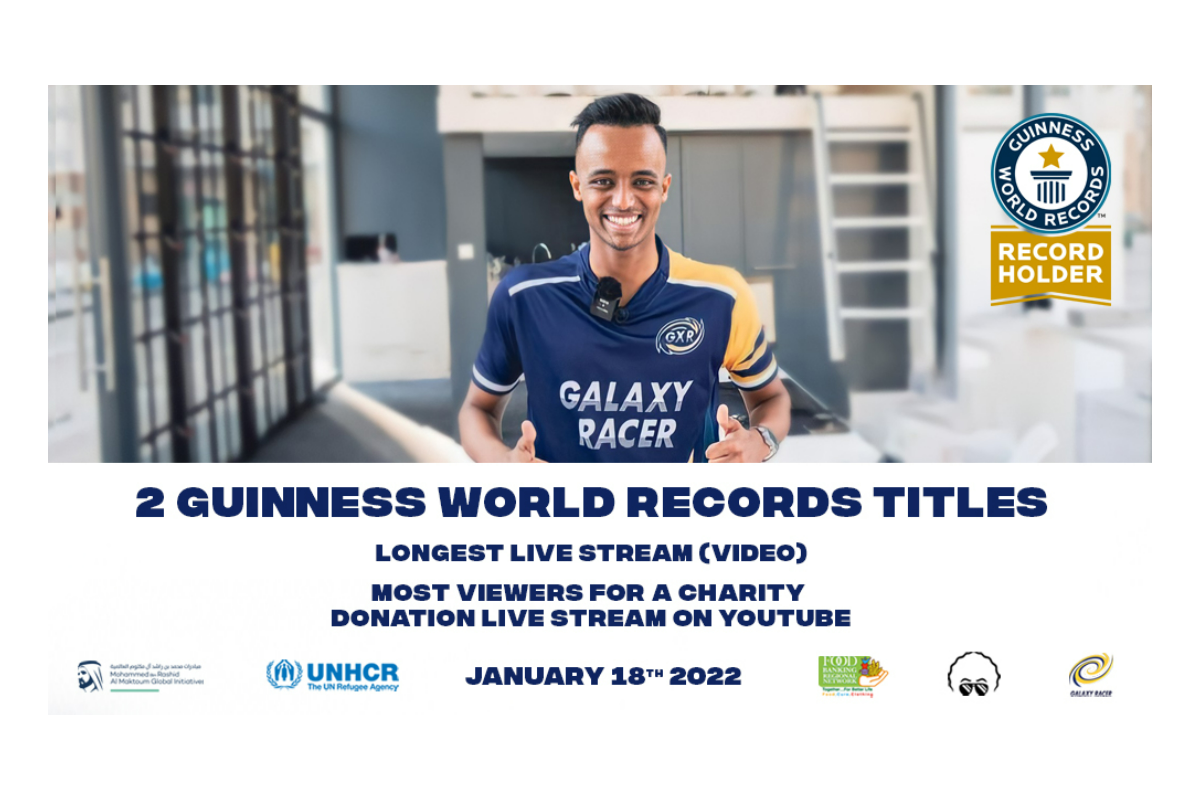 Reading Time:
3
minutes
Galaxy Racer (GXR), the biggest esports, gaming and lifestyle organisation, headquartered in Dubai, is pleased to announce that its content creator, AboFlah, has successfully raised over US$11M in a charity stream for The World's Coolest Winter campaign. Whilst completing the stream, AboFlah also officially broke two GUINNESS WORLD RECORDS™ titles for the "Longest live-stream (video)", recording live for 268 hours 14 mins 20 seconds and "Most viewers for a charity donation live stream on YouTube", attracting 698,000 peak concurrent views.
The World's Coolest Winter campaign, celebrates the UAE's most beautiful tourism destinations, extended it's humanitarian support to more than 100,000 refugees and people in need through a new humanitarian initiative called Warm Winter. The campaign aims to support hundreds of thousands of refugees and families in need in Africa and the Arab world by providing food, winter clothing, blankets, mattresses and critical aid to help displaced men, women and children prepare for harsh winter conditions. The campaign is being held in partnership with Mohammed bin Rashid Al Maktoum Global Initiatives (MBRGI) and Galaxy Racer. The essential aid will be distributed with the support of the UN refugee agency, United Nations High Commissioner for Refugees (UNHCR) and the Food Banking Regional Network.
As part of the campaign, AboFlah lived in a glass room in Downtown Dubai, near the Burj Khalifa and streamed continuously for 268 hours until the target of US$10 million was raised. While in the room, AboFlah encouraged people to donate and spent the majority of his time in front of his computer interacting with fans and those donating to the cause. The stream also attracted global attention and donations from celebrities and influencers including the likes of actress Kristin Davies, actor Amr Maskoun as well as content creators Noor Stars and Omar Farooq.
Launching his YouTube channel in 2017, AboFlah began posting gaming content of him playing FIFA17 before creating content on Fall Guys and Fortnite. His YouTube channel is one of the fastest-growing YouTube channels in the world, with over 23 million subscribers and over 3 billion views. He is followed by millions of fans who avidly watch his vlogs, comedy shorts and formatted shows covering video games and popular culture. AboFlah went on to join Galaxy Racer's content creator team in 2020, which already boasts some of the biggest content creators in the MENA and Southeast Asia region including fellow YouTube sensation Noor Stars. The organisation now carries over 100 content creators, with a total reach of over 500 million followers across all platforms and more than 2.5 billion monthly views.
Galaxy Racer launched in 2019 and has already become one of the biggest esports, gaming, and lifestyle organisations globally. The organisation has five separate business offerings; Content Creators, Esports Teams, Tournament Management, Merchandising and Lifestyle and GXR Records, a newly established record label that already carries two signed artists from the MENA region and are looking to expand globally.
Galaxy Racer content creator and YouTube sensation, Hassan Suleiman "AboFlah" said: "Warmth in winter for those facing harsh winter conditions is no less important than food and water. There are millions of refugees and displaced people who need all the support they can get. I am proud and thrilled we achieved our goal and raised over US$11 million and brought warmth to the lives of those who are deprived of it. Thank you to everyone who generously donated!
We have proven that Arab youth are capable of changing reality, even with small deeds, and reaching a bright future. "People for People." This sentence is not a metaphorical slogan, but it was manifested by the huge numbers of donors who felt compassion toward the suffering of refugees and displaced people. This reflects the huge impact this campaign had, which drove viewers' enthusiasm for participation.
The societal role depends on everyone's participation, believing in the importance of upholding our human values, and the solidarity in supporting the ones in need. Everyone of us has a role to play in creating the desired positive impact. UAE is the homeland of virtues, and the humanitarian moral actions in this blessed country transcend borders and can't be stopped by obstacles, such deeds present the community with moral values that our Arab region is in dire need for."
Galaxy Racer Founder and CEO, Paul Roy said: "We are amazed and grateful by the immense generosity shown by the fans, community and the general public. Raising over US$11 million is no easy task and we're glad to be part of this humanitarian initiative which will positively impact the affected 100,000 refugees. Smashing two GUINNESS WORLD RECORDS™ titles is impressive and a testament to the resilience shown by AboFlah, the Galaxy Racer team, together with our partners MBRGI, UNHCR and the Food Banking Regional Network. We thank you everyone for participating in this record-breaking charity initiative and we look forward to more positive impact initiatives."
EVOS Esports Partners with Metaverse Game Avarik Saga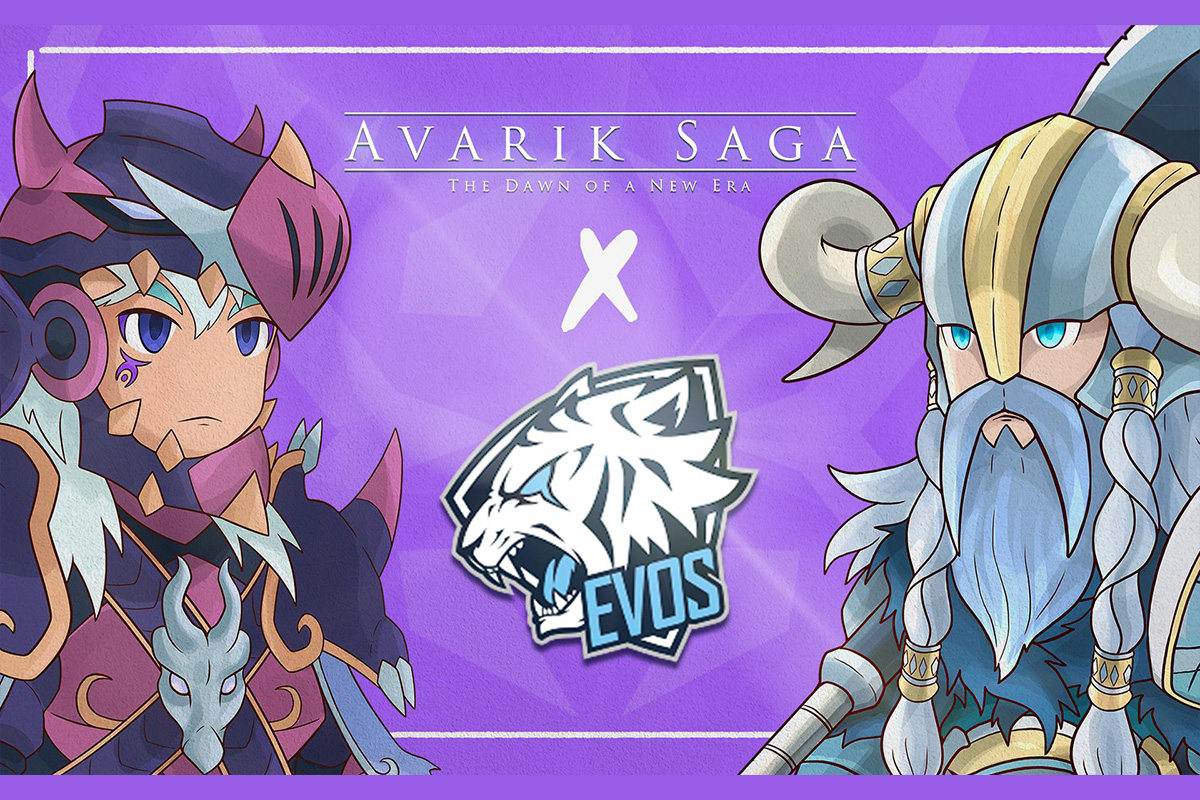 Reading Time:
2
minutes
Southeast Asian esports organisation EVOS Esports has partnered with Avarik Saga, a Japanese RPG NFT P2E metaverse game, to expand the former's collection of games, including the adoption of blockchain-based games.
Set to launch in the third quarter of this year, Avarik Saga is a strategic team-building game under the Japanese RPG genre that aims to bring the modern game experience into the NFT metaverse space. Under the partnership, EVOS Esports will introduce blockchain technology to potentially untapped audiences in Indonesia and other Southeast Asian countries. This includes people who have not previously engaged with NFTs or games in general.
According to EVOS, it believes NFT play-to-earn (P2E) metaverse games such as Avarik Saga can empower fans and communities, and this partnership will propel the company towards its ambition of becoming the first blockchain game company in Indonesia.
EVOS CMO Michael Wijaya said that he is very excited that EVOS can help Avarik Saga tap into existing local gaming communities and introduce the first Indonesian NFT P2E Metaverse RPG game, as well as foster a solid relationship to spearhead the blockchain game experience.
In September last year, Avarik Saga released its first playable NFT character collection of 8888 genesis NFTs, which sold out in less than an hour. The collection is currently available for trading in a secondary NFT marketplace, OpenSea.
While leveraging the enticement of RPG gameplays, Avarik Saga itself aims to use its P2E format, coupled with the enticement of RPG gameplays, to help accelerate the mass-market adoption of NFT gaming in Southeast Asian countries.
Avarik Saga CEO Kevin Cahya said that P2E is a mechanism that can only be a worthwhile venture if the game drives excitement and value to the community.
"In the end, the core of the game itself has to be enjoyable. A strong lore that entices the user to the Avarik Saga universe, a clear game mechanic that is engaging and content that makes the player want to come back is key. So, we want to develop an attractive game that appeals to the masses, even Gojek drivers and warung (small shop) owners, so they can earn real money while experiencing a digital world," he added.
EGRET II mini – Limited Blue Edition – Reservations open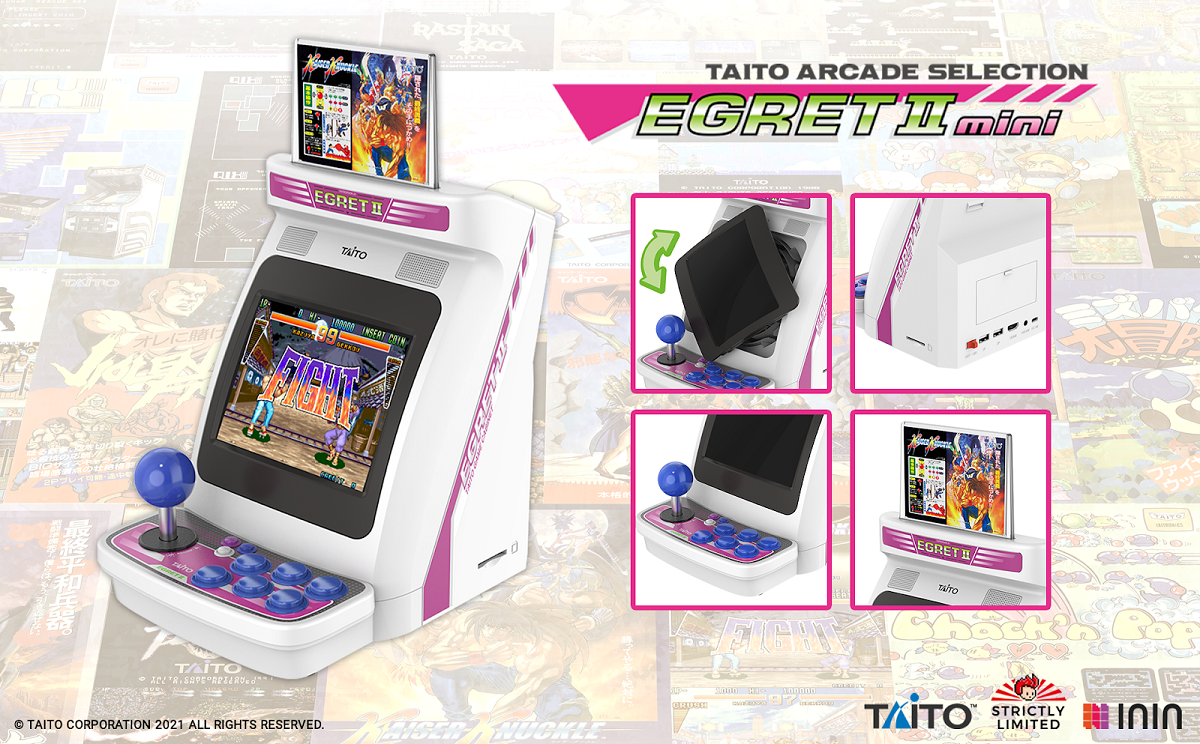 Reading Time:
2
minutes
More details about the exclusive Western edition of the high-end home console
After the announcement of the EGRET II mini in December last year, Strictly Limited Games and ININ Games are happy to kick off the new year with more news and details about the awesome home console version of the legendary TAITO retro arcade cabinet. As of today, reservations for the EGRET II mini – Limited Blue Edition can be made! An exclusive Western edition, limited to 5,000 units worldwide, split over different versions that also come with special content.
The exclusive EGRET II mini – Limited Blue Edition
Game publishers Strictly Limited Games and ININ Games are proud to bring the EGRET II mini to the West as their first hardware release, allowing fans to take a journey through the rich arcade history of legendary video game developer TAITO. The console comes with 40 iconic retro games of various genres and tons of awesome features; like a 5-inch 4:3 rotating screen for horizontal and vertical alignment, an adjustable joystick to switch from 8 directions to 4 directions and a lot more! These features are on full display in the new trailer.
The EGRET II mini – Limited Blue Edition comes with blue buttons and joystick presenting an exclusive color scheme, limited to only 5,000 units worldwide. Prices start at 229.99$ / 199.99€ (excluding tax and shipping costs). There will be three exclusive editions including awesome physical collectibles in addition to the console.
EGRET II mini – Limited Blue Edition Bundle: This edition will include the EGRET II mini – Limited Blue Edition, a special cup & cup holder and a set of mini instruction cards for the true retro arcade feeling. This bundle does not include any of the three optional controllers, which can be purchased separately.

EGRET II mini – Arcade Cabinet Blue Edition: This very special package will include the EGRET II mini – Limited Blue Edition, plus the Paddle and Trackball Expansion Set that comes with a controller and 10 additional games on SD card. On top of that, retro fans get a set of mini instruction cards, a special TAITO/ZUNTATA anniversary soundtrack and a strategy book.

EGRET II mini – Game Center Blue Edition: The most extensive edition that includes all the content of the Arcade Cabinet Blue Edition plus the other two available optional EGRET II mini controllers and even more awesome physical collectibles.
Reservations are now open!
As the EGRET II mini – Limited Blue Edition will only be available in a limited quantity of 5,000 units, retro fans can now already make their reservation, obtaining the right to secure one of these faithfully miniaturized high-end home consoles as soon as pre-order starts.