Gamestream strengthens global publisher partnerships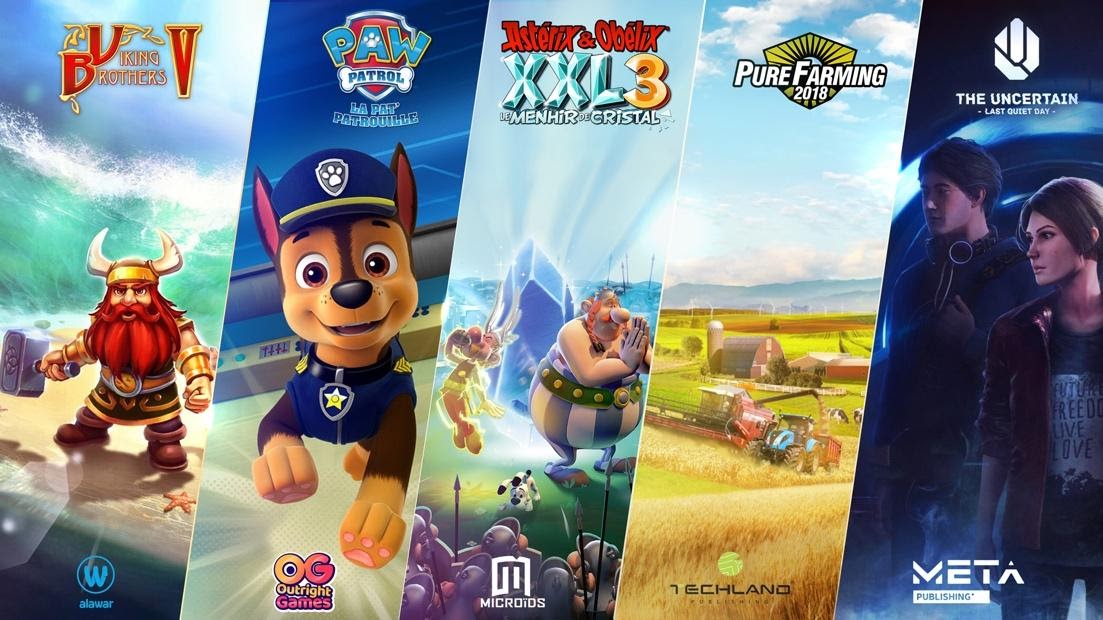 Reading Time:
2
minutes
Gamestream, the world leading provider of cloud video game streaming solutions for B2B industries – is thrilled to announce it has emboldened its publisher partnership network, having secured the licensing rights for over fifty console quality video games for its rapidly expanding family focused cloud gaming catalogue. Gamestream is welcoming onboard globally recognised IPs including the smash hit children's franchise PAW Patrol: On A Roll!, Asterix & Obelix XXL 3 – The Crystal Menhir, Call of Juarez: Gunslinger, Who Wants To Be A Millionaire?, and Garfield Kart Furious Racing.
In addition to the strengthening of its iconic video games catalogue, Gamestream is launching a solution to empower global video games publishers to launch their own-branded cloud gaming solution. This solution harnesses the full might of Gamestream's market leading technology, delivering ultra high performance cloud gaming with low bandwidths, across all platforms including PC, tablet, console, mobile, IPTV and Smart TV, delivering gaming anywhere at any time. The solution includes critical operational services such as auditing, game data analysis, and the optimisation of video game content so they translate well into high quality cloud gaming experiences.
Gaëlle de Jong, Director of Content and Licensing at Gamestream, commented:
"We're incredibly proud to be expanding our family of global publishing partners to deliver over thirty new titles to our burgeoning global catalogue of iconic video games. Our goal is to focus on providing our diverse industry clients across sectors such as telecoms and hospitality with best in class gaming franchises which are loved by families all around the world."
Ivan Lebeau, CEO of Gamestream, commented:
"Over the last year or so, an increasing number of our video game publishing partners have asked Gamestream to develop bespoke cloud gaming strategies and solutions for their core brands. They are doing this to create a direct communication and community channel with their passionate user bases, and also with the objective of reaching new audiences. Publishers are now realising that cloud gaming allows them to easily reach casual gamers which don't normally invest in hardware such as a console or PC, or gamers with limited computational resources at the user side. The games industry is facing an inflection point, as cloud gaming is powering a transformation for video gaming accessibility and usage. Publishers can now engage with their carefully nurtured communities with cloud gaming, due to Gamestream's leading global technical infrastructure and expertise."

Nigma Galaxy female CS:GO Champions: New docu-series follows rise to becoming champions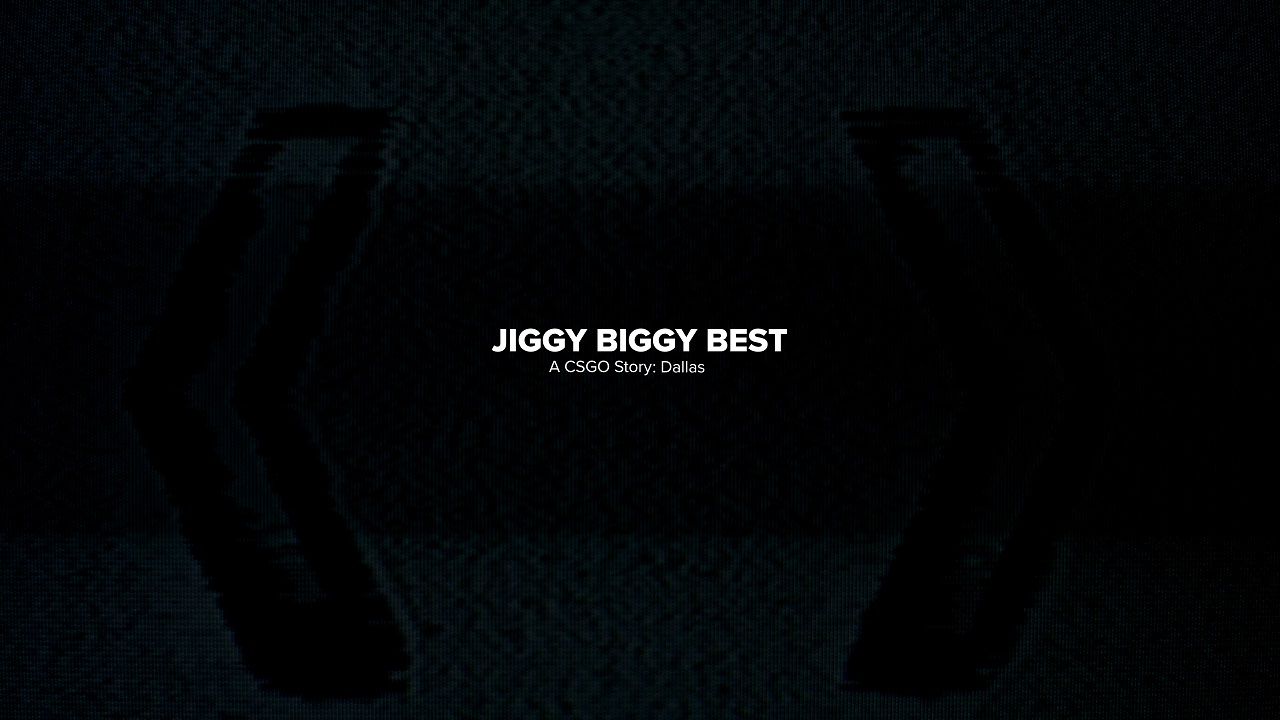 Reading Time:
< 1
minute
This Sunday 14th, Nigma Galaxy is set to release the first episode of their new docu-series, Jiggy Biggy Best: A CS:GO Story, which follows their hugely successful female CS:GO team and their journey to becoming champions at two major tournaments this year.
The first instalment of the series will be launching on Nigma Galaxy's YouTube channel at 1pm CEST on Sunday. You can find more information below, in case the team's story would be of interest to your editorial plan:
Fans will get a behind the scene glimpse into the female Nigma Galaxy CS:GO team preparing for two of the biggest tournaments of their careers – ESL Impact League Season 1 in Dallas to the stand-alone ESL Impact tournament in Valencia
The docu-series also offers an exclusive peek into the teams journey to the top – their training regime, team cohesion and a deeper dive into the world of female esports
Uncover the dedication and support Nigma Galaxy have placed on the competitive female esports scene, one of the fastest-growing sub-genres in the industry
The number of games companies and employees in Germany continues to grow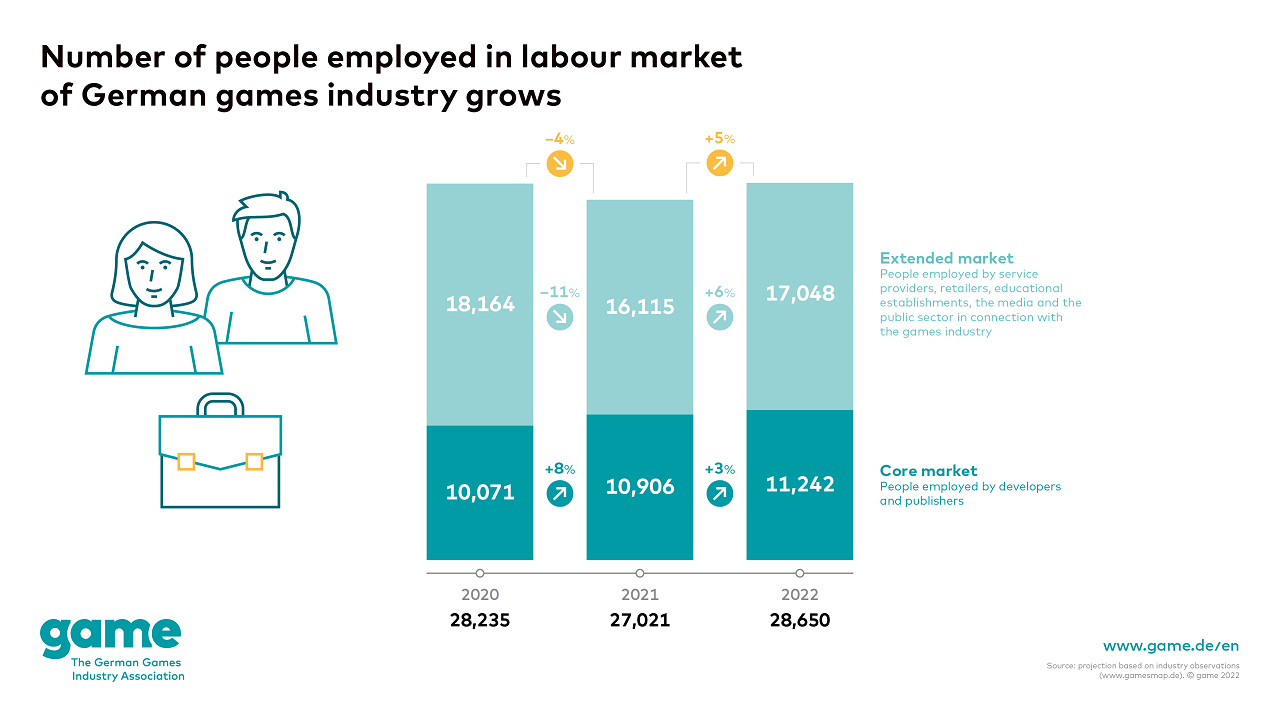 Reading Time:
3
minutes
The upswing in the German games industry continues: significant increases in the number of German games companies and employees in 2021 are being followed up by further growth in both figures. There are currently approximately 786 companies in Germany that are involved in the development and marketing of computer and video games or in one of these two areas. This is 5 per cent more than in 2021. These are the figures released today by game – the German Games Industry Association, based on data collected by gamesmap.de. A majority of these companies (392, down by 3 per cent) are active in both development and publishing. 358 games studios focus solely on the development of games for PCs, games consoles and mobile devices. The number of these companies exhibited particularly strong growth, rising by 14 per cent compared to the previous year. The number of companies who are active solely as publishers is significantly lower, with just 36 such companies in Germany (up 13 per cent).
The positive trend in the number of employees has also continued, as the previous year's 8 per cent growth has been followed up by approximately 3 per cent growth in the core market. This brings the total number of people employed in the development and marketing of games in Germany to 11,242. Differences in the growth rates underscore the degree to which the establishment of numerous smaller companies is driving the current growth trend in the German games industry: whereas the number of games companies in the core market has increased by 26 per cent over the past two years, the rate of growth in the number of employees during this same time span has been lower, at just under 12 per cent. Following a decline in the previous year, the games industry's extended labour market also recovered somewhat: the estimated number of people employed here increased by nearly 6 per cent to 17,048. This extended labour market includes people employed by service providers, retailers, educational establishments, the media and the public sector in connection with the games industry. In total, the German games industry currently therefore secures more than 28,000 jobs.
The upswing in the German games industry continues: the increase of 26 per cent in the number of companies in just two years shows that Germany is on the right track as it strives to improve its attractiveness as a games location. Many of the positive impacts of the relatively new federal support programme for the games industry have yet to show up in the statistics, because most games are the result of a multi-year development process. Even so, growth in the number of companies and in their employees already offers us evidence of the industry's high level of confidence that this upswing is going to last, particularly if policymakers continue to take the decisions necessary to continue this course,' said Felix Falk, Managing Director of game.
Another year of strong growth for the German games market
Sales revenue from computer and video games and associated hardware is currently experiencing even stronger growth than that enjoyed by numbers of companies and their employees: following a historic 2020 performance with a 32 per cent jump in sales, sales revenues in the German games market continued to rise significantly in 2021 with a total of approximately 9.8 billion euros in sales revenue generated by games, games hardware and fees for online gaming services – an increase of 17 per cent compared to the previous year. Sales revenue from computer and video games grew by 19 per cent to about 5.4 billion euros, due among other things to increases in in-game and in-app purchases. Sales revenue from games hardware has also grown, by 18 per cent overall to about 3.6 billion euros. Demand for games consoles and gaming PC accessories was particularly strong.
About the market data
The online directory gamesmap.de records developments in the German games industry on an ongoing basis. game continuously calculates the industry's employment situation in Germany using detailed industry observations and research, together with appropriate projections and surveys of experts.
The market data is based on statistics compiled by the GfK Consumer Panel and data.ai. The methods used by GfK to collect data on Germany's digital games market are unique in terms of both their quality and their global use. They include an ongoing survey of 25,000 consumers who are representative of the German population as a whole regarding their video game purchasing and usage habits, as well as a retail panel. The data collection methods provide a unique insight into the German market for computer and video games.
game – the German Games Industry Association
We are the association of the German games industry. Our members include developers, publishers and many other games industry actors such as esports event organisers, educational establishments and service providers. As a joint organiser of gamescom, we are responsible for the world's biggest event for computer and video games. We are an expert partner for media and for political and social institutions, and answer questions relating to market development, games culture and media literacy. Our mission is to make Germany the best games location.
TOM CLANCY'S RAINBOW SIX® SIEGE OPENS UP FOR BEGINNERS WITH VISEGRAD COMMUNITY CUPS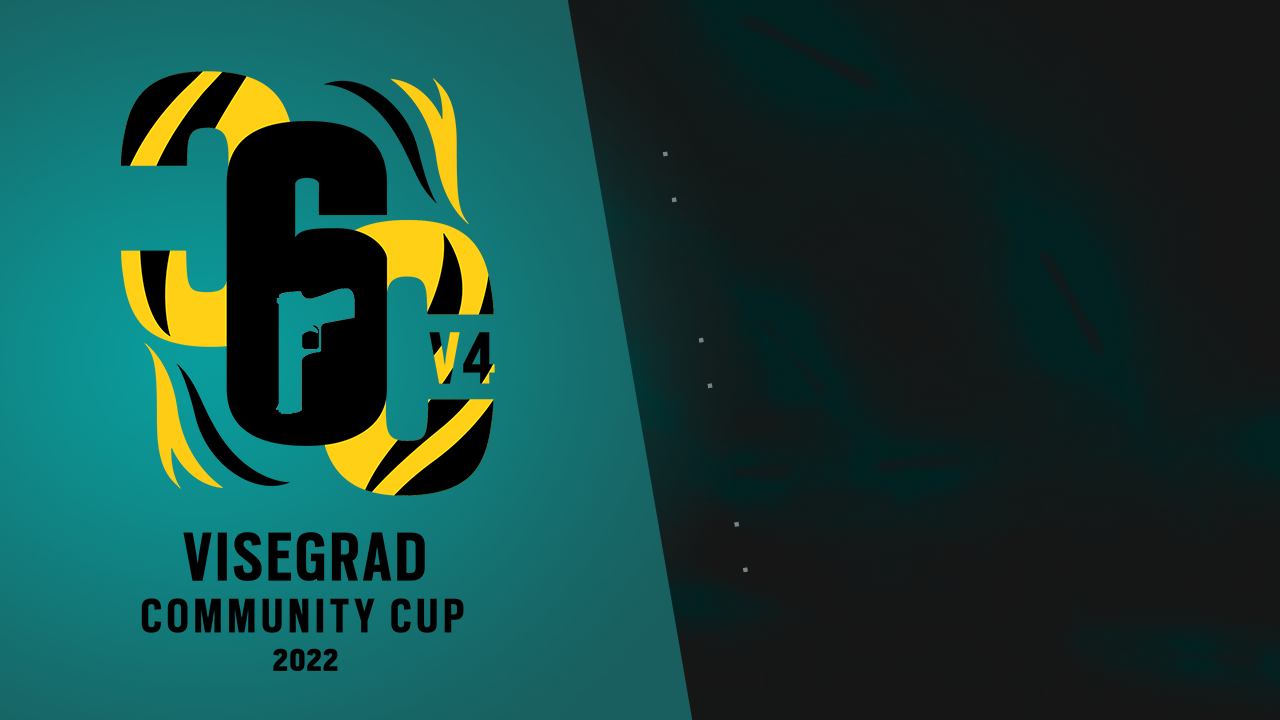 Reading Time:
2
minutes
Starting Saturday, August 20th players from Poland, Czech Republic, Slovakia, and Hungary can compete in weekly Rainbow Six Siege tournaments on PC
Today, Ubisoft Poland announced that – through their collaboration with global esports platform Challengermode – Tom Clancy's Rainbow Six® Siege will be joining a series of weekly PC tournaments dedicated to beginners from Visegrad Group starting August 20nd. Expanding on its previous work with Challengermode on the V4 Masters – Nationals level tournaments – Ubisoft continues its efforts to develop Rainbow Six Siege's grassroots competitions – open to all with weekly tournaments.
Kamil Ściana, Brand Marketing Manager CEE at Ubisoft said: "Our main goal with this new series of tournaments is to further open up the Rainbow Six Siege esports scene to players of all levels, bridging the gap between casual multiplayer and the more professional esports space where players can regularly compete for real prizes. Working with Challengermode has made the set-up and participation in these tournaments seamless and easy to scale for as many players as want to compete from the Visegrad region, and we look forward to working with them further on tournaments that will keep players coming back to enjoy Rainbow Six Siege in the months and years ahead."
Patrik Jackiewicz, Senior Partnerships Manager at Challengermode added: "We're delighted to be working with Ubisoft to bring Tom Clancy's Rainbow Six Siege grassroots esports initiative to life on Challengermode. Together with one of the most popular IPs in the world we are creating a bedrock ground for players looking to ascend to higher tiers of Ubisoft-endorsed tournaments, which aligns perfectly with Challengermode's goal of making esports truly accessible for all. We look forward to working closely with Ubisoft on this series of weekly competitions and other collaborations in future."
Players from Poland, Czech Republic, Slovakia, and Hungary can register now through Challengermode's esports platform, and prepare to compete for in-game credits to purchase newest operators, uniforms, weapon skins, charms and more. These weekly competitions will give the Tom Clancy's Rainbow Six Siege esports hopefuls the chance to level up their skills by playing like the pros in a structured competitive experience – all on one centralized platform.