Why Do Slot Game Developers Shrug Off RNG Virtual Games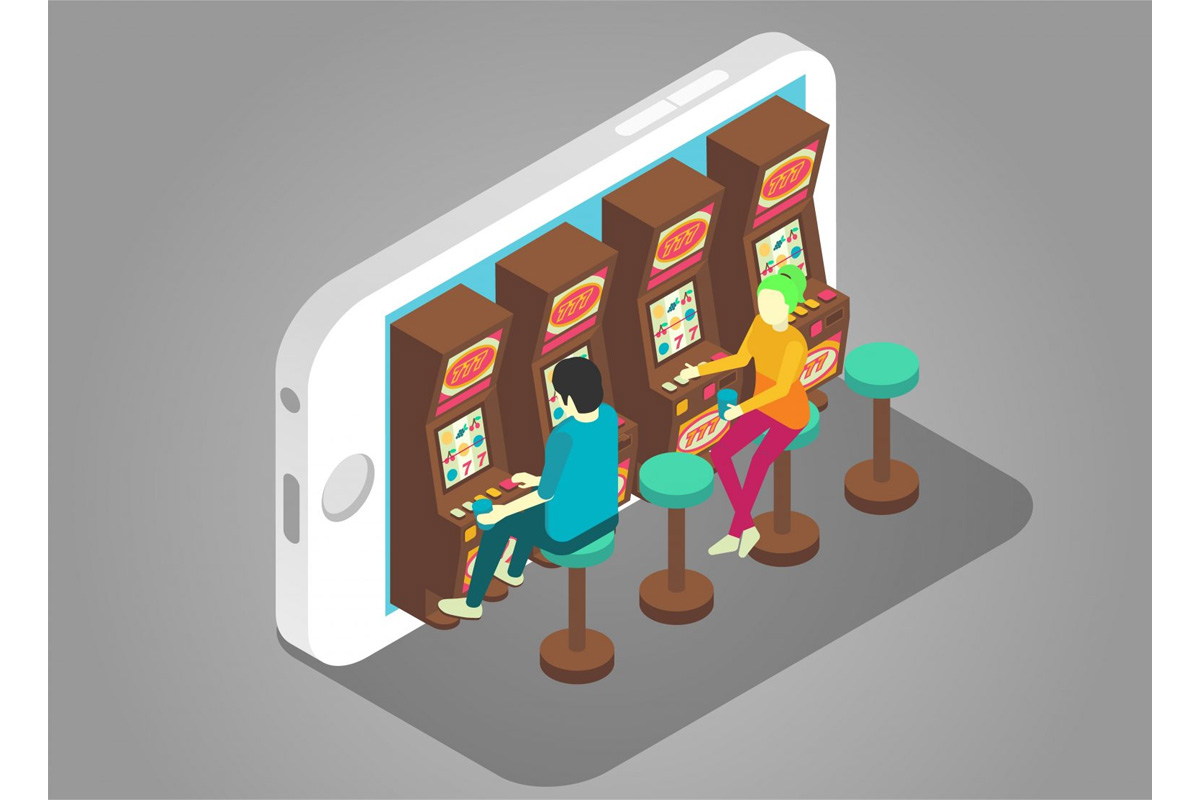 Reading Time:
4
minutes
One of the most common mysteries surrounding gambling or betting is that slot game developers don't look at RNG virtual games as much as they see slots as an advantage. That's even though they both obviously use a random generator in generating combinations.
Virtual sports usually use Random Number Generator (RNG) to generate results, while slot machines use it to produce a pattern. Using RNG in virtual games makes the results more random and unpredictable.
But why do game developers shrug off RNG virtual sports? Let's get to know the reason why.
Virtual Games and Slot Machines
First, let's know how each of them specifically works, and let's identify their differences.
Virtual sports rose to fame as it combines sports betting, esports, and slot machines. You can think of it as if you're watching a demo of a video game. Then the operator of the virtual sports sets a line for the matchup where players then place their bets on the possible results of the game.
Contrary to esports where players face and fight one another live, the algorithm dictates the virtual sports results, making it unpredictable. That's the role that RNG plays in finding the winner for virtual games.
It's also worth noting that virtual sports games have more in common with their real-life counterparts than typical slot machines.
Meanwhile, slot machines work by hitting the spin on the slot. Slot reels will then rest in a certain pattern after spinning, and that will decide whether or not you hit the slot's jackpot. The pattern will also be generated by the RNG, which is its key function.
Compared to the old mechanical slots where the possibilities are limited and thereby making the jackpots smaller, the rise of electrical slot gaming became a game-changer in the world of gambling.
With the first slot games made of mechanical gears, you'll need to turn the reels once the lever is pushed. They have to be rotated orderly, from left to right until it's back to their first position, at which point the reels cease successively in the same order wherever they begin to rotate.
This process of generating random symbols was generally the fairest during that time.
However, while this process has long served its purpose for slot machines, it doesn't work for all online games. That's why digital RNG was designed which changed the gears using microchips that allow generating random numbers, letters, and symbols.
Electrical slot gaming, as well as the development of the microchip, had paved the way for higher numbers of possible combinations and outcomes. With that, an increase in the value of prizes is expected with electrical slot gaming.
Differences Between Slots & Virtual Sports
At first, you may see no difference between virtual sports and slot machines. Their functions are simple, one is a computerized sporting event (i.e., RNG virtual sports) that offers a wide range of bets at different odds, while the other makes use of reels and symbols to generate a wide range of possible combinations and outcomes (slot machines). But the most obvious similarity between the two is their usage of RNG in generating results.
Although both may share more similarities than differences, we can't deny the fact that the differences are strong enough to make some people choose one over the other. Both industries are thriving, with premium virtual sports deals being signed worldwide, and new slot gameplays appearing every year!
Jackpots are very common in slots. Much rarer in other RNG virtual games, including virtual sports. "Slots offer incredible headline prizes and payouts with jackpots which create a massive draw from hardcore and new casino goers! Virtual sports are not yet offering anything close to that that would offer a similar pull.", said Stuart Smith from betandbeat.
For instance, many people may prefer slot machines over virtual sports as slots are just simpler and easier to play. Slots have much fewer cognitive prerequisites! People enjoy the convenience of just clicking the spin button and make no other decisions aside from that. Some may also choose slot games as it has a faster pace compared to virtual sports that usually lasts for about three to five minutes.
Regarding the return to player (RTP) rate, virtual sports gamblers may expect about 80%-90% on average while some slot machines may offer about 95%-99%. RTP is the projected percentage of wagers that a game may give back to the player later on.
When it comes to the odds of winning, players of live slot machines are said to have higher chances of winning than in online casinos. No online jackpots had come close to reaching the progressive jackpots on any Las Vegas Strip. For instance, the world record for the Megabucks slot is $39.7 million payouts. It was the biggest slot win ever.
Though your chances of winning a headline prize from progressive jackpots may depend on where you live as some local casinos may not have progressive jackpots that could beat the five-figure progressive jackpots from online casinos.
Given the differences between the two, it's clear why game developers favor slots over RNG virtual sports. However, this is slowly changing as iGaming operators try to integrate more and more virtual sports in their inventory!
Since many gamblers opt for slot machines more than virtual games, casinos will obviously prefer to cater to the category that's appealing to many people. The more people play a certain game, the more casinos profit from it. The more they invest in it, and here goes the virtuous cycle. And so far, virtual game developers have not yet cracked the code.

LE MANS VIRTUAL SERIES BY MOTORSPORT GAMES GEARS UP FOR ROUND TWO ON OCTOBER 16, 2021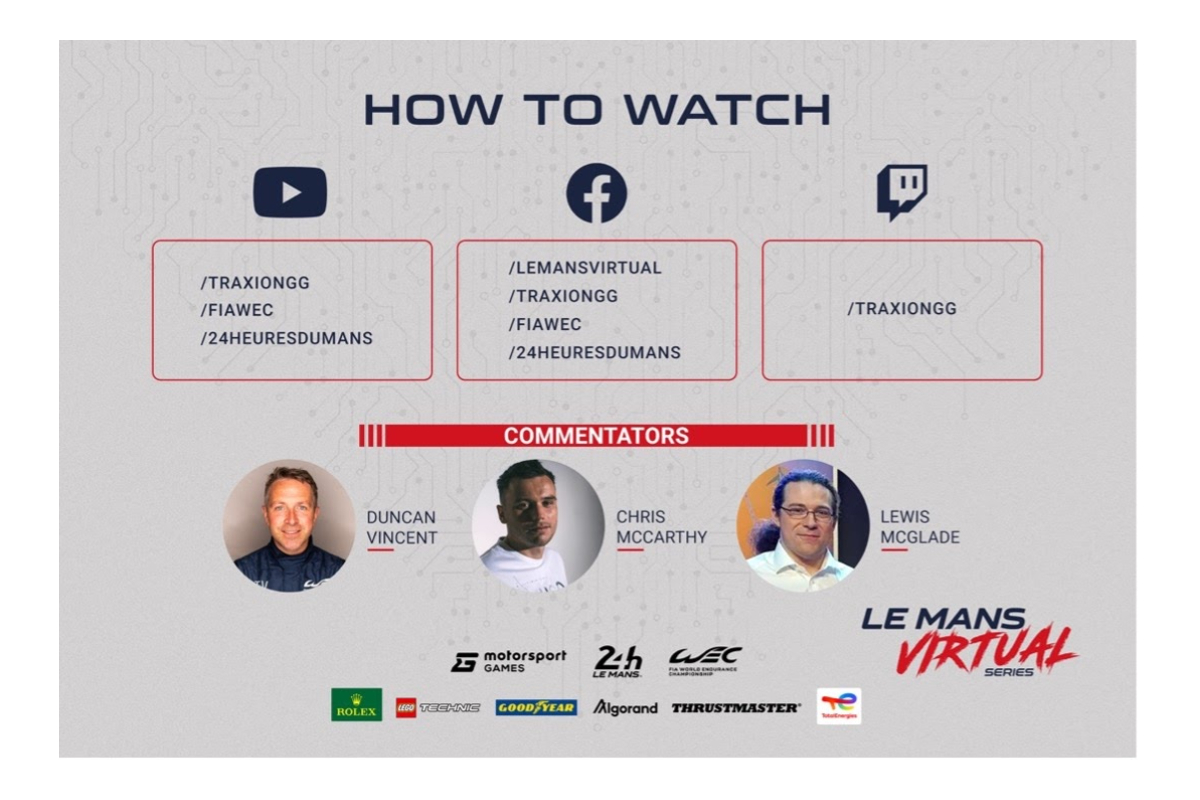 Reading Time:
2
minutes
After a thrilling 1ST round that saw more than 2.6 million impressions worldwide, the 2nd stage kicks off at 7:30 a.m. EDT on Saturday
Motorsport Games Inc. announced that after a thrilling 1st race, the stage is set for round 2 of the Le Mans Virtual Series, the 6 Hours of Spa Virtual, slated for October 16, 2021 at 07:30 a.m. EDT. Saturday's race will feature 38 entries (entry list HERE). Le Mans Virtual Series is a joint venture between Motorsport Games — a leading racing game developer, publisher and esports ecosystem provider of official motorsport racing series throughout the world — and the Automobile Club de l'Ouest ("ACO") — the creators and organizers of the world-famous 24 Hours of Le Mans and promoter of the FIA World Endurance Championship (the "FIA WEC").
The 2021-22 season of the Le Mans Virtual Series consists of 5 rounds, the 2nd of which is the 6 Hours of Spa Virtual. The 38 prototype and grand touring endurance entries will compete virtually on the infamous 7 kilometer Belgian circuit, including famous corners and bends such as Eau Rouge, Raidillon, Stavelot and La Source. The live broadcast will feature lead commentary by FIA WEC's Duncan Vincent, together with Chris McCarthy and Lewis McGlade.
Round 2 of the Le Mans Virtual Series comes on the heels of a successful 1st round that saw more than 2.6 million impressions worldwide and a thrilling victory from Realteam Hydrogen Redline. The 1st round of the esports endurance racing championship was an action-packed and incident-filled 4 Hours of Monza on September 25, 2021. Monza's more than 2.6 million impressions on official channels during race week alone set the stage for a wildly successful series. Viewers can expect even more thrills and excitement for this coming round! Realteam Hydrogen Redline's drivers Dani Juncadella, Jeffrey Rietveld and Michal Smidl took 1st place overall, while GPX Rebellion Esports and team Floyd Bykolles-Burst finished in 2nd and 3rd place, respectively. Mitchell Dejong, Mack Bakkum and Martin Kronke from the Porsche Esports Team took the Le Mans Grand Touring Endurance honors in a class that featured no fewer than 5 different manufacturers represented.
The Le Mans Virtual Series brings together top-level, real-life drivers such as Jenson Button, Alex Palou, Stoffel Vandoorne, Louis Deletraz and a number of the world's other best sim racers to compete together in 5 endurance races that range from 4 to 24 hours in duration. This year's series will conclude with the 24 Hours of Le Mans Virtual, which will take place live and televised at the Autosport International ("ASI") show in Birmingham, UK in January 2022.
Here is where you can follow all of the weekend's action, live and uninterrupted:
Friday, October 15, 2021: (all times Eastern Daylight Time)
1:00 p.m.                           Qualifying show live (not available on WEC or 24 Hours of Le Mans channels)
1:10 p.m.– 1:30 p.m.       Qualifying GTE
1:40 p.m.– 2:00 p.m.       Qualifying LMP
Saturday, October 16, 2021:
04:00 a.m.– 6:00 a.m.     Warm up
7:30 a.m.                           Le Mans Virtual Series show live
8:00 a.m.                           6 Hours of Spa – RACE
The venue for the official Russian-language broadcast of PGL Major Stockholm 2021 is announced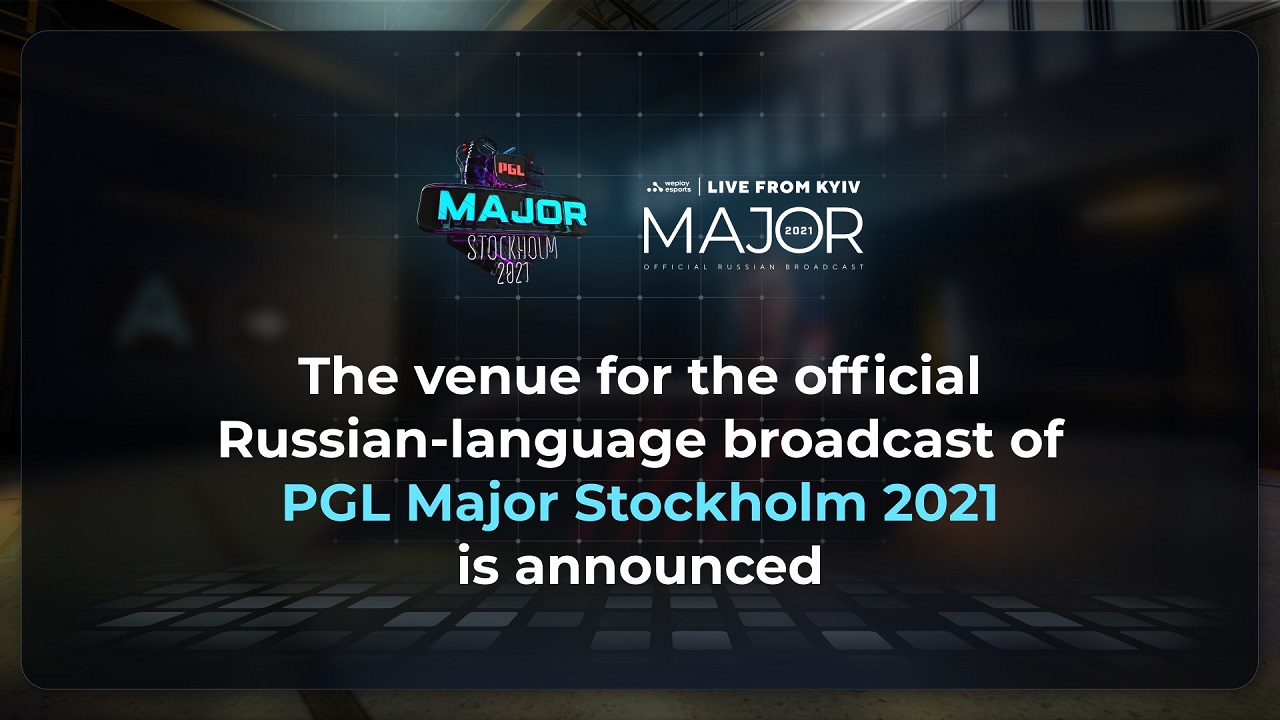 Reading Time:
< 1
minute
The Russian-speaking talent crew will broadcast the tournament from the WePlay Esports studio.
WePlay Esports will be the official Russian-speaking streamer of the tournament, in a deal brokered by IMG on behalf of PGL. The talent team and broadcasting studio will be working from the WePlay Esports studio.
WePlay Esports has experience in organizing analytics studios in-house: BLAST Premier: Fall Season 2021, the WePlay Academy League, WePlay! Clutch Island etc. are cases in point. The broadcast will be organized in accordance with the standards and best traditions of the company, matching the visual identity of the English-language broadcast from PGL. The studio is equipped with the latest technology, and the company is in the final stages of preparation for the broadcast, adding finishing touches to the graphics, augmented reality (AR) elements, and content.
"We are ready for any kind of challenge, even for broadcasting several tournaments from different venues simultaneously. Our studio and arena in Kyiv, Ukraine, and the arena in Los Angeles, the U.S., which will be opened soon, allow us to create high-quality engaging content, which the esports community appreciates a lot.I can say with confidence that the quality of the broadcast, its content, and the set-up will be on par with the level of the Major," comments Maksym Bilonogov, chief visionary officer and general producer at WePlay Esports.
The main tournament of this year in Counter-Strike: Global Offensive (CS:GO), the PGL Major Stockholm 2021, will take place from October 26 to November 7. The PGL Major Stockholm 2021 will be the first CS:GO Major after a two-year break due to the pandemic. The total prize pool of the tournament is $2 million.
BGaming upgraded Dig Dig Digger slot with new features!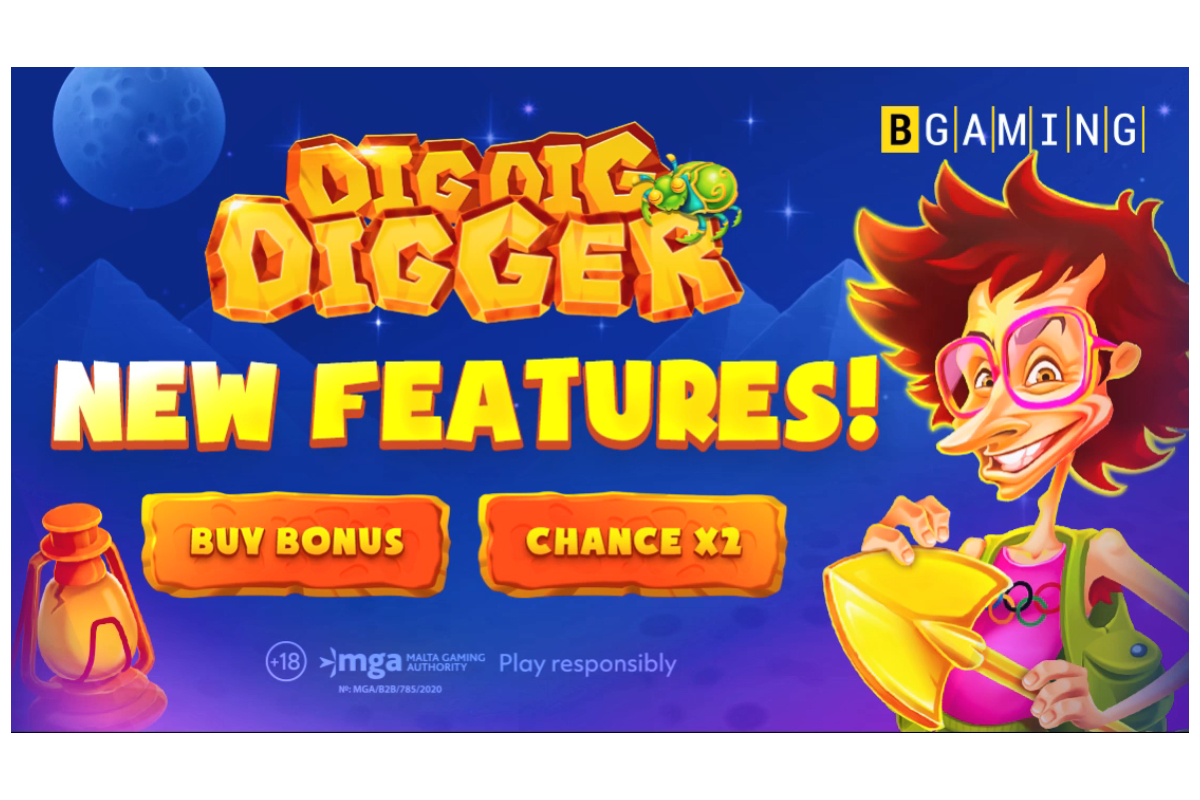 Reading Time:
2
minutes
BGaming continues improving its popular titles by adding new extra features! So, the Dig Dig Digger slot now offers players the opportunity to buy a bonus and double the chances!
In addition to the set of standard features, the new Buy Bonus feature allows players to start a Free spin round with Expanding symbols immediately. To make it more captivating, BGaming gives exclusive opportunity to choose the number of Expanding symbols they want: from 1 to 9! The other game's novelty is Chance x2 feature that increases the bet and gives the player more chances to play bonus games. These two new bonuses cannot be used at the same time, however, each of them provides many opportunities for great winnings!
"From release to release we analyze players' preferences, and we see that it's always a good idea to give players the opportunity to choose extra bonuses. We have already added buy bonus and double chance feature to Aloha King Elvis slot. We received great results! Our next step was to upgrade Dig Dig Digger. The slot which was launched in May shows good feedback from players!" noted Katherine Puteiko, CS Marketing Manager at BGaming. 
With HD graphics and a 5×3 scheme, Dig Dig Digger has a popular "book of" mechanics. Moreover, the charismatic and hilarious archeologist – the main character – сompletes spins with jokes and funny moments! By the way, every player can try on the role of the charming archaeologist on Instagram too. BGaming studio has prepared a Dig Dig Digger's Instagram mask that you can find by searching for the name of the game or by following the link. 
Inspired by the story of funny Digger, BGaming team is going to launch the sequel of the slot. The release date of the new adventure will be announced later. 
BGaming is a creative and forward-thinking game provider converting gaming into gaming. Thanks to an expert team and a player-driven approach the studio creates innovative and engaging products featured on reputable platforms and 550+ online casinos worldwide. BGaming is the world's first to support cryptocurrencies and offer Provably Fair games. Today the brand's portfolio includes 70+ products with HD graphics and a clear user interface for every device.