Zoey Ng Joins Galaxy Racer As Regional Marketing Manager, SEA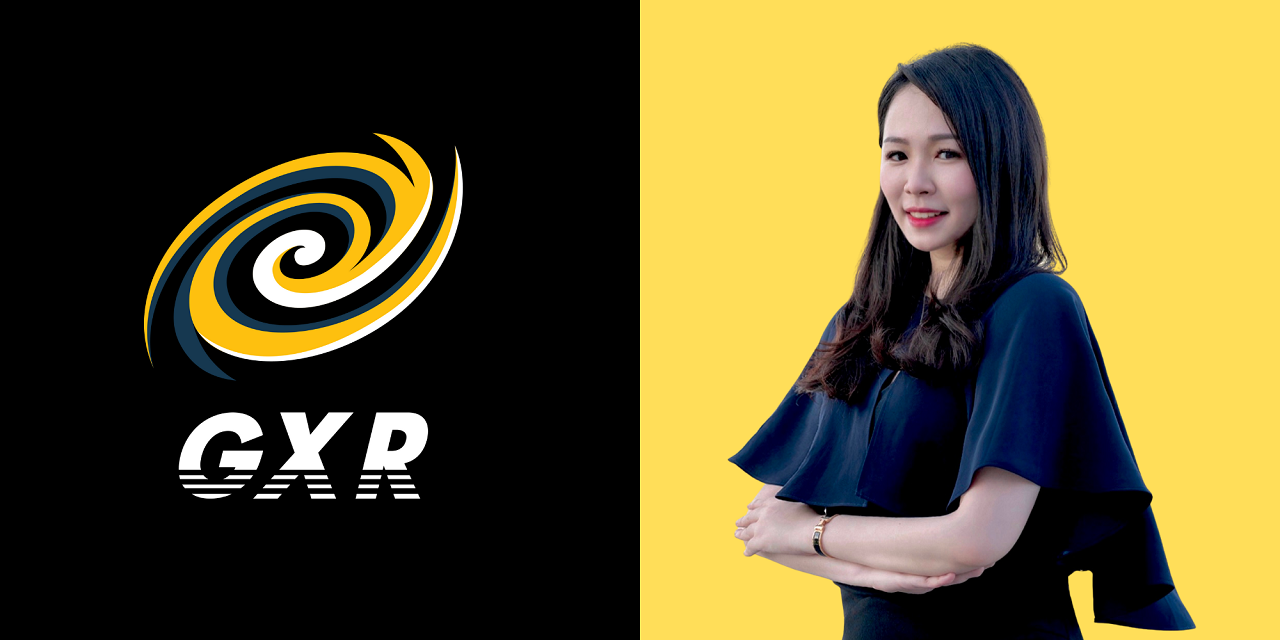 Reading Time:
3
minutes
Galaxy Racer (GXR), one of the fastest-growing esports, lifestyle and entertainment organizations in the world, headquartered in Dubai, has announced the appointment of Zoey Ng as the Regional Marketing Manager for Southeast Asia.
Ng will lead the best-in-class regional marketing initiatives in Southeast Asia for both Galaxy Racer and Nigma Galaxy, the competitive esports division of Galaxy Racer. She will be working closely with respective local marketing managers, focusing on the company's aggressive expansion across the Southeast Asian region.
Ng previously handled the social media presence across Yahoo Esports Southeast Asia & FSL, Southeast Asia's premier women gaming circuit. She executed the marketing activations over various PC & mobile esports titles for FSL.
She was previously the Marketing and Business Development Executive at SelectStart Pte Ltd, a Singaporean-based esports consultancy agency, where she executed the B2B & B2C marketing initiatives. She conceptualised and curated content featuring esports players and talents in Southeast Asia across several game titles such as Dota 2, VALORANT, League of Legends: Wild Rift, and Mobile Legends: Bang Bang for Yahoo Esports Southeast Asia.
Ng is an avid gamer of Dota 2 and League of Legends: Wild Rift and loves to watch VALORANT during her free time.
Galaxy Racer was founded in 2019 and currently has over 100 content creators across Middle East North Africa (MENA) and Southeast Asia (SEA), amassing over 370 million followers and generating over 2 billion monthly views.
Nigma Galaxy, the merger between Team Nigma, champions of Dota 2 The International 7, and Galaxy Racer, will be leading the competitive esports team division, with an impressive roster of twelve esports teams in Dota 2, League of Legends, CS:GO, Fortnite, PUBG Mobile, BGMI and Free Fire, with over 60 male and female esports athletes from over 20 countries.
Mitch Esguerra, Southeast Asian Operations CEO of Galaxy Racer commented, "As the rising content powerhouse in the region, Galaxy Racer equally places efforts on getting the best internal talents in the field, Zoey, and her work are some of the most notable marketing initiatives I've seen, her skillset combined with her natural creativity will definitely add value to what Galaxy Racer brings towards the communities we're present in now and in the near future. With Zoey's marketing leadership in the region, the esports and gaming community of Southeast Asia can expect a lot of great things from Galaxy Racer in the coming months."
Allan Phang, CMO of Galaxy Racer commented, "Zoey brings along a wealth of marketing experience to the esports community, which we recognize and value her talent. I've personally seen her marketing activations and she's definitely the best of the best in the esports industry. As Galaxy Racer pushes forward with our aggressive expansion plans, having a regional leader to spearhead our marketing activations across the group is imperative. We look forward to having Zoey onboard with us. Welcome to our galaxy!"
Zoey Ng, Regional Marketing Manager, Southeast Asia of Galaxy Racer commented, "Allan and Mitch gave me a great overview of Galaxy Racer's strategic goals and direction and it certainly aligns with my career aspirations as well as areas of interest. Previously being in the news and media for esports, I am impressed on how fast the organisation has expanded into Southeast Asia in the last quarter – results do speak for itself! I'm more than excited to embark on this new journey to bring Galaxy Racer to greater heights through strategic marketing initiatives across Southeast Asia. With the recent merger with Team Nigma for our competitive esports division, Nigma Galaxy, I am confident to share that there's more to come, so watch out for us!"
Galaxy Racer is creating a true 360-degree esports, gaming, content and lifestyle brand. Their group company, Riva Technology and Entertainment (RTE), have secured a strong streak of acquisitions, partnerships and brand licensing deals, including the iconic comic book series publisher Dark Horse Comics, with RTE producing multiple mobile games based on the massively successful The Umbrella Academy comic books and Netflix series.
Earlier this year, RTE invested in multiple companies including SUB2r who produce broadcast-quality streaming video cameras, Recast an over-the-top (OTT) platform, BBox Sports an Augmented Reality company, the leading games publisher Rogue Games and OKLetsPlay, the leading platform for players to compete each other in competitions against other players across the world.
RTE also owns a majority stake in global games producer Firefly Games, who have experience working with major studios and brands for world-renowned intellectual properties (IP) from Dreamworks Animation, NBC Universal, Skydance Media, and now MGA Entertainment, a consumer entertainment products company, to produce and publish mobile games based on their hit properties L.O.L Surprise!™ and Rainbow High, both featured in Netflix.
RTE has recently invested in My LADS, an Augmented Reality (AR) technology engagement firm which powers fan engagement.
Galaxy Racer has recently brought onboard former Disney executive Guenther Hake, Senior Vice President and General Manager of Disney Consumer Products in Greater China and CEO at Oriental DreamWorks, who will be assisting in an advisory role with Galaxy Racer's brand partnerships, consumer products, apparel and merchandising endeavours.
Galaxy Racer has also recruited Danny Lopez as Chief Content Officer, who was formerly the Director of Brand and Content at Guild Esports, an esports team co-owned by David Beckham, where he led the creative content development and execution across the board.

Galaxy Racer signs YouTube sensation Noor Stars as new content creator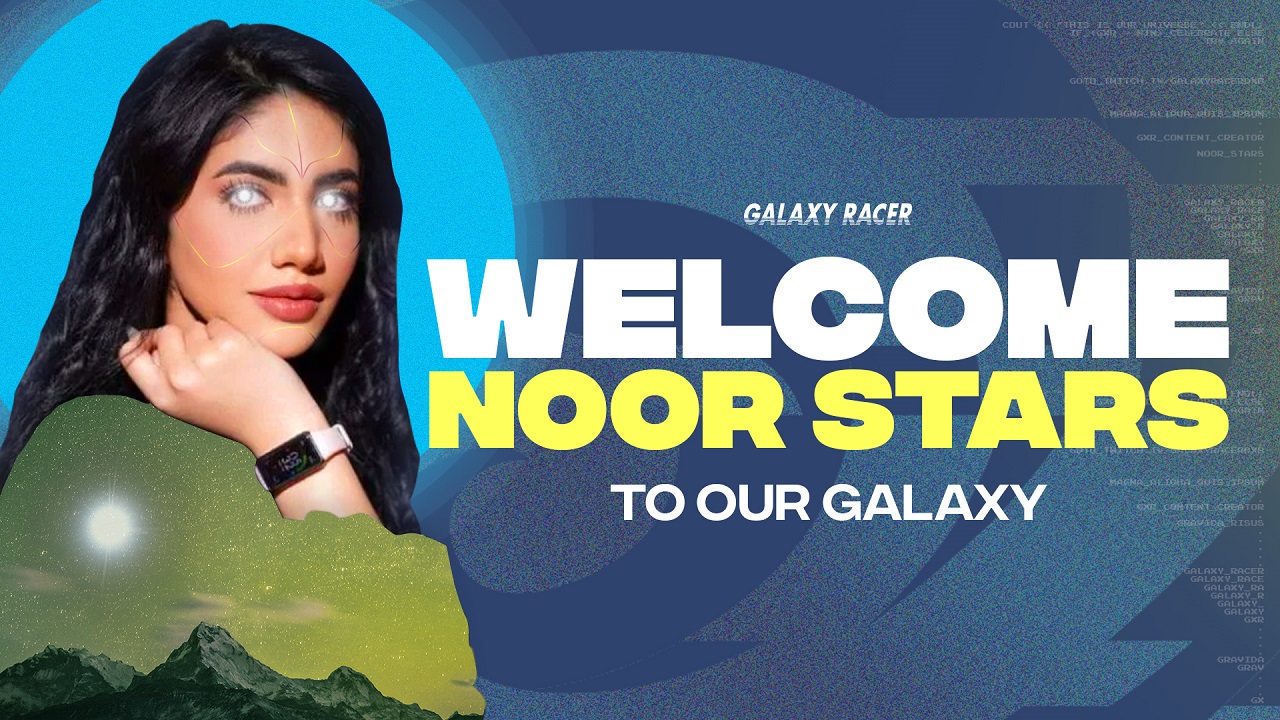 Reading Time:
2
minutes
One of the biggest female content creators from the Arab speaking world with a following of over 40 Million, Noor Stars will be representing Galaxy Racer across her many channels and creating a variety of content
Galaxy Racer (GXR), the biggest esports, gaming and lifestyle organisation, headquartered in Dubai, with market presence in the Middle East, North Africa, South-East Asia, Europe and South Asia, has announced it has signed one of the most popular content creators in the Arab speaking world, Noor Stars, as its new content creator.
As the latest addition to Galaxy Racer's constantly growing content creator team, Noor Stars will be representing the organisation across her many channels and creating a variety of exciting and compelling content – which includes everything from music, videos and films to comics and product launches – for her millions of fans around the world.
Galaxy Racer launched in 2019 and has already become one of the biggest esports, gaming, and lifestyle organisations globally. The organisation prides itself on having five separate business offerings; Esports Teams, Content Creators, Tournament Management, Merchandising and Lifestyle and GXR Records, a newly established record label that already carries two signed artists from the MENA region and are looking to expand globally.
Galaxy Racer's content creator team has enjoyed startling success in just two years, and Noor Stars will join a roster that features some of the biggest content creators in the MENA and Southeast Asia regions, including Abo Flah, the biggest and fastest-growing gaming channel in the Arabic speaking world. The organisation now carries over 100 content creators, with a total reach of over 370 million followers across all platforms and more than two billion views.
The first person in the region to reach 10 million subscribers on a social platform and one of the most popular content creators in the Arab speaking world, Noor Stars began her career on YouTube in 2015. Paving the path for female content creators in the region, Noor Stars had to overcome serious challenges early in her career for simply being an Arab woman on YouTube. Her success on the platform, with passionate fans and a devoted family behind her, has seen Noor Stars become an inspiration to aspiring female content creators in the region, and globally.
Galaxy Racer's Content Creator and YouTube sensation, Noor Stars commented: "I am excited to be joining Galaxy Racer as their newest content creator! I am always looking to grow as a person and felt I wanted to expand into different verticals and create many more exciting content for my audience such as movies, films and product launches. I am confident at Galaxy Racer I will be able to create and provide fresh and engaging content to my followers. I hope my journey inspires more female content creators to build confidence in themselves and believe that if you truly enjoy doing something, that is a good enough reason to keep going. Never take no for an answer – the most important story to tell is yourself!"
Paul Roy, CEO and Founder of Galaxy Racer, commented: "We are thrilled to announce that Noor Stars will be joining Galaxy Racer as one of our content creators! With an impressive social media following and inspiring the next generation positively, we are excited with the content she will be creating. We have already signed some of the biggest content creators in the region and I believe that Noor Stars will be a great addition to our ever-growing list of content creators. Welcome to our galaxy, Noor Stars!"
Cheers! Veloce launches official beer with partner 1936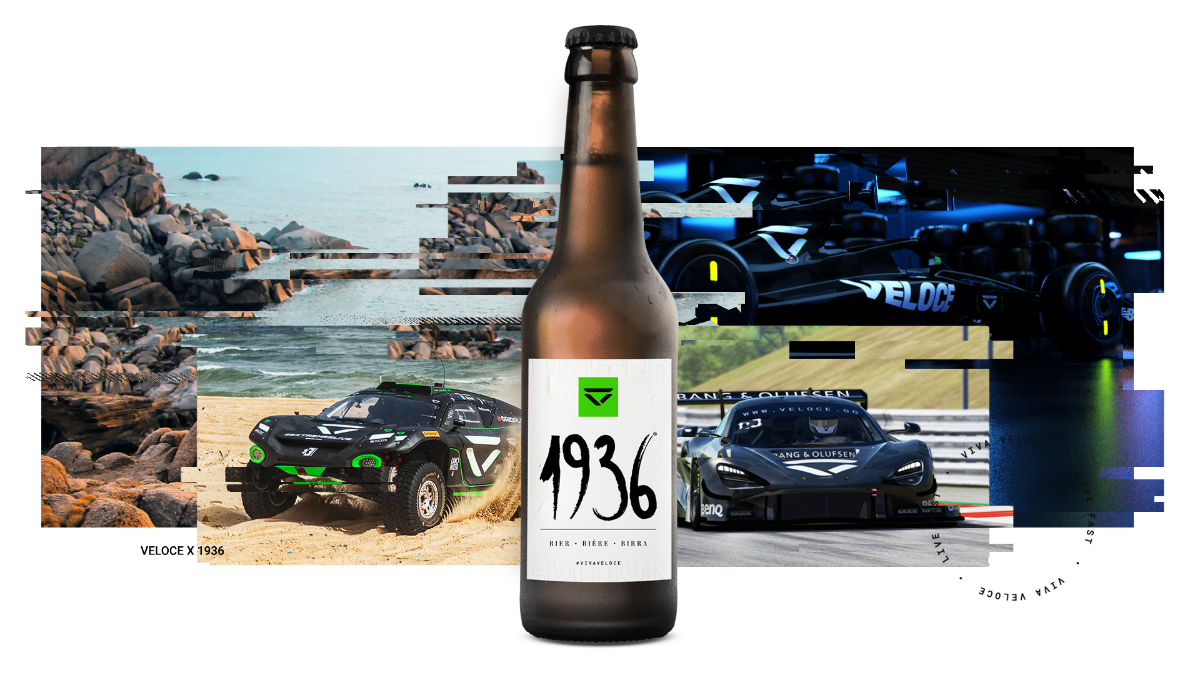 Reading Time:
< 1
minute
Gaming watch along event at prime Kings Road, London pub celebrates new launch
Veloce has revealed another exciting brand collaboration, this time with Swiss beer company 1936. The London-based pairing are set to launch Veloce's very own branded beer that will be available at prestigious events around the world, for team members at the Veloce HQ in Fulham, London and across the UK for fans via The Drop Store.
1936 is the latest lifestyle brand to partner with Veloce's sports and media entertainment platform, joining the likes of the Mercedes-AMG Petronas Esports Team, Codemasters, Bang & Olufsen, Regatta Professional and TW Steel that were announced earlier in the year.
The newly-revealed beverage will also be stocked on board Extreme E's floating paddock, the St. Helena ship, providing the crew and championship personnel with refreshing beer at selected X Prix around the globe.
1936 lager has already established itself as a firm favourite at some of the country's most prestigious venues including The Ivy London, Burger and Lobster, The Hut in The Isle of Wight and Beast Restaurant London among others.
To mark the occasion, Veloce hosted an F1 Esports watch along at The Cadogan Arms pub in Chelsea where the world's largest virtual motorsport competition was streamed throughout the venue.
At the event, attendees tried out the F1 2021 video game on a state-of-the-art Motion Simulation set-up as well as meeting fan-favourite influencers from Veloce's pool of online talent.
Rupert Svendsen-Cook, CEO, Veloce Esports added: "It's funny how this partnership has come about after discovering the beer via 1936 supplying our Veloce HQ's draft beer during lockdown! We couldn't be prouder to be launching a Veloce beer in collaboration with our good friends at 1936. We're also delighted that Extreme E will be welcoming our beer on board the St. Helena!"
Rix.GG signs Jack "Speed" Packwood-Clarke to its Rocket League Team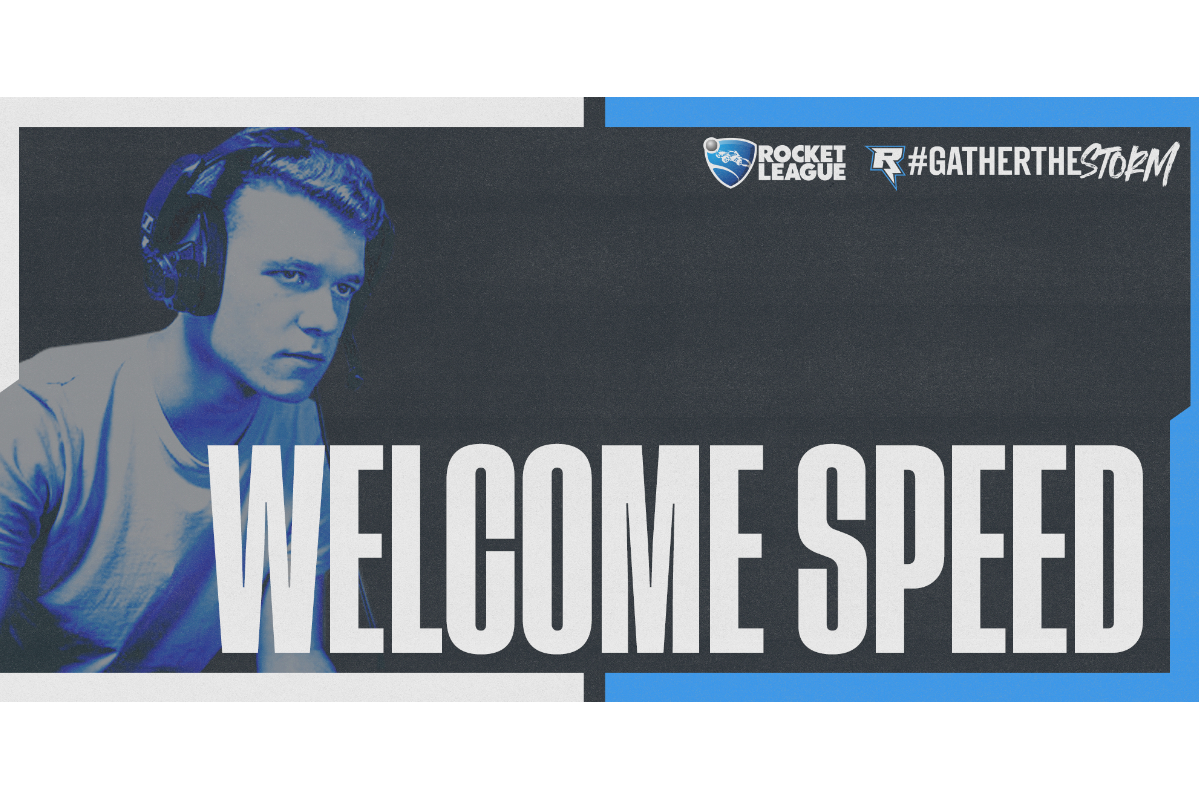 Reading Time:
< 1
minute
Rix.GG, a fast-growing and top UK esports organisation, announces the signing of Jack "Speed" Packwood-Clarke to its Rocket League Team.
Jack "Speed" Packwood-Clarke is a British Rocket League player and has had lots of top level experience, prior to signing with Rix.GG in October 2021. Jack has put in a lot of work in the Rocket League scene with his best result coming in 1st in the WSOE Showdown in 2019.
Coaching the team is James "JG7" Guarino and the team manager will continue to be Lloyd "Freecant" Gauld.
James "JG7" Guarino, Rocket League Coach, said: "I am incredibly excited to work with speed to help him prove to everyone that he can compete at the top of Rocket League. He is an incredibly coachable player who offers us so much individually, and I can't wait for everyone to see what he can really do."
Lloyd "Freecant" Gauld, Rocket League Manager, said: "I am very happy with the acquisition of Speed, I think he will bring experience and a new dynamic to the team that we have not seen before. I'm excited for this team to prove that they can compete at the very top level of Rocket League and get the results they deserve."
#GatherTheStorm