Online gaming in 2021: A new survey of gamers shows toxicity, misogyny, and a lack of effective moderation risks becoming normalized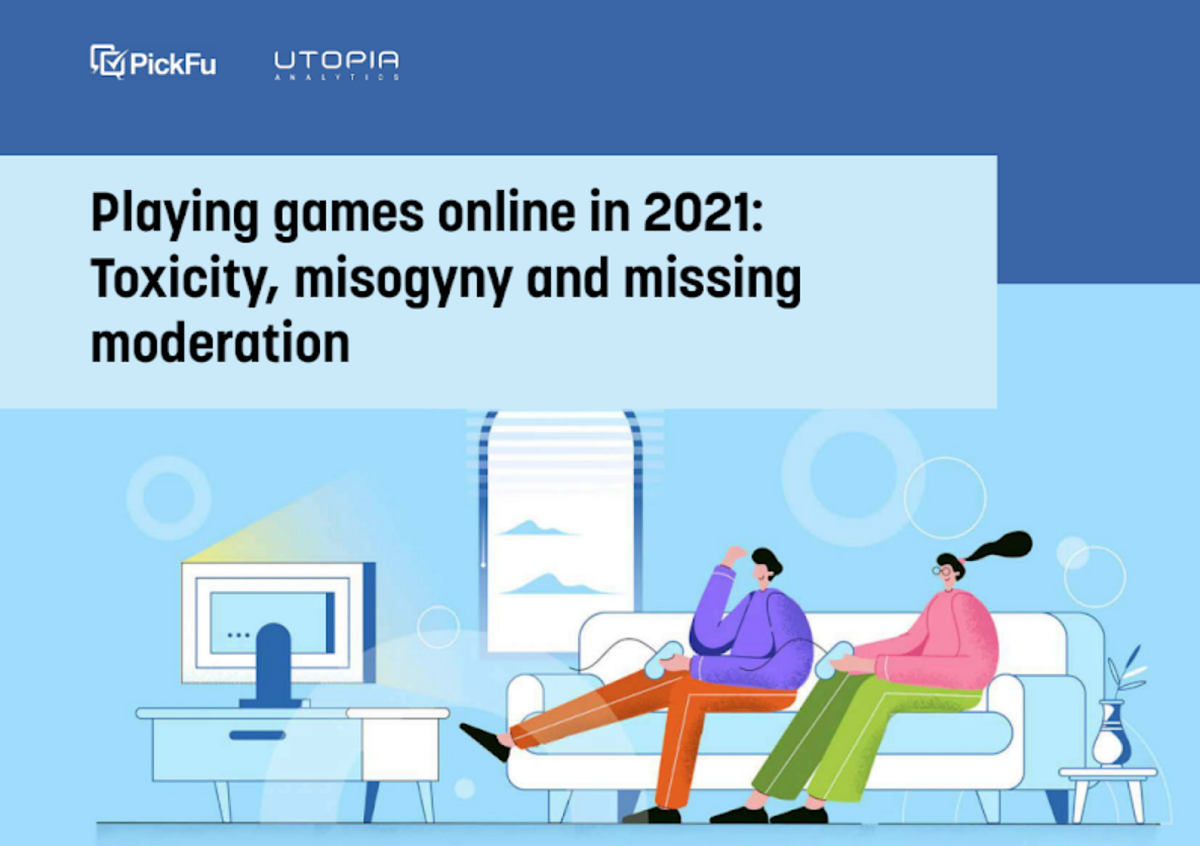 Reading Time:
2
minutes
A new joint report by consumer research platform PickFu and AI-based moderation specialist Utopia Analytics finds 70% of online gamers have experienced or witnessed harassment while playing games online. The majority of experienced abuse towards women was reported as misogynistic
Consumer research platform PickFu and AI-based moderation specialist Utopia Analytics have partnered to publish a report based on insights drawn from 1,000 U.S.-based gamers, which lays bare the concerning state of online gaming in 2021.
The report, Playing games online in 2021: Toxicity, misogyny and missing moderation, asked gamers to share their first-hand experiences of toxicity in online games. It found that 38% have been the direct target of abusive remarks from other gamers, and a further 32% had witnessed abuse but had not endured it themselves. In total, a worrying 70% of the gamers polled had been negatively affected by the behavior of other gamers.
With the levels of abuse and toxicity across social media reaching endemic levels, toxicity in games is still represented in the mainstream media as something affecting only a minority of gamers playing 'hardcore' FPS titles such as Counter Strike or Call of Duty. However, the experiences of the gamers polled in this report suggest that online abuse is far more widespread, and effective moderation of game communities and online play is sorely lacking.
Key findings include:
Nearly half (49%) of the toxic behavior towards respondents centered around their personal or perceived identity, including factors such as ethnicity, gender, and sexual orientation. 

Of the 49%:

37% said they had been verbally harassed in an online game specifically because of their gender

31% had been harassed because of their ethnicity

32% had received harassment due to their sexual orientation

30% of the 489 women polled – almost one in three – said they had experienced abuse and toxicity when gaming online

Of this 30%, the majority (72%) said the abuse was misogynistic. By comparison, none of the male respondents reported any gender-based discrimination or abuse

MMO RPGs (

Massively Multiplayer Online Role-playing Games)

were the most toxic game genre according to our respondents. More than half reported witnessing or experiencing toxicity while playing these games.
"People turn to gaming to escape, assuming the virtual worlds they enter will be safe and fun. The reality, in gamers' own words, is that these negative interactions significantly impact their mental health and enjoyment of games. This should be a wake-up call for the industry to make gaming a safe space for everyone," said John Li, co-founder of PickFu. 
"With so many people turning to games as a way to get through a year of lockdowns and upheaval, there is a risk that many of these new players will be bitterly disappointed if we cannot do more to reduce the ability of this toxic minority to disrupt the enjoyment of the majority, and as an industry take the issue of moderation far more seriously," said Dr. Mari-Sanna Paukkeri, CEO of Utopia Analytics.
Using PickFu's online platform, the poll collected feedback from 1,000 U.S.-based adults between ages 18–74 who self-identify as gamers across console, PC, and mobile platforms. The poll collected responses from May 6, 2021, to June 5, 2021. The data was analyzed jointly by PickFu and Utopia Analytics

Adverty launches In-Play™ ad technology in first major racing title from Wolves Interactive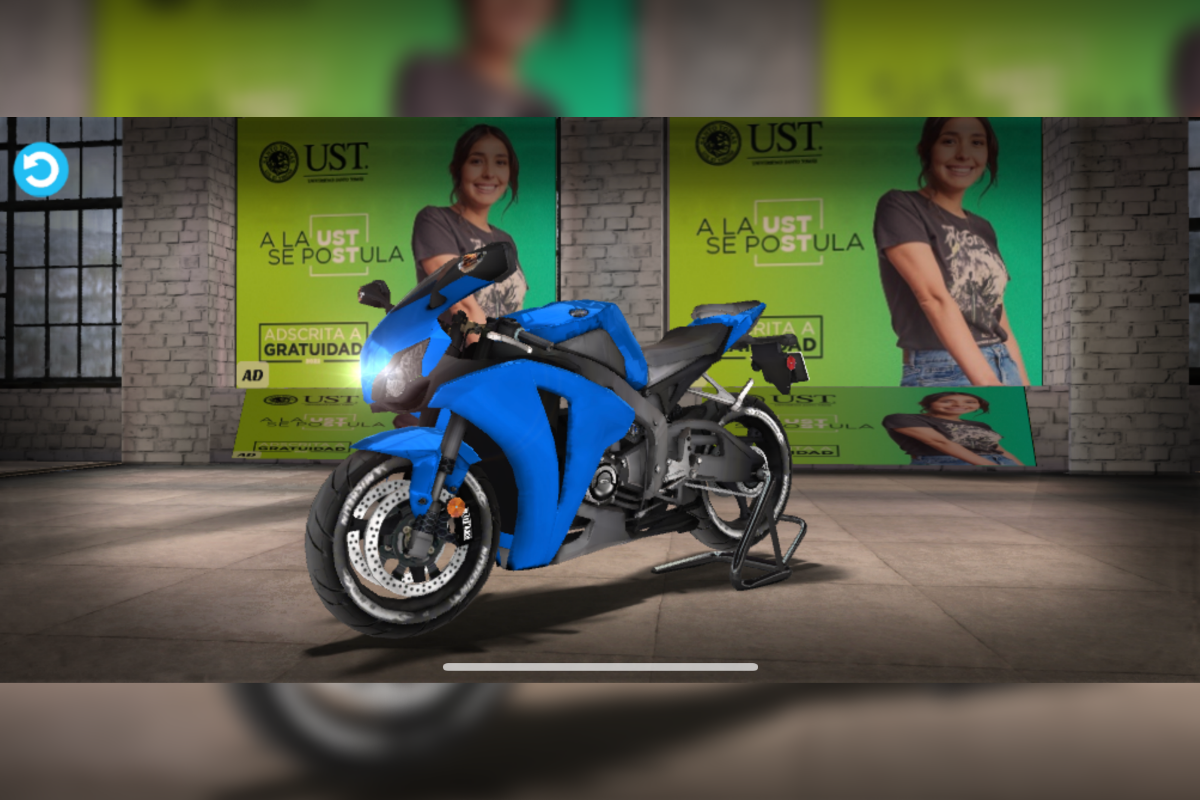 Reading Time:
< 1
minute
Adverty AB (publ) and Wolves Interactive, a leading Istanbul-based developer of mobile racing games, today announce a partnership which brings Adverty's multi-patented In-Play™ ad technology to Wolves' global hit Motorbike – Traffic Racer.
With more than 10 million downloads since its launch in 2018, Motorbike: Traffic Racer has built a devoted worldwide audience of players who love to race lifelike motorcycles in a real-world setting. This inaugural collaboration between Adverty and Wolves Interactive also marks the first output of Adverty's Istanbul team, as the Turkish city cements its reputation as a major hub for game development.
"We are delighted to announce this exciting partnership with Wolves Interactive," says Thorbjorn Waring, CSO of Adverty. "Racing games are a great fit for our ad format and highly sought after by advertisers. Wolves stands among the very top developers in the world for this type of game, offering superb, life-like graphics which appeal to well-defined and otherwise hard-to-reach target audiences. We are honoured that they have chosen to work with us and we look forward to a long and highly successful partnership."
Marawan Hassan, Chief Marketing Officer at Wolves Interactive, adds: "As a company, we are very focused on optimizing our advertising revenue, and in our view there is no format that shows more promise for growth than In-Play advertising. We have designed the In-Play ads for Motorbike – Traffic Racer specifically, so that they are displayed in a native, organic way, ensuring that the player experience is optimised."
Social gaming disruptor PickGuru launches with £1m promotion to crown the UK's ultimate sports fan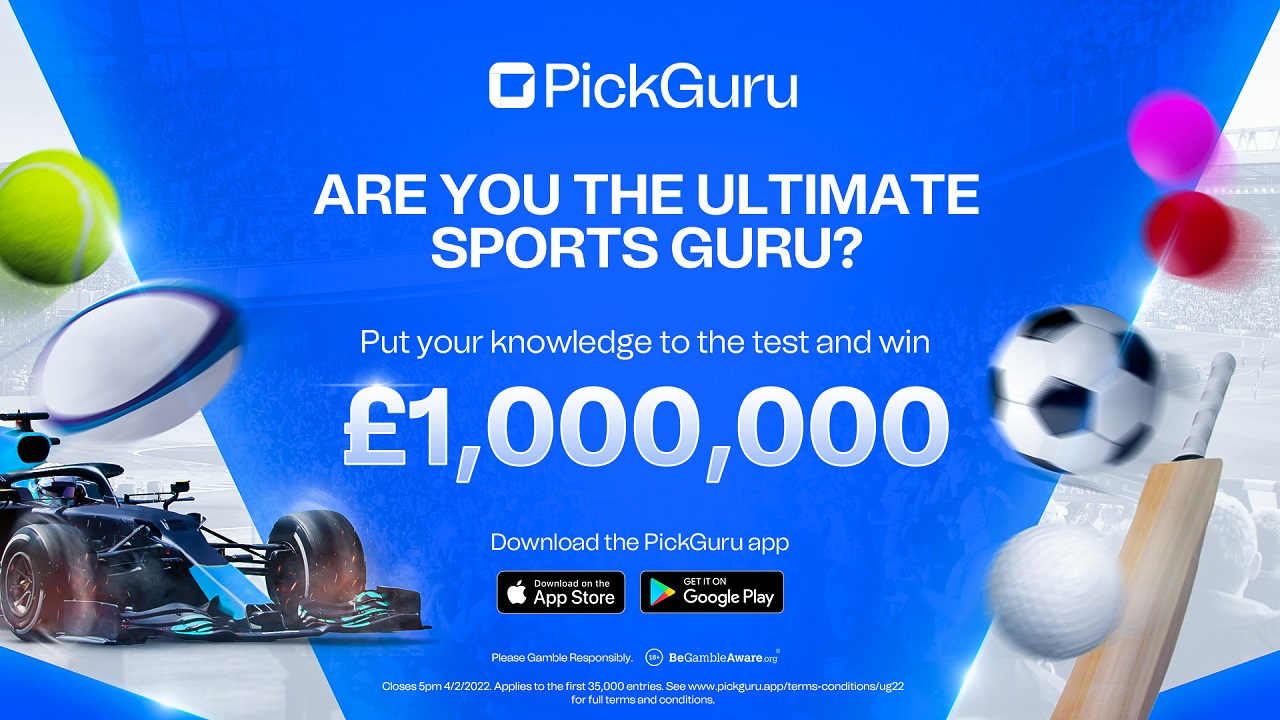 Reading Time:
2
minutes
PickGuru, the new low-stakes social gaming platform, has launched in the UK and is offering a gigantic £1m promotion as part of its first game: UltimateGuru.
The brand new app has gone live with a unique, multi-sport predictor contest in which players can forecast the outcome of 12 major sporting events in the 2022 calendar.
Should any player pick the winner of all 12 events in their UltimateGuru entry, they will win the £1m jackpot and be crowned as the UK's ultimate sports guru.
Alongside UltimateGuru, PickGuru has also launched a range of exciting daily and weekly games which are available to play inside the app.
Current offerings are based on football and golf, where players can test their knowledge to win big money pots in nationwide leagues or create real-money mini-leagues with their friends.
CEO Olly Roland-Jones said: "We're absolutely thrilled to launch in the UK market and we are arriving with a bang.
"There's one million pounds on the table for the UK's ultimate sports guru, if anyone is able to correctly pick the winner of 2022's biggest and best sporting events."
Entry to the UltimateGuru game is open now via PickGuru's app, which can be downloaded from the Apple Store or Google Play. Entry to the game will remain open until Friday 4 February, which is the day before the first scheduled event.
In addition to the £1m jackpot, there is a minimum prize pool of £25,000 that is guaranteed to be won.
Prizes will be distributed to entries in the top-scoring 10%, and players will be able to track their progress through live leaderboard updates throughout the year.
Entrants can predict on the Six Nations (rugby union), Formula One Drivers' Championship (motor racing), the Masters and Open Championship (both golf), World Snooker Championship (snooker), T20 World Cup (cricket), Wimbledon (tennis), Europa League, Premier League, Champions League, Women's Euro 2022 and the FIFA World Cup (all football).
Each entry will therefore be made up of 12 selections – one from each event.
They will score 100 points for correctly picking the winner, 60 points for selecting the runner-up, or 30 points for choosing the third in all 12 of the events. The winner will be the entry with the most cumulative points after all events have concluded.
Should any player predict all 12 winners in an entry, they will become the UK's latest millionaire. If there are multiple winners, the prize will be split equally between them.
The winners will be crowned after football's World Cup, which is set to take place in Qatar and finish on Sunday 18 December.
Roland-Jones is hopeful that the event will provide an exciting climax to UltimateGuru: "The dream is that we'll have some live entries with shots at the million pound jackpot when the football World Cup begins in November.
"That would provide a blockbusting finale for our players but a nervy wait for our finance team!"
Each entry to UltimateGuru 2022 will cost £10. Entry into UltimateGuru 2022 gives you a free entry into the £1m prize promotion. Entrants must be aged 18 or over to play, and be based in the UK. Entries capped at 30 per player. Capped at 35k entries in total.
GemUni Disrupts Crypto Gaming with the Decentralised NFTs Gaming Platform for Play to Earn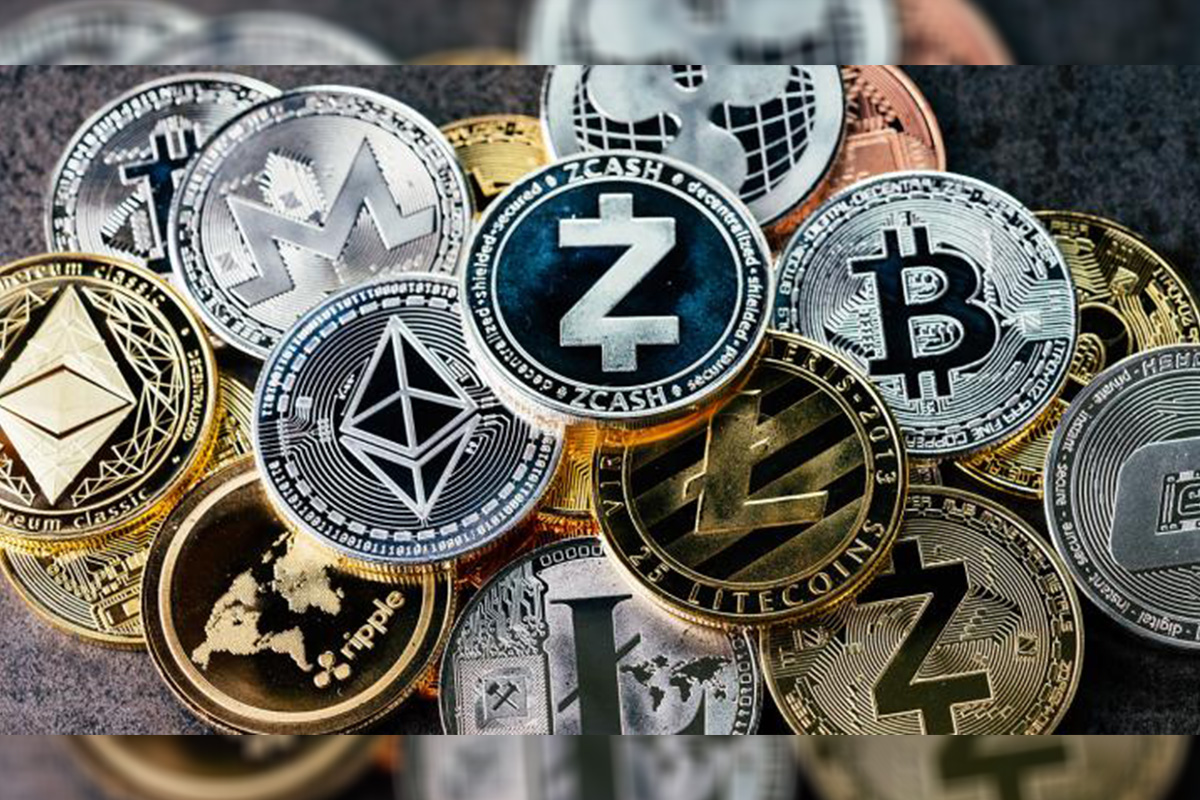 Reading Time:
2
minutes
GemUni, a Decentralised NFTs Gaming Platform for Play-to-Earn, has announced that its upcoming Initial DEX Offering (IDO) will be conducted on three launchpads GameFi, Red Kite and KrystalGO on January 19. GemUni is building a Decentralised NFTs Gaming Platform for everyone around the world to engage in Fun, Easy and Play-to-Earn NFT Casual Games & Signature Games. Users can enjoy fun games while monetising their experiences with gaming platform rewards and GENI Pass NFTs transactions.
A Great Head Start
Since its announcement, GemUni has been through three months full of activities and milestones. Last December, the Grand Opening INO event, featuring guests from prominent gaming & blockchain organisations, marked the first time the GENI Pass NFTs were offered on multiple NFT marketplaces. GemUni's GENI Pass NFTs were highly sought after by crypto and gaming enthusiasts, with thousands of GENI Pass NFTs being sold. Such a good starting point prompted GemUni to announce its Beta Test & Christmas Mini Challenge, attracting players to participate in multiple challenges and earn the project token.
Impressive Partner Portfolio & promising Roadmap for 2022
A few days before its IDO, GemUni continues to reach another milestone. In its private fundraising round, GemUni raised $2 million from investors. At this point, the project is boasting a portfolio of 30+ private investors and partners, including well-known venture capitalists such as Kyber Ventures, Shima Capital, ZBS Capital (CryptoDiffer), Kyros Ventures (Coin68), Gain Associates, ZipMex, HG Ventures, among many others.
Earlier this January, GemUni announced its promising roadmap for 2022. Besides the Casual Gaming Platform with 500+ games to be released in Q1, the project also announced its Signature Gaming Platform featuring upcoming games like The Olympus, Hero Infinities, CyberRace, Moon 2050 and ZodiBoom. An NFTs marketplace is also going live to support players' NFT trading activities. Finally, further features like the GemUni Launchpad for IGOs & INOs, DAO Treasury, Side Chain will be released in Q2.
With such an ambitious plan for 2022, GemUni is looking forward to partnering with game studios, Global Ambassadors and artists to create a first class Decentralised NFTs Gaming Platform.
IDO on GameFi, Red Kite and KrystalGO on Jan 19, 2022
On January 19, GemUni will conduct Initial DEX Offering across three launchpads GameFi, Red Kite and KrystalGO. With a public price of $0.2 per token, GemUni implied the project valuation is $20 million at IDO.
GemUni boasts an impressive leadership team, which includes CEO & Founder Cassie Nguyen – Champion of Startup World Cup 2019 in Silicon Valley. The project's advisory board is led by Mr. Peter Vesterbacka – Former Mighty Eagle of Rovio Entertainment (Angry Birds games).
GemUni CEO & Founder Cassie Nguyen says that her team is working day and night to bridge the gap between gaming and the new Play-to-Earn model to create an ecosystem for 3.2 billion gamers and studios around the world.
"Never before have we seen the hype around this combination between gaming and the crypto economy. We are proud to be the first Play-to-Earn platform for everyone's favorite gaming experience. Now, everyone can enjoy fun & easy games in their own time, while earning real-world value," she stated.