CHAMPIONS FROM AROUND THE WORLD SIGN UP TO COMPETE IN 24 HOURS OF LE MANS VIRTUAL BY MOTORSPORT GAMES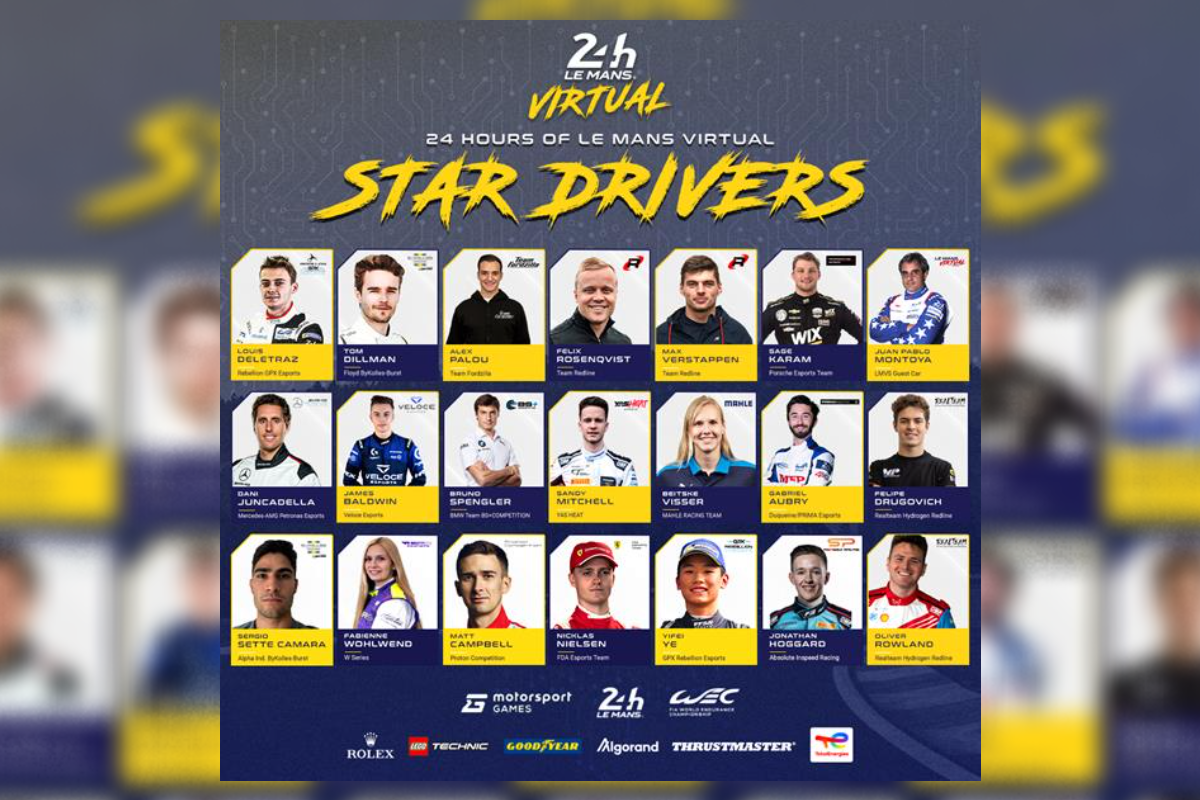 Reading Time:
2
minutes
*Max Verstappen, Alex Palou, Juan Pablo Montoya, Felix Rosenqvist and Oliver Rowland to star
*All female line up from W Series plus Beitske Visser in Mahle entry
*Best of the best sim racers race on entry list for 24 hour glory
The star-studded entry list entry list for the 24 Hours of Le Mans Virtual by Motorsport Games Inc., scheduled to be held January 15 & 16, 2022, has been revealed and it shows once again the fascination, charm and lure of motorsport's greatest endurance race. The race will be held virtually and on simulators located all around the world.
A glittering roster of drivers includes newly-crowned F1 World Champion Max Verstappen, an Alpine Esports team captained by (non-driving) former F1 and FIA WEC World Champion Fernando Alonso, plus 2021 INDYCAR Champion Alex Palou. Among the entries are former CART and IMSA WeatherTech Sportscar Champion and former F1 star Juan Pablo Montoya, racing alongside his son Sebastian Montoya in a Le Mans Virtual Series guest car, and INDYCAR's Felix Rosenqvist – a race winner already this season and championship title contender who will have Verstappen alongside him in the Team Redline entry.
Single-seater stars on the list comprise ex Williams F1 young driver and Formula E star Oliver Rowland, Formula E's Sergio Sette Camara, Indy 500 racer Sage Karam, Bent Viscaal, Felipe Drugovich, Victor Martins plus the W Series entry which features pro drivers Fabienne Wohlwend and Ayla Agren and their two female sim driver teammates, Emily Jones and Lyobuv Ozeretskovskaya.
Also on the entry list from W Series is Beitske Visser who has, in 2021, started to make quite a name for herself in endurance racing. A feast of successful names from the FIA WEC, ELMS, IMSA and GT racing worldwide will be on the grid: 2020 24 Hours of Le Mans Virtual winner Louis Deletraz together with his 2021 ELMS co-champion Yifei Ye, 2021 Petit Le Mans winner Gabriel Aubry, Job Van Uitert, Dani Juncadella, Arthur Rougier, WEC GTE Am champion Nicklas Nielsen, former DTM Champion Bruno Spengler, Porsche specialists Matt Campbell and Ben Barker, and current British GT3 champion Dennis Lind.
While the focus may initially fall on the real world racing stars (listed as PRO on the entry list), internationally-renowned esports stars such as Joshua Rogers (2020 24H Virtual GTE winner), Kevin Siggy, Bono Huis, Atze Kerkhof, Michi Hoyer, Jernej Simončič and Nikodem Wisniewski are just a few of the very talented and determined sim racers who will be combining with the pros to provide a true feast of competition and entertainment.
In total, 200 drivers have signed up to take part in the event, the finale to the Le Mans Virtual Series which brings together motorsport's real life racers with the world's best esports squads. In addition to shining a spotlight on the famous French sports car classic and providing 24-hours of top entertainment for competitors and fans around the world, championship titles and prize money are at stake for full-season competitors.
Further details will be revealed in the coming days about individual car liveries, plus how you can follow the 24 Hours of Le Mans Virtual on TV, online and on social media channels around the world.
Game Changers and Guild X broke records in Berlin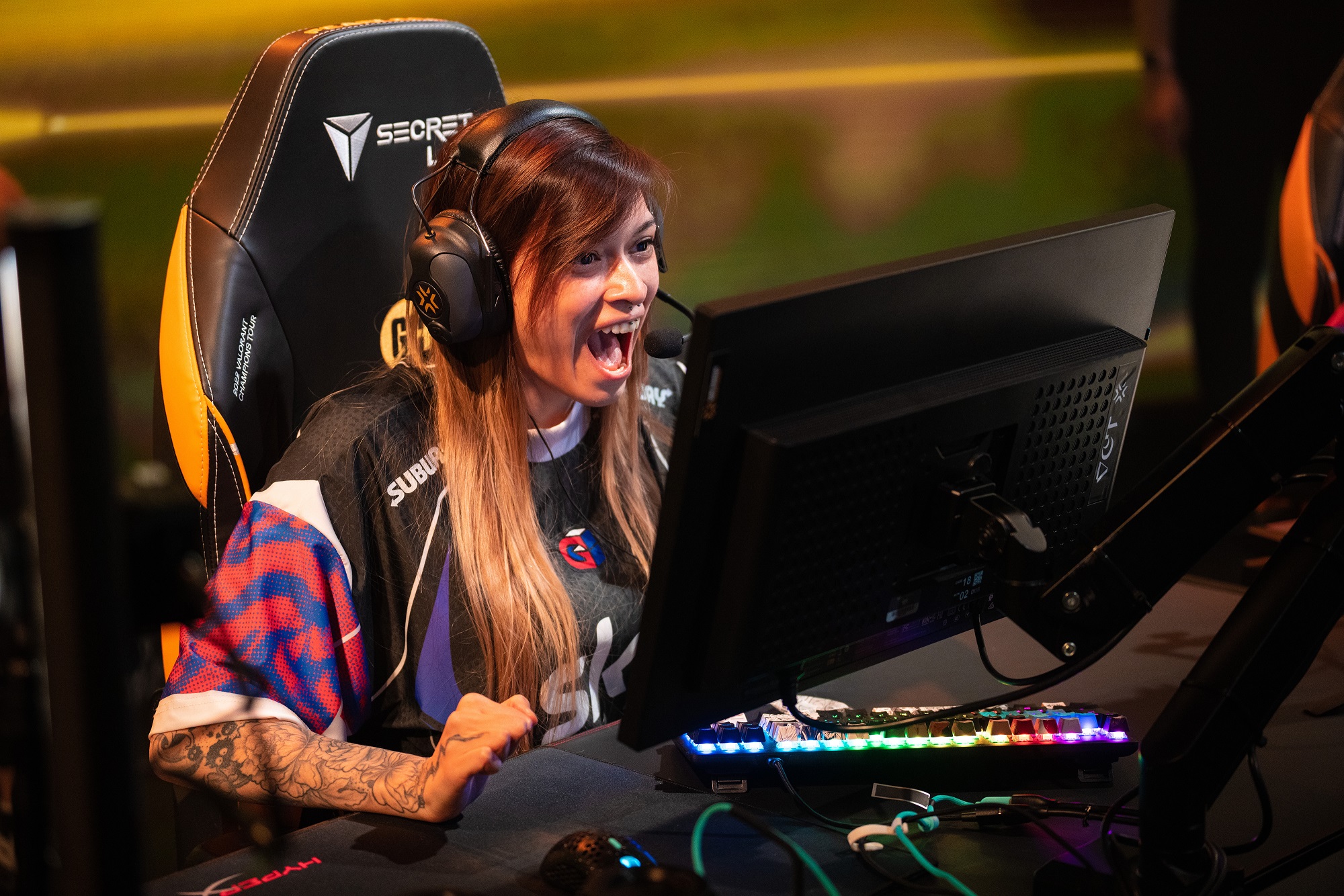 Reading Time:
2
minutes
Guild Esports, a global esports team organisation, took sixth place overall with team Guild X in the inaugural VALORANT Game Changers Championship, held in Berlin (15-20 November).
Following a year of intense regional competition, the world's most elite Game Changers squads went head-to-head in person, for the first time ever, to crown a global champion in Germany. Bringing together the best teams from North America, Brazil, EMEA, APAC, LATAM and East Asia, G2 Esports won the Grand Final to lift the coveted championship trophy.
Supporting women in gaming is a key part of Guild's strategy within the sporting community, aligning with the aims of Game Changers to create new opportunities and exposure for women and other marginalised genders within VALORANT esports.
The tournament in Berlin, with over 150,000 viewers* tuning in, demonstrates how women in gaming and teams such as Guild X are not just changing the game but also breaking records. According to Esports Charts, Game Changers has become the most-watched tournament for women's esports.
On Sunday, Guild also hosted a watch party at the Sky Guild Gaming Centre in Shoreditch with talent Elz the Witch, Iain Chambers plus other influencers such as Megsoundslikeegg and Geo Collins in attendance. Even though Guild X was not in the Grand Final, Guild, along with its supporting partners Sky and Subway, wanted to offer a safe space for VALORANT fans to watch the finale, especially women and marginalised gender fans.
Jasmine Skee, Chief Marketing Officer at Guild Esports, said: "Our vision at Guild is to lead the way in supporting the future of women in gaming, and we are committed to equal opportunities for our Guild X players. The Game Changers Championship in Berlin was a hugely successful event and we are extremely proud as an organisation to have been a part of it. Congratulations to all at G2 Esports on their victory in such a milestone event for the esports industry. With the announcement of the new Game Changers format, we're excited to watch our Guild X team, and the wider women esports industry, grow."
Guild X has been confirmed this week as automatic top-tier qualifiers for the VALORANT Game Changers EMEA 2023 competition, with relegation rules now being in place as part of the new format changes announced. The Game Changers tournament will continue to break down stereotypes, elevate women and allow them to further their careers in a dedicated safe space, and provide a platform for professional growth both in and outside of the game – all actions that are completely aligned with Guild's strategy moving into 2023 and beyond.
Inter Esports Partners with Mkers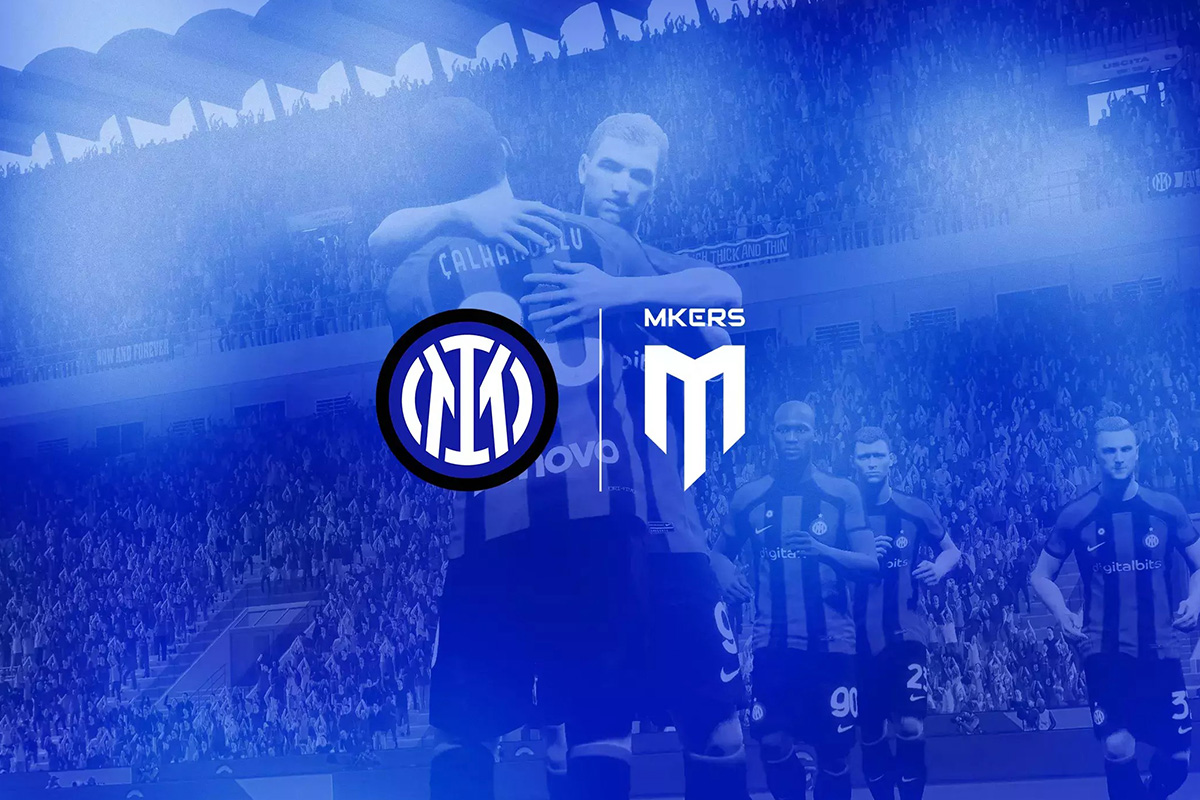 Reading Time:
< 1
minute
Inter Esports, the eSports division of Italian football team Football Club Internazionale Milano, is continuing to strengthen its international and online presence in the world of eSports. After the start of the partnership with the Club's Global Football Videogame Partner KONAMI, the Nerazzurri have now announced a new collaboration with Mkers, the largest eSports agency in Italy and one of the biggest in the world. It is also the only Italian company active in the sector. The 2022/23 season will see the Nerazzurri taking part in KONAMI trophies, both domestic and international with a new squad of Pro Players. The team will reveal their new roster on Sunday 27 November on the main stage of the eSports Arena at Milan Games Week & Cartoomics, during the event organised by KONAMI.
"Working with a leading firm in gaming such as Mkers allows our Club to further develop the eSports project, which is of great strategic importance to Inter in terms of continuing to innovate and connect with the younger generations around the world," Alessandro Antonello, CEO of FC Internazionale Milano, said.
"This is a massive collaboration for Mkers, which is a clear signal of our growth until now. It's another chance for us to expand our reach abroad. We will work hard to show that we are worthy of the trust shown to us," said Paolo Cisaria, Managing Director Mkers Spa.
World Esports Championship: CS:GO team to kick off India's campaign on December 2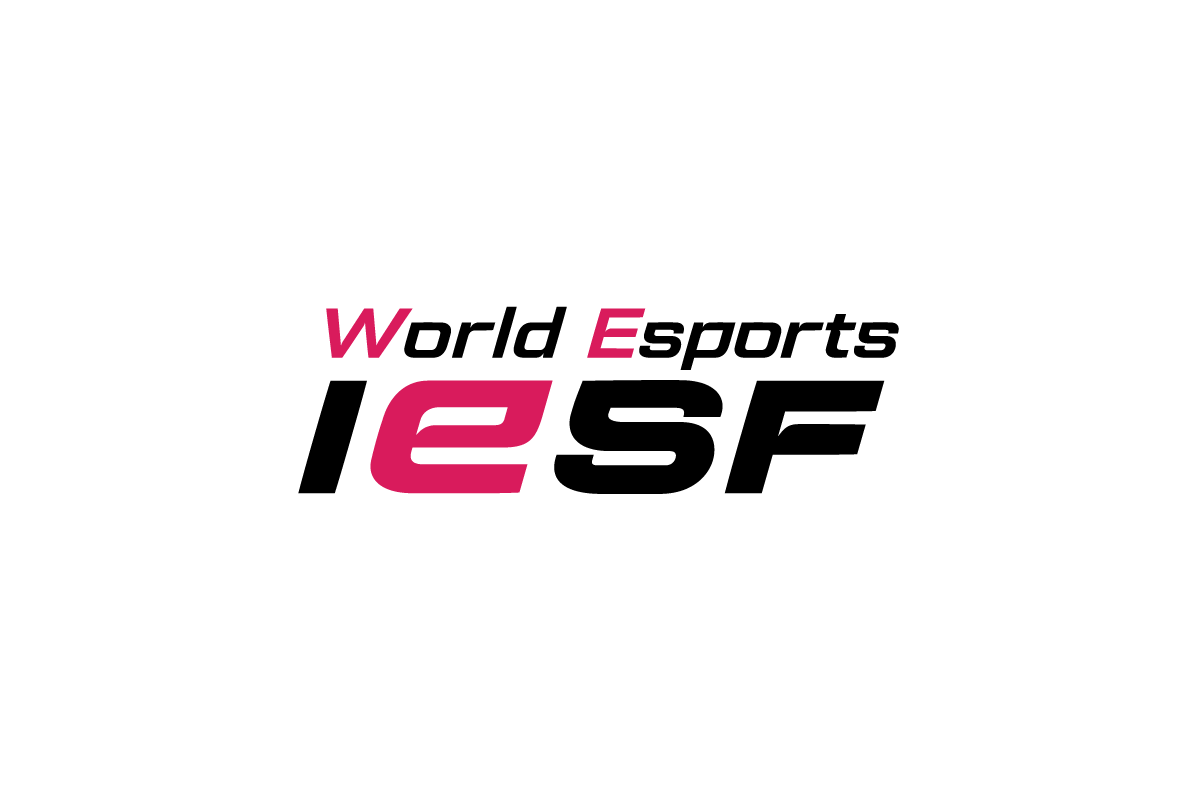 Reading Time:
3
minutes
The Indian CS:GO team will be leading the country's charge at the IESF's 14th World Esports Championship as they take on Tajikistan in their opener on December 2.
A team, comprising of skipper Ritesh Sarda (Defaulter), Shuvajyoti Chakraborty (Mcg1LLzZz), Anshul Adarkar (KiiLSwitCh), Hrishikesh Shenoy (Crazy_Gamer) and Harsh Jain (lynX) has been placed in the Group C along with Tajikistan, Team IESF and Chile. After their eighth-place finish in the last edition of the tournament held in Eilat, Israel, the team will be determined to clinch a podium finish this time around.
Team India CS:GO captain Ritesh Sarda said "It's been a great honour to represent India back-to-back in the WEC. We as a team are excited and prepared to play in the upcoming WEC starting next week in Bali. The world finals is going to be a huge spectacle. With the right mentality and proper grind, we have high hopes for the tournament and will try to bring the laurels to the country."
Organised by International Esports Federation (IESF), the upcoming 14th World Esports Championship will witness the participation of top athletes from over 120 countries, competing in six different Esports titles—CS:GO, Dota 2, Tekken 7, eFootball as well as debutants PUBG Mobile and Mobile Legends: Bang Bang Bang. With a massive prize pool of USD 500K (INR 4 crores approximately) up for grabs, the tournament will be conducted in Bali from December 1 to 12. Team India consists of the same athletes which represented India at the last World Esports Championship in Eilat and had won the National Qualifiers (NESC2022).
Besides CS:GO, India will also participate in the Tekken 7 and eFootball titles.
"This is another great opportunity post the Commonwealth Esports Championship for India's esports athletes to prove their metal. With Olympics also announcing "Olympic Esports Week", esports is inching towards its Woodstock moment; and medals in events like CEC, WEC will help in establishing India as a dominant-esports powerhouse' globally. This set of our athletes have great potential and we are confident that they will give a tough challenge to the world's best and emerge victorious and make our glorious nation proud. I wish them all the very best and look forward to see them triumph in their respective titles" said Yugal Kishore Sharma, Director of Esports Federation of India.
Hitesh Khorwal (Rcool) and Hemanth Kommu (Peshemak7) will represent India in the Tekken 7 and eFootball titles respectively.
Khorwal will battle it out against athletes from Pakistan, Bahamas, Venezuela and Palestine in the Group E and will be beginning his challenge against Lucius Antoine of the Bahamas on December 3.
The Indian's clash against Arslan Siddique of Pakistan on the same day following his opening game will be one to watch out for. Arslan has won the VSFighting X, Dreamhack 2022 and Combo Breaker 2022 titles earlier this year.
"I am really glad that I will be representing India in WEC this year, this feeling is adorable and I can't explain my emotions. WEC is always an arduous task for Tekken participants since our scene has progressed tremendously well and reached a new zenith. So it's a moment to cherish for me. It creates a perfect scenery of success for me after putting my blood and sweat into this game. This time I am more devised for the WEC. As a mountain to climb it already is, I feel confident as well as prepared for this. It's a great opportunity to prove my mettle against the literal virtuosos of the title and my body, soul and mind, is ready for it. Bring it on, Bali!" Hitesh expressed his excitement ahead of the World Championship Finals.
Kommu, on the other hand, will be competing against athletes from Kazakhstan, Armenia and Guinea in Group P. He will play his first match against Cheick Conde of Guinea on December 3.
"It's an amazing feeling and honour to represent our country at the 14th WEC. It's a huge opportunity for me to play at such a big event with the top players from different countries competing. I'm confident with my grind and will try my best to get the best results in the tournament and want to bring some glory from it back home." Hemanth said while expressing his thoughts on getting the opportunity to represent India in the world finals.
The group stage games for Tekken 7 will be contested in the best-of-three format and for CS:GO it will be in the best-of-one.
Following the conclusion of the group stage, the Top-2 teams from each group will progress into the next round in the CS:GO and Tekken 7 titles while for eFootball only the top team of the group will qualify for the next stage.