Looking back at the 2018 GiH Conference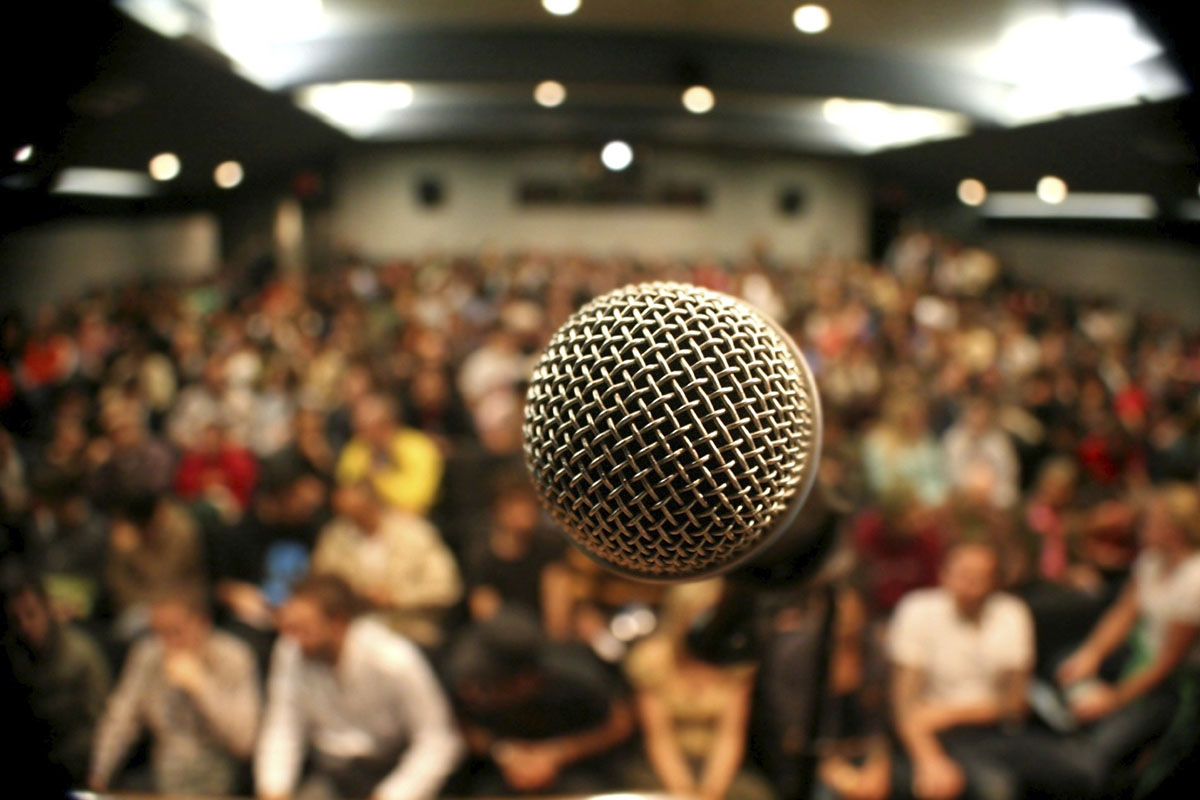 Reading Time:
4
minutes
The 7th annual Gaming in Holland Conference concluded last week in sunny Amsterdam. We had some big news and some big names. Today, we will highlight some of most notable sessions, as well as the festive Responsibility in Gaming Awards Dinner, celebrating responsibility in Dutch gaming.
Breakthrough in Dutch Remote Gaming Impasse
As the first day of the Gaming in Holland Conference was drawing to a close, Ministry of Justice and Security official Dennis van Breemen announced that Minister for Legal Protection, Sander Dekker, had sent a letter to the Dutch Lower House clarifying the additional conditions for future licensees that had been agreed in last year's coalition agreement.
Specifically, Dekker's letter addressed the coalition agreement's requirement for online licensees to establish some form of physical presence in the Netherlands. Referring to a recent decision of the Court of Justice of the European Union, Dekker said that only online licensees without a presence in the EU or European Economic Area could be obligated to open an establishment in the Netherlands.
All online licensees, however, even those already established in the EU/EEA, will need to appoint a local representative in the field of addiction prevention.
The Dekker's proposals also include measures to erect greater barriers between (social) gaming and gambling.
As the Ministry letter obviously represents the official government position, the main roadblock to further legislative progress in the Senate, where the current government coalition commands a majority, has now been removed.
While it is clear that the legislative process will resume in short order, unforeseen obstacles could still emerge. "We're back on track, but the Remote Gaming Bill hasn't been enacted yet," warned Rutger-Jan Hebben of Dutch industry association Speel Verantwoord. "Maybe the remote market will now open in a year, but it could also take three."
Responsibility in Gaming Awards Dinner and Charity Raffle
This year, for the very first time and in close cooperation with a wide range industry stakeholders, Gaming in Holland introduced the Responsibility in Gaming Awards, celebrating excellency and responsibility in the licensed Dutch gaming industry.
The 2018 winners are:
Responsible Gaming Initiative of the Year: HANDS 24×7
Best Use of Technology for Responsible Gaming: E-Assyst B.V.
Governance, Oversight and Social Care Organization of the Year: HANDS 24×7
Operator of the Year: Janshen-Hahnraths Group
Gaming Destination of the Year: Holland Casino Rotterdam
Industry Innovation of the Year: HANDS 24×7 & Mindway
Female Role Model of the Year: Yvon Jansma, Centrum voor Verantwoord Spelen
Gaming Industry Ambassador of the Year: Jan Suyver, Chairman of the Netherlands Gaming Authority
During the Responsibility in Gaming Awards Dinner, a charity raffle was held for the benefit of Fonds Gehandicaptensport, a charitable foundation for handicapped sports.
Netherlands Gaming Authority CEO Calls for Innovation in Land-based Sector
In her keynote speech, Marja Appelman, CEO of the Netherlands Gaming Authority, stressed the importance of innovation, in particular in the land-based sector, in order to keep players away from unlicensed offerings.
"I invite the entrepreneurs among you to innovate. Look for opportunities within existing rules and regulations to innovate and get results. The Netherlands Gaming Authority finds it important that licensees are able to offer attractive gambling possibilities, right now," Appelman said.
According to Appelman, there is room to do so, while still keeping within the boundaries of even outdated rules and regulations.
"Look for new possibilities within the restrictions of current laws and regulations," Appelman told her audience, promising that the Netherlands Gaming Authority "will accommodate this process."
Holland Casino and Nederlandse Loterij
The CEOs of the Netherlands' leading gaming companies, Holland Casino and Nederlandse Loterij, both spoke at the 2018 GiH Conference.
Holland Casino CEO Erwin van Lambaart discussed his company's long-term strategy. In the coming years, the casino operator will specifically target the 25-36 age cohort, for instance with a soon-to-open "Millennial Zone" in Holland Casino Utrecht, as well as with an even greater focus on Food & Beverage. "Food & Beverage will become even more important than before, especially when remote gaming will be legalized," Van Lambaart said.
Van Lambaart also said that the gaming sector should take the lead in responsible gaming; and called on the Netherlands Gaming Authority to apply existing rules in a fair and consistent manner.
The current prohibition on remote gaming should thus be more strictly enforced, Van Lambaart argued. Operators who do not withdraw immediately from the Dutch online market, should be excluded from obtaining remote licenses once the market opens.
Nederlandse Loterij CEO Niels Onkenhout agreed: "I believe that unlicensed operators should withdraw from the market right now, or be blocked from operating in the future regulated online market for at least five years."
"In order to protect consumers, the Remote Gaming Bill must be enacted as quickly as possible," Onkenhout added. "The letter sent by Minister Dekker is an important step in the right direction, but we must move far more quickly."
Onkenhout also said that once the Remote Gaming Bill is enacted, Nederlandse Loterij expects to receive a remote license "with priority."
Gaming Brand Awareness in the Dutch Market
Jeffrey Kruk, Research Director at media agency Wavemaker, shared the results of a study on the strength and vitality of gaming brands in the Netherlands. With the exception of Staatsloterij and Postcode Loterij, most gaming brands are relatively unknown and lack relevance to most consumers.
Surprisingly, 52% and 38% of Dutch consumers, respectively, are aware of the Unibet and PokerStars brands, despite being unlicensed in the Netherlands. Both brands, moreover, are perceived as offering something completely new and potentially relevant to consumers. These brands are thus well-positioned for strong growth:
See You Next Year?
While the last year has been rather quiet for the Dutch gaming industry, it now appears that we are moving forward again. The last details of the Remote Gaming Bill and its accompanying secondary legislation might soon be finalized, allowing the political process to continue at last.
Even now, other reforms are already on the agenda: the privatization of Holland Casino, a further restructuring of the Dutch lottery system, and, finally, a new regulatory framework for the arcade hall sector.
In the mean time, Gaming in Holland continues to build the infrastructure for the industry to meet, to network, and to stay informed. And also, of course, to celebrate its achievements.
Source: Willem van Oort/gaminginholland.com
EGT Interactive with a special participation at CEEGC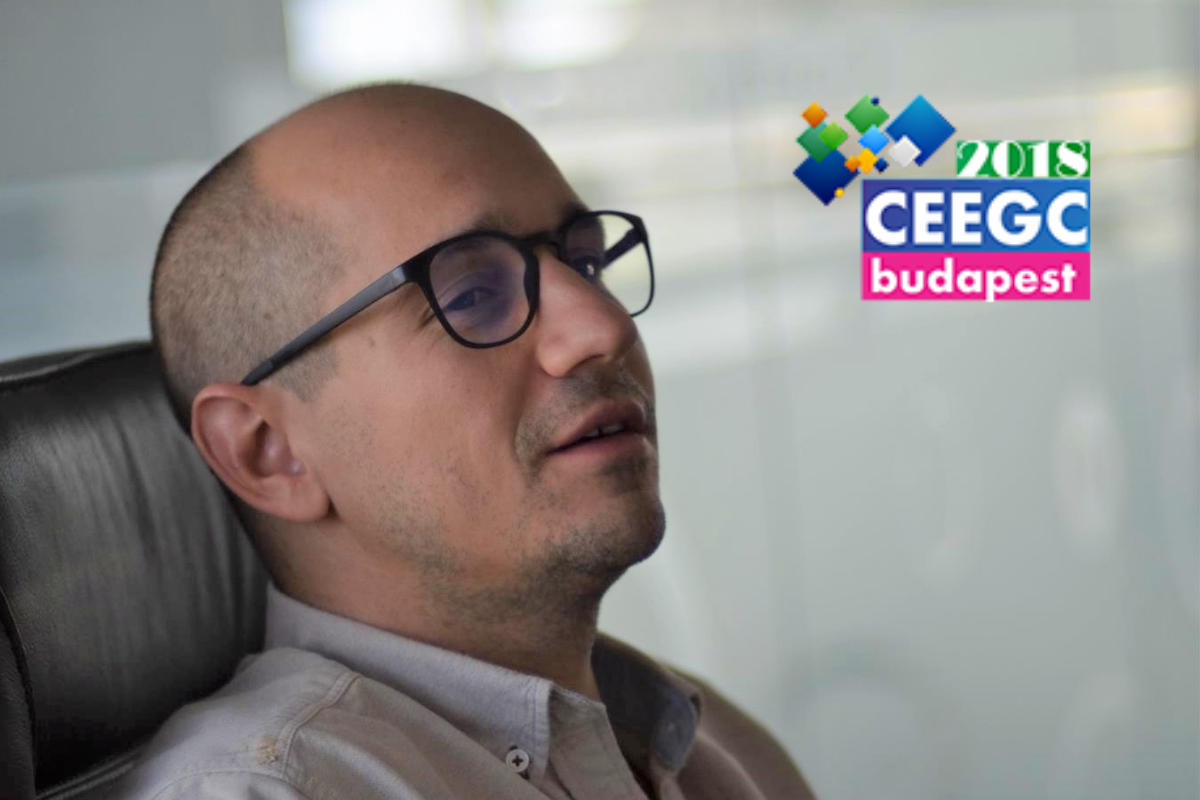 Reading Time:
1
minute
EGT Interactive is proud to announce, that on the upcoming Central and Eastern European Gaming Conference and Awards (CEEGC), EGT Interactive will have a special participation. Georgi Dimitrov, legal counselor in the company will be one of the speakers of a panel discussion about the state and the novelties in Eastern European regulations related to the iGaming industry. Focused on Bulgaria, Romania and Belarus.
Georgi Dimitrov is a legal counsel at EGT Interactive Ltd., with a focus on legal, regulatory and technical compliance matters related to the iGaming industry. He specializes in international gambling regulation and provides guidance on licensing and certification frameworks, policy drafting, and compliance processes. His line of work involves communication with focal stakeholders in the business such as testing labs, regulators and operators. He has background in company structuring, M&A, business and corporate development and extensive expertise in competition law. As a lawyer he has advised the Bulgarian operations of large-scale corporate clients, and public authorities.
We wish him successful participation!
The event will take place on 25th of September at Ritz-Carlton, Budapest, Hungary.
European Gaming Congress Ljubljana announces Luka Popovic as latest speaker in the Balkans oriented panel discussion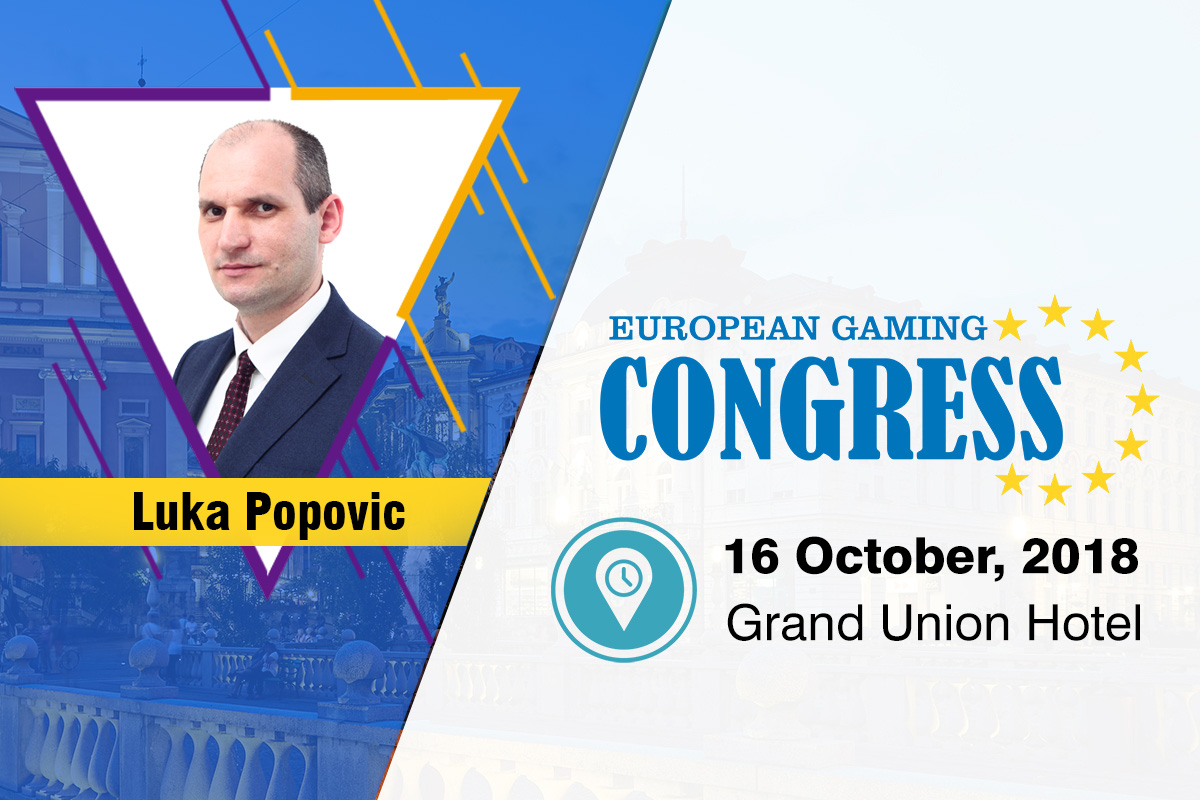 Reading Time:
2
minutes
European Gaming Congress (EGC) is slowly becoming a must-go-to event in the calendar by attracting lots of attention from operators that are eager to hear more about the compliance updates in Europe from the experts that are going to be present at the conference.
The conference will take place at Grand Union Hotel Ljubljana on the 16th of October and is a must attend event for European operators who are active in regulated and non-regulated markets.
You can Register here or View the Agenda
European Gaming Congress is specially designed to bring together industry experts, regulators, operators and service providers in order to discuss burning issues some of the markets are facing when working with compliance updates and licensing. The event also offers networking sessions which will help attending delegates to meet and greet some of well known faces of the gambling industry in Europe. The agenda will give the opportunity for attending delegates to dive into regulatory updates from Italy, Malta, Slovenia, Austria, Germany, Spain, France, Greece and many more jurisdictions. We look forward to seeing you in Ljubljana with a full day of quality content and networking.
Given the location of the conference, the panel discussion includes regulatory updates from the Balkans region, with special emphasis on Serbia, Montenegro and Bosnia and Herzegovina.
Luka Popovic (partner in the leading regional law firm BDK Advokati) is going to join the "Highlighting the Balkans and Southeast Europe" panel discussion along with Zoran Puhač (European Organization for Gaming Law -EOGL), Tatjana Scepanovic (Montenegro Bet) and Zlatan Omerspahic (NSoft)
The panel discussion will be moderated by Donata Szabo (GamblingCompliance)
About Luka Popovic
Luka is a partner in the leading regional law firm BDK Advokati (with offices in Serbia, Montenegro, and Bosnia and Herzegovina). He is a member of the Montenegrin Bar Association and was on the list of arbitrators of the Arbitration Board for the Resolution of Consumer Disputes at the Chamber of Commerce of Montenegro.
Luka has been managing BDK Advokati's Montenegrin operations since 2013. He is involved in all aspects of the firm's Montenegrin work, and maintains special industry focus on gaming and hospitality. Luka is the head of the firm's gaming practice.
IFLR1000 recognizes Luka as a highly regarded lawyer, Legal 500 regards him as a leading individual in the legal market, and Chambers & Partners ranks him as a top-tier lawyer in Montenegro.
Make sure you register your seat in time to benefit of the great lineup of speakers and meet Luka to hear about how you gambling operation can evolve with the new advertisement banning criteries.
Full details about the event can be found on the official website of the event: https://europeangamingcongress.com/
CEEGC 2018 Budapest – Less than a week until kick off, see who is attending and why you should not miss it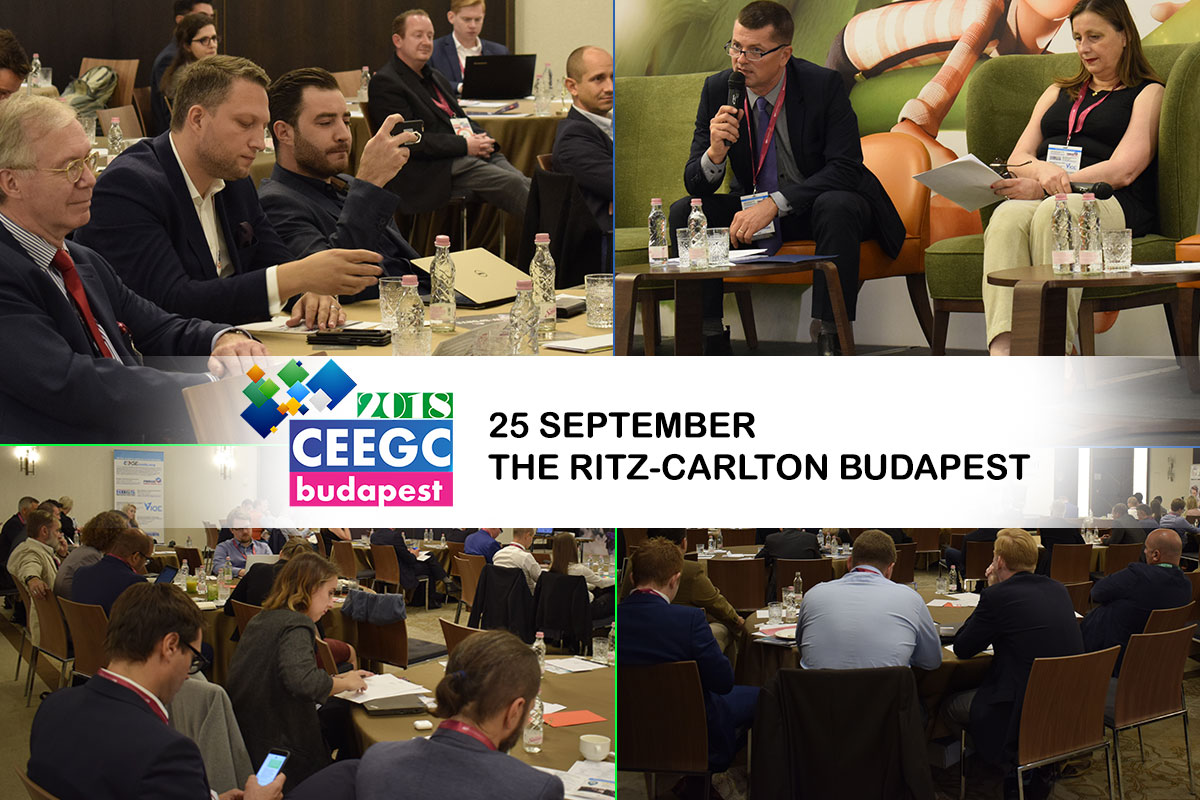 Reading Time:
2
minutes
There are only 6 days left until the third edition of the Central and Eastern European Gaming Conference (CEEGC) and Awards (CEEG Awards) opens its doors and gives access for the industry to benefit of this unique opportunity in the CEE region for learning and networking.
CEEGC is the leading conference that is shaping the industry in the CEE region by influencing the emerging market trends.
Rafal Nowak – iGaming Sales Director at Mobiyo stated about last year's event:
"A week after the Budapest Gaming CEE conferences, I'm still discussing the topics brought up there with fellow delegates. Thank you Zoltan Tundik for organizing an informative an well shaped event on this, often underestimated iGaming territory and good luck with the next one!"
Kostandina – Nina Zafirovska – CEO at BtoBet also stated last year's event:
"CEEGC in Budapest was the event that brings together experts in the industry together with Central and Eastern European regulators to exchange thoughts and knowledge for development of iGaming in the region. Great experience with wonderful people."
The 2018 event is going to take place on the 25th of September at The Ritz-Carlton Budapest and we are adding 10 more seats to the event because of the high interest shown by industry shareholders to attend the event.
REGISTER HERE, to benefit of an exclusive media partner discount of 15% for your ticket(s). Make sure you use the "CEEGC2018" promo code when registering.
The agenda of the event will feature interesting panel discussions that are focusing on both operators and service providers and among the registered delegates you will find the representatives of NetEnt, Play'n Go, SBTech, BetConstruct, BtoBet, Altenar, Iforium, Superbet, Amusenet, Curacao eGaming, Data Bet, All-in Translations, GLI Europe, Greentube, HiPay, Mobiyo, Orange Pay, Pocket Games Soft, Podium North, RISQ, Sporting Solutions, Endorphina, GamblingCompliance, Fortunaweb, Tom Horn Gaming, Global Legal Group, Payvision, Bethereum, Trustly, Digitain, ARQ Risk & Compliance, Bitpay, Acapture, BetterBetting, Bird&Bird, Danish Online Gambling Association, EGT Interactive, Harris Hagan, Rombet, Playtech, Scout Gaming Group, Tonucci & Partners, EOGL, UltraPlay, WH Partners, NNDKP, Sorainen, MuchBetter, Gaming 5.0 and much more.
The event includes 6 informative panel discussions that focus on emerging markets such as Belarus, Slovakia, Poland, Romania, Bulgaria, Czech Republic and a special IMGL MasterClass about the state of the U.S. market.
You can view the full agenda of CEEGC 2018 on the following link
REGISTER HERE, to benefit of an exclusive media partner discount of 15% for your ticket(s). Make sure you use the "CEEGC2018" promo code when registering.
For more details about the event, visit www.ceegc.eu