GeWeTe take cash handling to another level at Irish Gaming Show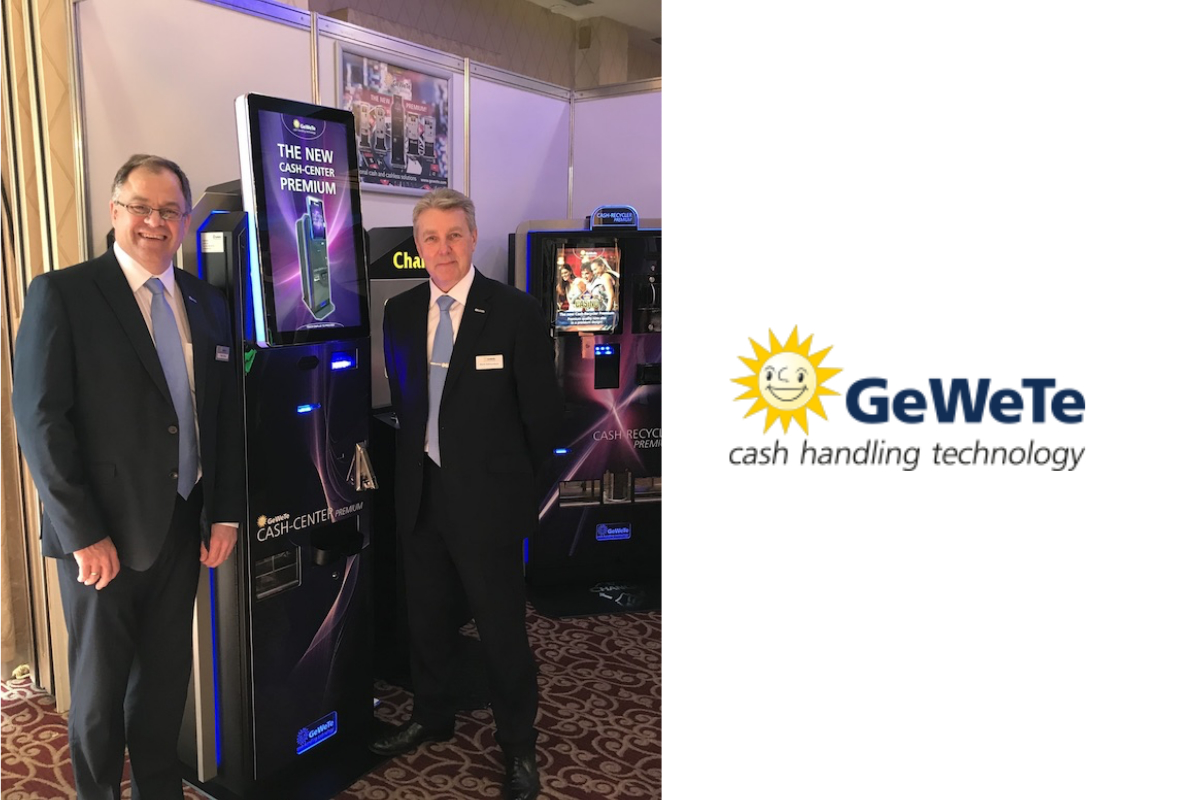 Reading Time:
2
minutes
Gauselmann Group owned GeWeTe, widely regarded as the international industry's premier cash handling experts, continued its support of the Irish Gaming Show with a high profile presence and product display which featured the Cash Center Premium, Cash Recycler Premium, WGS 200 and WGS 102 Tap & Play. Reflecting on GeWeTe's presence in Dublin and the market's response to its product offering, Sales Manager for UK and Ireland, Mark Edmundson said: "Exhibitions and events such as the Irish Gaming Show are an invaluable opportunity to meet with the industry, listen to the issues of the day and demonstrate how we can help solve problems and wherever possible, create opportunities.
"This was GeWeTe's fifth year in Dublin and followed our strong and successful showings at both EAG in January and last month's ICE London. On a personal level I have been working with the Irish operators for over 30-years now and it was great to welcome so many visitors and familiar faces to our stand. The feedback we received was very positive and complimentary about both our portfolio and the technical back up that we offer. Although there was interest across our product line-up it was the Cash Center Premium with its stylish design and high capacity note dispenser – all backed by GeWeTe's renowned reputation for reliability and high security features – that was the main talking point."
He continued: "The industry is placing more emphasis on aesthetics and not just functionality and to that end many of our stand visitors highlighted the contemporary design of the range.  Operators are making significant investments to deliver a contemporary consumer experience which means that all products need to complement and not detract from the environment in which they are sited.  When products such as the Cash Center Premium are able to combine functionality, reliability, and great design with industry-leading technical back-up, you know you are on to a winner."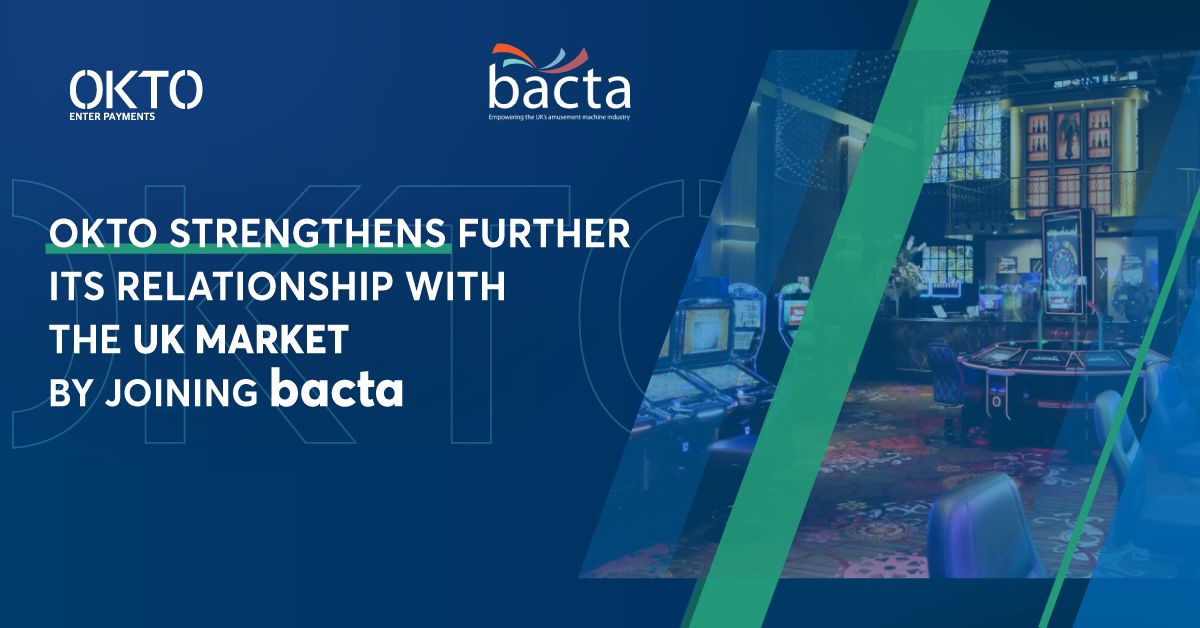 Reading Time:
< 1
minute
OKTO, the award-winning fintech specialist, has strengthened further its relationship with the UK market by joining the domestic trade association bacta. The announcement follows the appointment of experienced gaming industry senior executive Rob Peché to the position of UK Country Manager.
Simon Dorsen, CCO of OKTO, believes joining bacta reflects OKTO's commitment to the UK industry and is indicative of the brand's strategy moving forward. He explained: "Rather than being an arms-length technology provider OKTO's approach is to immerse itself in the markets where it is active. The UK is one of the most important jurisdictions internationally and one in which the brand has rapidly achieved considerable success partnering with leading brands.
"Being a member of bacta places OKTO where we want to be, which is at the centre of all of the key discussions and debates surrounding payments in the UK gaming industry, across AGC, Bingo, Casino, LBO, Pub and Bar sectors."
Simon added: "This is another example of our company showcasing its ongoing commitment to work with the local industry in order to provide safe, secure, and responsible payment solutions in the gaming, leisure and entertainment sectors."
Bali Confirmed as Host of the 2022 World Esports Championships Finals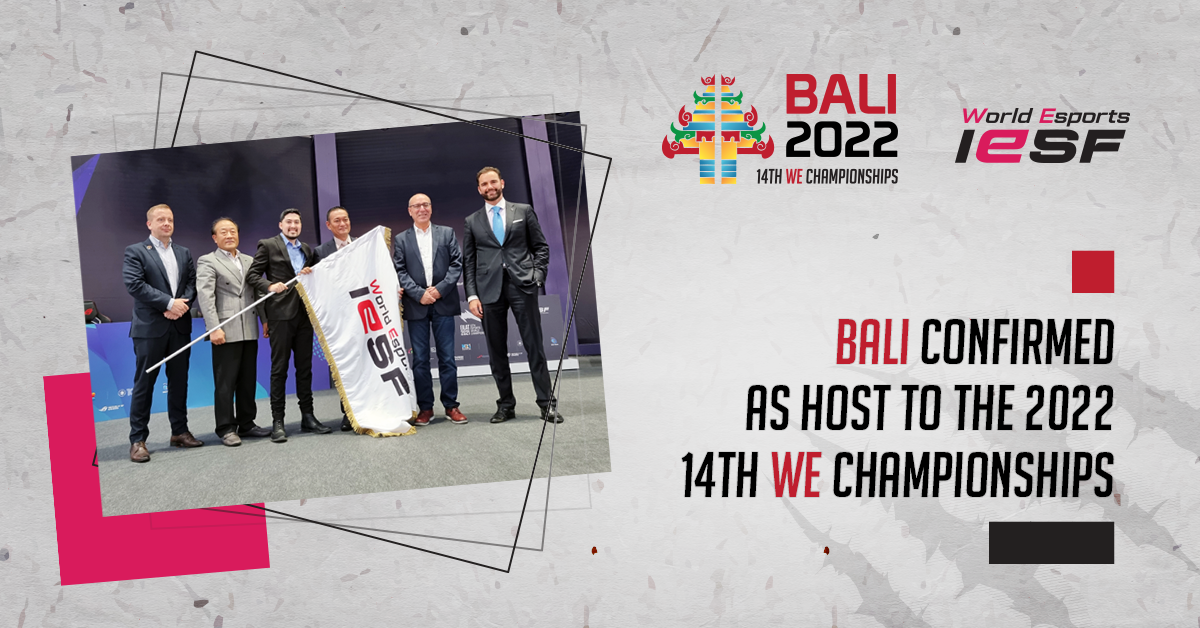 Reading Time:
2
minutes
Indonesia looks to set new standard of Esports competition at the 14th WE Championships
 The International Esports Federation (IESF) has confirmed that Bali, Indonesia will be the host of the 2022 World Esports Championships Finals. Bali was handed over the honors during a special ceremony following the conclusion of the 13th World Esports Championships in Eilat, Israel.
The 14th edition of the WE Championships Finals is slated for 27 November to 8 December 2022 and will feature the world's best Esports athletes competing across multiple games on the beautiful island of Bali. Over 120 countries are expected to compete in the regional and national qualifiers for a coveted spot in the Finals. 
IESF President Vlad Marinescu congratulated host city Bali and said: "Big thank you to the President of the Indonesian Olympic Committee and to the entire Indonesian team here with us. We appreciate your support and we look forward to seeing the biggest and most inclusive World Esports Championships in history! We are bringing the largest and freshest sport to this beautiful tropical destination for the first time."
IESF has staged the WE Championships every year since 2009, and it remains the sole international Esports event where athletes represent their countries. After a successful 2021 edition, the World Esports community looks to come back even stronger and generate more international opportunities and media exposure for the sport in the lead-up-to and during Bali 2022. 
Indonesian Olympic Committee Commission Chairman Desra Firza Ghazfan said during the press conference: "Bali is the island of GOD, it's always been the melting pot of rich traditional and modern culture. Now with the 14th World Esports Championships happening in Bali, Bali is the melting pot of the past, the present and the future. I would like to welcome you all to Bali 2022 and to meet with our 45 million players in Indonesia. Be prepared and let the best win!"
Squid Royale Season Finale Brings Glass Bridge and Marble to Silly Royale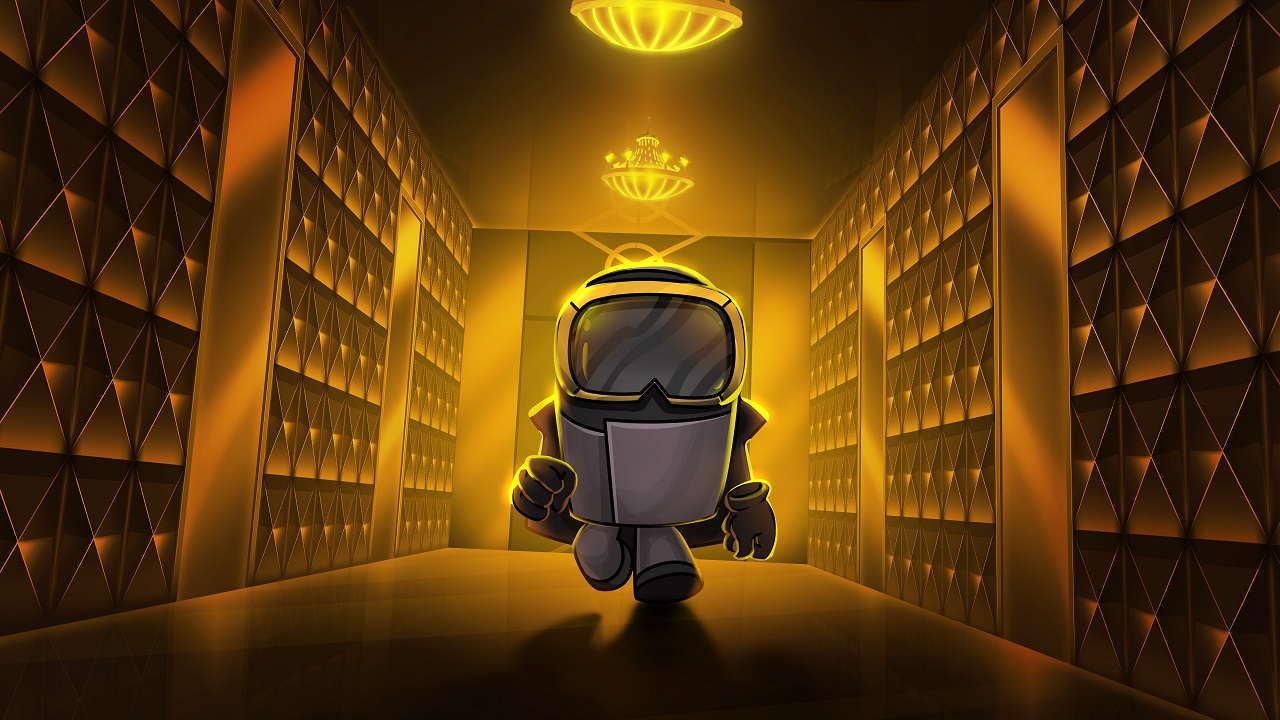 Reading Time:
2
minutes
Made-in-India social game Silly Royale's third and final season of Squid Royale content is out now. Squid Royale is a mode in Silly Royale that has games inspired by the popular Netflix show 'Squid Game'.
The season finale will bring 'Glass Bridge' and 'Marble' games from the popular Netflix series, Squid Game, to add to 'Red Light, Green Light' debuted in Season 1 and 'Honeycomb Dalgona' and 'Tug of War' from Season 2. Additionally, players also stand a chance to win daily rewards and 4 new skins.
"Squid Royale Season 2 was our best one yet as Silly Royale crossed 13 million installs worldwide," says Christelle D'cruz, co-founder and General Manager, Silly Royale. "The season finale will let players play all five games from Squid Royale which will make it even more fun and competitive for them.
Silly Royale Squid Royale Season Finale Update — What's New
40-player Squid Royale

2 new games – Glass Bridge and Marble

Daily rewards – In-game rewards and cosmetics

4 new skins –

Salesman skin

Doll skin

VIP owl skin(001 player in the Squid Game show)

Survivor skin (Last man standing in the Squid Game show)

Sign-in option which will let players carry their progress to other devices
Furthermore, Silly Royale's Season 3's best players will enter into a raffle to win an iPhone 13. Season 1 saw 22-year-old Sagar Sharma from Meerut winning an iPhone 13 Pro Max 256GB with 110 wins in Squid Royale. The Top 100 players from Season 2 will go into a raffle today on Silly Royale's Discord with the winner getting a PlayStation 5.
In Silly Royale Season 2, a total number of 378,655 matches were played. The game's popular voice chat feature also clocked more than 100 million voice minutes till date while the game crossed more than 13 million installs worldwide.