Qudo, A Proof-of-Gameplay Reward Mechanism and Cryptocurrency Powered by the Telos Blockchain, Announces New Features to Streamline Game Development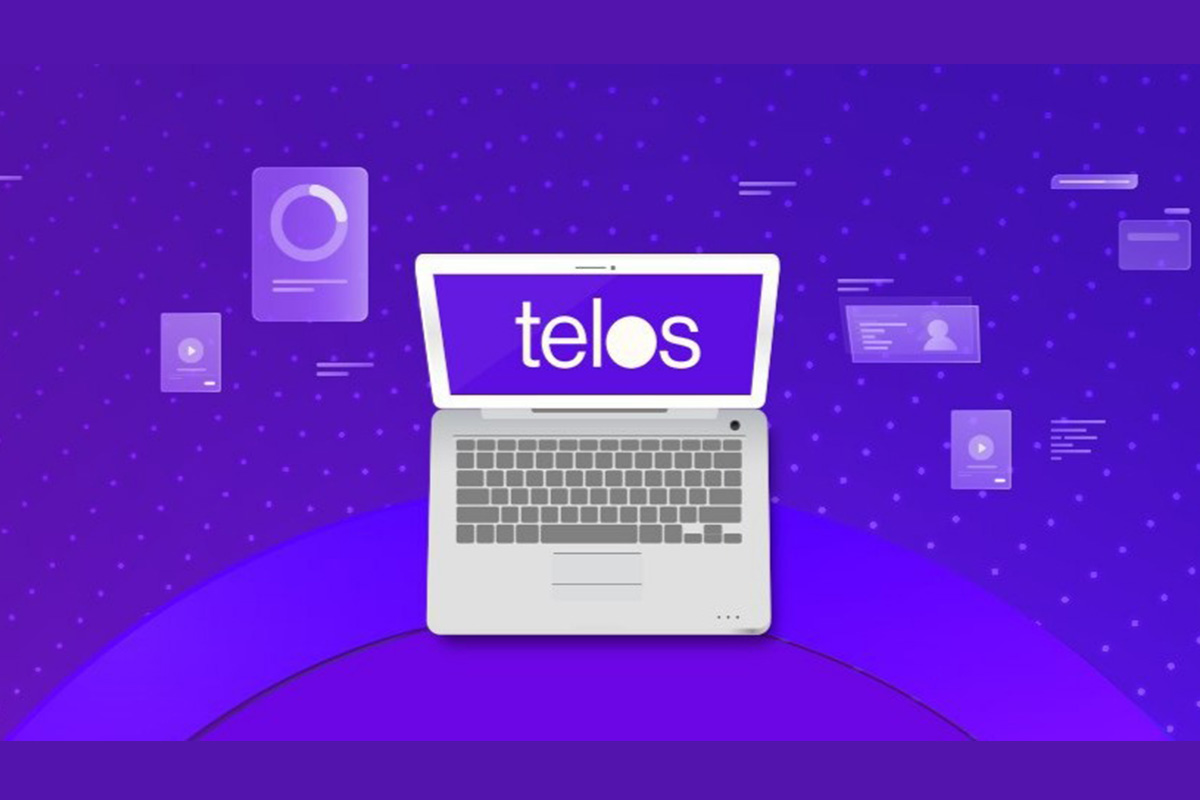 Reading Time:
3
minutes
Bug Spotting Rewards helps speed game testing, and Qudo B2B Marketplace connects developers with service providers to foster creation of new titles
QUDO, a proof-of-gameplay reward mechanism and cryptocurrency for the gaming industry, today announced new developer-focused features on their platform that are designed to streamline and improve the game development process. Qudo helps developers grow their audiences and improve their games by rewarding players in cryptocurrency for their time, scores, and other achievements, all with no blockchain experience necessary.
Qudo is powered by Telos, the second most active blockchain platform in the world. Telos has achieved significant traction in the gaming sector for its high-capacity network and advanced governance features. Qudo opted to build its reward mechanism on Telos because of the network's speed, low fees, and community support.
The platform's new features allow game developers to use their QUDO tokens in new ways, including:
Performance Rewards: Developers can invest in their gaming communities through the distribution of QUDO tokens as rewards for specific in-game achievements, or for beating personal or global high scores.

Bug Spotting Rewards:  In addition to rewarding players with QUDO tokens according to their game time and performance, developers can now also reward players for any bugs they find. Through this new feature, game developers can have their titles properly tested without the need to invest in game testers outside the QUDO platform.

B2B Marketplace: QUDO tokens can be used to improve game development for smaller studios through the help of professional service providers from around the world that are listed in the new marketplace.  Developers can select from 22 different service categories, with more to be added, including game development, sound design, website design, 2D/3D artists, copywriting, voiceover and more.
"Through our partnership with Telos, QUDO has enabled all developers to integrate blockchain technology in their titles, without any prior knowledge of blockchain development required," said João Abrantes, Co-Founder and Managing Director of Block Bastards, the company behind Qudo.  "In addition, we are focused on helping developers build their gaming communities through our easy-to-use, rewards-driven platform. Today's announcement of our new features represents the next step in QUDO's evolution as a full-featured development platform for the gaming ecosystem."
Qudo is compatible with any game using the Unity engine, and offers an SDK that makes it easy for developers to seamlessly onboard their games and customize their rewards. Developers can also purchase services with cryptocurrency directly through the Qudo marketplace, such as 3D artwork, modeling, animation, sound engineering, voiceovers and programming. Qudo's rewards mechanism will also allow game developers to monetize without intrusive ads, and to improve their games by offering rewards for spotting bugs, which provides valuable real-time feedback.
A community of more than 2,000 players have already joined Qudo, earning crypto-based rewards for time spent playing, reaching new high scores, and other achievements offered by individual games. Players benefit from never having to transact with credit cards and online payment platforms, thus avoiding high fees and fraudulent activities.
"Qudo is pioneering game development by leveraging Telos-based blockchain technology and integrating the industry-leading Unity platform,"  said Douglas Horn, Telos Chief Architect.  "We're pleased to see Qudo go deeper into the Telos feature set to add new capabilities for the benefit of developers and gamers alike."
The games now live or coming soon to Qudo include CubiX Fragment, Blox, V8ORS – Flying Rat, FreeBoom, Wizard Rob, Cloud Runner, Versus, AceOfSpace, Time Hardly Waits, SEEDINA, Operation:BoomSlang!, and MoneyLords. Each game is available on mobile, and Qudo plans to expand support for PC games in the near future. Qudo's Alpha version is operating on the Telos testnet, with plans to launch its mainnet version in late Q2 2021.

Kinguin Launches NFT Marketplace in Partnership with Immutable X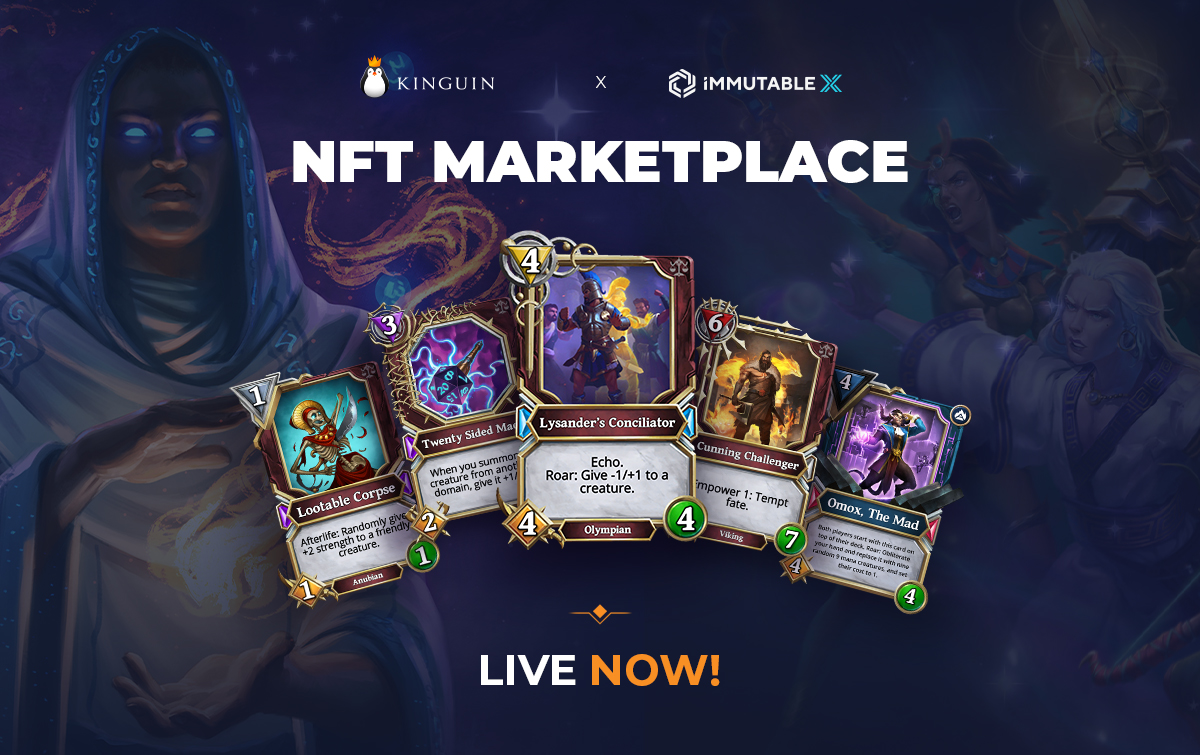 Reading Time:
2
minutes
Kinguin is launching its NFT marketplace, in partnership with Immutable X. Featuring 40+ collections and over 200,000 unique NFTs, it will give gaming and esports customers access to a vast array of exclusive NFT offerings.
The marketplace, built on top of the Immutable X protocol, is mixing the familiarity and practicality of web2 with the freedom and potential of web3. Kinguin offers its users the stability and security of an established digital goods marketplace. Some top NFT games like Gods Unchained, Guild of Guardians, PlanetQuest and Habbo Hotel will all offer NFTs on the marketplace, with more to be announced in the coming months.
But there's more than just the high-quality content that will appeal to Kinguin's vast community. Immutable X, created by Immutable and Starkware, is the technologically leading layer 2 scaling solution for NFTs on Ethereum. The combination of Immutable's deep knowledge of blockchain technology with Starkware's cutting-edge ZK-rollup technology, means the Kinguin NFT Marketplace will be lightning fast (at 9,000 TPS) and carbon-neutral, without compromising on security.
The partnership presents mass adoption opportunities for both developers and end-users. By combining Kinguin's 13 million registered users with Immutable X's scaling solution, you don't have to compromise your assets' security, transaction speed, gas fees and negative impact when diving deeper into NFT, making it easier to scale the game and NFT industries together.
Other features include a dedicated search option, making it easy for everyone to buy and sell NFTs. Users can also connect their MetaMask crypto wallet with the Kinguin NFT marketplace, a free hot wallet service available as a smartphone app or web browser extension. With that, every user can buy NFTs or deposit Ethereum for purchase purposes and also check their NFT balance.
Robert Kalbarczyk, Chief Operating Officer & Acting CEO at Kinguin said "We remain focused on our community's interests and passions. With Play and Earn on the rise, this felt like the natural next step for us. We're thankful to have partners that share our vision and we're looking forward to working with Immutable X to offer our customers a range of exclusive NFT gaming assets."
"We're thrilled to welcome Kinguin's 13 million users to Immutable's open order book, and help power the next generation of mainstream gamers to truly own their in-game items," said Robbie Ferguson, Co-Founder at Immutable. "This is an incredibly significant move — one of the powerhouses of digital goods trading from web2 is expanding their offering to NFTs, and they've chosen layer-2 Ethereum as the way to do it. We look forward to helping Kinguin scale this marketplace across hundreds of games and millions of players."
The NFT marketplace may still be in early stages but long term plans are being considered to ensure its continuous evolution. As well as collaborations with big marketplaces, Kinguin also hopes, in time, to develop its own NFT games.
Global Esports Federation Convenes Knowledge Leaders to Shape the Metaverse Council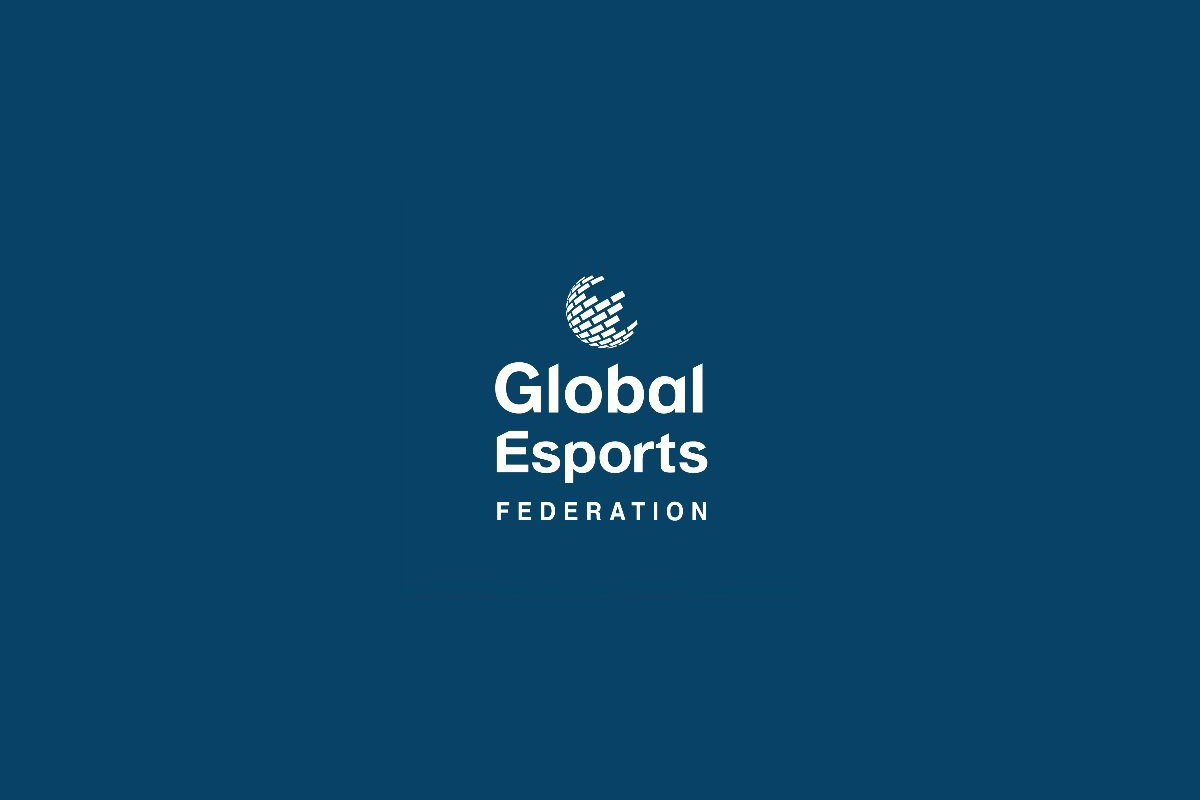 Reading Time:
< 1
minute
The Board of the Global Esports Federation has established the GEF Metaverse Council, aimed at convening thought leaders and creators around the Web3 space. In addition, the Metaverse Council will focus on shaping tangible metaverse development initiatives for our global community, blockchain technologies, NFTs and more.
"We've established the GEF Metaverse Council to cultivate ideas, voice, and shape to our metaverse reality; and to access the limitless opportunities for our entire #worldconnected community," Paul J. Foster, CEO of the GEF, said.
The Metaverse Council will be Chaired by Hugo Philion, CEO and Founder of Flare – GEF's Global Partner for Blockchain Ecosystems. Melvin Kuek, Senior Advisor of the GEF, has been appointed Vice-Chair.
The GEF Metaverse Council is powered by a collective hive mind comprising global subject specialists including crypto and NFT project developers, creative directors, domain experts, and social influencers within the space.
Some of the members of the newly established council are Oxskellymode, NFT influencer and co-founder of Enigma Ventures; Sabertooth, director of Tiger Vision Global Pty Ltd and founder of NFT project Attack Tigers!; Melty Tanti, founder and creative director of Play & Earn (P&E) metaverse project Jambo Mambo; and MingWeiRocks, one of Asia's top TikTok creators with over 22 million followers.
Monoverse raises over $3 million from Korea Real Estate Investment and Trust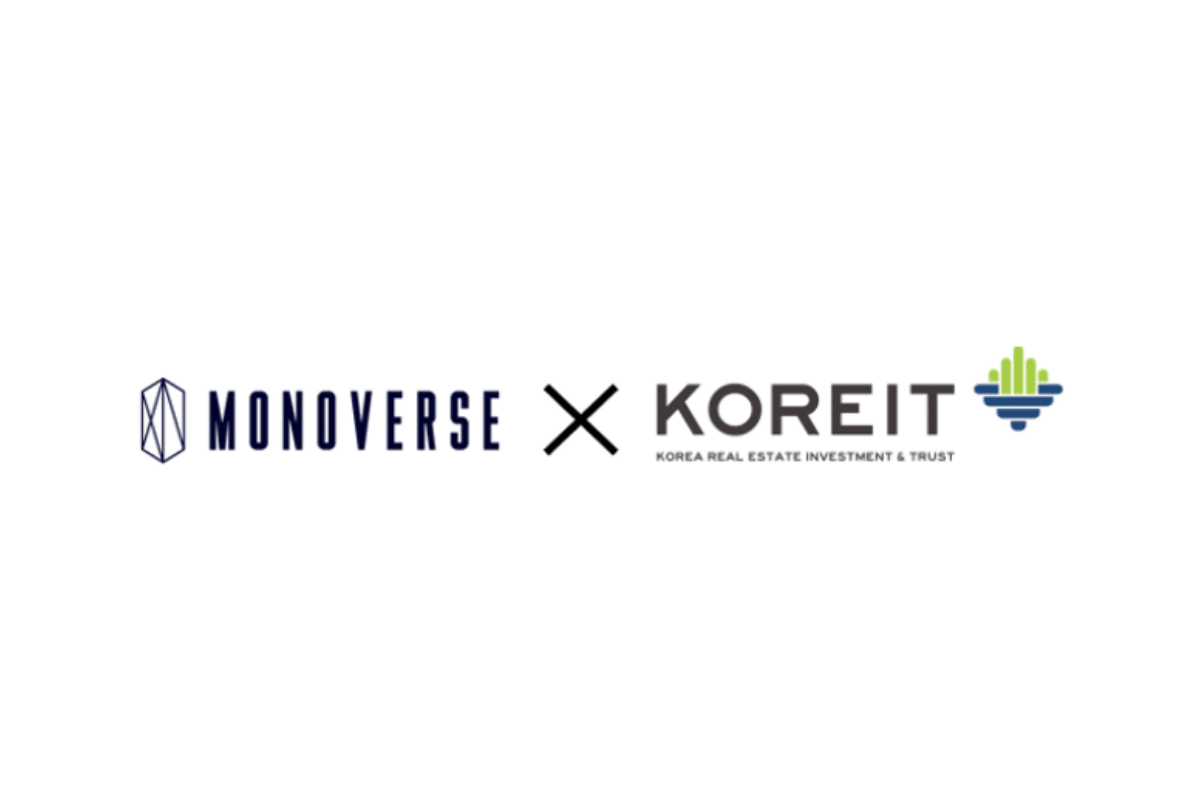 Reading Time:
2
minutes
Monoverse, a blockchain gaming company and developer of play-to-earn NFT game Frutti Dino, secures a $3.1 million investment from Korea Real Estate Investment and Trust (KOREIT). The investment is based on Monoverse's long-established blockchain expertise and showcases KOREIT's faith in its disruptive potential in the larger gaming industry through both games and game platforms.
This funding enables Monoverse to keep expanding into the blockchain gaming space, with the focus on enhancing Frutti Dino. Monoverse is also developing Entropy, a platform that allows any game developer studio to easily migrate their games to an Entropy sidechain and join its larger ecosystem. Entropy unlocks decentralization benefits to traditional gaming projects by removing their need to create their own sidechain.
Monoverse also announces its collaboration with Gametopia, a digital game development studio and subsidiary of Taiwanese game development and publishing company Chinese Gamer. Monoverse will enable Gametopia to move its games to the Entropy blockchain and incorporate tokenomics and NFTs into their design, giving players ownership of their digital assets.
Monoverse plans to use Entropy to onboard third-party games, both traditional and NFT-based, including Frutti Dino, onto its sidechain. The Entropy sidechain features low gas fees and high transaction processing speed, offering developers tangible advantages over Ethereum and other popular layer-1 chains. Entropy promotes more widespread adoption of blockchain-based gaming by removing technological entry barriers and easing games' move from the traditional model into GameFi.
The investment round and collaboration continue Monoverse's hot streak, following the successful launch of Frutti Dino NFTs on Binance. In the meantime, the Frutti Dino community has grown to over 100 thousand participants worldwide. The team continues to expand and polish off the Frutti Dino content, prioritizing both its gameplay and tokenomics.
"We are thrilled to continue developing blockchain and advanced games at the cutting edge of technology with support from Korea Real Estate Investment and Trust," says Jayden Lee, CEO of Monoverse. "We are grateful to our community for the continued outpour of support, and we're certain this funding round will kick our growth into a whole new gear."
"As an expert in the growing blockchain and NFT game industry, Monoverse is well-equipped to make waves in this competitive global market," says a representative of Korea Real Estate Investment and Trust. "We are happy to set the stage for Monoverse to grow and will actively support the project to help it sustain its success."