Full team line-ups and event details announced for 2021 F1® Esports Series Pro Championship presented by Aramco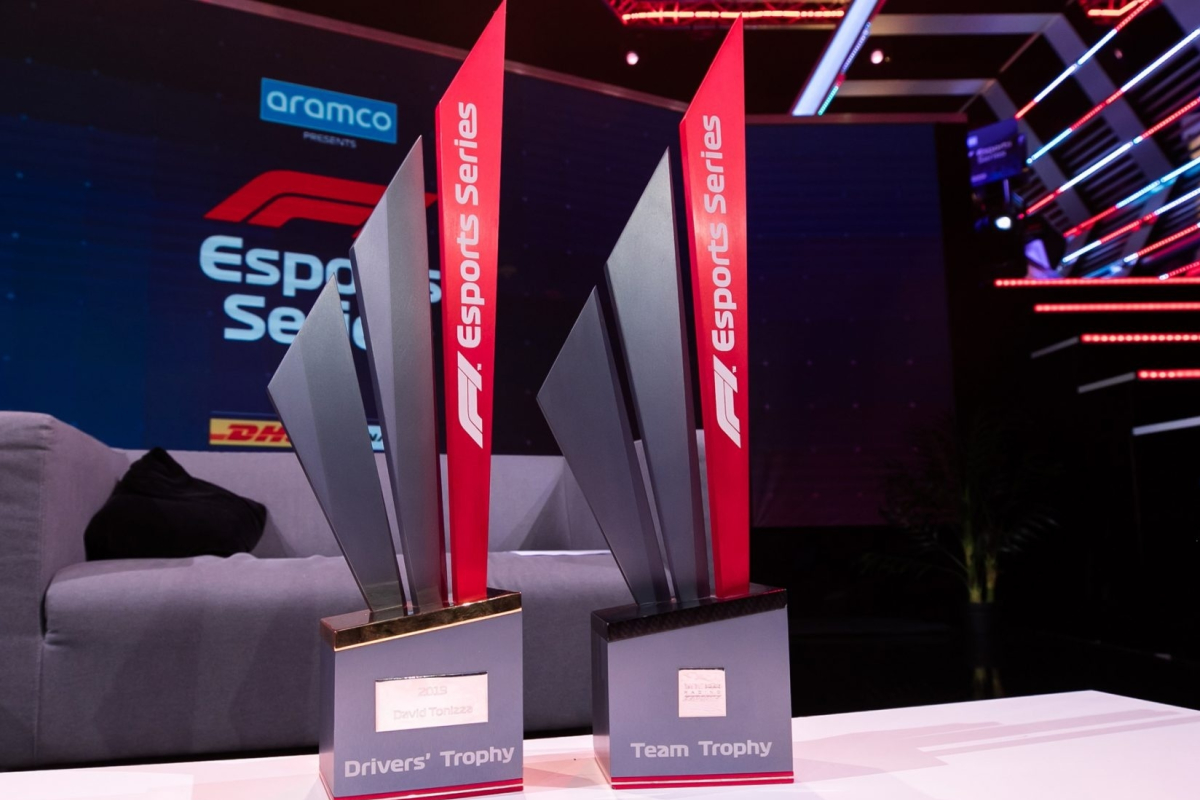 Reading Time:
5
minutes
Ahead of the highly anticipated 2021 F1® Esports Series Pro Championship presented by Aramco, which begins next month, the full driver line-ups and event details were announced in Wednesday's Preview Show, as teams' get set to battle it out once again for a piece of the huge $750,000 prize pot – one of the biggest in Esports.
F1® Esports Series' flagship competition continues to exceed expectation and shatter records along the way with last year's Pro Series, as it was then called, achieving 10.6m views across TV & digital, as well as a record 291m social impressions and 23.8m video views throughout the campaign. The ever-rising popularity of the competition was even more evident as nearly half a million people attempted to qualify for this year's championship, an increase of 108% from 2020.
As per the 2020 competition, due to COVID-19 travel restrictions, drivers will continue to race from team factories or bespoke Esports facilities, or their own homes, whilst broadcasts will be filmed from the Gfinity Arena in London. Drivers will compete on the official F1® 2021 video game, developed by Codemasters and EA.
Aramco return as the presenting partner of the Pro Championship for a second year, and long-term partners DHL and Fanatec also continue to be a key part of the F1® Esports Series. Fanatec will supply hardware to all drivers for this year's campaign, as it had done since 2018, while three new drivers will compete in the 2021 season after qualifying through the DHL Time-Trial qualification route, including prominent sim-racer Sebastian Job, who joins Alpha Tauri.
HUGE MOVES ACROSS THE GRID
Since last year's Championship wrapped up in December, there have been a number of high-profile moves around the grid as two world champions switched allegiances in the off-season. Reigning champion Jarno Opmeer, who secured his first title with Alfa Romeo, has joined Mercedes, filling the spot left by Brendon Leigh. Two-time world champion Leigh, who has been recruited by the FDA, joins the only other drivers champion, David Tonizza.
Reigning teams' champions Red Bull have retained duo Marcel Kiefer and Frederik Rasmussen, who will both be in contention for a shot at this year's individual honour, whilst Opmeer's teammate Dani Bereznay, who helped Alfa Romeo to a second-place finish in the teams' championship has joined McLaren as they prepare for the new season with a completely new three-driver roster, with last year's 'Rookie of the Year' Dani Moreno also heading to Mercedes.
There will be ten new drivers on this year's driver line-up, with a third of the grid having been scouted through this year's Pro Exhibition after qualifying via one of F1® Esports Series' qualification routes.
Team

Number

Driver

Nationality

D.O.B

Alfa Romeo Racing ORLEN F1 Esports

30

Simon Weigang

German

28/10/1997

38

Filip Prešnajder

Slovakian

27/11/2002

73

Thijmen Schütte

Dutch

25/08/2004

Scuderia AlphaTauri Esports Team

51

Joni Törmälä

Finnish

15/08/1996

13

Sebastian Job

British

22/03/2000

28

Dario Iemmulo

Italian

28/01/2003

Alpine Esports Team

40

Nicolas Longuet

French

06/08/2002

8

Fabrizio Donoso

Chilean

19/06/1999

80

Patrik Sipos

Hungarian

30/04/2003

Aston Martin Cognizant Esports Team

88

Lucas Blakely

British

15/07/2001

92

Daniele Haddad

Italian

12/08/1992

79

Shanaka Clay

British

04/02/1999

FDA Esports Team

95

David Tonizza

Italian

14/01/2002

72

Brendon Leigh

British

07/08/1999

29

Domenico Lovece

Italian

29/06/2001

Uralkali Haas F1 Team Esports

2

Cedric Thomé

German

26/02/1998

15

Samuel Libeert

French

12/11/1992

48

Matthjs van Erven

Dutch

03/03/2003

McLaren Shadow

12

Daniel Bereznay

Hungarian

28/05/2000

20

Bardia Boroumand

Iranian

17/04/2003

52

Josh Idowu

British

10/02/2003

Mercedes-AMG Petronas Esports Team

34

Jarno Opmeer

Dutch

11/04/2000

26

Dani Moreno

Spanish

09/01/2001

94

Bono Huis

Dutch

04/12/1994

Red Bull Racing Esports

24

Marcel Kiefer

German

24/08/1998

19

Frederik Rasmussen

Danish

18/06/2000

59

Liam Parnell

German

05/09/2002

Williams Esports

21

Álvaro Carretón

Spanish

21/07/2001

53

Michael Romanidis

Greek

07/09/2003

23

Alessio Di Capua

Italian

10/04/2002
TWO CIRCUIT DEBUTS, AND OLD FAVOURITES RETURN
This year's campaign, the fifth season of the competition, will begin on Wednesday 13 October with the first two races of Event 1, as drivers' replicate the 2021 FIA Formula One World Championship by starting off at the Bahrain International Circuit. Whilst the real-world F1® drivers couldn't travel to China this year, the Shanghai International Circuit will be brought to life virtually, before the always popular Red Bull Ring rounds off the season-opening Event on the following day.
While most of the chosen venues remain the same as last year, including Zandvoort where F1® returned earlier this month, there are three new tracks for drivers to get to grips with this season. The 'rollercoaster' in Portimão makes its debut in the Pro Championships, as does Imola, whilst the Circuit of the Americas returns to the calendar. As has been the case for the past two campaigns, the season finale will see competitors battle it out at Interlagos.
Event #

Date

Round #

Circuit

Event 1

13-14 October

Round 1

Sakhir, Bahrain

Round 2

Shanghai, China

Round 3

Spielberg, Austria

Event 2

27-28 October

Round 4

Silverstone, Great Britain

Round 5

Monza, Italy

Round 6

Spa, Belgium

Event 3

24-25 November

Round 7

Portimão, Portugal

Round 8

Zandvoort, Netherlands

Round 9

Austin, USA

Event 4

15-16 December

Round 10

Imola, Italy

Round 11

Mexico City, Mexico

Round 12

Interlagos, Brazil
EIGHT LIVE SHOWS ACROSS THE SEASON
F1® Esports fans will be happy to hear that following the increased coverage of last year's Pro Series, the format will remain the same for 2021, where there will be live racing on Wednesday and Thursday of each Event week, as well as livestreamed qualifying sessions on both days. The Pro Championship will be broadcast on the official F1® social channels (Facebook, YouTube, Twitch and Huya), as well as select TV broadcast partners.
Ben Pincus, Director of Commercial Partnerships at Formula 1®, said:
"There's huge excitement building ahead of the new season of the F1 Esports Series Pro Championship, and we can't wait to get started, and with so many big moves around the grid, this year's title really is anyone's for the taking! As always, we want to thank our partners Aramco, DHL and Fanatec for their continued support which enables us to bring elite sim-racing to fans around the world."
Paul Jeal, F1 Senior Franchise Director at Codemasters, said:
"The 2021 F1 Esports Series Pro Championship promises to be the most exciting and unpredictable season to date. There have been some exciting driver moves with former double F1 Esports Champion Brendon Leigh joining another ex-champion David Tonizza at Ferrari, and our current F1 Esports Champion Jarno Opmeer moving to Mercedes. We also welcome new exciting talent from the Challengers, and it will be fascinating to see how Alessio Di Capua and Josh Idowu compete on the biggest stage. On behalf of the F1 team at Codemasters and all our players worldwide, good luck to the 2021 drivers. Let the racing begin."
John Clarke, CEO at Gfinity, said:
"Anticipation is building for the new season of the F1 Esports Series Pro Championship presented by Aramco. It has become a must watch competition for both existing, and an ever-growing army of new, virtual racing fans. The bar is raised each year with new talent emerging and spectacular racing. The Gfinity production team will also be raising the bar with more storytelling and high-octane coverage of the races. It's time to sit back and enjoy the show!"

Galaxy Racer signs YouTube sensation Noor Stars as new content creator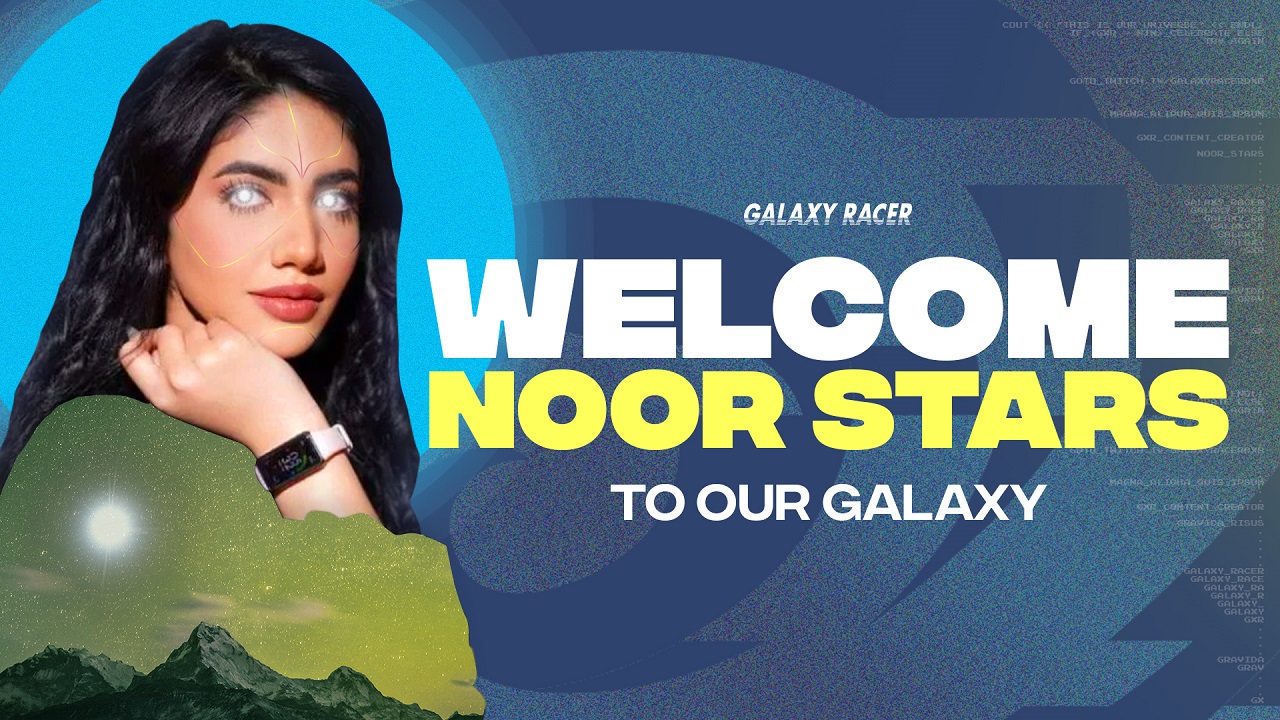 Reading Time:
2
minutes
One of the biggest female content creators from the Arab speaking world with a following of over 40 Million, Noor Stars will be representing Galaxy Racer across her many channels and creating a variety of content
Galaxy Racer (GXR), the biggest esports, gaming and lifestyle organisation, headquartered in Dubai, with market presence in the Middle East, North Africa, South-East Asia, Europe and South Asia, has announced it has signed one of the most popular content creators in the Arab speaking world, Noor Stars, as its new content creator.
As the latest addition to Galaxy Racer's constantly growing content creator team, Noor Stars will be representing the organisation across her many channels and creating a variety of exciting and compelling content – which includes everything from music, videos and films to comics and product launches – for her millions of fans around the world.
Galaxy Racer launched in 2019 and has already become one of the biggest esports, gaming, and lifestyle organisations globally. The organisation prides itself on having five separate business offerings; Esports Teams, Content Creators, Tournament Management, Merchandising and Lifestyle and GXR Records, a newly established record label that already carries two signed artists from the MENA region and are looking to expand globally.
Galaxy Racer's content creator team has enjoyed startling success in just two years, and Noor Stars will join a roster that features some of the biggest content creators in the MENA and Southeast Asia regions, including Abo Flah, the biggest and fastest-growing gaming channel in the Arabic speaking world. The organisation now carries over 100 content creators, with a total reach of over 370 million followers across all platforms and more than two billion views.
The first person in the region to reach 10 million subscribers on a social platform and one of the most popular content creators in the Arab speaking world, Noor Stars began her career on YouTube in 2015. Paving the path for female content creators in the region, Noor Stars had to overcome serious challenges early in her career for simply being an Arab woman on YouTube. Her success on the platform, with passionate fans and a devoted family behind her, has seen Noor Stars become an inspiration to aspiring female content creators in the region, and globally.
Galaxy Racer's Content Creator and YouTube sensation, Noor Stars commented: "I am excited to be joining Galaxy Racer as their newest content creator! I am always looking to grow as a person and felt I wanted to expand into different verticals and create many more exciting content for my audience such as movies, films and product launches. I am confident at Galaxy Racer I will be able to create and provide fresh and engaging content to my followers. I hope my journey inspires more female content creators to build confidence in themselves and believe that if you truly enjoy doing something, that is a good enough reason to keep going. Never take no for an answer – the most important story to tell is yourself!"
Paul Roy, CEO and Founder of Galaxy Racer, commented: "We are thrilled to announce that Noor Stars will be joining Galaxy Racer as one of our content creators! With an impressive social media following and inspiring the next generation positively, we are excited with the content she will be creating. We have already signed some of the biggest content creators in the region and I believe that Noor Stars will be a great addition to our ever-growing list of content creators. Welcome to our galaxy, Noor Stars!"
Cheers! Veloce launches official beer with partner 1936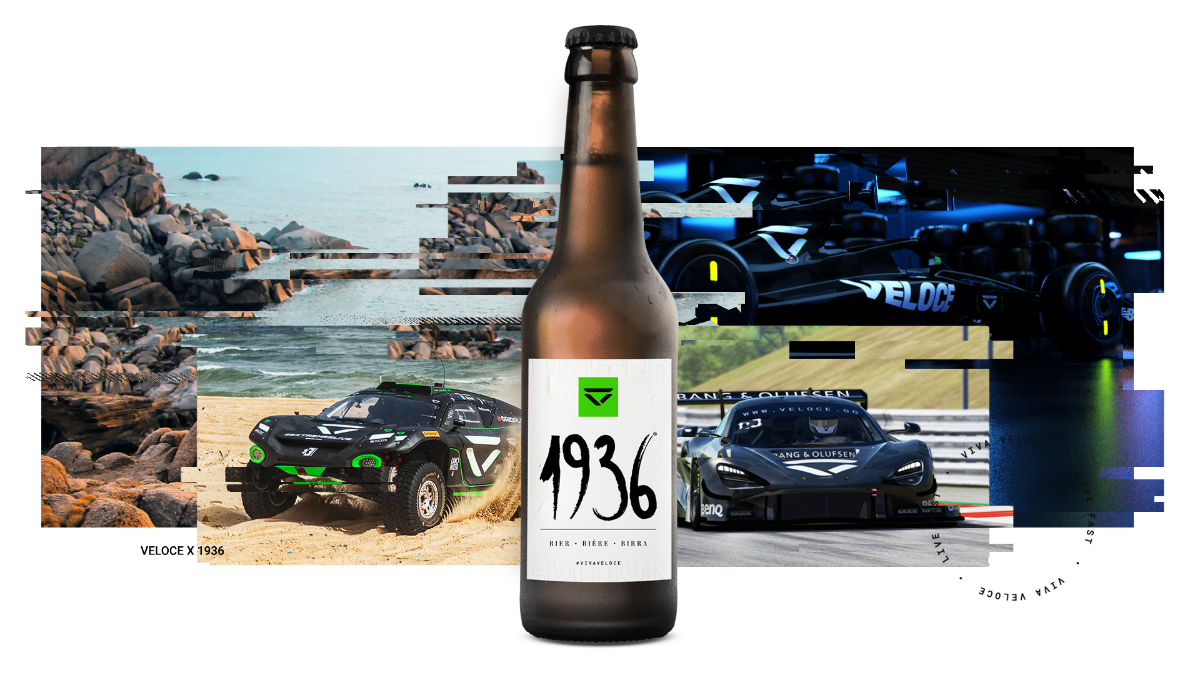 Reading Time:
< 1
minute
Gaming watch along event at prime Kings Road, London pub celebrates new launch
Veloce has revealed another exciting brand collaboration, this time with Swiss beer company 1936. The London-based pairing are set to launch Veloce's very own branded beer that will be available at prestigious events around the world, for team members at the Veloce HQ in Fulham, London and across the UK for fans via The Drop Store.
1936 is the latest lifestyle brand to partner with Veloce's sports and media entertainment platform, joining the likes of the Mercedes-AMG Petronas Esports Team, Codemasters, Bang & Olufsen, Regatta Professional and TW Steel that were announced earlier in the year.
The newly-revealed beverage will also be stocked on board Extreme E's floating paddock, the St. Helena ship, providing the crew and championship personnel with refreshing beer at selected X Prix around the globe.
1936 lager has already established itself as a firm favourite at some of the country's most prestigious venues including The Ivy London, Burger and Lobster, The Hut in The Isle of Wight and Beast Restaurant London among others.
To mark the occasion, Veloce hosted an F1 Esports watch along at The Cadogan Arms pub in Chelsea where the world's largest virtual motorsport competition was streamed throughout the venue.
At the event, attendees tried out the F1 2021 video game on a state-of-the-art Motion Simulation set-up as well as meeting fan-favourite influencers from Veloce's pool of online talent.
Rupert Svendsen-Cook, CEO, Veloce Esports added: "It's funny how this partnership has come about after discovering the beer via 1936 supplying our Veloce HQ's draft beer during lockdown! We couldn't be prouder to be launching a Veloce beer in collaboration with our good friends at 1936. We're also delighted that Extreme E will be welcoming our beer on board the St. Helena!"
Rix.GG signs Jack "Speed" Packwood-Clarke to its Rocket League Team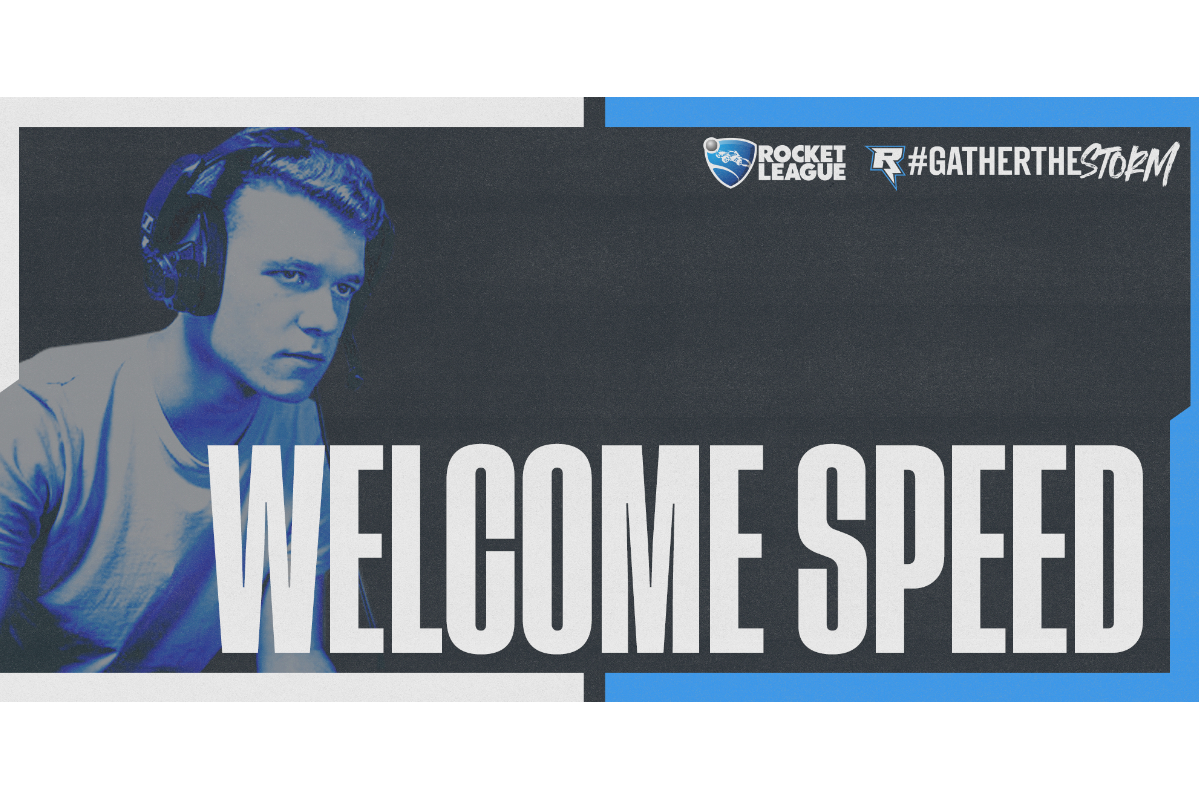 Reading Time:
< 1
minute
Rix.GG, a fast-growing and top UK esports organisation, announces the signing of Jack "Speed" Packwood-Clarke to its Rocket League Team.
Jack "Speed" Packwood-Clarke is a British Rocket League player and has had lots of top level experience, prior to signing with Rix.GG in October 2021. Jack has put in a lot of work in the Rocket League scene with his best result coming in 1st in the WSOE Showdown in 2019.
Coaching the team is James "JG7" Guarino and the team manager will continue to be Lloyd "Freecant" Gauld.
James "JG7" Guarino, Rocket League Coach, said: "I am incredibly excited to work with speed to help him prove to everyone that he can compete at the top of Rocket League. He is an incredibly coachable player who offers us so much individually, and I can't wait for everyone to see what he can really do."
Lloyd "Freecant" Gauld, Rocket League Manager, said: "I am very happy with the acquisition of Speed, I think he will bring experience and a new dynamic to the team that we have not seen before. I'm excited for this team to prove that they can compete at the very top level of Rocket League and get the results they deserve."
#GatherTheStorm