Full team line-ups and event details announced for 2021 F1® Esports Series Pro Championship presented by Aramco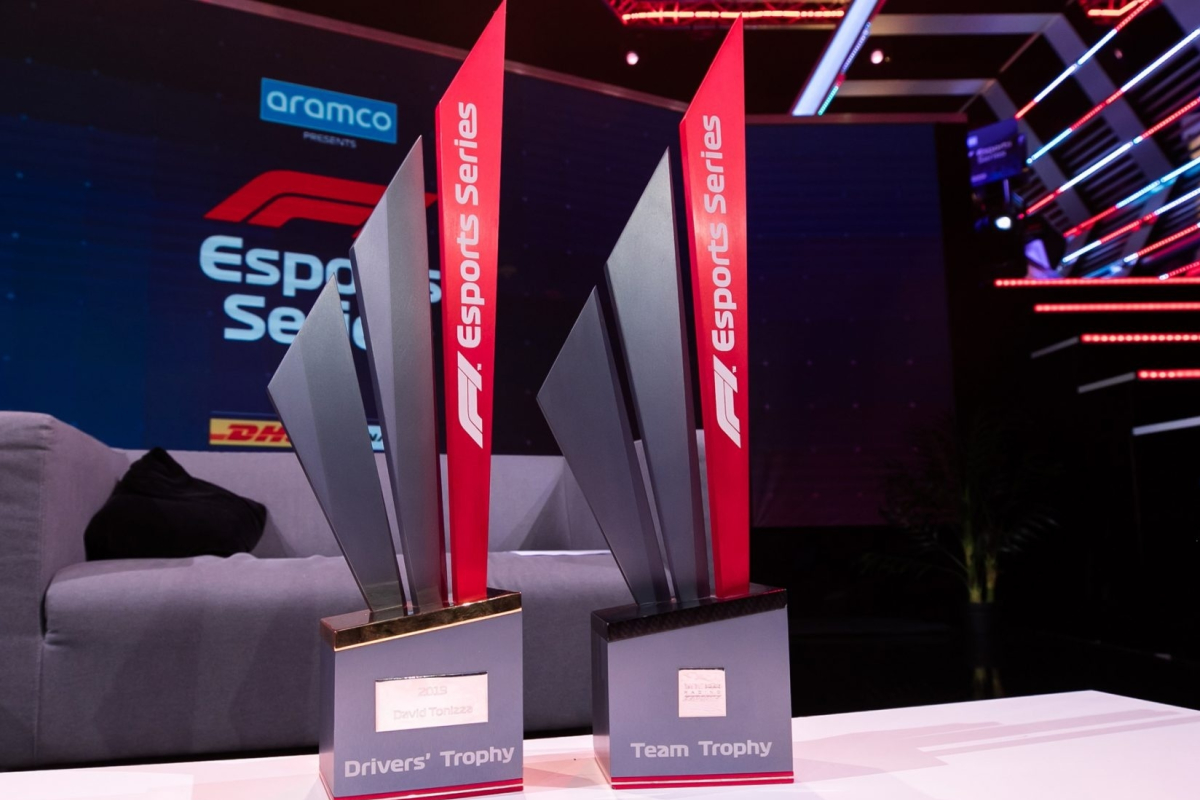 Reading Time:
5
minutes
Ahead of the highly anticipated 2021 F1® Esports Series Pro Championship presented by Aramco, which begins next month, the full driver line-ups and event details were announced in Wednesday's Preview Show, as teams' get set to battle it out once again for a piece of the huge $750,000 prize pot – one of the biggest in Esports.
F1® Esports Series' flagship competition continues to exceed expectation and shatter records along the way with last year's Pro Series, as it was then called, achieving 10.6m views across TV & digital, as well as a record 291m social impressions and 23.8m video views throughout the campaign. The ever-rising popularity of the competition was even more evident as nearly half a million people attempted to qualify for this year's championship, an increase of 108% from 2020.
As per the 2020 competition, due to COVID-19 travel restrictions, drivers will continue to race from team factories or bespoke Esports facilities, or their own homes, whilst broadcasts will be filmed from the Gfinity Arena in London. Drivers will compete on the official F1® 2021 video game, developed by Codemasters and EA.
Aramco return as the presenting partner of the Pro Championship for a second year, and long-term partners DHL and Fanatec also continue to be a key part of the F1® Esports Series. Fanatec will supply hardware to all drivers for this year's campaign, as it had done since 2018, while three new drivers will compete in the 2021 season after qualifying through the DHL Time-Trial qualification route, including prominent sim-racer Sebastian Job, who joins Alpha Tauri.
HUGE MOVES ACROSS THE GRID
Since last year's Championship wrapped up in December, there have been a number of high-profile moves around the grid as two world champions switched allegiances in the off-season. Reigning champion Jarno Opmeer, who secured his first title with Alfa Romeo, has joined Mercedes, filling the spot left by Brendon Leigh. Two-time world champion Leigh, who has been recruited by the FDA, joins the only other drivers champion, David Tonizza.
Reigning teams' champions Red Bull have retained duo Marcel Kiefer and Frederik Rasmussen, who will both be in contention for a shot at this year's individual honour, whilst Opmeer's teammate Dani Bereznay, who helped Alfa Romeo to a second-place finish in the teams' championship has joined McLaren as they prepare for the new season with a completely new three-driver roster, with last year's 'Rookie of the Year' Dani Moreno also heading to Mercedes.
There will be ten new drivers on this year's driver line-up, with a third of the grid having been scouted through this year's Pro Exhibition after qualifying via one of F1® Esports Series' qualification routes.
Team

Number

Driver

Nationality

D.O.B

Alfa Romeo Racing ORLEN F1 Esports

30

Simon Weigang

German

28/10/1997

38

Filip Prešnajder

Slovakian

27/11/2002

73

Thijmen Schütte

Dutch

25/08/2004

Scuderia AlphaTauri Esports Team

51

Joni Törmälä

Finnish

15/08/1996

13

Sebastian Job

British

22/03/2000

28

Dario Iemmulo

Italian

28/01/2003

Alpine Esports Team

40

Nicolas Longuet

French

06/08/2002

8

Fabrizio Donoso

Chilean

19/06/1999

80

Patrik Sipos

Hungarian

30/04/2003

Aston Martin Cognizant Esports Team

88

Lucas Blakely

British

15/07/2001

92

Daniele Haddad

Italian

12/08/1992

79

Shanaka Clay

British

04/02/1999

FDA Esports Team

95

David Tonizza

Italian

14/01/2002

72

Brendon Leigh

British

07/08/1999

29

Domenico Lovece

Italian

29/06/2001

Uralkali Haas F1 Team Esports

2

Cedric Thomé

German

26/02/1998

15

Samuel Libeert

French

12/11/1992

48

Matthjs van Erven

Dutch

03/03/2003

McLaren Shadow

12

Daniel Bereznay

Hungarian

28/05/2000

20

Bardia Boroumand

Iranian

17/04/2003

52

Josh Idowu

British

10/02/2003

Mercedes-AMG Petronas Esports Team

34

Jarno Opmeer

Dutch

11/04/2000

26

Dani Moreno

Spanish

09/01/2001

94

Bono Huis

Dutch

04/12/1994

Red Bull Racing Esports

24

Marcel Kiefer

German

24/08/1998

19

Frederik Rasmussen

Danish

18/06/2000

59

Liam Parnell

German

05/09/2002

Williams Esports

21

Álvaro Carretón

Spanish

21/07/2001

53

Michael Romanidis

Greek

07/09/2003

23

Alessio Di Capua

Italian

10/04/2002
TWO CIRCUIT DEBUTS, AND OLD FAVOURITES RETURN
This year's campaign, the fifth season of the competition, will begin on Wednesday 13 October with the first two races of Event 1, as drivers' replicate the 2021 FIA Formula One World Championship by starting off at the Bahrain International Circuit. Whilst the real-world F1® drivers couldn't travel to China this year, the Shanghai International Circuit will be brought to life virtually, before the always popular Red Bull Ring rounds off the season-opening Event on the following day.
While most of the chosen venues remain the same as last year, including Zandvoort where F1® returned earlier this month, there are three new tracks for drivers to get to grips with this season. The 'rollercoaster' in Portimão makes its debut in the Pro Championships, as does Imola, whilst the Circuit of the Americas returns to the calendar. As has been the case for the past two campaigns, the season finale will see competitors battle it out at Interlagos.
Event #

Date

Round #

Circuit

Event 1

13-14 October

Round 1

Sakhir, Bahrain

Round 2

Shanghai, China

Round 3

Spielberg, Austria

Event 2

27-28 October

Round 4

Silverstone, Great Britain

Round 5

Monza, Italy

Round 6

Spa, Belgium

Event 3

24-25 November

Round 7

Portimão, Portugal

Round 8

Zandvoort, Netherlands

Round 9

Austin, USA

Event 4

15-16 December

Round 10

Imola, Italy

Round 11

Mexico City, Mexico

Round 12

Interlagos, Brazil
EIGHT LIVE SHOWS ACROSS THE SEASON
F1® Esports fans will be happy to hear that following the increased coverage of last year's Pro Series, the format will remain the same for 2021, where there will be live racing on Wednesday and Thursday of each Event week, as well as livestreamed qualifying sessions on both days. The Pro Championship will be broadcast on the official F1® social channels (Facebook, YouTube, Twitch and Huya), as well as select TV broadcast partners.
Ben Pincus, Director of Commercial Partnerships at Formula 1®, said:
"There's huge excitement building ahead of the new season of the F1 Esports Series Pro Championship, and we can't wait to get started, and with so many big moves around the grid, this year's title really is anyone's for the taking! As always, we want to thank our partners Aramco, DHL and Fanatec for their continued support which enables us to bring elite sim-racing to fans around the world."
Paul Jeal, F1 Senior Franchise Director at Codemasters, said:
"The 2021 F1 Esports Series Pro Championship promises to be the most exciting and unpredictable season to date. There have been some exciting driver moves with former double F1 Esports Champion Brendon Leigh joining another ex-champion David Tonizza at Ferrari, and our current F1 Esports Champion Jarno Opmeer moving to Mercedes. We also welcome new exciting talent from the Challengers, and it will be fascinating to see how Alessio Di Capua and Josh Idowu compete on the biggest stage. On behalf of the F1 team at Codemasters and all our players worldwide, good luck to the 2021 drivers. Let the racing begin."
John Clarke, CEO at Gfinity, said:
"Anticipation is building for the new season of the F1 Esports Series Pro Championship presented by Aramco. It has become a must watch competition for both existing, and an ever-growing army of new, virtual racing fans. The bar is raised each year with new talent emerging and spectacular racing. The Gfinity production team will also be raising the bar with more storytelling and high-octane coverage of the races. It's time to sit back and enjoy the show!"
India thrashes Pakistan and Bangladesh to qualify for 14th World Esports Championships in CS:GO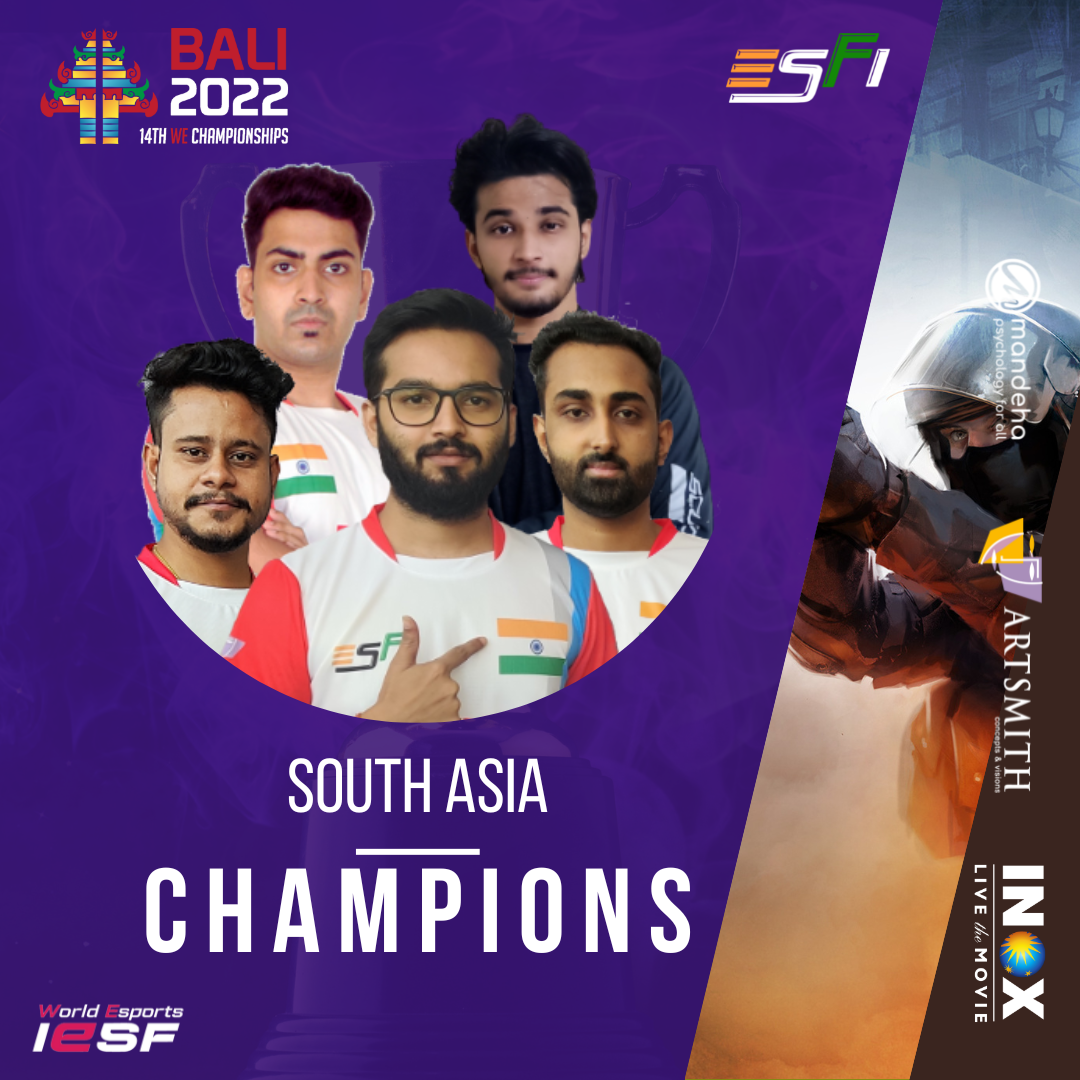 Reading Time:
2
minutes
India's CS:GO team produced vigorous performances in the South Asian Regional Qualifiers of the 14th World Esports Championships after hammering Pakistan and Bangladesh in the South Asian regional qualifiers.
The team, comprising of skipper Ritesh Sarda (Defaulter), Shuvajyoti Chakraborty (Mcg1LLzZz), Anshul Adardkar (KiiLSwitCh), Hrishikesh Shenoy (Crazy_Gamer) and Harsh Jain (lynX), recorded identical 2-0 victories over Pakistan and Bangladesh in the semi-finals and final respectively.
Besides CS:GO team, prominent Tekken 7 athlete Hitesh Khorwal (rcool) and well renowned eFootball professional Hemanth Kommu (peshemak7) will also represent India at the World Esports Championships, scheduled to take place in Bali from Nov 29 – December 12, 2022. Hitesh and Hemanth secured their berths by winning the National Esports Championships (NESC) 2022, conducted by Esports Federation of India (ESFI) earlier this year.
Organised by International Esports Federation, the prestigious event will witness participation of top athletes from over 120 countries, competing in six different Esports titles—CS:GO, Dota 2, Tekken 7, eFootball, as well as PUBG mobile and Mobile Legends: Bang Bang which will be making its debut at the championships. The 14th WEC has a prize pool of USD 500K (~INR 4 Crores).
"The team was simply too good for the opposition in terms of their skills, strategies and coordination. They won comfortably against Pakistan and Bangladesh shows the confidence they have in their gameplay. We are extremely proud of their performances and are now looking forward to seeing them compete with the best teams from all over the world in Bali. Everyone at ESFI wishes them the best of luck for the grand tournament," said Lokesh Suji, Director of Esports Federation of India and Vice President of the Asian Esports Federation.
Led by Sarda, the dominant Indian team hardly had to break a sweat in their matches as they comprehensively defeated Pakistan in two different maps by 16-6 and 16-4 and then displayed a similar aggressive performance to outperform Bangladesh in both maps of the final by 16-7 and 16-5.
"It feels amazing to represent India again at the World Esports Championships in back-to-back years. We definitely want to improve on our performances from last year and have been working very hard to do so. The team has done very well in showcasing its qualities in game while prevailing in all these qualifiers but the WEC final will be a stern test on a much higher level and we want to match that. I have high hopes from the tournament and we want to bring some glory from it back home," said Sarda, captain of the Indian CS:GO team.
The same CS:GO team had participated in the last edition of World Esports Championships, held in Eilat, and finished eighth in the final.
The best of grassroots CS:GO to take on the pros at Red Bull Flick Invitational Copenhagen in November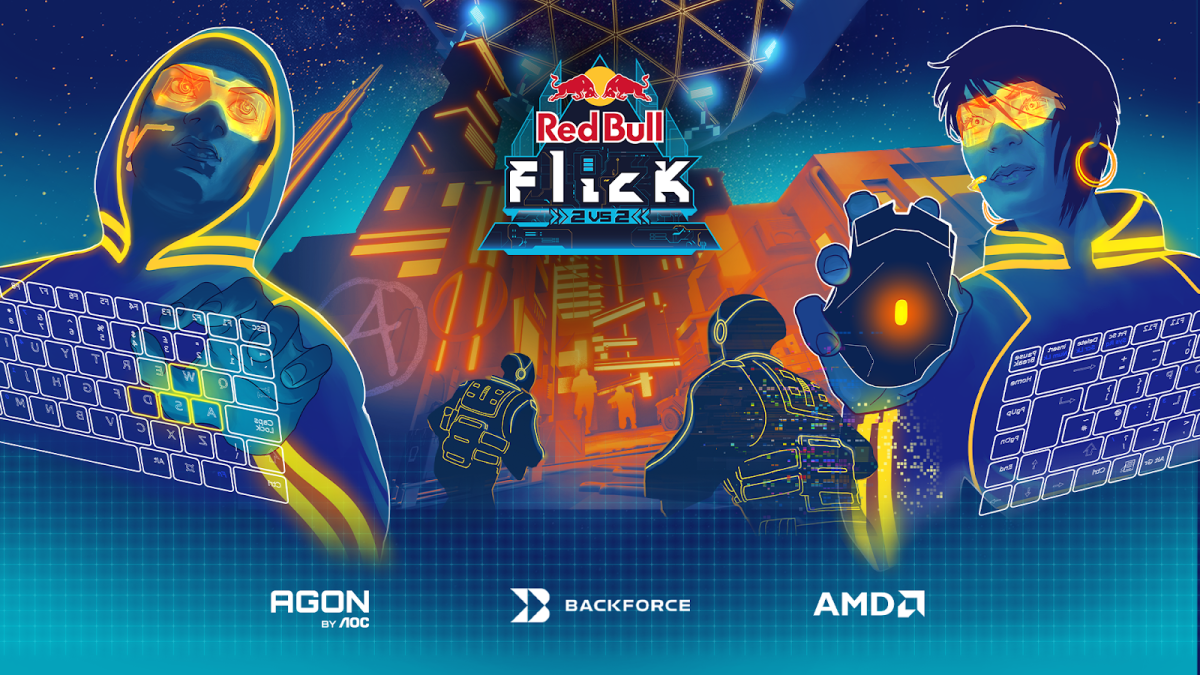 Reading Time:
3
minutes
Red Bull Flick, the definitive global 2v2 CS:GO Pro vs AM tournament will reach a pulse-racing conclusion for 2022 in an epic November finale at the Red Bull Flick Invitational Copenhagen.
Taking place over an action packed weekend during 19th- 20th November, Red Bull Flick Invitational Copenhagen will see the very best of the amateur CS:GO scene battle it out in intense 2v2 matchups building to an once-in-a-lifetime chance for them to test their mettle against world-renowned Pro teams on the big stage, and a shot at the €50,000 Prize Pool. The LAN pre-stage qualifier will take place in Copenhagen with all the national and international event winners to determine the duos that will progress to the main stage. The Red Bull Flick Invitational will conclude with an impactful finals day broadcast and highlight event on the 20th November, where the qualified amateur duos face their idols in a play-off bracket featuring eight pro invited duos.
Held in the heart of the Danish capital, the Red Bull Flick Invitational will bring the hopeful future stars into the European centre of counter-strike history to immerse themselves with a unique competitive experience alongside CS:GO's most memorable competitions. The pre-stage LAN will take place in a closed, offline qualifier on Saturday 19th November. With the top two AM duos determined, the nail-biting Pro v AM playoff stage will be broadcast from NEP Studios on the following day. This year's competition is sure to bring the live audience closer to the action as well as providing an unforgettable experience for digital audiences across the globe and in several languages on Twitch and YouTube on the 20th November.
A total of 26 amateur duos teams from EMEA and – for the first ever time – North America, will be offered a chance at glory, having earned their way through National and International Qualifiers. Pre-stage qualifiers will whittle down the amateurs duos to the final two in a tensely competitive group stage to start the first day of the competition. After facing their peers in the pre-stage qualifiers, the top amateur duos will then face-off against the eight invited pro teams in an intense play-off bracket on the big stage, all leading to an epic Grand Final.
Red Bull Flick is the definitive global 2v2 CS:GO tournament, giving amateur players around the world a unique competitive platform, and putting a twist on the traditional 5v5 competitive format. Having started in 2019, the competition has gone from strength to strength and now gives thousands of amateur entrants a shot at glory to play the pros, and an opportunity for hidden gems of the competitive CS:GO scene to shine under the spotlight.
The unique format and structure at Red Bull Flick has inspired some of the most unpredictable twists and turns in CS:GO, including a true 'David versus Goliath' moment at 2021's Red Bull Flick Helsinki Invitational, where Polish rookies Team Garnuchy won out against both BIG Clan and G2's Duos teams.
This year, some of the biggest Pro teams on the CS:GO circuit will be sending their stars to Copenhagen, including the fan favourites from last year: G2, OG, Furia and Big Clan and Team Spirit, the defending champions of Red Bull Flick. Alongside them the Danish superstars from Copenhagen Flames and Heroic will also join the mix at the play-off stage to truly test the best amateur duos from around the world. The play-off stage will increase the pressure with a global broadcast and live audience, truly testing the amateur duos that progress in a competitive circuit environment. Fans in attendance can also look forward to an exclusive event experience featuring their favourite esports stars including Johan 'N0tail' Sundstein, who competed with Flamez in the first international qualifier for Red Bull Flick back in April.
Red Bull Flick has teamed up with industry leaders to produce an unforgettable experience for players & fans alike. AGON by AOC, a global leader in gaming monitors, is the Official Monitor Partner for the event, bringing exceptional visual clarity and ultra-high refresh rates to competitors. AMD joins as Technology Provider, ensuring the high-performance computing that will push the boundaries of the tournament. Backforce is the official Chair Partner, providing players and talent with high-end gaming chairs across the event.
Ampverse's Minana Esports secures largest gaming creator in the Philippines, ChooxTV to become brand ambassador and investor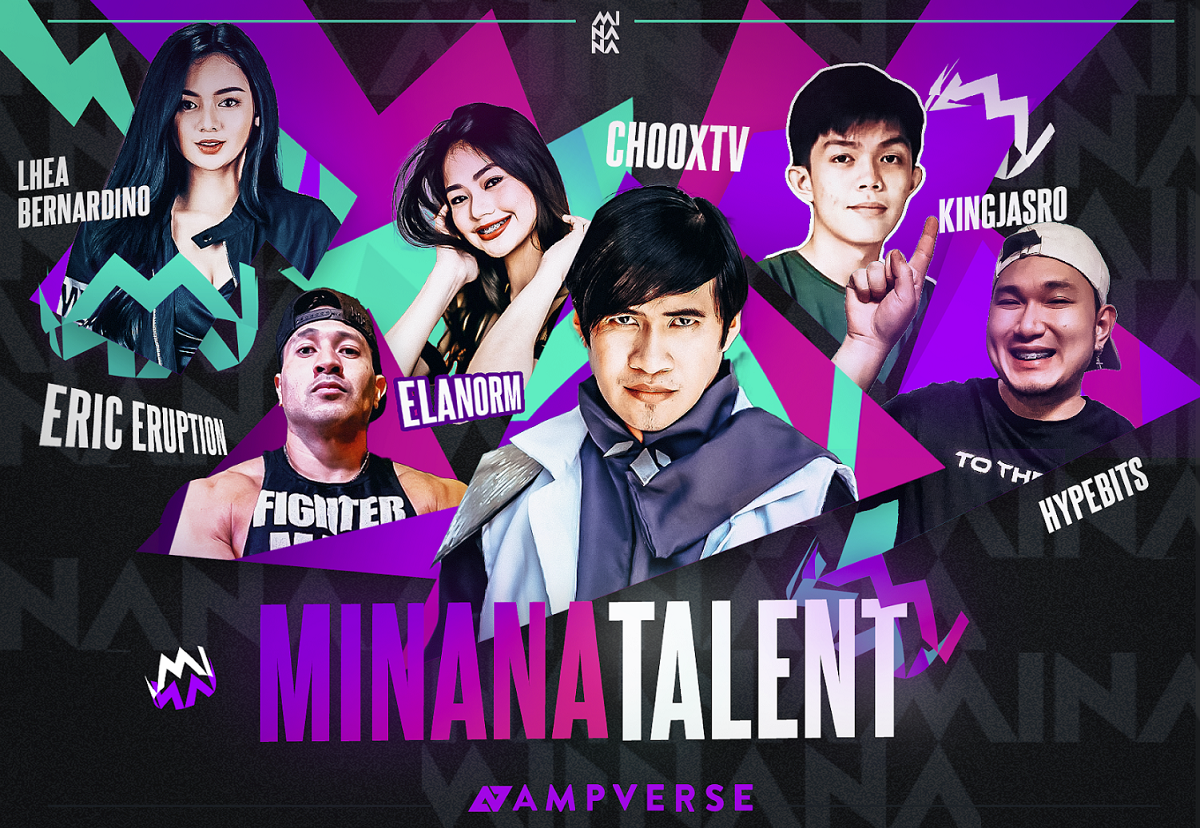 Reading Time:
2
minutes
After officially launching its fifth market in the Philippines, leading esports and Web3 company Ampverse secures the nation's largest gaming creator Edgar "ChooxTV" Dumali, with nearly 30 million social followers, to become an investor and brand ambassador for its Filipino esports team and lifestyle brand Minana.
This major deal comes as part of Ampverse's growth strategy, following its commitment to invest more than P100 million to drive and accelerate the local gaming industry.
Streamer and content creator ChooxTV is known for his ingenious off-meta picks and wacky antics on his livestream and was named MVP of the Year in the 2021 Mobile Legends: Bang Bang Awards Gala.
"Excited akong mag-invest sa Minana dahil sa pagbibigay daan nito na magkaroon ng isang panibagong  'youth lifestyle brand' na magpapakita ng galing ng mga Pinoy," Dumali said.
(I'm excited to invest in Minana as I really share their vision of creating a next generation youth lifestyle brand that celebrates the very best of Filipino talent.)
Alongside him, other notable gaming talents such as Eric Eruption, Hypebits, Lhea Bernadino, King Jasro, and Elanorm will also become brand ambassadors for Minana – totaling up to 55 million followers for all combined creators.
The newly formed Minana Esports are the current champions of the Philippine National Esports League in Mobile Legends. Prior to that, the team has won 11 straight championships and aims to be the most successful esports team.
In line with becoming the fastest-growing esports and Web3 company in Asia, Ampverse aims to build Minana into a leading Filipino youth lifestyle brand that spans entertainment, fashion, music, and lifestyle.
"We are incredibly proud to kick off Minana with a successful run and an official championship title under our belt. We will continue to build our success in competition, but at the same time create inspiration for the Filipino youth," Minana Team Lead and Ampverse's Regional Expansion Manager Julius "Banoobs" Mariano said.
A streamer with over 100,000 followers and named the "godfather of esports and gaming in the Philippines," Mr. Mariano previously worked as country manager for Twitch, an Amazon-owned video live streaming service platform.
"Our vision is bigger than just competitive gaming, it's about igniting the passion in every generation and building Minana as the leading youth culture hub for all gamers, creators, and anybody to fulfill their dreams," Mariano added.