Electronic Arts Unveils Roadmap for EA SPORTS FIFA 23 Esports Ecosystem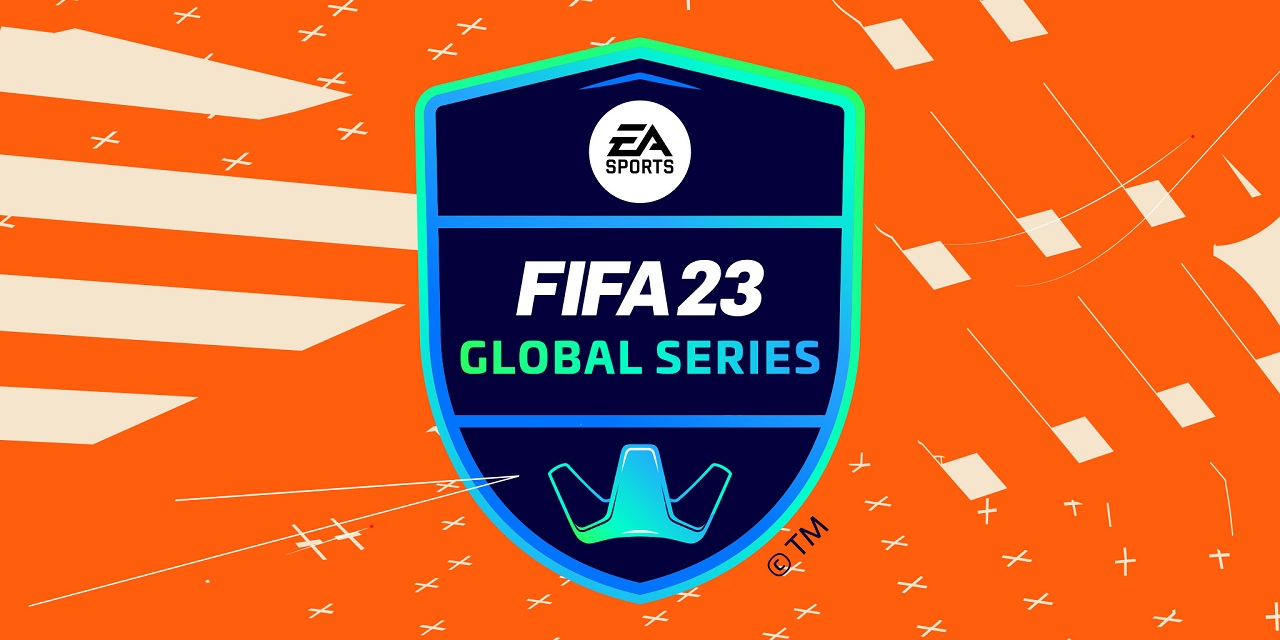 Reading Time:
2
minutes
Electronic Arts Inc. announced an enhanced, reimagined EA SPORTS FIFA 23 competitive gaming programme showcasing the future of football esports.
Headlining the ecosystem enhancement is the first-ever EA SPORTS Cup. Starting October 17th, players representing esports organisations and traditional football clubs will compete in 2v2 competitions across three months of fixtures.
Manchester City Esports, Paris Saint-Germain Esports, Fnatic and Complexity, amongst others, are set to compete in the EA SPORTS Cup, which culminates January 16-21. The Cup will crown a champion and determine two teams to advance to the FIFAe Club World Cup 2023.
1v1 competition will also return via the Road to the FIFAe World Cup 2023, starting with EA SPORTS FIFA 23 Ultimate Edition's September 27th worldwide release.
In addition, over 30 football league partners and confederations will hold tournaments as part of FGS 2023, including the ePremier League, Virtual Bundesliga, eLaLiga Santander, eLigue 1 Uber Eats, eMLS, eSerie A TIM, KPN eDivisie, CONMEBOL eLibertadores and the eChampions League.
The FGS 2023 online qualifiers and majors are officially presented by PlayStation. Similar to last year's FGS season, FGS 2023 will be played exclusively on Playstation 5 consoles.
"Backed by the support of world-class esports organizations and football clubs, the first-ever EA SPORTS Cup is an EA SPORTS FIFA 23 Global Series (FGS 23) monumental moment. The allure of competition combined with dynamic storytelling unfolding on the pitch will create must-watch entertainment and motivate the masses to start their own competitive journeys in EA SPORTS FIFA 23," Brent Koning, VP of EA Esports, said.
"The FGS's collection of the world's top stars, top esports organizations, top football clubs, leagues and confederations will showcase the next generation of esports on the Road to the FIFAe World Cup 2023. Now when you combine the star power with a robust ecosystem giving players around the world the opportunity to become the next big thing, this is confidently the biggest year in franchise history," Sam Turkbas, EA SPORTS FIFA Esports Commissioner, said.
Everything you need to know ahead of Red Bull Home Ground!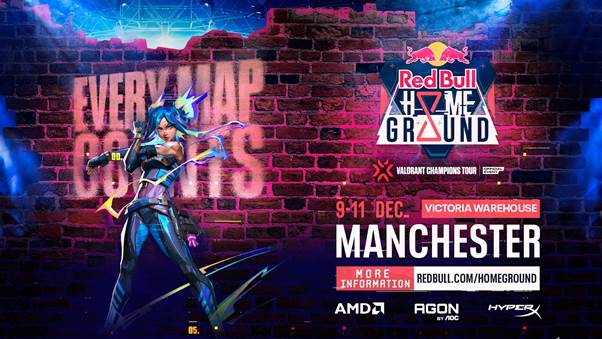 Reading Time:
2
minutes
Red Bull Home Ground, the pro-VALORANT Invitational will see eight of the world's elite teams battle it out at Victoria Warehouse, Manchester to be crowned champions  from December 9th-11th.
Here is all you need to know about Red Bull Home Ground:
An official part of the VALORANT Champions Offseason Tournaments, Red Bull Home Ground is returning to the vibrant city of Manchester for its third iteration and will see eight of the world's elite teams battle it out to be crowned champions from December 9th-11th 2022 in front of a live audience.
For the first time, teams from North America will be eligible to enter and face off against the top EMEA teams. Teams will battle it out over three days of intense gameplay in front of a live audience at Victoria Warehouse in Manchester. The tournament will also be streamed live across Red Bull's Twitch and YouTube channels.
With last year's reigning champion Team Liquid returning to defend their title against Team Vitality, Heretics, FUT Esports and FOKUS Clan, the tournament boasts an impressive roster of competing teams. For the first time Red Bull Home Ground has expanded beyond EMEA to include teams from the Americas, including the likes of 100 Thieves, Cloud9 and KRÜ Esports.
Elevating the tournament, renowned VALORANT host Yinsu Collins returns to Red Bull Home Ground, leading the competition alongside a star-studded line up of broadcasting talent. Providing insight and commentary throughout the tournament, these casters include Mitch "Mitchman" McBride, Tom "Tombizz" Bissmire, Ryan "RyanCentral" Horton, and Adam "Dinko" Hawthorne. Beatriz "kaquka" Alonso and Connor "Sliggy" Blomfield will also be providing insight as the tournament's analysts. An official part of the VALORANT Champions Offseason Tournaments, Red Bull Home Ground will also feature special guest appearances from G2 Gozen.
Schedule & Format
Friday December 9th: Starting at 13:00 GMT, the Red Bull Home Ground Group Stage will see all eight teams compete in three best-of-three matches. Winners of each group advance directly to the semi-finals, with 4th place in each group eliminated from the competition.
Group A

Cloud9
Vitality
KRÜ
FOKUS
Group B

100 Thieves
Team Liquid
FUT Esports
Heretics
Saturday, 10th December: Kicking off at 13:00 GMT the Playoffs will feature two best-of-three Quarter Finals, and the first best-of-three Semi Final.
Sunday, 11th December: The Red Bull Home Ground Finals will begin at 13:00 GMT, starting with the second best-of-three Semi Final before the final two teams will battle it out in a best-of-five Grand Final to determine who will lift the Red Bull Home Ground trophy.
Competing Teams 
Team Liquid
Team Vitality
Cloud9
100 Thieves
FOKUS Clan
FUT Esports
KRÜ Esports
Heretics
Broadcast talent (English speaking)
Friday
Commentators (rotating paris):
Vincent "Zescht" Talmon-Gros
Christian 'Lythi' Körner
Pavlos "ExWarrior" Georgiou
Saturday & Sunday
Stage Host & Interviewer:
Commentators:
Ryan "RyanCentral" Horton
Analyst
Beatriz "kaquka" Alonso
Connor "Sliggy" Blomfield
Where to watch:
The competition will be broadcast live from the O2 Victoria Warehouse on twitch.tv/redbull and youtube.com/redbullgaming. Red Bull will be hosting a watch party for the finals at the Red Bull Gaming Sphere in London on December 11. Red Bull Home Ground is also partnering with Pixel Bar, the video game cocktail bar, to host official Red Bull Home Ground viewing parties on 11th December at both its locations in Manchester and Leeds.
Broadcast
Red Bull Home Ground will be streamed live from Red Bull's Twitch and YouTube channel across the three days.
Check out redbull.com/homeground for more information.
IESF Held Presidential Elections During World Esports Championships Finals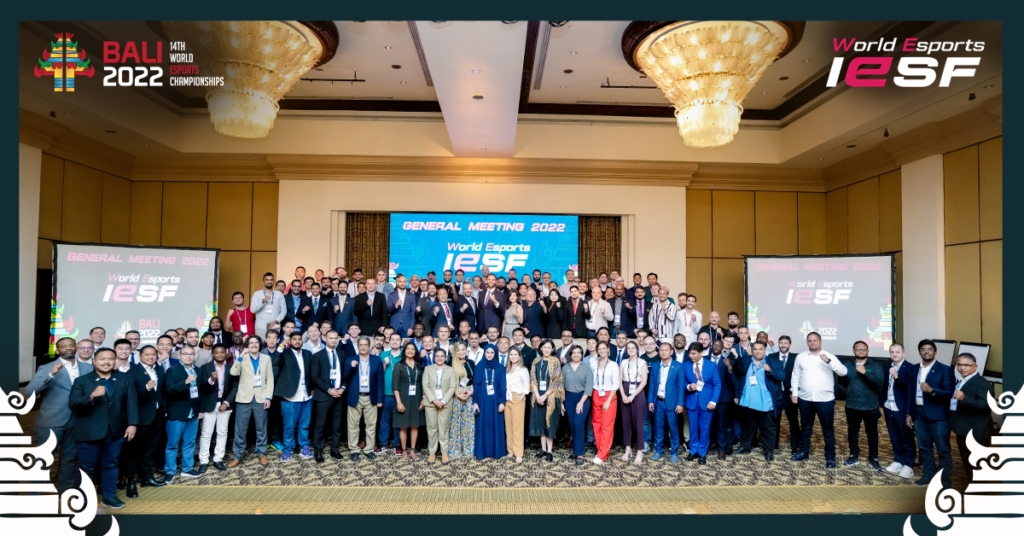 Reading Time:
< 1
minute
The International Esports Federation (IESF) held its 15th General Assembly (OGM) during the World Esports Championships Finals in Bali, Indonesia, on December 6, 2022. 126 delegates from 112 countries took part in the largest-ever IESF General Assembly.
At the OGM, the presidential and board member elections for the next three-year term were conducted today in Bali, Indonesia. Vlad Marinescu was re-elected as president with 65 votes, 0 against in a secret ballot vote and 4 abstentions,  in his favor. United Arab Emirates' candidate and board member Sheikh Sultan Bin Kalifah Al-Nahyan withdrew from his candidacy before the vote. Marinescu first stepped into the role of President in 2019 and was re-elected in December 2020.
IESF is the only international esports federation that holds democratic elections every three years. At the OGM, IESF elected and welcomed three new board members; Flip de Bruyn from Namibia, Lance Mudd from the United States, and Lukasz Klimcyzk from Poland, and re-elected for second term Tiago Fernandes from Portugal and Constantine Surkont from Russia.
President Vlad Marinescu said: "I am thrilled to be re-elected as president of IESF. My goal is to unite the whole esports family and push esports even further. I thank you for your trust, and I promise you that we can and we will create even bigger and better things in esports. I couldn't have done this without all of you, so let's continue to be united and change the world."
Mobile Global Esports subsidiary signs 6 collegiate winners of MOGO National Championships to exclusive esports professional contracts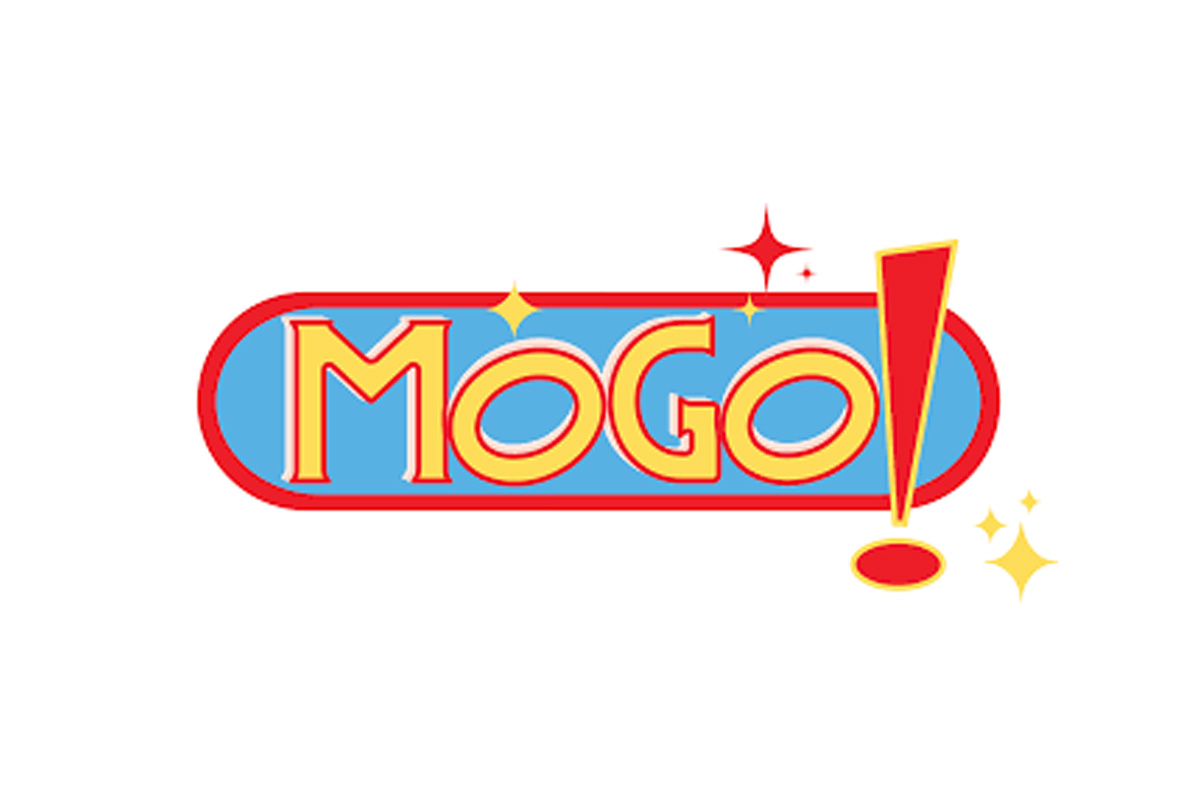 Reading Time:
2
minutes
Mobile Global Esports Inc. (MOGO) (NASDAQ: MGAM), the esports and social platform company driving collegiate esports tournaments, college teams, players streamers and platform development in India, today announced that its Indian operating subsidiary – MOGO Esports Private Ltd. – has signed the six winners of the MOGO National Championships to exclusive esports representation and tournament development contracts.
The MOGO National Championships comprised over 200 colleges and universities divided into 4 zones competing over the November 2021 to April 2022 season with the finals held at Lovely Professional University in the Punjab where the Mumbai University 'Sharks' claimed the coveted Indian national championship prize. Under the terms of their contracts, Mumbai Sharks and MOGO team members Yash Sapra, Sumukh T, Ishan Shukla, Naman Ranawat, Tanish Patra and Gourav Singh receive monthly compensation and will henceforth be representing MOGO in various games at esports tournaments.
"Before the MOGO National Championship we announced that we would sign the winning athletes and we are proud to bring these winning athletes onto the MOGO team," said Sunny Bhandarkar, CEO of the Mobile Global Esports subsidiary MOGO Esports Private Limited. "We will be working with them and future MOGO athletes to help develop their esports careers and continue to grow the esports universe in India and beyond. We want to create more esports superstars in India and aspire towards taking India to the number one gaming nation position in the world. We were pleasantly overwhelmed by the response we got for the national championships and we will soon be publishing our upcoming collegiate tournaments information."
"We are thrilled that we have become the first university team to sign with MOGO," said Mumbai University's Yash Sapra. "We are very pleased with the support, but even more so the opportunity to work with the professionals at MOGO in developing our futures in esports not only as competitors but also on the business and tournament organizational fronts. We are thankful to the entire team of MOGO for the work they have been putting in and also the vision they have with regards to esports in India. This will motivate us to further hone our skills and perform better."