Genius Sports launches In-Play MultiBet for the next generation of same game parlay bets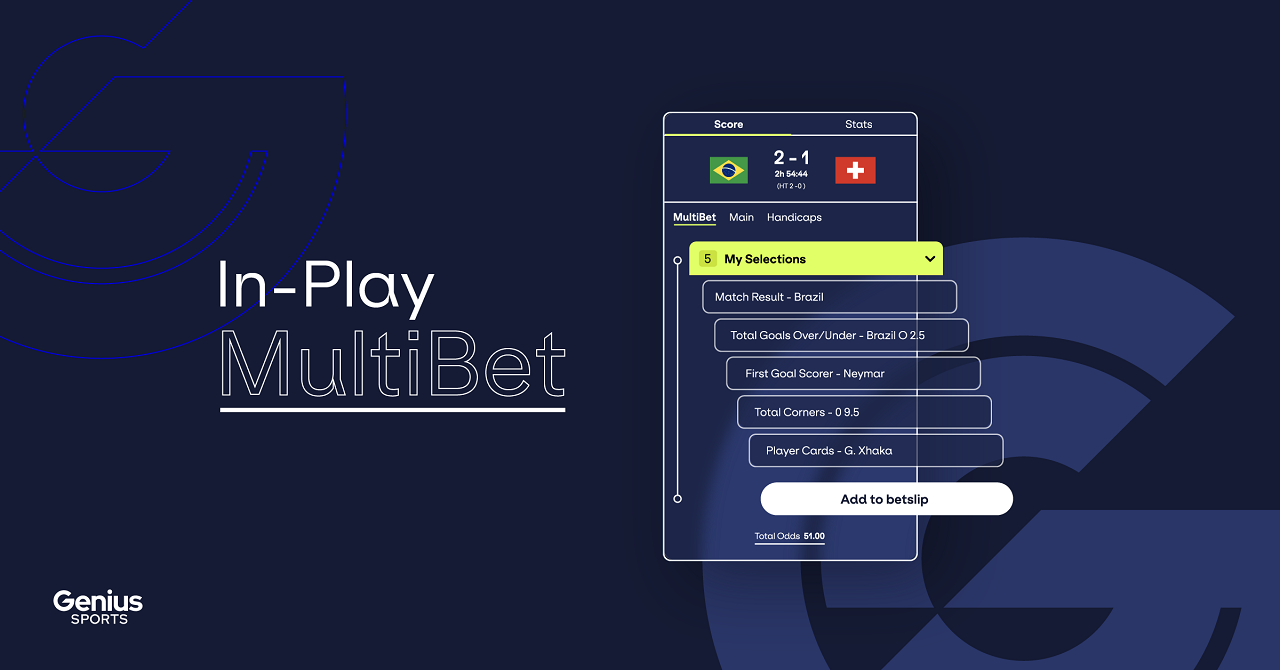 Reading Time:
< 1
minutes
Genius Sports to provide sportsbooks with automated, AI-powered live odds enabling bettors to place same-game parlays during live play or game intervals   
The new product will be available for the FIFA World Cup, NFL, English Premier League and thousands of other official Genius events
Genius Sports Limited ("Genius Sports"), the official data, technology and broadcast partner that powers the ecosystem connecting sports, betting and media, has launched In-Play MultiBet, providing sportsbooks with a powerful new tool to engage players and grow revenues in time for the FIFA World Cup 2022 and ongoing NFL season.
Same-game parlay bets, which enable bettors to wager on multiple events occurring within the same game, have become an essential part of every major sportsbook's offering, giving customer's greater control over their bets and enhanced margins for the operators themselves.
Now, through In-Play MultiBet, these bespoke bets can be placed once the game has begun, enabling players to place bets after every goal, touchdown and during intervals.
Launched in time to give sportsbooks a new dimension at the FIFA World Cup, In-Play MultiBet is powered by the highest quality AI-powered live odds, tried and tested on Genius Sports' leading LiveTrading service.
InPlay MultiBet will also be available across the NFL, English Premier League, Liga MX, and dozens of FIBA basketball and FIVB volleyball leagues worldwide.
"Combining same game parlays with the unstoppable growth of in-play betting is a breakthrough innovation for us and our partners," said Jack Davison, Chief Commercial Officer of Genius Sports. "Starting with the biggest sports event of the year, the FIFA World Cup, InPlay MultiBet will enable our partners to unlock bigger margins and drive engagement between key match events and breaks."
Playtika Holding Completes Acquisition of Innplay Labs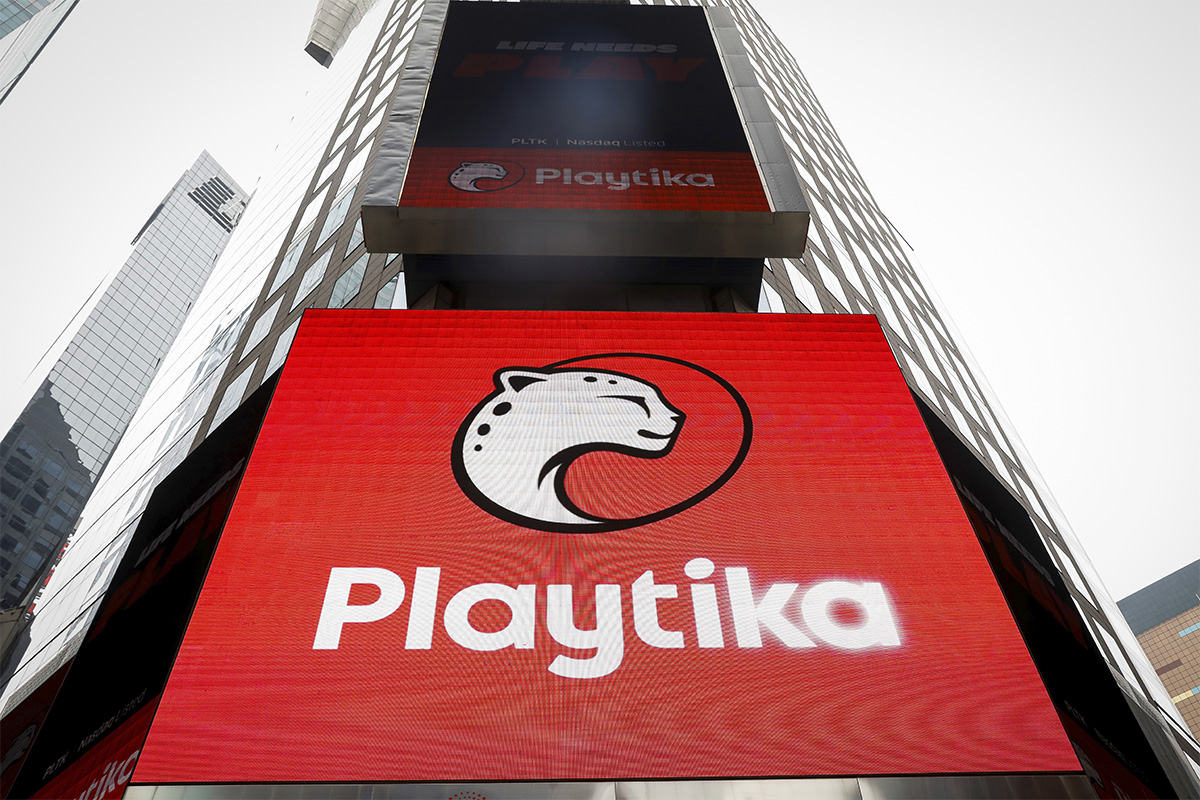 Reading Time:
< 1
minutes
Playtika Holding Corp., a mobile games pioneer and interactive entertainment leader, has completed the acquisition of Innplay Labs, a mobile gaming studio in Israel and home to the highly rated "Animals & Coins."
This milestone marks Playtika's second strategic acquisition this quarter, with the previous acquisition of Youda Games' card game portfolio from Azerion closing in late August. The acquisition of Innplay Labs further demonstrates Playtika's commitment to strategic expansion of its mobile gaming portfolio.
"Since our founding and through our track record of optimizing high-growth potential IP, like 'Animals & Coins,' Playtika has built a reputation for completing strategic acquisitions that deliver value to shareholders. This acquisition of Innplay Labs strengthens our position as a mobile games leader and is a testament to our commitment to investing in Israel as a global technology and innovation hub," Craig Abrahams, President and Chief Financial Officer of Playtika, said.
REEVO Expands Portfolio with Felix Gaming Partnership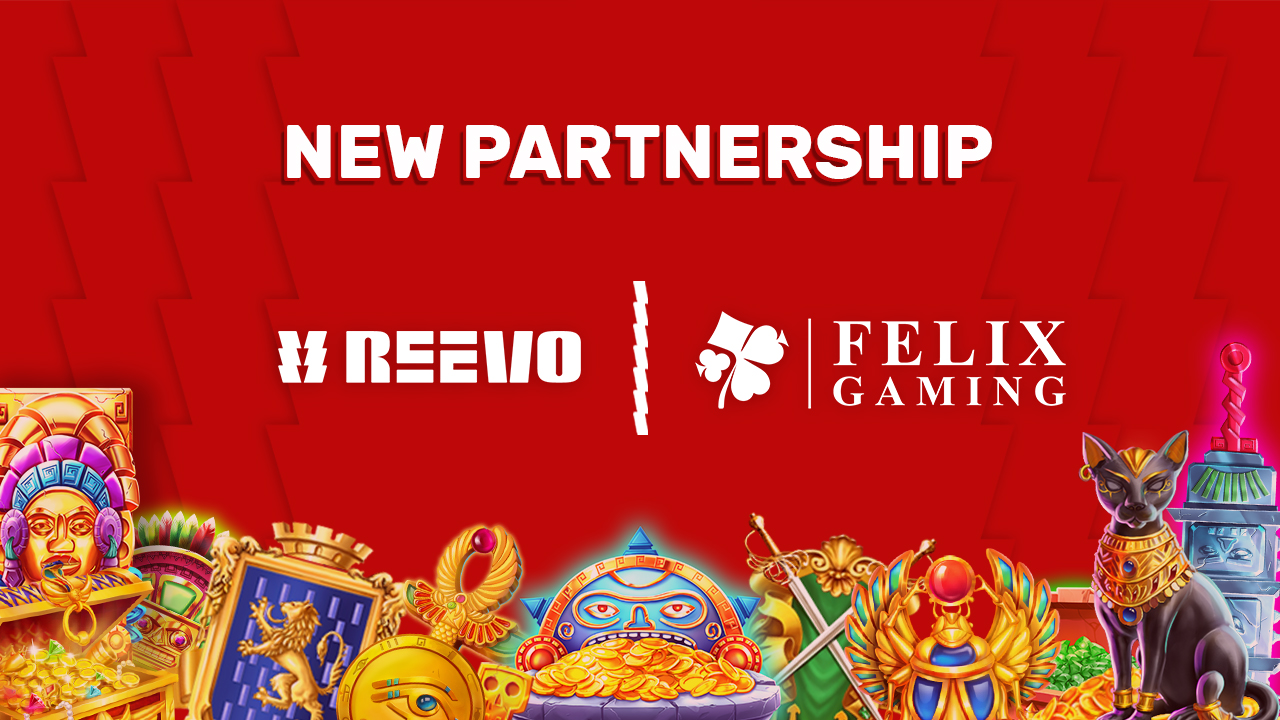 Reading Time:
2
minutes
REEVO, the B2B content and aggregation platform, is excited to unveil its latest strategic partnership with Felix Gaming, a unique slot game developer renowned for its innovation and commitment to delivering captivating gaming experiences.
Founded in 2017 by a group of casino veterans, Felix Gaming brings a fresh perspective to the iGaming industry by combining offline expertise with online creativity. Their portfolio includes high-quality games that have stood the test of time, such as "It's a Joker," a consistent top 10 hit at various online casinos. What sets Felix Gaming apart is their unwavering attention to visual design, musical score, and a unique mathematical model that enhances gameplay and payout dynamics.
One of Felix Gaming's recent innovations, the "RollZone" slot, is a testament to their commitment to realism and immersion. The game's development involved extensive research on the Chernobyl exclusion site, resulting in a unique gaming experience that pushes the boundaries of what's possible in slot gaming.
This partnership signifies REEVO's dedication to enriching its content library with innovative and visually stunning games. By integrating Felix Gaming's exceptional portfolio into its platform, REEVO aims to provide its operator network and players with an even more captivating and diverse gaming experience.
Petra Maria Poola, Head of Sales, REEVO, said: "Our partnership with Felix Gaming aligns perfectly with our commitment to offering top-quality gaming experiences. Felix Gaming's unique approach to game development, attention to detail, and innovative spirit make them an ideal partner to further solidify our position in the iGaming community."
Bilyan Balinoff, CEO, at Felix Gaming, said: "We are thrilled to partner with REEVO, a platform known for its dedication to excellence. This collaboration allows us to share our innovative games with a wider audience, and we are excited to embark on this journey together."
As part of its ongoing commitment to growth and diversity, REEVO plans to integrate Felix Gaming's portfolio alongside more than 60 new game providers in 2023, further enhancing its extensive collection of 8000+ games, including slots, table games, and live gaming experiences.
As part of its ongoing commitment to growth and diversification, REEVO is excited to announce its plans to integrate Felix Gaming's portfolio into our platform in 2023. This move reflects our humble dedication to enhancing our gaming offerings within the iGaming industry. Alongside Felix Gaming, we are also looking forward to welcoming more than 60 new game providers in 2023. This expansion will contribute to enriching our existing portfolio, which already includes a diverse range of 8000+ games, including  slots, table, crash and live gaming experiences.
SOFTSWISS' Take on SBC Summit Barcelona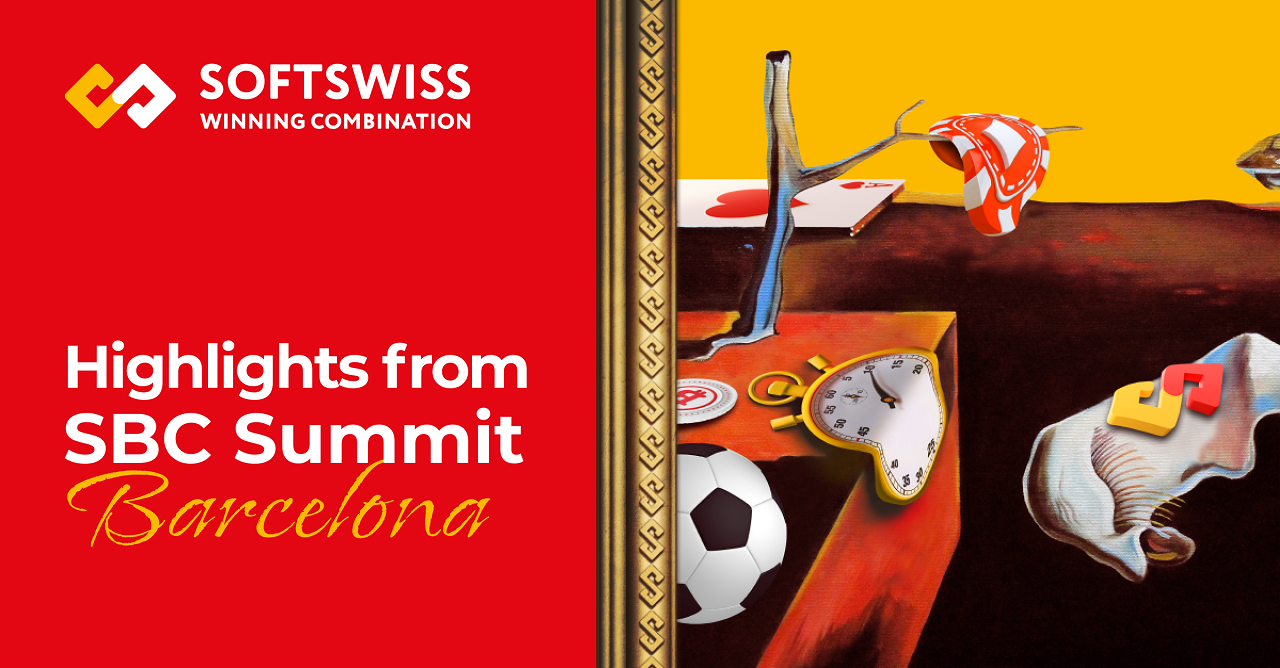 Reading Time:
4
minutes
This September, SOFTSWISS left a lasting impression at the SBC Summit 2023 in Barcelona. Inspired by the visionary spirit of Salvador Dali and other celebrated Spanish artists, SOFTSWISS realised a new creative concept which portrays the product ecosystem as modern industry classics, embodying the timeless essence of excellence.
The company's vibrant concept has redefined the perception of success in the iGaming industry, capturing the attention and recognition of all attendees. Backed with the slogan 'Make your Business a Classic,' the experts introduced visitors to comprehensive and robust solutions that have the potential to propel iGaming businesses of any scale to phenomenal success.
Embracing the creative concept, the SOFTSWISS stand underwent a metamorphosis, resembling a museum pavilion adorned with original paintings dedicated to each of the provider's product offerings. SOFTSWISS' artistic display caught the eye of every visitor, garnering enthusiastic praise and establishing a new gold standard for creative campaigns in the industry.
Alexandra Kavelich, Head of PR & Events at SOFTSWISS, describes the new concept: "Just like visionaries Dali and Picasso dared to push the boundaries in the art world, carving out new forms and pioneering innovation in their field, SOFTSWISS embraces a similar spirit. We infuse this energy into our product ecosystem, representing progress, foresight, and a determination to become a classic in the iGaming industry."
Jan Kowalchyk, Business Development Director at SBC, shares his impressions about the SOFTSWISS presence at the exhibition: "I really loved this year's SOFTSWISS stand at the SBC Summit. It was three times the size of last year's and unquestionably the most stunning booth at the event. The design was impeccable, with a glossy white finish, and there were artistic paintings representing each of the company's products that truly made the booth stand out among the 350 exhibitors. I'd give it a perfect 10 out of 10."
The SOFTSWISS delegation had a highly successful exhibition. They had productive meetings with clients and partners, established new connections, explored potential collaborations, and showcased exciting product updates generating industry buzz.
Notably,  the cross-product integration of the Game Aggregator and the Jackpot Aggregator via a seamless one-time API connection had already delivered substantial benefits to clients. These two products had been previously successfully integrated with the SOFTSWISS Sportsbook, a gamified sports betting platform featuring a distinctive range of bonuses.
This year, the conference program featured a wealth of industry professionals who shared valuable insights on various topics. SOFTSWISS was no exception and captured visitors' attention with an engaging and enlightening presentation about the significance of retention in the iGaming industry. Anastasiya Tsikhanava, Business Development Manager at SOFTSWISS Jackpot Aggregator, took the stage to discuss  'Why Retention is the Strategy for Success?' and shared profound insights and the company's extensive experience in this field.
Olga Resiga, Chief Business Development Officer at SOFTSWISS, summarises: "At SBC Summit Barcelona 2023, we showcased the latest SOFTSWISS developments while exploring new opportunities. The event served as a catalyst for turning ideas into action, and our meetings with clients and partners reinforced our confidence in achieving success together. We are proud that our team stands at the centre of the evolution of this dynamic industry. Just as Dalí's artworks have achieved timeless excellence and become classics, our innovative solutions will continue to propel our client's businesses to resounding success."
To catch a glimpse of the event's atmosphere, follow the links to watch the videos of Day 1 and Day 2. The upcoming opportunities to meet the SOFTSWISS team in 2023 are the SBC Summit LatAm and SiGMA Europe 2023. Keep an eye out for updates!
About SOFTSWISS
SOFTSWISS is an international iGaming company supplying ISO 27001-certified software solutions for managing gambling operations. The expert team, which counts 1,400 employees, is based in Malta, Poland, Georgia, and Belarus.  SOFTSWISS holds a number of gaming licences and provides one-stop-shop iGaming software solutions. The company has a vast product portfolio, including the Online Casino Platform, the Game Aggregator with thousands of casino games, the Affilka affiliate platform, the Sportsbook Platform and the Jackpot Aggregator. In 2013, SOFTSWISS was the first in the world to introduce a Bitcoin-optimised online casino solution.