Endorphina heads to iGB Live! Amsterdam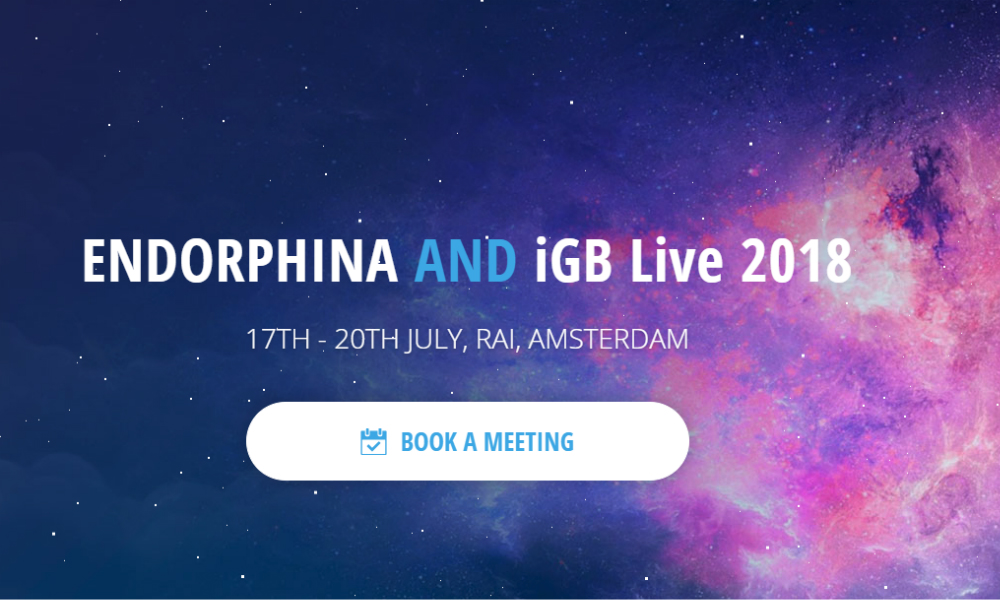 Reading Time:
1
minute
This year, the joint event organized by Clarion events is bringing together three big igaming events: iGaming super show, EiG Berlin and the Amsterdam affiliate conference. The event known as iGB Live 2018, which will take place in Amsterdam –– in the RAI Expo Center and it's rumored that this event will become the absolute largest igaming event in the world, strategically uniting experts and delegates from over 100 different countries.
Endorphina, the popular online slot game provider, will be amongst the exhibitors at this event. After their extreme success at ICE Totally Gaming, it seems that they are preparing to present an exciting new promo at iGB. But there's no surprise there, since Endorphina is known for being able to give us that adrenaline rush to get our endorphins flowing.
They announced that their stand at iGB will be number P5 this year, where their team will be ready to talk business and answer any possible questions regarding their games.
To step things up even further, it seems they've been preparing something extra special for all their visitors!
From what we've heard, you can definitely start to look forward to their "show" – an adrenaline-worthy treat waiting to fall in front of your eyes. Endorphina's stand will transform into a magical place where you'll be completely showered with gifts and goodies, so be sure to stop by and tell them hello!
Would you like to set up a meeting with Endorphina's representatives? Visit this link: endorphina.com/igb-live
Or reach them directly at: mail@endorphina.com
Endorphina launched a new football slot just in time for the FIFA World Cup 2018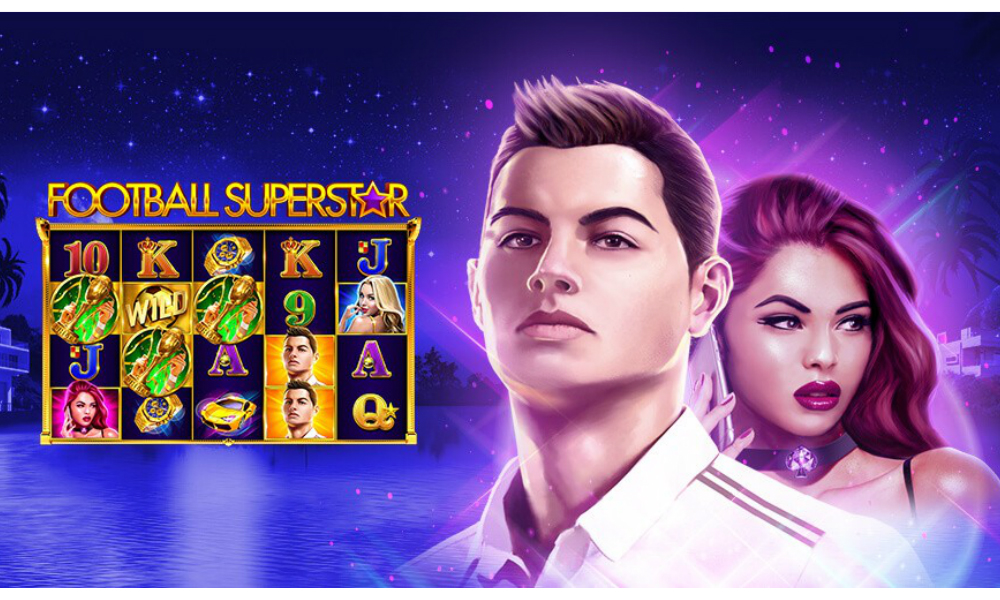 Reading Time:
2
minutes
As we all know, Endorphina's signature move is to release games according to notable worldwide events –– and the 2018 FIFA World Cup is definitely no exception. With the new and attractive version of the game ready to make its debut, Endorphina seems very eager and excited to introduce us to its newest slot game member –– Football SuperStar.
Taking a closer look into the game, we can see that it's not your standard football game. Endorphina made sure to approach this theme so that you can get a glimpse of these famous football stars from an absolutely new and interesting angle. Within this colourful game, the players can finally know what it's like to walk in the shoes of famous football stars and experience the life of top luxury surrounded by all the goods and riches we could only imagine.
The game has 4 rows, 5 reels and 50 pay lines. The symbols on the reels feature the luxurious world of football superstars — with their flashy sports cars, expensive watches, beautiful ladies while living the good life. But of course, Endorphina didn't forget about the game itself.
The slot offers free games with the proper football match atmosphere but to get there, the player need to get at least three scatter symbols. Wild symbol landing on the reels during the free games stays at the same position till the end of free games and substitutes for all symbols except the Scatter symbol and provides players with some pretty amazing big wins.
The game was released for casinos on May 31st, just before the beginning of the official World Cup. It seems to us that Endorphina's players will be very pleased and highly entertained with this sporty, active and luxurious lifestyle themed slot. Endorphina's representative has also told us that they've got many more exciting releases planned for 2018 –– so it's going to be a spinning and thrilling year for Endorphina and its players!
Exclusive Interview with Anastasiya Rimskaya, BD Manager at Endorphina
Reading Time:
5
minutes
Our colleague, Szaló Réka managed to interview Anastasiya Rimskaya who is currently the Business Development Manager at Endorphina
First I would like to ask you to shortly introduce yourself and tell us when and why you started working in this industry.
Rimskaya: Hello, I'm a 25-year-old Siberian girl, currently living in Prague with a master's degree in Business Management, making my way into the igaming industry. I joined Endorphina around a year ago while I was finishing my studies. The IT industry has always been attractive to me, however I had no experience in online gambling. I wouldn't consider myself as a money hungry kind of girl in this industry, since I'm only experienced with land-based casino while playing roulette and winning $10 bucks.
So as far as you can see, all of this is pretty new for me and this is also what makes it more attractive.
We can read in your biography that you joined Endorphina a year ago and you are one of the few women in this industry. Will you please tell us more about it? As a woman what are your experiences or do you think that there is not a distinction what regards gender in this industry and maybe we should not discuss this question? What is your opinion?
Rimskaya: I'm fine with discussing these topics. In my opinion, being a woman can be seen as a weakness in any man-orientated industry. However, this weakness and vulnerability also has its perks. For example, sometimes it's even more relaxed to speak with men compared to women. Also, it can help melt and break the ice knowing some people can feel more relaxed when talking to a woman in comparison to only having males around the office. Also when it comes to women talking to women, we don't need to prove or demonstrate our macho-ness, or as they say, alpha-ness. We are just professionals. Talking about me personally, I can say that I even prefer to be in a man-oriented industry. It pushes me for the day-to-day improvement of myself. In a ladies' industry, perhaps too much time is spent gossiping and talking nonsense, therefore more time would be wasted.
The company you represent is a fast growing one with huge potential. Please speak about the strong points, values of the company that led to its great success.
Rimskaya: 1. Definitely the product is one of our strong points, thanks to our production team.
Each game has its own soul, and a lot of time is spent paying attention to every detail, until it is absolutely prefect – or we wouldn't put it in production at all.
2. The team – we are a group of people who are so involved and love what we do, this itself produces positive results and a great atmosphere to work in. These two things are the perfect match for success.
What role do you undertake in the company's life? What are your tasks and responsibilities?
Rimskaya: As a business development manager, I should have knowledge of every single step of the business process. I must start from finding the client, including businesses, marketing, legal activities, and take into consideration the psychology of the player's behaviors. I must say that the person in this position should be a linking element, to understand technical language and to translate the content into a language understandable for the general population.
Which were the most difficult periods in your career at Endorphina and what do you consider your personal success?
Rimskaya: The most difficult was at the very beginning, when I barely understood what was going on and how everything worked. It took some time to be able to start getting the hang of it. After some time I felt that I was able to start being a part of the industry and to navigate with ease.
I am sure that you have experience and knowledge about the European gambling industry especially the Eastern European one. I would like to ask you to share your opinion about gambling industry in general in Europe or in the countries you know better?
Rimskaya: From our experience with Eastern Europe, players value the result of having the "win." They are interested in pure gambling, when on the other hand, Western Europeans need more entertainment and they want the game to tell them a story and to introduce each character to them.
The Czech Republic has a long history of gambling. It is a part of the culture. Small non-stop shops are everywhere and people used to play there and spend their time not only playing, but communicating, discussing the latest news, etc. We are looking forward to the transition online, which is happening right now in the CR.
What can you tell us about the services Endorphina provides?
Which are the future plans of the company that you can talk about to our readers?
Rimskaya: We started as a small "startup" company and we have worked hard to grow and to set a solid place in this industry and now, we're finally going to play with the Big Guys on the regulated markets and yes, we're excited.
As a Business Development Manager of such a successful company what advice would you give for those investors who are planning to set up a business in this sector in Western Europe and Eastern Europe?
Rimskaya:: My advice is to not under finance your project. Expect some proper business expenses. Usually the project might fail due to the attitude of the investor, that he is going to "throw" some money in it and then get billions back, not properly looking into it. Thus, here comes one more sufficient thing – micromanagement. The investor needs to feel the pulse of the industry and his own business otherwise the possibility of success drops significantly.
What upcoming events is the company focusing on nowadays and how prepared is the company for these events?
Rimskaya: I believe that for each company in the igaming industry, ICE Totally Gaming is the most significant event of the whole year. Now it is about 3 months until the expo and I must say that we are deep inside the process of preparing the stand and the show. Endorphina usually distinguishes itself from the others, and we always bring something unusual and attractive with us – I am talking not only about the slots and its themes. Come to our booth no. N6-230 and see everything with your own eyes. Be sure to book a meeting with us as well to chat and get the latest insights!
And of course we would be glad to invite you to our hometown in Prague, to take part in the Prague Gaming Summit.
Who is your favorite actor or actress?
Rimskaya: James McAvoy, if you don't have a chance to watch "Split" yet, please do, the idea of the movie also reminds me of the book called The Minds of Billy Milligan by Daniel Kiz. I was not expecting McAvoy to be that good (in this movie)!
Where would you travel the most in Central Europe?
Rimskaya: I still have never been to the Austrian mountains and since snowboarding is my passion, I'd like to spend a weekend enjoying the Austrian nature and freezing air during the winter season.
Endorphina´s IN JAZZ slot is out just in time for International Jazz Day
Reading Time:
1
minute
Endorphina has been keeping busy and just released its newest slot game (IN JAZZ) just in time for International Jazz Day. This lively slot celebrates the art of jazz music and is the last release in a series of 4 rich and consecutive releases this April.
April was surely a successful month for Endorphina with its latest releases — Slotomoji (with it's spinning reel of emotions), 2027 ISS (a slot out of this world), Cuckoo (an elegant showcase of hand-painted crafts), and of course IN JAZZ, the latest addition to Endorphina´s game portfolio.
This slot will make sure to swing you back into the 1930s in Chicago — where the culture of jazz sprouted from and boomed.
Relax yourself with the sounds of jazz that will swing you back into an intimate atmosphere of dim lights, smokey air, clinking glasses and powerful jazzy instrumentals that fill the room.
Take a spin with the band and see if these soulful jams can help you win big in Endorphina's IN JAZZ slot!
Play demo game here: https://endorphina.com/games/in-jazz
Visit Endorphina website: www.endorphina.com