International Counter-Strike: Global Offensive esports tournament EPICENTER will be held in Moscow on December 17-22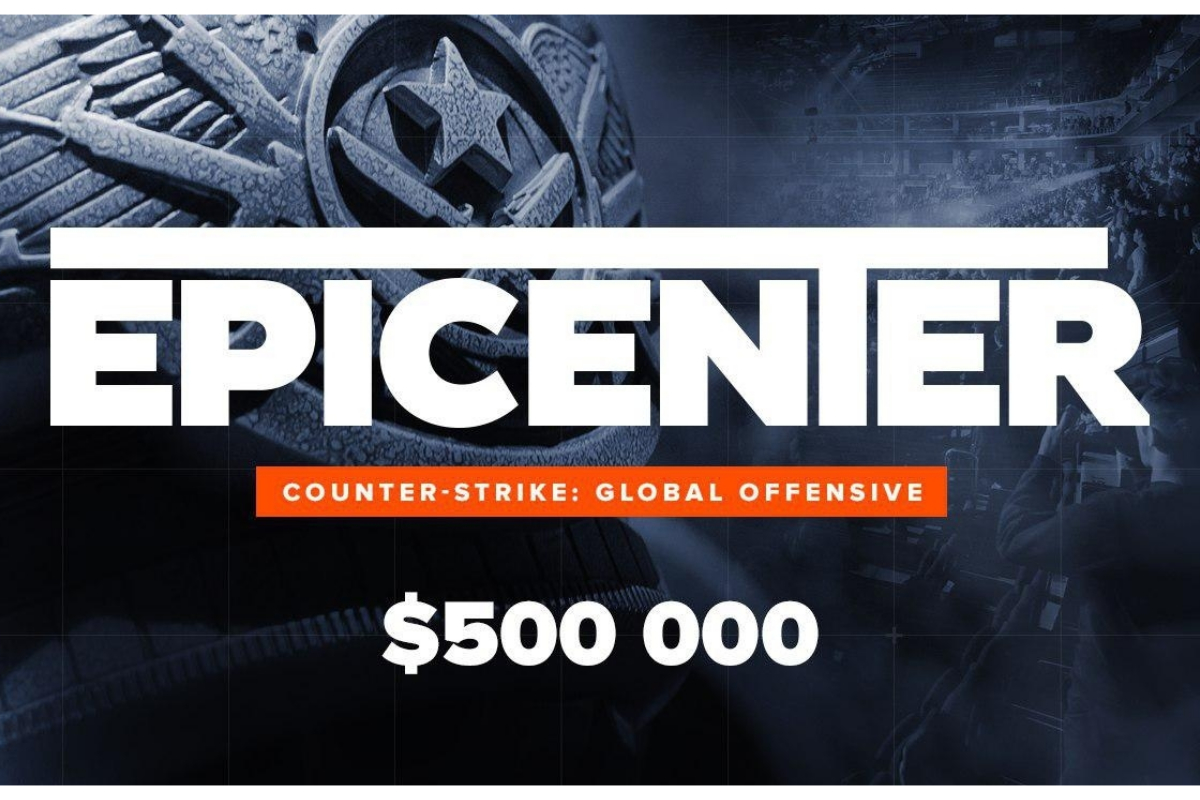 Reading Time:
< 1
minute
The main Russian Counter-Strike: Global Offensive esports tournament will take place in Moscow once again with total prize fund of $500,000. Group stage is planned for December 17-19 with grand finals scheduled for December 21-22 in "Crocus Expo" event hall.
The tournament will include 8 teams competing against each other with 5 of them being invited directly into the group stage. The other 3 EPICENTER participants will be determined in regional qualifiers in Europe, China and the CIS.
The first invited team is Na'Vi — legendary club from the CIS that has claimed many trophies and has long been favorited by the esports fans. The second team receiving direct invitation is Evil Geniuses who recently signed NRG roster after successfully scoring the third place at the recent September Major and feeling confident throughout the season. The third invited team is another famous club from the CIS — AVANGAR from Kazakhstan, deservedly beloved by community for regular demonstrations of their high skill including recent performance during the Majo's finals. One more team getting direct invitation is Team Vitality from France featuring MVP of the recent DreamHack Masters Malmö 2019 tournament — sniper Mathieu "ZywOo" Herbaut. The fifth team also receiving direct invitation will be announced later.
Open regional qualifiers will be held in Europe on October 28-29 and in the CIS on November 21-22. Closed qualifiers are scheduled in Europe on October 30-31 and in the CIS on November 23-24. Information regarding Chinese qualifiers will be posted later.
Tickets are already on sale on the official tournament website. There are three categories available with prices starting at 900 rubles: Global Elite, Global Nova, and Legendary Eagle.
A Portrait of the Typical Esports Bettor, by LOOT.BET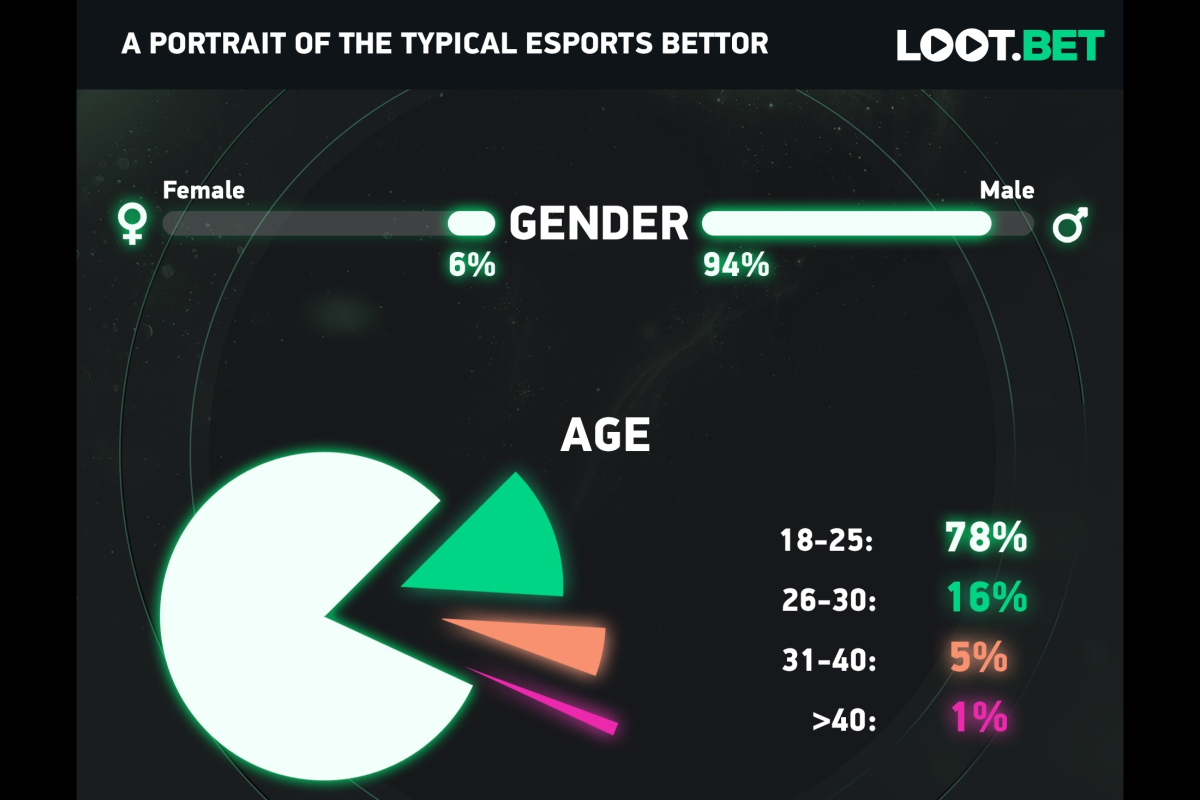 Reading Time:
3
minutes
Who exactly is the typical esports bettor? Do they also bet on traditional sports or gamble at online casinos? What kind of work do they do and what interests do they have? How much and how often do they bet? To succeed in the esports betting industry, it's crucial to understand esports bettors, so specialist esports bookmaker LOOT.BET has put together a portrait of the typical esports bettor, based on extensive research. 
Esports bettors are young, career driven, and single
Like the esports audience in general, esports bettors tend to be young. The vast majority, some 78% of LOOT.BET's users, are aged 18-25, while 16% are 26-30, just 5% are 31-40, and a mere 1% are 41 or older. Curiously, bettors from Western countries tend to be a little older, at an average age of 24, than the CIS where the average is just 21.
In terms of occupation, the typical esports bettor from the West tends to be a novice specialist or a junior manager, while the average esports bettor in the CIS region is a university student. In both cases, they are unmarried and have no children.
Perhaps unsurprisingly, the vast majority of esports bettors are male – making up some 95% in 2018. However, it is possible that things are starting to change, with females growing from 5% in 2018 to 6% in 2019.
Esports bettors have little interest in traditional gambling
According to LOOT.BET's research, 64% of esports punters bet exclusively on esports, and 67% are open to betting on more than one esports discipline. However, only 24% of esports bettors occasionally wagered on major sporting events, and just 12% bet on traditional sports systematically.
Also, esports bettors, being younger, are far less likely to gamble at online casinos than traditional sports punters – who tend to be significantly older. Illustrating this, as little as 3% of esports bettors regularly try their luck at online casinos, and only 20% even enjoy an occasional gamble. The vast majority, some 77%, say they are not interested in such kind of gambling at all.
Esports bettors are clued up, engaged, and passionate
Esports bettors are very clued up, with almost all of them following industry news. 54% use dedicated news sites and forums, 42% prefer social media, but just 4% don't feel the urge to keep abreast of esports events and updates.
In terms of lifestyle and interests, typical esports punters are very engaged with non-esports video games, regularly follow various streams, and love cosplay. They are also very switched on to video and music content, tend to follow sports (especially football), and are often techno-geeks with a passion for travel and social media.
Discussing the findings, Paul Brel, Head of Communications at Livestream, LOOT.BET's operating company, explained:
"The difference between esports bettors and traditional bookmakers' clients is huge, and the matter is not just – and not even so much – in the age gap which in itself implies certain distinctions.
"Esports fans breathe cutting-edge technologies; they are very mobile, yet so involved with the community; they are more likely to rely on their knowledge and skills rather than on luck; for them, esports is not just a hobby but a lifestyle – which you wouldn't say about a regular classic sports bettor. We believe that only those operators who understand this and try to find an approach to this specific audience, which is very new to the betting industry, have a chance to succeed in the esports betting market."
Esports bettors love live and love mobile
In terms of esports betting trends, LOOT.BET is seeing the rapid growth of live betting and the continued migration from desktop to mobile devices. To give a sense of the shift, over the course of 2019 the share of live bets jumped from 52% to 75%, while mobile traffic rocketed from 50% to nearly 70%.
Esports bettors are spending more money, more often
Another clear trend is esports punters betting more money, and betting more frequently. In 2019 the average number of bets per user, per month, across all disciplines increased by 11%. The title seeing the biggest increase, at 15%, was Counter-Strike: Global Offensive, while the other games from the "big three", League of Legends and Dota 2, registered increases of 10% and 6% respectively. Bet size over the year increased even more dramatically – 20% across all disciplines, breaking down to 24% for League of Legends, 22% for Counter-Strike: Global Offensive, and 15% for Dota 2.
"We associate the simultaneous rise in the frequency and size of bets with several factors. Firstly, esports betting is becoming a key hobby, on which one is ready to spend significant money, for more and more people. Secondly, the esports audience's trust in betting is increasing, and so is their willingness to risk larger sums.
"And naturally, the rise is determined by the extension of the noteworthy matches pool and development of betting lines – which refers to the whole esports betting industry. There is a bold assumption that in 10-20 years, esports will catch-up with classic sports by volumes of bets, and, considering the foregoing as well as the fast esports audience expansion, we treat this forecast as an eligible one", commented Paul Brel.
The research is based on LOOT.BET's internal statistics and an email poll of customers.
Five Formula 1 drivers confirmed for second Virtual Grand Prix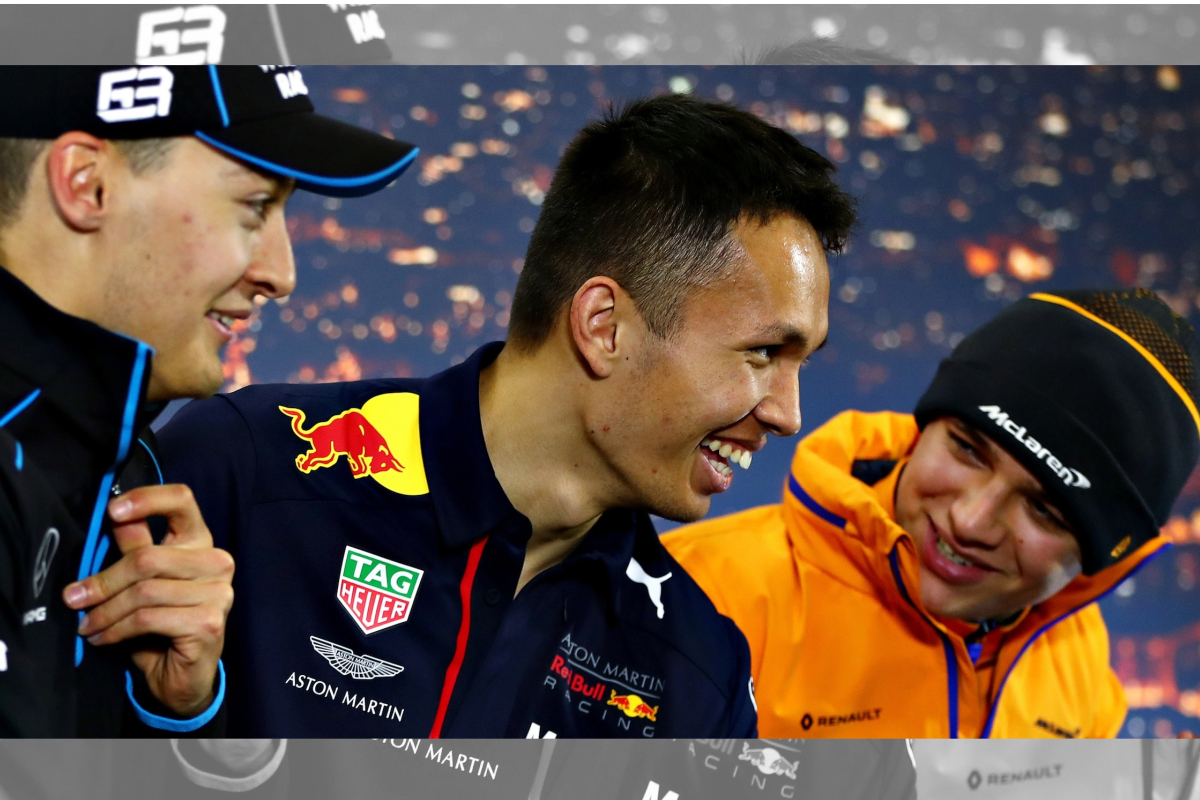 Reading Time:
2
minutes
Current Formula 1 drivers Charles Leclerc, Alex Albon, George Russell, Lando Norris and Nicholas Latifi have all confirmed their participation for the second instalment of the F1 Esports Virtual Grand Prix this weekend.
The F1 quintet will be joined by former driver Johnny Herbert, who finished 13th in the inaugural race in Bahrain, as well as a host of other stars including England's Cricket World Cup Winner, BBC Sports Personality of the Year and Red Bull Athlete Ben Stokes, with more names set to be announced in the coming days.
This weekend's virtual Grand Prix is the second race in the new F1 Esports Virtual Grand Prix series, which gives fans the chance to watch Formula 1 races virtually, despite the ongoing COVID-19 situation.
This weekend's Grand Prix will take place on the Albert Park track, traditionally used for the Australian Grand Prix, on the weekend originally scheduled for Hanoi's inaugural Street Circuit race in Vietnam. The Vietnam circuit is currently not available on the 2019 official F1 video game so drivers will show off their skills on the Albert Park circuit. Drivers will join the race remotely, with a host broadcast live from the Gfinity Esports Arena from 8:00pm (BST) on Sunday April 5.
The broadcast which will be available on the official Formula 1 YouTube, Twitch and Facebook channels, is expected to run for 1 hour 30 minutes, with a qualifying period where grid positions will be determined based on the drivers' fastest lap time, followed by a 28-lap race. The Virtual Grand Prix will also be broadcast live with international broadcast partners including in the UK on Sky Sports F1 and Sky Sports Main Event.
Due to the wide variety of gaming skill levels amongst the drivers, game settings will be configured in such a way to encourage competitive and entertaining racing. This includes running equal car performance with fixed setups, reduced vehicle damage, and optional anti-lock brakes and traction control for those less familiar with the game.
After the virtual Vietnam Grand Prix is over, a special F1 Esports Pro Exhibition race featuring esports gamers will follow from 9:30pm (BST). The broadcast will be available on the official Formula 1 YouTube, Twitch and Facebook channels as well as selected TV broadcasters and is expected to run for 1 hour.
Julian Tan, Head of Digital Business Initiatives and Esports said: "Following the massive success of the F1 Esports Virtual Bahrain Grand Prix, we are thrilled to be able to come back online again this weekend to provide fans with some racing action. A star-studded grid is shaping up with our F1 stars – past, present and future – as well as huge names in sports and entertainment. We look forward to providing some light relief through esports as we all navigate through these difficult times together, where our fans can engage with our sport in a different but familiar way."
BETBY Adds Huge Esports Portfolio To Offering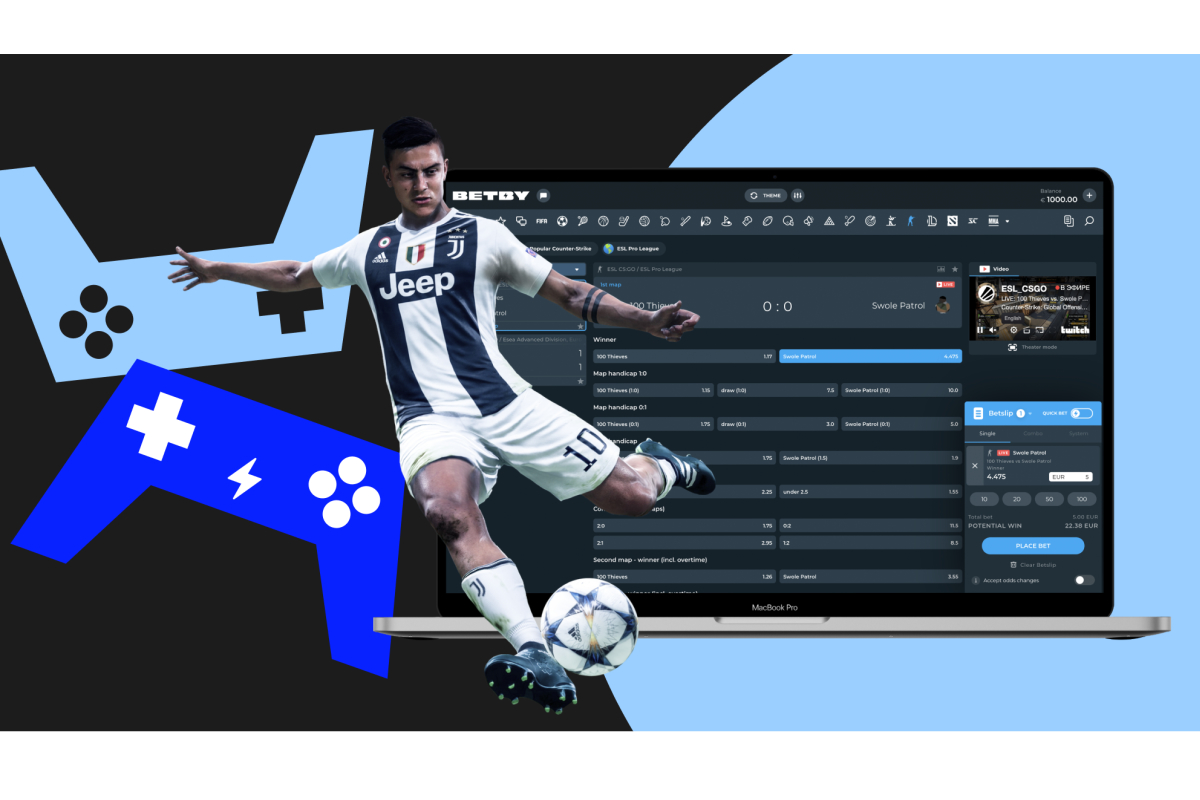 Reading Time:
< 1
minute
Progressive sportsbook supplier BETBY significantly expanded its offering with the addition of more than 1,000 live daily esports events.
As uncertainty grows in the global sports betting community due to the current Coronavirus pandemic, BETBY has swiftly adjusted its content portfolio to include FIFA esports fixtures, CS:GO tournaments, and one of the widest CyberSport packages in the industry.
Among the competitions available is FIFA18 24/7, the first in the BETBY Games collection. Unique to the supplier's offering, the competition will see a number of markets created solely for that title.
All of the above betting markets will be available in tandem with BETBY's proven Risk Management Intelligence system and customisable front-end product, allowing operator partners to give a truly unique product to their customers.
The entire BETBY esports portfolio can be integrated and active for an operator within 24 hours with the supplier's highly agile fully-managed sportsbook platform.
Leonid Pertsovskiy, CEO at BETBY said: "We are thrilled to be releasing our significantly enhanced esports offering, covering a wide range of markets across a number of different contests.
"It is a difficult time for the industry at the moment, and it was important to us to be able to offer our operator partners alternative content that can be live and customer-ready in an incredibly quick time.
"We strive to be an innovative and customer-focused business and whilst the current time presents challenges for everyone, we will always look for solutions to our partners problems."