Ofertas365 Launches Crypto Millions Lotto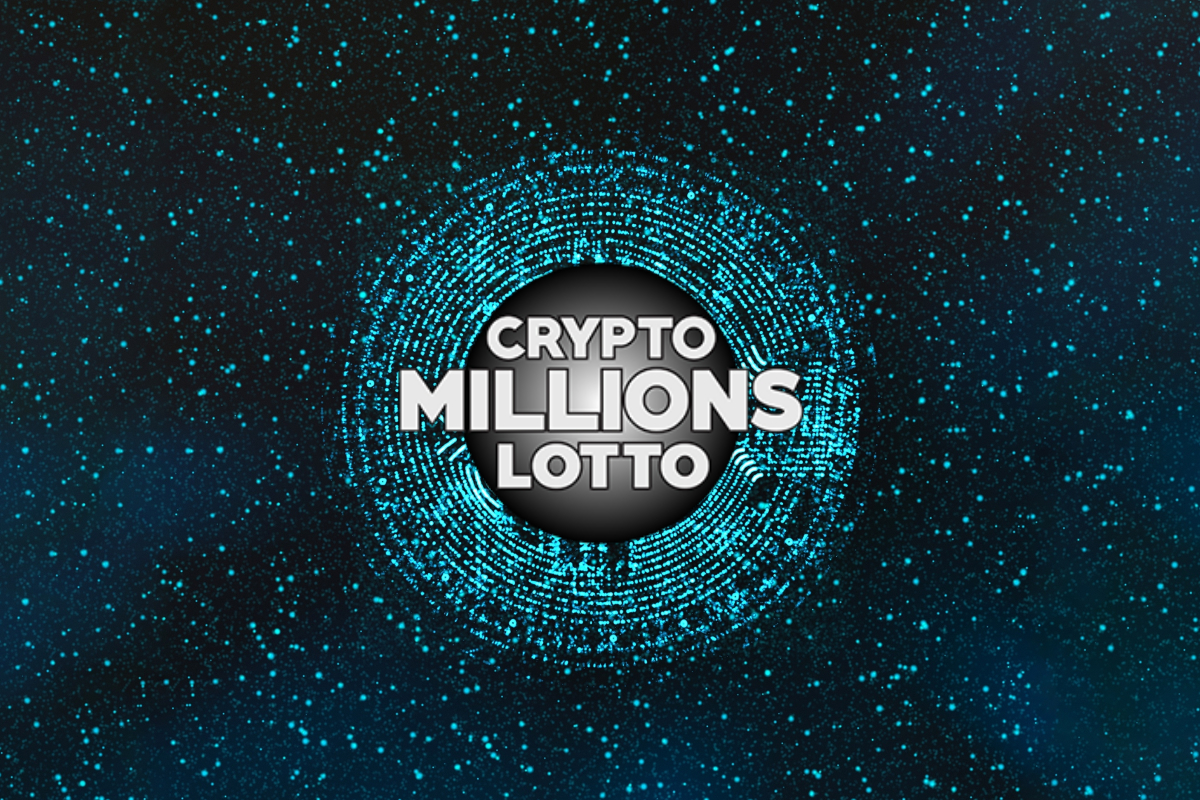 Reading Time:
2
minutes
Ofertas365 Limited has launched Crypto Millions Lotto, the world's largest online crypto lottery. Crypto Millions Lotto provides a unique opportunity to play with Bitcoin and win Bitcoin as prizes. Customers will receive three free lines as an introductory offer. The jackpot starts at a whopping US$30 million and rolls over until it is won.
Crypto Millions Lotto effectively bypasses the qualifying requirements of residency and any need to participate in local currency, which are common playing conditions of many existing lotteries around the world. Key to Bitcoin's appeal is the payment freedom it provides, whereby it can be sent and received anywhere in the world, any time.
One of the most significant features is the major step it represents in bringing the world's most widely used alternative currency further into the mainstream.
"We are delighted to launch Crypto Millions Lotto and believe that giving away three chances to win prizes worth tens of millions of dollars will encourage Bitcoin usage and adoption. Our affiliation with two top notch fiat-to-crypto exchanges – Coinbase and Wirex – will ensure new players get the best possible user experience, the cheapest fees and the most competitive fiat-to-Bitcoin conversion rates," Sulim Malook, CEO at Ofertas365 said.
For Bitcoin holders, starting to play for the coveted US$30 million jackpot is quick and easy. For those who need to buy Bitcoin, they are directed to market leading affiliate partners – Coinbase and Wirex.
"In common with our partners Ofertas365, Wirex also know about delivering a unique service. As the world's only licensed business account that allows payments in both crypto and traditional currency, we are pleased to provide our service to Crypto Millions Lotto. Our UK Financial Conduct Authority approval will provide the financial security that players require. Wirex delivers unbeatable value, flexibility and transaction speed combining the efficiency of cryptocurrency payments with the universal acceptance of traditional fiat currency accounts, on a global scale," Pavel Matveev, CEO of Wirex said.
These capabilities make a perfect match, as Ofertas365 is licensed to operate in more than 100 countries which include anywhere online gambling is not prohibited.
"We believe our lotteries and games will provide a great deal of enjoyment because it's much more fun to win Bitcoin than fiat currency! We welcome further collaborations and partnerships that will expand and guarantee our offering," Sulim Malook added.
Bitcoin Confirmed As New Sleeve Partner of Watford FC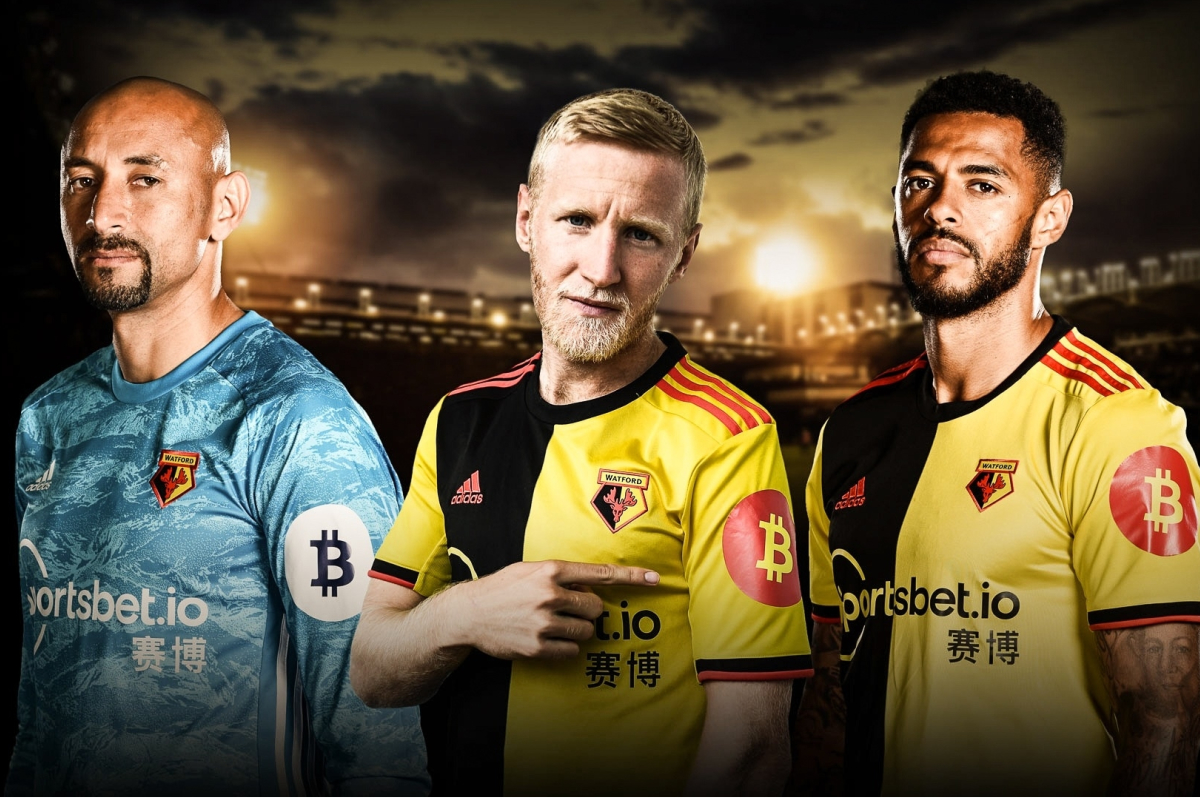 Reading Time:
2
minutes
The Bitcoin logo will appear on the shirt sleeve of Watford FC this season, as part of an educational drive led by the innovative sports betting brand Sportsbet.io.
The logo is part of a wider campaign to improve awareness around Bitcoin and educate the public on the benefits of using cryptocurrencies.
It is led by Watford FC's primary shirt sponsor, Sportsbet.io, which announced a landmark deal with the Hornets team in June.
Justin Le Brocque, Head of Marketing at Sportsbet.io, said: "The crypto community have been hugely supportive of us since we began, so putting the Bitcoin logo on the sleeve felt like a fun way to give something back while also showing them our support."
The sponsorship will be crowd-funded, allowing anyone who holds Bitcoin the exclusive opportunity to share in the perks granted to Watford FC sponsors. Contributors can bid for public LED space shown live during matches, use of the Bitcoin box for eight people and exclusive Watford FC merchandise.
"Some of the biggest challenges we and others like us face is raising awareness, dispelling common myths around cryptos and educating the public on the advantages and opportunities presented by cryptocurrencies," added Le Brocque.
"Our partnership with Watford marks a major disruption in the world of traditional sports sponsorship, and by adding the Bitcoin logo we hope this world's first partnership will create even more buzz around cryptocurrencies."
Scott Duxbury, Hornets' Chairman & CEO, added: "Placing the Bitcoin logo on a Premier League shirt is something that challenges the accepted norm. We're excited about the partnerships and the potential for new global conversations that it could help start for our club."
To celebrate the Bitcoin sponsorship with all Bitcoin holders, Sportsbet.io is also giving away a 2 mbtc Free Bet to all Sportsbet.io players if Watford scores against Arsenal this coming Sunday. More information on the amazing offer can be found https://sportsbet.io/promotions/free-bet-giveaway.
Last month, Sportsbet.io announced a pioneering three-year partnership with Watford, marking the first time a company known for blockchain and cryptocurrency expertise had appeared on the front of a Premier League shirt.
The announcement was accompanied by the launch of Sportsbet.io's 'Know No Borders' campaign, which highlights the brand's commitment to putting players at the heart of the action, no matter their country, sport, team or currency.
Sportsbet.io accepts a range of fiat and cryptocurrencies, including Bitcoin, to deliver the very best in fun, fast and fair gaming.
To get involved, all you need to do is visit the site http://bitcoin.watfordfc.com.
CEEGC2019 Budapest – Speaker Profile: Max Krupyshev, CEO at CoinsPaid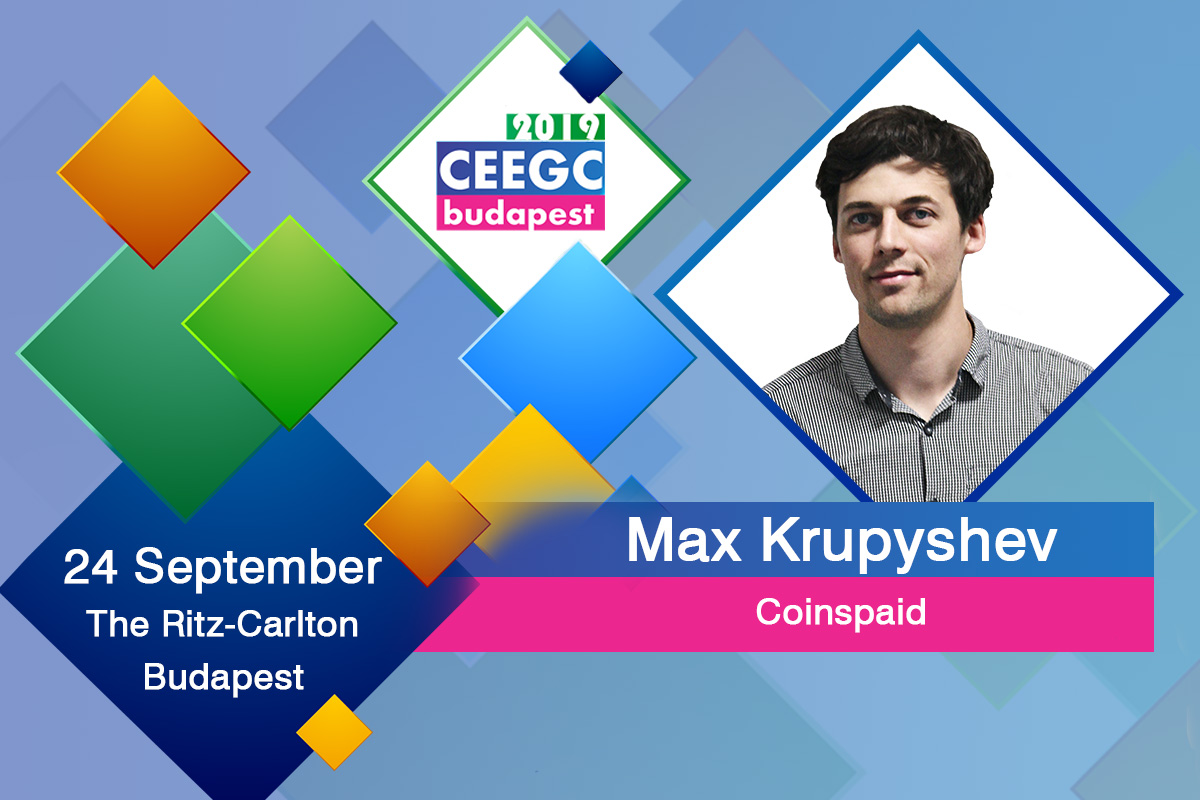 Reading Time:
2
minutes
CEO of fast-growing Cryptocurrency Processing Provider to join the payment related panel discussion at CEEGC 2019.
As mentioned earlier, at CEEGC2019 we are putting together a debate about Payments, Fintech, and Blockchain with an emphasis on the changes that have occurred in the past 2 years.
The panel discussions will take place during the 2019 edition of CEEGC Budapest, and has been strategically titled as "2-year revision – Payments, Fintech and Blockchain".
Among the experts of the panel discussion, you have the opportunity to catch up and hear more about cryptocurrencies and blockchain in the online gambling industry from a leading expert, Max Krupyshev, CEO at CoinsPaid.
About Max Krupyshev
Max has a Bachelor's degree in Physics and a Master's in Business Administration.
Max heard about Bitcoin for the first time in late 2013 right after completing his Master's degree in Management. Max was immediately inspired by the innovative and disruptive technology behind Bitcoin and quickly made a name for himself in his local Bitcoin community in Kiev.
Eventually, Max's passion for Bitcoin drove him to co-found a Kiev-based software development studio and to found the Bitcoin Foundation Ukraine and Satoshi Square Kiev. Max has worked for one of the biggest Bitcoin Cloud mining platforms prior to becoming Product Manager and later Head of Crypto Business at Cubits.
After a tragic Cubits shut down, Max was invited to obtain the CEO position at coinspaid.com. Coinspaid is a fast-growing Cryptocurrency Processing Provider for an online business.
Make sure that you are among the delegates of CEEGC Budapest this year for a new and engaging format that is going to increase the engagement and interaction of the attending delegates.
Register here or View the Agenda!
Browse the official event website for more details: www.ceegc.eu
Americas Cardroom Will Send $1 Million via Bitcoin to $5 Million Venom Winner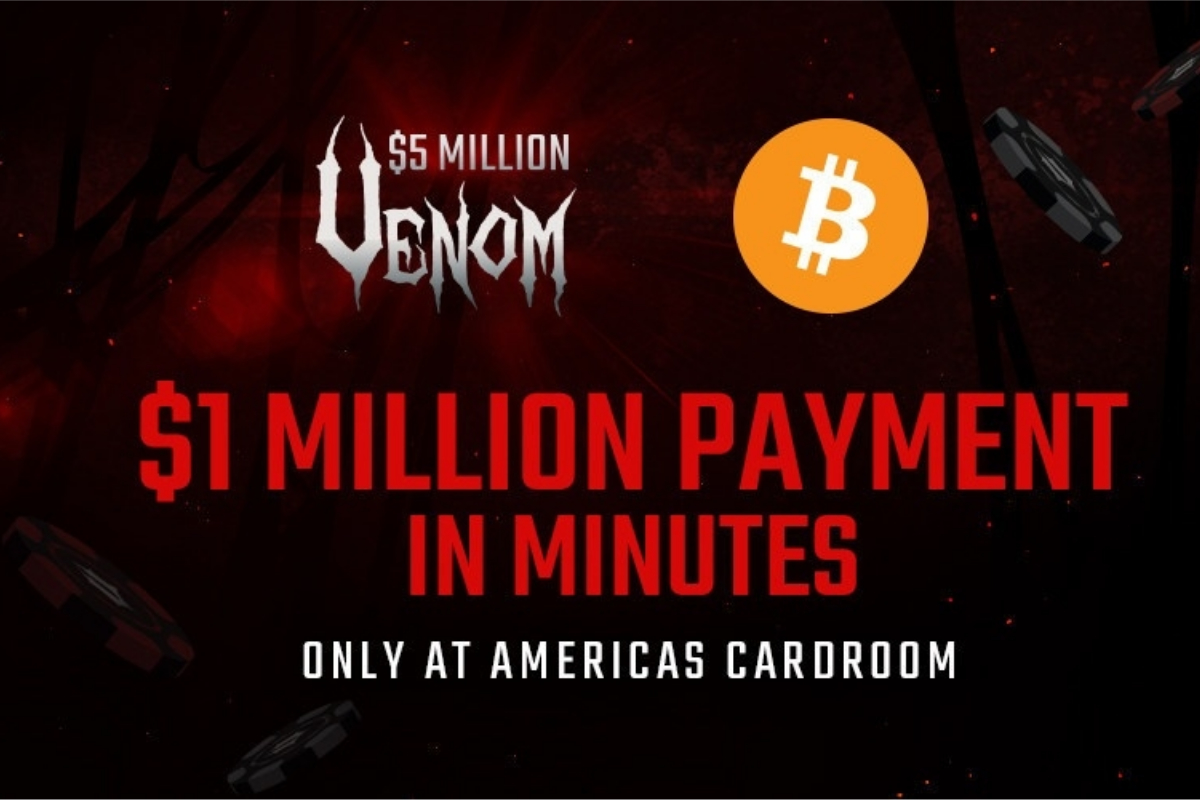 Reading Time:
2
minutes
Americas Cardroom announced that they will send what they believe to be the largest crypto payment in history for an online gaming site. With the $5 Million Venom tourney on it's way since July 14th, the US-facing online poker site is promising to send the winner their $1 millionpayment by Bitcoin, minutes after the final hand.
"We've made cryptocurrency a key part of our business for the last four years and now we're going to make a seven-figure payment," stated Americas Cardroom spokesperson Michael Harris. "No other payment method lets players get paid faster and we're putting our faith in Bitcoin with this large-scale transaction."
The $5 Million Venom has three Day 1's and the final table will be played on Wednesday, July 24th. It features a staggering $5 Million guaranteed prize pool and first place gets at least $1 million, making it the biggest tourney in ACR history and the biggest ever by a US-facing site.
The $5 Million Venom winner will receive their $1 Million via Bitcoin mere minutes after the final hand is played — all in one shot. No other gaming site has sent a crypto payout so large, and Americas Cardroom is pleased to make history.
The US-facing site first began accepting Bitcoin in 2015. At the time, the popular cryptocurrency accounted for approximately 2% of all business. Today, players can play and get paid in over 60 different cryptos, including Bitcoin. Cryptocurrency now accounts for over 60% of Americas Cardroom's business.
While the 60% is large, the number comes as no surprise. Online gaming sites have faced challenges with payment processing due to varying regulations around the world. Cryptocurrency offers players the chance to deposit and withdraw quickly and securely and is quickly becoming the preferred player option.
For more information on the $5 Million Venom and Cryptocurrency deposits, visit AmericasCardroom.eu.
About Americas Cardroom:
Americas Cardroom joined the Winning Poker Network in 2011. The Winning Poker Network has one of the longest and trusted online names in the industry and has been in existence since 2001. Americas Cardroom accepts players from the US market and the rest of the world. Rated first place for payment processing and cashout reliability repeatedly over the last few years, Americas Cardroom offers outstanding customer service and a friendly environment for all poker players around the world.
Source: Americas Cardroom