SYBO Strikes Acquisition Deal with Game Developer and Publisher Miniclip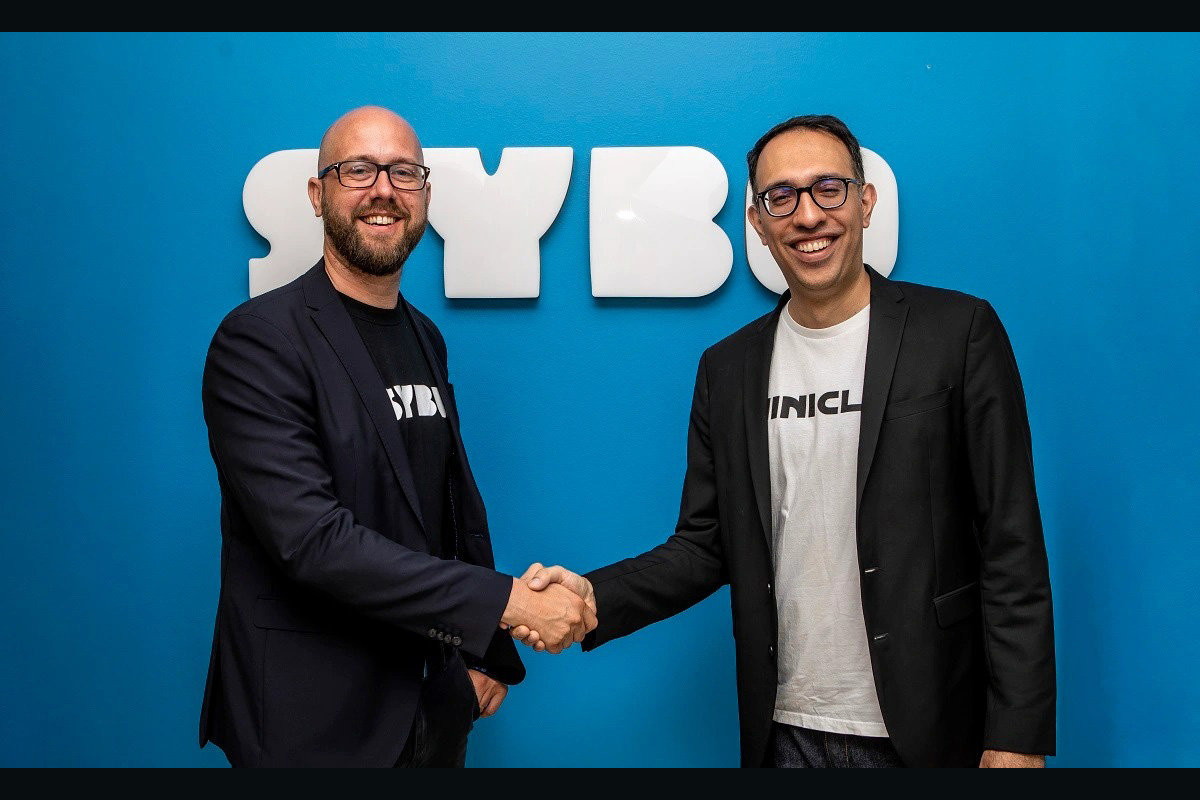 Reading Time:
3
minutes
SYBO, maker of the smash mobile gaming hit Subway Surfers, has announced that it has been acquired by Miniclip, a world leader of market-defining mobile games. The acquisition is set to complete this July following the legacy game's 10th anniversary and a record-breaking banner year across daily installs, daily active users and daily revenues. The combined companies reach over 70m daily active users.
"We are so thankful for the vision, expertise and execution from Mathias and the whole SYBO Team, who have strengthened Subway Surfers both creatively and commercially during this past decade. Subway Surfers has continued to be a successful mobile game for millions of fans worldwide, year after year," Sylvester Rishøj Jensen, Co-founder of SYBO, said.
"When we started this 10 years ago, our dream was to create something special that would be loved for generations to come. The whole company, and our incredible fans, have driven the game to stellar heights. We have really had perfect flow in our partnership and gaming adventure, which has now culminated in what is one of the biggest – if not the biggest – deals in Danish gaming history. It's a legacy we are both very proud of," Bodie Jahn-Mulliner, Co-founder of SYBO, said.
"We are incredibly thankful to our Founders for their vision and trust. 15 years after Sylvester and Bodie started working together, 10 years after Subway Surfers came to market and 5 years after I took the helm as CEO, we now wrap up the first season of SYBO's journey with a great promise of what's to come," Mathias Gredal Nørvig, Chief Executive Officer at SYBO, said.
"Miniclip brings to SYBO added experience, reach and strength as we celebrate our tenth anniversary and look to the next decade and beyond. I am so proud! Proud of our game development teams, all support functions, and management team, for passionately expanding the Subway Surfers game experience, remaining committed to the formula our community loves, and to continue delivering surprise and delight for Subway Surfers fans on multiple platforms and genres. Miniclip offers us an opportunity to further grow and amplify, while still keeping to our core values and Team culture," Mathias Gredal Nørvig added.
"Since its launch in May 2012, the Subway Surfers mobile game has grown to more than 150 million monthly active players, it holds the title as the most downloaded mobile game, it was the world's first game to cross one billion downloads on Google Play, and the most downloaded endless runner game in Apple's App Store's history," Saad Choudri, CEO of Miniclip, said.
"Miniclip has always had a strong focus on building high quality games that unleash the gamer in everyone, which has helped define the business and allowed us to lead in a crowded marketplace, delivering consistent growth through building our M&A with fantastic and innovative new partners. Which is why the SYBO Team felt like such a natural fit, having developed one of the world's most popular games. They have a proven record of delivering and maintaining an incredible gamer experience, as well as continuing to grow virally. We are beyond excited to welcome them into the Miniclip family as we empower them to keep running and running," Saad Choudri added.
Under Gredal Nørvig's leadership, a team of savvy and experienced executives has navigated an industry of opportunities and challenges. The company plans to keep the current Management Team in place with David Byrne, who joined in 2018 as Chief Operating Officer and Head of Games; Naz Amarchi-Cuevas, who joined in 2017 as Chief Commercial Officer and Head of Marketing; Anne Schnack Hansen, who joined in 2018 as Chief People Officer; and Andreas Glenvig, who joined in 2019 as Finance Director.
Game Development World Championship 2023 Summer Season Winners Announced!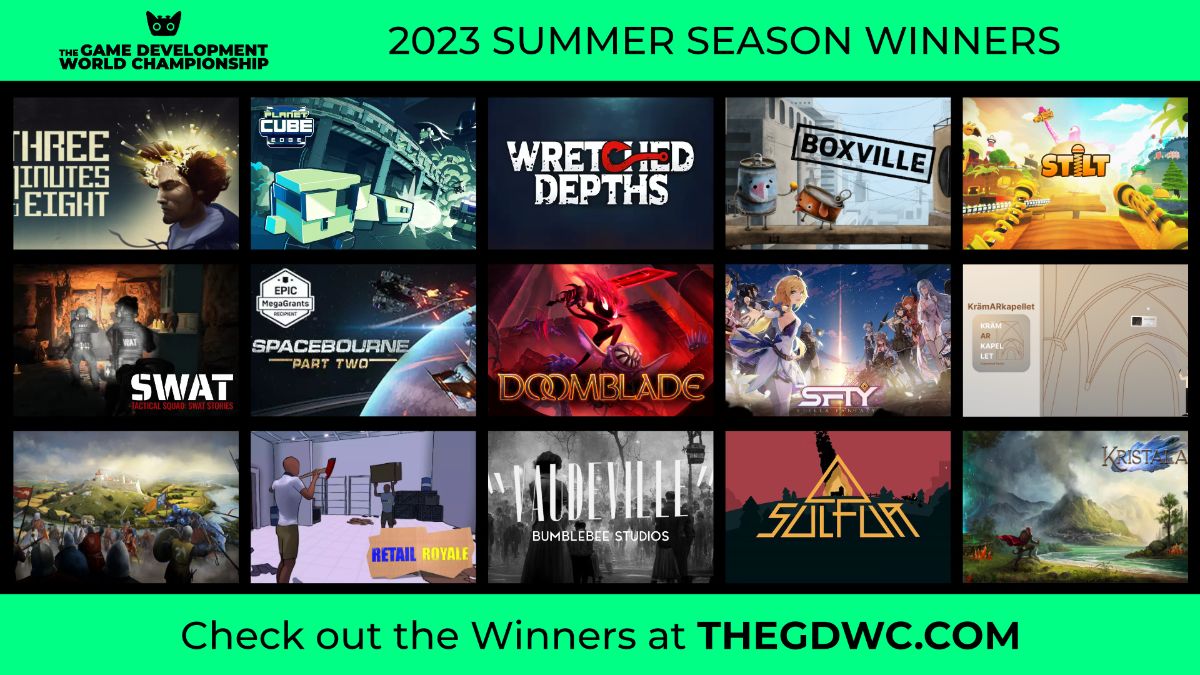 Reading Time:
< 1
minutes
The Game Development World Championship (GDWC) celebrated the 2023 Summer Season with an Awards Stream on Thursday, September 21st. At the event, GDWC announced winners in 11 categories for the Summer Season.
Watch the Award Stream recording on the GDWC youtube channel.
Indie Award Winner: Three Minutes To Eight by Chaosmonger Studio.
Studio Award Winner: Planet Cube: Edge by Sunna Entertainment
Hobby Award Winner: Wretched Depths by Wretched Devs
Mobile Award Winner: Boxville by Triomatica Games
Best Web3 Game Award Winner: Stella Fantasy by Ring Games
AR & VR Award Winner: Stilt by Rekt Games
Immersal SDK Award Winner: KramARkapellet by darteq
Made-with-Houdini Award Winner: Kristala by Astral Clocktower Studios
Procedural Award Winner: SULFUR by Perfect Random
Action Award Winners:
1st Place: Tactical Squad: SWAT Stories by Red Mountain Games
2nd Place: SpaceBourne2 by Dbk Games
3rd Place: DOOMBLADE by Muro Studios
Gcore Cloud Award Winners:
1st Place: Feudums by Kalamona Studios
2nd Place: Vaudeville by Bumblebee Studios
3rd Place: Retail Royale by DarxDev
All the Winning games of the Season can be found on the GDWC website, here: https://thegdwc.com/awards/
GDWC sends congratulations to all the winners and huge thanks to all developers who participated in the championship, and to all the sponsors and partners that made the GDWC 2023 Summer Season possible.
The GDWC 2023 Winter Season is currently open for submissions with the biggest prize pool in GDWC history, totalling over $660,000 in value. Prizes are spread across 12 award categories and range from swag & software licences to cash prizes, publishing deals and marketing & User Acquisition funding.
GDWC is free to participate and open to everyone from hobbyist & student developers to professional studios from all over the world. Games on all digital platforms – PC, Consoles, Mobile, VR & AR, Web & Browsers, are accepted. Developers can participate with a game they are currently working on, or with a game they have released, as long as it was released after August 1st 2022.
Opera GX, the Browser for Gamers, Surpasses 25 Million Monthly Active Users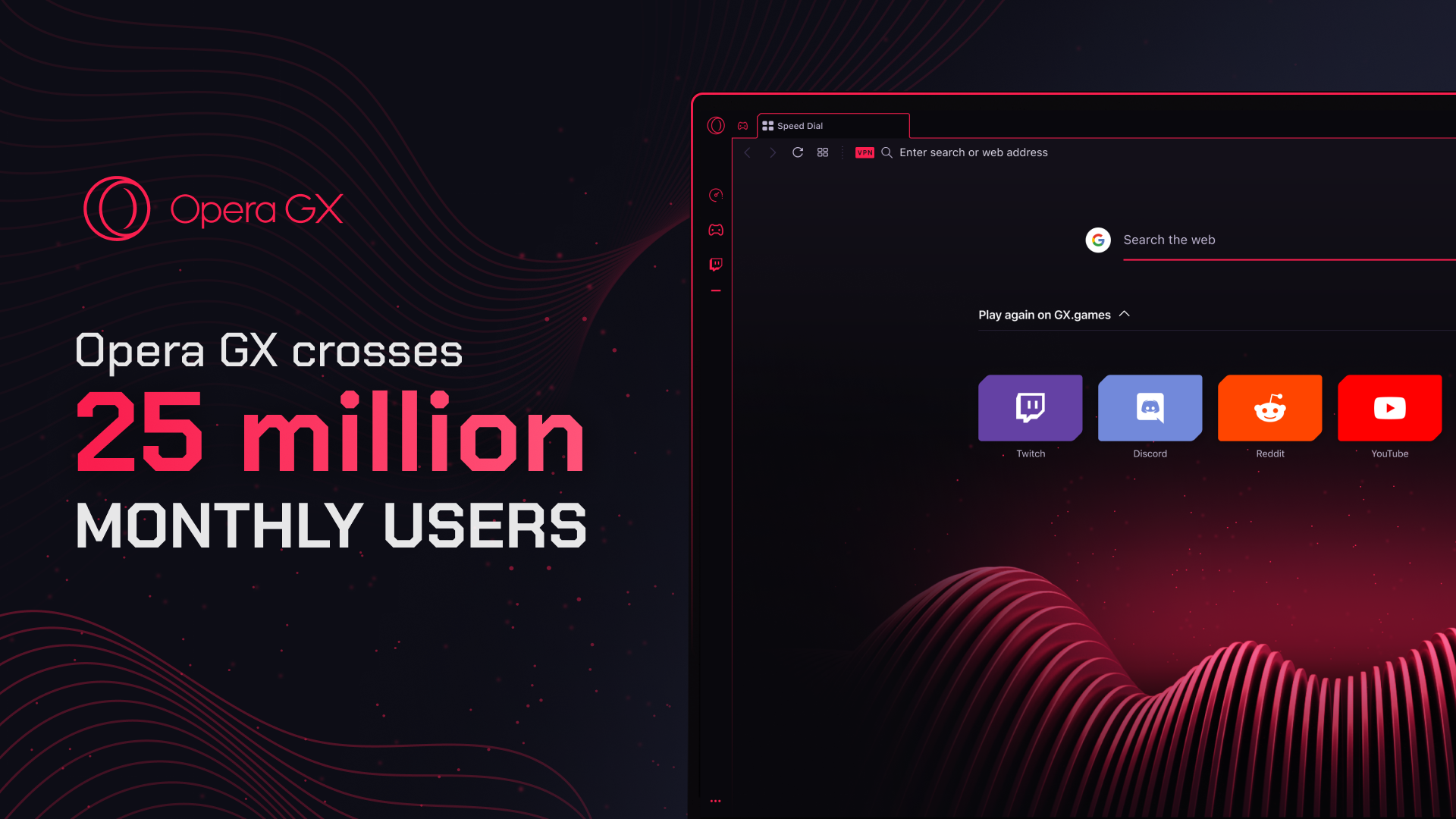 Reading Time:
< 1
minutes
Opera GX, the browser for gamers, today announced that its number of monthly active users (MAU) has surpassed 25 million across desktop and mobile devices. This milestone highlights Opera GX's increasing adoption within the gaming community and its integral position within gaming culture.
"We are thrilled to announce this remarkable achievement of 25 million monthly active users, as Opera GX continues to prove its commitment to enhancing the browsing experience for gamers worldwide. With a passion for innovation and dedication to the gaming community, we look forward to sharing what the future holds," said Krystian Kolondra, Executive Vice President of Browsers and Gaming at Opera.
Since 2019, Opera GX has been dedicated to delivering a distinct browsing experience for gamers. Its aim was to address the challenge posed by resource-intensive browsers during gaming sessions while simultaneously offering a unique aesthetic and enhanced customizability that aligns perfectly with gamers' preferences. Today, Opera GX is at the forefront of innovative browsers, providing dynamic features like Aria, a free, cutting-edge generative AI service, solidifying it as a staple in the gaming environment.
Seizing the moment, Opera GX has taken advantage of its strong technology and platform capabilities to provide gamers with useful and entertaining tools, uniting a global community of passionate gamers and giving users a new and exciting way to browse the internet.
BetConstruct introduces a New Application – iGaming Bot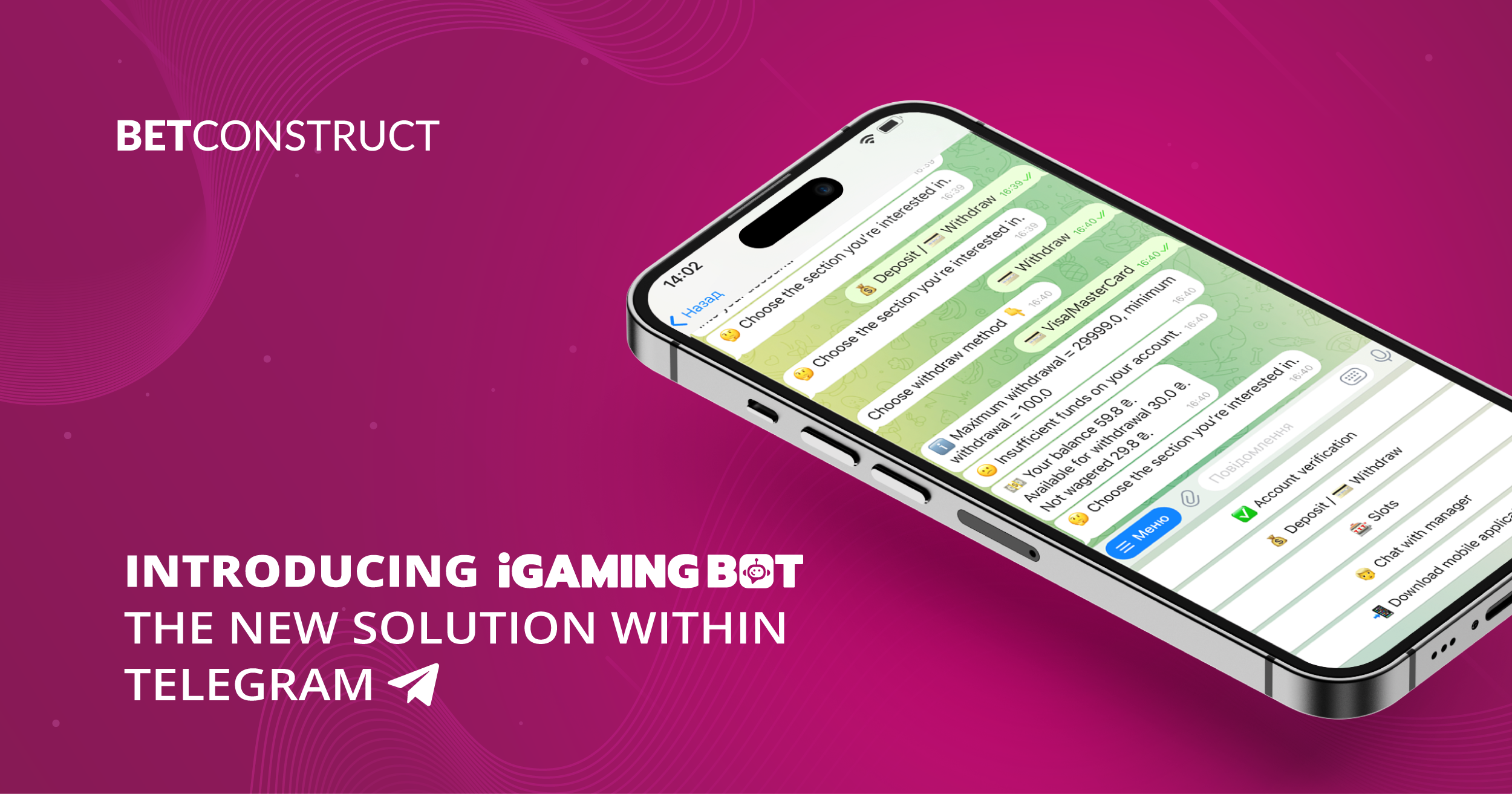 Reading Time:
< 1
minutes
BetConstruct, a leading technology and service provider, launches its new product, iGaming Bot, an application tailored to operate within Telegram.
With iGaming Bot, BetConstruct partners and operators can integrate popular iGaming functions directly into Telegram, providing a streamlined and accessible gaming experience that complements traditional website and mobile application offerings.
The new product includes a diverse range of exciting features and services directly through the Telegram app, opening access to a vast selection of thrilling slot games in a single platform. Additionally, iGaming Bot offers a hassle-free experience, with seamless deposits and withdrawals, account and payment method verification, as well as 24/7 live support.
This is a unique opportunity for iGaming businesses to stay ahead of the competition, combining convenience and entertainment in a single platform.