IGT Introduces Cashless Gaming in Sweden with IGTPay™ Technology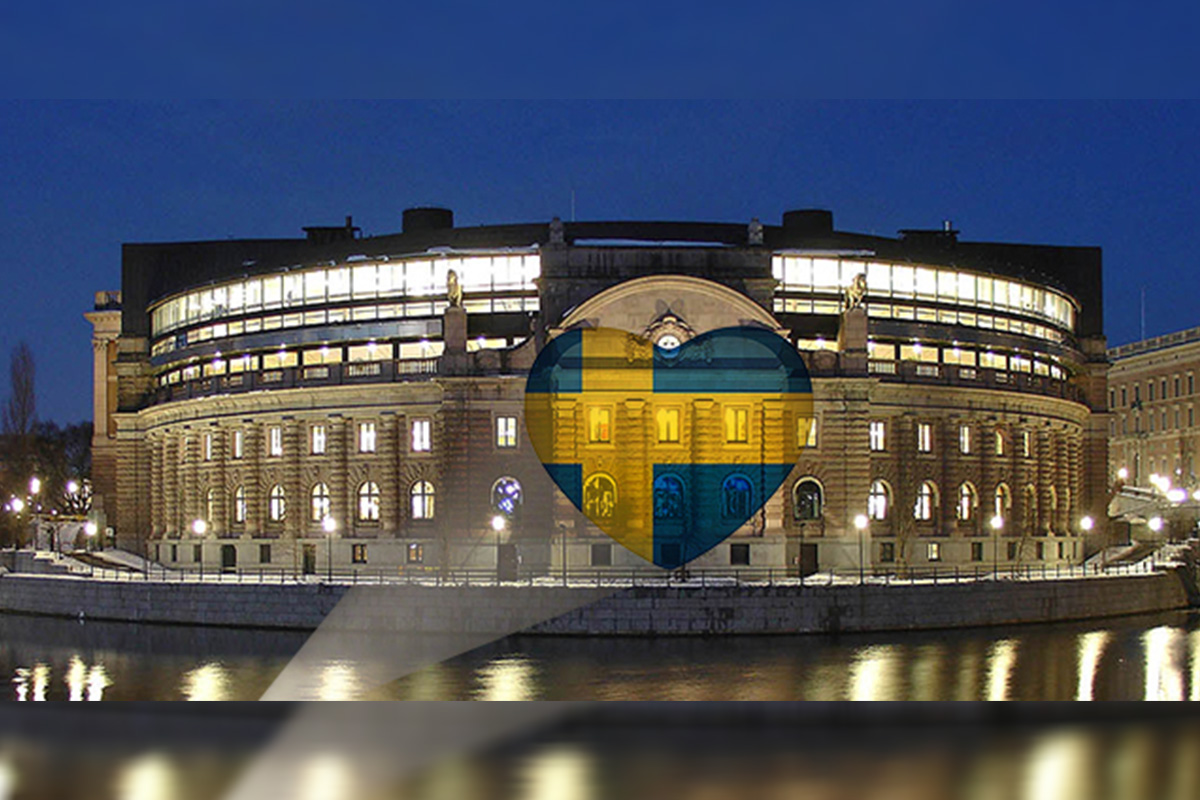 Reading Time:
3
minutes
International Game Technology PLC announced that its cashless gaming technology is propelling the new era of gaming at Svenska Spel venues throughout Sweden. Through IGT's INTELLIGEN™ systems product utilizing IGTPay™ technology, Svenska Spel players now have the option to easily and securely fund their play at Video Lottery Terminals ("VLTs") from their mobile devices.
Svenska Spel's recent launch of IGT's INTELLIGEN VLT system and Quasar® VLTs enables players to use their mobile device to register for and log into VLTs by integrating with their individual, nationally available Digital BankID, paving the way for cashless gaming with the addition of IGTPay.
Now, with the deployment of IGTPay, players who are logged onto a Svenska Spel VLT are presented with the option to draw funds directly from their bank account through Swish, a widely used mobile payment service in Sweden that is owned by the banks. Players simply approve the transfer via their mobile device and start playing their favorite VLT games. This end-to-end process takes just seconds. Following completion of gameplay, Svenska Spel can return any available funds directly back to the player's bank account automatically and instantaneously for a very progressive retail experience.
"Launching IGT's cashless product provides our players with a reliable, cutting-edge cashless solution that connects directly with the Swish mobile app, helping us drive efficiencies while responsibly advancing the player experience," said Magnus Lannersund, Director of VLT Operations, Svenska Spel AB. "IGT has been instrumental in our enterprise-wide modernization with solutions such as the Quasar VLT, the INTELLIGEN central system, our responsible gaming functions and now through their next-generation IGTPay cashless technology. This retail project was among the first of its kind in Sweden, enabling a retail business owner to return funds to a consumer's bank account via a consumer's mobile app. Svenska Spel is proud to be at the forefront of retail innovation especially when the need for cashless options for the post-COVID-19 era is more crucial than ever."
"Svenska Spel is at the forefront of innovation with IGT's cashless gaming solution. This groundbreaking technology introduces a contemporary consumer experience to land-based gaming in one of the most progressive societies in the world," said Declan Harkin, IGT Senior Vice President and COO, International. "The combination of IGT's INTELLIGEN and IGTPay products builds upon our payment expertise in the digital gaming and lottery segments to create a solution that enables players to enjoy the convenience and security of cashless gaming in retail."
"As the relevance of cashless and contactless gaming innovations continues to grow, technologies such as IGT INTELLIGEN with IGTPay become critical components of the player experience, and solutions that can bring tremendous value to our global customers," said Ryan Reddy, IGT Vice President, Systems and Payments Products. "We have established a dedicated Payments Team to ensure that customers such as Svenska Spel are equipped with IGT solutions and services that deliver modern payment options that align with consumer expectations and future business opportunities."
IGT has been a Svenska Spel supplier of VLT technology since 2006. The Swedish state-owned gaming operator currently operates 4,750 IGT VLTs in gaming venues throughout the country, leverages the INTELLIGEN central system, and utilizes a vast range of IGT game content.
About IGT:
IGT (NYSE:IGT) is the global leader in gaming. We deliver entertaining and responsible gaming experiences for players across all channels and regulated segments, from Gaming Machines and Lotteries to Sports Betting and Digital. Leveraging a wealth of compelling content, substantial investment in innovation, player insights, operational expertise, and leading-edge technology, our solutions deliver unrivaled gaming experiences that engage players and drive growth. We have a well-established local presence and relationships with governments and regulators in more than 100 countries around the world, and create value by adhering to the highest standards of service, integrity, and responsibility. IGT has approximately 12,000 employees. For more information, please visit www.igt.com.
SOURCE International Game Technology PLC

Revealed: The emotional, social, and developmental benefits of gaming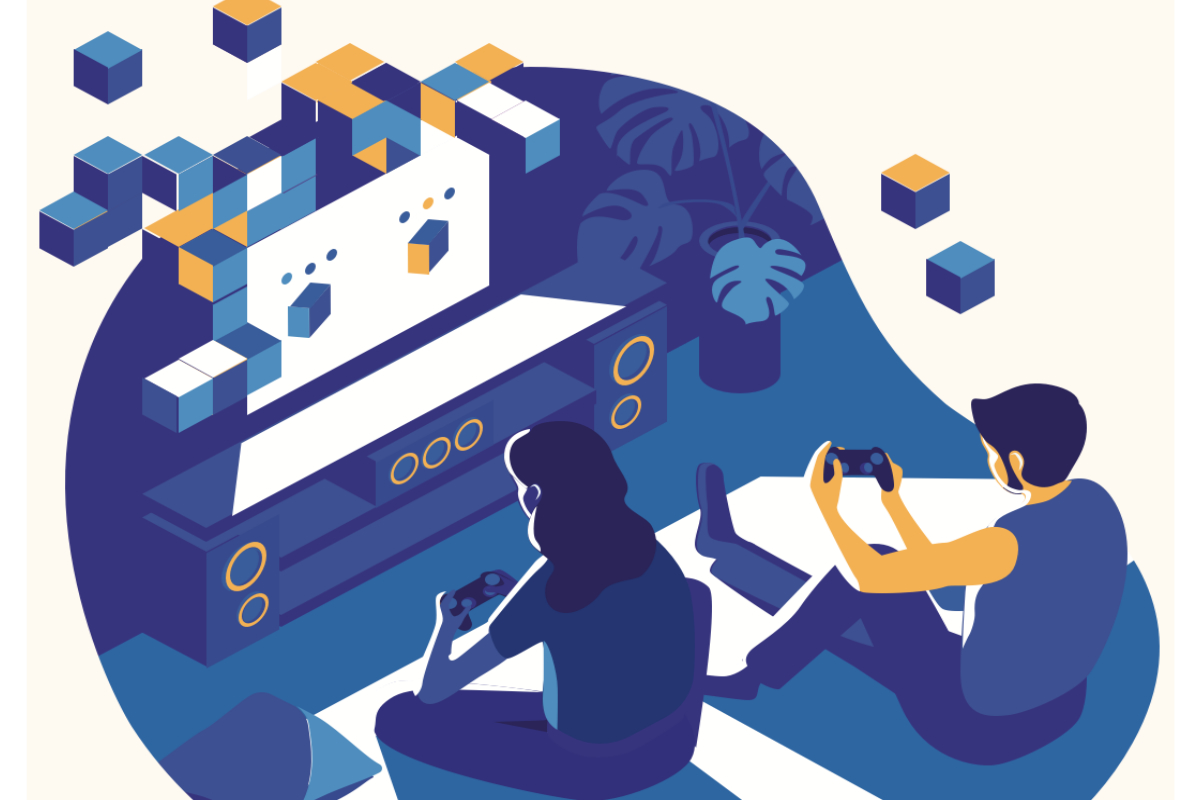 Reading Time:
4
minutes
28% of internet users play games to meet new people
A third of gamers say they play because they like to challenge themselves.
There are 20,000 gaming jobs in the UK, providing plenty of opportunity for a career in the industry
We spoke to three experts in the field who gave their insights into the gaming industry
There are lots of negative misconceptions about gaming, many of which are far from the truth. A new study turns stereotypes on their heads and reveals the emotional, social, and developmental benefits of gaming. Dr Rachel Kowert, Research Director of Take This – a mental health non-profit; Dr Matthew Barr, a lecturer of Game Studies at the University of Glasgow; and Noel McDermott, a psychotherapist and presenter of The Well-Being Show podcast, provide their thoughts and insights. Here are some of the highlights:
Gaming can boost mental wellbeing and help with feelings of loneliness
Thanks to well-crafted storylines and lifelike graphics, games are the perfect form of escapism
34% of gamers identify the feeling of being immersed in a game as a key motivation to play
The global gaming population is likely to have increased by 4% since the outbreak of Covid-19
Especially in challenging times, activities that provide a positive distraction and allow an individual to put their worries to the back of their mind can have a beneficial impact on mental wellbeing. Gaming is an excellent example of this, offering an immersive experience that can mentally transport you to another world.
Barr says, "Video games are good at getting players into the state of optimal experience that psychologists call 'flow', by offering an appropriate balance of challenge versus achievement. It's that feeling of being 'in the zone', where you're totally absorbed in the task at hand, and you're operating at the top of your game. In turn, this has a positive impact on how players feel."
This is because the sense of reward releases feel-good hormones called dopamine that boost the player's mood. What's more, gaming can offer meditative benefits by fully occupying your mind with the objectives of the game.
Kowert adds that, "Gameplay can also teach skills that have long been associated with increased happiness and prolonged life satisfaction, including openness to experience, self-care, a growth mindset, solution-focused thinking, mindfulness, persistence, self-discovery, and resilience."
Gaming can maintain and build new relationships
Half of gamers play with their real-life friends
28% of internet users play games to meet new people
1 in 3 internet users in the UK say the main reason they game is to have fun with people they know
Contrary to popular belief, gaming can be a sociable activity. Many games offer multiplayer modes or are designed to be played in teams, providing the opportunity for individuals to join forces with their existing friends or virtually meet new people – located anywhere in the world.
McDermott says, "Gaming, especially online, can provide immeasurable benefits to those who are lonely and isolated. It provides safe social contact and a place where skills can be developed. These skills can provide a much-needed boost to self-esteem."
Research found that 60% of gamers report playing more games with social elements since the beginning of the pandemic, suggesting gaming can play a positive and pivotal role in connecting people at a time when face-to-face contact isn't always possible.
Kowert explains, "Shared experiences, like playing games together, have been linked to increased self-esteem and a sense of belonging, as well as decreased feelings of depression, anxiety, and isolation."
Gaming can teach life skills and cognitive abilities
There are 20,000 gaming jobs in the UK, providing plenty of opportunity for a career in gaming
Minecraft: Education Edition, for example, has applications in geography, history, engineering, and physics
A third of gamers say they play because they like to challenge themselves.
While gaming can provide a fun form of entertainment, it can also contribute to the player's cognitive development. For example, many titles involve problem solving, strategy and multi-tasking, among other skills.
Kowert explains, "Games are fantastic learning tools, particularly for children, because they are so engaging. Video games are also great vehicles for sharpening cognitive skills because they provide a range of different challenges within a single space. Gameplay has been associated with the improvement of a range of cognitive skills, including:
improved creative thinking
problem solving
time management
leadership skills
goal setting
initiative taking
decision making
persistence in the face of difficult challenges."
It's estimated that children aged 12-15 years old spend an average of 11.6 hours a week gaming. So, with gaming being such a widely enjoyed hobby, it's encouraging to note that it could be effectively harnessed as an educational tool to teach numerous skills and knowledge. What's more, with the gaming industry growing year-on-year (and estimated to be worth £3.86 billion in 2020), it could also open doors for careers in the industry.
Barr explains, "We all learn new skills through practice, whether that's learning how to play an instrument or training to play sports more proficiently. Learning from a video game is no different – you're exercising skills all the time, whether it's figuring out puzzles or using your communication and language skills to talk to and strategize with your fellow players."
Gaming myths debunked
52% of Brits play video games, demonstrating its popularity and prevalence in daily life
Gaming is the nation's second favourite pastime, after watching TV
Brits spend an average of 7 hours a week gaming, which is just a third of the time spent watching TV (22.5 hrs)
Over the years, gaming has been associated with negative stereotypes and behaviours, such as laziness, violence, and isolation. There is little evidence to prove any of these correct. Instead, in many cases, gaming can be more beneficial for the player's health, development, and social abilities than it is detrimental. In fact, with over half of Brits playing games, it's apparent that gaming is just a part of modern life for many.
Kowert explains, "There is no evidence to suggest that playing games online has a negative impact on our ability to socialise. However, research has found that playing games with our friends online can strengthen our offline friendships and relationships."
Another concern that often arises is the amount of time people spend gaming and whether gaming has addictive qualities. Talking on the topic, Barr explains that, "People talk about players becoming 'addicted' to games, without really considering what that word means, in a clinical sense. We don't bat an eyelid when someone becomes so engrossed in a book that they sit there reading for hours on end, but somehow this sort of behaviour is perceived as problematic when it comes to games."
ORYX Gaming to sponsor prestigious industry event WGES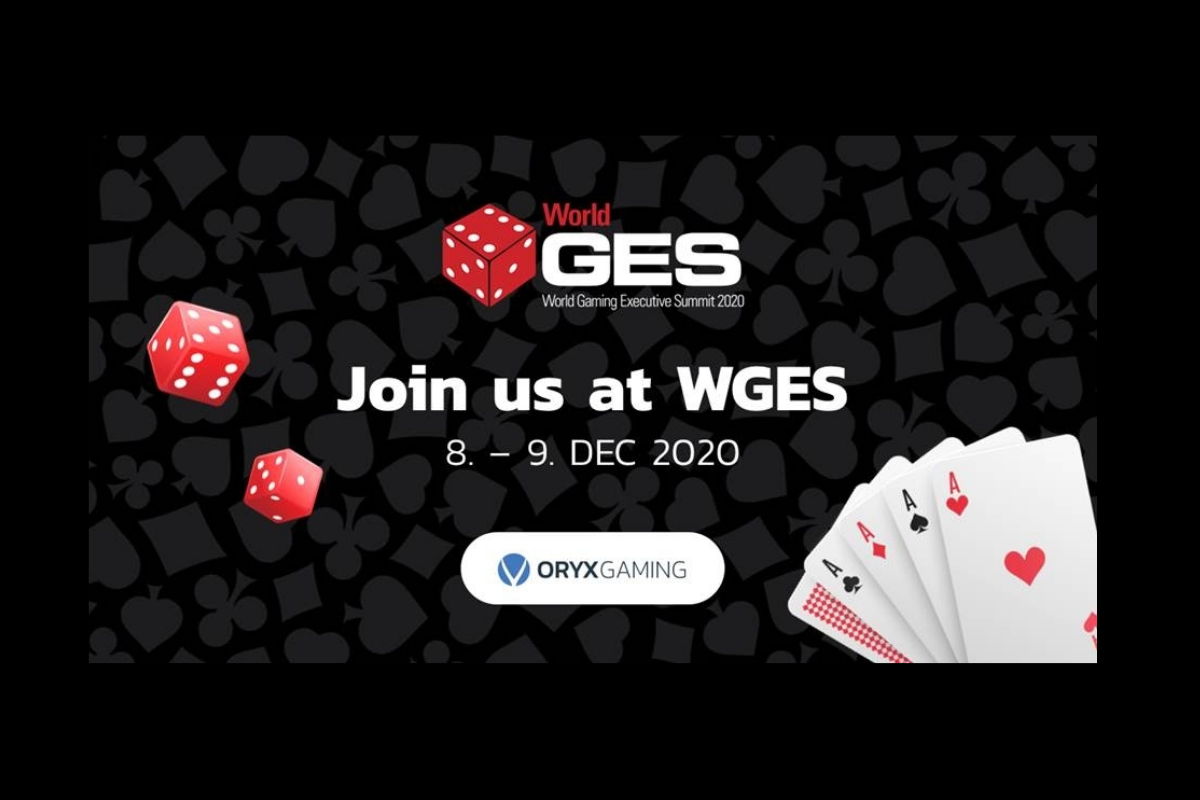 Reading Time:
< 1
minute
ORYX Gaming, a Bragg Gaming Group company, is delighted to announce that it will be sponsoring this year's virtual edition of the prestigious World Gaming Executive Summit (WGES).
Hosted on 8th – 9th of December, the digital edition of one of Europe's most exclusive iGaming conferences will see executives from around the world attend two days of live panel debates, roundtables, presentations and networking events.
In addition to being a Silver sponsor of the event, three senior members of ORYX will join industry colleagues on panels to discuss a number of exciting topics over the two days.
ORYX Gaming's Managing Director, Matevž Mazij, will take part in a panel discussion on how to get to know customers in order to offer what they need. Primož Blazinšek, Head of Operational Marketing, will talk about prioritising the first-time player experience; while Jovana Popovič, Director of BU iGaming Platform & Services, will talk about customer profiling and retention.
Matevž Mazij, Managing Director of ORYX Gaming, said: "We are proud sponsors of the virtual edition of the WGES, an event well-known in the industry to attract executives from across the sector and for being a focal point for stimulating and interesting conversations about a wide range of topics.
"We look forward to playing a major role in the event and to seeing new and familiar faces during the event."
Relax Gaming offers a passport to slot paradise in Frequent Flyer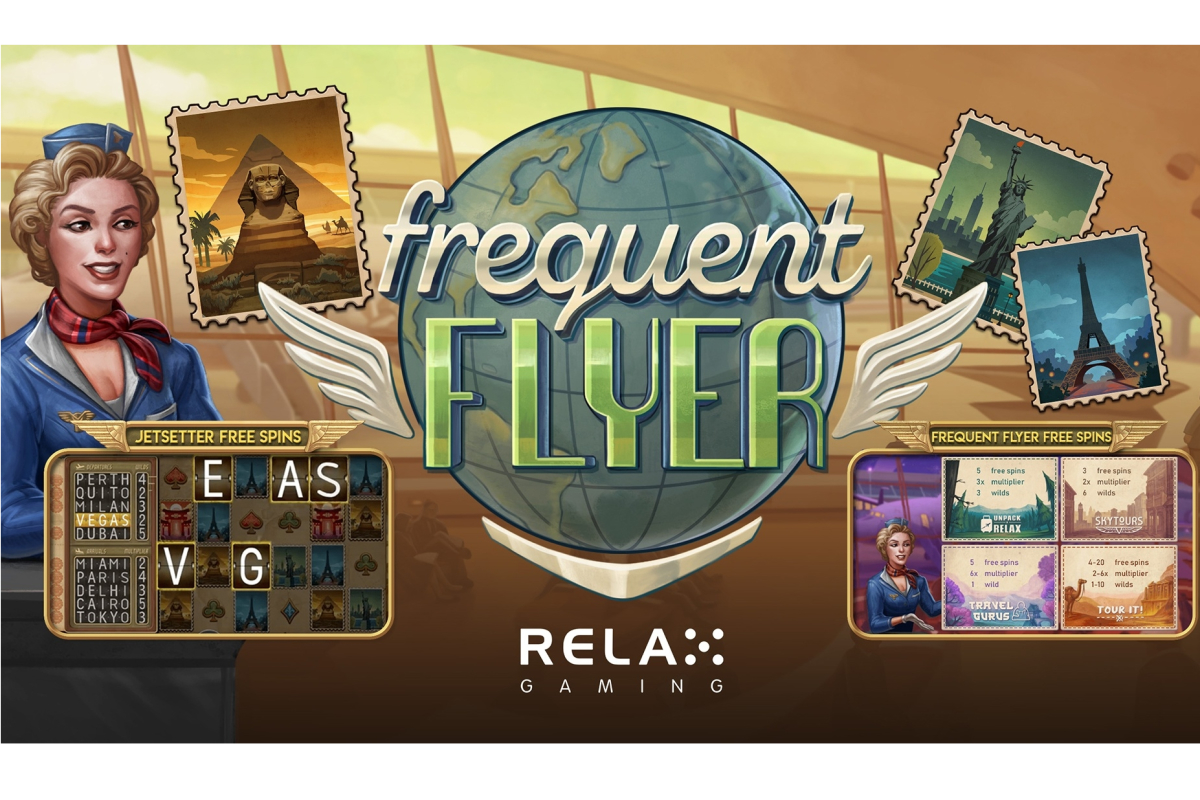 Reading Time:
< 1
minute
Relax Gaming, the igaming aggregator and supplier of unique content, has released its slot game, Frequent Flyer, to its entire network of operators following a successful six-month period of exclusivity with Kindred.
The 6-reel, 40-fixed win line slot begins at an airport, where players try to land five Split Flap symbols to reveal a destination and fly off to the Jetsetter Free Spins bonus round, where each location offers its own number of free spins, multipliers and wilds.
A passport stamp is awarded every time a destination's bonus round is triggered, unlocking the Frequent Flyer Free Spins when all have been collected to send win potential rocketing to new heights.
Both Shuffling Wilds and Win Multipliers are active in this round, while players can also opt to choose the 'Gamble' option for a chance to bag up to 10 wilds and a 6x multiplier.
Chances of entering the bonus round and claiming the maximum payout of 5426x the player's bet are boosted with the Final Call feature, which can be randomly activated at the start of any spin.
Simon Hammon, Relax Gaming CPO, said: "Frequent Flyer is a low volatility title that offers a worldly slot experience packed with free spins and engaging features.
"There's fun at every turn in this game, making for an entertaining gameplay that seeks to offer a sense of nostalgia and recreates the excitement of jetting off into the clouds."
Relax Gaming, which celebrated its 10th Anniversary this year, continues to expand to its in-house portfolio with top-performing titles, adding to its library of over 1500 casino games. In addition to the company's leading proprietary portfolio, its platform also features high-quality aggregated content from selected Powered By Relax partners and Silver Bullet studios.