Pixel Federation joins the Playing for the Planet Alliance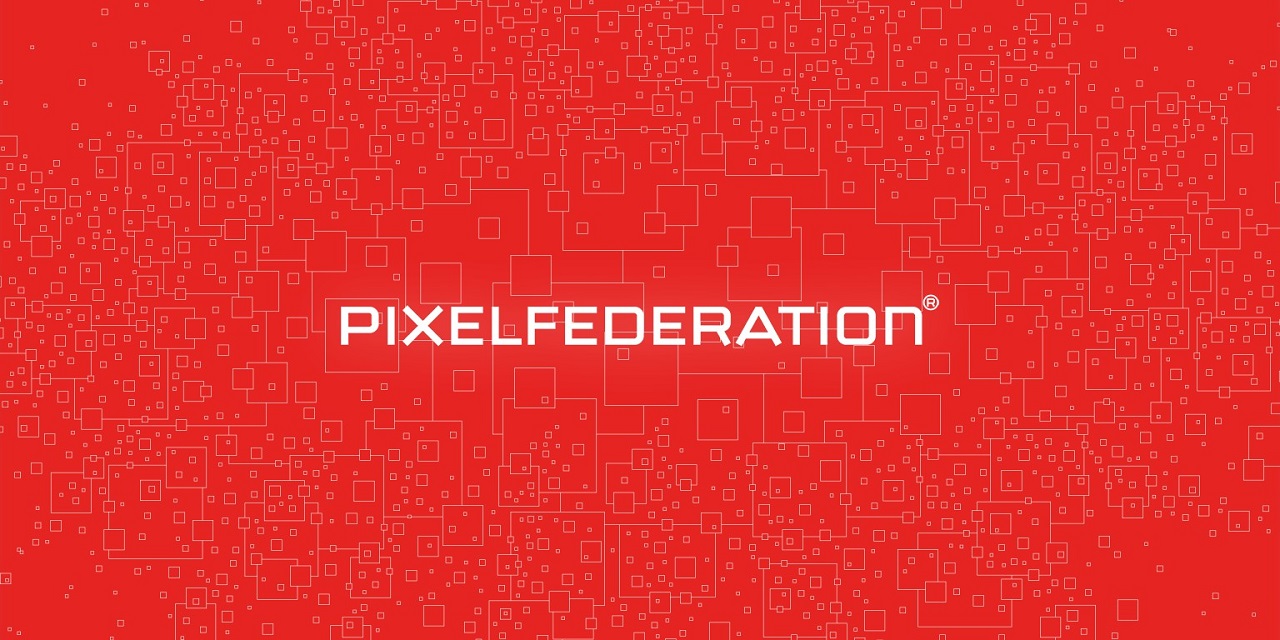 Reading Time:
3
minutes
Together with SEGA Europe, Bandai Namco Entertainment Inc, Perp Games and Creative Assembly, Pixel Federation joins the fight to save our planet.
Pixel Federation is the first games company in Slovakia to pledge to keep environmental activity at the heart of its games.
Pixel Federation, a Slovakia-based game development studio, today announces its membership of the Playing for the Planet Alliance. After a successful year of landmark new games and local efforts to fight the pandemic, Pixel Federation is now implementing environmental initiatives, joining the Playing for the Planet Alliance, facilitated by the UN Environment Programme (UNEP).
The Playing for the Planet Alliance is driving the video games industry to reduce its carbon footprint and integrate environmental activities in live games. In joining the Alliance, game companies have made commitments to positively impact the environment, ranging from integrating green activations in games to reducing emissions. Green activations refer to educational content focusing on different environmental topics integrated in video games. Pixel Federation is determined to make environmental contributions a key part of its strategy moving forwards; prior to joining the Playing for the Planet initiative, it participated in a project '10,000 trees' by the city of Bratislava planting close to 100 trees in the city.
Lucia Sickova, one of four co-founders and Chief Learning Officer at Pixel Federation said, 'Participating in the Playing for the Planet Alliance will drive us even further in our awareness of our climate change activities.'
She continued: 'The world is changing in front of our eyes and I truly believe each and every one of us can be the cause for the change that needs to happen. Every small decision an individual makes is the difference we can make to our planet. Being the first game developer in Slovakia to join Playing for the Planet Alliance is just the start of a set of new initiatives we are putting in place so we can play our part in making the world a greener and cleaner place for future generations.'
Core Commitments
As part of the Playing for the Planet Alliance Pixel Federation has committed to undertake the following initiatives, among others:
First, Pixel Federation will inspire action by supporting off-the-grid (physical) innovation through education. Pixel Federation already supports and works with a number of key educational projects aimed at supporting tech and innovative education and opportunities for young people in Slovakia. Pixel Federation's next initiative is to educate people around supporting our planet and provide students with tangible and innovative solutions to tackle climate change.

Pixel Federation will host on-the-grid events (in game) to target its already dedicated fanbase, encouraging action against deforestation and ocean cleaning. Games including fan favourites Diggy's Adventure, Trainstation 2 and Port City – which cumulatively see 250,000 DAU (daily active users) – will host these in-game events to drive action in a rewarded capacity, and inspire physical activity outside of the game.

Pixel Federation pledges to map its carbon footprint in 2021, with the long-term aim of achieving net-zero emissions.

Pixel Federation will also participate in the Green Game Jam 2022.
These commitments will see Pixel Federation driving environmental change in the gaming industry, and even further within tech in Eastern Europe, encouraging fans and users to take action.
Annually, the Playing for the Planet Alliance's Green Game Jam brings together the biggest names in the games industry across mobile, consoles and PC to educate and empower millions of players to act for the environment. Thrilled to be part of the Green Game Jam, one of Pixel Federation's core beliefs is supporting the next generation of game developers. It is already doing this through a number of impactful charitable projects that focus on encouraging and driving education, technology skills and opportunities for young people in Slovakia as well as existing Pixel Federation employees and Slovakian developers.
"When it comes to climate, keeping all our emissions down will require all hands on deck. The video gaming industry is a new ally in the race for a net zero and nature positive planet." said Sam Barratt, Chief of Youth, Education and Advocacy Unit of the UN Environment Programme (UNEP). "We are delighted to have the support of Pixel Federation. The commitment of these gaming companies shows recognition that we all must play our role in the global effort to lower carbon emissions and effect real change towards sustainability."
The games industry and related technologies are constantly growing and adapting, and with a global reach, people are rightfully looking to this industry to see how it is participating in the fight against the climate crisis. The Playing for the Planet Alliance already has the likes of Sony, Microsoft and Ubisoft in its corner, and now with Pixel Federation joining the ranks, game developers from every corner of the globe are coming together to tackle this emergency head-on.
Edict eGaming Celebrates 25th Anniversary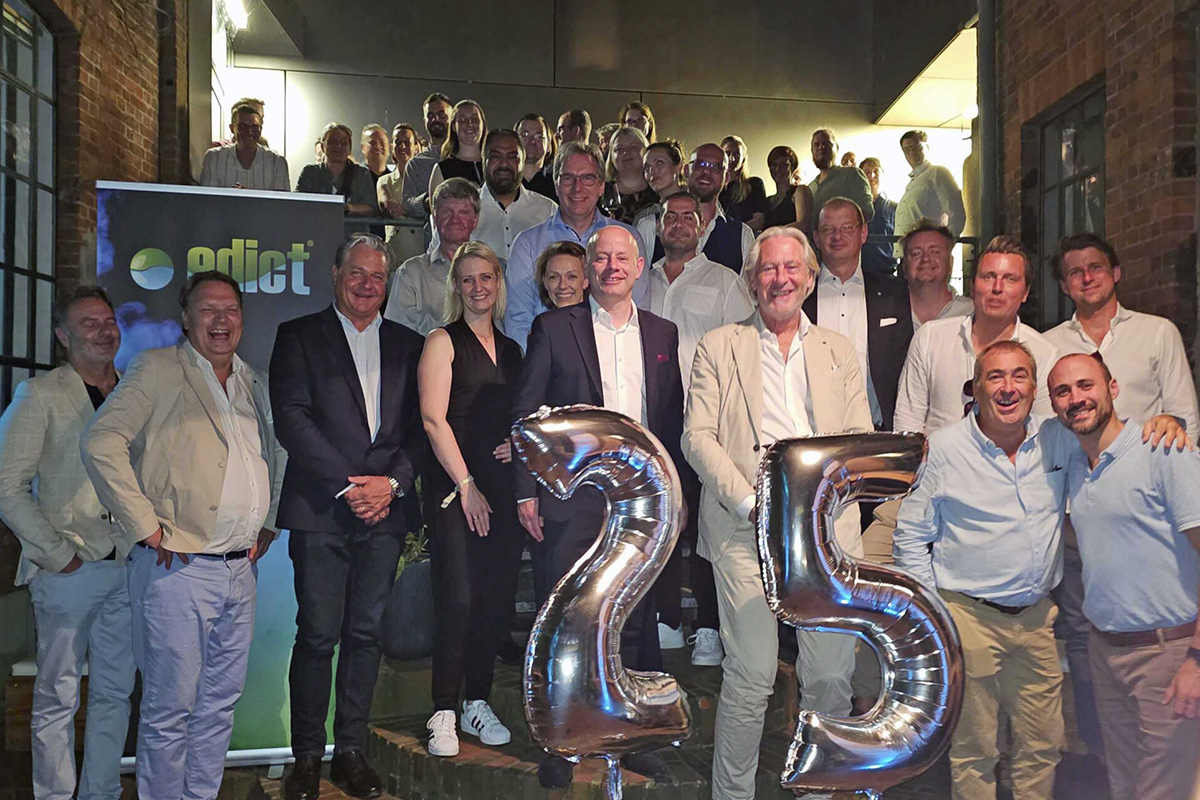 Reading Time:
< 1
minutes
The Hamburg-based company edict egaming GmbH (edict) has celebrated its 25th anniversary.
Founded in 1998 and thus launched as one of the pioneers in online gaming, the developer of casino solutions is today one of the world's leading industry aggregators. On 7 September, around 100 guests gathered in Hamburg's Altona district to celebrate the 25th anniversary together. During a harbour tour and dinner, employees, friends and long-standing partners looked back on the company's history.
Edict egaming GmbH's CEO Dominic-Daniel Liénard said: "To celebrate this anniversary with so many of you who have been part of this journey is a very special moment for me. Our 25th anniversary is not only a special opportunity to acknowledge our enduring presence in the market and our extensive network of reliable partners, but also to thank our employees who have made this success possible in the first place."
Since its foundation, edict egaming GmbH has set a number of milestones, starting in 2002 with the development of the first online casino systems in Germany for the casinos in Wiesbaden and Hamburg, edict became the first licensed provider worldwide to stream roulette from a landbased casino on the internet. 2014 saw the introduction of the Game Solution, which enables customers worldwide to integrate the broad games portfolio. In addition, edict has been part of the Gauselmann Group since 2008. Since then, the company has licensed the popular Merkur games in the individual jurisdictions and delivered them via its proprietary Aggregator Solutions to a variety of casino and sports betting platforms.
New Era Optical Technology from Scientific Games Will Enhance Lotto Hessen Retail Experience in Germany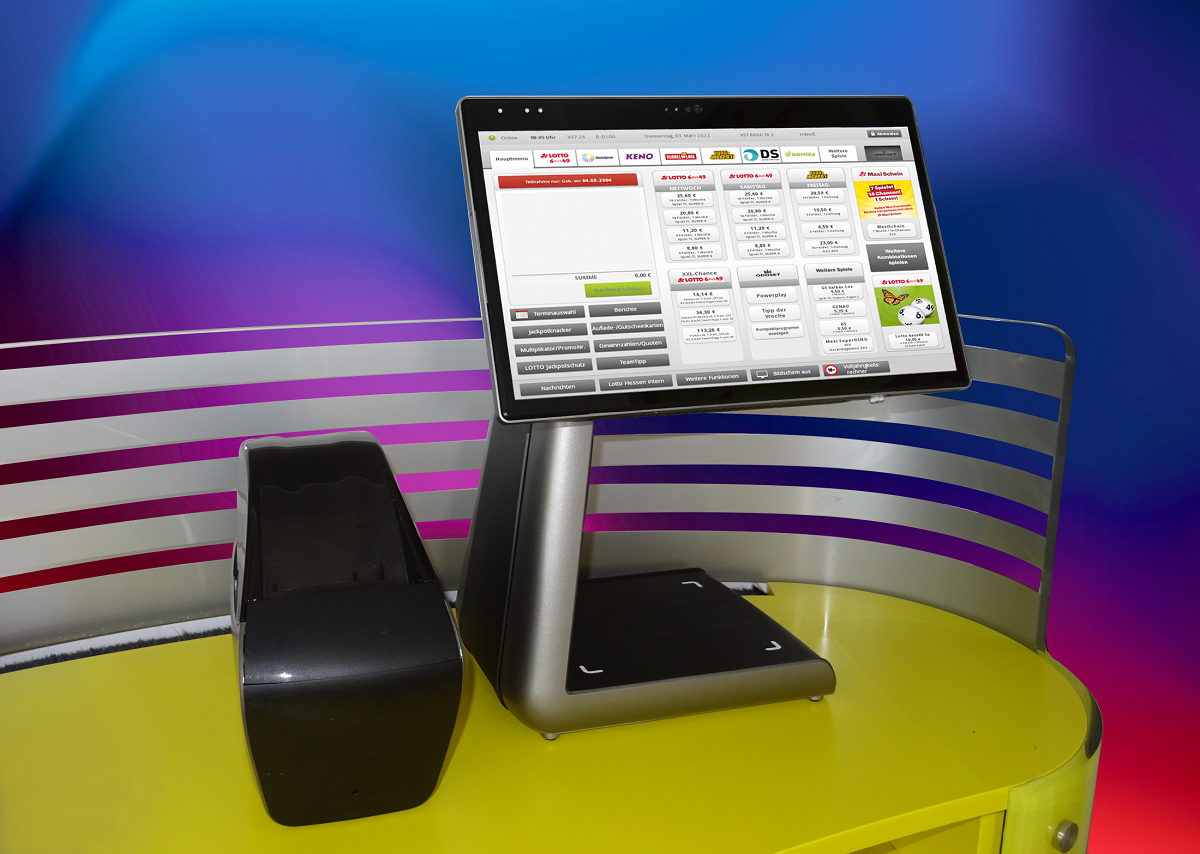 Reading Time:
2
minutes
Company's Advanced Retail Terminals and New Gaming System Support Lotto Hessen's Ongoing Tech Modernization
Scientific Games will bring the company's camera-based lottery retailer technology to Lotto Hessen in Wiesbaden, Germany through a new contract. Moving the lottery retail experience beyond reliability to maximum transactional transparency for both retailers and players, 2,200 of the company's Contour.v terminals will be installed at Lotto Hessen retailers. Lotto Hessen's gaming system is currently being converted to Scientific Games' advanced SYMPHONY system as part of the Lottery's ongoing technology modernization initiatives.
Offering both clerk and player HD screens, contactless player interactions and mobile scanning, the Contour.v terminals represent Scientific Games' new era lottery retailer technology. The Contour.v was innovated by the company as its newest, high-performance terminal to meet evolving market demand in the lottery retail environment.
Martin J. Blach, Managing Director for Lotto Hessen, said, "For 20 years, Lotto Hessen has successfully led with Scientific Games' support to continually offer our retailers and players a modern lottery experience. The camera-based Contour.v terminals are part of our overall plan to continue innovating that experience and responsibly adapting to retail trends and consumer behavior."
Lotto Hessen is one of the first in-market implementations of Contour.v globally. The camera-based terminals feature an open and transparent ticket scan area and HD screens configurable for both clerk and player view. The company's new line of Contour terminals was designed with durability and an unparalleled user experience in mind. A sleek, uni-body eliminates unnecessary parts, making Contour terminals extremely reliable. Unique, advanced optics technology enhances speed of service. The Contour terminals also offer easy processing and a variety of options for ongoing software upgrades.
"The lottery ecosystem is increasingly complex and Scientific Games' global innovation teams continue to respond with advanced retail and digital systems technology that we have become known for in the lottery industry. We have invested in the best camera-based terminal solution for international markets with the Contour.v technology," said Matthias Müller, VP of Sales & Marketing for Scientific Games. "Our modular solutions and third-party integrations, coupled with state-of-the-art technology allow lotteries flexibility without diminishing quality and reliability. The Contour.v terminals signify a new era for Scientific Games with the most advanced optics and pattern recognition software."
In addition to retailer technology, the company provides Lotto Hessen's gaming systems technology, instant game management system and sports betting solution, as well as instant scratch games and the Scientific Games Enhanced Partnership, a technology-driven instant game management program that drives sales performance.
PRAGMATIC PLAY SCALES SWISS OPERATIONS WITH GAMRFIRST PARTNERSHIP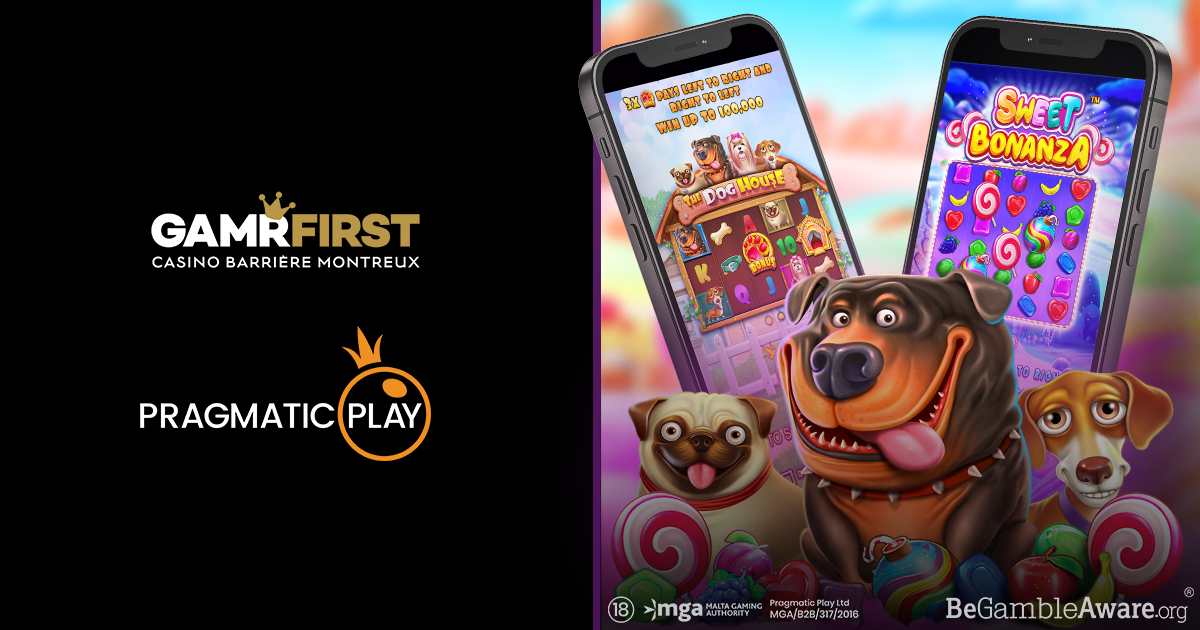 Reading Time:
< 1
minutes
Pragmatic Play, a leading content provider to the iGaming industry, has bolstered its Swiss market footprint following a commercial agreement with GAMRFIRST operated by Casino Barrière Montreux (Barrière Group).
Pragmatic Play's acclaimed Slots portfolio is now live on GAMRFIRST.ch, the online arm of the established land-based casino provider.
As part of the agreement, 50 titles are live on the operator's platform, including the popular titles Sweet Bonanza ™ and The Dog House™.
Following on from a string of successful partnerships, the latest deal is set to be a catalyst for continued growth for the provider.
Irina Cornides, Chief Operating Officer at Pragmatic Play, said: "Casino Barrière Montreux is highly regarded in Switzerland, where Pragmatic Play continues to expand its presence.
"We're delighted to welcome the operator's GAMRFIRST brand to our growing customer base in this key regulated market. The online casino shares our commitment to creating safe and enjoyable gaming experiences, and its players can now access our entire portfolio of premium Slots."
Patrick Ballestraz, Head of Online at GAMRFIRST.ch, added: "Pragmatic Play's industry-leading Slots portfolio makes a wonderful addition to GAMRFIRST, with its captivating titles already proving a success with players throughout Switzerland.
"The announcement will undoubtedly go down well with our customers who will be familiar with the studio's games, as well as build momentum and leverage our position in the Swiss market."